Disney World is fabulous all year, but there is something extra magical when visiting during Disney World Christmas season. The wide variety of Disney World Christmas decorations, activities, and entertainment make this our favorite time of year. Use our complete 2021 Disney World Christmas guide to understand what is available and plan your own special holiday experience.
When Does Disney World Decorate For Christmas?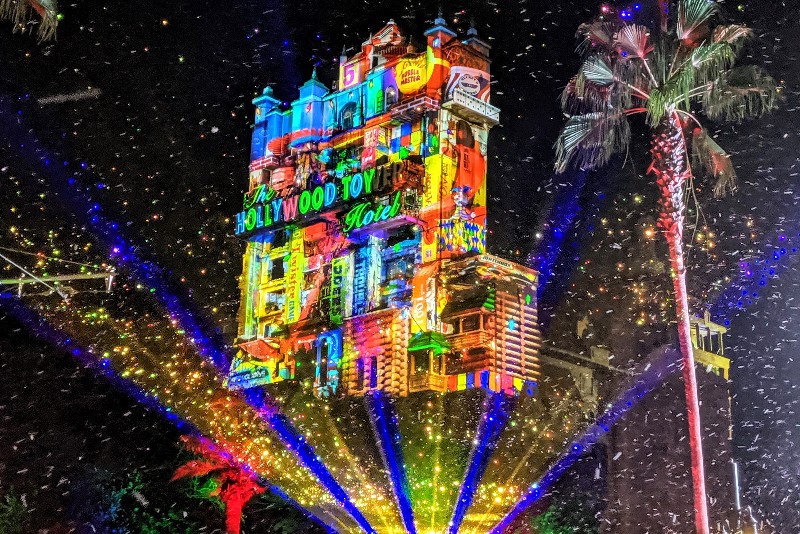 Magic Kingdom is the first place to get a Disney World Christmas transformation. Almost overnight Magic Kingdom turns from spooky to festive when transitioning from Disney After Hours Boo Bash to Disney Very Merriest After Hours. Expect Magic Kingdom decorations to appear sometime between November 1 and the first Christmas after hours event.
Hollywood Studios and Animal Kingdom get a sprinkling of holiday decor early in November and are usually fully decorated by mid-November.
Epcot tends to be the last park fully decorated for Christmas since Epcot Festival of the Holidays doesn't officially start until Thanksgiving day, or the day after, depending on the year.
Disney World resorts get most of their Christmas decorations about mid-November, however, some of the elaborate gingerbread houses aren't finished until closer to Thanksgiving.
Disney Springs also gets an impressive Christmas Tree Stroll with many incredible Disney themed Christmas trees. Dates for Disney Springs Christmas Tree Stroll haven't been announced for 2021, but I expect it to run from mid-November through early January.
Disney World Christmas decorations stay up until the New Year, but not much past that. For example, one year we arrived on January 3 and were greeted by gorgeous nautical themed Christmas decor at Yacht Club. By the next morning all of the Christmas decorations had completely disappeared.
When Is The Best Time To Visit Disney World For Christmas?
A few days after Thanksgiving until about a week before Christmas is the best time to visit for the holidays. The Disney World Christmas crowds are low, but everything holiday is up and running.
In particular, the first week of December is a perfect mix of holiday experiences, comfortable crowds, and gorgeous weather which makes it our favorite time to visit.
Not able to visit between Thanksgiving and Christmas? Mid-November is a good Disney World Christmas vacation alternative if you don't mind missing Epcot Festival of the Holidays.
Since October 1, 2021 kicks off Disney World's 50th Anniversary Celebration expect higher than normal crowds even during our preferred Disney World Christmas weeks.
Where Can I Find Disney World Christmas Decorations?
The short answer is Disney World Christmas decorations are everywhere. There are specially themed Christmas trees, wreaths, flowers, and other decorations at Disney World resorts, theme parks, and Disney Springs. Disney World cast members put up an astonishing 1500 Christmas trees around the property.
Magic Kingdom Christmas Decorations And Activities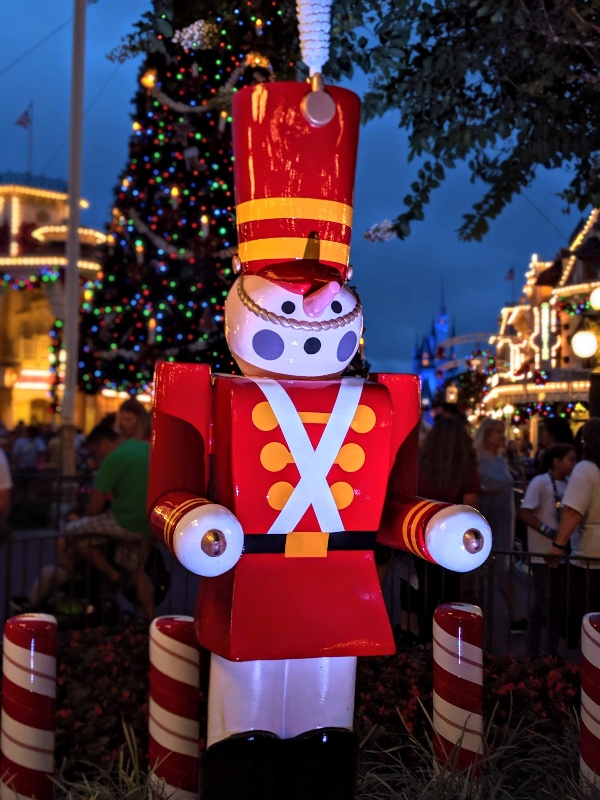 Disney World Christmas is often represented by iconic Magic Kingdom holiday experiences. Main Street, U.S.A. decked out in holiday decorations plus a 60-foot (18-m) Christmas tree adorned with 6000 lights and 1800 ornaments begins the magic of a Disney World Christmas the moment you enter Main Street.
Inside each display window and all along Main Street U.S.A. there are wreaths, bows, and many other festive Magic Kingdom Christmas decorations. I think the traditional Americana Christmas decor of Main Street at Magic Kingdom is one of the best things about visiting Disney World during the Christmas season.
Disney Very Merriest After Hours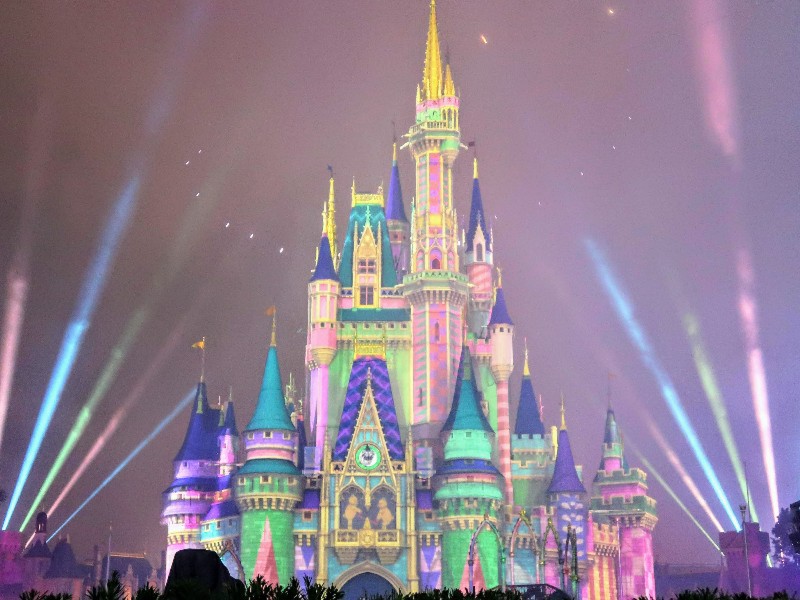 Magic Kingdom hosts the new Disney Very Merriest After Hours event. Disney Very Merriest After Hours is an extra ticketed late-night event with limited crowds and low attraction wait times.
In addition to low waits, the first parade since early 2020 returns to Disney World with Mickey's Once Upon a Christmastime Parade. This parade showcases favorite Disney characters in holiday floats while winding its way through Magic Kingdom during Very Merriest After Hours.
Minnie's Wonderful Christmastime Fireworks Show also makes a triumphant return to Disney World in 2021. This cute Christmas fireworks show debuted in 2019, but took a break in 2020. I'm very excited to see this adorable Christmas themed fireworks display return as part of Disney Very Merriest After Hours.
Magic Kingdom Jingle Cruise
A classic attraction, Jungle Cruise, gets a fun holiday makeover turning it into Jingle Cruise. Find Christmas upgrades like a tropical inspired Christmas "tree" and seasonal flair are throughout the ride.
Even the Jingle Cruise jokes get a seasonal update with lots of holiday themed puns and stories. For example, once when leaving the dock our skipper told us to wave to the nice people, but also that one naughty person. He then yelled, "You know what you did!" before calmly continuing our tour.
A Frozen Holiday Wish Castle Lighting – Unconfirmed for 2021
This holiday castle lighting show will take a break in 2021, likely due to Beacons of Magic projections for Disney World's 50th Anniversary. I am hopeful that A Frozen Holiday Wish will return for 2023.
In past years, A Frozen Holiday Wish was a nightly show, or twice nightly on party nights, when an incredible castle lighting show took place. This castle stage show featured several Frozen characters and culminated with Elsa using her ice powers to turn Cinderella Castle into a glittering ice palace.
Hollywood Studios Christmas Decorations And Activities
Although Magic Kingdom is the most popular Disney World Christmas park, I think the award should actually go to Disney's Hollywood Studios. Hollywood Studios has gorgeous themed decorations for each area, a great walk up holiday light projection show, and a Christmas themed character meal.
Sunset Seasons Greetings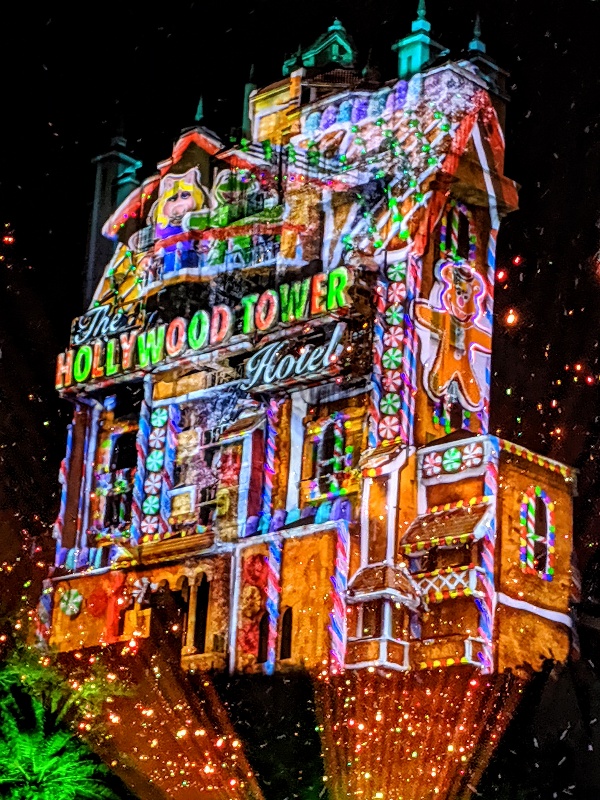 Hollywood Studios Sunset Seasons Greetings is a great addition to fill part of the void left by fan favorite Osborne Spectacle of Lights.
At night the exterior Tower of Terror facade is surprisingly turned into a beautiful winter wonderland. Sunset Seasons Greetings runs on a continuous loop throughout the night from dusk until park closing.
Two billboards along Sunset Boulevard show short video clips which introduce the next seasonal projection. For example, the Swedish Chef makes a gingerbread house in a short video shown on the billboard and then the tower becomes a giant gingerbread house.
The four Disney's Hollywood Studios Sunset Seasons Greetings themes for Christmas are Muppets, Frozen, Mickey's Christmas Carol, and Toy Story. Each one is more charming than the last, which makes Sunset Seasons Greetings one of my favorite Disney World Christmas activities.
At the end of each tower projection show, lasers cut across the sky highlighting the "snow" falling on the street below. Since the show runs on a continuous loop after dark you can easily fit Sunset Seasons Greetings into your plans.
Another benefit of Sunset Seasons Greetings being shown on a continuous loop is the crowds ebb and flow. This means it's easy to find good viewing spots without having to wait.
Minnie's Holiday Dine at Hollywood and Vine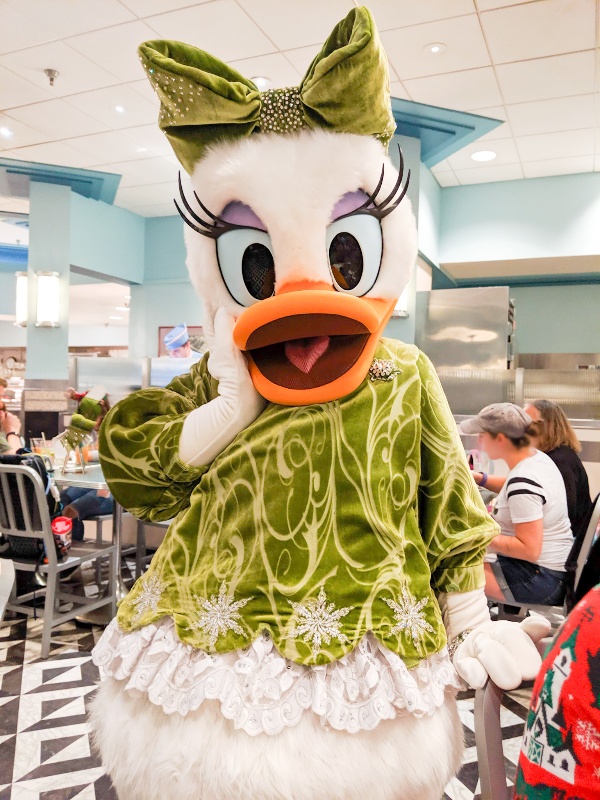 Although character dining looks different in 2021, find Minnie and friends still dressed in their finest Christmas outfits for Minnie's Holiday Dine at Hollywood and Vine.
Santa Goofy, Minnie, Mickey, Donald, and Daisy all circulate through the restaurant spreading distanced holiday cheer during Minnie's Holiday Dine. Have your camera ready for distanced pictures with these adorably dressed characters.
Santa Claus Motorcade
New for 2021 is Santa Claus's Motorcade at Hollywood Studios. Wave to Santa as he makes his way along Hollywood Boulevard in a bright red convertible so he knows you've been good this year. Check the My Disney Experience or Disney World app for motorcade times.
Jingle Bell Jingle BAM! – Unconfirmed
This Christmas fireworks show at Hollywood Studios tells the story of Lenny and Wayne, two prep and landing elves, trying to find Santa who's gone missing. The way the show ties the story to the projections is a little all over the place, but overall the projections, music, and fireworks are good.
Hollywood Boulevard Christmas Decorations
There are amazing decorations all around Disney's Hollywood Studios which begin as soon as you enter onto Hollywood Boulevard. Garland and wreaths are strung across the street, and sparkly stars adorn the light posts.
Echo Lake Christmas Decorations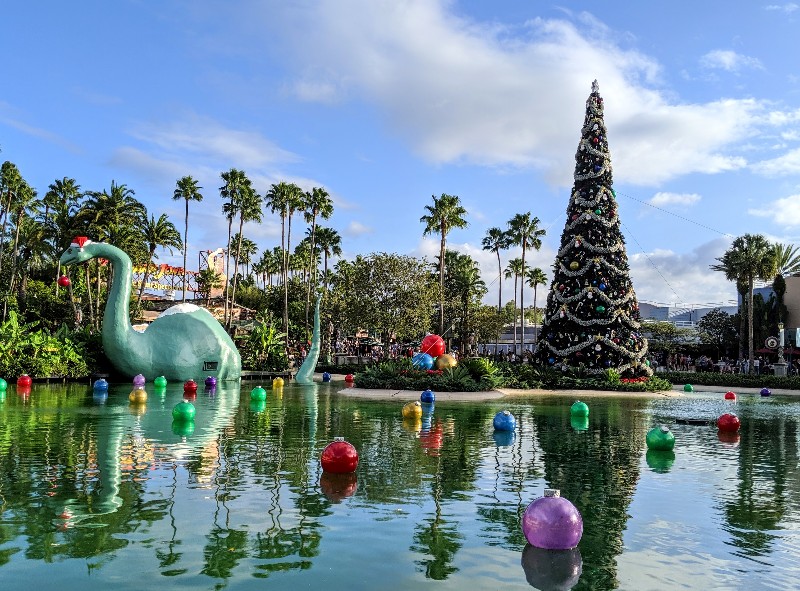 Echo Lake area has my favorite Hollywood Studios decorations. The retro decor and Christmas playlist like my own makes it feel like home. The large Christmas tree is impressive in the daytime, but is even better at night when the twinkling lights glow above the lake full of floating ornaments.
Toy Story Land Christmas Decorations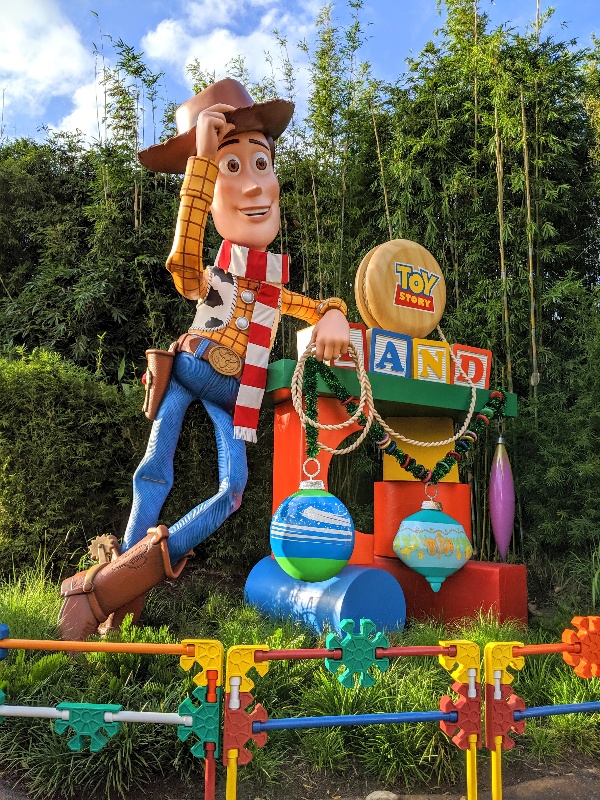 Toy Story Land has several adorable Christmas decorations. Christmas ornaments hang from the large sign, and Woody has a cute scarf. Each of the characters in Toy Story Land has a seasonal flair to their costumes, too. I think the funniest character change is Buzz wearing a Santa hat.
There is a large Hamm sugar cookie and if you look around the back a green army man is supporting it. Speaking of green army men, they all have red, white, and green camo scarves for the Christmas season. Popcorn and cranberry garland hang above Woody's lunchbox, and even Rex puts on reindeer ears above Slinky Dog Dash.
Epcot Christmas Activities
Epcot Christmas activities start later than the other parks or Disney Springs. This year Epcot holiday offerings begin November 26 and continue until December 30, 2021.
Epcot Candlelight Processional – Returns November 26 through December 30, 2021!
This wonderful retelling of the Christmas story was greatly missed in 2020, so we are excited that Epcot Candlelight Processional officially returns for 2021.
A celebrity narrator shares the Christmas nativity story with help from an impressive choir and 50-piece orchestra. Epcot Candlelight Processional is one of the most beautiful and touching ways to celebrate Christmas at Disney World.
Epcot International Festival of the Holidays
Learn how each country in Epcot World Showcase celebrates the holiday season during Epcot International Festival of the Holidays. Costumed storytellers bring holiday tales to life, and seasonal kitchens plus a cookie stroll give you culinary incentives to celebrate the holidays at Epcot, too.
Animal Kingdom Christmas Activities
Not to be left out, Animal Kingdom has several newer Disney World Christmas offerings and some unique seasonal decor.
Christmas Character Flotillas
Disney characters in their finest holiday attire float down Discovery River with a seasonal soundtrack. Animal Kingdom flotillas are a popular way to see characters at Disney World, and I'm sure this Christmas version is going to delight guests too.
Holiday Tree of Life Awakenings
The iconic symbol of Animal Kingdom is bathed in seasonal projections during a Disney World Christmas. These holiday inspired projections will alternate with the Animal Kingdom Beacons of Light projections during Disney World's 50th Anniversary.
Merry Menagerie
On Discovery Island look for Merry Menagerie during the Christmas season. Adorable, life-sized artisan animal puppets come to life and are accompanied by live music for a fun, seasonal experience.
Where Are The Best Free Disney World Christmas Decorations?
Disney World theme parks are the only places that require a fee to see holiday decorations. Touring Disney World resorts and Disney Springs is a great, free way to see Disney World Christmas decorations.
Disney Springs Christmas Tree Stroll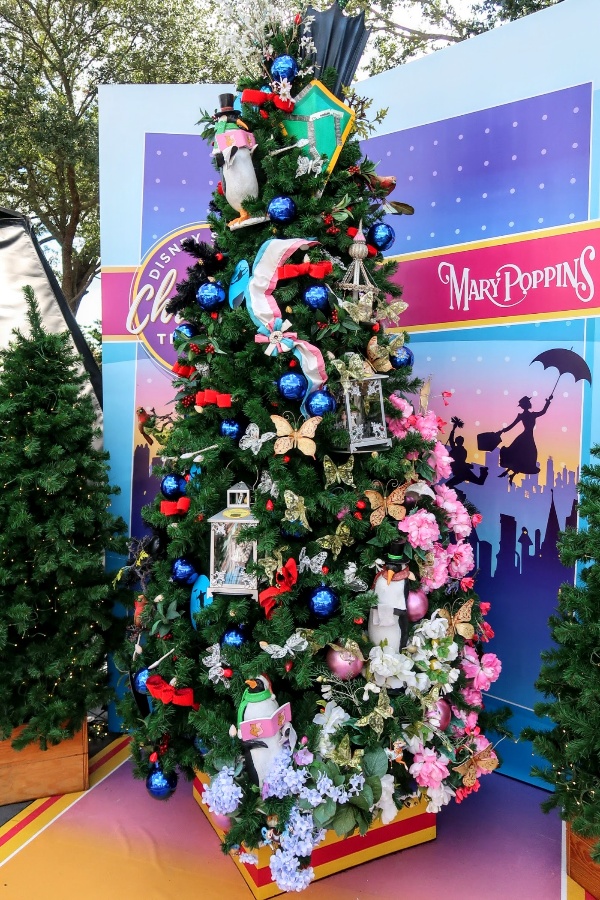 A new take on the former Disney Springs Christmas Tree Trail, the stroll spreads incredibly decorated Christmas trees throughout Disney Springs. The Disney Springs Christmas Tree Stroll is a fabulous, free way to get in the Christmas spirit while you shop, dine, and enjoy dozens of special Disney-themed Christmas trees.
Grand Floridian Resort Christmas Decorations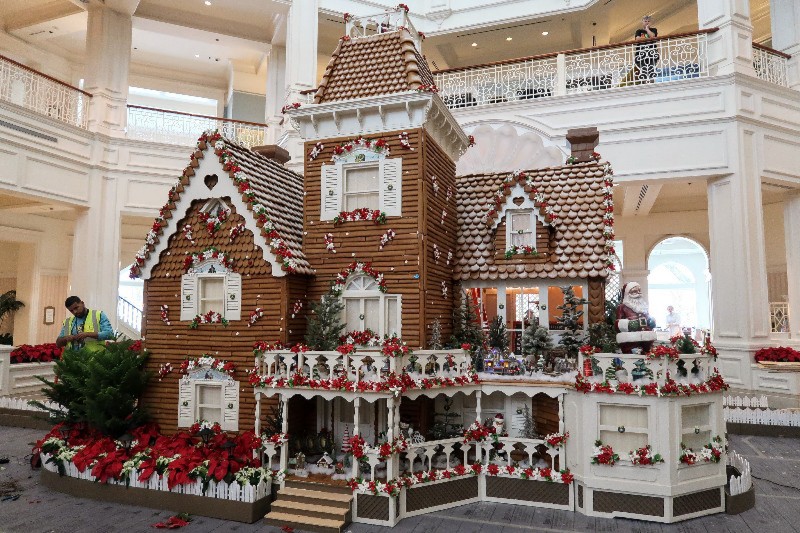 Disney's Grand Floridian has the most impressive gingerbread house on Disney World Property. The immense 16-foot (5-m) tall Grand Floridian gingerbread house is an incredibly popular Disney World Christmas decoration.
The minute you enter the lobby of Grand Floridian you can smell the amazing gingerbread house. The smell permeates the air throughout the multilevel open lobby.
The Grand Floridian gingerbread house features stained glass windows and beautiful details on each side of the immense baked creation. One of the most unique things about Grand Floridian's gingerbread house is the treat shop selling pieces of gingerbread from inside the ornate, delicious house.
As if the huge Grand Floridian gingerbread house isn't enough, the lobby also boasts a beautifully decorated 40-foot (12-m) Christmas tree. These two impressive displays, plus easy access via the monorail, is why Disney's Grand Floridian is one of the best places to see Disney World Christmas decorations.
Disney's Contemporary Resort Christmas Decorations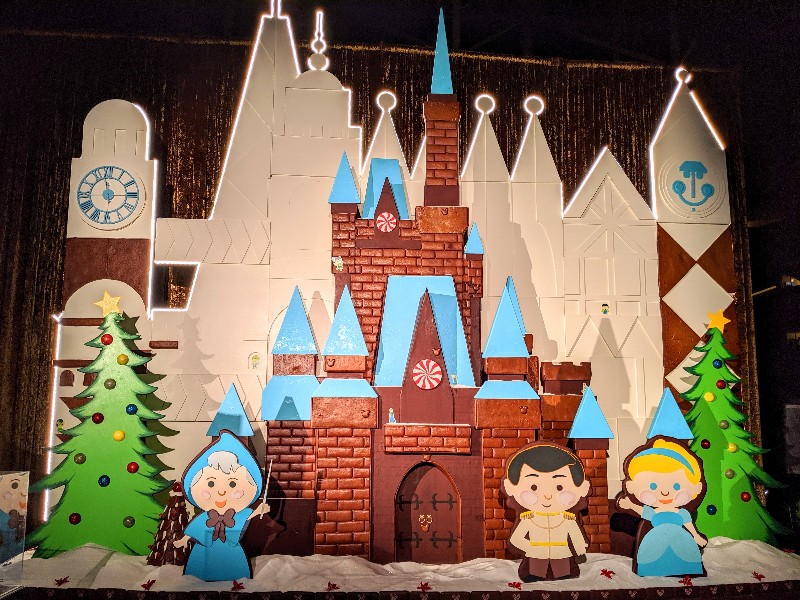 The main Christmas decoration at Contemporary Resort is a large gingerbread creation. It's not a gingerbread house, but more of a gingerbread facade. Cinderella, Prince Charming, and Fairy Godmother are in front of the large gingerbread castle front.
A fun activity is looking for the hidden Mickeys and other hidden figures within the gingerbread house. Find a list of the "hidden items" on the large ingredient board.
While you are admiring the Contemporary gingerbread creation, stop by the stand next door. Here we bought the most amazing gingerbread boy baked fresh that morning. Our gingerbread boy was so fresh he actually started to bend if you didn't hold him flat.
Disney's Wilderness Lodge Christmas Decorations
Wilderness Lodge always gets a stunning Christmas tree, but starting in 2019 it added an all gingerbread cabin. The rustic gingerbread cabin is a great addition to the Wilderness Lodge lobby decorations.
Beach Club Resort Christmas Decorations
Disney's Beach Club Resort lobby has a working gingerbread and chocolate carousel. The horses are made of chocolate, and the rest of the carousel is mostly gingerbread. Admire each horse in detail as the carousel continuously rotates.
Yacht Club Resort Christmas Decorations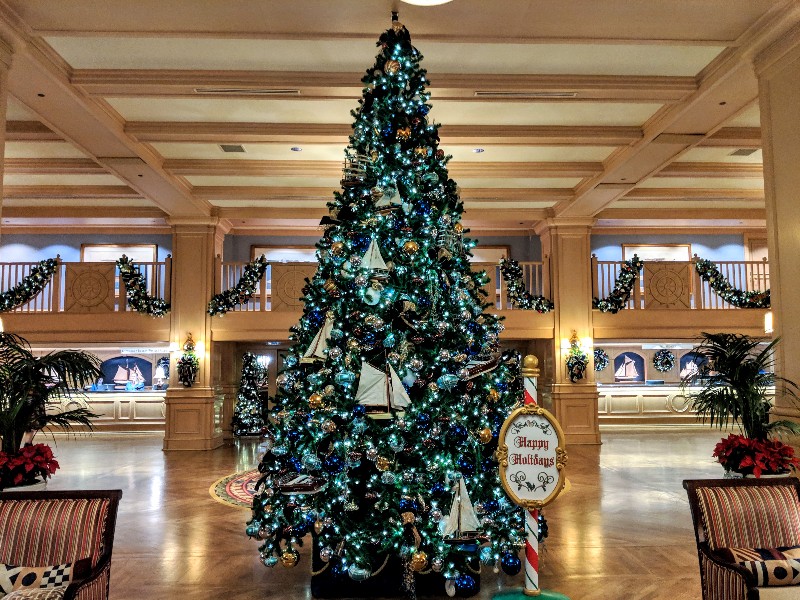 The nautical themed Christmas decorations at Disney's Yacht Club Resort are a fun twist. Boat ornaments, lots of blue hued lights, and traditional ornaments in blues and gold make the lobby Christmas tree unique to the Yacht Club theme. Just off to the side of the lobby is a Christmas village display with model trains running through the town.
Visiting Yacht and Beach Club to see the Christmas decorations is easy. These sister resorts are just a short walk from Epcot's International Gateway and a Disney Skyliner stop.
Final Thoughts On Disney World Christmas Decorations, Tips, And Activities
Visiting Disney World during the Christmas season is a wonderful time to experience a variety of holiday activities. However, there are so many options it is impossible to do everything during one Disney World Christmas vacation.
Disney World Christmas decorations are stunning with over the top details that get even better upon close inspection. We love the varied Christmas decor perfectly suited for each resort and theme park.
The best time to enjoy Disney World Christmas activities and decorations is early December. Visiting after Thanksgiving, but before school Christmas breaks, provides the best mix of available activities plus lower crowds.
Are you planning a Disney World Christmas season trip? Find out why Get Away Today is our preferred travel partner.
Pin it for later: