Disney's Yacht Club is a beautiful deluxe resort at Disney World within walking distance of Epcot and several other resorts. Take a tour of our Yacht Club room and find out why this is one of our favorite Disney World resorts.
Location
Disney's Yacht Club Resort is considered an Epcot area resort and located next to Disney's Beach Club Resort with many shared amenities. Yacht Club is a short walk to Disney's Boardwalk Inn and Villas and Epcot's International Gateway.
Disney's Yacht Club Resort Overview
Disney's Yacht Club Resort has an upscale nautical ambiance. The lobby has a huge globe over a round, compass inspired rug. The lobby has several seating areas where you can relax while enjoying the sophisticated decor.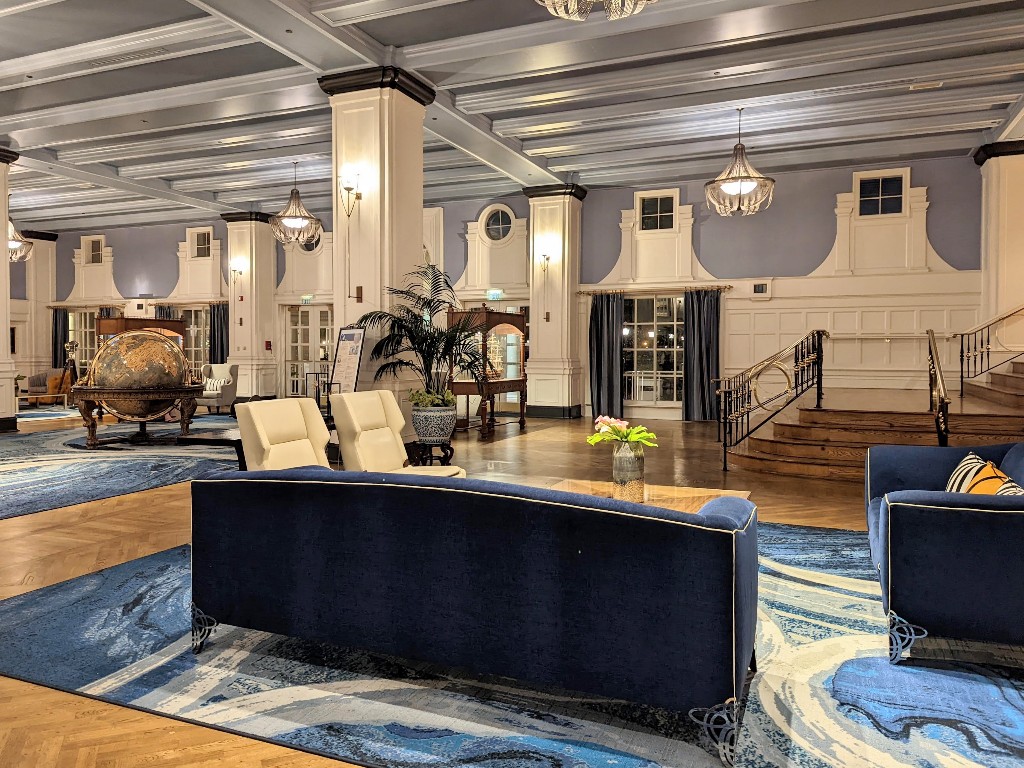 Railings along the second floor of Yacht Club Resort alternate traditional railings and wooden panels with an embossed ship's wheel. There are also rope swags along the railing. The carpets throughout the resort have ships and compasses to continue the nautical feel as you walk to your room.
Disney's Yacht Club Resort Pools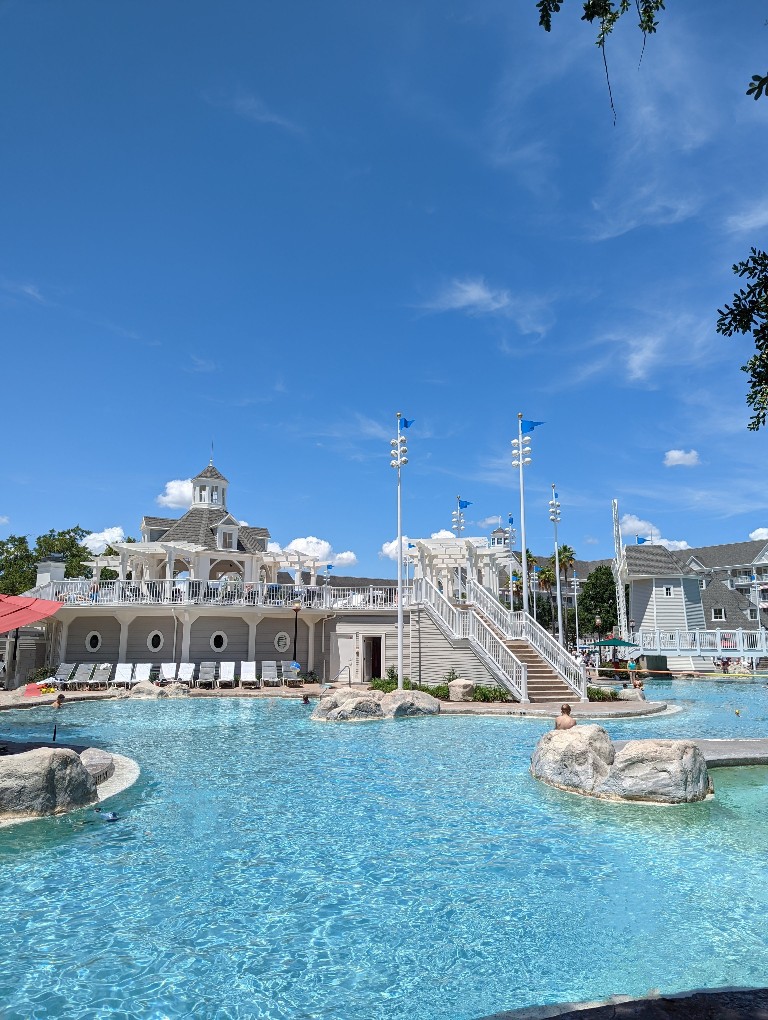 One of the best things about Disney's Yacht Club Resort is Stormalong Bay which is so much more than a normal hotel pool. Stormalong Bay is a 3-acre (12000-sq-m) shared water park area for both Disney's Yacht Club and Disney's Beach Club resorts.
We generally don't reserve a lot of pool time on our vacations, but Stormalong Bay is our favorite Disney World pool. This means we always pack a swimsuit when staying at Yacht Club to enjoy a dip in the sand covered pool or float on the lazy river.
Stormalong Bay has one of the highest hotel slides at Disney World which is an impressive 230 feet (70 m) long. Although the slide is extremely fun, guests must access the slide by leaving the pool area and crossing a walkway connecting several hotels to Epcot.
Families with small children may not be comfortable letting kids head to the slide alone because of this often crowded and unmonitored walkway.
After crossing the walkway, climb to the top of a huge shipwreck replica before plunging down to the pool below. There is also a smaller water slide for younger, or less adventurous guests, of Disney's Yacht Club.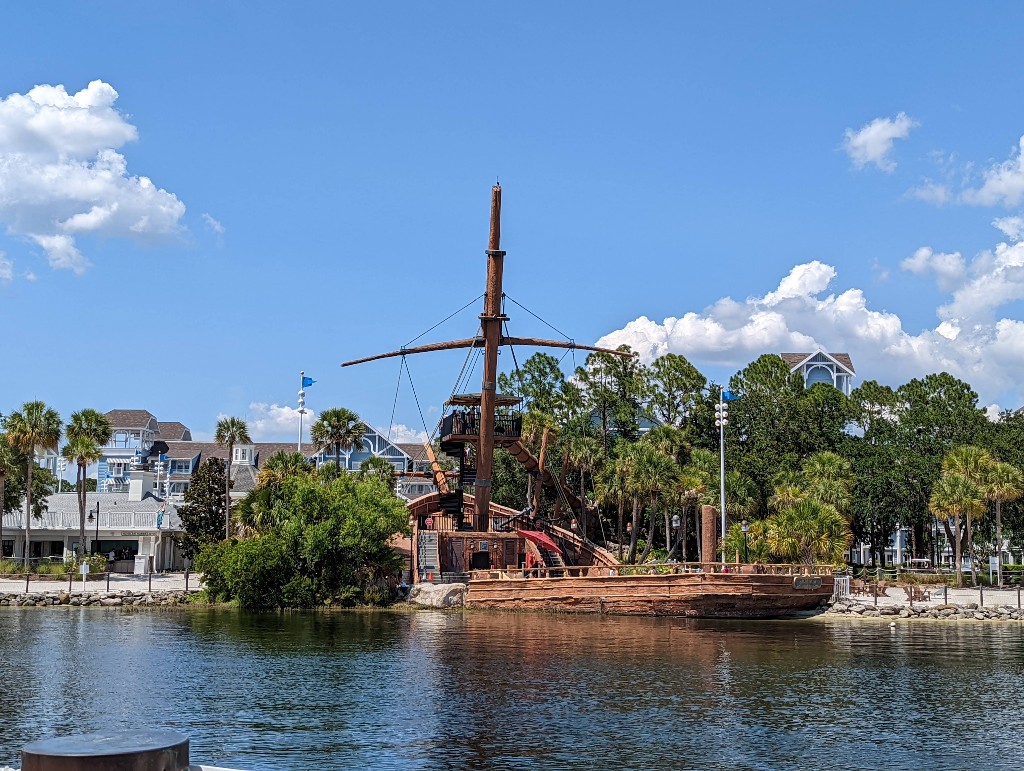 Stormalong Bay's lazy river winds around one section of the water park with free tubes available near the entrance. Looking for something a little simpler? Yacht Club also has a small leisure pool near the tennis courts.
Disney's Yacht Club Resort Dining
There are several dining and lounge options located in Disney's Yacht and Beach Club complex. I'll cover a few of our favorites below. Check here for a complete listing of dining options.
Yachtsman Steakhouse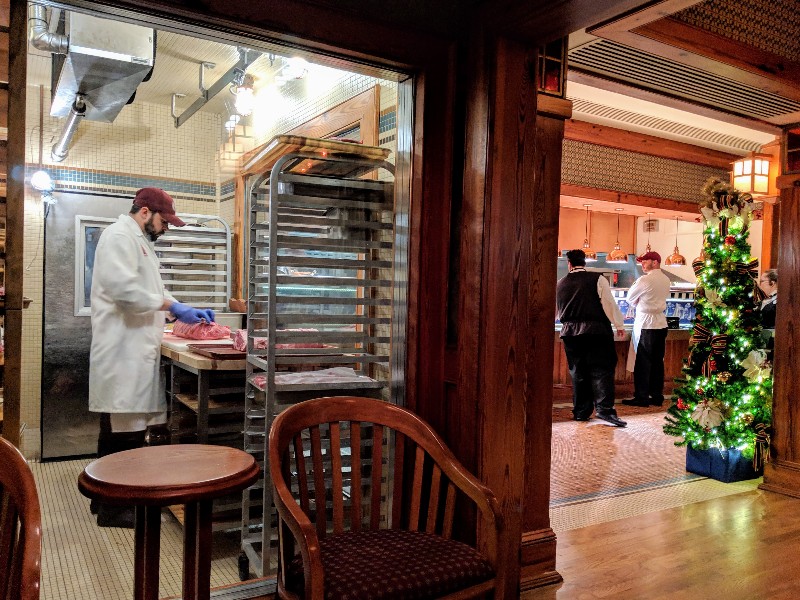 I was worried that this fine dining restaurant at Yacht Club might be a bit stuffy, since it is one of only a handful of Disney World restaurants with a dress code. However, we saw lots of families and many groups without kids enjoying the warm ambiance of Yachtsman Steakhouse for dinner.
While waiting to be seated we got to watch a butcher hand-trim steaks and some of the chefs working in a partially open kitchen area. This was a great way to get excited about our meal.
I thought the quality of our meal was good, and we liked the atmosphere of Yachtsman Steakhouse. I would definitely go there again if I had time for a nice sit-down dinner.
Cape May Cafe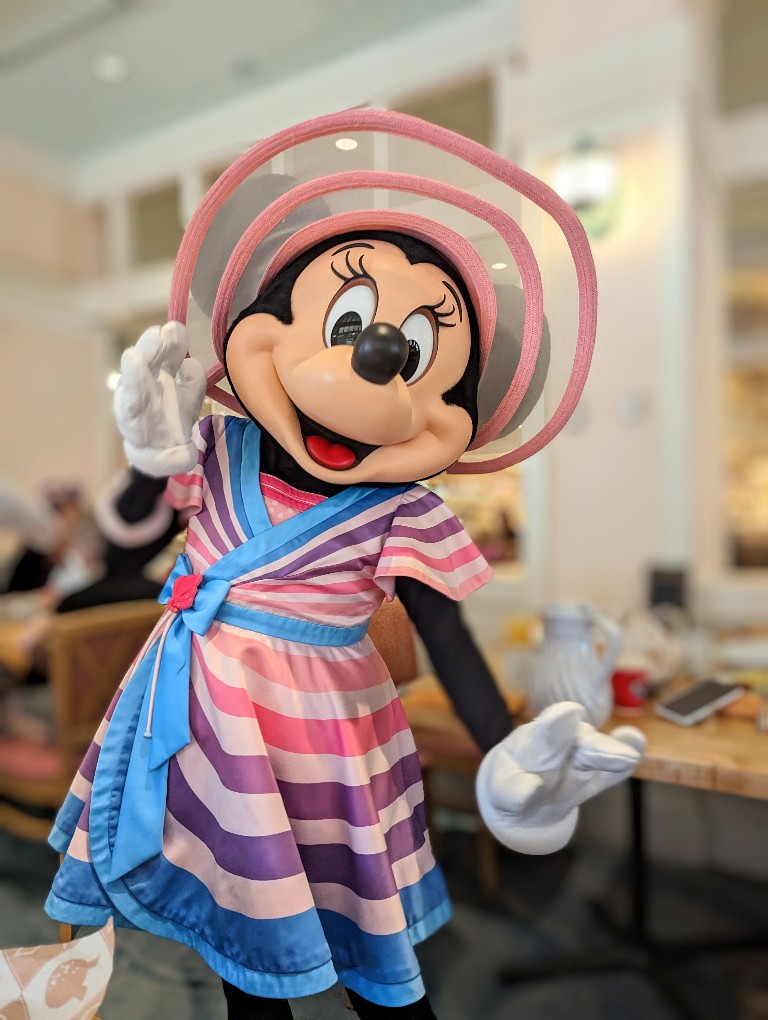 Located just off the main lobby of Beach Club Resort, Cape May Cafe is open for breakfast and dinner daily. Breakfast is a fun character buffet featuring Minnie and some friends. Dinner is also a buffet, which heavily features seafood dishes.
Beaches and Cream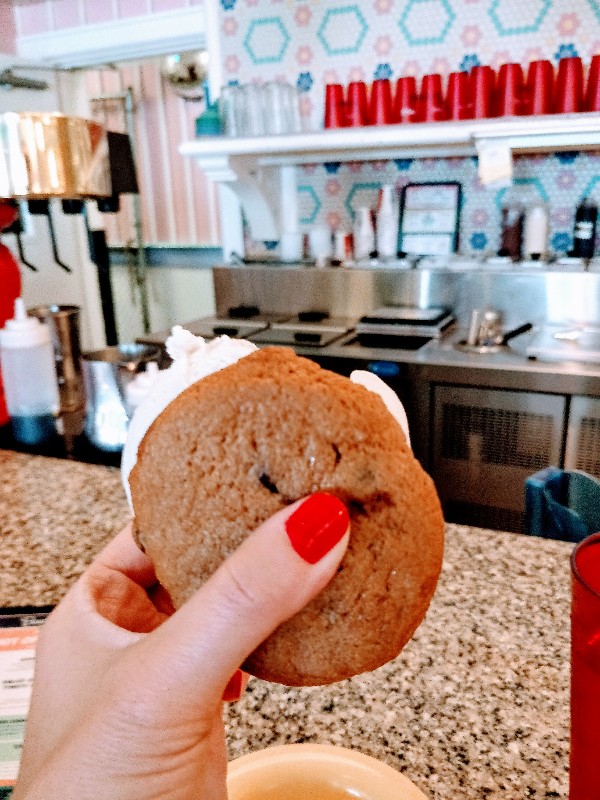 This fun diner is near Stormalong Bay in between Yacht Club and Beach Club. Beaches and Cream serves burgers and sandwiches for lunch and dinner, but for us their ice cream is the main event.
Beaches and Cream is a popular restaurant with limited tables, booths, and counter seats even after a big expansion and remodel. Make advanced dining reservations 60 days before your trip for the best availability, but keep checking for last-minute reservations if you don't at first succeed.
No reservation, but you only want some ice cream treats? No problem! Order take-out shakes, ice cream, and floats at the walk-up window.
My favorite Beaches and Cream treat is an ice cream sandwich of vanilla ice cream wedged between two huge chocolate chip cookies. I get one of these delicious ice cream sandwiches any time I am near Beaches and Cream.
Review Of Disney Yacht Club Resort Standard View Room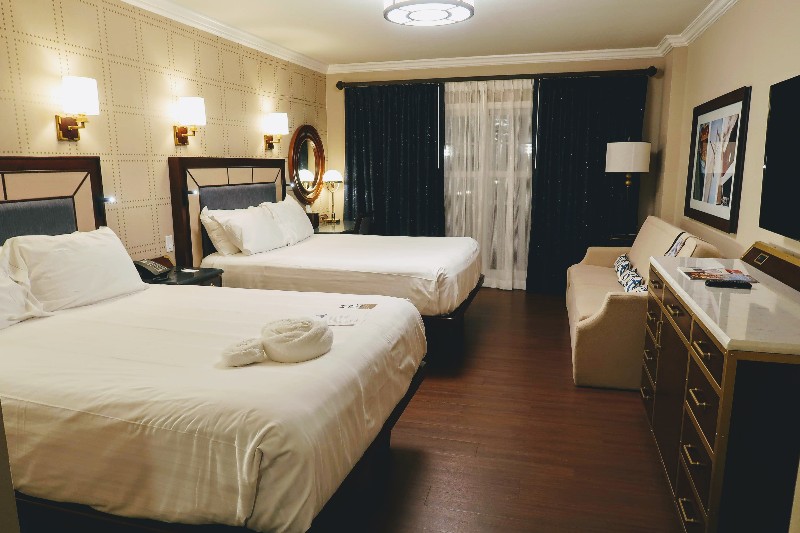 Entering the Yacht Club Resort Standard View Room I immediately noticed several things. The room feels open and spacious with great nautical details throughout.
Laminate floors and thoughtful spacing allows the room to sleep up to five guests without feeling cramped. We've stayed in two different room configurations: two queen beds plus a day bed that transforms from a couch to a twin-size bed and a more traditional two queen room.
Please note that a Yacht Club Resort Standard View room can have any of the following configurations: 2 Queen Beds and 1 Day Bed or 1 Queen Bed and 1 Twin-Size Sleeper Chair and 1 Day Bed or 1 King Bed or 1 King Bed and 1 Day Bed.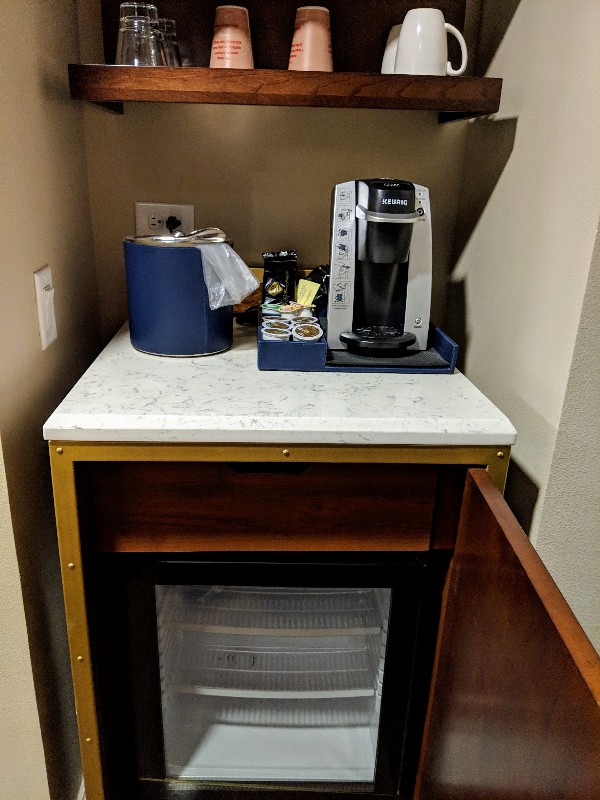 Just inside the entrance to the room is a small coffee station with Keurig coffee maker nestled on top of a trunk. This trunk conceals a small beverage cooler.
The Yacht Club Resort beverage coolers hold less than the traditional mini fridges found at other Disney World resorts. A half gallon of milk only fits sideways on the shelf and bottled waters are also a tight fit.
For a short stay the smaller fridge isn't a problem, but may be annoying when staying for a longer vacation with lots of groceries.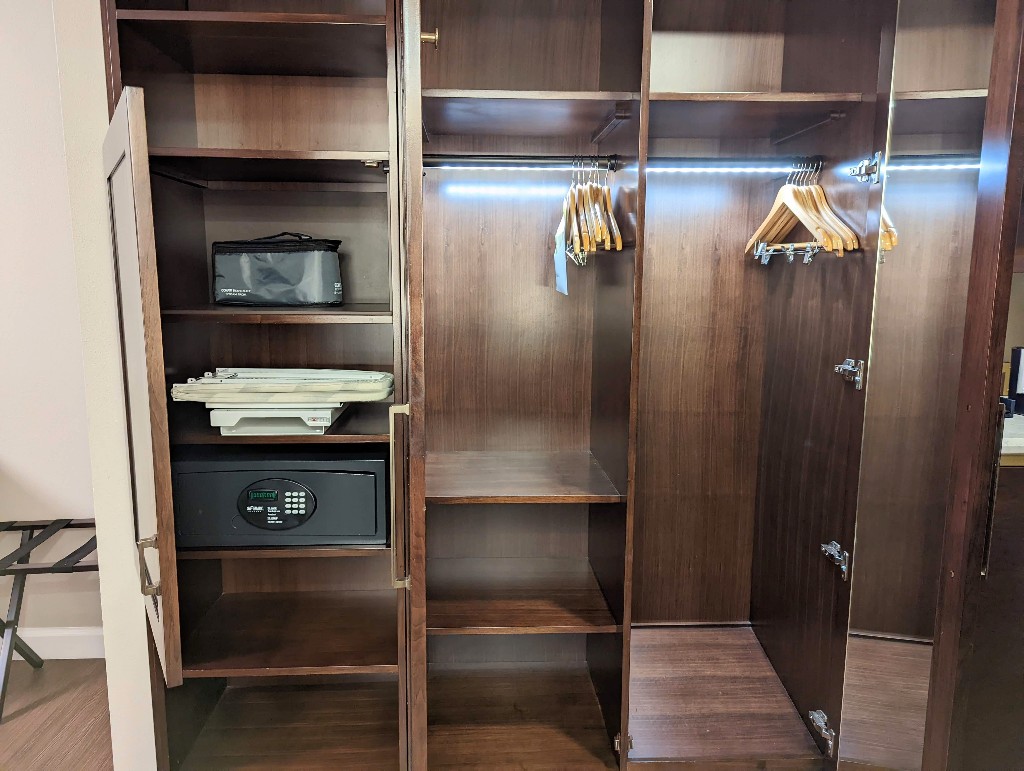 A huge wooden closet along the entryway contains an in-room safe, several shelves, a full length mirror, and areas for hanging long and short items. Find an iron and foldable ironing board on one of the closet shelves.
Yacht Club Standard Room Bedroom Area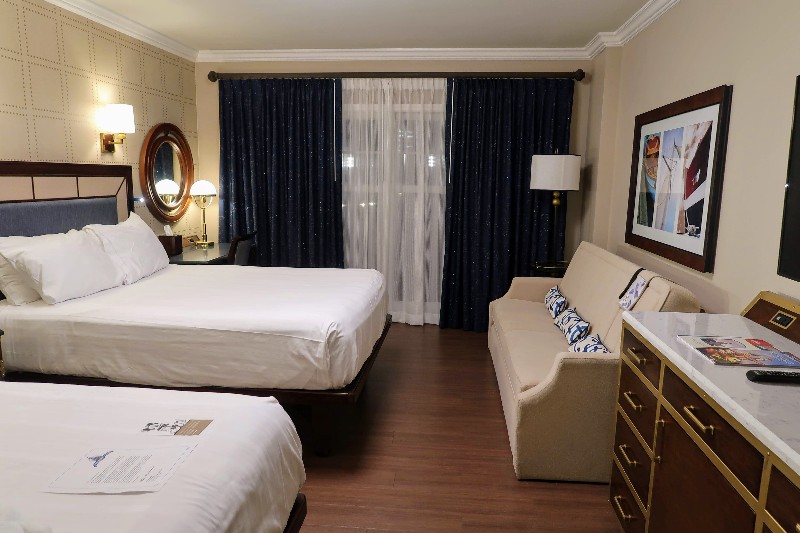 From the entryway you can see the entire bedroom area. The bedroom decor is a mix of dark wood with cream, navy, and brass accents. If you need more storage space than the closet provides, there is a large dresser in the room just below the wall mounted television. This dresser also has several electrical outlets which is extra helpful now that we are using Magic Band+.
In the two queen plus day bed configuration the couch/day bed is a great way to have seating during the day plus additional sleeping space at night. The two queen room option only has the desk chair and a upholstered chair with matching ottoman.
The beds have a bedside table between them. On the other side of the bed where normally there is nothing the standard room at Yacht Club had a little shelf with an outlet. This is a perfect spot for someone to charge a phone overnight and still use it as an alarm.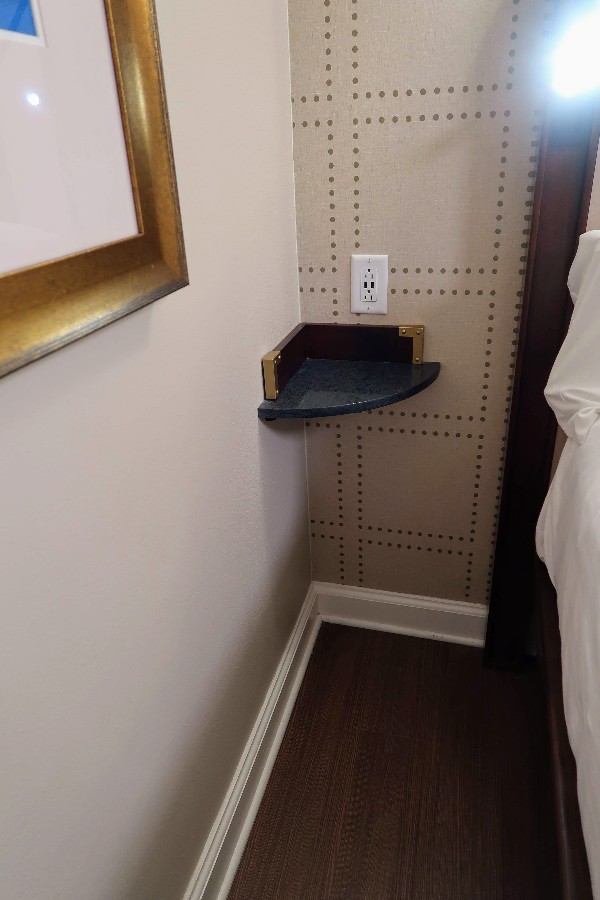 The room also has a desk and chair. The desk is actually two different pieces: the normal desk and a rolling table underneath. This gives extra table space in case you want to eat in the room, write, or draw.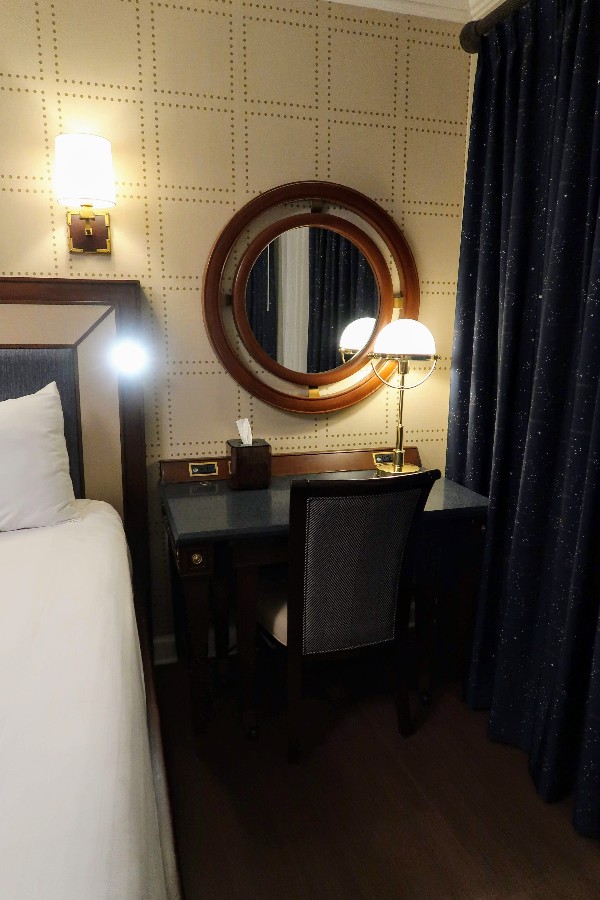 The Yacht Club Resort Standard Room has a sliding glass door leading out to a small patio or balcony. There are cute blackout curtains on the window and door leading to the balcony. Look closely at the curtains to find fake constellations of some favorite Disney characters.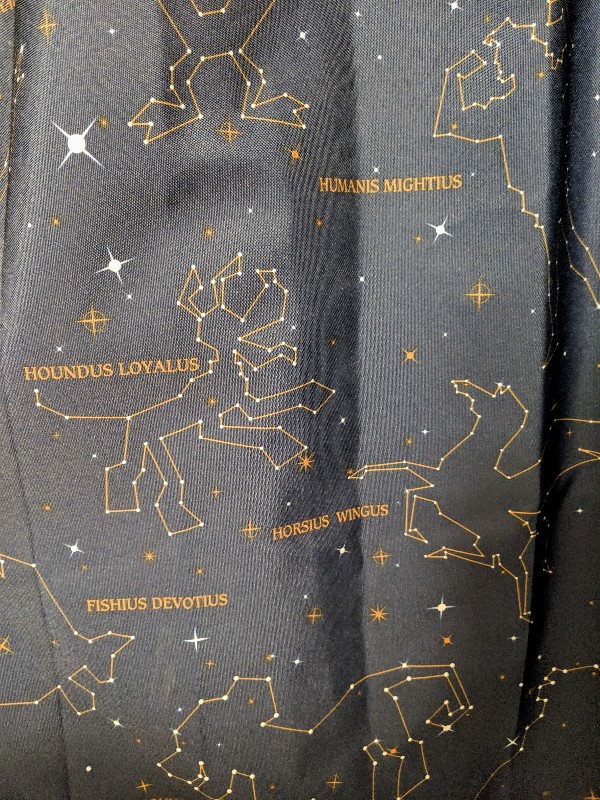 Yacht Club standard view rooms can have a view of anything, but are generally parking lots or roofs. Sometimes we've been surprised with a nicer view, but that shouldn't be the expectation when booking the standard view rooms.
Yacht Club balconies have privacy walls on both sides of the balcony plus two chairs and a small side table. This makes it a nice place to relax especially if you have a little one taking a nap or a teen sleeping in.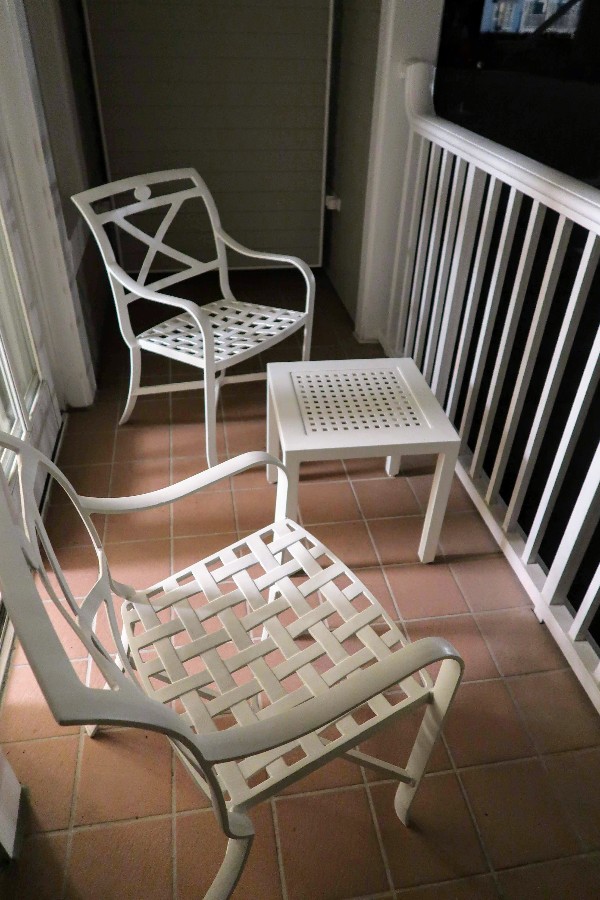 Yacht Club Standard Room Bathroom Area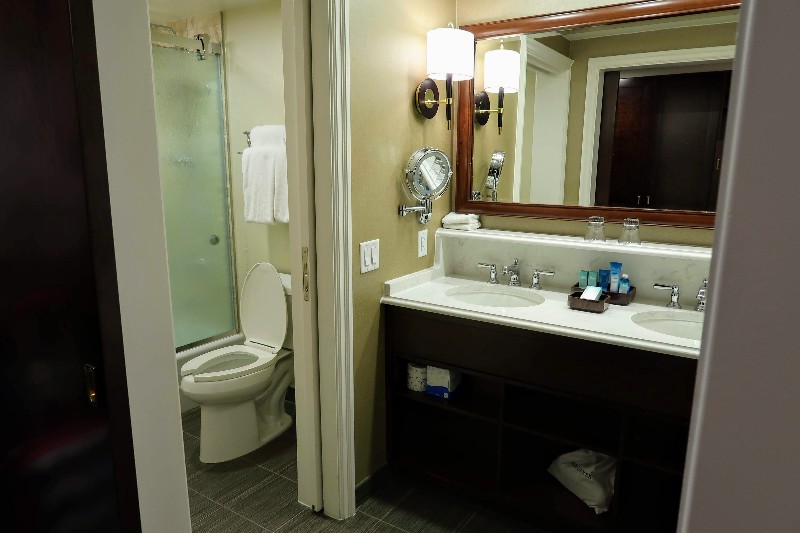 The Yacht Club bathroom is just inside the entryway opposite the closet. The bathroom has the split configuration where the sinks are in one room and the shower/toilet in a small separate area.
At first I was concerned that the door to the bathroom is a sliding barn door. Sometimes this style door doesn't close fully, but this one was great. In fact, the sliding door to the bathroom even has a soft-close feature so it can't be accidentally slammed.
There are double sinks with storage in the vanity and a slender shelf above the sinks. The shower and toilet area is a bit tight, but manageable. A pocket door closes it off from the rest of the bathroom allowing multiple people to get ready at the same time.
The room had the following great features:
Laminate Floors

Soft close sliding bathroom doors

Wonderful closet area with tons of storage

Split bathroom with a double sink

A plug and small area for phone on side of bed

Keurig coffee maker

Blackout curtains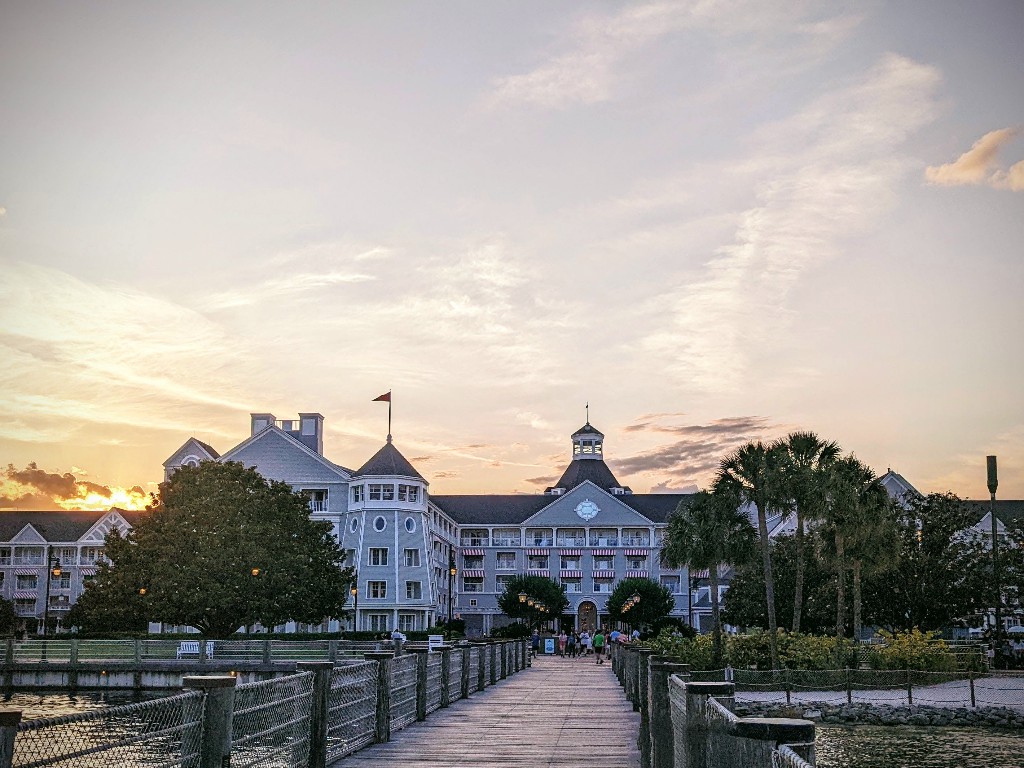 In Room WiFi
Disney's Yacht Club Resort has complimentary wi-fi. The free wi-fi works pretty well overall, but does not always support streaming video from services like Netflix.
Yacht Club Parking
Parking is complimentary for resort guests while valet parking costs $33 per night at Disney's Coronado Springs Resort.
Transportation To Parks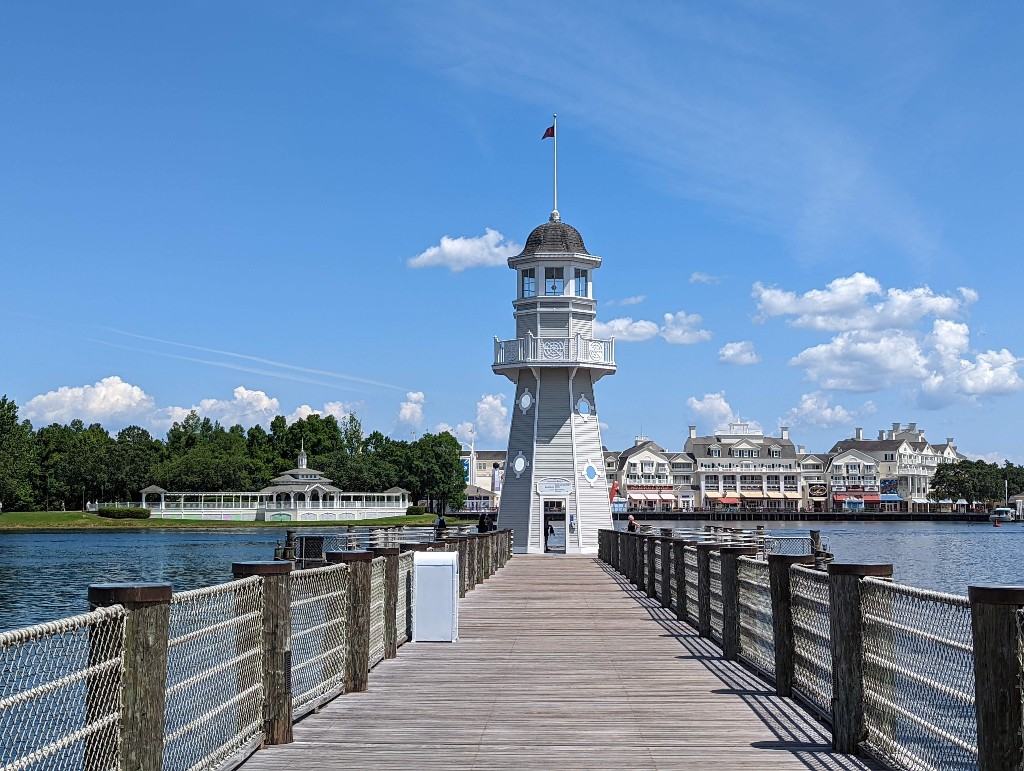 Yacht Club To Epcot And Hollywood Studios
Disney's Yacht Club Resort is located within walking distance of both Epcot and Hollywood Studios. The walk to Epcot takes you past Beach Club Resort and into the International Gateway entrance between France and United Kingdom in World Showcase.
The walk to Hollywood Studios from Yacht Club is considerably longer, but is possible. If you prefer to save your steps, take a boat from the dock located behind Yacht Club which brings you, and guests from other resort stops, to Hollywood Studios.
Yacht Club To Magic Kingdom and Animal Kingdom
Hop a bus to Magic Kingdom or Animal Kingdom from Disney's Yacht Club Resort. Find the bus stop on the left side of the main entrance when exiting the lobby area.
This article can help you learn more about the vast transportation system at Disney World.
Overall Impression Of Disney's Yacht Club Resort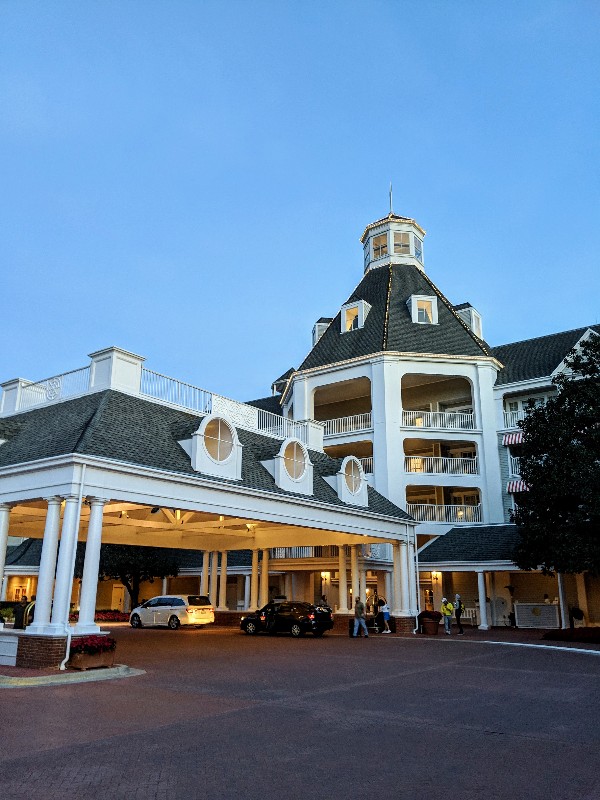 Disney's Yacht Club Resort is a beautiful deluxe resort with great restaurant options and the best pool at Disney World. We love the sophisticated take on nautical design in the resort and the easy walk to Disney's Beach Club, Disney's Boardwalk, and Epcot.
I am overall very happy with our rooms here, but do think the rooms could be better maintained. On a recent stay our shower caulk was damaged and water leaked out onto the floor.
Despite this we still love the laminate floors, beautiful closet, split bathroom, and comfortable beds which make for a pleasant stay at Yacht Club.
Find out more about planning a Disney World vacation here.
Pin it for later: