Disney World has announced a new special event, Disney Jollywood Nights, for the 2023 holiday season. Billed as a step back into glamorous holiday celebrations of the past, guests have access to special entertainment, characters, and shorter attraction wait times. Here's more about the event and our honest review after attending Disney Jollywood Nights.
What Are Disney Jollywood Nights?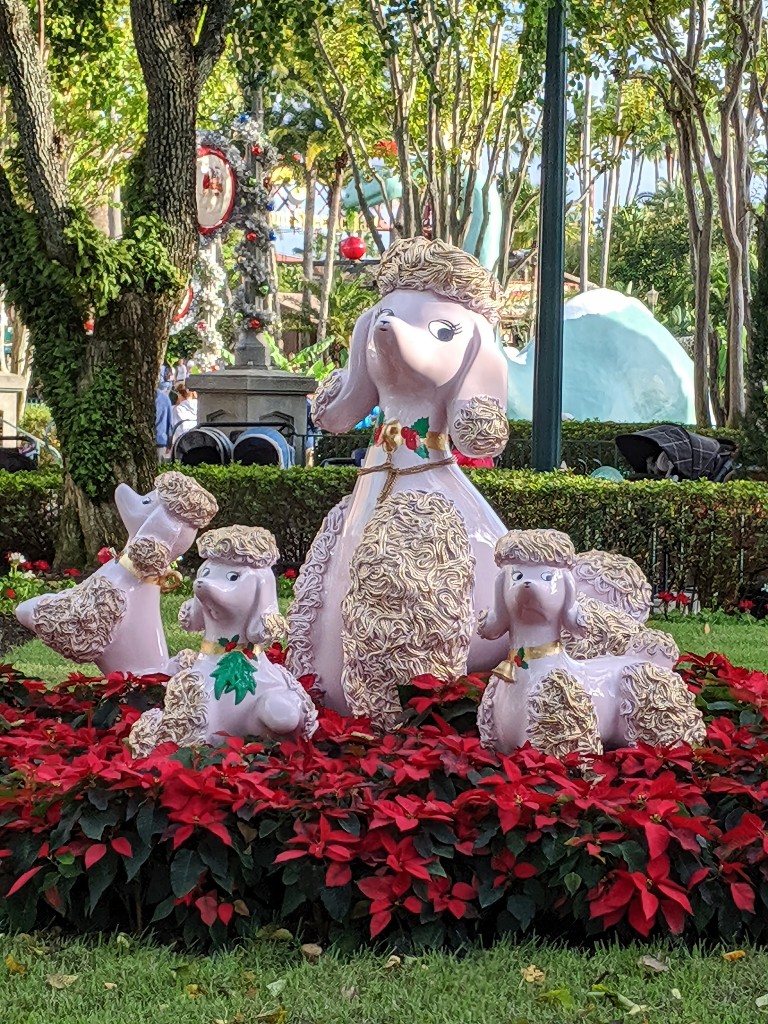 Jollywood Nights is a new separately ticketed event on ten select nights at Disney's Hollywood Studios. The event officially begins at 8:30pm and ends at 12:30am. Guests with special event tickets can enter Hollywood Studios starting at 7pm on their party night.
Jollywood Nights Dates 2023:
Saturday, November 11 – Sold Out
Saturday, November 18 – Sold Out
Monday, November 20
Monday, November 27
Wednesday, November 29
Monday, December 4
Wednesday, December 6
Saturday, December 16 – Sold Out
Monday, December 18
Wednesday, December 20
How Much Are Disney Jollywood Tickets?
Tickets prices vary by date, but ticket prices are $159 to $179 (plus tax) per ticket. Annual Passholders and DVC members can get a $10 discount per ticket on select nights.
What Attractions Are Available During Disney Jollywood Nights?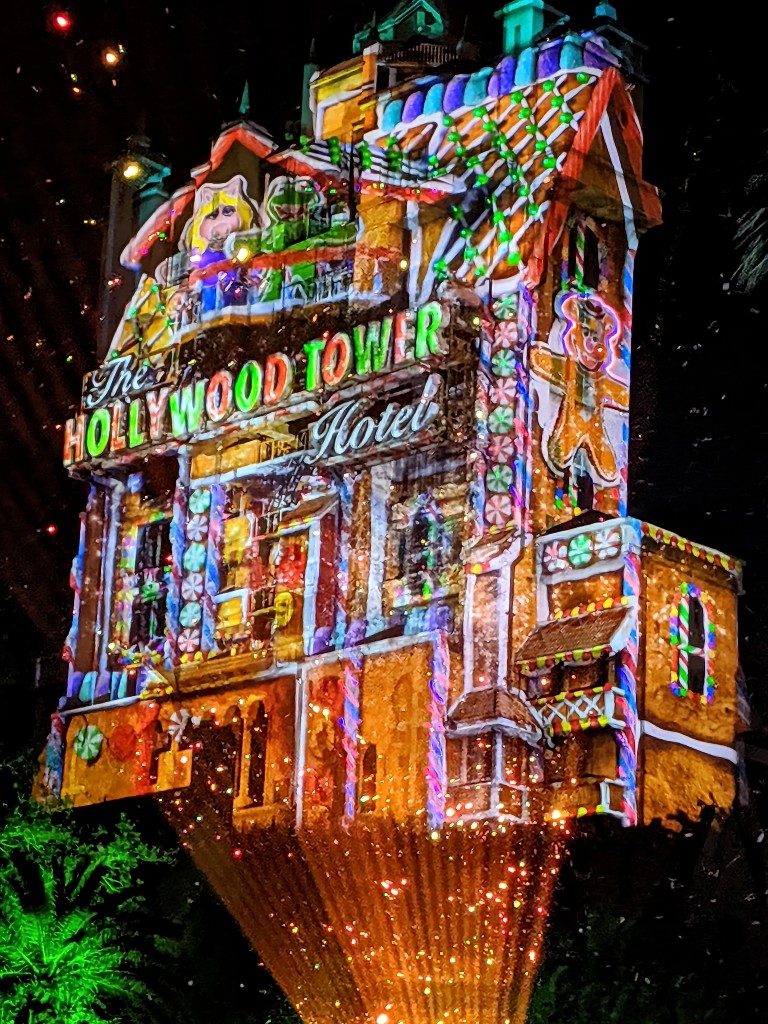 Most popular Hollywood Studios attractions run during Jollywood Nights and most had very low wait times.
The only exceptions were Slinky Dog Dash and Toy Story Mania which had varied waits between 25 and 40 minutes and Rise of the Resistance which is a virtual queue only.
Alien Swirling Saucers
Millienium Falcon: Smugglers Run
Mickey and Minnie's Runaway Railway
Rock 'n' Roller Coaster Starring Aerosmith
Star Tours
Slinky Dog Dash
Star Wars: Rise of the Resistance (only available via an 8pm Virtual Queue)
Toy Story Mania
The Twilight Zone Tower of Terror
Which Characters Are At Jollywood Nights?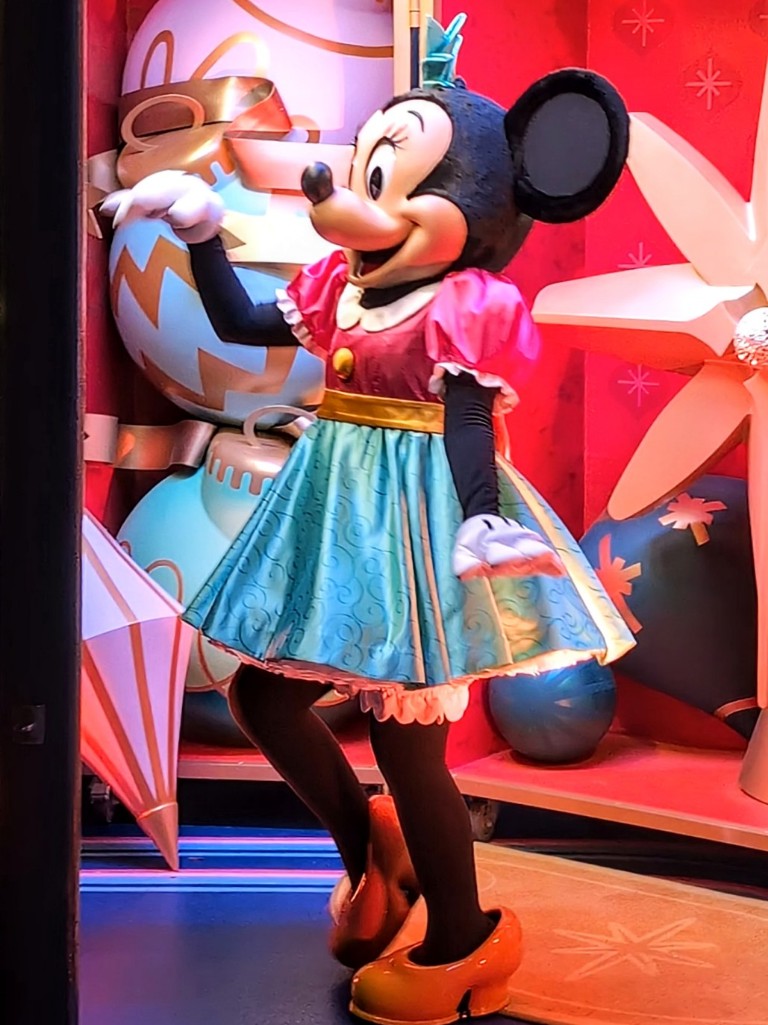 There are now several rare Disney character meet and greets at Disney Jollywood Nights which is a huge improvement over the inaugural event night. I've broken down Jollywood Nights character meet and greets by location below.
Animation Courtyard
Animation Courtyard is home to six amazing Disney friends in all new holiday attire at three different meet and greet stations. I liked that two characters switched off for each location so the meet and greets ran almost continuously through the night.
Get in line for Mickey or Minnie, Daisy or Donald, or Pluto or Goofy. We entered the line hoping to catch Daisy, but ended up with Donald who is still an amazing character interaction.
Echo Lake
Chip and Dale Rescue Rangers meet guests near the entrance of Indiana Jones Epic Stunt Spectacular next to an adorably themed Christmas tree.
Find Powerline Max from a Goofy Movie and Phineas and Ferb at separate locations along Echo Lake.
Center Stage near Mickey and Minnie's Runaway Railroad
Center Stage alternates Jiminy Cricket or Pinocchio meet and greets in one line while Santa Stitch is solo in a separate queue.
Mickey Shorts Theater
Meet Duffy Bear in an adorable, snuggly Santa suit outside Mickey Shorts Theater.
Grand Avenue
Grand Avenue is an easily overlooked area at Hollywood Studios, but hosts two of the most unique Jollywood Nights character meet and greets. Snow White and Dopey alternate with Mary Poppins and one of the giant penguin waiters which are both amazing options.
Pixar Place
Edna Mode greets guests in her usual Pixar Place location which is not far from Toy Story Land. Find Frozone in the same general area on event nights.
Is There Special Entertainment For Disney Jollywood Nights?
There are a handful of new and returning entertainment options only available during this special Hollywood Studios holiday event.
Disney Holidays in Hollywood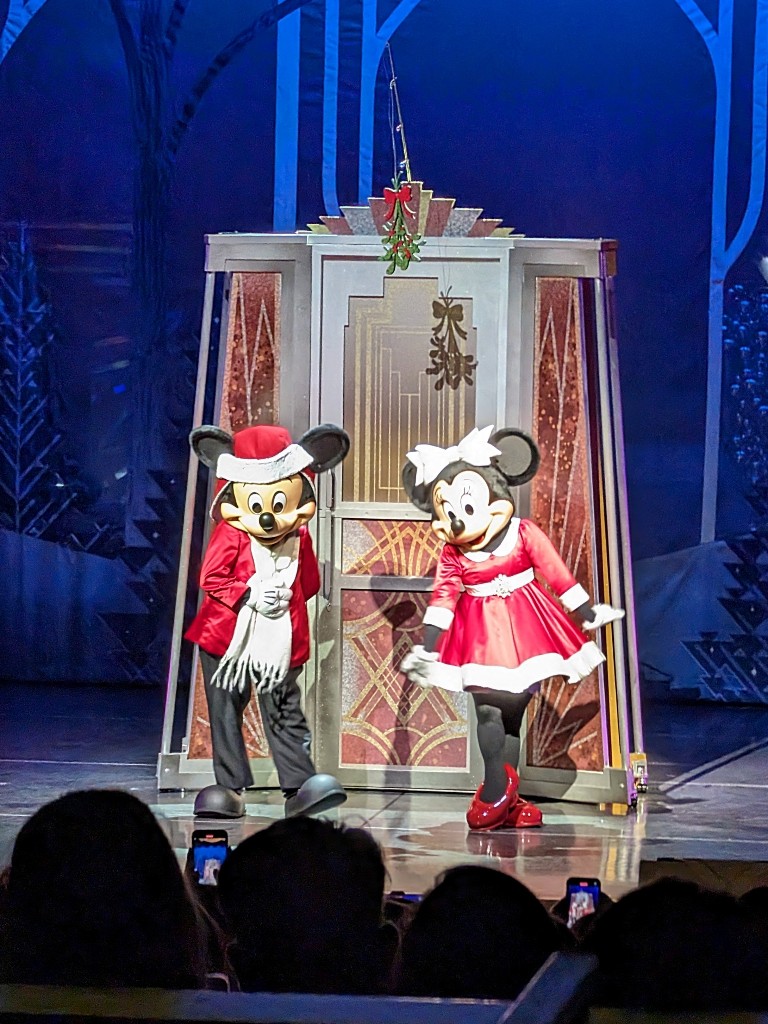 A new musical variety show, "Disney Holidays in Hollywood", features Kermit the Frog and Miss Piggy at Theater of the Stars. I didn't expect much, but this show was absolutely a highlight of my Jollywood Night.
Disney Holidays in Hollywood is a live "TV" show which is about 30 minutes long. The cast sing and dance, but then go to "commercial breaks" where we get to see some funny and heartfelt interactions "behind the scenes".
Tiana, Belle, Mickey, and Minnie each have their own wonderfully choreographed performance accompanied by a live band.
Holidays in Hollywood has four performances each night: 8:45 pm, 9:45 pm, 10:30 pm, and 11:45 pm. I highly recommend making time for this charming show when attending Jollywood Nights.
What's This? Tim Burton's The Nightmare Before Christmas Sing-Along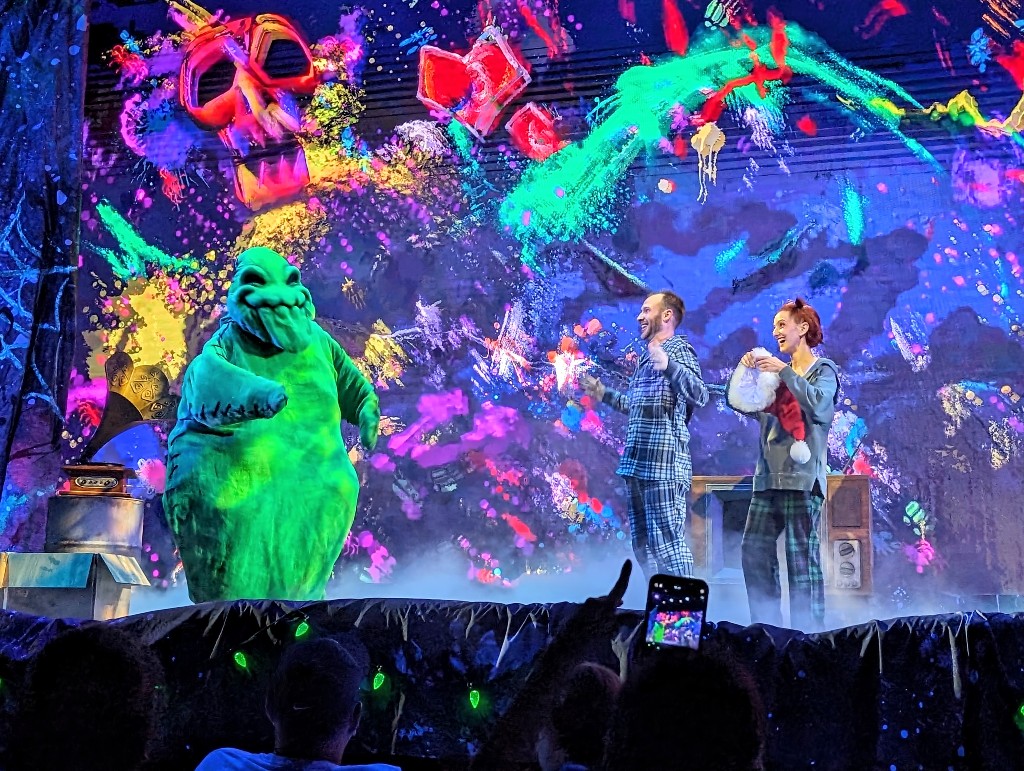 "What's This? Tim Burton's The Nightmare Before Christmas Sing-Along" features songs from the beloved movie intertwined with a story of a couple who fall asleep and find themselves part of Jack's world.
A large Jack Skellington who introduces the story and a musical number by Oogie Boogie were the best parts of this new sing-a-long, in our opinion. I expected something like the Frozen Sing-a-long, but found What's This? much less entertaining and not a great use of 25 minutes during this short event.
What's This? takes place four times per night at Hyperion Theater: 8:30 pm, 9:30 pm, 10:30 pm, and 11:30 pm.
Jingle Bell, Jingle BAM! Fireworks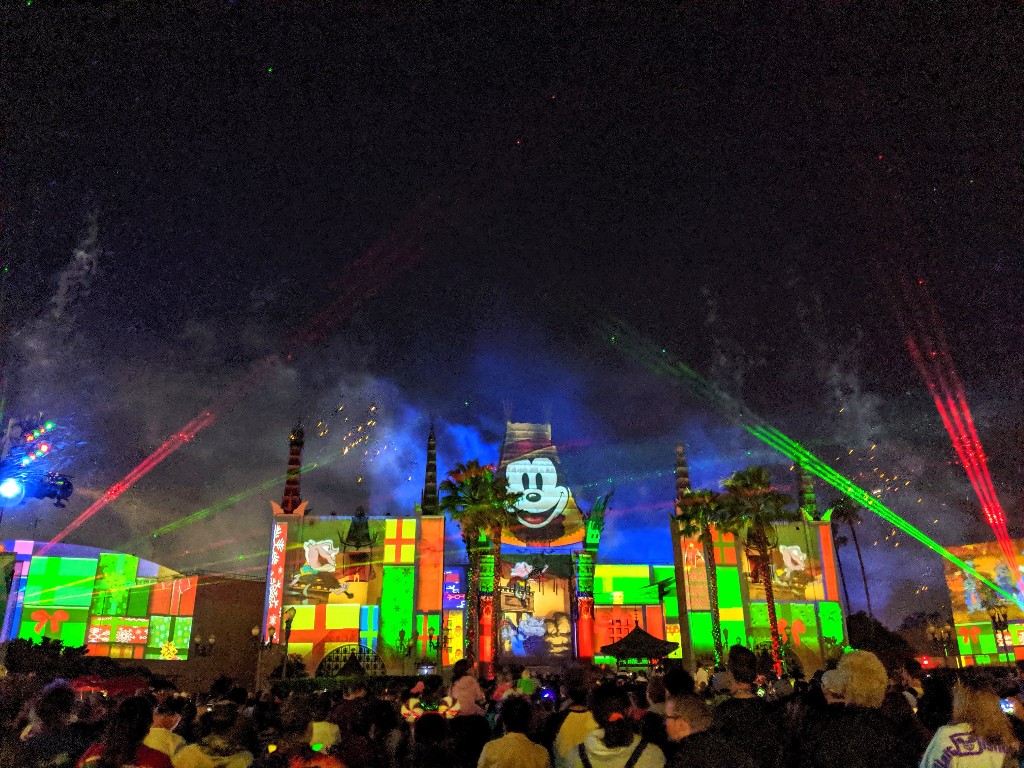 Holiday fireworks return to Hollywood Studios with Jingle Bell, Jingle BAM! This nighttime spectacular was previously included in a regular theme park day ticket, but never returned after the parks reopened.
It's nice to have a holiday projection show with limited fireworks back at Hollywood Studios, but Jingle Bell, Jingle BAM! is mediocre. This is especially true when compared to other free Disney World nighttime spectaculars.
Special Entertainment Areas
Special entertainment areas are scattered throughout Hollywood Studios during Jollywood Nights. A DJ on Hollywood Boulevard kicks the party off as guests enter and a roving DJ entertains people waiting for the Sensational Six.
Colorful decor transforms Commissary Lane into a holiday street fair, Holiday Fiesta en la Calle. Live musicians play Latin holiday music for a festive and unique experience. Unfortunately, a rainy night silenced the musicians which left this area feeling uninspired.
Pop-up Lounges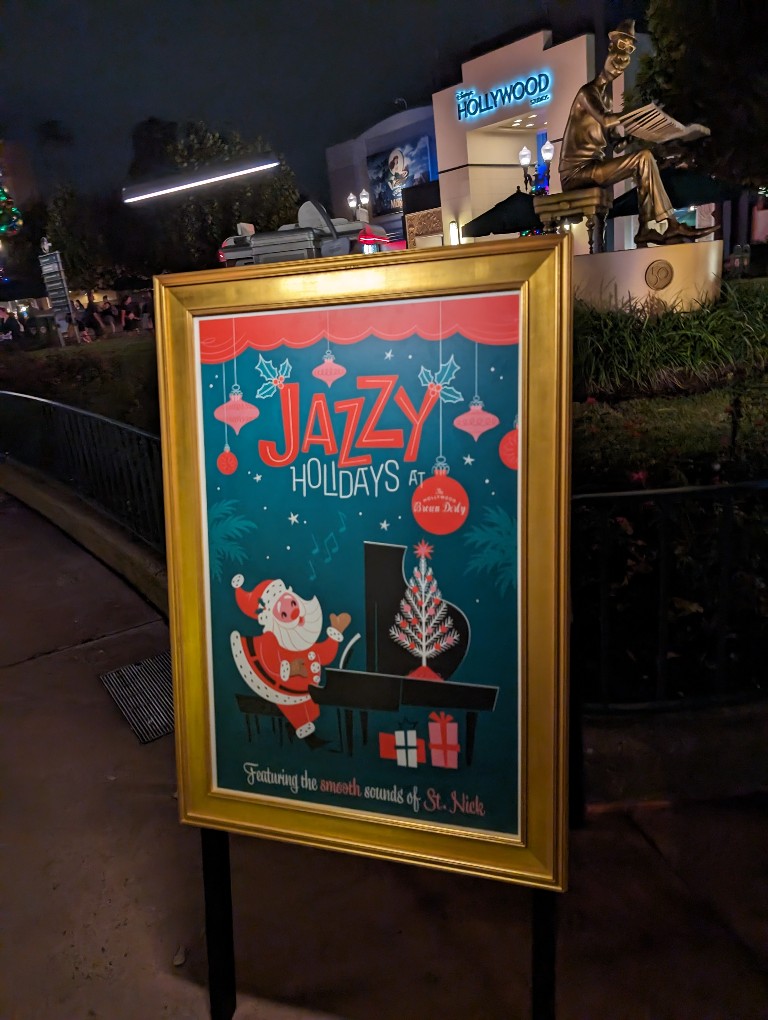 There are two limited capacity lounges: Jazzy Holidays at Hollywood Brown Derby or Tip Top Club.
On the first night, Hollywood Brown Derby opened the waitlist at 8:15 pm, before the official party start, and it was full in seconds. Talking with cast members there were some technical issues, and Disney has changed the Jazzy Holiday procedure for future nights.
Guests will queue outside the restaurant for the first seating. After the restaurant is full the wait will switch to a virtual walk-up waitlist which guests join on the My Disney Experience app.
Stroll down Sunset Boulevard to Hollywood Tower Hotel's courtyard for Twilight Soirée at the Tip Top Club. A live band entertains while guests sip on cocktails at this walk up bar.
Jollywood Nights Specialty Foods
Each area has something special to offer during Disney Jollywood Nights. The menus look incredible, but we didn't prioritize waiting in the long food lines during our event.
Instead we ate a full dinner at 50's Prime Time Café before Jollywood Nights started.
Want to try some of the specialty food and drinks? Review the complete Jollywood Nights menus here and make your own tasty to-do list.
What Should I Wear To Jollywood Nights?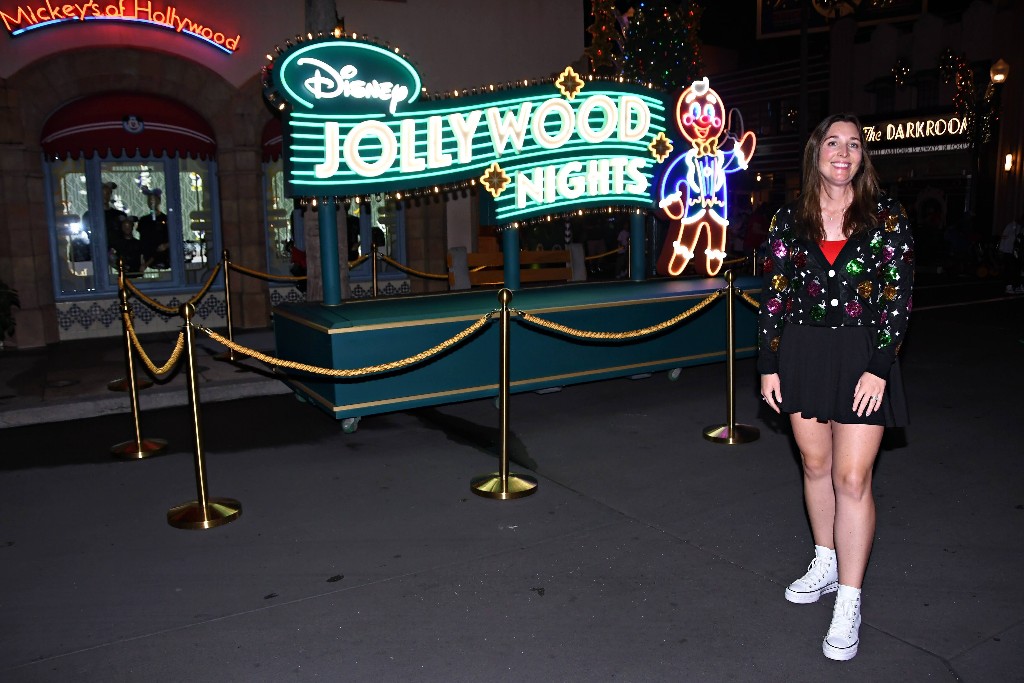 A lot of promotional materials for Disney Jollywood Nights mentions dressing up in retro Hollywood style. People got the message and went all out.
We saw people dressed in everything from full sequin gowns to suits and suspenders. While not everyone was dressed this extravagantly for Jollywood Nights, we only saw a few people in regular jeans and t-shirts.
I opted for a swing skirt and sequin Christmas sweater which got several compliments through the night. This combo was a good balance of comfort and some bling for a more glamorous night.
Newly announced complimentary Disney PhotoPass downloads and unique photo ops seemed to sway guests to dress a little fancier than a normal day at the parks.
Disney Jollywood Night Photo Ops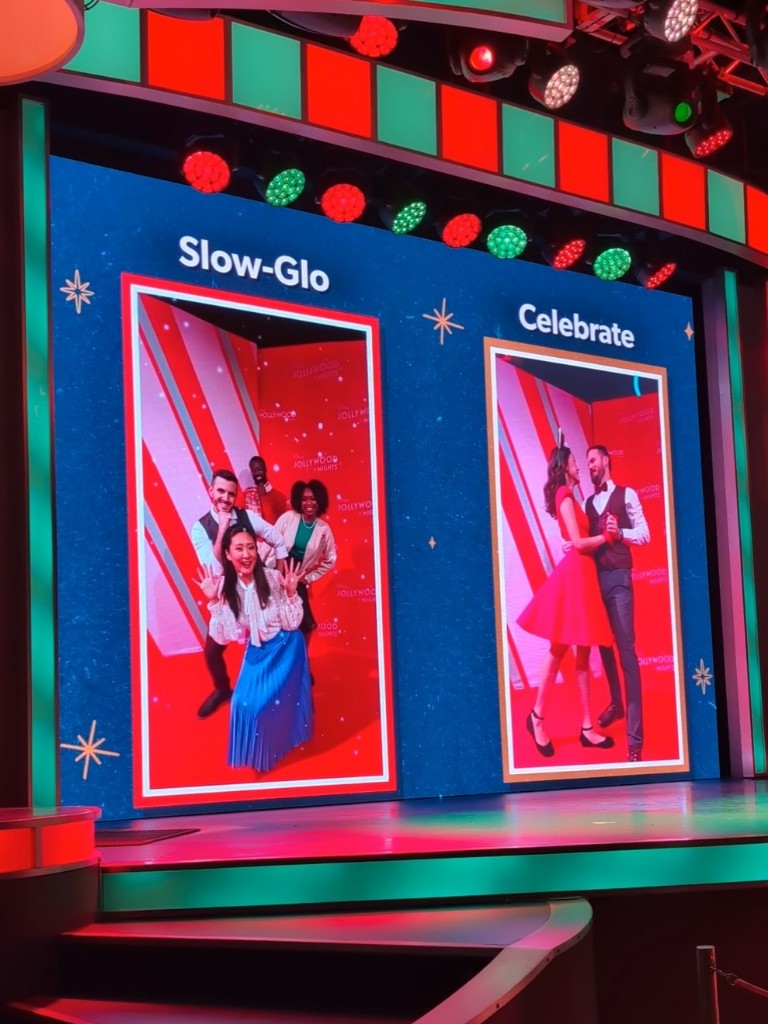 Entering into Hollywood Studios you can't miss the giant neon "Jollywood Nights" sign. This photo op got us excited for the night ahead and was extremely popular.
Animation Courtyard has two unique photo ops. The first is a boomerang style photo inside a building next to Daisy and Donald's meet and greet.
The second Animation Courtyard Jollywood Night photo op uses a robotic arm for two different styles of video. Choose from "Slow Glo" a slow motion video or "Celebrate" a 15 second video where the robot arm moves to various spots for a cool video effect.
There are also two photo ops in Galaxy's Edge, one in Pixar Place, and two on Sunset Boulevard, but skipped most of the extra photo ops to focus on entertainment.
Is Disney Jollywood Nights Worth It?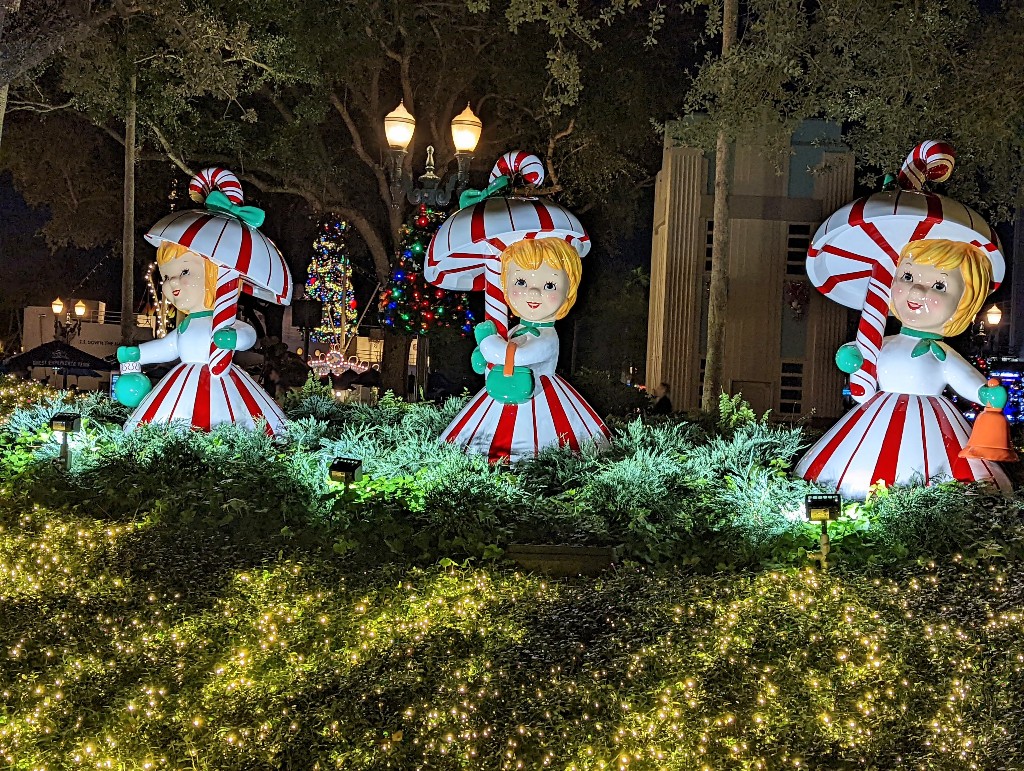 Hollywood Studios is my favorite Disney World holiday park with tons of seasonal cheer included in a regular park ticket day. We found Jollywood Nights to be an interesting change to a normal day at Disney.
Jollywood Nights is geared towards adults looking to enjoy music, cocktails, characters, photo ops, and unique Hollywood Studios atmosphere. This a very different event from the frenzied, excited pace of Mickey's Very Merry Christmas Party.
I think Jollywood Nights is a fun departure from a traditional Disney World experience for adults looking for a relaxed, somewhat quirky night out. However, as the event stands I don't think it is a good value for most Disney World guests.
I'm sure part of our less than impressed review was due to weather and hiccups of a new event. Drizzle turned into a soaking rain with about an hour left in the event. All characters left when the rain started and didn't return. Jingle Bell, Jingle BAM! ran despite the weather, but it was not fun to watch in the pouring rain.
We also scored a Rise of the Resistance Virtual Queue spot which was nice. However, not long after our group was called the ride was down for the rest of the night. Our Jollywood Night experience was fine, but not as fun as going to Mickey's Very Merry Christmas Party the night before.
Most regular guests, and those with small kids, will have a better time at Mickey's Very Merry Christmas Party or doing our other favorite Disney World holiday activities instead of Jollywood Nights.