Stepping into Disney's Animal Kingdom Lodge brings you into the heart of the African savanna but with all the amenities of a Disney World deluxe resort. Our remodeled Animal Kingdom Lodge savanna view room plus unique Animal Kingdom Lodge experiences made us look forward to spending time at this special resort.
Animal Kingdom Lodge Location
Animal Kingdom Lodge is part of the Animal Kingdom area resorts. There are technically three Animal Kingdom properties located near each other. Animal Kingdom Lodge plus Jambo House Disney Vacation Club rooms are located in Jambo House. Kidani Village, a DVC-only property, is located a short walk from Animal Kingdom Lodge.
Animal Kingdom Lodge Resort Overview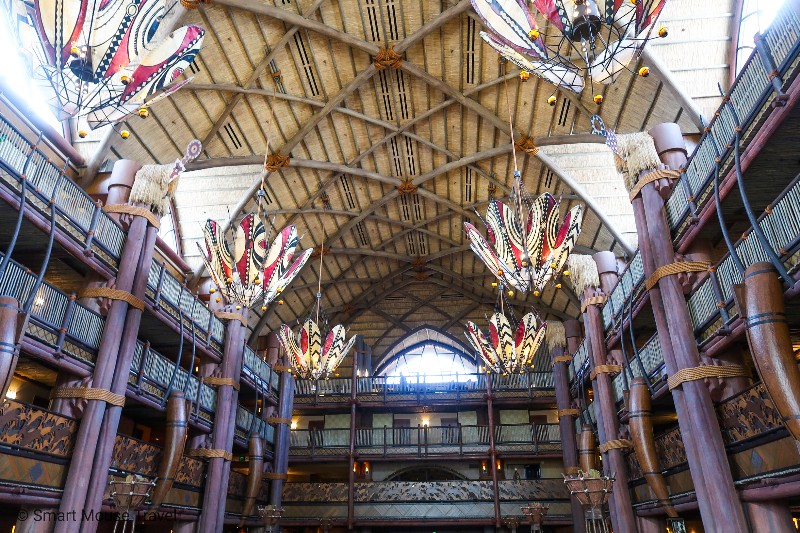 The large multi-floor lobby is decorated in wood tones, original African artifacts, and has several comfortable seating areas. The back wall of the Animal Kingdom Lodge lobby has large windows which overlook one of the savannas plus an outdoor seating area around a fire pit.
Bright tapestries featuring images of animals adorn the walls behind the check in desk. At check-in we met an incredible cast member, Nicole. She was very animated and enthusiastic as she showed Elizabeth the Animal Kingdom Wildlife Spotting Guide. This guide lists all of the animals that wander through the savanna at both Jambo House and Kidani Village and is helpful in identifying wildlife around the property.
Animal Kingdom Lodge Pools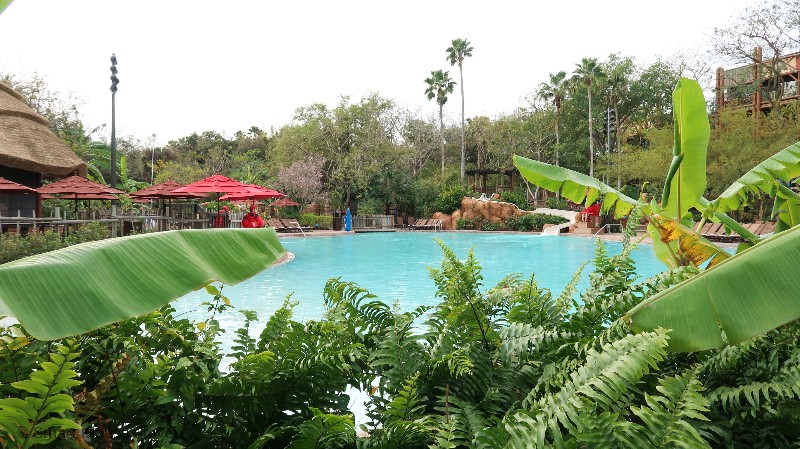 Uzima Springs Pool is the main pool at Animal Kingdom Lodge. Lots of greenery surrounds the relaxing zero entry pool while a 67-foot (20-meter) long water slide is perfect for more adventurous guests. Hakuna Matata playground, a flamingo enclosure, and a savanna overlook near Uzima Pool give guests lots of interesting options to explore.
Guests of Animal Kingdom Lodge can also use Samawati Springs Pool at Kidani Village. This pool is smaller, but has an exciting 128-foot (39-meter) long water slide. Samawati Springs Pool also has a splash play area for kids, Uwanja Camp. It takes about ten minutes to walk from Jambo House, where Animal Kingdom Lodge is located, to Kidani Village. You can also take a small shuttle between the two resorts.
Animal Kingdom Lodge Dining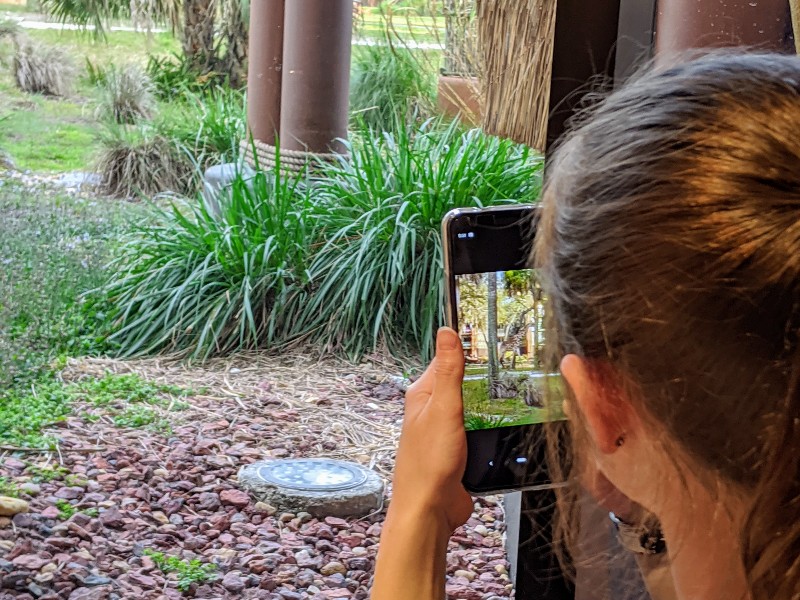 There are several dining options in the Animal Kingdom Lodge area. Jambo House has Jiko, a fine dining restaurant with African inspired cuisine; Boma, a buffet with a mix of African and American options; and The Mara, a quick service restaurant with a variety of meal options.
At Kidani Village, Sanaa serves a hybrid of African and Indian inspired dishes and overlooks a savanna. During the day ask for a savanna view table to see the animals graze while you have your own delicious meal.
Animal Kingdom also has several bar lounges, pool area quick service, and in-room dining options. Check here for a complete list of Animal Kingdom Lodge dining.
Animal Kingdom Lodge Special Activities
There are several interesting activities at Animal Kingdom Lodge that are unique to this resort. One activity we found fascinating is the educational table in the lobby.
During the day, cast members have replica animal skulls or footprints for guests to see and touch. While you explore the small exhibit cast members teach you all about those particular animals. We spent about twenty minutes learning about cheetahs, lions, and leopards one day, which was incredibly interesting. Another day cast members taught guests all about birds.
We also noticed artisans working on their crafts in the Jambo House lobby. Chairs and a rug invite guests to stop and watch the artists work for a while. We saw a woodcarver making an incredible gorilla figurine on our way out to dinner one afternoon.
There are also several savanna viewing areas around Jambo House. These viewing areas let you see a variety of animals on multiple savannas during your visit.
Remodeled Animal Kingdom Lodge Savanna View Room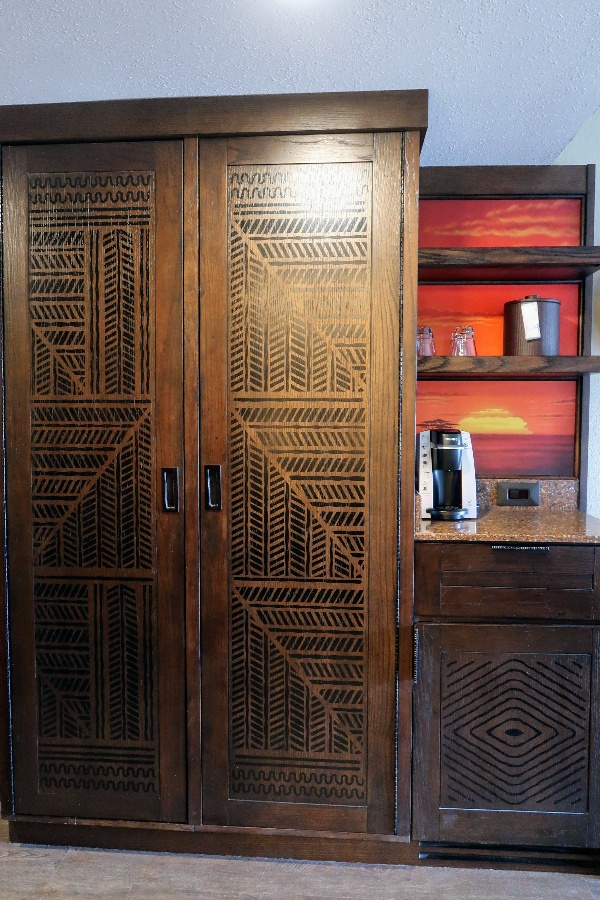 I almost never do a view upgrade at Disney World; however, I couldn't pass up a remodeled Animal Kingdom Lodge savanna view room. When entering the room, a closet with an attached coffee station and mini-fridge is on one side and a door to the bathroom is on the other side of the entrance hall.
The closet is smaller than I expected, with a tiny area for hanging full length items and another cramped area for hanging shorter items. The shelf above has the in-room safe and some extra storage space.
Animal Kingdom Lodge Bathroom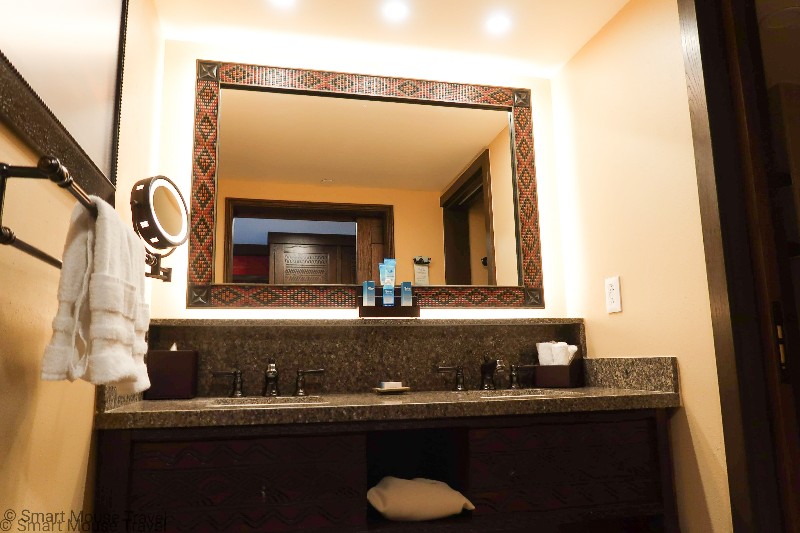 The Animal Kingdom Lodge bathroom is a split bathroom style which works well for families. There are two sinks with a little bit of storage underneath and a small, narrow shelf along the mirror. A lighted make-up mirror plus built in nightlights on the bathroom outlets are part of the thoughtful design.
There is a pocket door separating the sinks from the toilet and another door for the shower area. Both of these bathroom doors are soft-close. This means the doors can not be slammed shut which makes them incredibly quiet.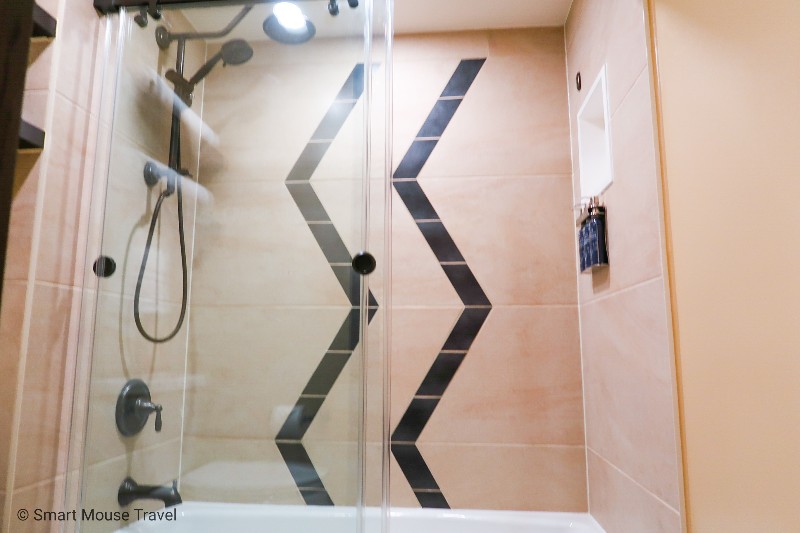 Our room had a shower and tub combination with a rain shower head plus a hand held shower head. Although they are attractive, the sliding glass shower doors might make it hard to give little ones a bath.
One thing I found interesting is that the Animal Kingdom Lodge bathroom has shared toiletries. There are three large dispensers for shampoo, conditioner, and body wash bracketed to the shower wall. An individual sized mouthwash and lotion is near the sinks.
Animal Kingdom Lodge Bedroom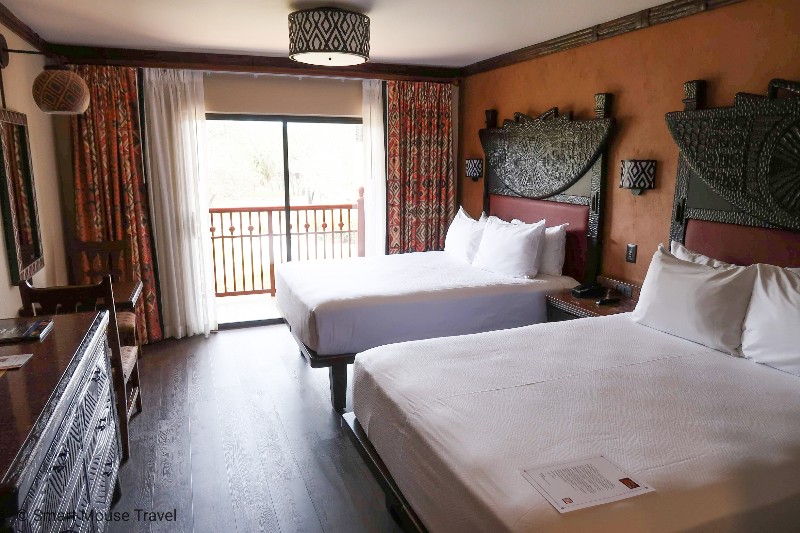 The remodeled Animal Kingdom Lodge rooms are some of the smaller deluxe rooms, but the scale of the furniture made the space feel open. We had a two-queen room, but there is also an Animal Kingdom Lodge savanna view king bed option.
Our room had a dresser with six drawers spacious enough to fit a large packing cube in each drawer. There is also a table with two chairs in the room which is perfect for a quick breakfast or a late night snack.
In between the two beds is a traditional nightstand with several plugs. One really clever feature of the Animal Kingdom Lodge savanna view room is that there are plugs and a shelf on both other sides of the beds, too.
Animal Kingdom Lodge Savanna View Room Balcony
I always love a balcony at Disney World, but the one in our Animal Kingdom Lodge savanna view room was extra special. We got to see several animals each day roaming the area outside of our balcony which is a unique Disney World experience.
Take A Virtual Tour Of Our Animal Kingdom Lodge Room
Our Animal Kingdom Lodge savanna view room had the following great features:
Laminate Flooring
Soft close doors for both bathroom doors
Mini-fridge
Savanna view
Tables and outlets on both sides of the beds
Lots of outlets and USB charging stations in the room
In-room safe
In-Room WiFi
Animal Kingdom has free in-room WiFi for hotel guests.
Animal Kingdom Lodge Parking
Parking is complimentary for resort guests while valet parking costs $33 per night at Disney's Coronado Springs Resort.
Transportation from Animal Kingdom Lodge To Disney Theme Parks
Getting from Animal Kingdom Lodge to Animal Kingdom park, Magic Kingdom, Epcot, and Hollywood Studios is via the Disney World bus system. Animal Kingdom Lodge to Disney Springs and the two water parks is also by bus.
Final Thoughts On Our Animal Kingdom Lodge Savanna View Room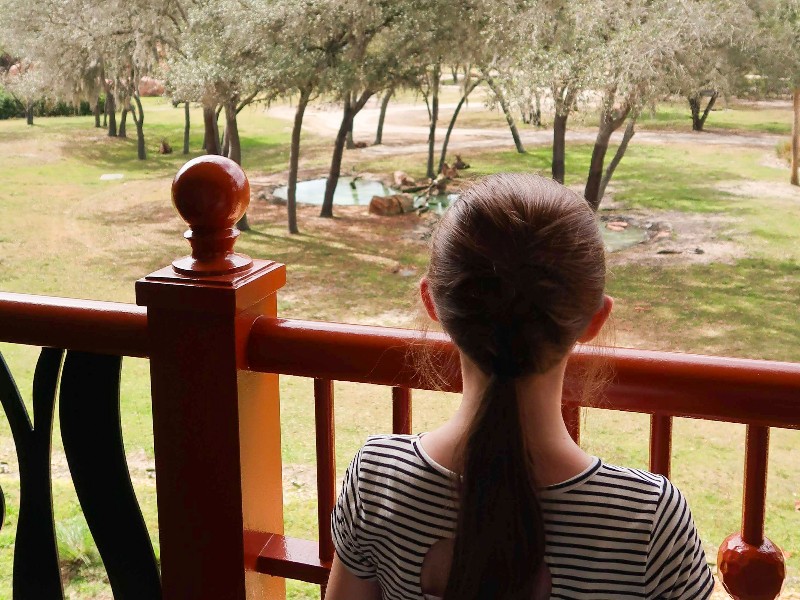 We enjoyed our stay at Animal Kingdom Lodge and looked forward to spending time at the resort during our vacation. The Animal Kingdom Lodge savanna view room is a fun splurge, and we loved seeing animals roam outside of our room.
The biggest downside of Animal Kingdom Lodge is its isolated location with only Disney World bus transportation. This means guests of Animal Kingdom Lodge should budget extra travel time to and from the theme parks.
I think Animal Kingdom Lodge is a good choice for people who enjoy spending time at their Disney World resort and families with older kids who can easily take a ride-share if the buses are running slow. Families with small children that like animals and are flexible in their Disney World park days would also enjoy Animal Kingdom Lodge.
Find out more about booking your own Disney World vacation with our travel partners, Get Away Today!
Pin it for later: