One of our favorite, free Disney World Christmas activities is the Disney Springs Christmas Tree Stroll. This stroll showcases twenty fabulous Christmas trees throughout the Disney Springs shopping area. Take a tour of the 2022 Christmas Tree Stroll and find out how to participate when you visit Disney World this holiday season.
What Is The Disney Springs Christmas Tree Stroll?
Previously known as the Disney Springs Christmas Tree Trail, this event used to have all the Christmas trees set up in one area. Now the Disney Springs Christmas Tree Stroll sprinkles Disney themed Christmas trees throughout all of Disney Springs.
For the 2022 Christmas season find twenty Disney inspired Christmas Trees along the Christmas Tree Stroll. Several favorites have returned this year, but are joined by some cute new additions.
Where Do I Get A Disney Springs Christmas Tree Stroll Map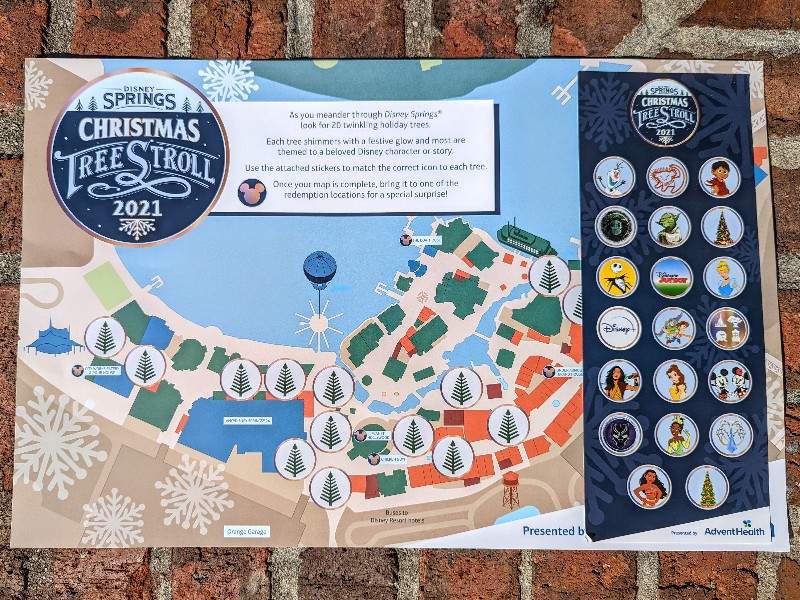 At Disney Springs go to one of five stores to get a complimentary Disney Springs Christmas Tree Stroll map. The map has stylized markings showing where each of the 20 trees are and a set of stickers, one for each tree theme.
2022 Christmas Tree Stroll Maps are available at City Works Eatery & Pour House, Crystal Arts, Planet Hollywood, The BOATHOUSE, and UNIQLO. I grabbed a map and began my stroll while I waited for my Santa virtual queue group.
You can also download a map from Disney Springs website, but it won't have the tree stickers to turn in for your prize.
What Is The Disney Springs Christmas Tree Stroll Prize?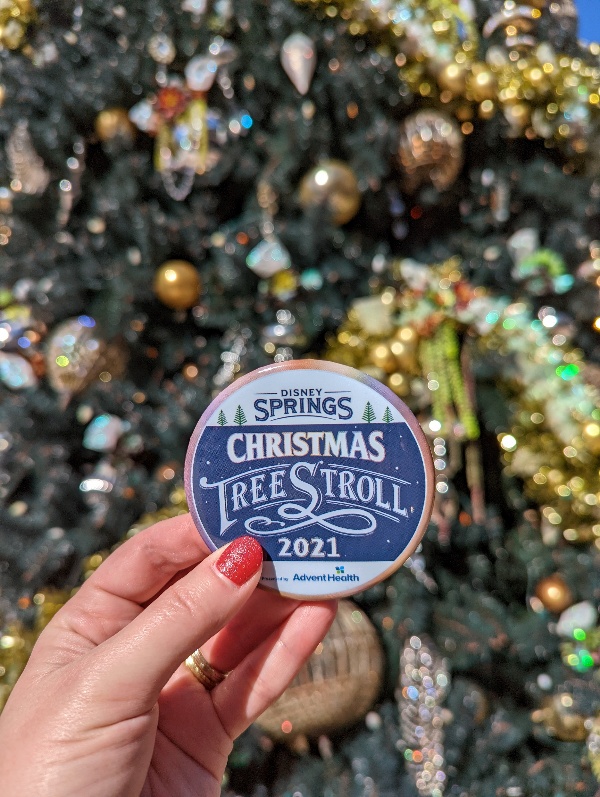 After documenting each of the Christmas Tree Stroll trees on the map, stop back at one of the same shops for your prize. Employees will check your map and, if you've done it correctly, award you a small prize.
Disney Springs Christmas Tree Stroll Trees With Pictures
We always loved the Disney Springs Christmas Tree Trail with its elaborately decorated trees full of special details. This year we feel the Christmas Tree Stroll has some beautiful, detailed trees, but others lacked the same embellishments we've come to expect.
Disney Junior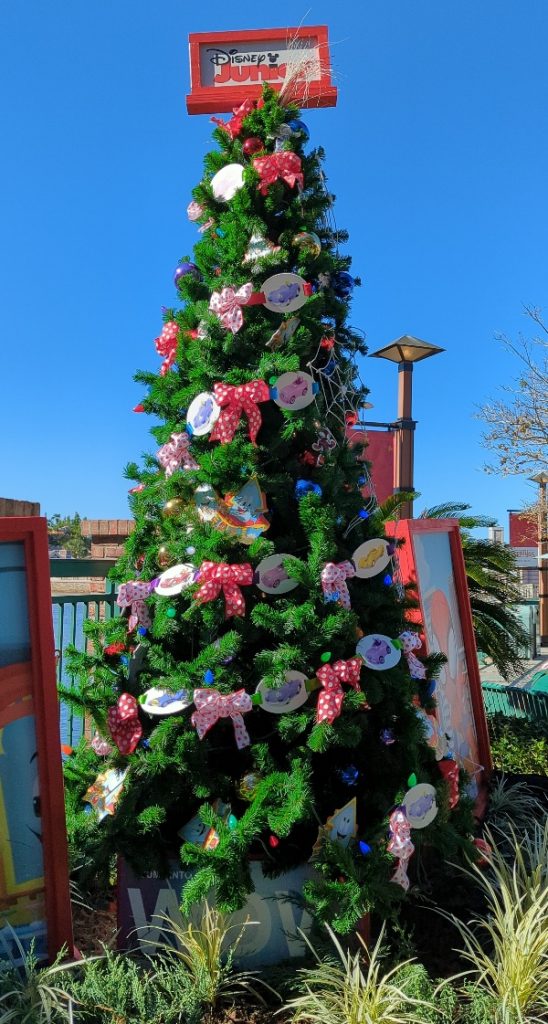 Red and white bows with Disney Junior themed garland adorn this tree.
Lion King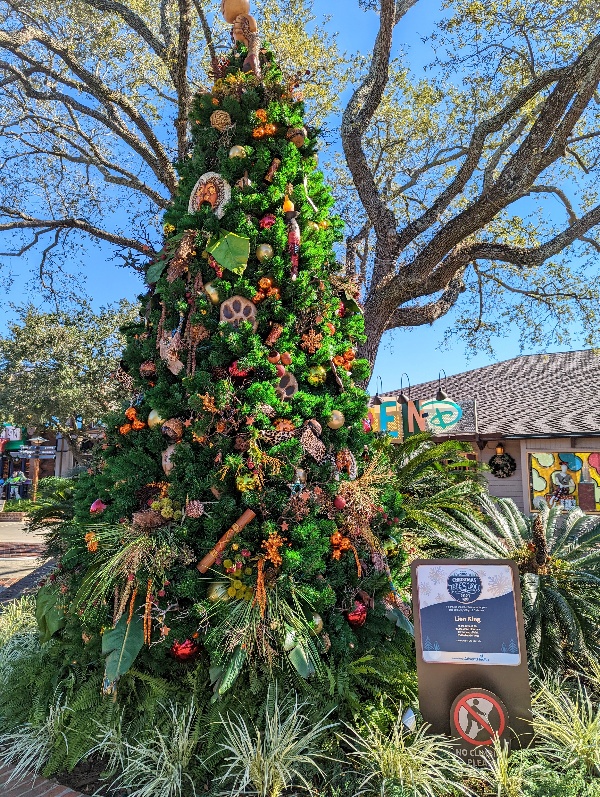 Natural elements like palm fronds and grasses bring an authentic beauty to the Lion King tree. Wooden ornaments, paw prints, and woven designs come together to create one of the most stunning trees on this year's trail.
Once Upon a Toy Tree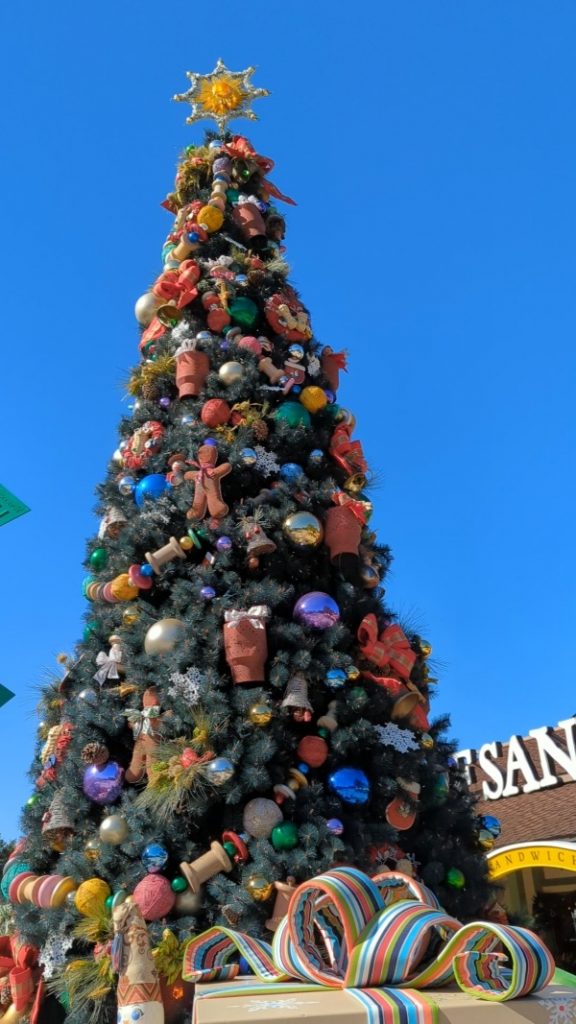 Across from Once Upon A Toy, this first of three Disney Springs trees not tied to a Disney theme is colorful and fun. Giant presents ring the base, while an oversized garland of bright beads, colorful buttons, and empty wooden spools winds around the tree.
Mickey and Minnie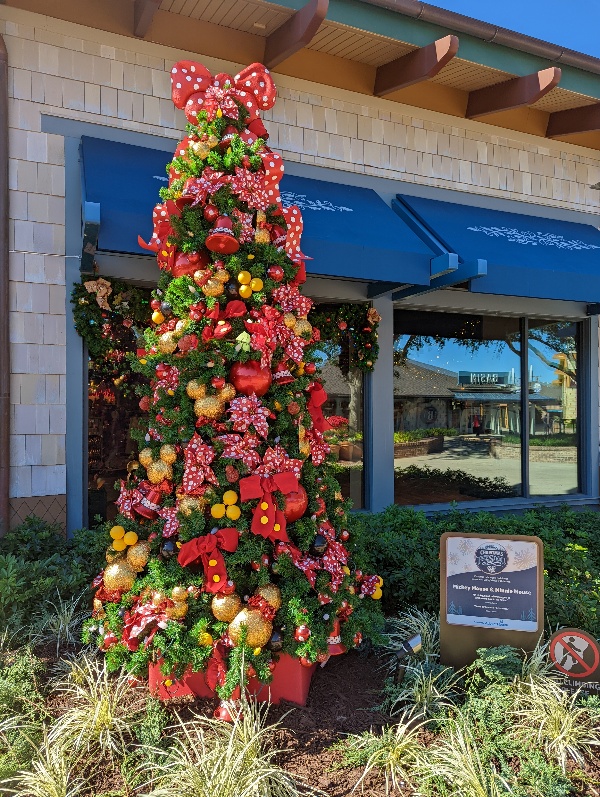 A giant red and white bow with long trailing ribbon tops this tree inspired by Mickey and Minnie. Lots of gold Mickey head shaped ornaments plus red bows with yellow buttons leave no doubt who inspired this tree.
Disney Theme Parks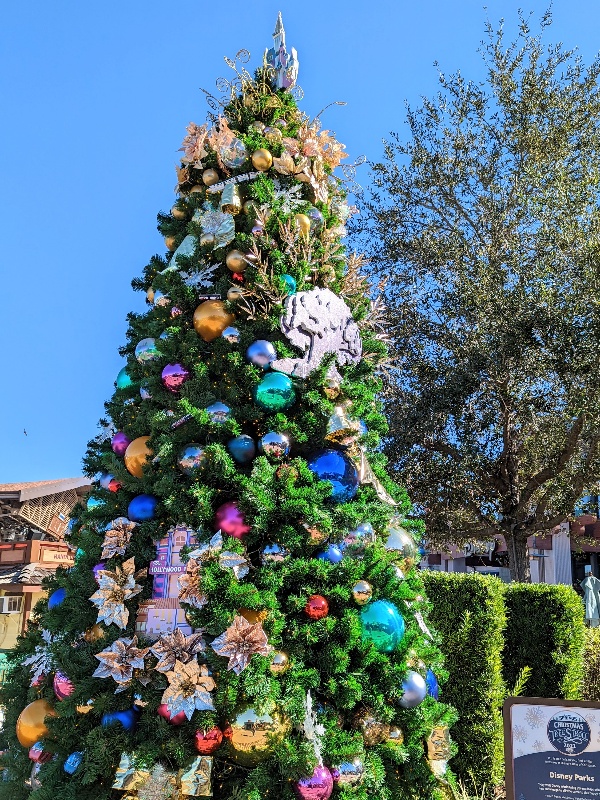 Each Disney World park icon has a prominent place on this EARidescent inspired tree. Gold accents and colorful baubles catch the light for a pretty, but simple design.
The Nightmare Before Christmas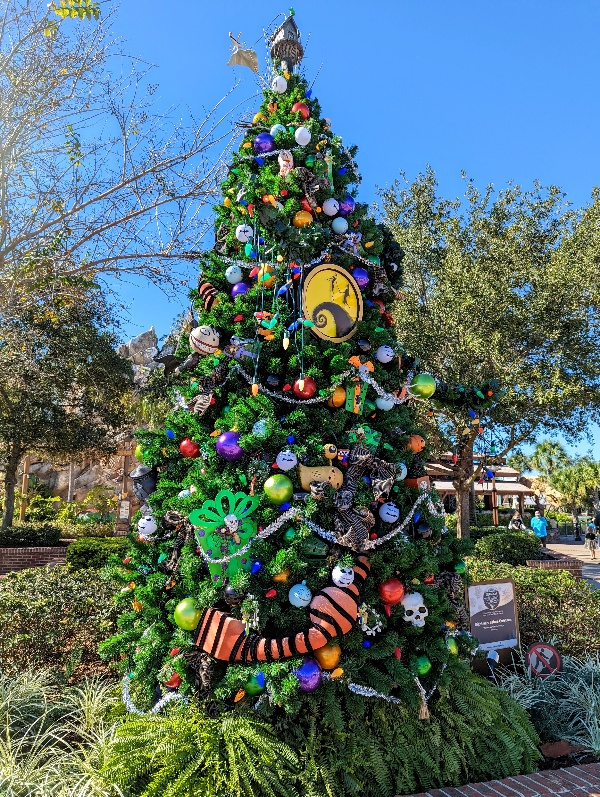 Lots of love and detail make The Nightmare Before Christmas one of the best of the 2021 Disney Springs Christmas Tree Stroll designs. Zero hovers near the top of the tree while a silhouette of Jack and Sally is centered on the tree.
Look for fun decorations like the flying vampire toy that scared children and the giant black and orange snake who ate several presents.
Haunted Mansion
Constance Hatchaway greets you when approaching the Haunted Mansion tree. To the right of Constance is my favorite part of the tree, a rug with a floating candlestick in front of a mirror which reminds me of the endless hallway.
Beauty and The Beast
Yellow ribbon and roses leave no doubt this is the Beauty and the Beast tree. I liked the stained glass ornaments of characters like Mrs. Potts, but overall the design on this tree felt rushed.
Cinderella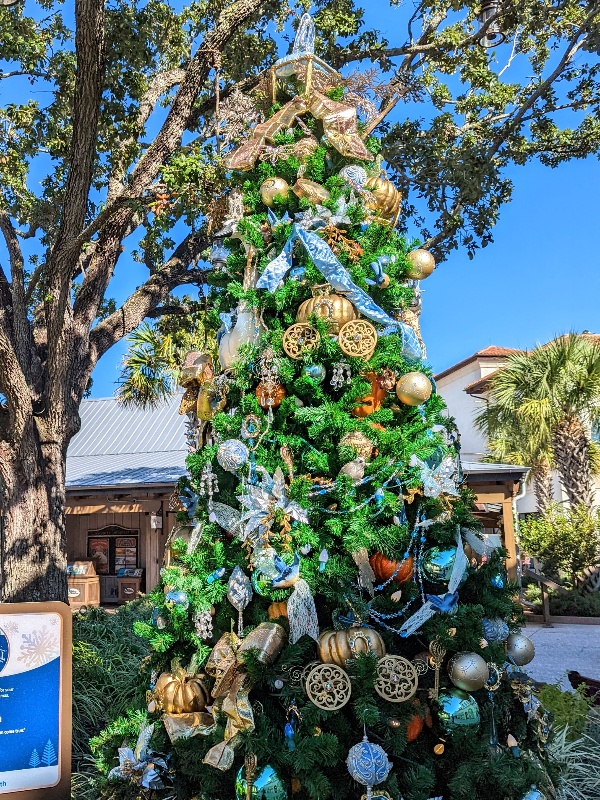 Golden pumpkin carriages, keys, and beautiful blue accents make this tree immediately recognizable as Cinderella's. Don't forget to admire her glass slipper high atop the tree, too.
Disney Springs Tree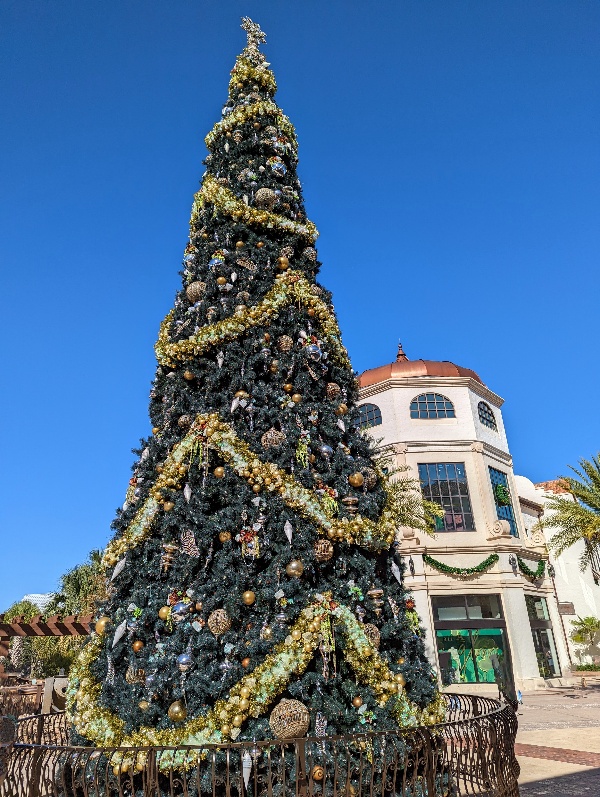 Covered in golden garland with gorgeous sparkling ornaments, this giant Christmas tree is a showstopper on the stroll. If you're lucky, grab a picture in front of the tree with your family with the help of a PhotoPass photographer.
Coco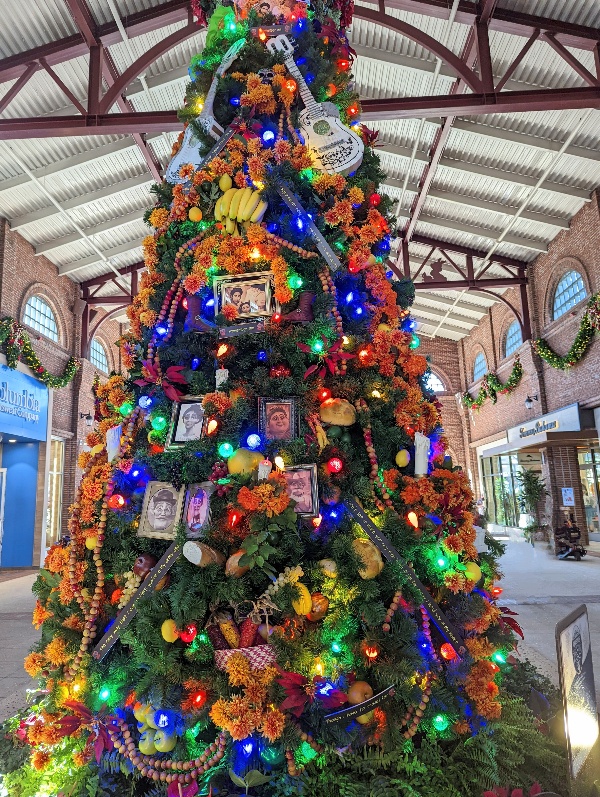 The Coco tree is my absolute favorite from the 2022 Disney Springs Christmas Tree Stroll. Covered in gorgeous orange marigolds representing the marigold bridge, the tree is immediately identifiable and striking.
Guitars, calaveras, and an ofrenda with Miguel's family are all special details that make this tree stand out on the stroll.
Disney+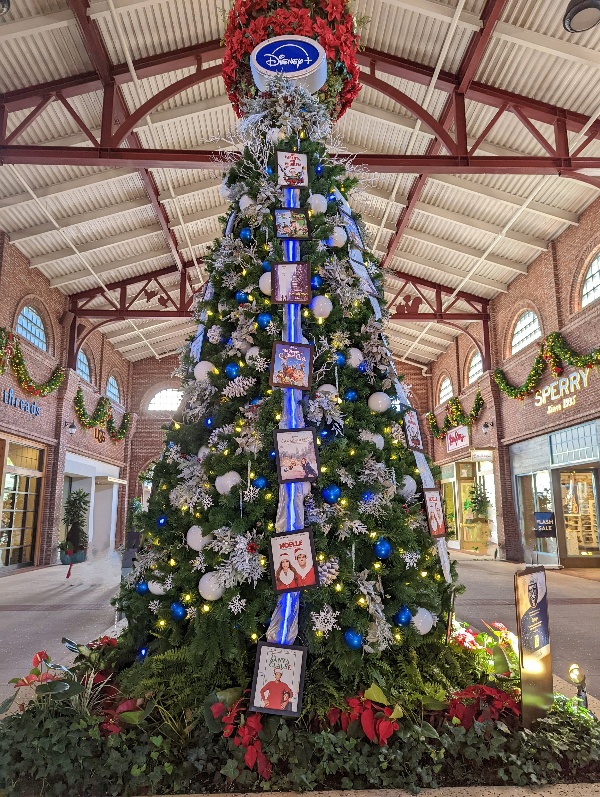 The Disney+ tree simply highlights several holiday themed movies using the movie posters as ornaments.
Toy Story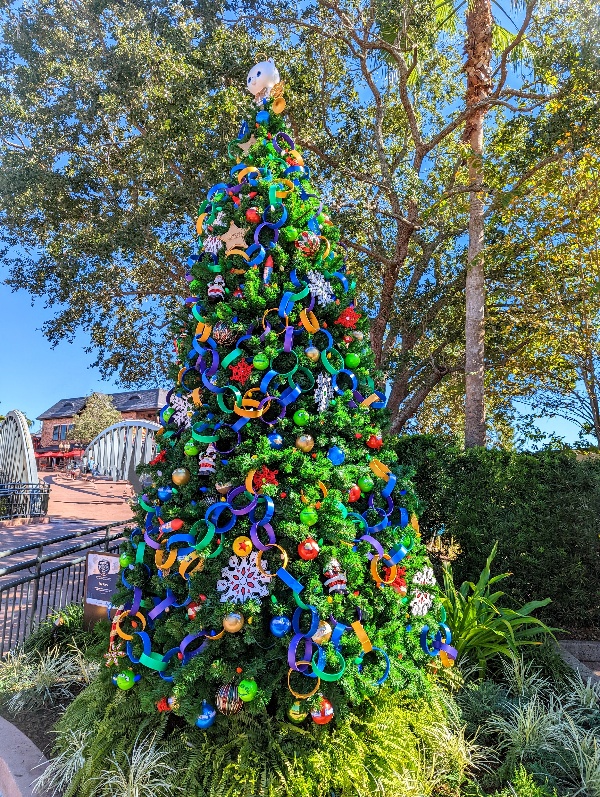 Brightly colored paper ring inspired garland with ornaments inspired by Toy Story characters is the overall theme of this simply decorated tree.
Moana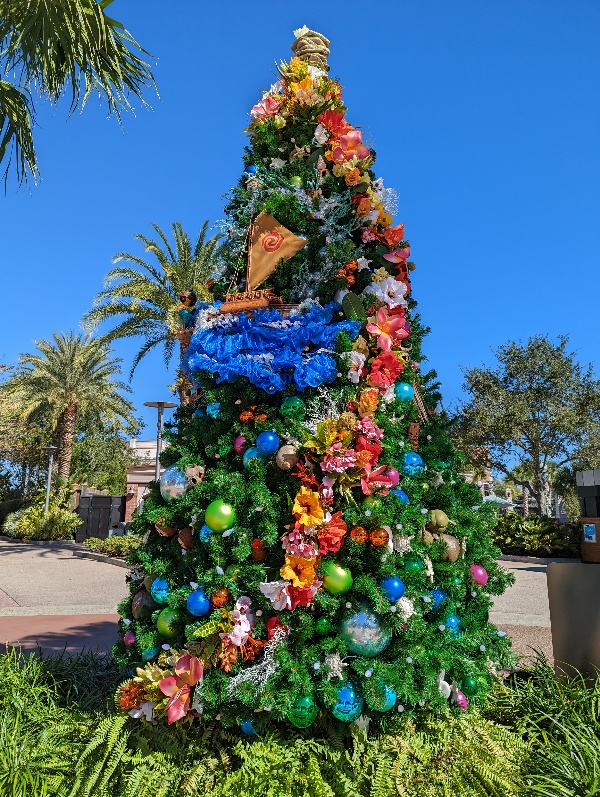 This Moana inspired tree is one of the best decorated trees on the Christmas Tree Stroll. Bright blue tulle represents water with Moana's ship floating above. Tropical flowers trail down the tree and character ornaments complete the look.
Disney Springs Sphere Tree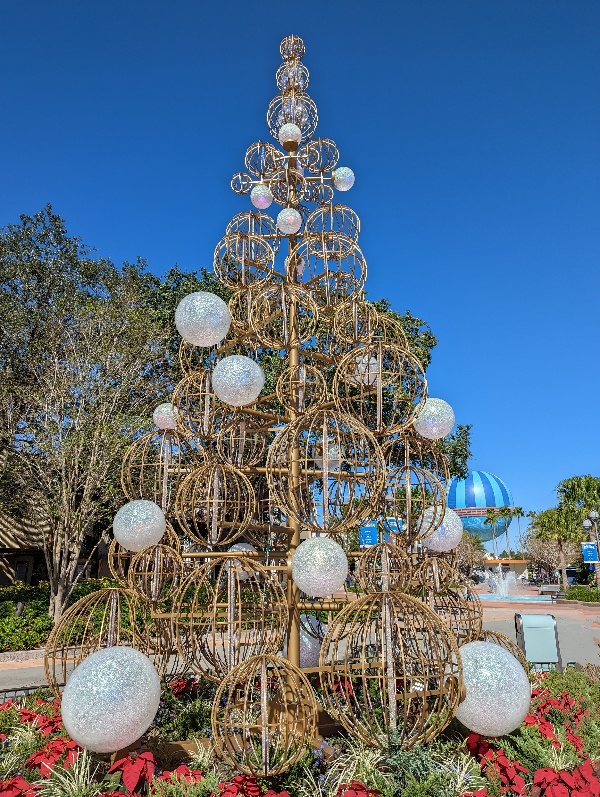 Made from a collection of gold and opaque white globes, this tree has an unusual modern design which is different from the other trees on the stroll.
Frozen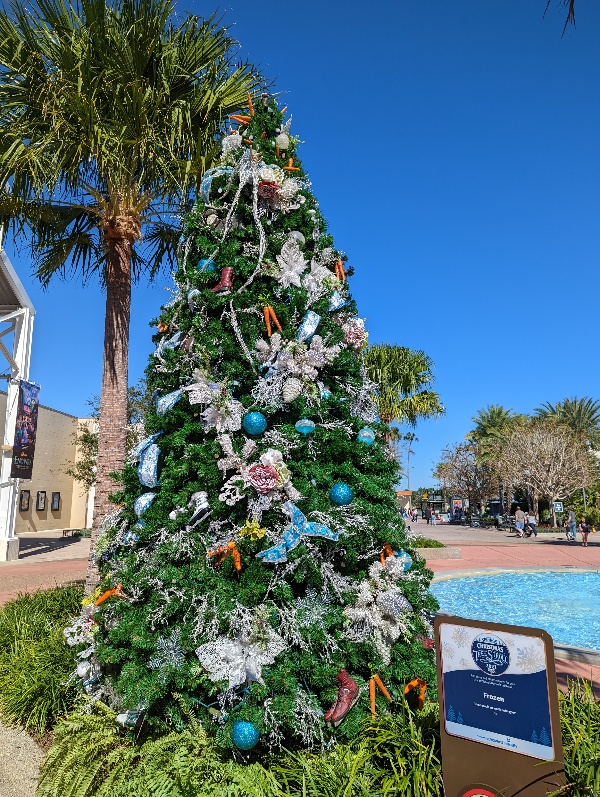 The Frozen-inspired tree felt uninspired to me. Lots of silver and blue accents, but very little that seemed special to the movies. The only exception is towards the top of the tree find Elsa's hand peeking out with trailing snow below.
Black Panther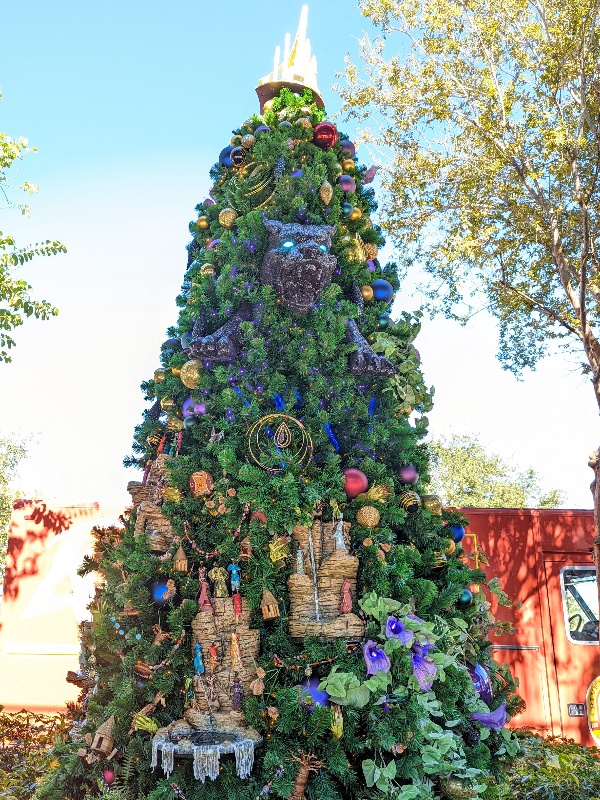 Another favorite from the 2021 Disney Springs Christmas Tree Stroll is the Black Panther tree. A panther seems poised to jump from the tree while glowing purple Heart-Shaped Herb flowers adorn part of the tree.
Star Wars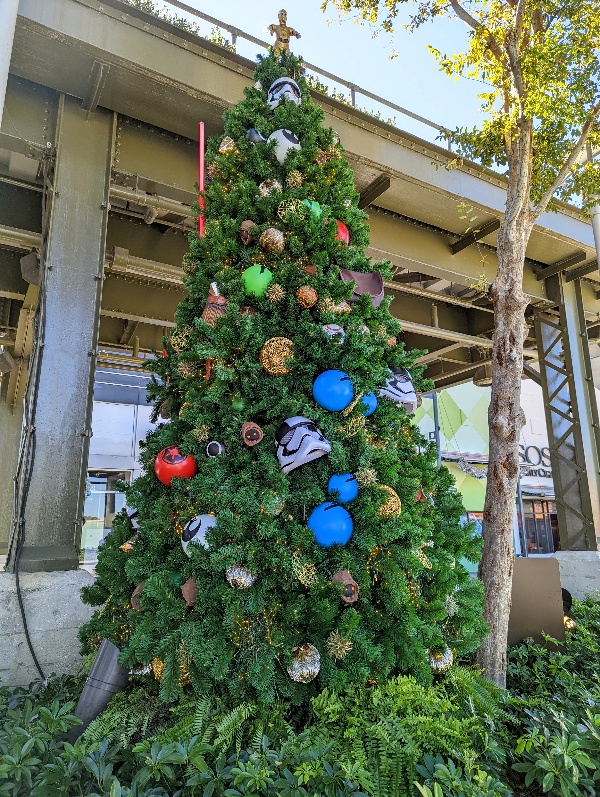 I was disappointed in the Star Wars tree. C-3PO sits atop the tree decorated with a handful of baubles, stormtrooper helmets, and a light saber. The best part of this tree are the Jawa inspired ornaments which peer out with their signature red eyes.
Princess and the Frog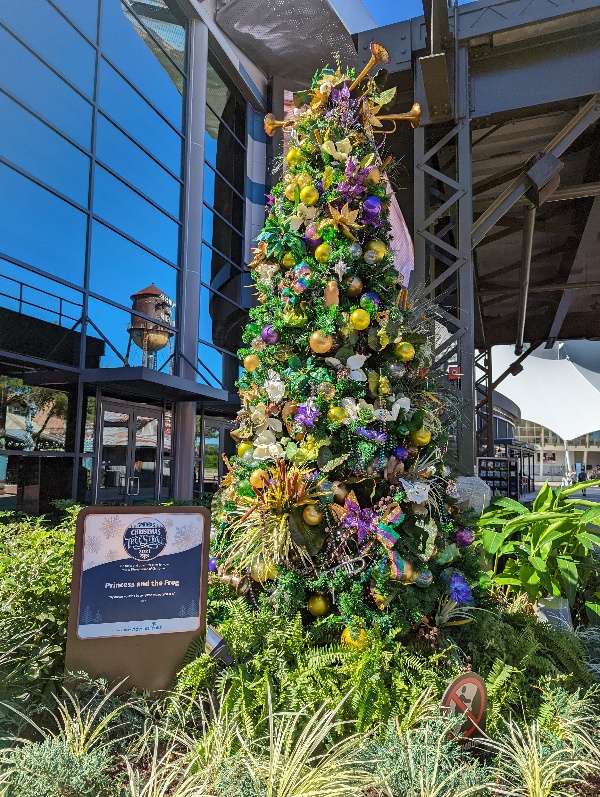 Mardi Gras colors, trumpets, and beads immediately make you think of New Orleans and Tiana.
Raya and the Last Dragon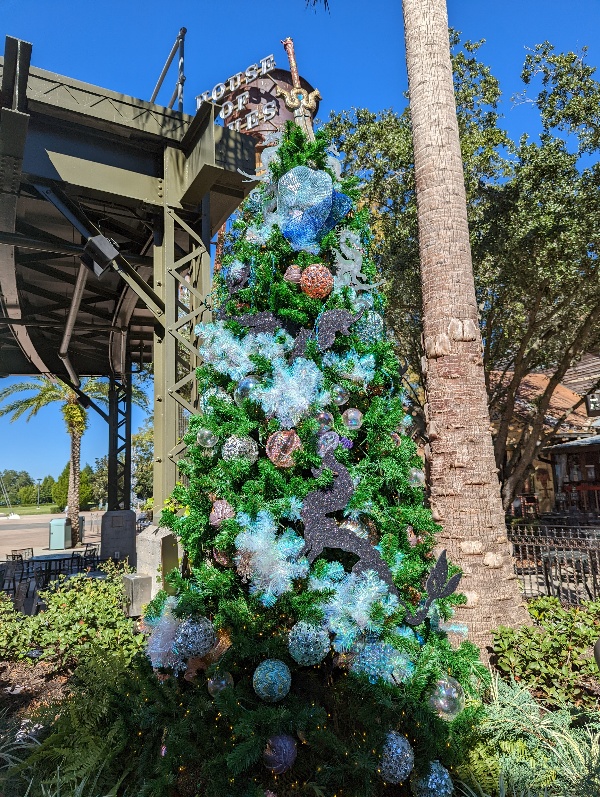 Raya's sword hilt acts as the tree topper while dragon silhouettes and dragon gem inspired colors decorate the tree. Look for ornaments representing each tribe and Tuk Tuk, too.
Final Thoughts on the 2022 Disney Springs Christmas Tree Stroll
Although not as ornate as previous years, the Disney Springs Christmas Tree Stroll is still a fun, free Disney World holiday activity we enjoy. Grab and complete your map to receive your free souvenir pin while at Disney Springs.
Use our Disney World Christmas activity guide and our Disney Very Merriest After Hours review to make the most of your Disney World holiday vacation.
Pin it from later: