Boardwalk Inn and Villas is one of our favorite Disney World resorts. Disney's Boardwalk Inn rooms are comfortable, sleep up to five, plus have easy access to EPCOT and Hollywood Studios. However, people don't always understand the difference between Boardwalk Inn and Villas. I'm here to help explain more about Disney's Boardwalk resort and review our Boardwalk Inn room.
Read more about our other Disney World room reviews here.
Location
Boardwalk Inn and Villas is an Epcot area resort and a short walk to Disney's Beach Club Resort.
Overview
Disney's Boardwalk Resort consists of 3 areas: Disney's Boardwalk Inn, Disney's Boardwalk Villas, and the Boardwalk area itself. The big difference between Boardwalk Inn and Villas is the type of room you can expect. Boardwalk Inn has traditional hotel rooms whereas Boardwalk Villas has studio, 1-bedroom, and 2-bedroom villas. The third part of the resort is the Boardwalk area which has tons of places to eat, drink, and enjoy "street" performances.
The Boardwalk Inn and Villas decor is reminiscent of Atlantic City around the early 1900s, and the Boardwalk itself references Coney Island of the same time period. The lobby (shared by Boardwalk Inn and Villas) is decorated in traditional furnishings, muted blues and greens, gilded picture frames, and crystal chandeliers. There are also whimsical nods to boardwalks found throughout the resort such as a model wooden roller coaster and antique carousel found in the lobby.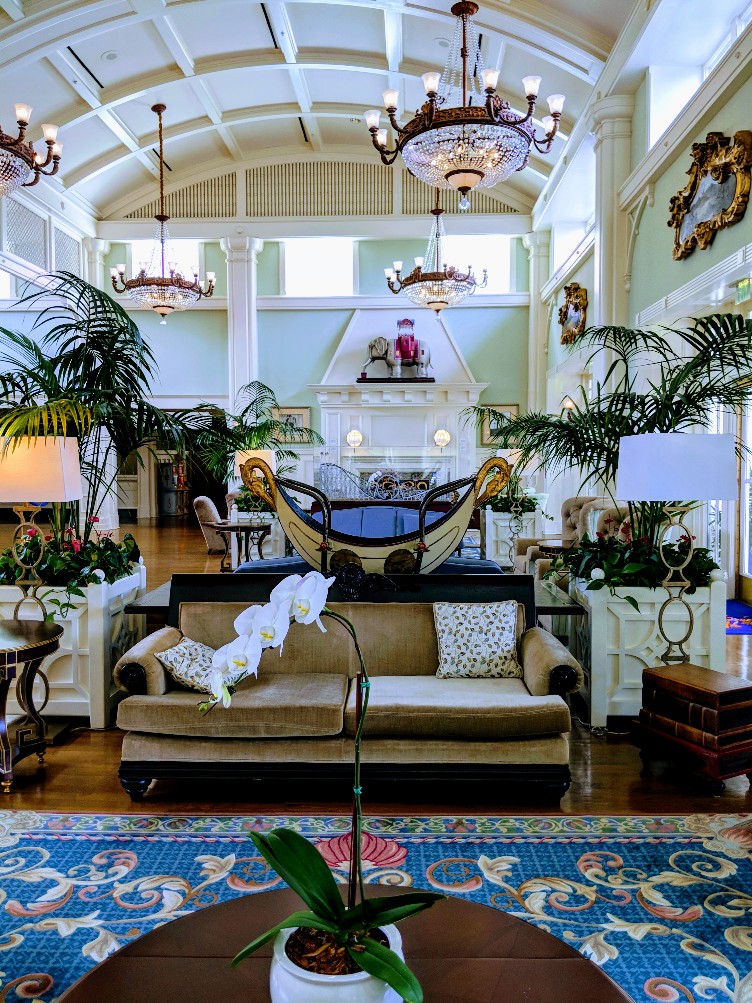 Pools
Is there a difference between Boardwalk Inn and Villas pool access? No, there is not. Boardwalk Inn and Villas has 3 pools. The main pool is Luna Park Pool. Luna Park Pool continues the vintage carnival theme and has a 200-foot (60-m) water slide in addition to a kids' play area.
If you are looking for a quieter pool experience there are two additional leisure pools. One leisure pool is to the south of Luna Park Pool near the Boardwalk Villa wing. The other leisure pool is found on the east side of the complex closer to the Boardwalk Inn area.
Dining
There are several food and beverage options at Disney's Boardwalk Resort. The food choices range from fine dining to food carts on the Boardwalk.

Entertainment
The Boardwalk area always seems to have something going on. We especially love to stop and listen to the guitarist/singers. There are also street magicians performing tricks along the Boardwalk depending on the time of day.
Bicycle Rentals
Rent a single or double bench Surrey bike at Surrey Bike Rentals on the Boardwalk. We saw lots of people riding around the Boardwalk, Beach, and Yacht Club areas on these unusual family bikes.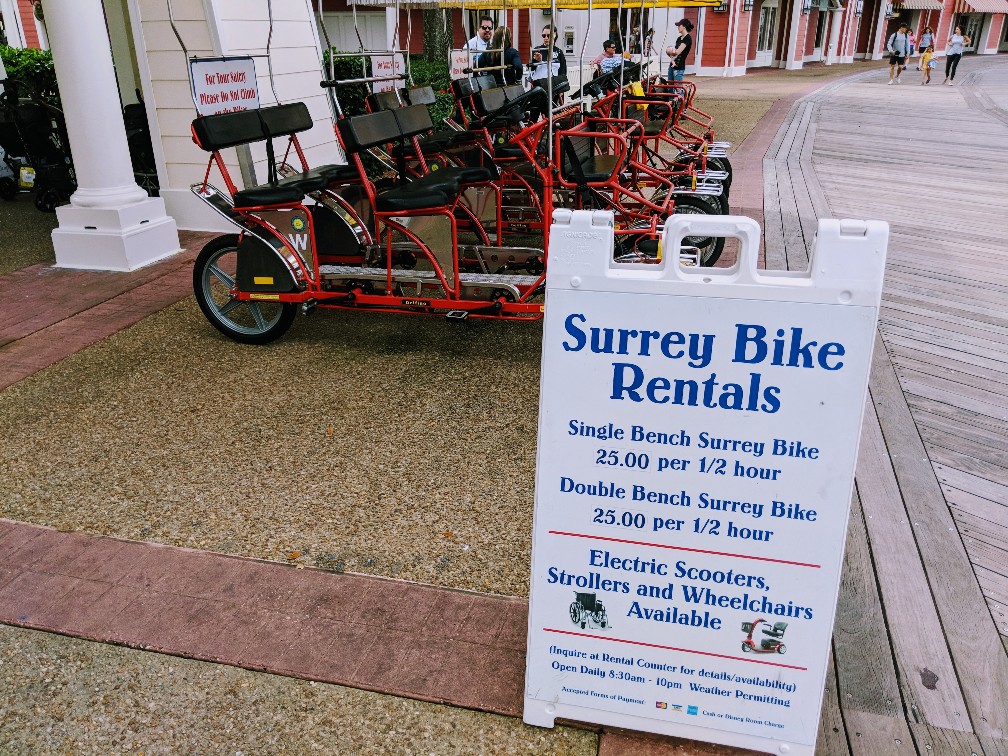 Boardwalk Inn Standard Room
Our room at Boardwalk Inn was a standard room with a standard view. What exactly does that mean? Standard view means your room will overlook one of the following: Disney's Boardwalk Inn Gardens, Leisure Pool or Parking Area. Our room looked out over a small roadway below, but we could actually see the Eiffel Tower in France at Epcot, too. Standard rooms can have any of the following sleep configurations: 2 queen beds and 1 day bed or 1 king bed or 2 queen beds or 1 king bed and 1 day bed.
Main Sleeping Area
Our room had the 2 queen bed and 1 day bed configuration. This particular room configuration is a great option for families of 5 looking to book one resort room.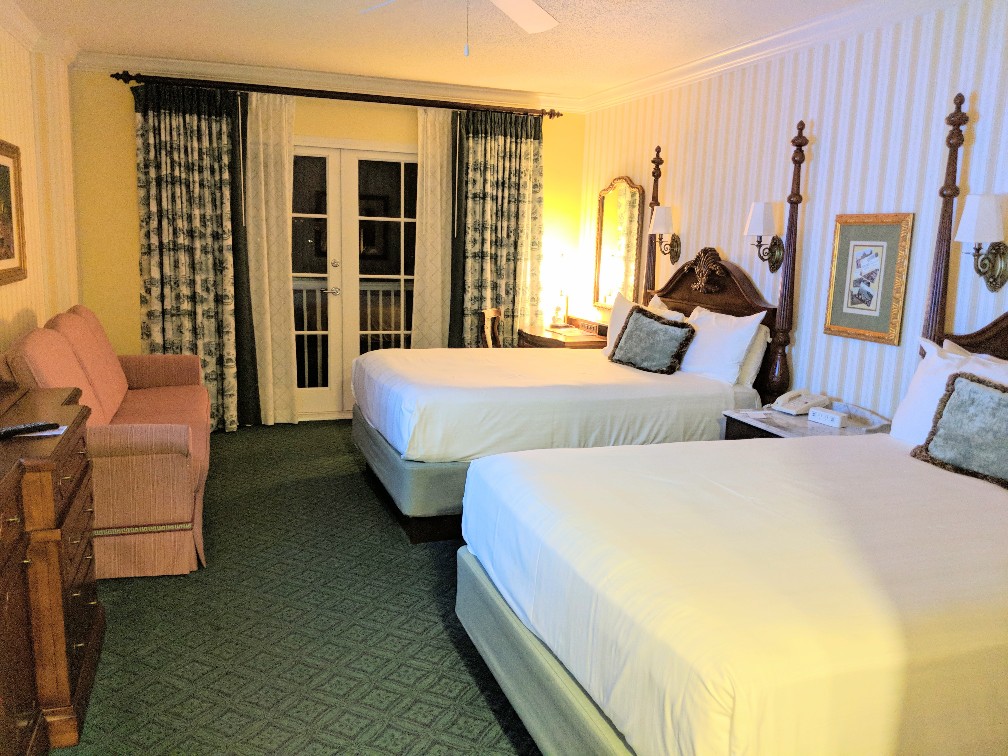 When you enter the room you will find a small hallway where the mini-fridge and coffee supplies are tucked into a small nook. There is also a decent size closet with a small safe inside.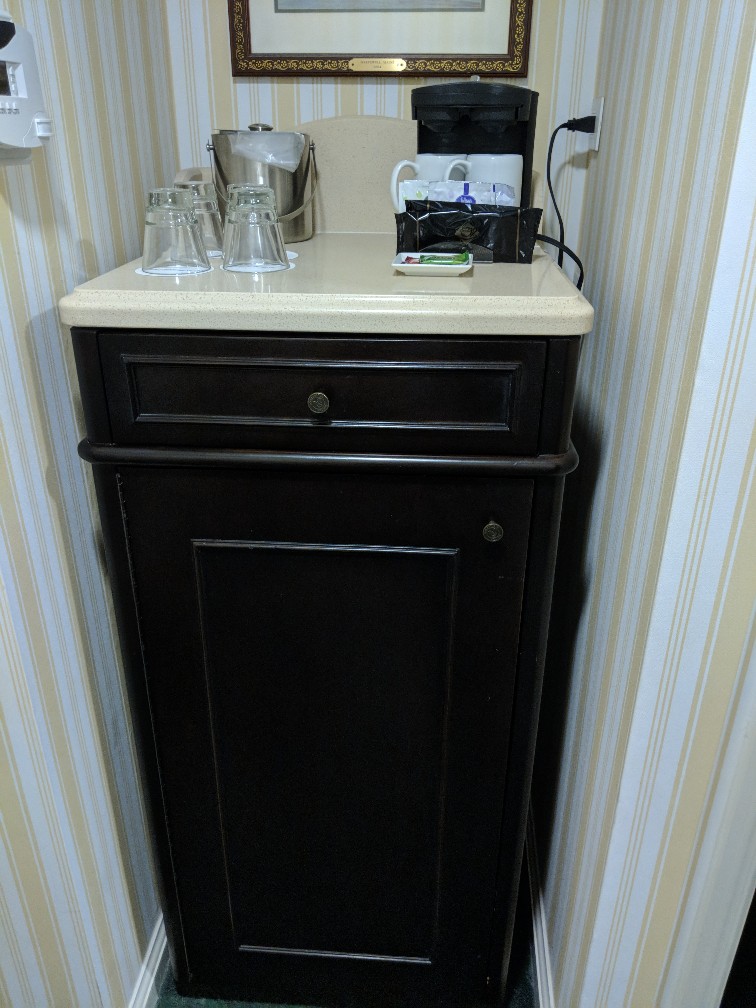 One of my favorite features of our Boardwalk Inn room was real blackout curtains! We tend to stay out later and sleep in a little (which is easier in a dark room).
There is also a desk with a chair and a TV stand/dresser. Elizabeth discovered a small rolling table tucked under the desk. This rolling table was a great place for us to eat breakfast in our room (and I would never have noticed it without Elizabeth). Just past the desk through the patio door is a balcony with two chairs and a small table.
Bathroom
The bathroom at Boardwalk Inn had the sinks separate from the shower/tub and toilet area, but unfortunately the double sinks were open to the room. This meant I had to keep the lights very low in the morning and be extra quiet while getting ready so I didn't wake Elizabeth. Despite this design, the bathroom was much larger than the one we had at Disney's Beach Club in a standard room.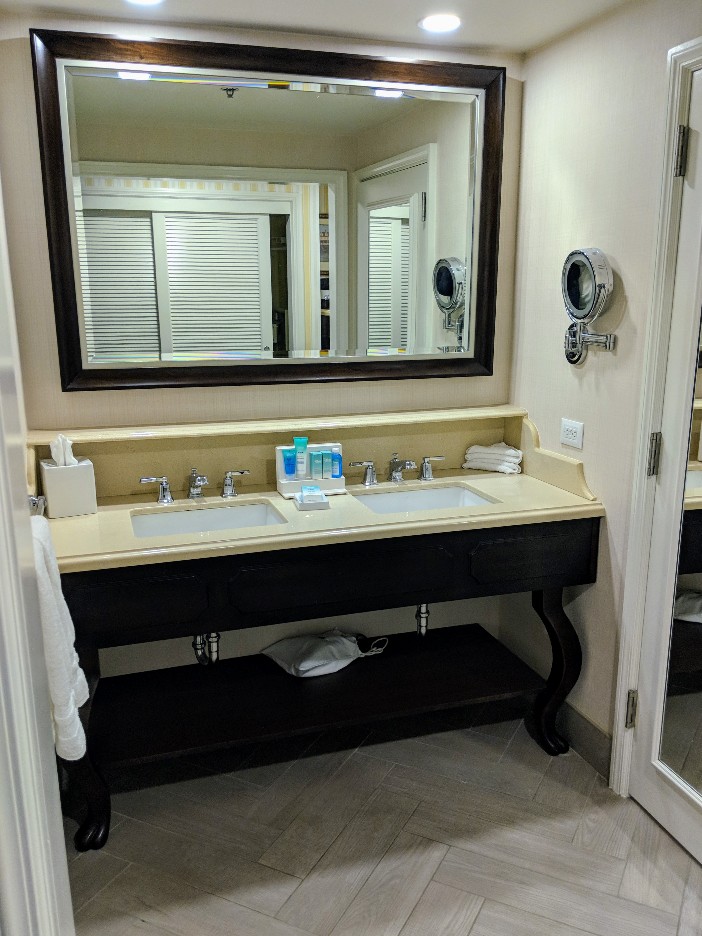 Our room had the following great features:
Ample sleeping space (especially in our room configuration)

Real blackout curtains

Double sink and split bathroom

Mini-fridge

Boardwalk Inn is easily walkable to Epcot International Gateway
In Room WiFi
Free in-room WiFi is available at Boardwalk Inn and Villas. This WiFi will not always allow you to stream video via Netflix or similar services, but it does work to check email, the My Disney Experience App, or social media.
Parking
Parking is complimentary for resort guests while valet parking costs $33 per night at Disney's Coronado Springs Resort.
Transportation To Parks
Epcot
The easiest way to get from Boardwalk Inn and Villas to Epcot is to walk. There is a walkway from the Boardwalk to Epcot's International Gateway. You can also take a short boat ride from the dock behind Boardwalk Inn and Villas that drops you at the same entrance as the walking path.
Hollywood Studios
Most people prefer to take a boat to Hollywood Studios from Boardwalk Inn and Villas. Grab the boat at the dock located behind the Boardwalk lobby. There is also a walking path along the water, but it is about a 15-minute walk from the dock to the Hollywood Studios entrance.
Magic Kingdom
There are two choices to get from Boardwalk Inn and Villas to Magic Kingdom.
Bus
There is a bus stop in front of the resort. Here you can board a bus to go to and from Magic Kingdom.
Monorail
There is no direct way to get from Boardwalk Inn and Villas to Magic Kingdom with the Monorail. However, you can walk to the Epcot Monorail stop at the front of the park and board the Epcot Monorail bound for the Transportation and Ticketing Center (TTC). At the TTC exit the Epcot Monorail and transfer to the Magic Kingdom Monorail line.
We tend to do this procedure in reverse. In the morning we take the bus to Magic Kingdom. When we are done at Magic Kingdom we take the Monorail to Epcot to finish our day. Once we are done at Epcot we walk back to the hotel at night. This transportation hack also works if you are staying at Disney's Beach Club Resort.
Animal Kingdom, Water Parks, and Disney Springs
Go to the front of the resort and find the bus stop. Here you will see buses for Animal Kingdom and Disney Springs. Transportation to the water parks requires a transfer at Disney Springs or Animal Kingdom depending on the specific water park.
Overall Impression
Boardwalk Inn and Villas did not disappoint us. We love the spacious room, the ease of walking to Epcot, and all the great food and entertainment options to explore on the Boardwalk. Having Boardwalk so close to Disney's Beach Club Resort meant we got to do some of our favorite activities there, too.
The thing I liked least during our stay at Boardwalk Inn and Villas was that our room was at the very end of a wing of the hotel. This meant the walk from the lobby (or when returning from Epcot or the Boardwalk area) was very long. At least being away from the hustle and bustle meant that our room was very quiet. Some of the rooms at Boardwalk Inn overlook the Boardwalk where the musicians and restaurants are busy until late in the evening. I imagine these rooms might be a bit loud for those looking to get to sleep early at night.
Want to see our reviews of other Disney World Resort options?
More Disney World Planning Resources
Do you need more help planning your Disney World trip? Check out other Disney World tips and tricks in my Disney World Guides.
Pin it for later: