Disney's Contemporary Resort is a popular hotel with unique design, good dining, and a variety of room types within walking distance of Magic Kingdom. Tour our newly remodeled Incredibles Disney's Contemporary Resort Main Tower room which honors the mid-century modern aesthetic with a fun hint of Disney.
Contemporary Resort Location
The Contemporary Resort is a Magic Kingdom area resort on the Disney World monorail loop.
Disney's Contemporary Resort Overview
Three lodging options were available when Disney World first opened. Guests chose from Disney's Contemporary Resort, Disney's Polynesian Resort, or Fort Wilderness when originally planning an on-site stay.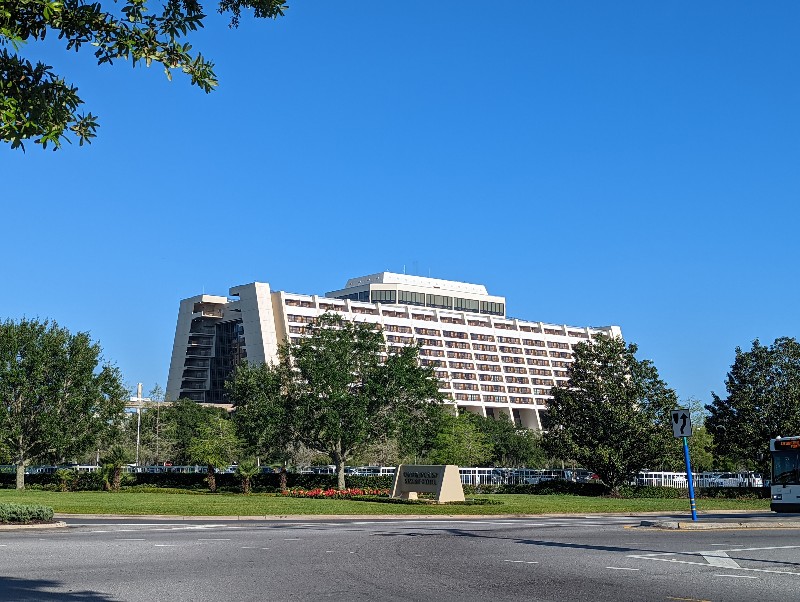 The sleek modern look of Disney's Contemporary Resort has always been a key piece of the design. The Contemporary's unique A-frame appearance, easily seen from Magic Kingdom, makes it instantly recognizable.
Recently remodeled, the lobby has new mid-century modern furniture and colorful, graphic murals. These changes make Contemporary's lobby an inviting place to relax while waiting for your room or dining reservation.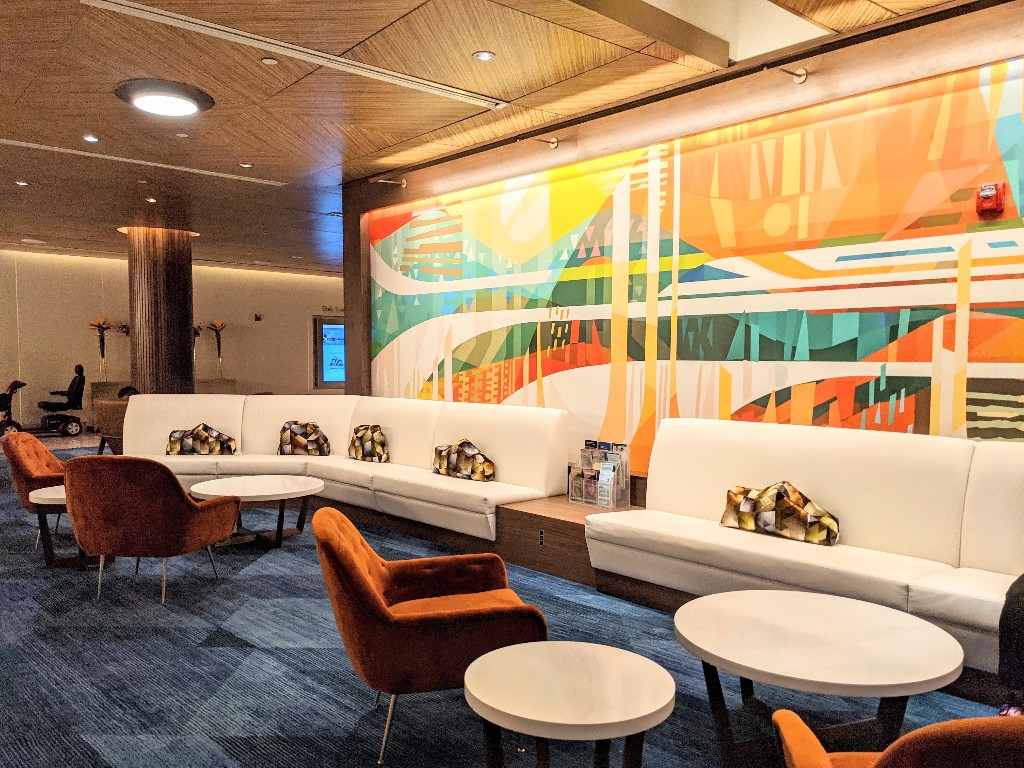 Most of the resort activity takes place on the Contemporary's fourth floor, better known as the Grand Canyon Concourse. The concourse is full of shops and open to the main tower hotel corridors above.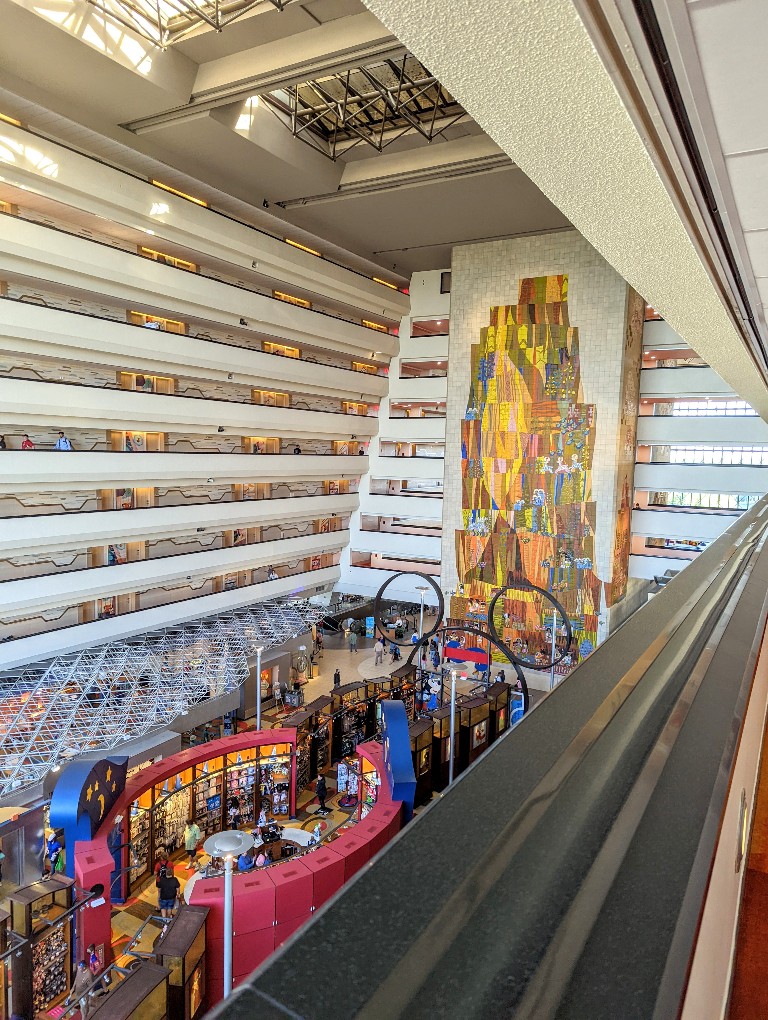 The most unique feature of Disney's Contemporary Resort is the Disney World monorail station inside Grand Canyon Concourse. Surprisingly quiet, the monorail glides sneakily through the concourse. Go through security on the fourth floor and then ride an escalator upstairs to board the monorail.
Pro tip: Watch Magic Kingdom fireworks at the fourth floor outdoor viewing area near the Bay Lake Tower walkway.
Contemporary Resort Pools
Contemporary Resort has one of the most lackluster pools in all of Disney World. Feature Pool, which is the main option, has a modest 17 foot high waterslide and not much of a theme. Near Feature Pool, Bay Lake Pool is an all ages leisure pool where guests can relax with a view of Bay Lake.
While we look forward to Stormalong Bay at Beach and Yacht Club we usually skip swimming at Disney's Contemporary Resort.
Disney's Contemporary Resort Dining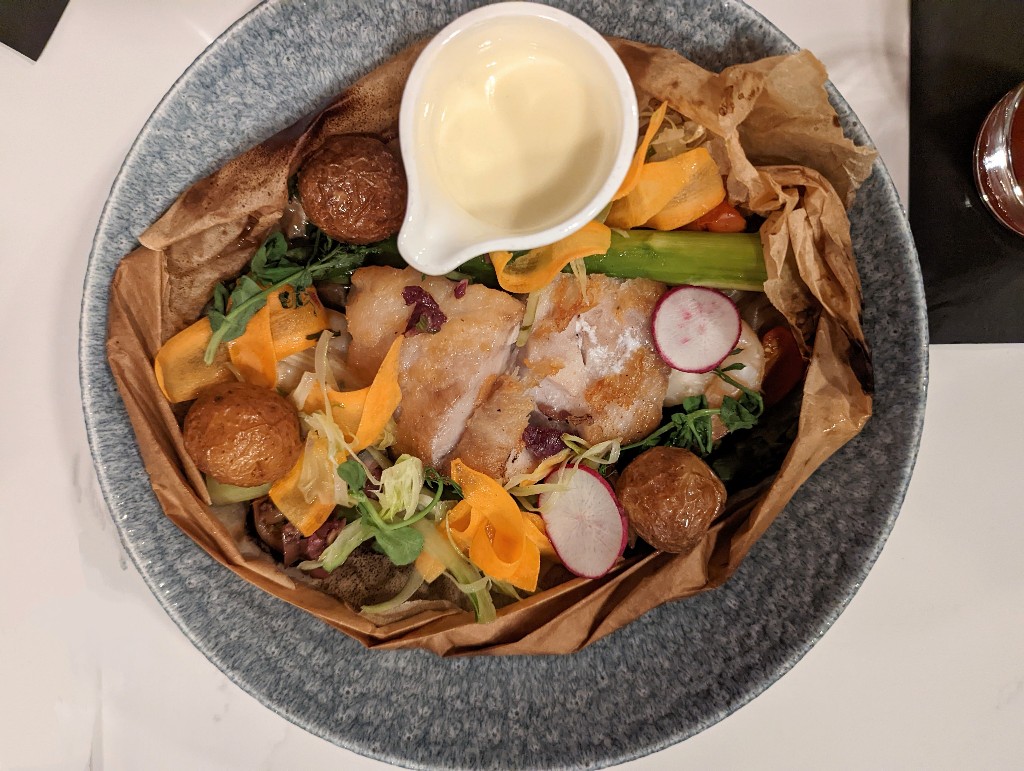 There are several on-site dining options at Contemporary Resort. Enjoy quick service at Contempo Cafe, character meals at Chef Mickey's, or fine dining at California Grill or Steakhouse 71.
Chef Mickey's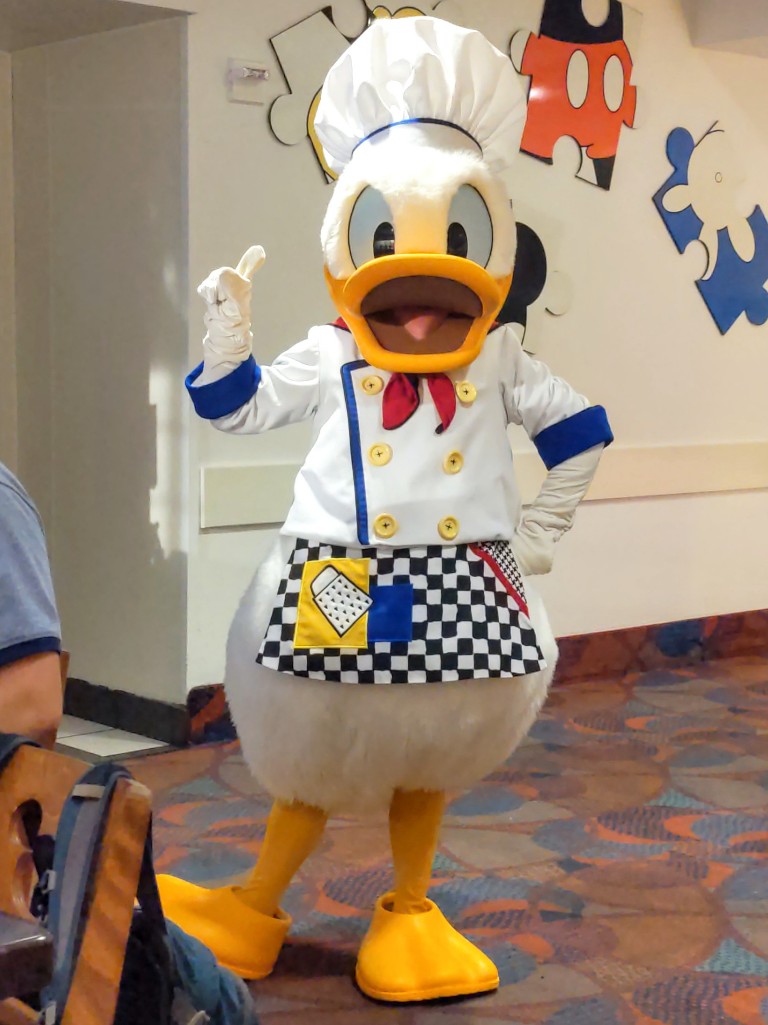 Probably the best known Contemporary Resort dining option, Chef Mickey's is an extremely popular character meal. Meet Mickey, Minnie, Donald, Goofy, and Pluto while enjoying the updated, and much improved, menu.
Steakhouse 71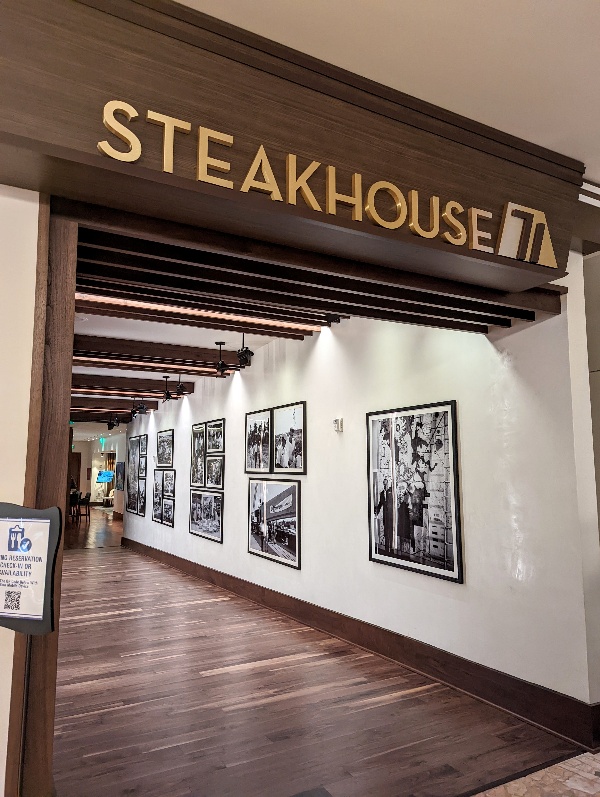 Opened as part of the Disney World 50th Anniversary celebration, Steakhouse 71 is a fabulous addition to the Contemporary Resort. We enjoyed every aspect of our meal and thought the food quality was better than other similarly priced Disney World restaurants.
If you can't snag a dining reservation, stop by Steakhouse 71 Lounge to check same day availability. Try one of their delicious, creative cocktails and something to eat from a limited lounge menu.
Contempo Cafe
Although Contempo Cafe has an uninspired menu, find tasty specialty themed treats here that change throughout the year. Mobile ordering and some basic options make this a convenient dining option in Contemporary Resort.
Disney's Contemporary Resort Main Tower Room Review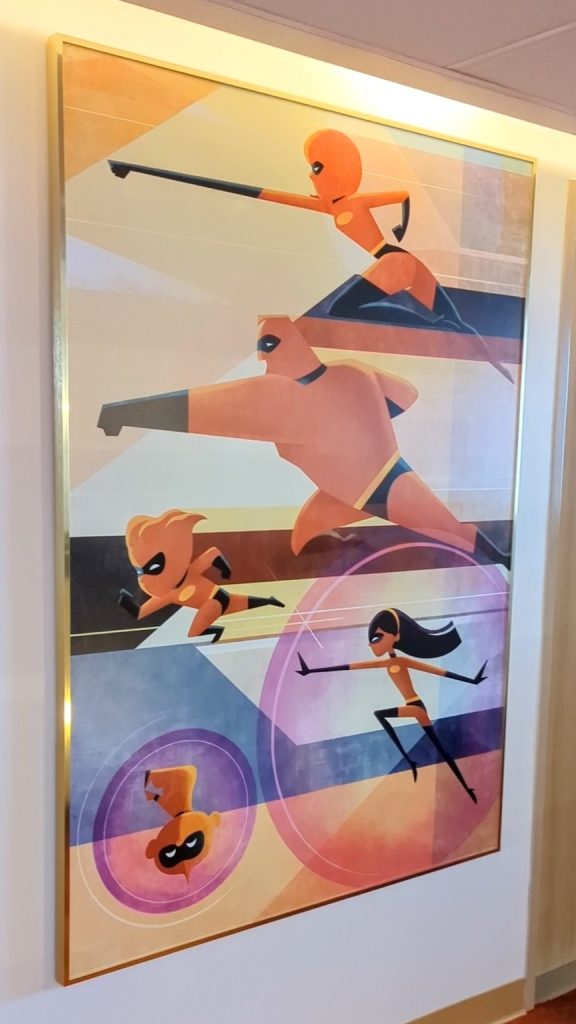 The Incredibles theme is immediately evident while walking towards your Disney's Contemporary Resort Main Tower room. Several Incredibles themed prints line the walls in a style perfectly matched to the new lobby decor.
The cool mid-century modern design from the lobby continues seamlessly into Disney's Contemporary Resort Main Tower rooms. Entering the room you'll find a closet on one side of the entrance hall and the bathroom on the other.
The closet is broken into two sections. One is filled with shelving units and an in-room safe while the other has a hanging rod plus drawers.
The closet space is functional, but also adorable since each Incredible's supersuit hangs inside. This detail is a sophisticated way to incorporate the Incredibles theme into Disney's Contemporary Resort Main Tower rooms.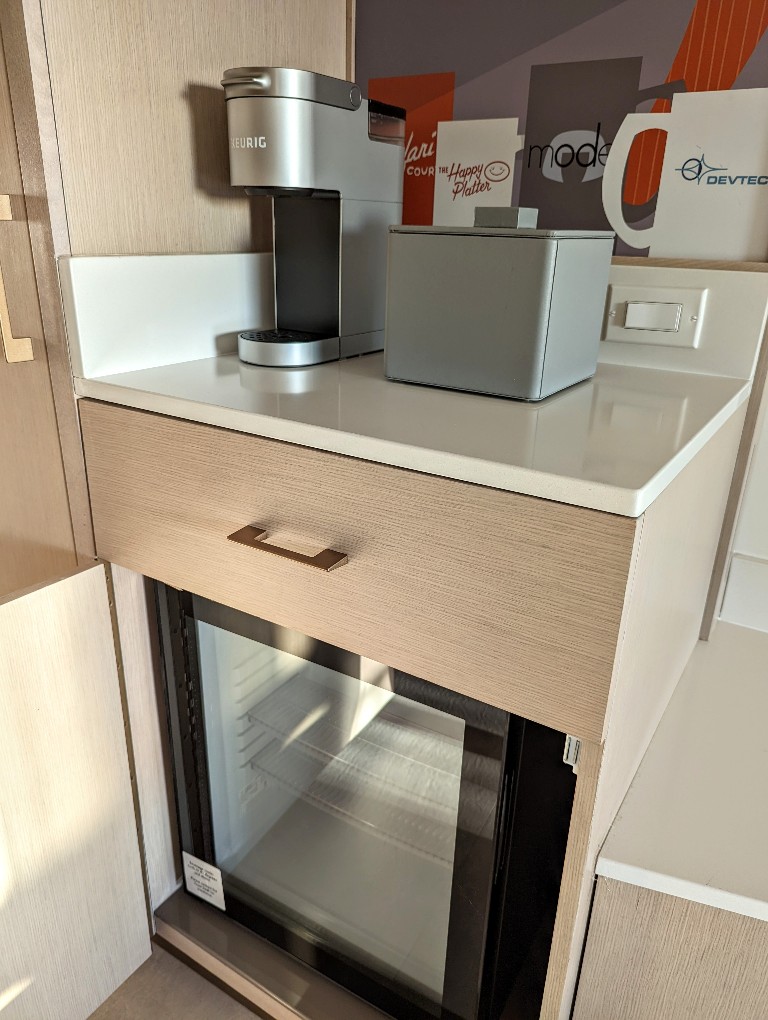 Next to the closets is a shelving unit with more Incredibles details. Find a small beverage cooler in a cabinet below and a Keurig coffee maker on the shelf. Coffee supplies are tucked in the middle drawer.
Although small, the beverage cooler is a good place to stash groceries you've ordered ahead of time.
Disney's Contemporary Resort Main Tower Bathroom
Across from the closets is a soft close sliding barn door leading into a large bathroom. The heavy door effectively keeps sound and light from spilling into the bedroom when the door is closed.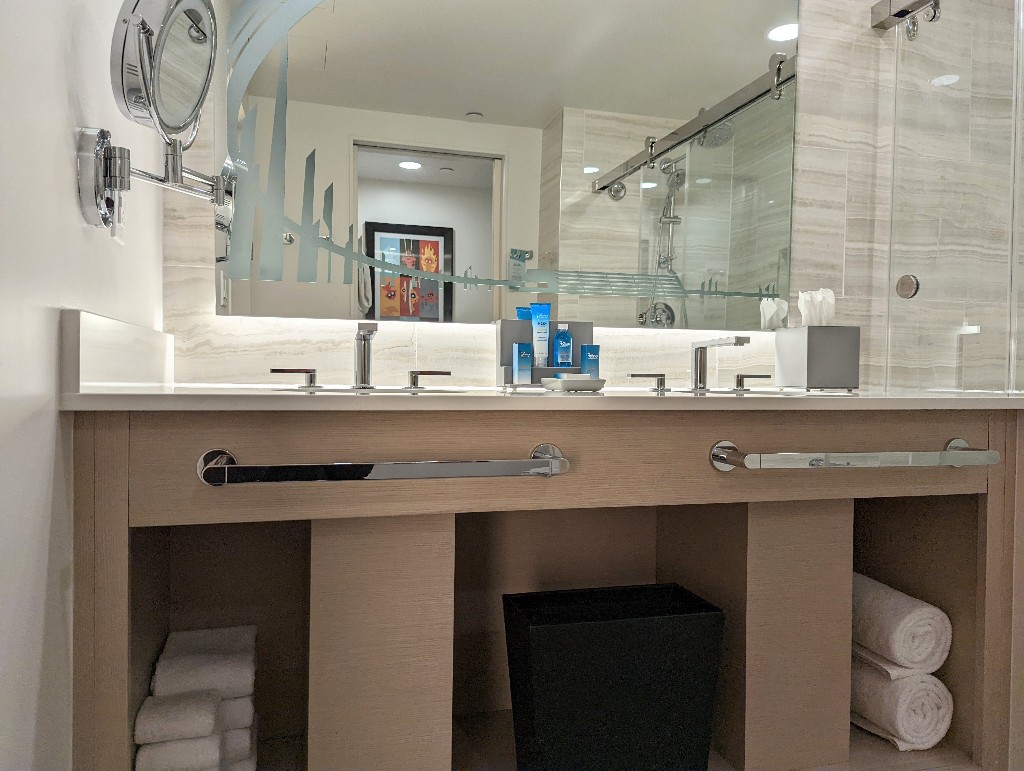 A large mirror above double sinks has a subtle monorail and Contemporary resort decal. Sleek quartz countertops above and shelves below provide plenty of bathroom storage.
A tub and shower combination with either a rain or handheld showerhead closes with a sliding glass door. Although the spacious shower looks cool, getting in and out is awkward. Unfortunately, this could be difficult for those with mobility issues or small children.
As part of Disney's commitment to sustainability, the Contemporary Resort Incredibles Main Tower bathrooms have shared toiletries. Instead of individual bottles expect eco-friendly shared shampoo, conditioner, and body wash secured to the shower wall.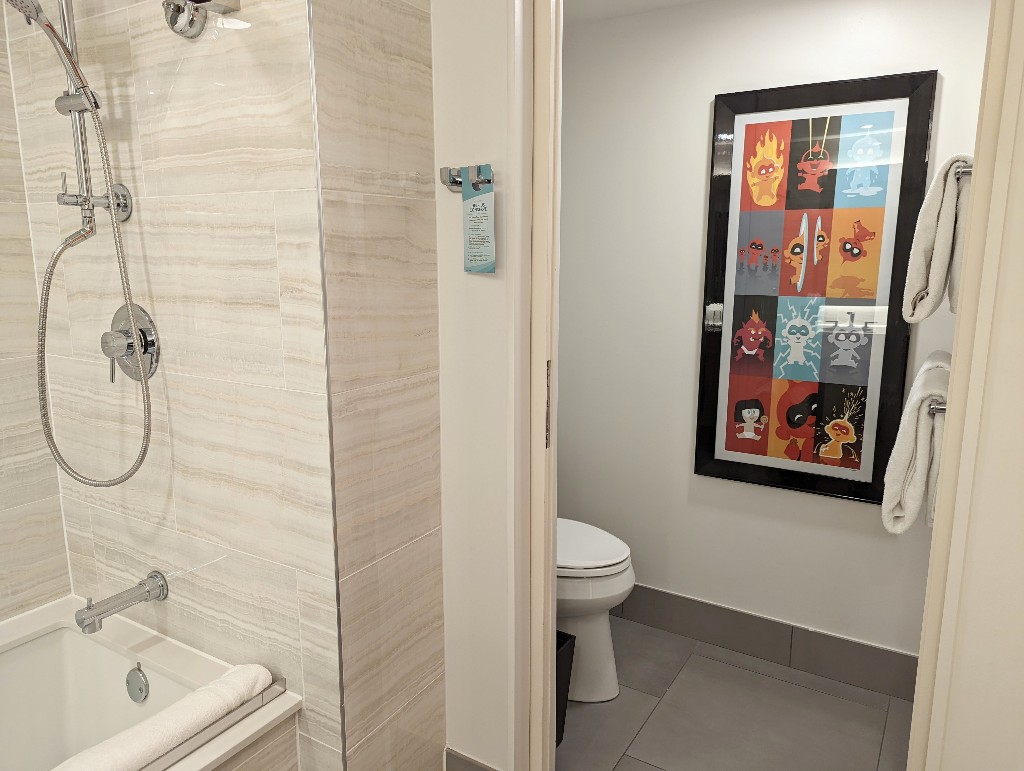 A pocket door closes the toilet off from the rest of the bathroom which makes it easy for multiple people to get ready simultaneously. A built-in nightlight is the perfect hint of light for late night bathroom breaks.
Contemporary Resort Incredibles Main Tower Bedroom
The Contemporary Main Tower room layout is functional, but not as spacious as a Contemporary Resort Garden Wing Room. However, being in the main tower instead of the garden wing is a cool experience.
There are two different Contemporary Resort Main Tower bedroom options: a king room or two queen room. Both main tower rooms have a fold down day bed built into the couch.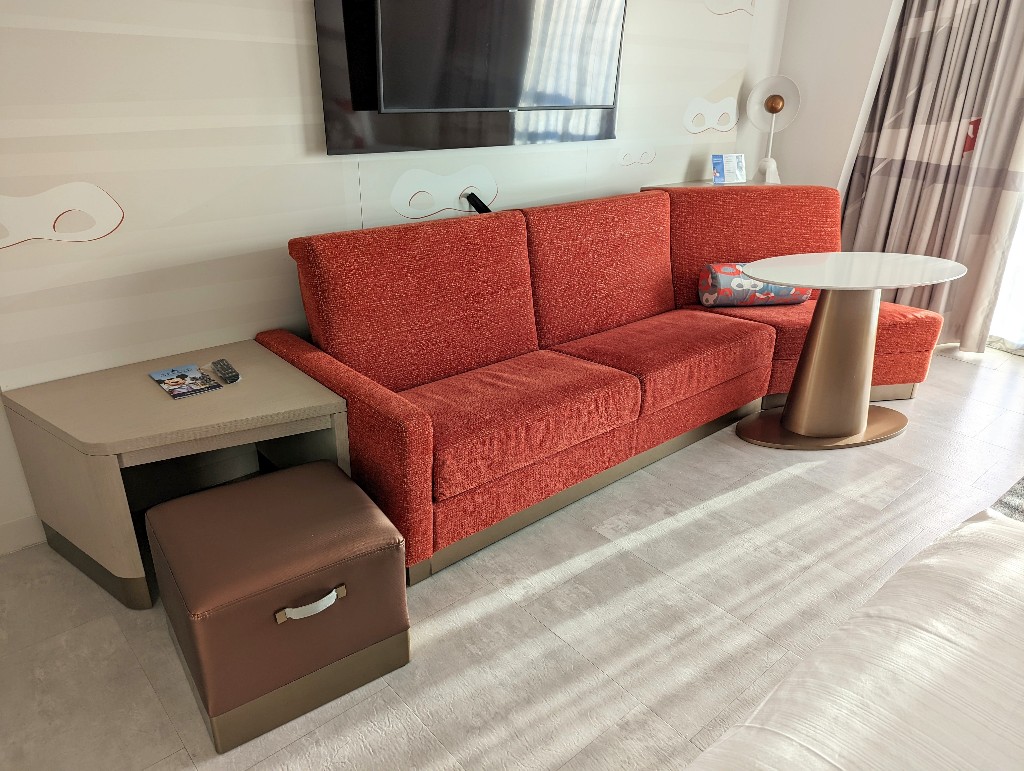 This additional day bed means room for another guest in each room type. Contemporary Resort Incredibles Main Tower king rooms actually sleep three people while a two queen accommodates up to five guests.
Contemporary Resort Main Tower bedrooms have the same general set up as other remodeled Disney rooms like Disney's Wilderness Lodge or Grand Californian at Disneyland. Expect platform beds with storage underneath, laminate flooring, and charging stations everywhere.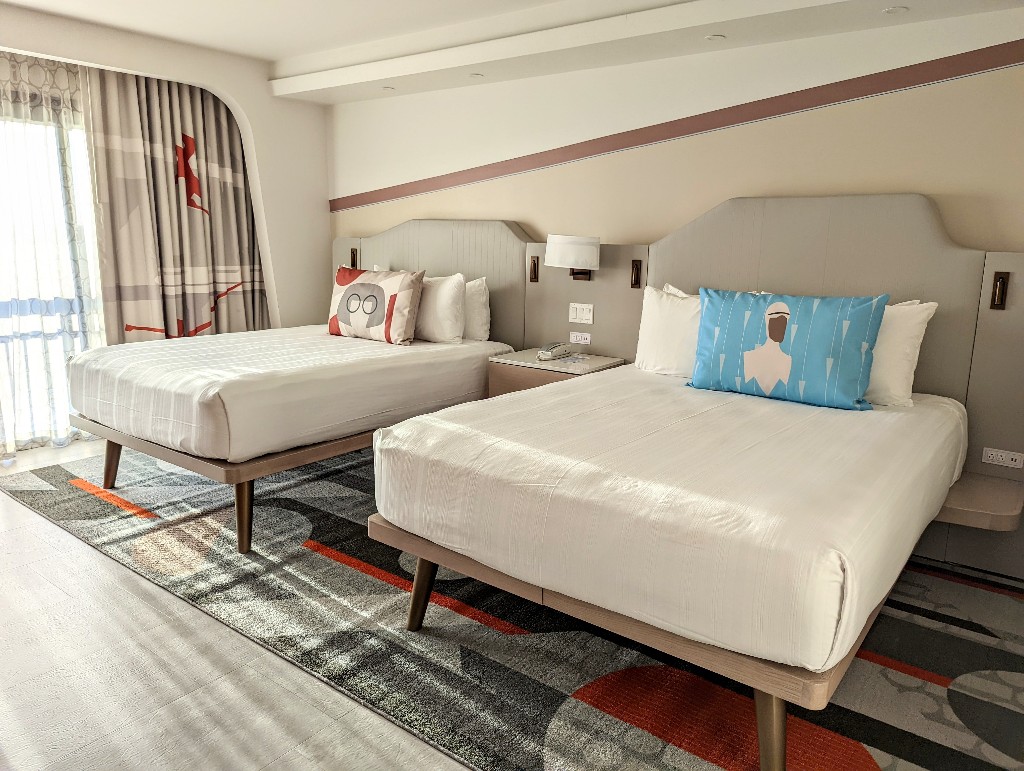 We loved the Frozone and Edna Mode accent pillows as another subtle nod to the Incredibles and a nearly hidden monorail on the lampshade. These fun details give the room a sophisticated theme versus a more over the top design like Art of Animation.
Our two queen Contemporary Resort Main Tower platform beds were very comfortable. We also love the built-in nightstand and charging stations on each side of the beds.
The couch is a great place to relax and part is still usable even when the bed is folded down. A futuristic oval table makes having breakfast in the room or working easy.
Disney's Contemporary Resort Main Tower Balcony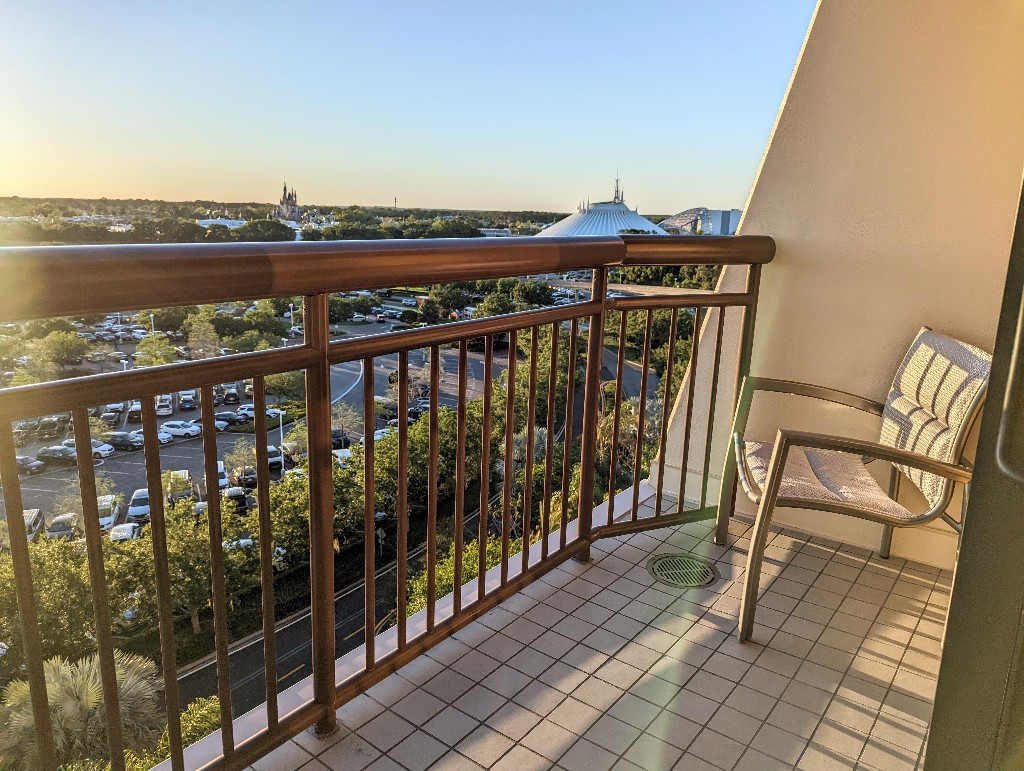 One of our favorite things about Disney World deluxe resorts is most of them have a walkout balcony area. Open the sliding door to a small private balcony with two chairs and a side table.
We splurged on a Contemporary Resort Main Tower Theme Park view. Watching Magic Kingdom fireworks from the balcony at night with matching music piped through our TV was wonderful.
Contemporary Resort Main Tower Lake View rooms have sweeping views of Bay Lake during the day. At night watch the Electrical Water Pageant with lights and retro music float by.
Disney's Contemporary Resort Main Tower Room Cons
The elevators in Disney's Contemporary Resort Main Tower are painfully slow. Lots of people walk over from Magic Kingdom for meals at Contemporary. This means a steady flow of elevator traffic and not enough capacity. It was not unusual to have to wait several minutes for an elevator during our stay.
We were extremely surprised how quiet our Contemporary Resort Main Tower Room was despite being open to the Grand Canyon Concourse. However, we were on the eighth floor and on the opposite side of the concourse from Chef Mickey. I think guests on lower levels and closer to Chef Mickey's might have more of a noise issue.
Our Disney's Contemporary Resort Main Tower room has the following great features:
Stunning views
Fun Incredibles details
Laminate floors
Split bathroom with double sinks
Beverage cooler
Keurig coffee maker
Ample plugs
Contemporary Resort In-Room WiFi
In-room WiFi is included in your resort stay. Our WiFi worked well, but we had to log in multiple times per day which was slightly annoying.
Disney's Contemporary Resort Parking
Parking is complimentary for resort guests while valet parking costs $33 per night at Disney's Coronado Springs Resort.
Disney's Contemporary Resort Transportation To Parks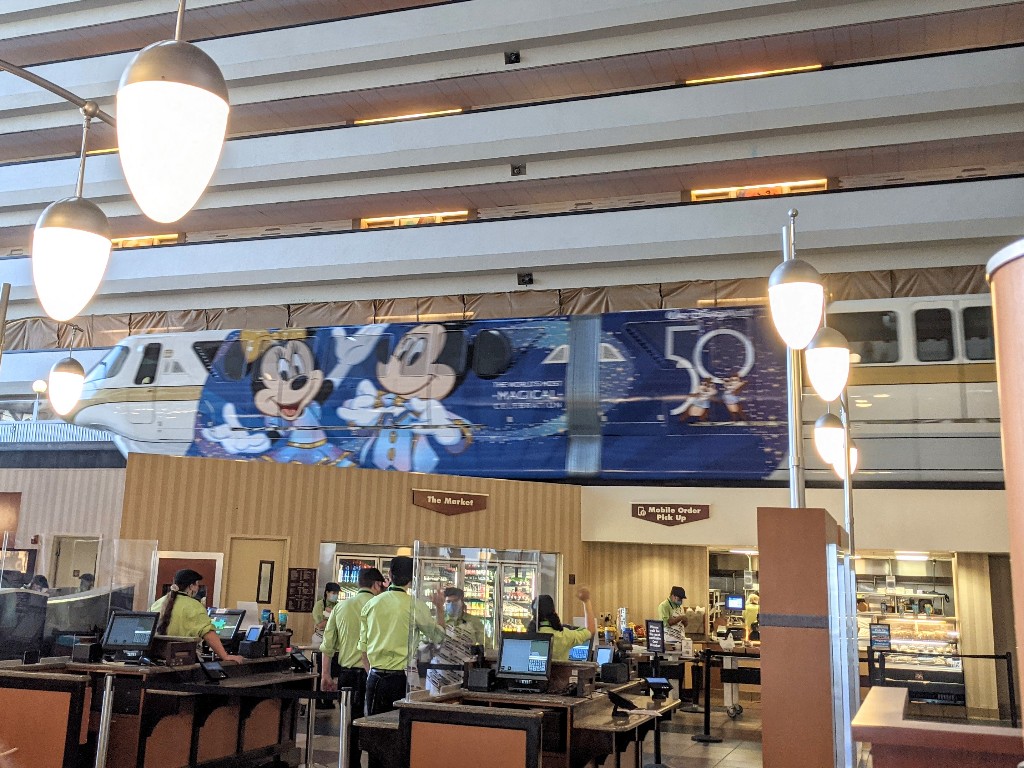 Contemporary Resort to Magic Kingdom
Walking to Magic Kingdom is one of the best things about Disney's Contemporary Resort. The Magic Kingdom walkway is only about a half mile long plus has its own dedicated security screening area. Walking from Contemporary to Magic Kingdom is the quickest and easiest way to access this popular park.
If you need to save your steps, take the monorail from Disney's Contemporary Resort to Magic Kingdom. The monorail stops at the Transportation and Ticket Center, Polynesian Resort, and Grand Flordian before dropping guests at Magic Kingdom.
Disney's Contemporary Resort to Epcot
Getting to Epcot from Contemporary uses the monorail system, but requires a transfer. Hop on the Contemporary Resort monorail and exit at the Transportation and Ticket Center.
Follow the signs to transfer to the Epcot monorail line and then it is a direct trip from the Transportation and Ticket Center to Epcot.
Contemporary Resort to Hollywood Studios, Animal Kingdom, and Disney Springs
Grab a bus to Animal Kingdom, Disney Springs, or Hollywood Studios. The Contemporary Resort bus stop is just outside the lobby on a walkway between Bay Lake Tower and the Contemporary.
Overall Impression Of Disney's Contemporary Resort Main Tower Rooms
The design, location, and clever use of space makes the Incredibles Contemporary Resort Main Tower room a good choice when visiting Disney World. We appreciate the convenience of walking to Magic Kingdom and the new delicious option of Steakhouse 71.
Not sure Disney's Contemporary is right for you? Use our complete Disney World resorts guide to pick the right room when planning your Disney World vacation.
Pin it for later: