Mary Poppins-inspired rooms have arrived at Disney World! Use our Disney's Grand Floridian Resort review and room tour to decide if this expensive resort is worth it for your next Disney World trip.
Disney's Grand Floridian Location
Grand Floridian is a gorgeous Victorian-inspired resort within walking distance of Magic Kingdom on the monorail loop.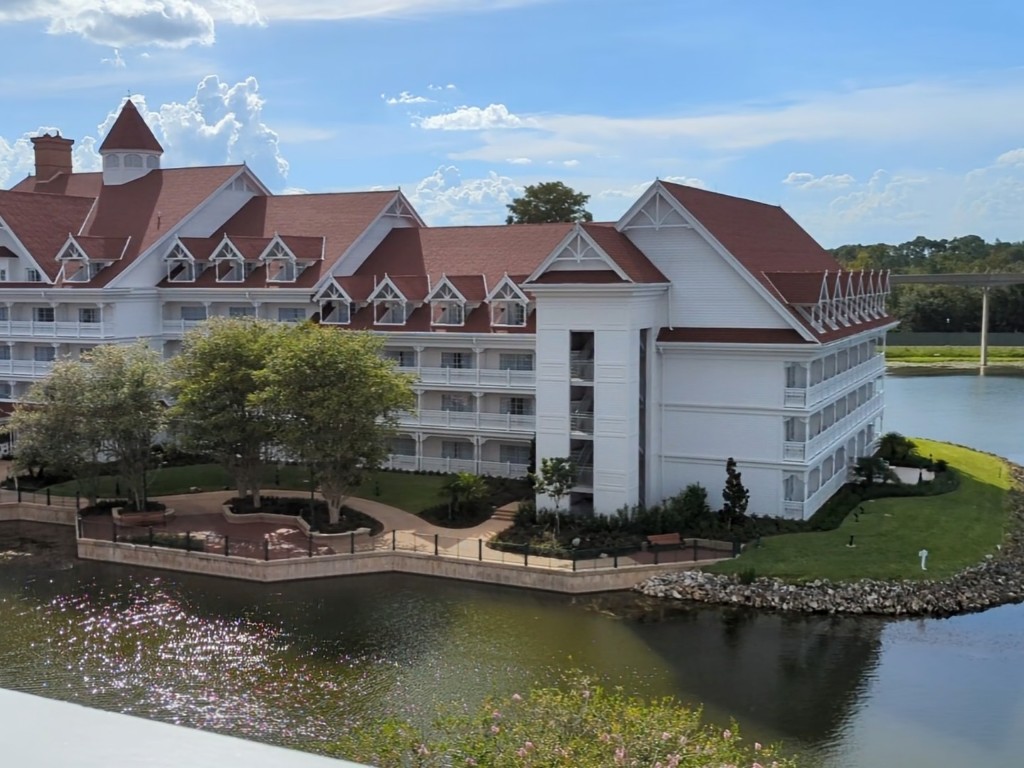 Disney's Grand Floridian Resort Overview
Entering into Grand Floridian, find an impressive multi-story lobby with white railings, a gilded cage, and grand piano. A bank of check-in desks near bell services, complete with wonderful cast members, helps you get settled the moment you arrive.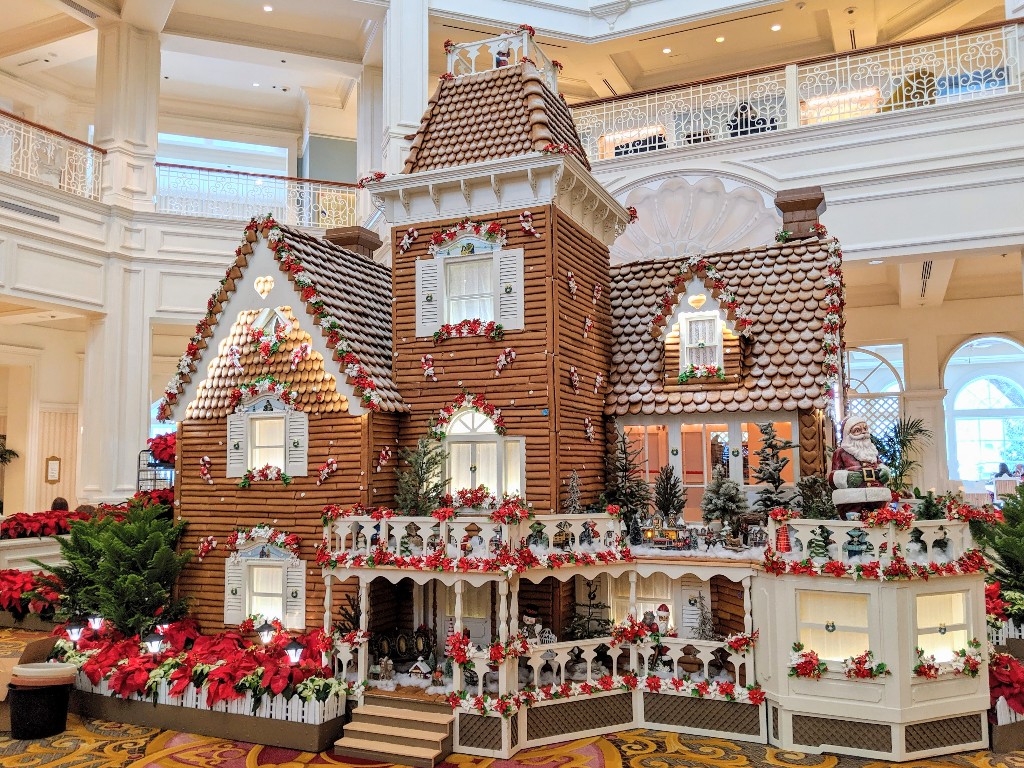 Grand Floridian's Main Building lobby is a destination for many Disney World visitors, especially during the holiday season when a giant gingerbread house resides here.
Access the Monorail station, shops, and several restaurants inside the Grand Floridian main building.
Disney's Grand Floridian Resort is broken into three sections: the main building, Grand Floridian outer buildings, and deluxe villas.
Main building and outer building rooms are very similar, but deluxe villas are completely different with several types having a full kitchen.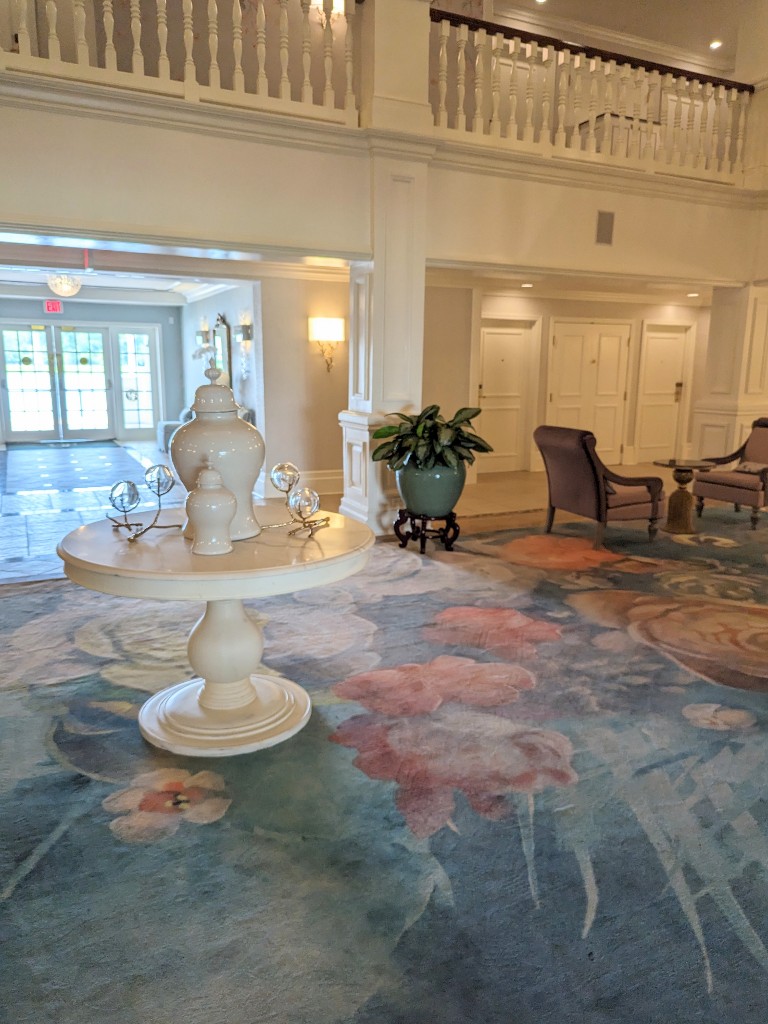 Although less grandiose than the main building, each Grand Floridian outer building has an adorably decorated Mary Poppins inspired lobby. Take a peek at the artwork along the walls to see how many Mary Poppins references are hidden in plain sight.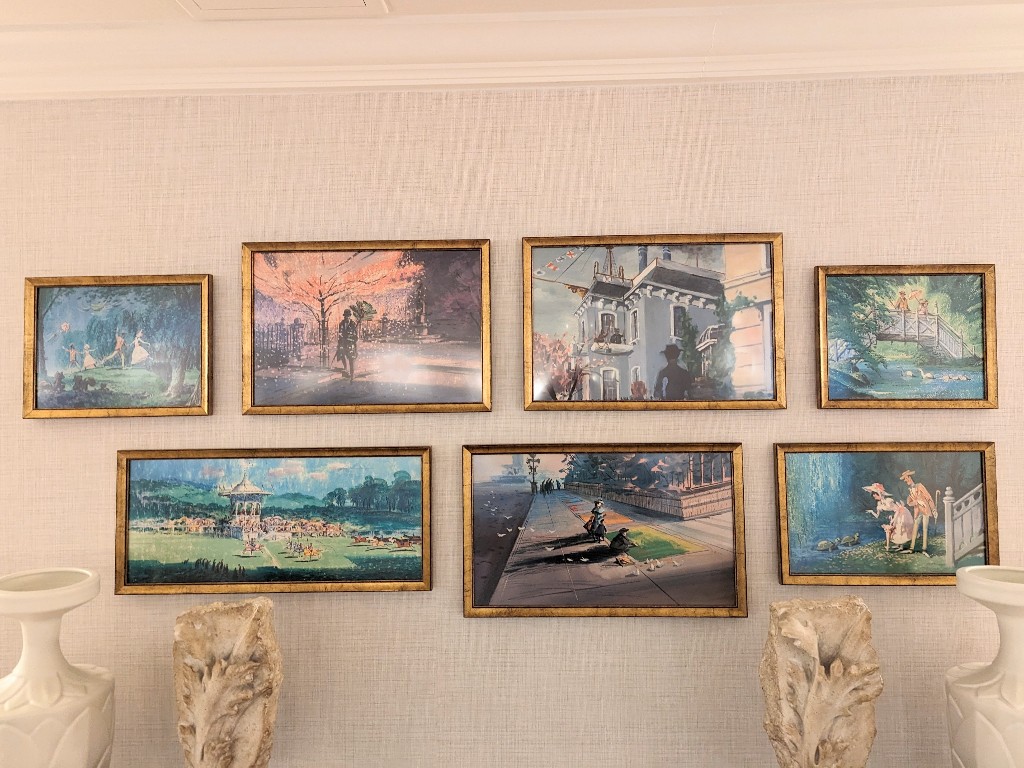 Grand Floridian Pools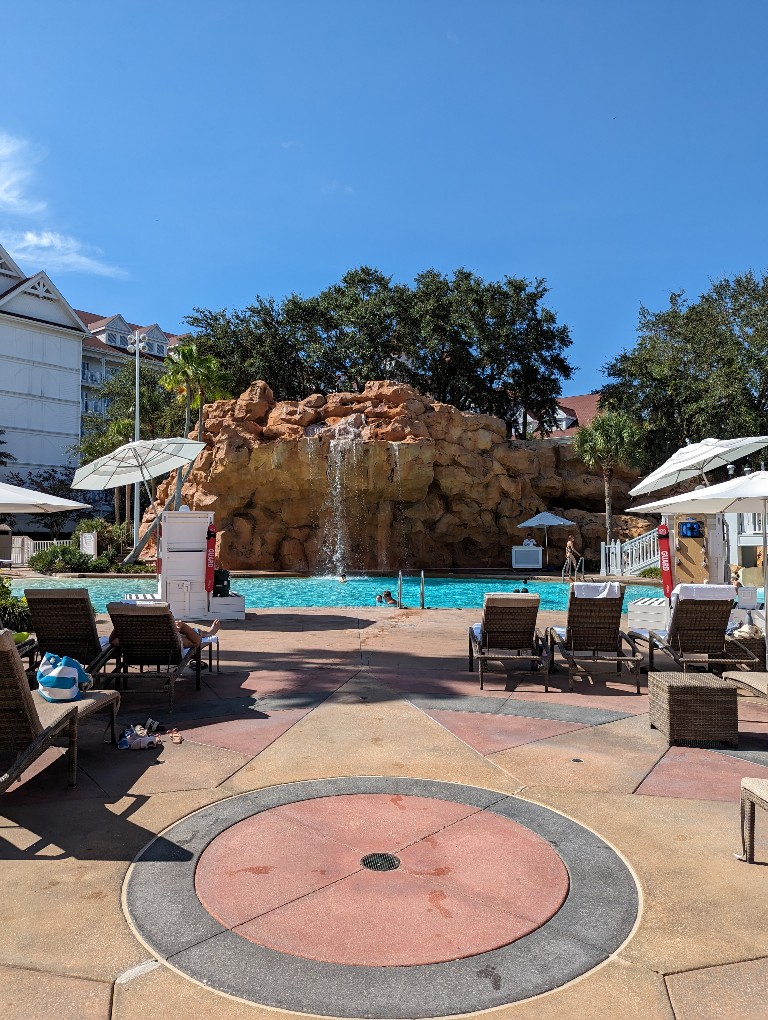 There are two Grand Floridian pools: Beach Pool and Courtyard Pool. Beach Pool is located between the main building and villas. This main pool has a 181-foot-long waterslide and a gorgeous waterfall which adds to the atmosphere.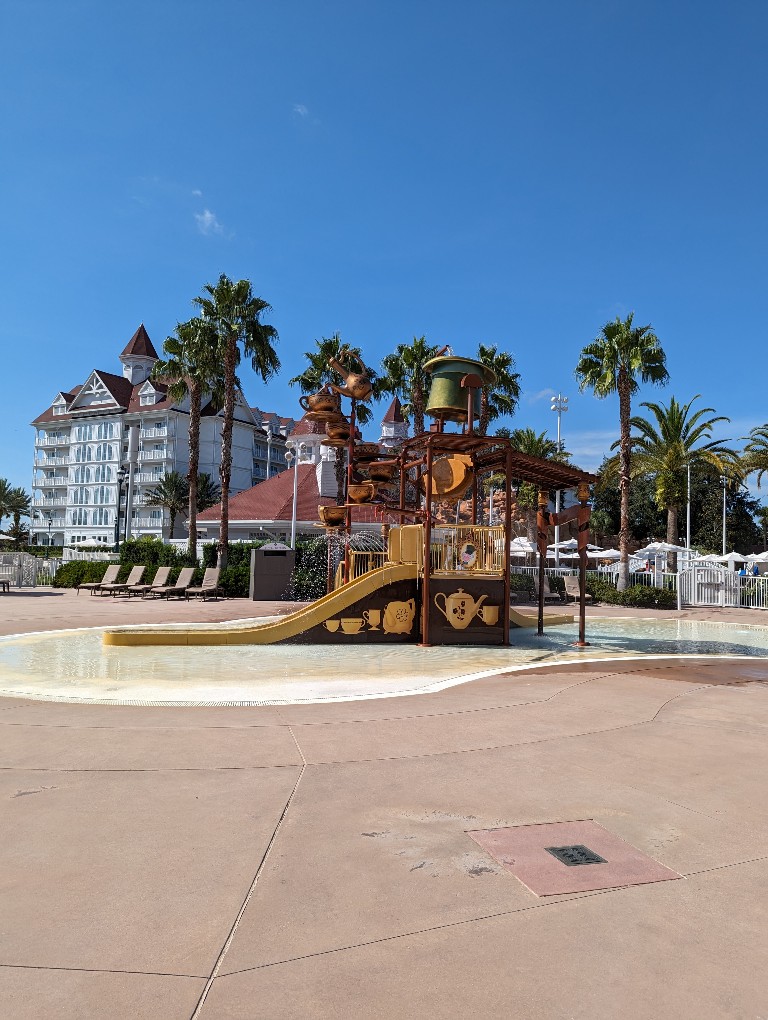 Find a large Alice in Wonderland themed aquatic play area adjacent to Beach Pool. This splash pad area is perfect for young kids more interested in playing than swimming.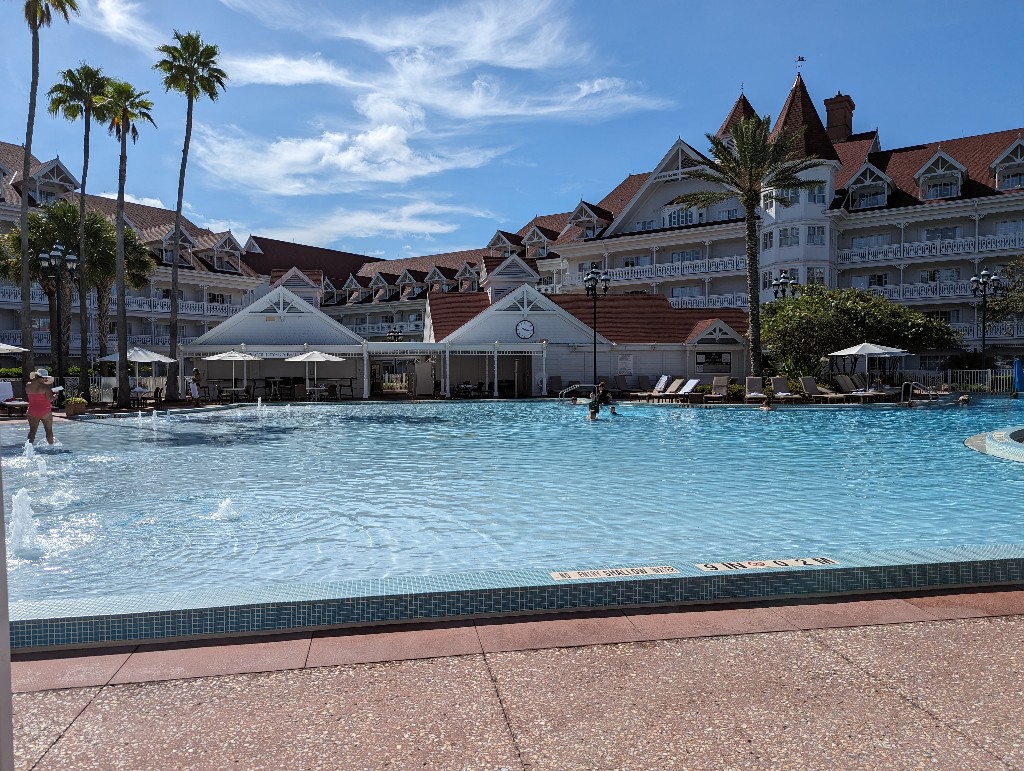 The Courtyard Pool is a large leisure pool closer to the Grand Floridian outer buuildings. Leisure pools are designed to provide a more relaxed atmosphere with a large swim area, but no added features like aquatic play areas or waterslides.
Grand Floridian Dining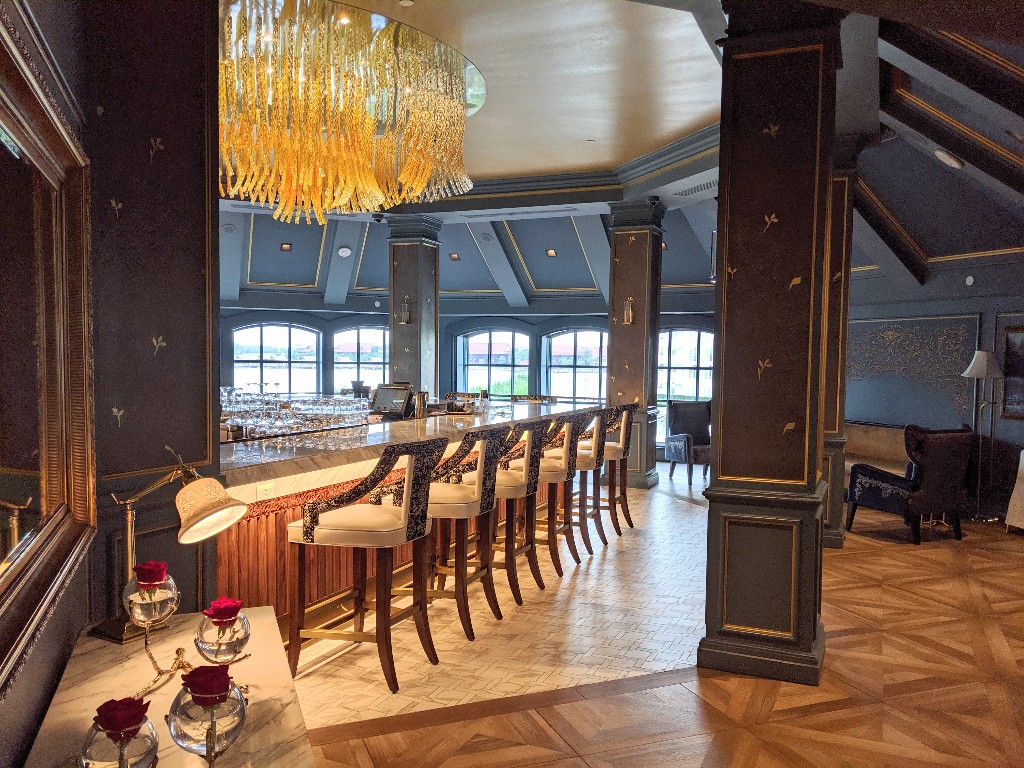 Disney's Grand Floridian Resort has some of the finest dining at all of Disney World. For example, Victoria and Albert's is an elegant affair which has a strict dress code and requires all guests to be at least 10 years old to dine here.
Citricos and Narcoossee round out the more formal dining experiences at Grand Floridian, but there's other options for those wanting a more casual meal.
We often order food at Gasparilla Island Grill, a quick service restaurant with ample indoor seating. One of our favorite traditions is mobile ordering Mickey waffles to-go for a tasty in-room breakfast.
Want a table service meal without the fussiness of fine dining? Grand Floridian Cafe has delicious options for breakfast, lunch, and dinner plus plenty of last minute availability.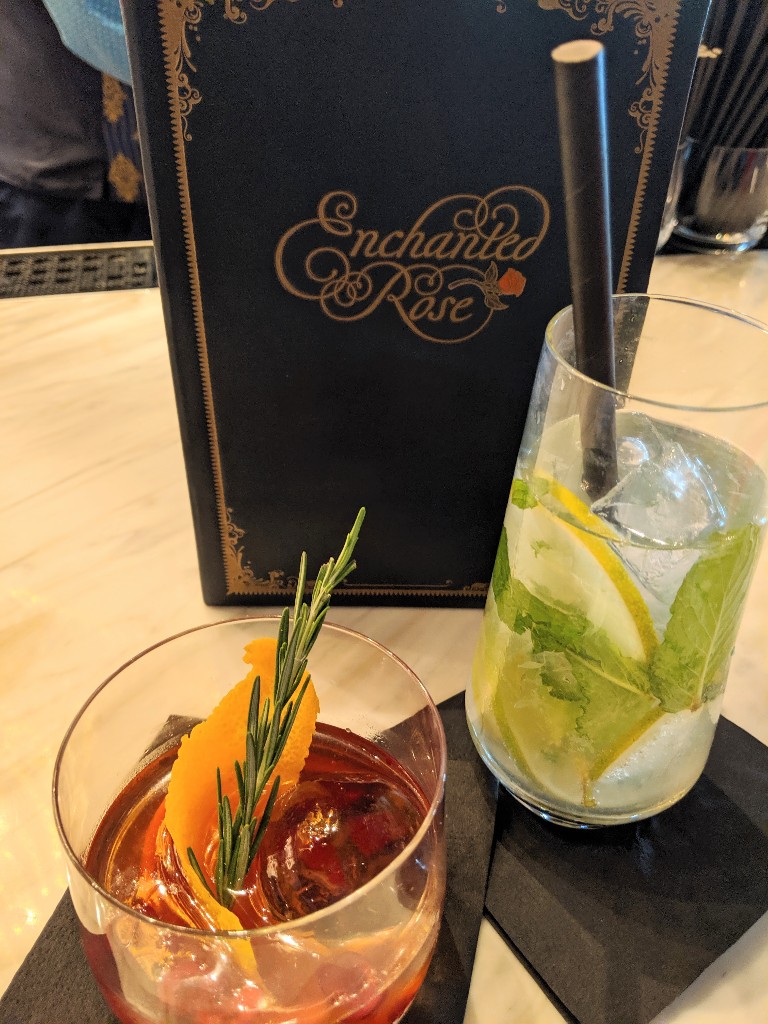 Finish out the day with a delightful cocktail in Enchanted Rose. This Beauty and the Beast inspired bar has spectacular details pulled from the movies and an attentive staff.
The Enchanted Rose covered outdoor patio is perfect for relaxing on a mild weather day. Just know there may be some shouts or giggles that filter up from the Alice in Wonderland play area or Beach Pool. We don't mind the ambient noise, but some may prefer the more refined indoor bar area.
Disney's Grand Floridian Resort Review: Mary Poppins Outer Building Room Review
Grand Floridian rooms were desperately in need of an update and the remodeled Mary Poppins rooms are a delightful and elegant addition to Disney's Grand Floridian.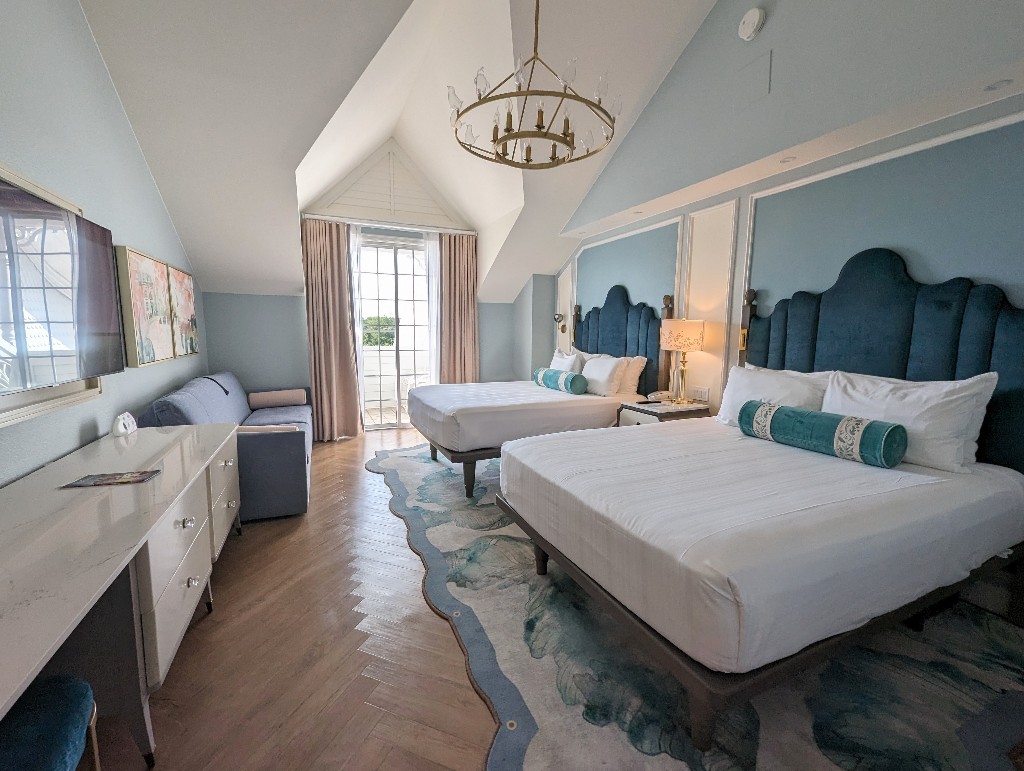 Entering the Grand Floridian room I was struck by how bright and open it seemed. We were on the fourth floor so we had the advantage of vaulted ceilings, but even regular ceilings keep the rooms feeling airy.
Pale blue walls, white furniture, plush sapphire headboards, gold accents, and light herringbone patterned laminate make an incredible first impression. Inspecting the Grand Floridian rooms more closely there are tons of wonderful Mary Poppins details.
The wall prints are an obvious nod to Mary Poppins arriving at the Banks' home and the stunning park near their home. However, there are many less obvious Mary Poppins details found throughout the Grand Floridian room.
Disney's Grand Floridian Resort Room Entrance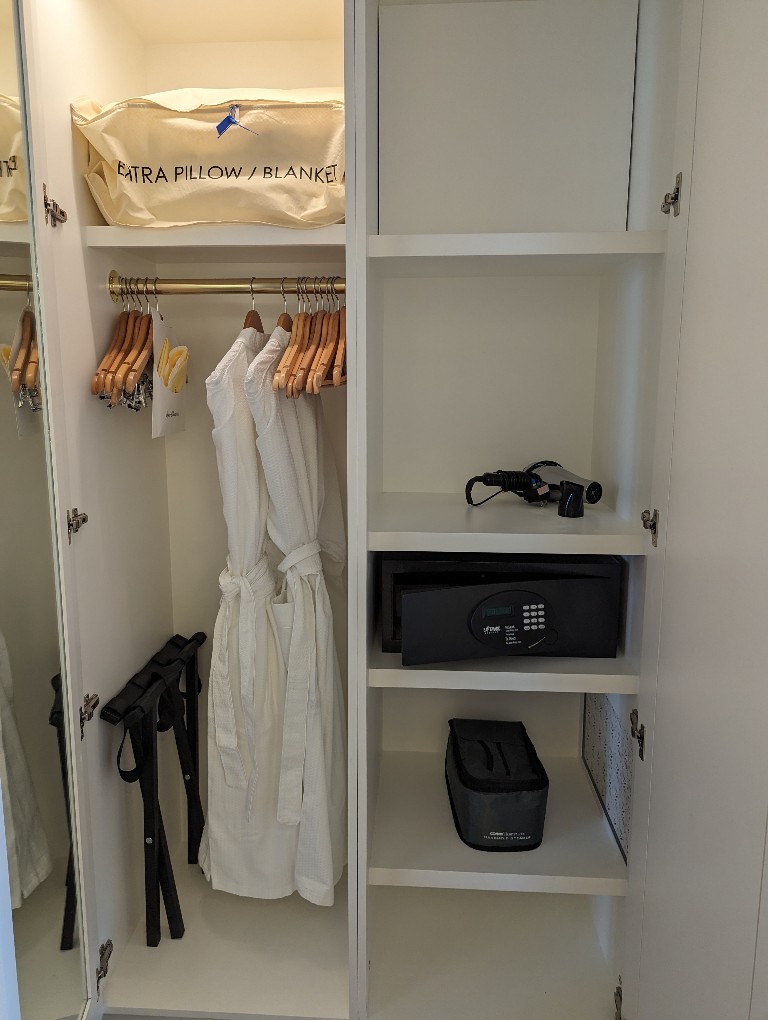 Grand Floridian resort rooms have a narrow hallway entrance with a door to the bathroom on one side and a spacious closet on the other.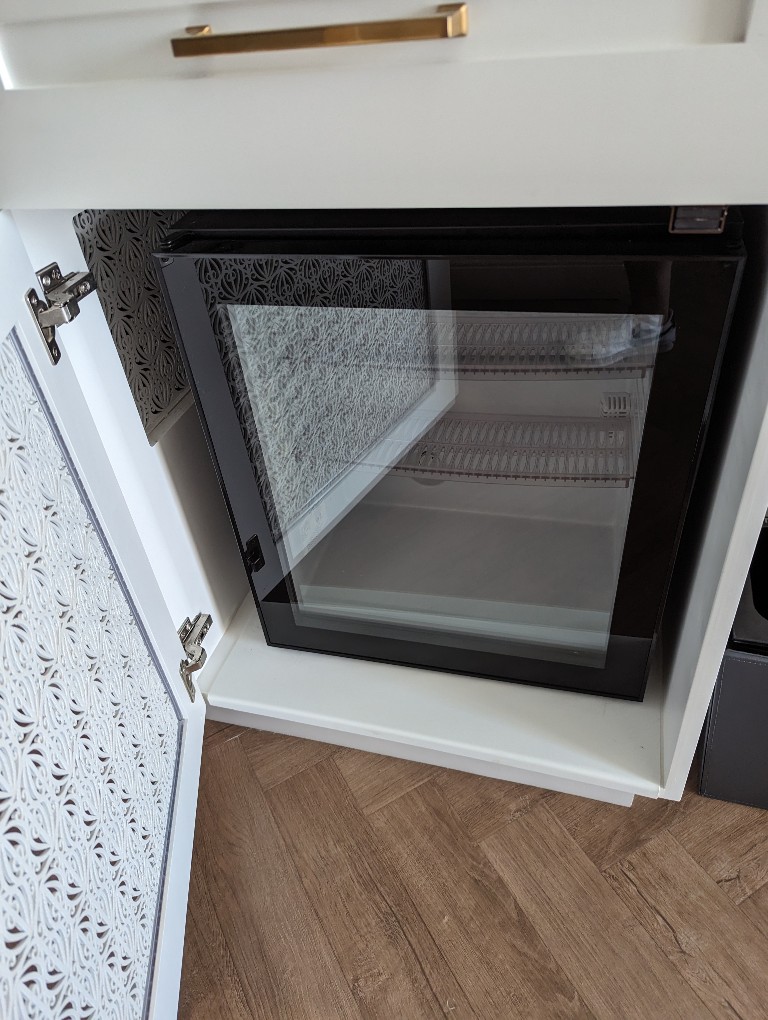 Next to the closet is a small counter with a Keurig coffee maker, an open shelf above, and beverage cooler underneath concealed by an ornate screened door.
On the wall behind this counter area admire the white and pale blue wallpaper. Look closely to find the Banks family and Mary Poppins' umbrella incorporated into the design.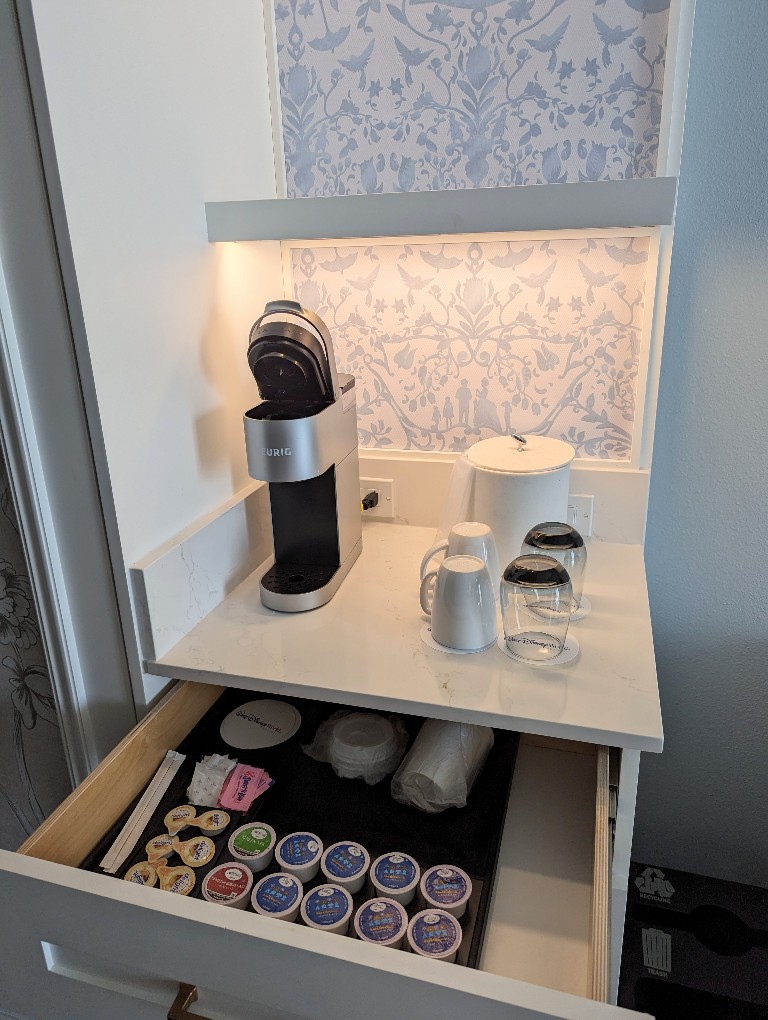 Disney's Grand Floridian Resort Room Bathroom
The new Grand Floridian Resort room aesthetics continue into the bathroom. Stunning floor and shower tile elevate the simple bathroom design.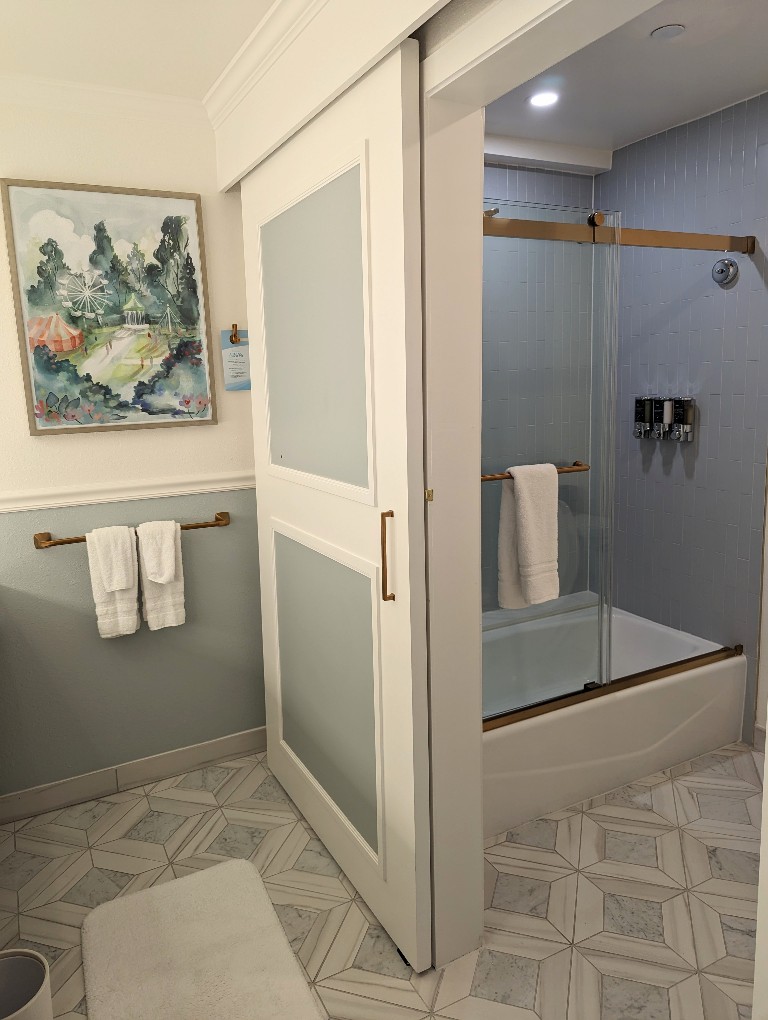 As part of the remodel, Grand Floridian Rooms now have a heavy, sliding barn door separating the bathroom from the rest of the room. Gone are the days of trying to get ready using minimal light and desperately trying to be quiet while others slept because this sink area was open to the room.
The double sinks and counter are also an improvement over the previously cramped vanity setup. A gilded backlit mirror is a stunning focal point over the vanity with outlets available on each side of the counter.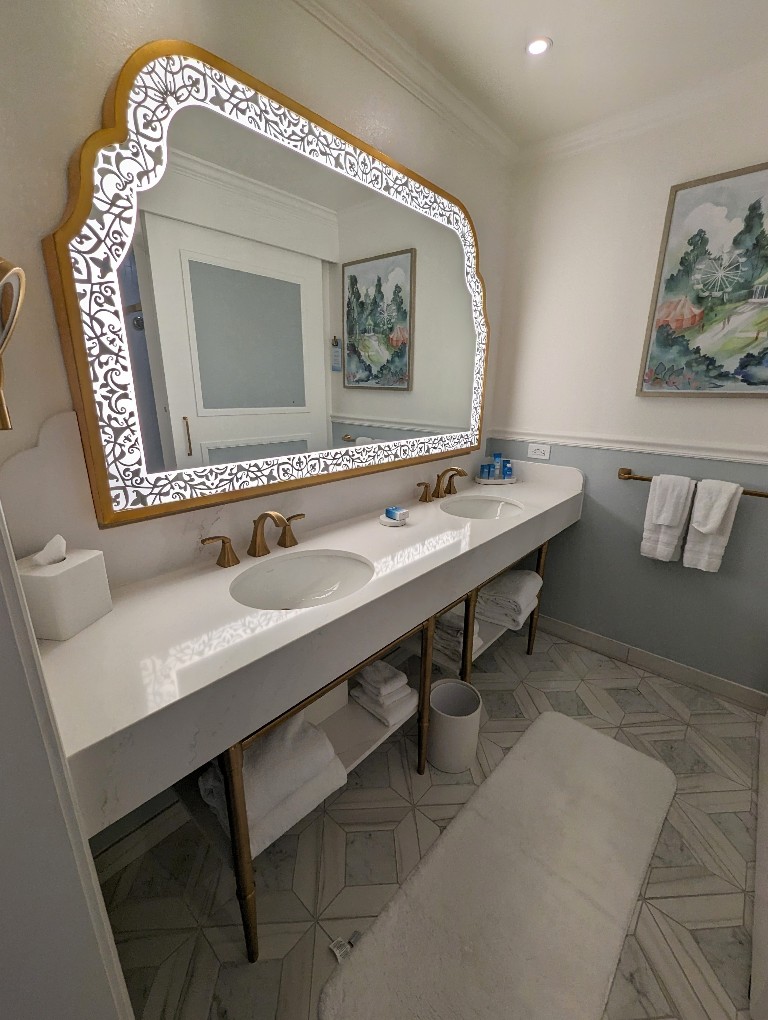 Another sliding barn door provides privacy for those using the shower and toilet area. The bathroom is still smaller than I would expect of a luxury Disney World hotel, but certainly feels less cramped than the previous design.
Shared toiletries are secured to the shower wall and the sliding glass shower door helps the room feel more open. Those with small kids will appreciate the bathtub, but I think working around the shower glass rails could be frustrating compared to a regular tub.
Choose from rainhead or handheld shower options when using the new Grand Floridian bathrooms. I usually like the rain showerhead, but felt this one had less pressure than some of the other recently updated resorts.
Disney's Grand Floridian Resort Room Bedroom Area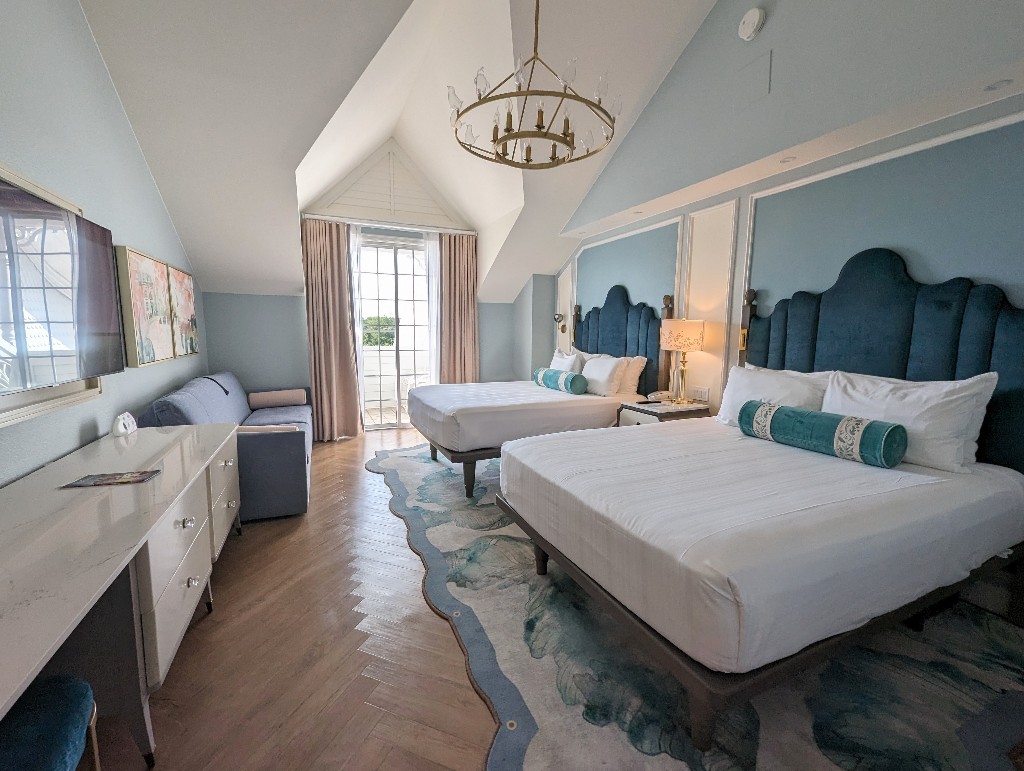 There are several room configurations and view options at Grand Floridian Resort. No matter the view or bed choice the rooms are generally very similar.
Some of Disney's Grand Floridian Resort rooms can accommodate up to 5 guests. These Grand Floridian 5th sleeper rooms have two queen beds and a couch that folds down to a single bed.
Add in a long combination dresser/desk and it would be easy to assume that Grand Floridian Resort 5th sleeper rooms feel cramped. However, these rooms still feel airy with plenty of space for everyone.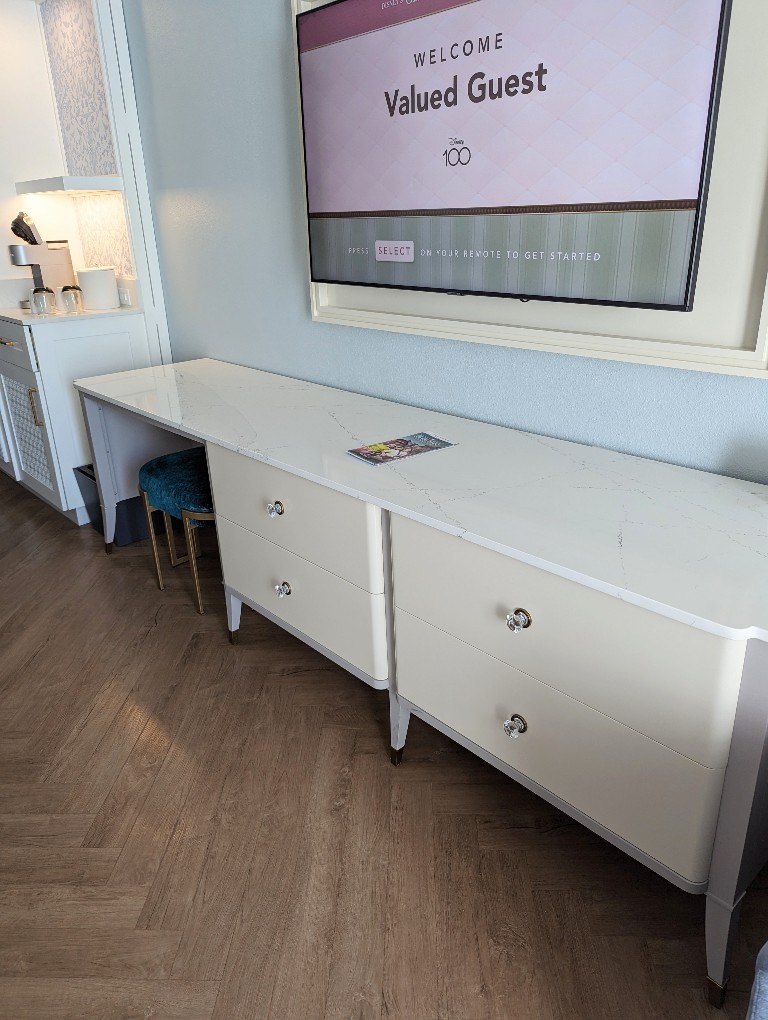 The two queen beds have a nightstand in the middle and built-in shelves on the outside edges. This means everyone has a place to charge and set their devices overnight.
The desk area has plenty of space to eat while sitting on the backless chair upholstered in rich blue velvet. However, I think working in this spot would get uncomfortable quickly.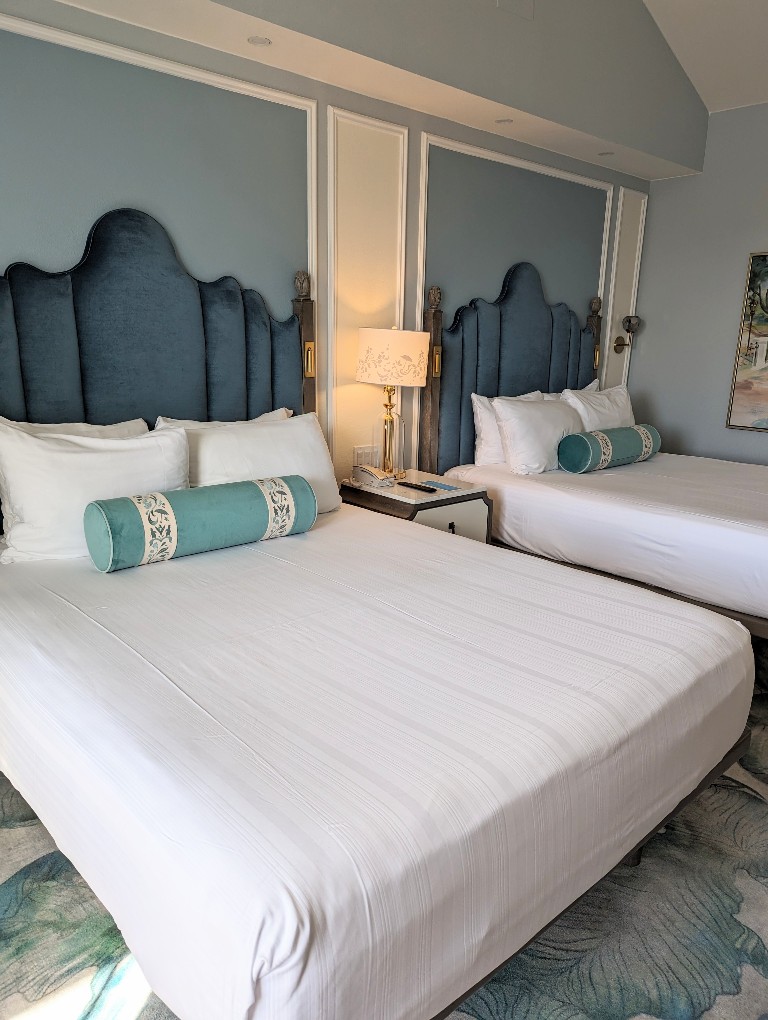 Thankfully, there is also a movable, but extremely heavy, marble and gold ottoman which can be placed in front of the couch for additional dining or work space.
A large glass and gold chandelier is a focal point of the new Grand Floridian Resort rooms. Look closely and you might find a penguin hiding among the birds on the chandelier.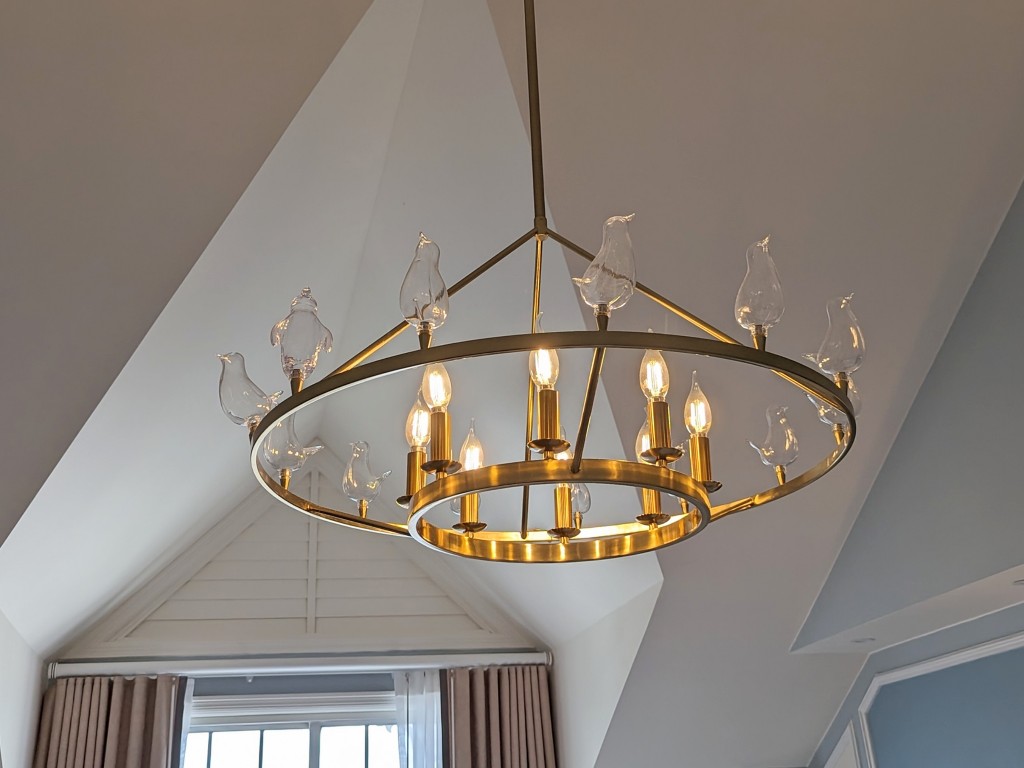 Despite looking large, the dresser drawers hold less than I thought they would. Storage space was ample for our 3 night trip, but I think a family of 5 staying for several days might have trouble finding space for everything.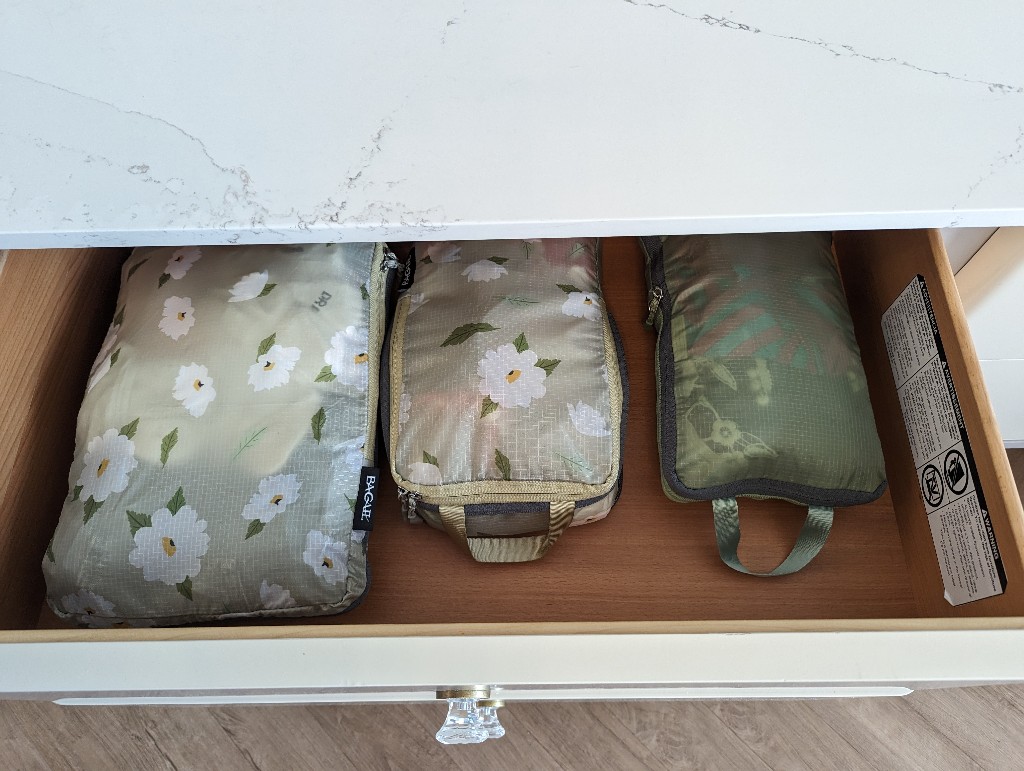 Disney's Grand Floridian Resort Room Balcony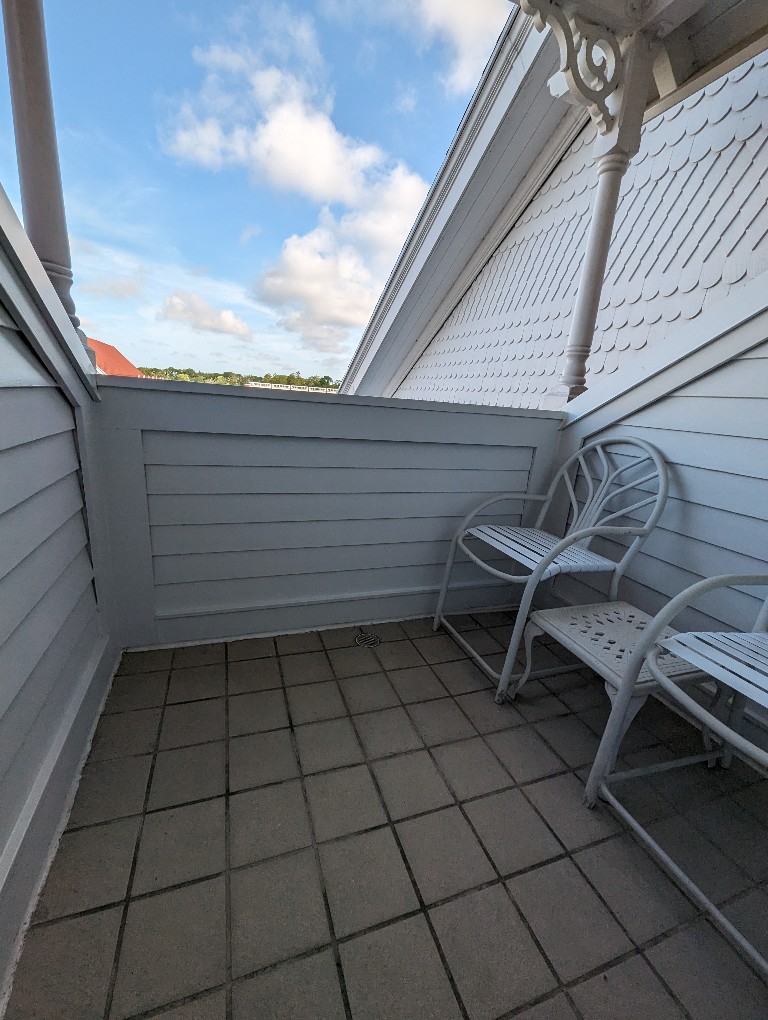 Grand Floridian Resort rooms have either a patio for first floor rooms or balconies for upper level rooms. Although we love the high ceilings in our Grand Floridian Resort outer building room the distinctive facade meant our balcony was smaller than usual.
All Disney's Grand Floridian balconies and patios come with two outdoor chairs and a side table perfect for having a cup of coffee or a late night cocktail. We especially loved using these balconies at night when Elizabeth was young and asleep, but we weren't ready to turn in for the night.
Our Grand Floridian Resort room had the following great features:
Split bathroom with doors between the bedroom and sinks plus another between sinks and shower area
Laminate floors
Gorgeous color scheme and Mary Poppins-inspired decor
Sleeps 5 people
Easy access to Magic Kingdom
Grand Floridian In Room WiFi
Free WiFi is included in all Disney World resort rooms. Overall the quality is decent, but can vary widely depending on exactly which room you are staying in.
Disney's Grand Floridian Resort Parking
Guests of Grand Floridian can park for the duration of their stay for free in the paved, but uncovered parking lot. The lot is small so expect security to confirm you are a guest, or have dining reservations, before letting you park here.
Disney's Grand Floridian Resort Transportation To Parks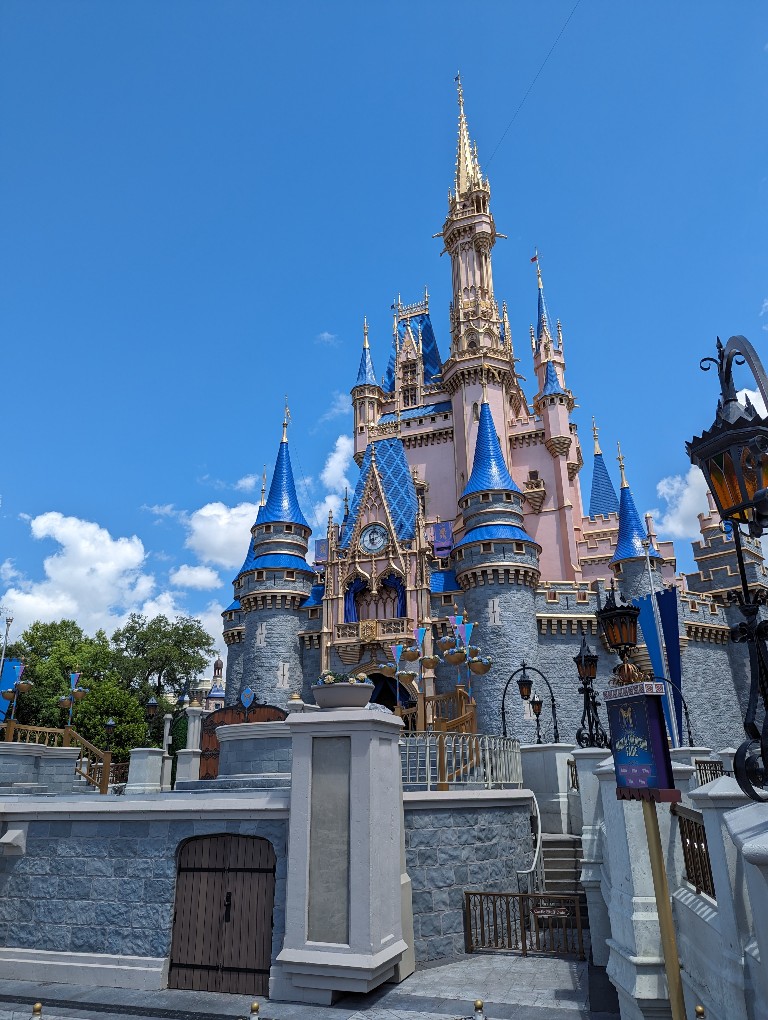 Grand Floridian Resort to Magic Kingdom
One of the best things about staying at Disney's Grand Floridian Resort is easy access to Magic Kingdom.
There is a walking path which takes about 20 minutes to or from the Magic Kingdom. However, the path does close periodically to let the boats in and out for the Electrical Water Pageant. Waiting to open and close the bridge can add several minutes to the walk.
Guests can also take the monorail from the Grand Floridian Resort main lobby second floor.
Go through security and then hop on a monorail to Magic Kingdom, Disney's Contemporary Resort, the Transportation and Ticket Center, and finally the Polynesian Resort before returning to Grand Floridian.
The last option to get to and from Magic Kingdom from Grand Floridian is via a small boat. The dock is in the back of the resort not far from Gasparilla Island Grill.
Disney's Grand Floridian Resort to Epcot
Take the Grand Floridian monorail to the Transportation and Ticket Center, also known as the TTC.
At TTC exit the first monorail and follow signs to transfer to the Epcot monorail line. Hop aboard and then take a swing around Epcot on the elevated track before being dropped off at the front of the park.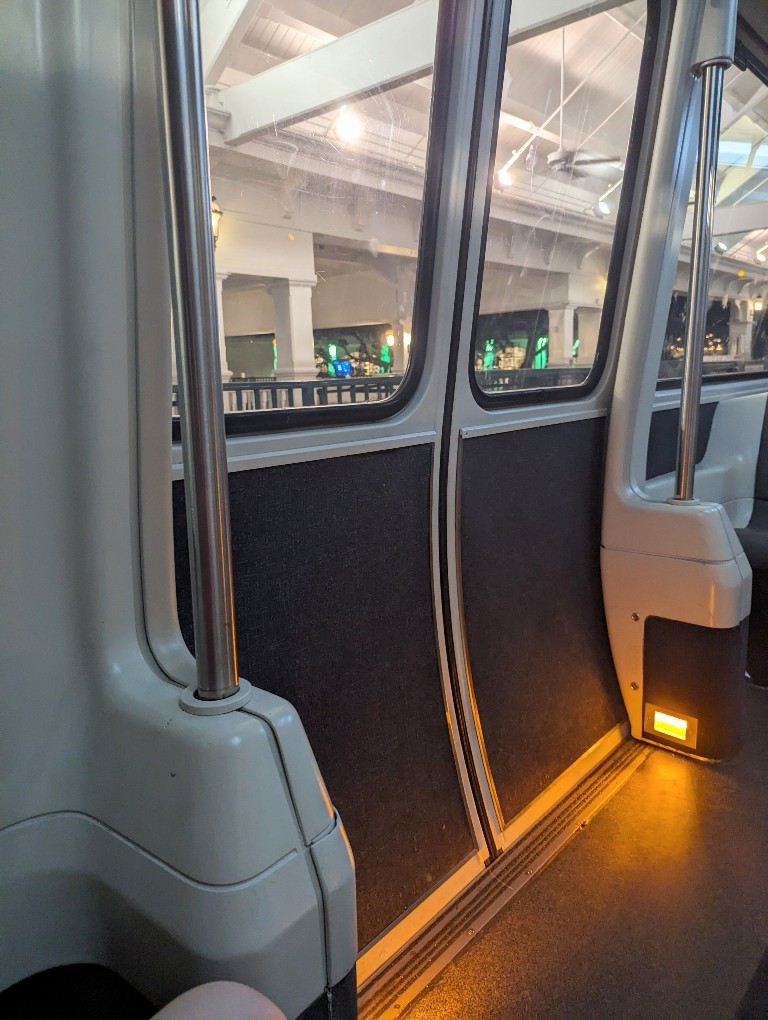 Grand Floridian Resort to Hollywood Studios, Animal Kingdom, Disney Springs, and Water Parks
Buses connect Disney's Grand Floridian Resort to Hollywood Studios, Animal Kingdom, Disney Springs, and Disney water parks via a transfer at Disney Springs.
Is Staying In A Disney's Grand Floridian Resort Mary Poppins Room Worth It?
Everyone has different criteria for what makes an expensive hotel worth it. For me, Disney's Grand Floridian generally isn't worth the high price tag. However, occasionally I can snag a great promotion which makes this pricey hotel more "reasonable".
For example, I booked an Annual Passholder discounted rate of $526 per night for a Grand Floridian Resort Outer Building Resort View room. This same room is often $900 or more per night.
In this case Grand Floridian at $526 per night was absolutely worth it, but I would not have chosen to stay if the rate was $900 per night. This is especially true right now as Grand Floridian completes renovations.
When Grand Floridian prices are high, and I want to stay within walking distance of Magic Kingdom, I choose Disney's Contemporary Resort garden wing rooms. These rooms are recently remodeled with an Incredibles theme perfectly matching the mid century modern aesthetic of this original Disney World hotel.
Not sure Disney's Grand Floridian Resort Mary Poppins rooms are for you? Use our guide to picking a Disney World Resort to find the best hotel in each price category.