San Diego brings to mind the picturesque scene of surfers bobbing in the ocean waiting for the perfect wave. After visiting San Diego's Pacific Beach area several times and watching these incredible surfers, my daughter was inspired to take her own surf lessons. Pacific Surf School made her first surf lesson an incredible experience and now lessons here are a tradition on every San Diego vacation.
Where Is Pacific Surf School?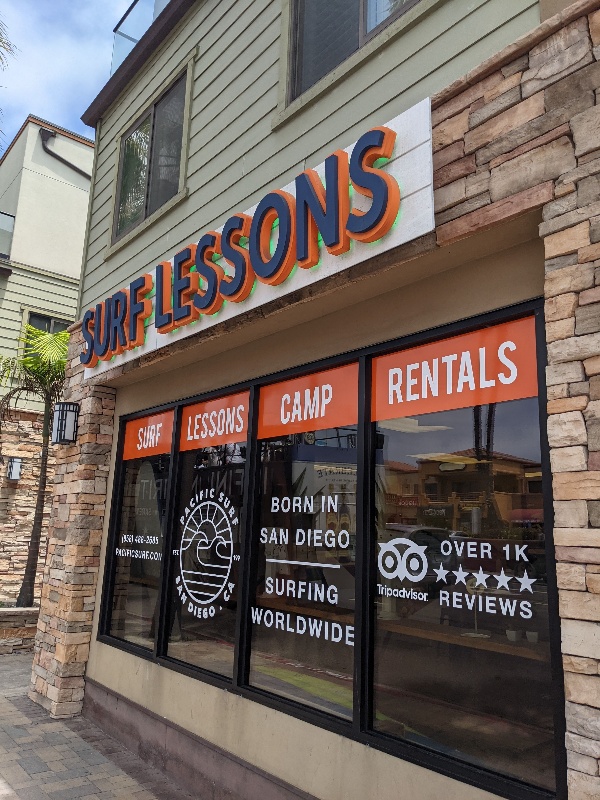 There are several San Diego Pacific Surf School locations, but the we use one in Pacific Beach near our favorite San Diego hotel, Tower 23.
Pacific Surf has other San Diego area locations like Mission Beach, Ocean Beach and La Jolla so there is likely one close to where you're staying. Looking for something more exotic? Try Pacific Surf lessons in Costa Rica or Nicaragua.
Planning a trip to San Diego? Here's some of our favorite San Diego activities.
What Should I Expect When Taking Pacific Surf School Surf Lessons?
Book and Check In For Your Surf Lesson
First, you'll need to book your surf lesson ahead of time either online or by phone. On the day of your lesson expect a text message from Pacific Surf School.
This text has a lesson time reminder, a link to a waiver you can fill out online, and directions to the office.
Arrive at the office 15 minutes before your lesson. This time is spent getting your student rash guard and completing the waiver if you didn't sign it online.
After completing registration it's time to walk over to Pacific Beach. A large canopy full of surf equipment on the beach can't be missed. Here you'll meet your instructor, put on your wetsuit, and get a surfboard.
Before You Hit The Water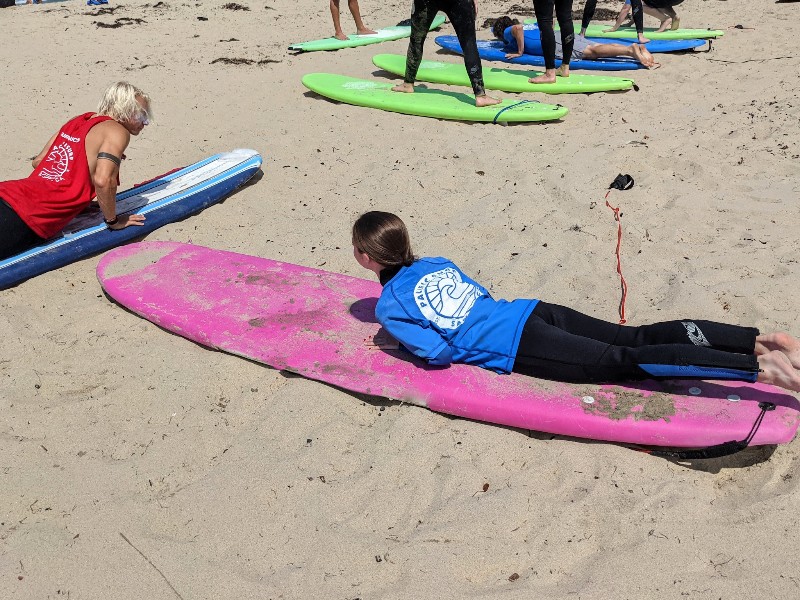 Slather on face sunscreen while you wait for your wetsuit. Your instructor will take you over to your surfboard and teach you how to wriggle into the suit.
While at the surfboard learn about the parts of the board and safety rules. Then it's time to practice your stand up. Your instructor walks you through how to transition from lying on the board to standing up for the best chance of catching a wave.
After you've perfected your standup on the sand it's time to move to the water.
On The Water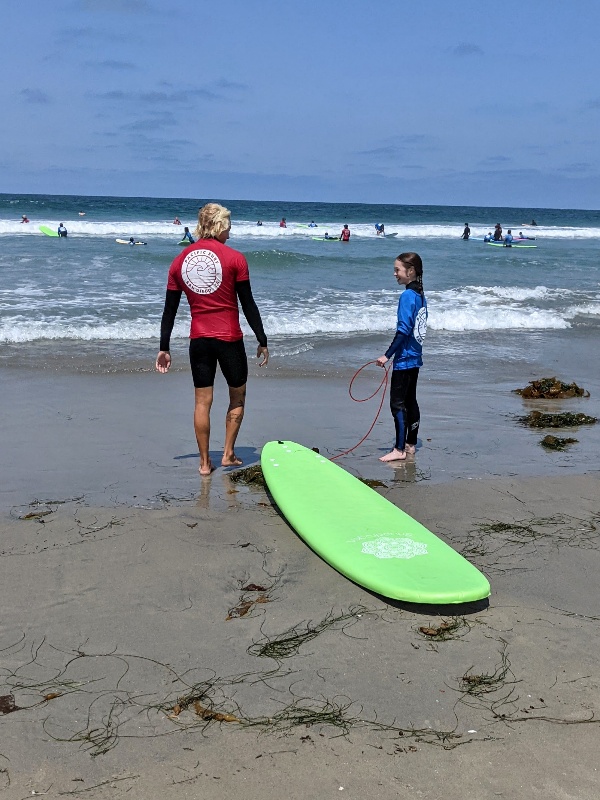 Instructors guide you through paddling out and finding a wave. Those taking private lessons will have a more personalized surf lesson, but even in a group the instructor moves through and works with everyone.
Lessons last 90 minutes from start to finish with about 60 to 75 minutes of that time practicing in the water.
Friends or family waiting along the beach need to apply way more sunscreen than they think they'll need. The sunshine combined with cool breezes from the Pacific Ocean camouflage burns until it is much too late.
After The Lesson
Return your board and wetsuit at the Pacific Surf School canopy before walking back to the office to drop off your student rash guard.
At the office you'll also get a sneak peek of the professional photos, available for a fee, from your surf lesson. Pick up a t-shirt or other souvenirs to commemorate your lesson before leaving.
Why Is Pacific Surf School A Great Place For San Diego Surf Lessons?
All Your Gear Is Provided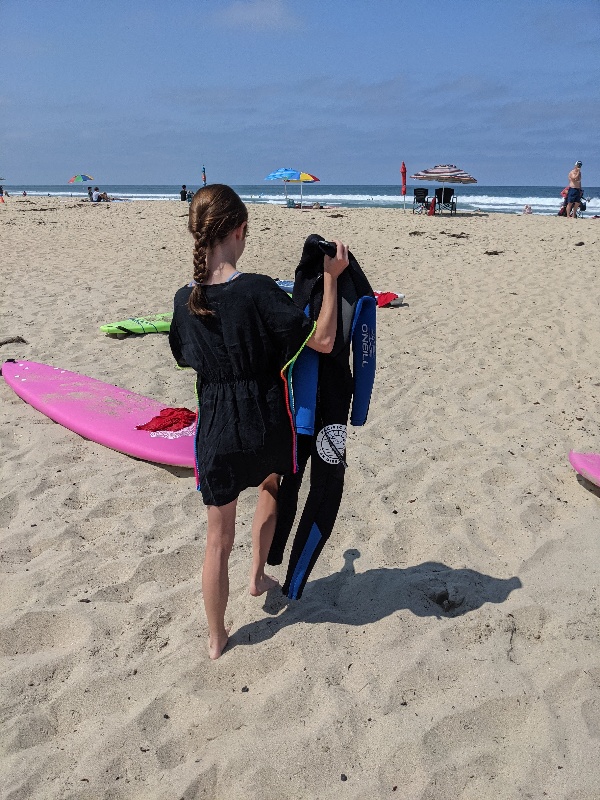 Pacific Surf School provides all of the gear needed for your surf lesson. Just bring a towel, sunscreen, water, and a positive attitude for your surf lesson.
Pacific Surf School Has Great Instructors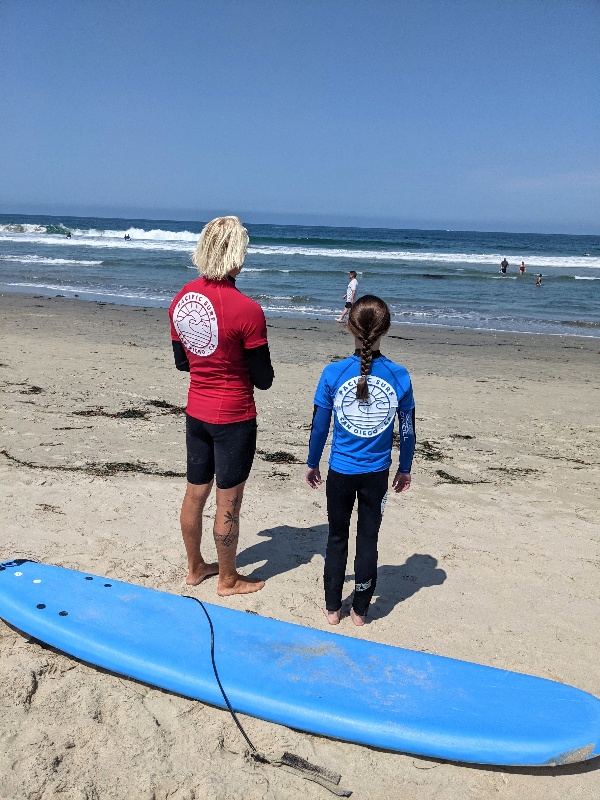 Pacific Surf instructors are a perfect blend of relaxed surfer attitude, competence, and joy for the sport. These instructors love what they do and it shows.
All the instructors are certified in CPR and first aid plus are certified surf instructors.
Lots Of San Diego Surf Lesson Options
In addition to several Pacific Surf School locations in San Diego, they also offer three different lesson options. Private lessons provide one on one instruction while semi-private lessons pair one instructor with a small group of friends or family.
Regular group lessons are the least expensive and personalized option, but a good way to try out surfing without committing a large part of your vacation budget.
Excellent Action Photos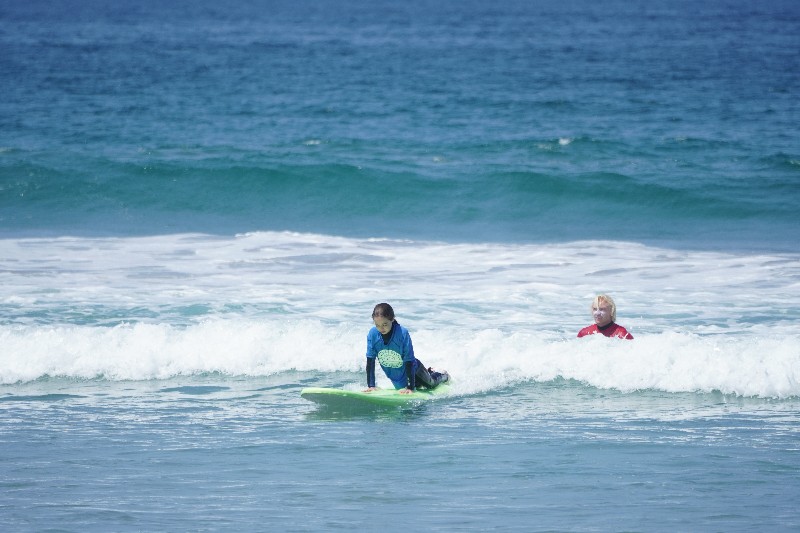 One of the best things about Pacific Surf School is they have professional photographers who capture action shots of students. Using telephoto lenses they take some incredible pictures of your surf lesson.
I always promise myself I won't buy these action photos, but they are usually so incredible I can't resist. The professional photos cost $40 for one person, but the price decreases per person for larger groups.
The Pacific Surf School photos are usually sent within a day and are high resolution with no watermarks. You can buy the package ahead of time or wait until you preview the pictures first.
Final Thoughts On San Diego's Pacific Surf School
Surfing in San Diego is an exciting and unique travel experience if you find the right surf school. After several surf lessons at Pacific Surf School we've found that they provide a fun, memorable, and safe experience perfect for anyone 5 years and older. My daughter can't wait for our San Diego visits so she can take more surf lessons at Pacific Surf.
Pin it for later: