After years of collecting beautiful Disney autograph books that sat on a shelf, I have now started making more useful Disney character autograph book alternatives. Our first Disney autograph book alternatives were pillowcases, and these autograph pillowcases are some of my daughter's favorite travel souvenirs. In my quest to find more autograph book alternatives, I made a Disney autograph ornament during a Disney World Christmastime trip.
As an Amazon Associate I earn from qualifying purchases.
What Supplies Do I Need For A Disney Autograph Ornament?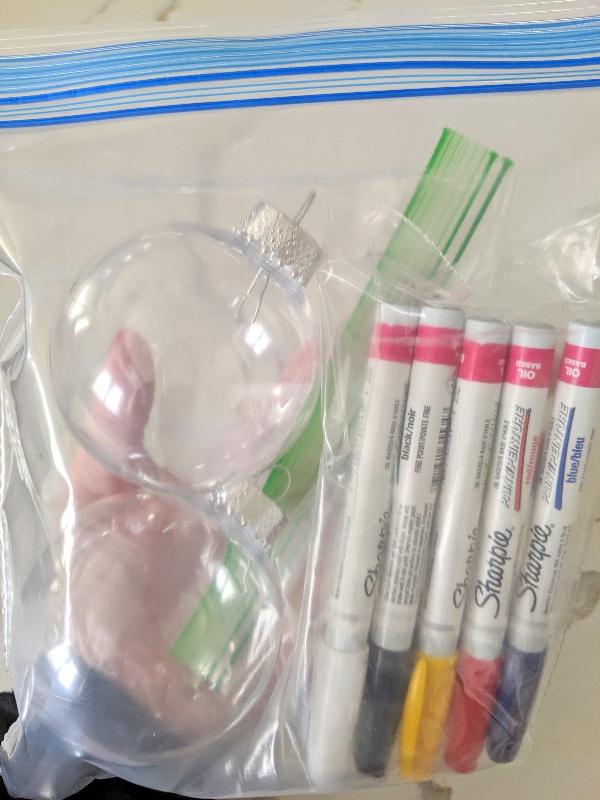 A Disney autograph ornament doesn't require many materials. You only need plastic ornaments, oil-based Sharpie paint pens, and something to decorate the ornament with at home, if you choose to do so.
Plastic Globe Ornaments
I already had clear plastic globe ornaments from another project, so I brought two of them on our trip. I chose plastic ornaments because they were easier to carry in my Disney park bag and less likely to break if a character dropped it.
Here's a link to similar plastic ornaments on Amazon (affiliate link: Buy on Amazon).
Oil-Based Sharpie Paint Pens
I did a lot of research on what writes best on plastic, and although some people claimed regular Sharpies work, others said that the marker smeared when writing or faded over time. This is why I chose oil-based Sharpie paint pens (affiliate link: Buy on Amazon). These paint pens are specifically recommended for use on plastic and other materials.
Ziptop Bags
I used two ziptop bags for the Disney autograph ornament. One sandwich size bag held the Sharpie paint pens just in case one burst. I then put the plastic globe ornaments and the bag with paint pens inside a quart bag. This way the Disney autograph ornament was protected, and everything was together. This made grabbing the supplies easy when meeting characters.
Were The Characters Able To Sign The Disney Autograph Ornament?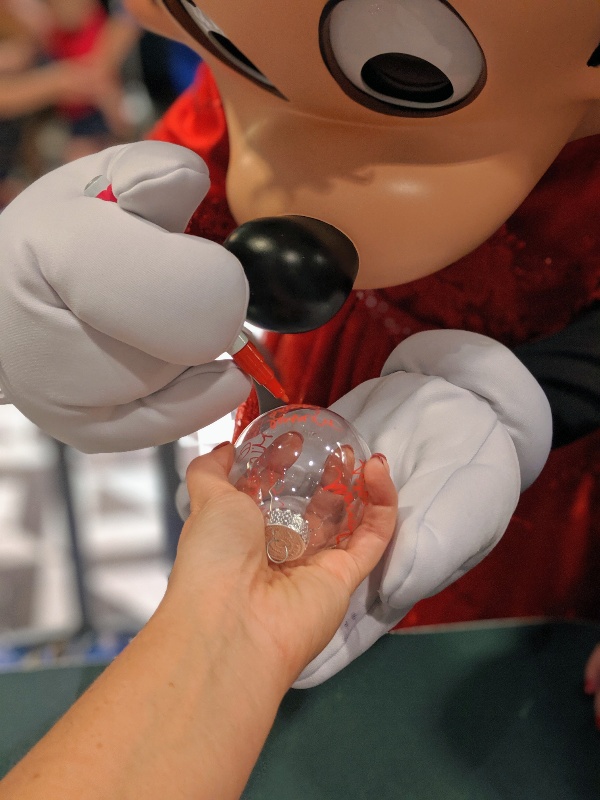 Yes! We brought our Disney autograph ornament to Minnie's Seasonal Dining character meal at Disney World. Minnie and Mickey had a little trouble holding the ornament because of their thick gloves, but they did fine with a little help from me. Donald, Daisy, and Goofy all managed to sign the autograph ornament without any issues.
Princesses and other similar characters should be able to sign the autograph ornament easily. However, characters like Pluto may have a little more trouble. I noticed that it took the characters a little longer to sign the ornament than a regular autograph book. Have your supplies ready, and only have one ornament signed by each character to avoid holding up the line.
The extra time to sign the Disney autograph ornament didn't seem to be an issue during our character meal at Minnie's Seasonal Dining.
What Worked Best And Top Tips For A Disney Autograph Ornament
Use Plastic Ornaments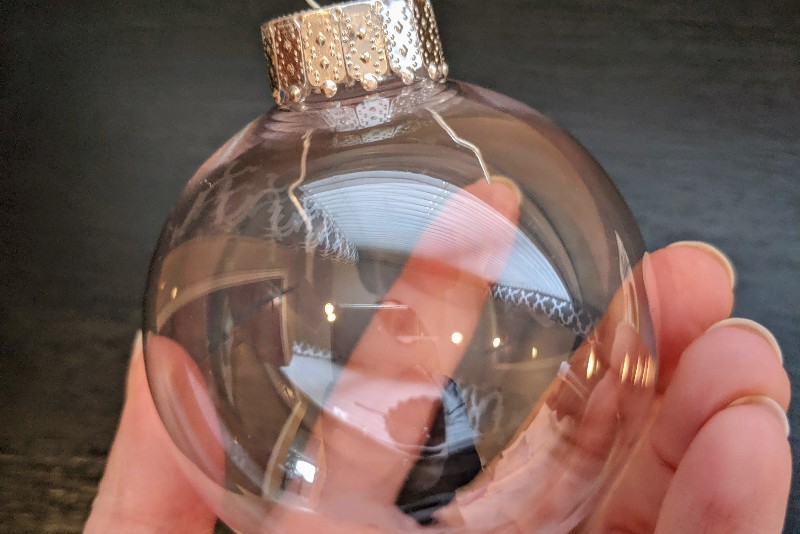 Using plastic globe ornaments worked very well. Characters like Minnie and Mickey had to hold the ornament tightly to sign it, and I think a glass ornament may have broken. It was also less worrisome to have a plastic ornament in my backpack throughout the day.
Read Instructions and Properly Prep The Oil-Based Sharpies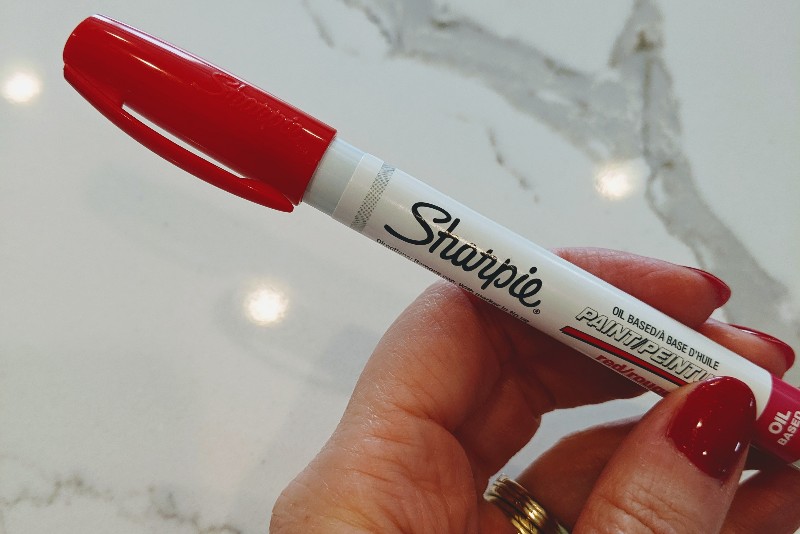 The oil-based Sharpie paint pens need some setup before use. I prepared the pens at home the day before we left, and they worked perfectly on our trip. Just like paint from a can, the paint in the markers needs mixing before use, so don't skip this step.
Be Careful With The Paint Pens
The paint pens we used are meant to be permanent. We were incredibly careful not to get the paint on our clothes or other parts of the ornament, since then the item would be ruined. I did get some paint on my hands when characters handed the paint pen back to me, but it washed off after some scrubbing.
Bring Extra Ornaments
We were able to have 5 characters sign one ornament, but I don't think it would have been possible to fit any additional autographs. The plastic ornaments are light and easy to bring to the parks. Bring extra ornaments with just in case you meet several characters during your trip.
Finish Decorating Your Disney Autograph Ornament At Home
We used clear plastic globe ornaments, so the autographs did not show up like I wanted. You have several options to avoid this lackluster appearance. You can choose a pre-colored plastic ornament for the characters to sign or fill the inside of the ornament once at home. Either of these options will help the autographs show better on the ornament.
Disney Autograph Ornament With Tinsel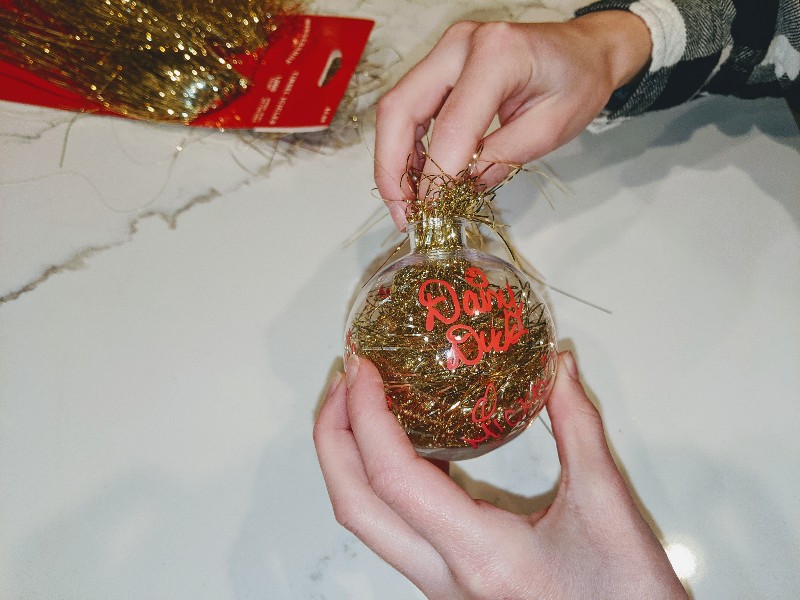 The simplest way to fill your Disney autograph ornament is with inexpensive tree tinsel. I bought a package of 1000 gold tinsel strands at Target for just $2.
Carefully remove the ornament cap and then push the tinsel strands inside the globe ornament. Continue filling the ornament until you are happy with the look. Place the cap back on the ornament and use pretty ribbon to make an ornament hanger or use a store bought hook.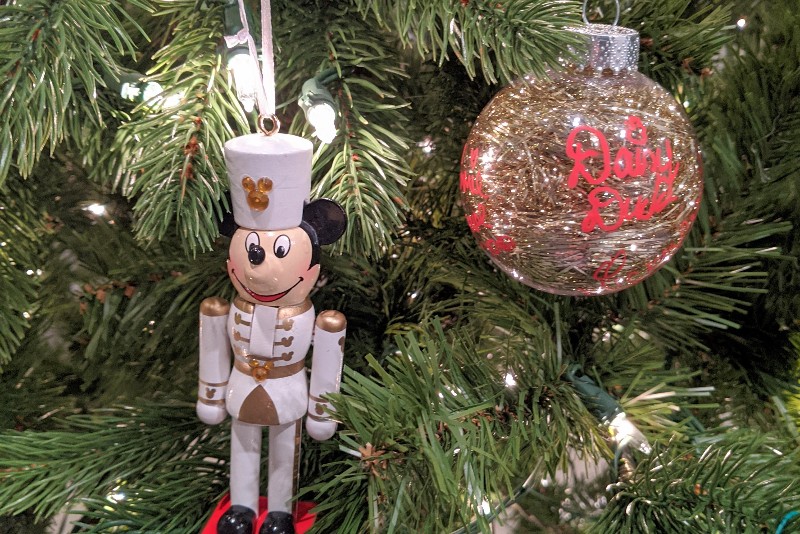 Glittered Disney Autograph Ornament
Personally, I love a bit of sparkle for Christmas ornaments, so I figured an autograph ornament would be pretty with some glitter inside. There are several techniques I've used for glittering the inside of ornaments. One of the easiest is using Pledge multi-surface floor cleaner, but after several years I've noticed the glitter is starting to flake inside.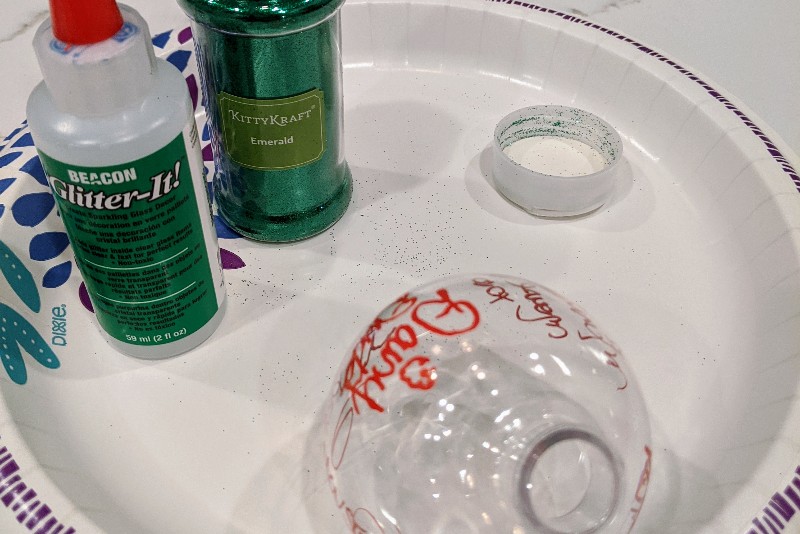 This time I tried a different product made specifically for glittering ornaments called Glitter-It (affiliate link: Buy on Amazon). Glitter-It glue is a nice thin consistency which makes it easy to coat the entire inside of the ornament. We opened the glitter, Glitter-It, and the ornament before starting our project and worked over a large paper plate.
First, remove the cap of your ornament and then pour some Glitter-It into the ornament. Carefully turn the ornament to get an even coating along every surface. Do not shake or the glue will form bubbles and the glitter will not coat properly. Remember to even apply a layer of glue around the top edge and neck of the ornament.
To avoid spilling the glue have a disposable cup or another ornament to catch the excess glue when you are working. After coating the inside of the ornament with glue, add your glitter to the ornament. Carefully swirl to coat glitter on the entire ornament. After you have fully coated the ornament with glitter you can put the leftover glitter back in your storage container or dispose of it.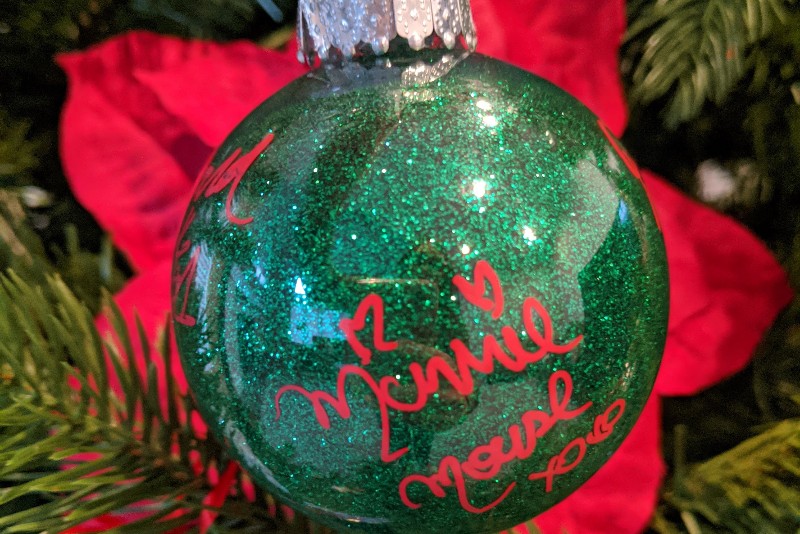 Let the ornament sit open for 24 hours so the glue can set properly. After 24 hours place the ornament cap back on and use a hook or ribbon to hang the ornament from your tree.
Final Thoughts On Making A Disney Autograph Ornament
Disney autograph ornaments are an easy project that make for great and inexpensive souvenirs. The most important part of the project is ordering the correct oil-based Sharpie paint pens. The only other important decision is if you want clear plastic ornaments you finish later or color ones that are done with no additional work.
Our ornament turned out great. I will continue using this Disney autograph ornament option as a Disney autograph book alternative. If you want to learn more about our Disney autograph pillowcases you can find the full tutorial here.
Pin it for later: