Most people visiting Disney World during hurricane season never have an issue. Unfortunately, hurricanes do sometimes impact the Orlando area. Knowing Disney World's hurricane policy, especially as Hurricane Ian approaches, is important when dealing with this stressful situation.
Disney World Hurricane Ian Closures
Hurricane Ian is the most threatening storm to approach Disney World in recent years. As a result, Disney World has already announced several Hurricane Ian closures.
Disney World Resort Closures
The following resorts temporarily close Wednesday, Sept. 28 through Friday, Sept. 30 due to Hurricane Ian. Guests impacted by these closures are being contacted by Disney.
Disney's Fort Wilderness Resort & Campground
Copper Creek Cabins at Disney's Wilderness Lodge
Treehouse Villas at Disney's Saratoga Springs Resort
Bungalows at Disney's Polynesian Village Resort
Star Wars: Galactic Starcruiser voyages for both Tuesday, Sept. 27 and Thursday, Sept. 29 are canceled. Call 407-939-5209 to reschedule Starcruiser plans.
Disney World Park Closures
All four Disney World theme parks will temporarily close Wednesday, Sept. 28 and Thursday, Sept. 29 for Hurricane Ian. Monitor Disney's website for up to date information on the parks.
Disney's Typhoon Lagoon, Winter Summerland, and Fantasia Gardens Miniature Golf all temporarily close Wednesday, Sept. 28 and Thursday, Sept. 29.
Disney Springs is closed Wednesday, Sept 28.
Disney World Cancellation Policy Changes For Hurricane Ian
Starting today, Disney World is not charging fees for cancelling dining and other experiences like Savi's Workshop.
Since Fort Wilderness is closed September 28 to 30, these performances of Hoop-Dee-Doo Musical Revue are canceled. Guests who booked Hoop-Dee-Doo on these dates have their reservations canceled and payment refunded.
Orlando International Airport Hurricane Ian Closure
Orlando Airport has announced airlines will cease operations at 10:30am Wednesday, September 28, 2022.
When Is Disney World's Hurricane Season?
Atlantic hurricane season runs from June 1 until November 30 each year, but most major storms occur mid-August until late October.
We've had many trips in this time frame and rarely had our travel interrupted. However, knowing more about Disney World's hurricane policy, I am more careful when booking trips during hurricane season.
Disney World's Hurricane Policy
The official Disney World hurricane policy states: "If a hurricane warning is issued by the National Hurricane Center for the Orlando area—or for your place of residence—within 7 days of your scheduled arrival date, you may call in advance to reschedule or cancel your Walt Disney Travel Company Disney Resort Hotel Package and most room only reservations (booked directly with Disney) without any cancellation or change fees imposed by Disney."
When I first read this policy it seemed very straightforward and reassuring. However, when calling Disney World I learned cancelling my reservation would incur a fee.
This is because when I called, the National Hurricane Center hadn't yet issued a formal hurricane warning. Those warnings are usually only issued "36 hours in advance of tropical storm-force winds."
I booked this trip directly with Disney World. This meant I couldn't cancel my reservation without penalty, but I could change it based on availability.
I was not able to secure the same hotel or room rate for my alternate dates, but changing my reservation didn't incur extra fees.
Pro tip: The phone lines are incredibly busy when a hurricane threatens Disney World. If you made your reservation online, changing your reservation online can save a lot of time.
Important note: If you made a reservation through a travel agency or other website you must contact them directly for their exact Disney World hurricane policy.
Disney Vacation Club Hurricane Policy
Normally Disney Vacation Club bookings are final with no opportunity to change the dates or cancel a reservation. Disney Vacation Club does have a hurricane policy which is similar to Disney World's hurricane policy.
Disney Vacation Club reservations can be cancelled or modified if a hurricane warning occurs between June 1 and November 30 for Orlando, Vero Beach, O'ahu, or the members residence within 7 days before arrival.
Call member services at (800) 800-9800 or (407) 566-3800 to cancel or reschedule before check in.
What Happens With My Disney World Tickets?
Disney World has a date-based ticket system where prices fluctuate based on your dates of travel. This means Disney World tickets are tied to certain dates, which is a problem when weather potentially impacts your vacation.
This is also true of special event tickets like Mickey's Not So Scary Halloween Party or Disney Park after hour events. The general policy of Disney World special event tickets is that "tickets are non-transferable and nonrefundable and may not be resold."
Technically you can't change or refund Disney World tickets after they are purchased.
However, after calling Disney World ticketing and spending 90 minutes on hold they agreed to move my Mickey's Not So Scary Halloween Party ticket to a new date a couple of weeks later. If there had been a difference in price between the two party nights I would have been responsible for the additional expense.
Should I Avoid Booking A Disney World Vacation During Hurricane Season?
The short answer is no. Some of our favorite Disney World vacation memories have taken place during hurricane season. What I am suggesting is that you fully understand Disney World's Hurricane policy before making your vacation plans.
Having travel insurance is great for extra peace of mind any time you travel, but especially in times where issues are more likely to arise.
I Worked Hard On My Disney World Plans And Don't Want To Reschedule Or Cancel My Trip
A lot of people will feel this way. I planned for months to be at Disney World's Galaxy's Edge on opening weekend. My trip was perfectly planned and I did not want to lose my specially reserved experiences.
After reading several reviews of what people experienced during other Disney World hurricane events I knew that there was a decent chance the parks would close early or be closed all day depending on the storm's arrival. This meant that all those perfect plans had a chance of falling through anyway.
Ultimately, I decided a less planned day at Disney World parks in the future would be better than sitting out a storm in a hotel. The decision was incredibly difficult, and I did worry if I had made the "right" choice.
Cost To Change My Disney World Trip To Avoid A Hurricane
Please note: This information is for illustrative purposes only and each person will incur a different cost.
The biggest expense I had was changing my Disney World hotel room. My preferred hotel on my alternate dates was not available. To change my dates I ended up in a slightly more expensive resort. This difference in cost ran me a little over $300 for the trip.
Our base park tickets were not impacted, since we are annual passholders. Our Mickey's Not So Scary Halloween Party tickets were also modified to an alternate date with the same pricing as my original ticket, so there was no extra cost there either. I did have to spend about 90 minutes on hold to reach a ticket agent, so there was definitely a cost of time.
Southwest Airlines' response reminded me why they are my favorite airline. Since Southwest had issued a travel advisory for my trip timeline I re-booked my ticket at no charge.
I had ordered groceries from Garden Grocer and was worried about a restocking fee for canceling the day before delivery. When I called, their customer service representative said that they understood the situation. I emailed my new resort and dates to Garden Grocer, and they moved the dates for no charge.
Lastly, I had booked transportation through Tiffany Town Car for a ride to and from Disney World for this trip. They also modified my scheduled transportation to our new trip dates at no charge.
Final Thoughts On Disney World's Hurricane Policy
I hope you never need to change your Disney World vacation to avoid a hurricane, but now you know how to manage this situation. Ultimately this decision is a very personal one that each family must make for themselves.
I was disappointed to change our Disney World trip dates, but there was limited out-of-pocket cost. As long as I was willing to reschedule instead of cancel our Disney World vacation, companies were very accommodating. Changing our trip to avoid a hurricane at Disney World cost me some money and time, but bought me peace of mind.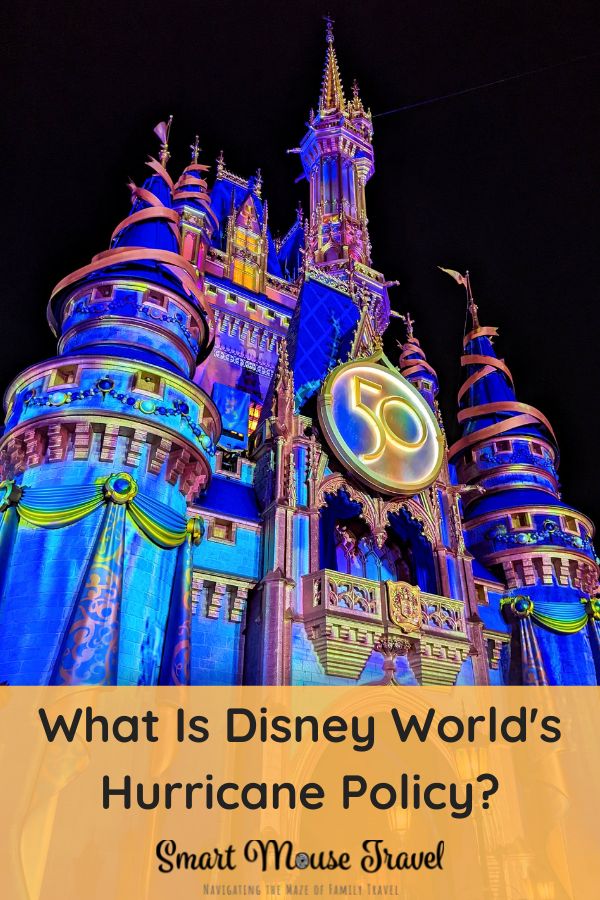 Pin it for later: