Updated October 2019
Finding a reliable and affordable Orlando limo service can be extremely difficult. Over the last few years Tiffany Towncar has provided us consistent customer service, lower rates than other Disney World limo companies, and reliable transportation during our Disney and Universal vacations. Find out why Tiffany Towncar is our preferred Universal and Disney World limo service.
Tiffany Towncar: A Great Disney World Limo Company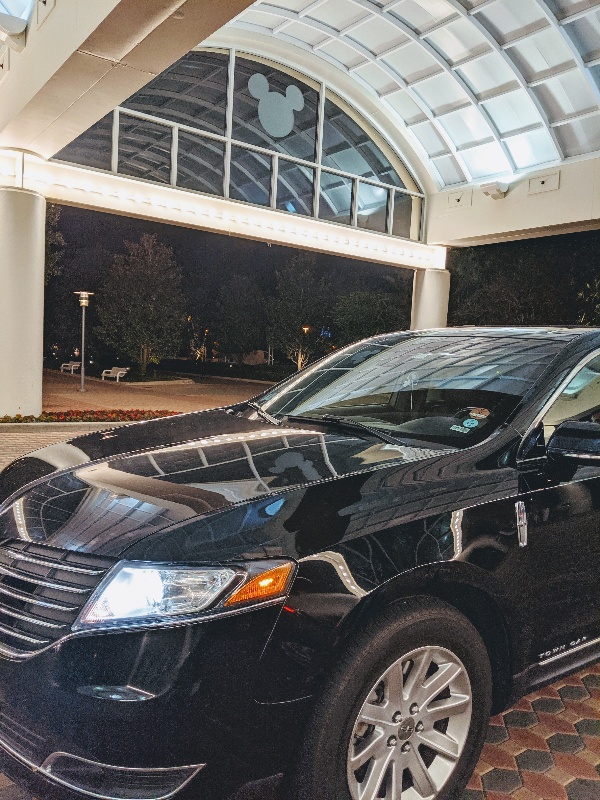 When looking online for an Orlando black car service there are a lot of mixed reviews for various local companies. When doing my initial research one name kept coming up with glowing reviews on Disney discussion boards and from people I know: Tiffany Towncar.
Tiffany Towncar opened in 1998 and is based out of Orlando, Florida. They offer several route options and car sizes to accommodate many different needs. We have taken Tiffany Towncar from Orlando Airport to Disney World or Universal Studios multiple times, as a transfer during split Universal and Disney World vacations, and even round trip transportation for our Disney Cruise.
On every trip with Tiffany Towncar we have experienced great customer service, professional drivers, and peace of mind about our Orlando black car transportation.
What To Expect With Tiffany Towncar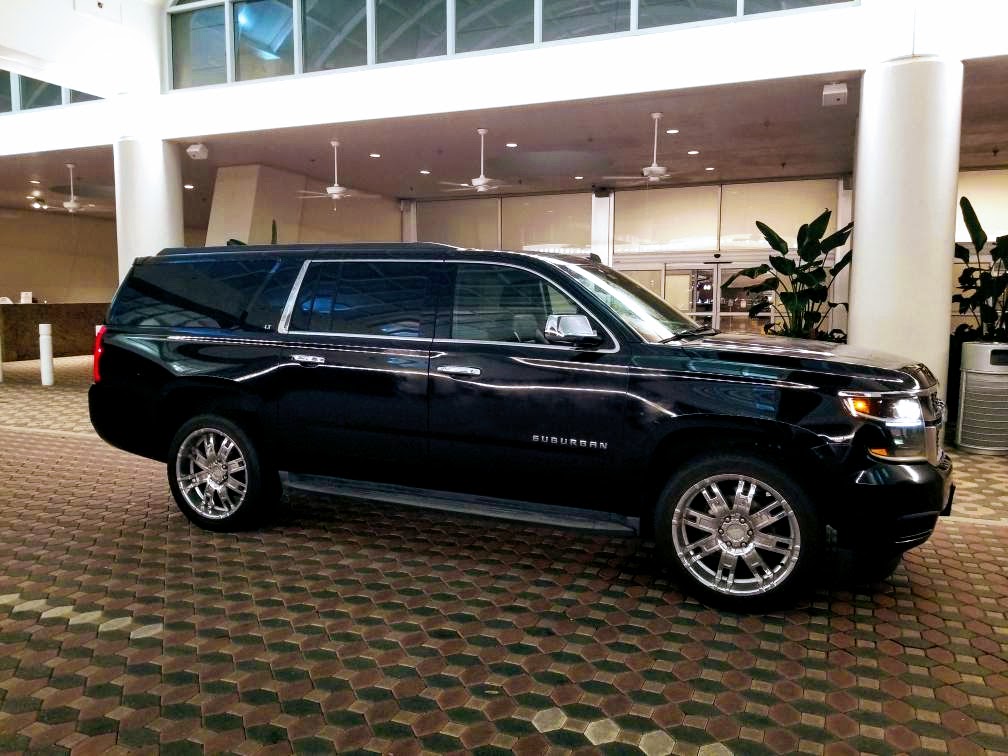 Transportation reservations with Tiffany Towncar can be done either online or by calling 407-370-2196. After booking, you receive an email confirmation with all the details of your reservation. This confirmation email generally arrives shortly after making your reservation.
Tiffany Towncar allows a free 30-minute grocery stop on your way from Orlando airport to your resort. However, you must arrange the grocery stop at the time of booking or at least 24 hours in advance for scheduling purposes.
One backless booster seat is available in each vehicle. Minivans and larger vehicles have forward-facing car seat availability. No rear-facing car seats are available at Tiffany Towncar, although you may bring your own. We've traveled with kids of various ages to Orlando. Tiffany Towncar has always done a great job of making sure there was appropriate child-safety seats for our rides based on our reservation requests.
At the time of booking, provide credit card information to Tiffany Towncar to secure your reservation. Your credit card is not processed until you arrive. Please note: Round-trip reservations are charged the full total after the initial ride.
Include your complete flight information during the booking process. Tiffany Towncar staff monitors your flight on the day of travel to ensure timely pick-up.  If your flight is cancelled, Tiffany Towncar does not charge you a cancellation fee. Check here for more information on the Tiffany Towncar cancellation policy and other frequently asked questions. 
Prices vary based on type of vehicle, pickup location, and destination. Check full list of prices here.
Tiffany Towncar Pickup Procedures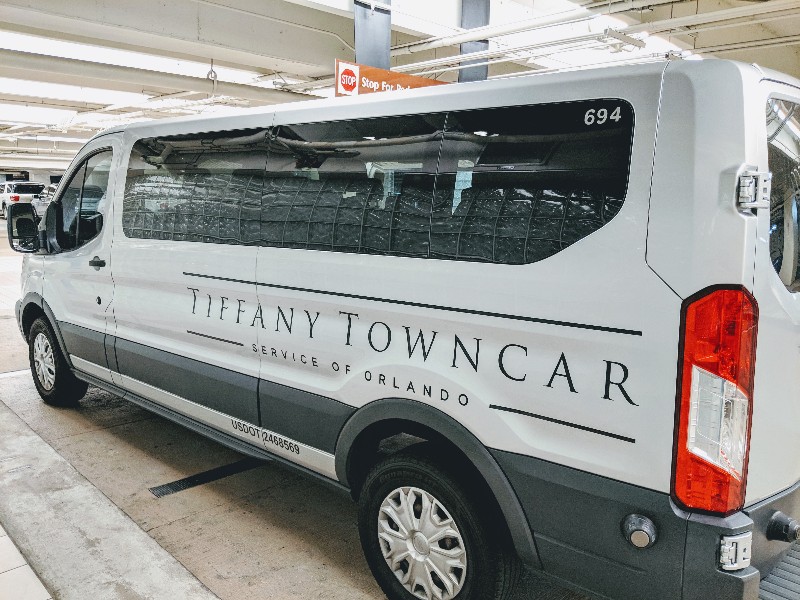 Pickup at Orlando International Airport
The day before your arrival you will receive a confirmation text message. This text message confirms your pickup day/time and includes a picture of your driver.
On your arrival day your driver meets you at the bottom of the escalator near baggage claim or at the baggage claim carousel. The driver will hold a sign (or tablet) with the Tiffany Towncar logo and your name to help you easily find them.
Collect all of your luggage and the driver will assist with bags. The Orlando Airport limo loading area is conveniently located just a short walk from baggage claim.
Get comfortable in the car and head to your destination. If you have previously requested a grocery stop the driver will stop at an area grocery store and wait while you shop.
Pickup at an Orlando area resort
The day before you leave Disney World or Universal resort expect a confirmation text message from Tiffany Towncar. This text confirms the pick-up day/time and a picture of your driver.
On the day of your departure, exit the resort and look for the driver from your text message. The driver is usually very easy to spot in the loading area just outside the hotel lobby. Your driver will assist with luggage and then take you to your destination.
Final Thoughts On Tiffany Towncar
Tiffany Towncar is a great Orlando limo company with excellent customer service, reliable transportation, and is more affordable than other Disney World limo companies. Now that we have used Tiffany Towncar for several different trips in the Orlando area, I really appreciate the consistent customer service we have received.
Although more expensive than free transportation from Disney for on-site hotel guests or a shared shuttle, I think there are times that the convenience of a private Disney World limo justifies the additional expense. 
Pin it for later: