Adorably named and decorated, Minnie Vans are a pay service available to transport Disney World resort guests around the immense property instead of the usual free buses, monorails, skyliner, or boats. Our Minnie Van guide explains what to expect when using this popular service plus when Minnie Vans are worth it at Disney World.
What Is A Disney World Minnie Van?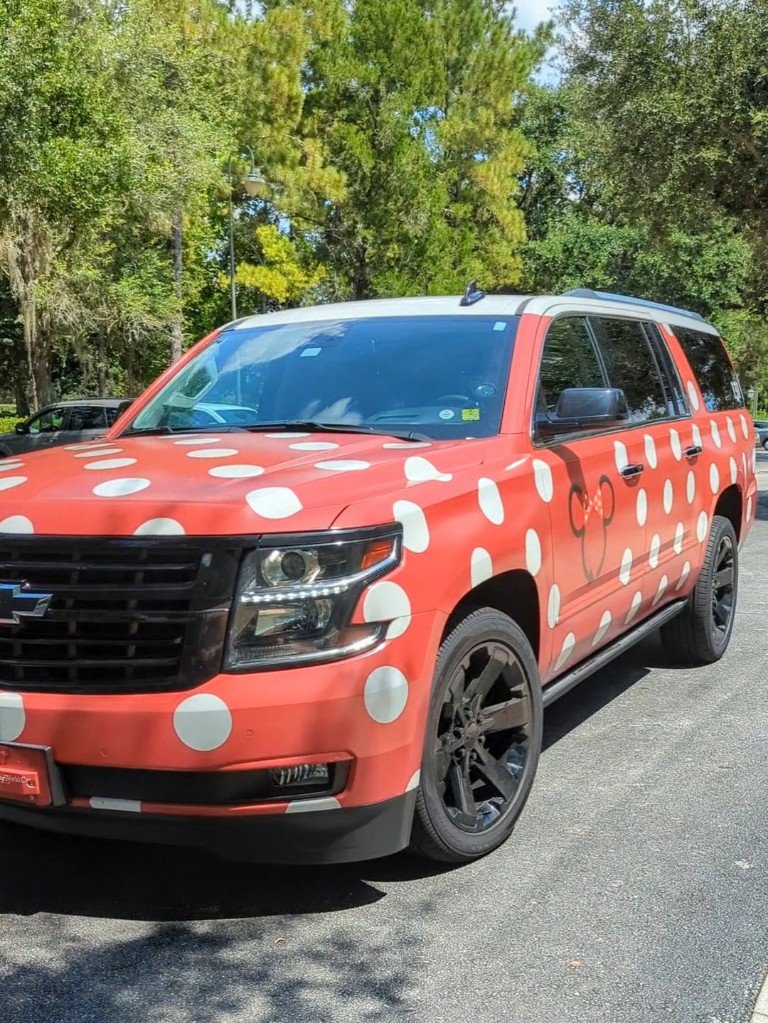 Minnie Vans aren't actually vans at all, but red and white polka dot Chevy Traverse or Chevy Suburbans. These vehicles are driven by Disney World cast members who bring the expected Disney service to your ride. Minnie Vans provide private rides to and from Disney World resorts, theme parks, and Disney Springs.
First introduced in 2017 as a pilot rideshare program, Minnie Vans later expanded to the entire Disney World resort in 2018. Minnie Vans took a hiatus in 2020 and have finally returned at the end of June 2022.
There are two different Minnie Van options. The first is a traditional vehicle with seating for up to six guests. There is also a wheelchair accessible vehicle which accommodates 2 wheelchairs and seating for 4 people.
What Makes A Minnie Van Special?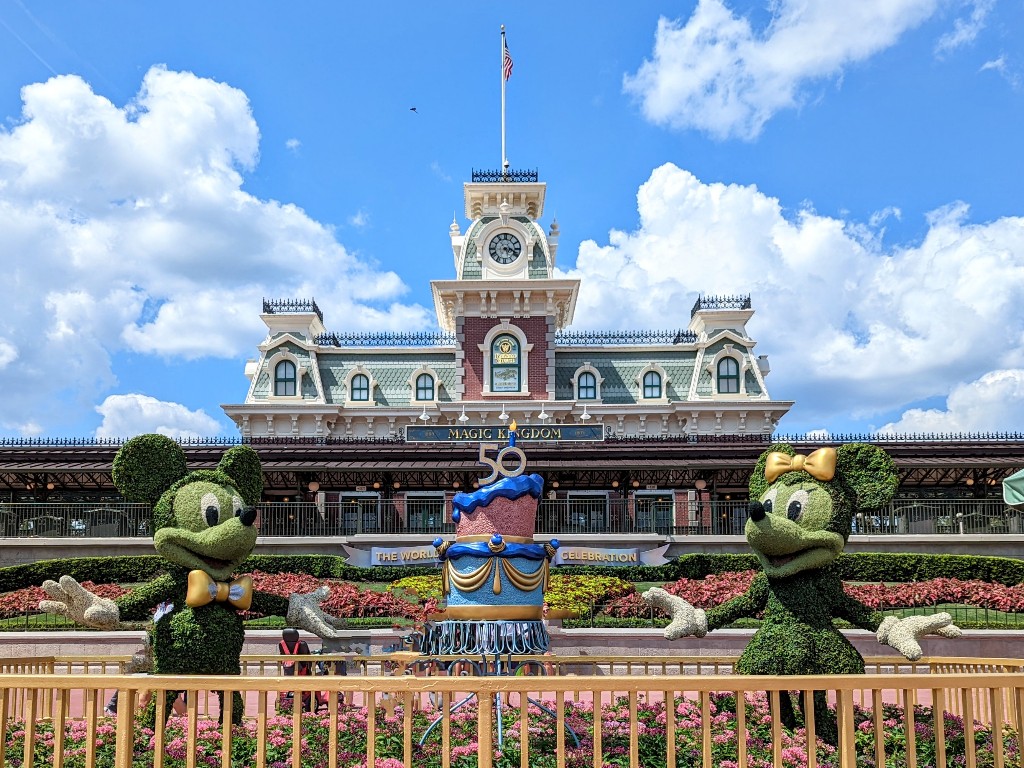 There are a few big differences when using Minnie Vans versus a regular Lyft.
Disney Cast Members
First, Disney World cast members drive vans unlike Lyft's usual independent contractors. While we've had lots of wonderful Lyft drivers, Disney World cast members are consistently more fun and informative if you have Disney questions.
Minnie Vans Have Car Seats
One of the best things about Minnie Vans is that a traditional vehicle has two car seats which cast members install upon arrival. These car seats can convert from an infant rear facing seat to forward facing to booster based on your needs.
Guests who need an accessible Minnie Van have one convertible car seat available per ride.
Trying to find a rideshare with car seats is nearly impossible, but all Disney Minnie Vans come with them. This is a huge advantage for families with small kids.
Premium Magic Kingdom Drop Off/Pick Up Location
Lyft and Uber drivers must drop and pick up guests going to Magic Kingdom at the Transportation and Ticket Center (TTC). From TTC you still need to take either a boat or monorail to reach Magic Kingdom.
Minnie Vans have a special pick up and drop off zone at one of the first Magic Kingdom bus stops. From here it's a short walk to Magic Kingdom where you can breeze through security and start your day.
Disney World Minnie Van Review
Based on our previous Minnie Van experiences, I was excited to try the service again. Our Mickey's Not So Scary Halloween Party Night seemed like the perfect opportunity for a Minnie Van.
I used the Lyft app to order my Minnie Van and got an estimated pick up time in 30 minutes. I decided to go for it and clicked confirm despite the app's warning of an extended wait time.
Thankfully I kept my phone on hand and periodically checked my pick up status. For some reason my pick up time was way off and the driver arrived several minutes ahead of schedule.
Please note: Early arrival for a Minnie Van is unusual, but should always be monitored.
The driver parked, opened my door before I could even grab the handle, and I hopped in my spotted Chevy Suburban.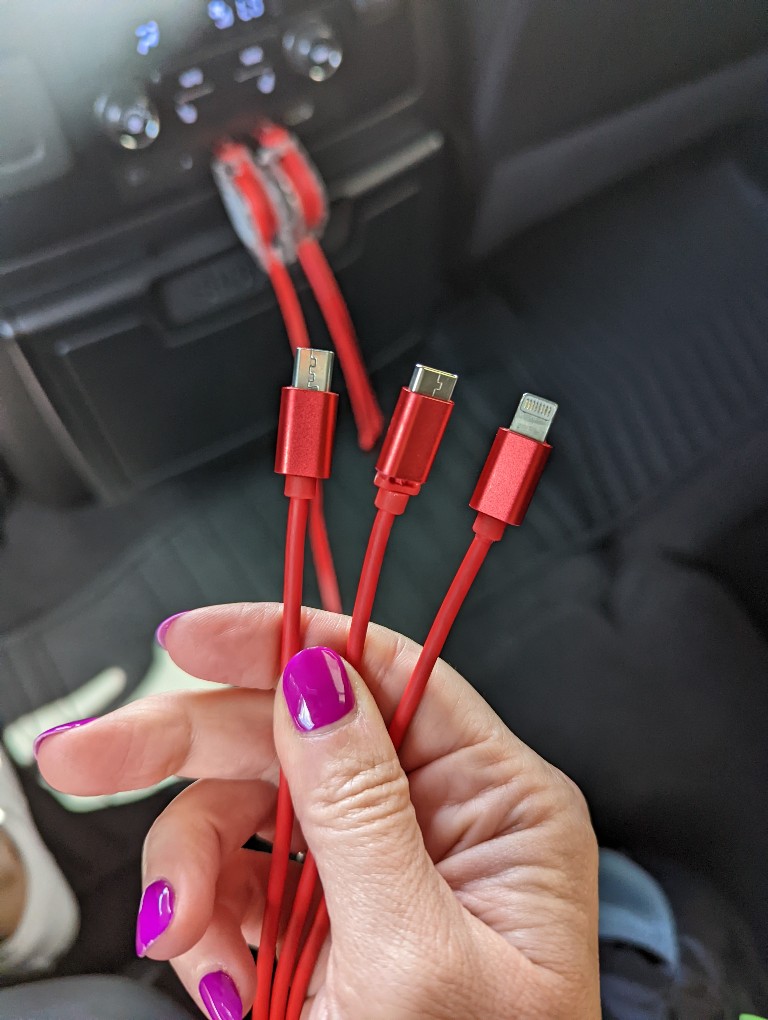 Right away I noticed device chargers plugged in and ready for my use. The chargers have three plug options which accommodate most devices: USB-C, Lightning, and micro USB. Chargers are a nice treat when your phone is drained from booking Genie+ or virtual queues all day.
My driver was pleasant, the ride much faster than a bus, and I got dropped off at the first row of Magic Kingdom bus stops.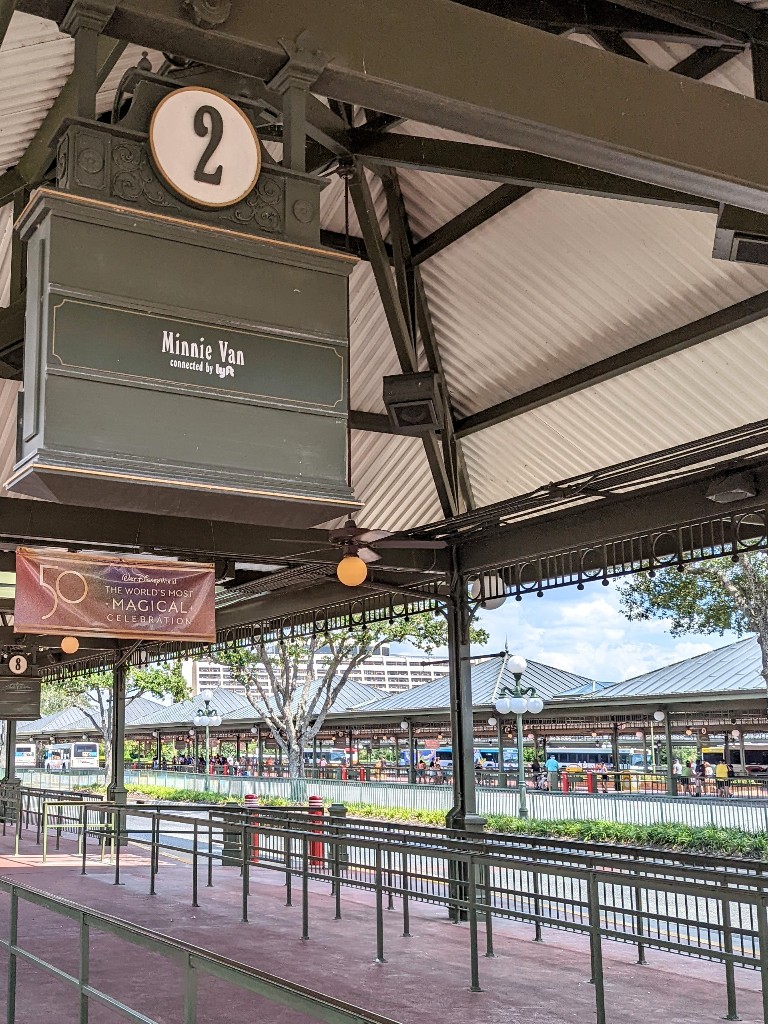 After MNSSHP I craved a Minnie Van back to my hotel, but based on previous experiences I was doubtful I could find one. Not expecting much, I still checked the app. I was pleasantly surprised several Minnie Vans were available with only a few minutes wait.
My end of night driver was absolutely wonderful and we chatted about all things Disney. I was back to my room comfortably, and quickly, which I really appreciated after a long day.
How Much Does A Minnie Van Cost?
Now that you've heard my continued positive experiences with Minnie Van we have to discuss the price.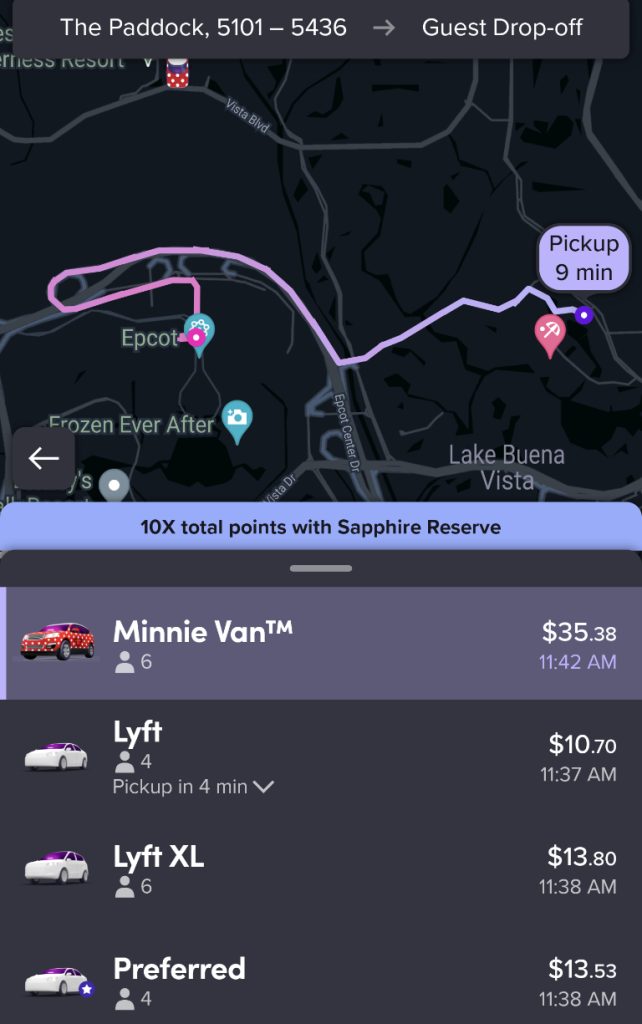 Minnie Vans are a lot more expensive than a traditional Lyft. For example, a ride from Saratoga Springs to Epcot via traditional Lyft was $10.70 or Lux at $16.40. Compare this to Minnie Van pricing at $35.38. 
Checking prices on different days and locations we found on average Minnie Vans cost three to four times more than a regular Lyft ride. This price difference is most significant when taking a Minnie Van to Magic Kingdom, which isn't a huge surprise.
Is A Disney World Minnie Van Ride Worth It?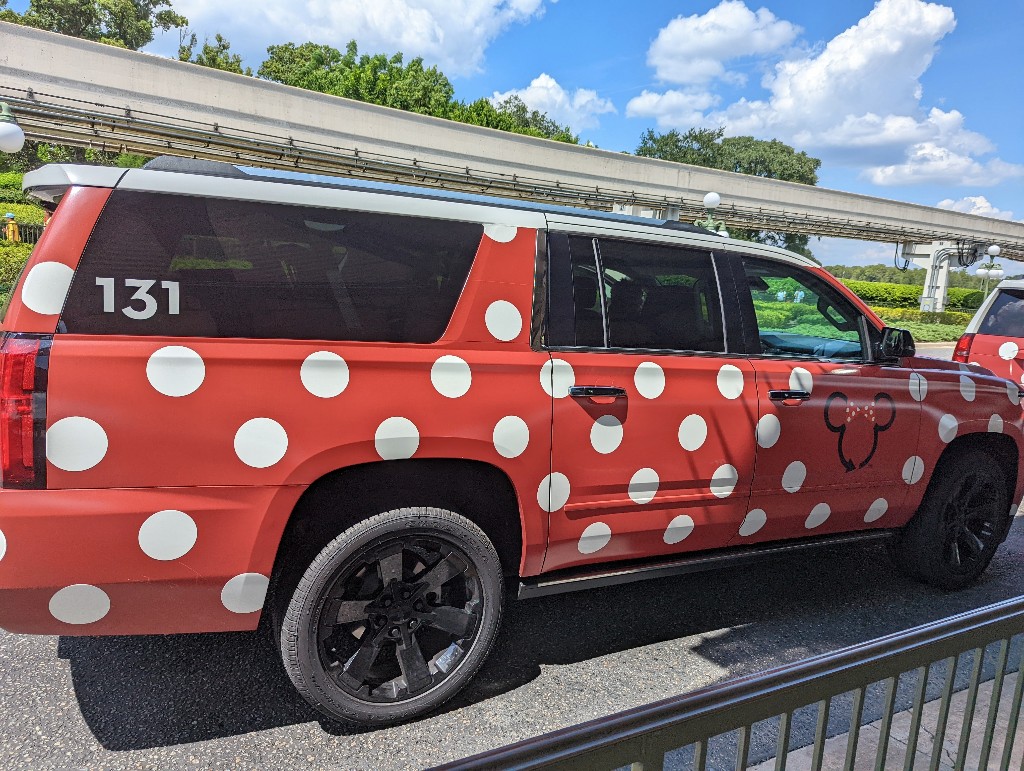 There are a few times I think Minnie Vans are worth it versus taking a regular rideshare. The first is when heading to Magic Kingdom. Getting dropped off at a Magic Kingdom bus stop instead of the Transportation and Ticket Center is a huge advantage worth paying extra.
Minnie Vans are also worth it for families with small kids that need car seats. Splurging on a van is a wonderful treat when faced with another long bus or monorail ride with fussy kids.
Another time Minnie Vans are worth it is when several wheelchairs or scooters are also waiting for Disney World transportation. Buses and boats have a limited number of assistive vehicles they can load on each run. This means you could end up waiting much longer than if you order a pricey Minnie Van.
Now let's talk about when I think you should skip Minnie Vans.
When choosing a rideshare at Disney World I generally pick a regular Lyft. They are just as convenient when going to Epcot, Hollywood Studios, Animal Kingdom, Disney Springs, or other Disney World resorts, but considerably less expensive.
Another time you can skip Minnie Van is if your child is old enough for a booster seat. In this case I recommend packing a tiny MiFold booster plus ordering a less expensive regular Lyft.
What Hours Are Disney World Minnie Vans Available?
Book Minnie Van rides from 6:30 am until 12:30 am daily. Expect longer Minnie Van wait times first thing in the morning, mid-day when people head back to hotels for a rest, and at park closing.
Please note: When booking a Minnie Van to Magic Kingdom before 7:30 am they must drop you at the Transportation and Ticket Center or a nearby hotel instead of Magic Kingdom.
How Do I Book A Minnie Van?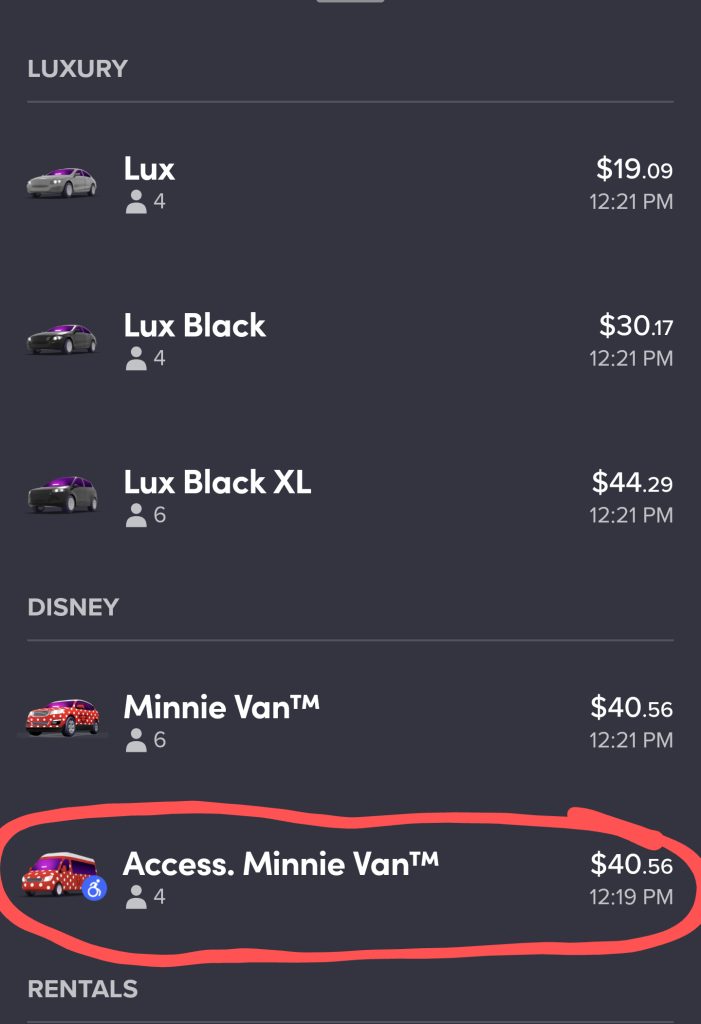 Minnie Van rides are booked via the Lyft app. Simply open the app then choose your pick up and drop off location. Select Minnie Van from the list of Lyft ride options and complete your transaction like any other Lyft ride.
Those needing an accessible Minnie Van should follow the above instructions, but then scroll through ride options to find and select "Access. Minnie Van".
Final Thoughts on Disney World Minnie Van Service
For the most part I will continue using Disney World's free transportation system with an occasional regular Lyft ride.
However, there are times I will continue using a Minnie Van despite the added expense. Taking a Minnie Van to Magic Kingdom or as a break from free transportation with small children is a worthwhile splurge for days when you just need a break.
Pin it for later: