Disney Aulani Resort has two very different character meal options. The Disney Aulani breakfast is fun with favorite characters like Mickey and Minnie, but dinner is a much sillier event with Donald and friends. If you are looking for an unusually fun character meal, look no further than the Disney Aulani character dinner.
Location
The Disney Aulani character dinner takes place on certain nights at Makahiki in the Aulani Resort main building. 
Menehune Mischief: Disney Aulani Character Dinner Overview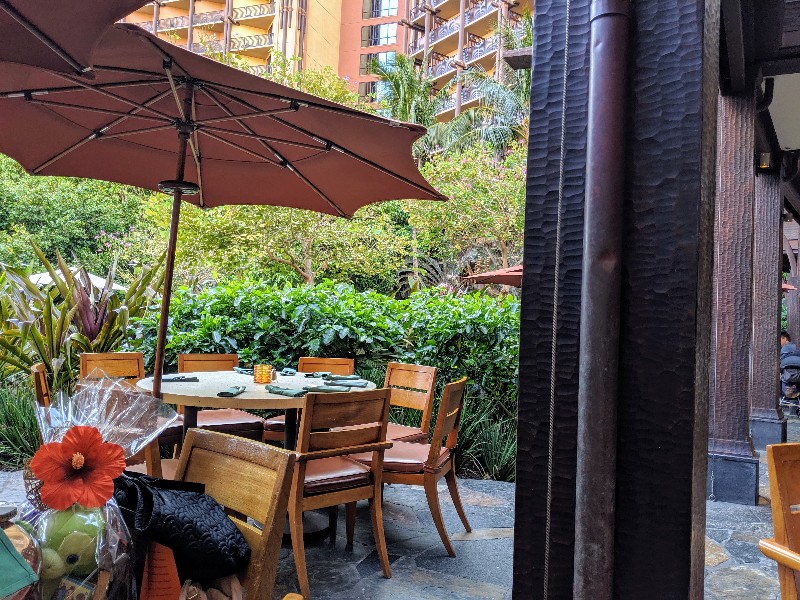 There is either indoor or outdoor seating at Makahiki, but the sliding doors separating the spaces are almost always wide open. We had an excellent outdoor table for our Disney Aulani character dinner. From our table we could see the small stage area and also the live musicians next door at The Olelo Room.
Uncle's Menehune Mischief character dinner at Aulani is probably the rowdiest character meal we have ever attended. Several times per night Uncle does a show around the restaurant that teaches about the Menehune. Menehune are hard working creatures who become very mischievous when their work is done.
Uncle invites kids to participate in some of the show and even parades around the restaurant with some of the characters. Overall we thought Uncle did a better job of including tables throughout Makahiki in the fun than Aunty did during our Aulani character breakfast.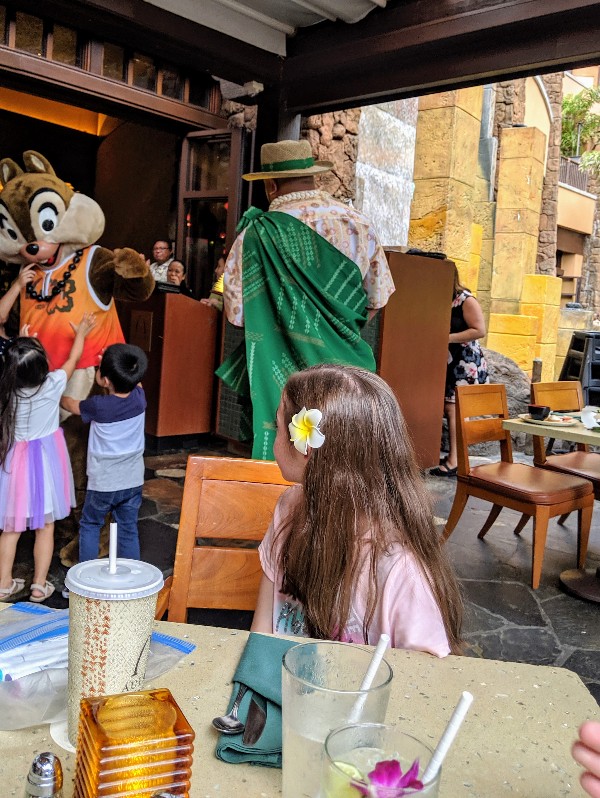 I thought the Aulani character breakfast had an impressive selection, but the Disney Aulani character dinner was even better. There is a lower counter section with traditional kid favorites they can serve themselves. Some of the kid-friendly options are mac and cheese, corn dogs, corn, and chicken tenders.
The rest of the buffet line spans several sections. Fresh fruit, salads, fried rice, pork dishes, fresh fish, sushi, sides, and a carving station are just a few of the available items. Our favorite dessert was a rich, delicious Mickey shaped chocolate mousse.  For an up to date menu check here.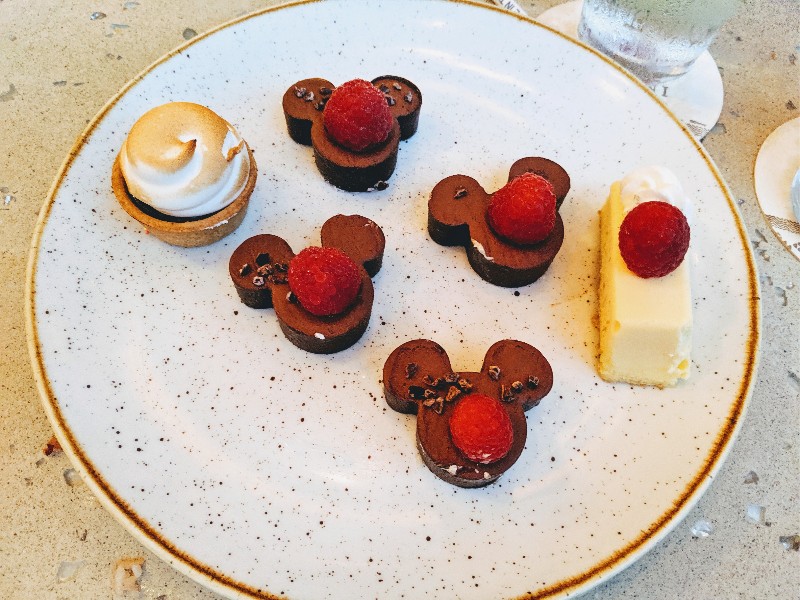 Overall, we liked the extensive choice of the Disney Aulani character dinner buffet items. The quality is certainly better than most of the Disney character meals we have had at Disneyland or Disney World, but it still wouldn't qualify as fine dining.
Characters At The Disney Aulani Character Dinner
It seems only fitting that some of the most mischievous Disney characters are part of this Disney Aulani character dinner. Generally at Menehune Mischief dinner you meet Stitch, Chip, Dale, and Donald. 
Disney Aulani Character Dinner Pro Tip: We had 5:45 pm dinner reservations. The outdoor seating area had great lighting for most of our meal. However at the end of the night did it get too dark for pictures without using flash. If pictures are an important part of your Aulani character dinner experience opt for an earlier dinner reservation for the best possible picture lighting.
Our Disney Aulani Character Dinner Character Experiences
Donald Duck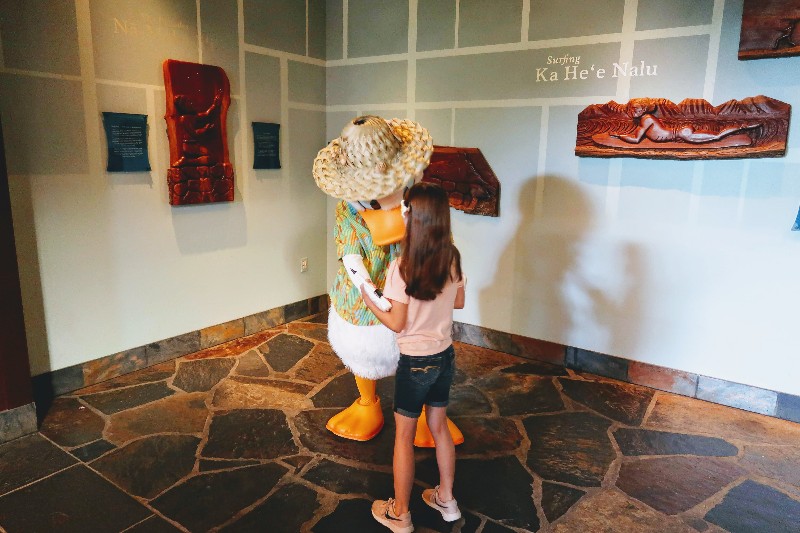 Donald is the host of Uncle's Menehune Mischief dinner. After checking in for dinner, but before being seated, you have a photo and autograph opportunity with Donald. The rest of the characters rotate through the restaurant during your meal.
The line waiting for Donald was on the long side, so I felt unusually rushed through this character interaction. Donald did a great job goofing around with us in the limited time we had, but I was a little disappointed overall.
Dale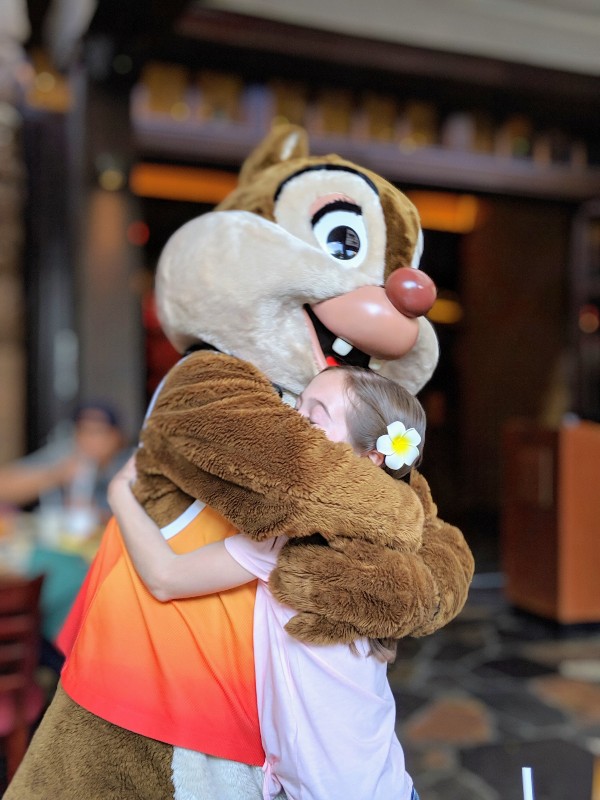 We always love our interactions with Dale. He is super goofy, but very earnest when it comes to his autograph. He joyfully points at his signature after signing and we always cheer for him even though his 'e' is backward. 
On this trip we did another autograph pillowcase which makes an incredible, useful, and inexpensive souvenir. For a full tutorial on making your own Disney autograph pillowcase check out this article. 
Chip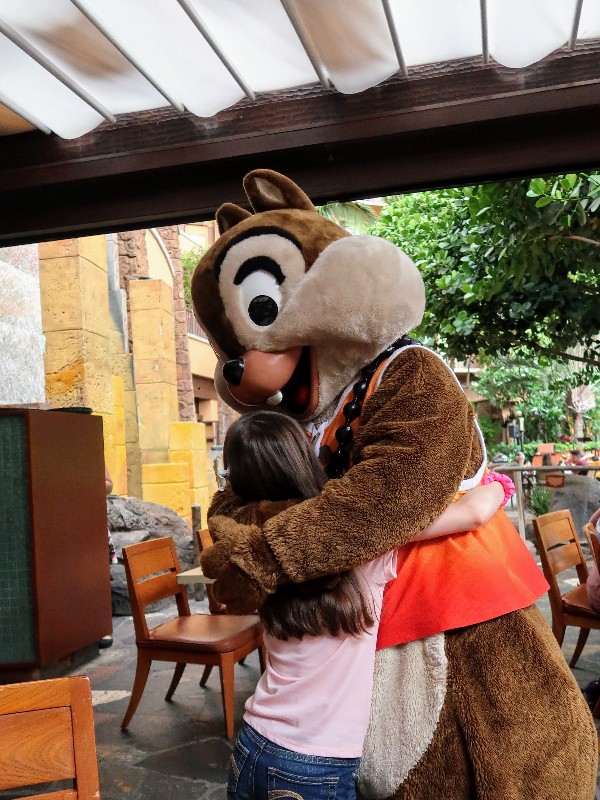 Chip and Dale tour the restaurant separately during dinner, but we were lucky that just as Dale was finishing up his visit Chip showed up. Not to be outdone by Dale dancing with Elizabeth he also joined the impromptu dance party.
Stitch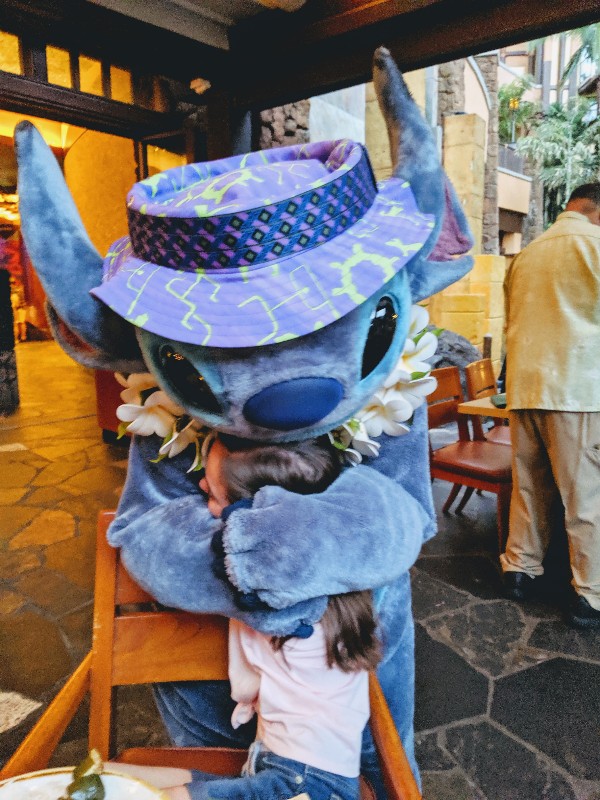 Stitch is another mischievous character that usually attends the Aulani character dinner. He snuck up behind Elizabeth and startled her, which we thought was very funny. After that Stitch was super sweet with hugs for all of us.
Please note characters are always subject to change without prior notification.
Aulani Character Dinner Cost
Uncle's Menehune Mischief dinner is $54 per adult (age 10 years and older) and $27 per child age 3 to 9 years old at time of publishing. 
Final Thoughts on The Disney Aulani Character Dinner
I'm glad we ended up doing both Aunty's character breakfast and Uncle's character dinner at Aulani. Both meals were fun but in completely different ways. Aunty's breakfast was a more traditional character meal experience with a completely different set of characters.
The Aulani character dinner experience felt more relaxed, fun, and at times a bit rowdy. We loved our interactions with Stitch, Chip, and Dale at our outdoor table as we felt like we had room to get up and interact more freely. The dinner buffet had lots of delicious choices and the desserts were very good, too. 
I would recommend making an early dinner reservation time, since after dark it gets difficult to take good pictures with the characters. It is also wise to have applied insect repellent or have some with you if you are the kind of person who gets mosquito bites often. We saw several mosquitoes near the end of our meal that night. Here is a link to the insect repellent wipes I always pack (affiliate link: buy it on Amazon).
Check out these articles for more information on other Disney Aulani character experiences, Disney Aulani Resort, our favorite free Aulani activities, and a review of the Disney Aulani Luau experience.
Pin it for later: