Escape rooms have become a popular group activity which pit you against the clock when solving a room full of challenges. We love problem solving games as a family, but many escape rooms have themes that aren't particularly family friendly. This is why we were so excited to try The Escape Game and experience a family friendly escape room in Chicago.
The Escape Game Chicago provided our experience in exchange for an honest review. 
What Is The Escape Game?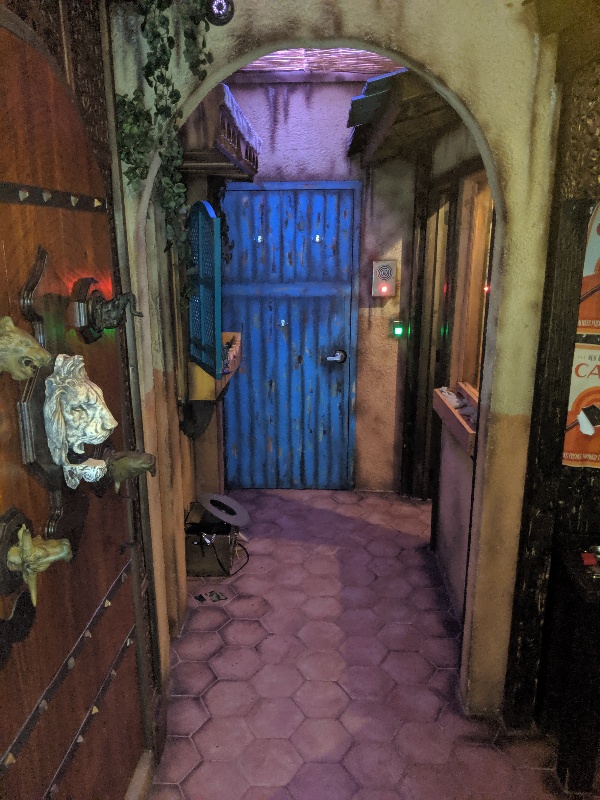 The Escape Game is a company specializing in escape room experiences. They have over a dozen locations across the U.S. with several more opening soon. Each location has several different escape room options. This means your group can pick The Escape Game room best suited to your interests and skill level.
Online each room has background information about the game story, a blueprint of the room, a difficulty rating, and a short video clip. This advance information helped us choose The Escape Game room Special Ops: Mysterious Mission.
The Escape Game Chicago, as well as their other locations, have several escape room options for guests. To view in-depth information on each room choose your desired location and check here.
Our Experience At The Escape Game Chicago
Before Your Game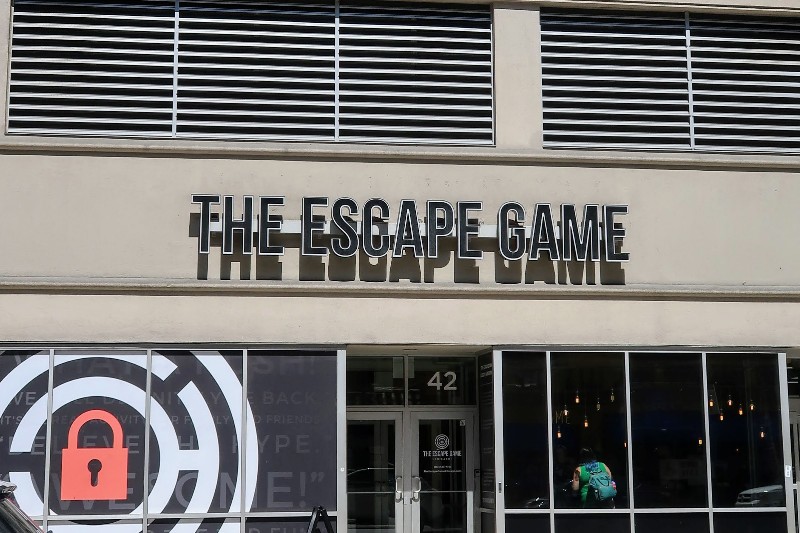 The Escape Game Chicago is easy to spot, and the lobby buzzes with anticipation. We excitedly arrived 15 minutes ahead of our scheduled game start time as instructed by our confirmation email.
Arriving early gave us plenty of time to sign in and complete a waiver on one of the touch screen computers without feeling rushed. We even had time for a quick bathroom break and to scope out some souvenirs briefly before starting our game experience.
Our guide took us down a long hallway and ushered us into the mysterious market. Here she explained a little about procedures for the game. We were told to leave our personal items in a small box while we worked out clues in the room.
The employee also told us that any time we hear a chirping noise to look at the TV in the room. This is how she would communicate with us during the game and provide clues.
Although things are meant to be explored in the room, you should never have to use brute force. If we heard a loud buzzing noise that was a warning to stop whatever it was we were doing and try something else.
During Your Game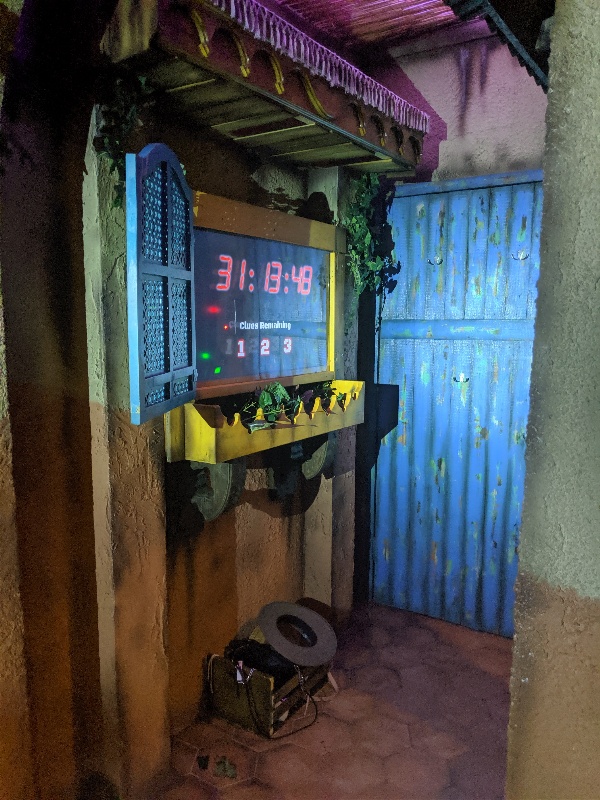 A large TV acted as our communication device with the special ops base. An agent shared our mission via the TV, and then it was time to start solving puzzles. The TV screen also kept track of how much time remained in the game. Once the game starts, time ticks down from 60 minutes until either you complete your mission or run out of time.
You are allowed three clues during the game. Push the red button under The Escape Game logo to get a clue for the group. Be careful about asking for clues. Sometimes it is best to save them for further into the game when time starts running short.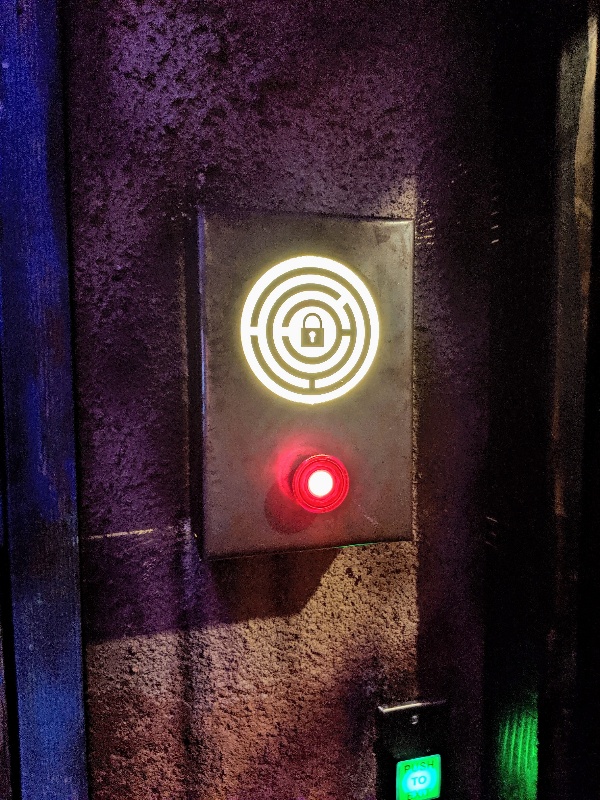 About 30 minutes into the game I was feeling great, like we were successfully racing through all of the tasks. I even thought that we would be done well before the hour time limit. However, just when we thought we had won the game there was a surprise twist.
This twist took a strong team effort, our last two clues, and quick thinking to solve the puzzles before time ran out. We ended up escaping with just 3 minutes to spare. Based on our excited reactions you would have thought we truly accomplished a secret mission.
After Your Game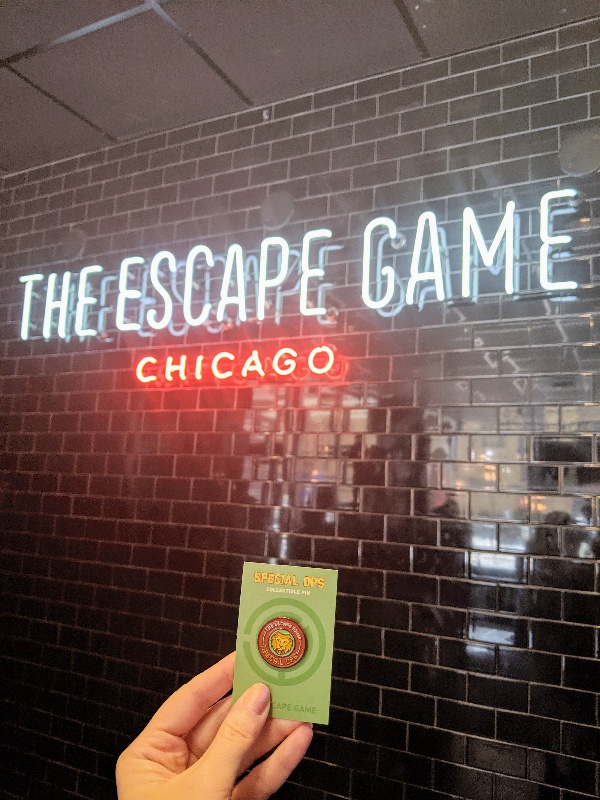 Once your game is over, an employee will come to the room and escort you back to the lobby. Since we completed Special Ops: Mysterious Market in time, I bought Elizabeth a special pin to remember the experience. There were also several other fun souvenirs, like t-shirts or a board game you can play at home.
What To Expect At The Escape Game
You Will Be Challenged
The Escape Game did a great job of making a thought provoking and entertaining escape room with Special Ops: Mysterious Market. Everyone in our group was part of the problem-solving process even—or depending on the problem, especially—my 10-year-old daughter.
Prepare For Surprises
We thought we had completed our mission in record time, but then we got a huge surprise. This unexpected change in our mission made the room experience even more amazing.
You Might Be Paired With Another Group
Most of The Escape Game rooms are meant for a group of eight people. This means your group will likely be paired with others to complete your mission. You can book a private experience, but it will cost more.
Is The Escape Game A Family Friendly Escape Room Option?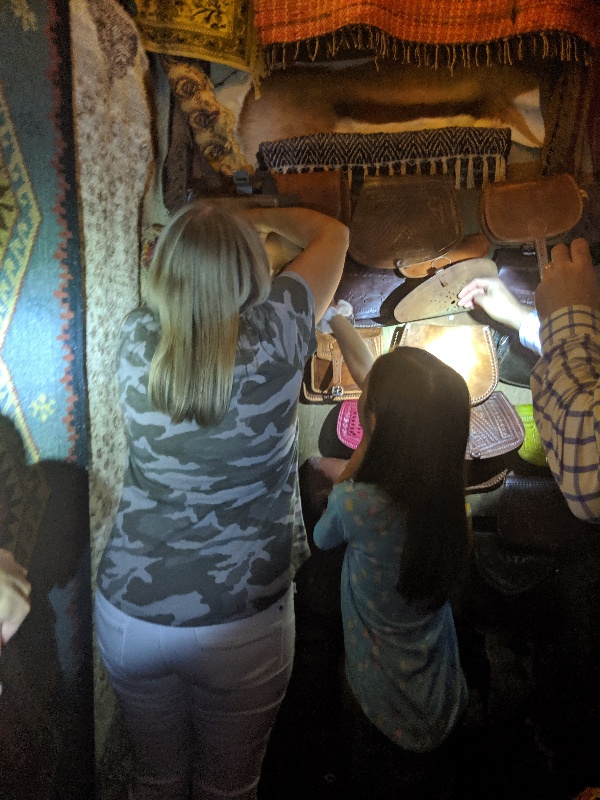 The room themes are clever, not sinister, which makes the Escape Game a family friendly escape room. According to The Escape Game website the games are geared for older kids with a recommended age of 13 years old. However, my 10-year-old daughter solved one of the key clues in our escape room. I think older elementary aged kids can help and have fun at The Escape Game.
Tips For A Successful Escape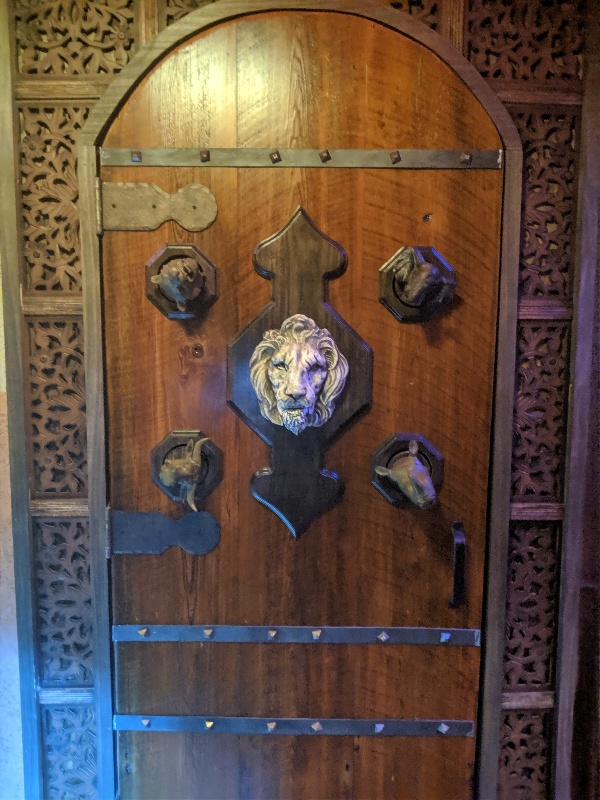 Notice Everything
If something seems slightly out of place or suspicious, it probably is. Keep track of these things and be ready to use these clues when the time is right.
Take Turns Taking The Lead
There are many different styles of puzzles at The Escape Game. I believe our group was successful because we let the person best at a type of puzzle manage that clue. Other people could then work on different challenges at the same time.
Everyone Has Something To Offer In The Problem Solving
Each person in our group had at least one thing they did that made our success possible. We would never have escaped without contributions from every person.
Where is The Escape Game Chicago?
The Escape Game Chicago is located in downtown Chicago near Michigan Avenue.
Final Thoughts On The Escape Game Chicago
We have previously done escape rooms as a family but struggled to find ones that were reliably family friendly. The Escape Game Chicago provided us an excellent family friendly escape room experience and is the best room we have ever done.
In fact, our multigenerational group had such a good time that we are already planning our next visit to The Escape Game Chicago. And this time even more of our family wants to go after hearing about our great experience.
For other fun family activities in Chicago check out the Museum of Science and Industry, Millennium Park, or our favorite Chicago Christmas traditions.
Pin it for later: