A Cinderella's Royal Table princess meal lets you dine in the splendor of Cinderella Castle with some royal friends. Find out if this hard-to-get Disney World character meal is worth it for your next vacation.
Location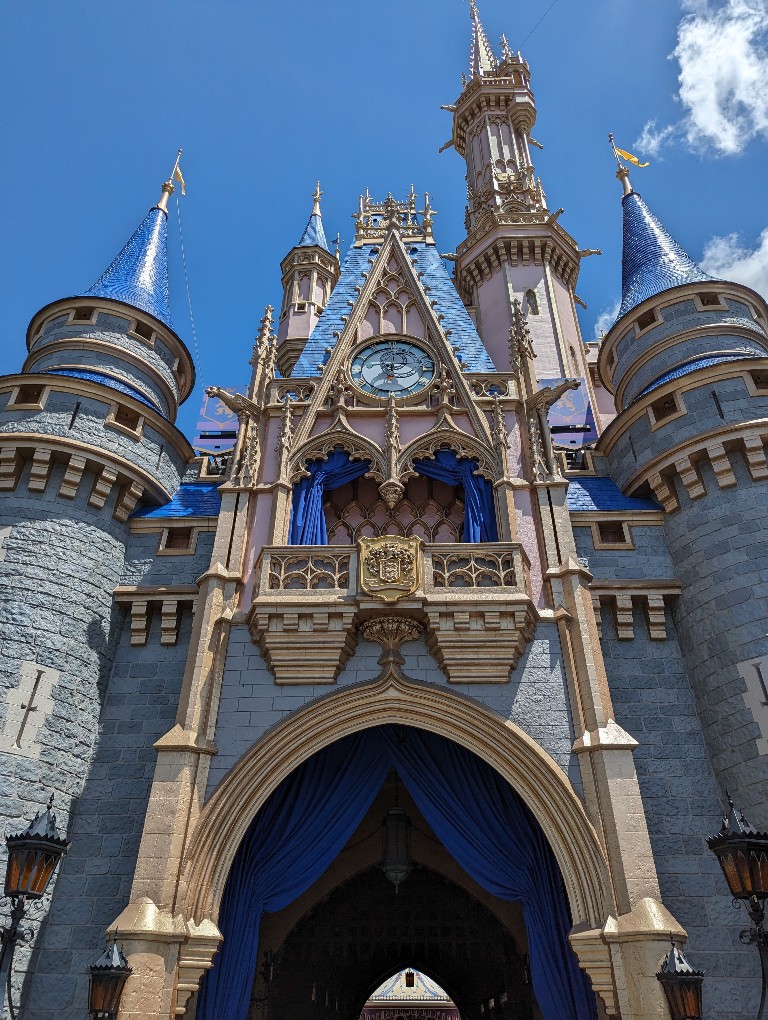 Cinderella Castle is the gorgeous focal point when entering Magic Kingdom and walking up Main Street, USA. Doors to Cinderella's Royal Table are on the back of the castle across the walkway from Sir Mickey's PhotoPass Studio.
Pro tip: The area around Cinderella Castle is roped off about 20 minutes before Magic Kingdom fireworks. If you want to see fireworks, or ride attractions during the nighttime spectacular, you'll need to leave Cinderella's Royal Table before then to avoid getting trapped.
Cinderella's Royal Table Princess Meal Overview
Cinderella's Royal Table is a tough to snag Disney World reservation for a reason. Meet several princesses inside the iconic Cinderella Castle overlooking Magic Kingdom while enjoying a delicious meal.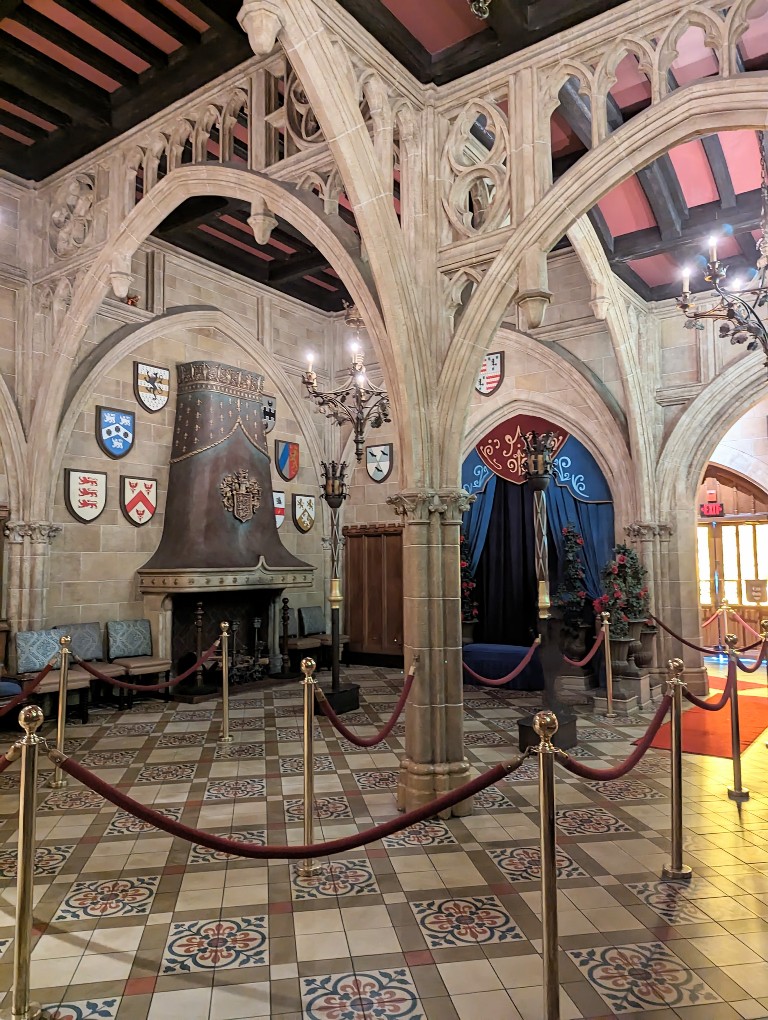 Find ornate stonework, stained glass windows, and a photo backdrop in the lobby of Cinderella's Royal Table. This is where you wait to meet Cinderella before ascending the narrow spiral staircase to the restaurant.
Guests with mobility concerns can skip the stairs and opt for a small elevator to and from the dining area.
Observant guests might even see Cinderella's friends, Gus and Jaq, hidden in the lobby. Elizabeth first found the pair when she was very little, but even then it took me much longer to spot them.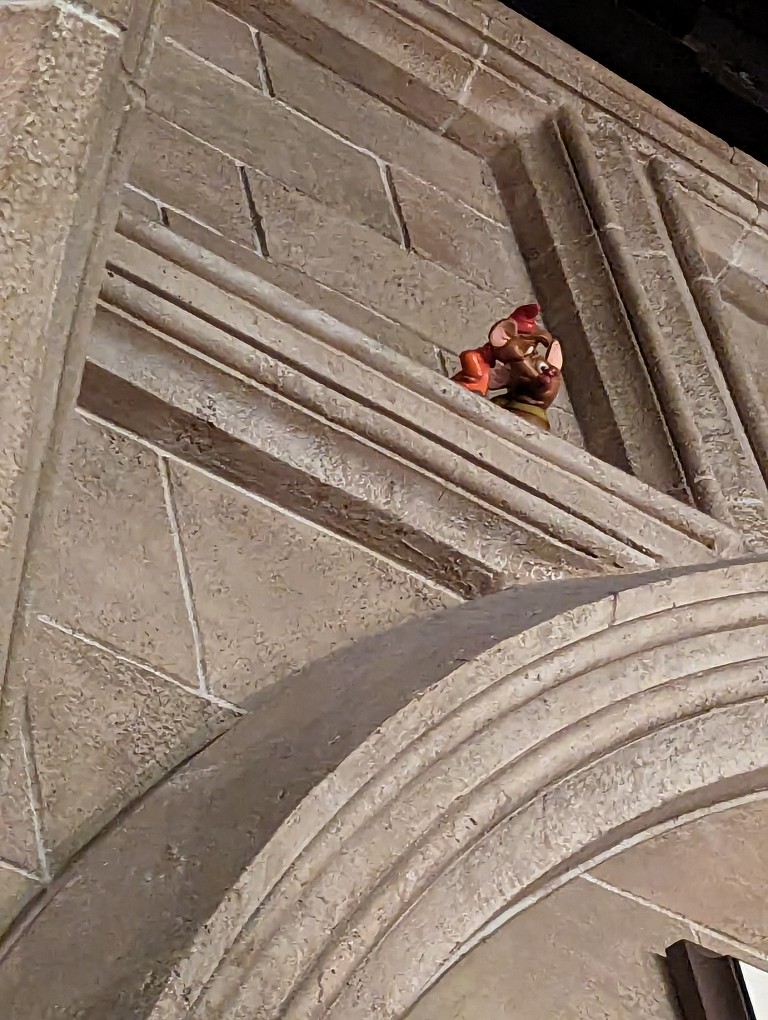 High ceilings with intricately carved wooden supports make guests feel like they are stepping back in time to an authentic castle.
The restaurant is somewhat circular with an upper level of tables and a step down into another dining area.
Once you enter Cinderella's Royal Table it becomes clear why reservations are difficult to make. Looking around it is obvious how limited the number of tables are in the restaurant.
Cinderella's Royal Table Menu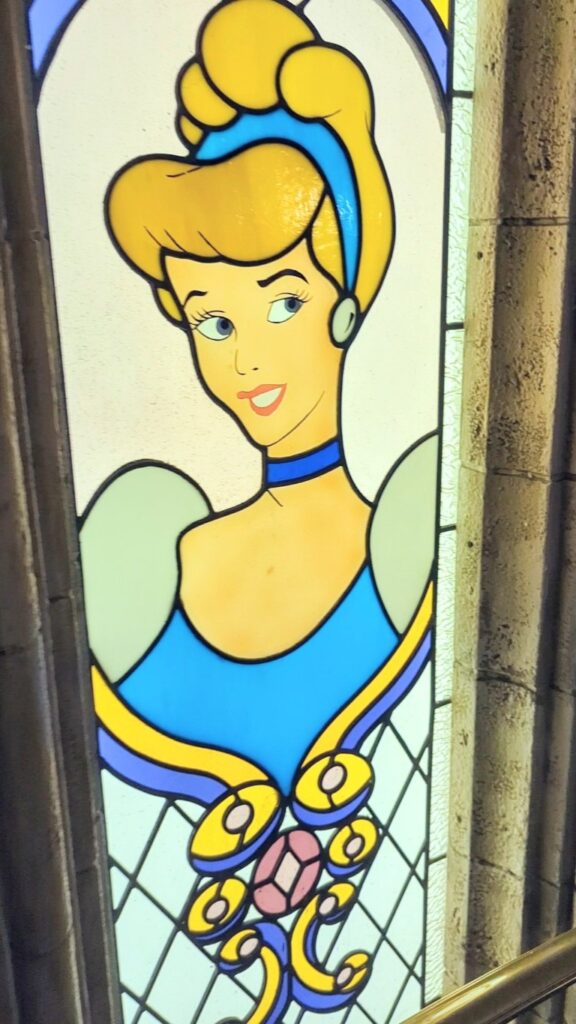 Enjoy a two course breakfast or three course lunch and dinner when dining at Cinderella's Royal Table princess meals. All three menus include your meal, a non-alcoholic beverage, and gratuity for the set price.
Breakfast
Breakfast is the least expensive option and offers a simple, but well-executed menu. This may be the best option for picky eaters since there are traditional breakfast options and even Mickey Waffles on the kids menu.
Start with a pasty plate before choosing your entree. For those looking for an elevated breakfast there's plenty of options. Choose from shrimp and grits, caramel apple french toast, or delicious beef tenderloin and eggs.
Lunch and Dinner Menu
The appetizers were unremarkable during our Cinderella's Royal Table lunch, but the rest of the meal was much better than previous menus.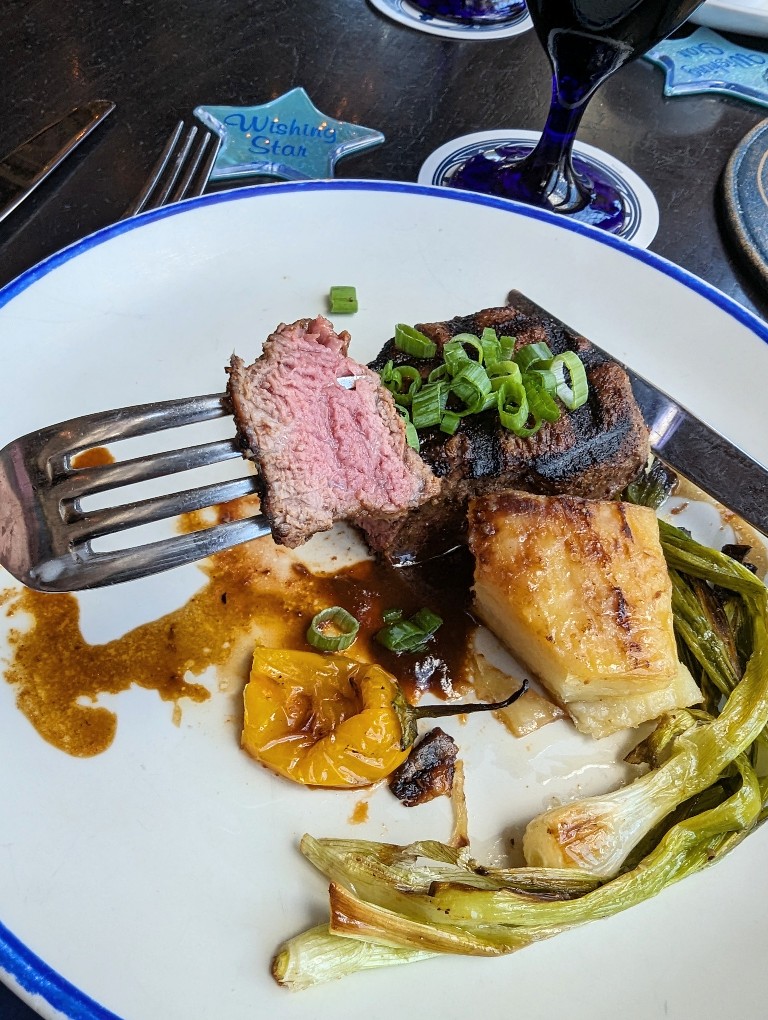 The server recommended the grilled beef tenderloin with potato pave, roasted seasonal vegetables, and a house-made steak sauce. I took her advice and was not disappointed.
The tenderloin was perfectly cooked and able to be cut with a butter knife. The pave potatoes were stacked slices of potato with a rich cream and mild cheese mixture between the layers.
Elizabeth wasn't interested in the pave potatoes and our server offered several replacements. She chose the fries and enjoyed every bite of her meal, too.
Don't be afraid to ask your server if there are modifications for menu items. Sometimes kids who are 10 years and older don't like eating off the adult menu as presented. We have found most Disney World restaurants are well prepared to make simple changes so everyone enjoys their meal.
The other menu items of spice-rubbed pork tenderloin, fish en papillote, slow-braised chicken, and Parisian gnocchi are an improvement over other Cinderella's Royal Table menus.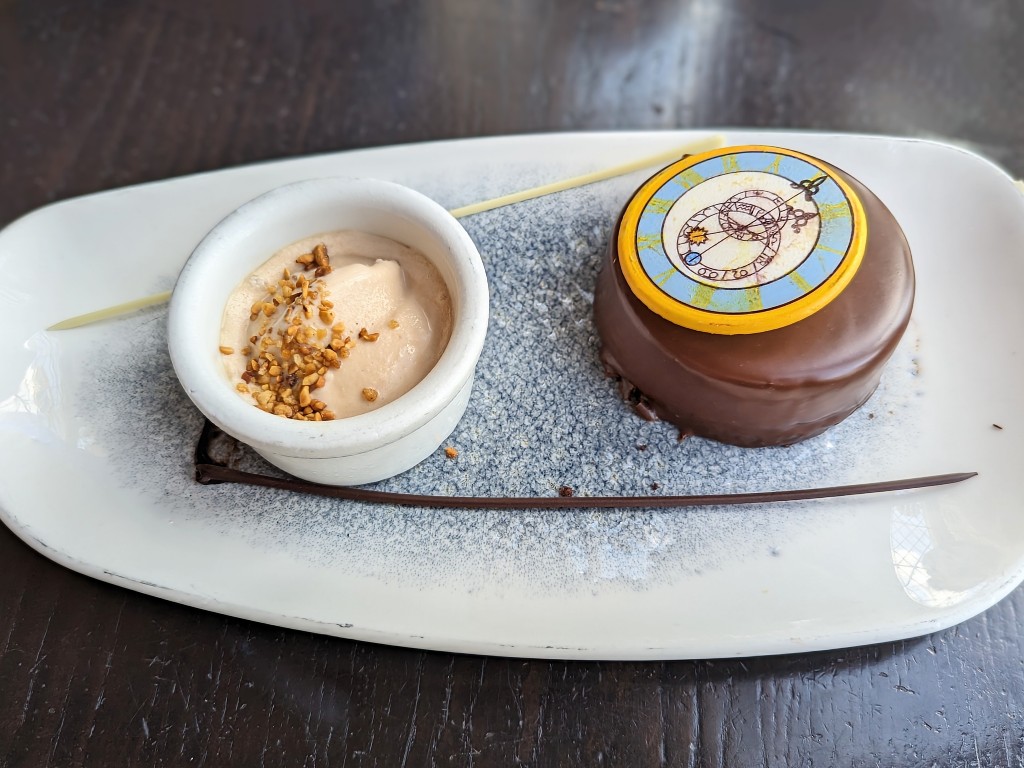 Finish your meal with a tasty dessert. I opted for The Clock Strikes Twelve, a dark chocolate mousse with caramel and praline center. This dessert is also served with hazelnut gelato which pairs perfectly with the mousse.
Elizabeth went off-menu with raspberry sorbet, one of her favorites. Creamy and rich, she could only finish part of her dessert after eating almost her entire entree and some of my mousse.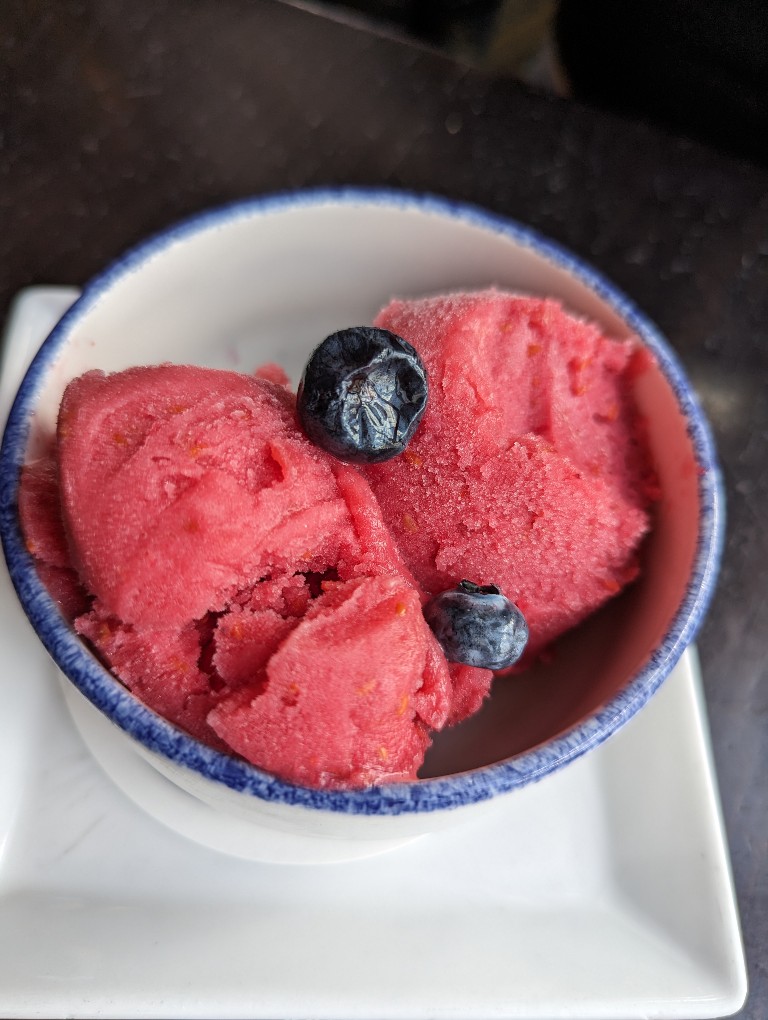 Cinderella's Royal Table Princess Meal Characters
We saw five princesses during our meal: Cinderella, Snow White, Sleeping Beauty, Ariel, and Jasmine. Although these are the usual princesses at Cinderella's Royal Table, characters are not guaranteed and can sometimes change on the day of your meal.
Cinderella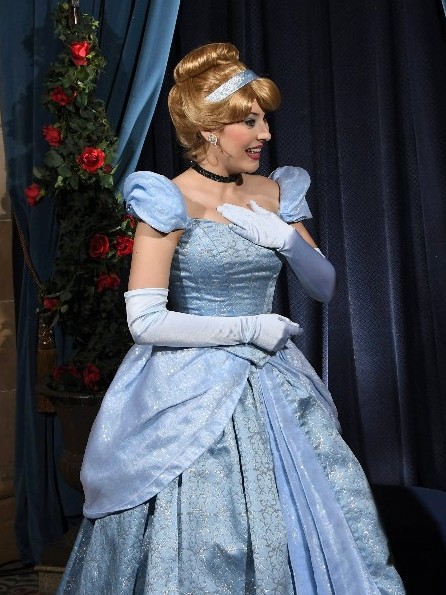 Meet Cinderella in the lobby before heading upstairs for your meal. She has a PhotoPass photographer and these photos can be linked to your My Disney Experience app to download later.
The line for Cinderella is sometimes long, depending on your reservation time. This time we were first in line for our time slot and only waited a few minutes for Cinderella's coach to arrive. Other times we've had longer waits.
Cinderella is a gracious host who warmly welcomes guests. She chatted with us briefly before hugs and pictures.
Snow White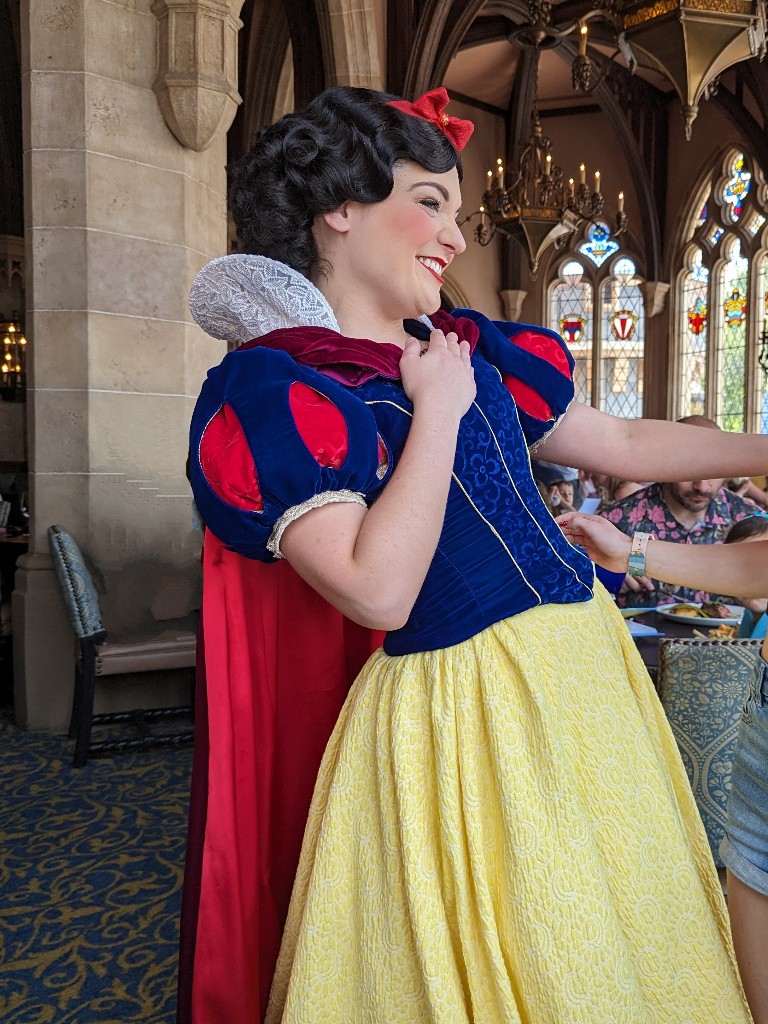 The rest of the princesses rotate through Cinderella's Royal Table while you dine. First for us was Snow White.
Snow White skipped over to our table which is a very Snow White thing to do. She enthusiastically chatted with us before posing for photos and moving on to the next table.
Sleeping Beauty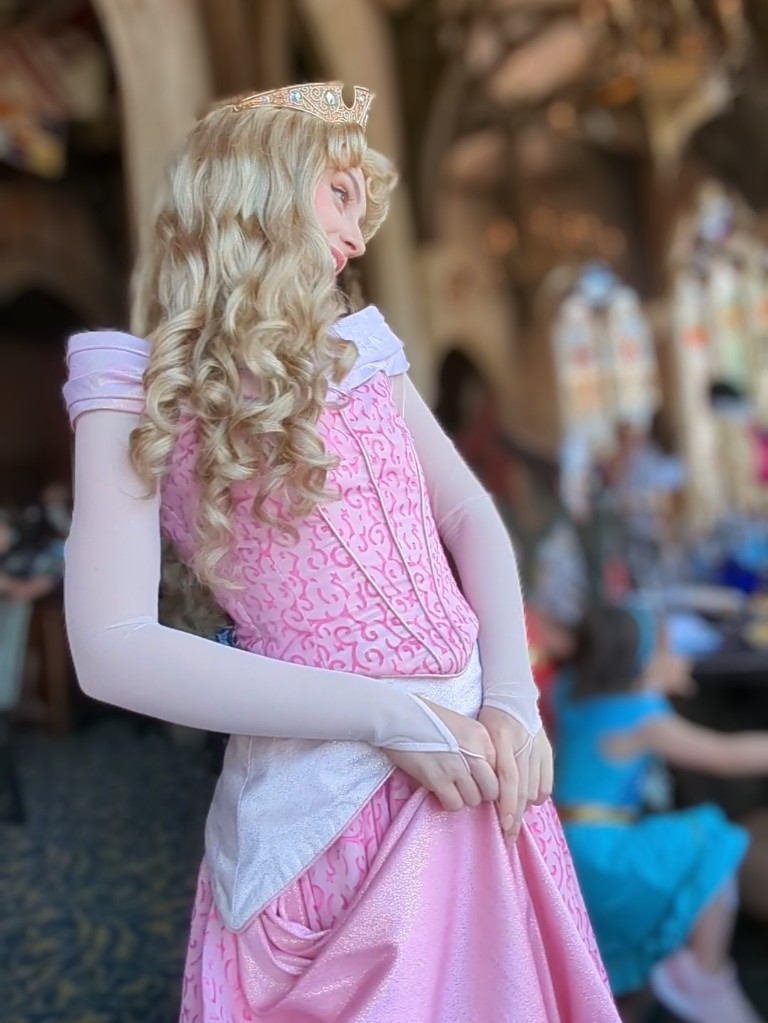 Aurora, better known as Sleeping Beauty, gracefully glided to our table. She is more reserved, but absolutely sweet and kind during her brief visit.
Ariel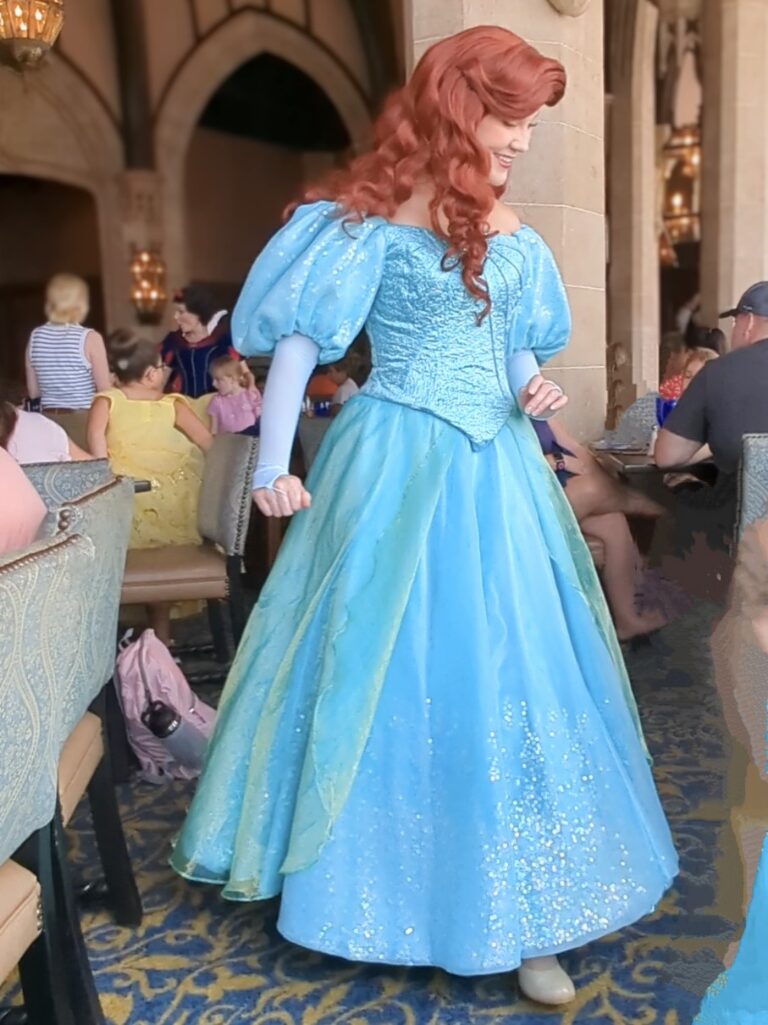 The Little Mermaid, based on the animated films, roams Cinderella's Royal Table with bubbly enthusiasm. When Ariel found out we were having a mother-daughter trip she told us about her recent girls' night out dancing with her sisters.
Elizabeth immediately recognized this story from The Little Mermaid: Ariel's Beginning which was awesome. The girls chatted a little more before Ariel had to float off to the next table.
Jasmine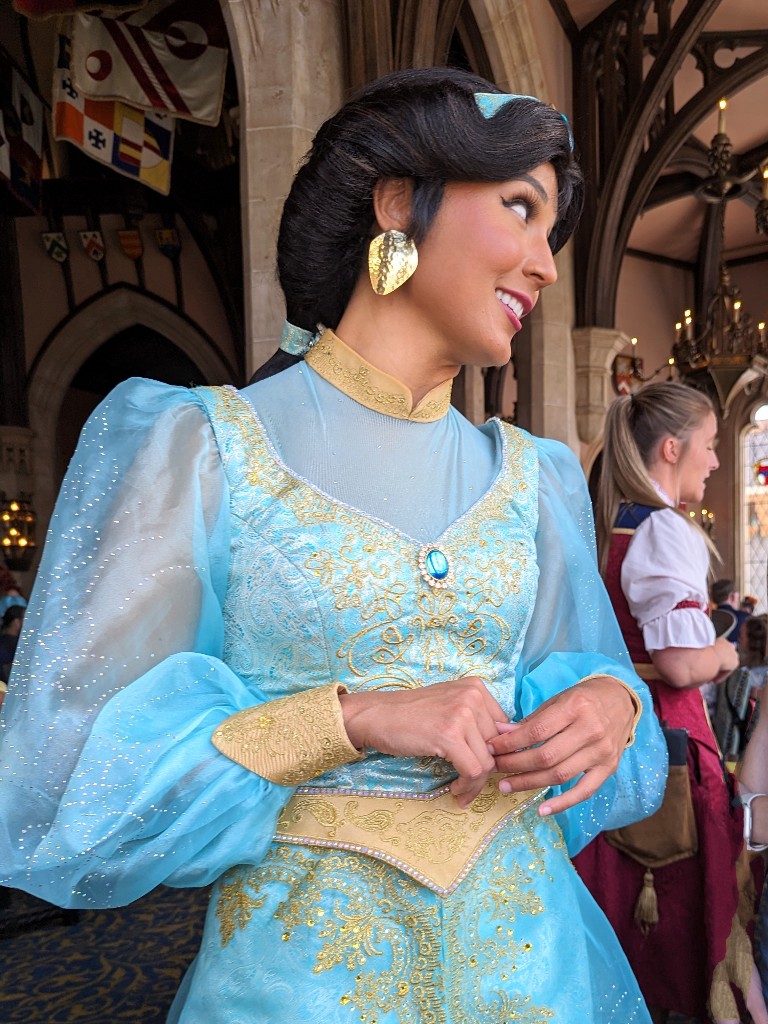 After several good Cinderella's Royal Table princess interactions Jasmine ended our meal perfectly. We were seated at a table overlooking a window and Jasmine warned us not to feed Abu.
Apparently Abu likes to hang outside these windows begging for food. One time he ate so much sugar he wildly climbed inside the restaurant and broke a chandelier.
Jasmine then had to call Genie to fix it and make Abu promise not to eat all those desserts again.
How Much Does Cinderella's Royal Table Cost?
Breakfast is $65 per person aged 10 years and older while those aged 3 to 9 years cost $39 per person.
Lunch and dinner are the same price. Expect to pay $79 per person aged 10 years and older while those 3 to 9 years cost $47 per person.
These prices get tax and gratuity added on, around 22%, for a final price paid in full at reservation time. We paid $96.56 per adult for lunch which includes our meal, a non-alcoholic drink, and gratuity.
Getting Cinderella's Royal Table Dining Reservations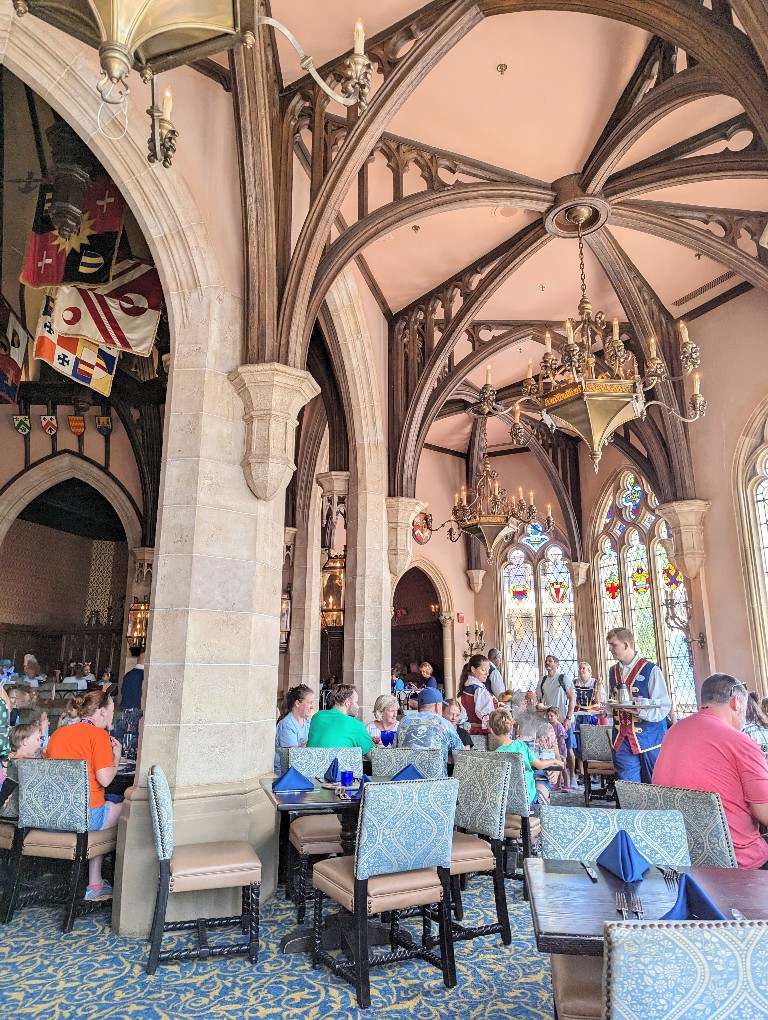 Book Cinderella's Royal Table princess character meals as soon as the window opens for the best chance of getting these hard-to-find reservations.
Disney World dining reservations open 60 days before your Disney World vacation.
Guests staying on-site can book up to 10 days of dining reservations starting 60 days before their first Disney World day. This ability to book further ahead is a big advantage when trying to score Cinderella's Royal Table reservations.
Off-site guests can only book 60 days in advance, one day at a time, regardless of how many days they plan on visiting Disney World parks.
Since Cinderella's Royal Table is still one of the most coveted Disney World character dining reservations, guests must pay in full when booking the reservation.
Pre-paying is a substantial expense 60 days before your Disney World vacation, but after arriving you'll enjoy a meal without paying another penny, unless you purchase add-ons like alcohol, because gratuity is included.
Limited same-day walk-up reservations are sometimes available for Cinderella's Royal Table. For the best chance at snagging a last minute spot join the walk-up list before 11am once you are inside the park.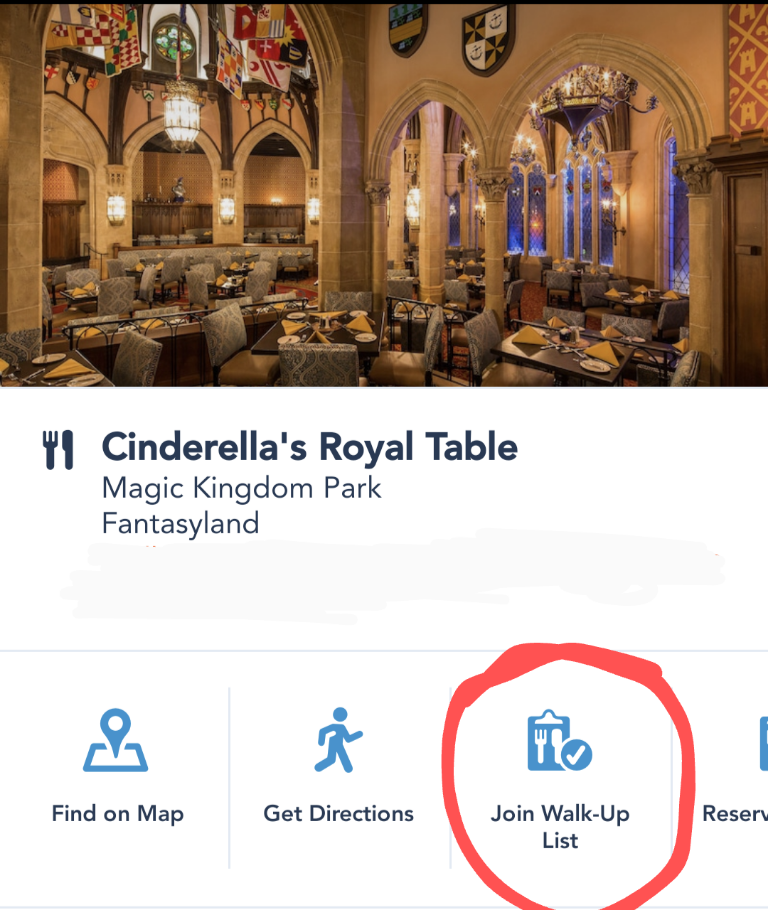 Is Cinderella's Royal Table Princess Meal Worth It?
Cinderella's Royal Table is a great way to meet several princesses over a delicious, but pricey, meal. Princess fans will love the experience of dining with royalty inside Cinderella Castle.
However, if you aren't able to book a Cinderella's Royal Table princess meal try reserving Akershus Royal Banquet Hall at Epcot. There is a slightly different mix of princesses and a different menu, but Akershus is a little easier to book and less expensive. 
If the Cinderella's Royal Table price tag is too high for your Disney World budget, it is possible to meet most of the same princesses individually at the parks. Find out how with our guide to characters at Disney World.