Disney World is known as "The Most Magical Place On Earth" and I believe this to be true. Disney World is a great family trip destination with even the smallest of Disney fans. In fact, I think toddlers can especially enjoy Disney magic. However, Disney World with toddlers requires knowing some special tips and tricks to make the most of this special family vacation.
Magic Kingdom Is The Best Park For Toddlers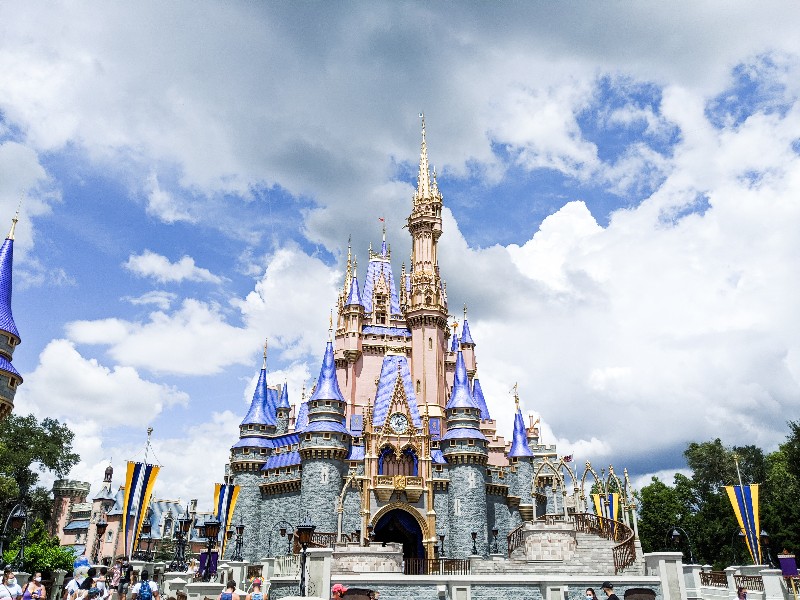 When people think of Disney World they usually picture Magic Kingdom with a picturesque Cinderella's Castle at the end of Main Street. Magic Kingdom has the most ride options for toddlers with only 6 attractions having any height requirement.
Magic Kingdom has 24 rides for toddlers which is why this park is so fun for families with small kids. Take a spin in the tea cups on Mad Tea Party, fly through the air with Dumbo, or be part of Ariel's story on Under the Sea.
Character cavalcades make their way down Main Street throughout the day. These impromptu character parades are so exciting for toddlers, especially when it seems Mickey is waving just to them. It is easy to spend two really full days at Magic Kingdom with a toddler.
Our favorite Magic Kingdom toddler rides
Buzz Lightyear's Space Ranger Spin
Dumbo the Flying Elephant
It's A Small World
Mad Tea Party
The Many Adventures of Winnie The Pooh
Peter Pan's Flight
Pirates of the Caribbean
Prince Charming Regal Carousel
Under the Sea – Journey of the Little Mermaid
Although there is no height requirement for Pirates of the Caribbean or Haunted Mansion some younger kids might find them too scary.
For example, the first time we tried to do the Haunted Mansion Elizabeth only made it halfway through the outdoor queue. The next trip we made it through the stretching chamber (a dark, small room with a spooky voice). The stretching chamber freaked her out so we had to ask a cast member to exit. That day I learned there is a "chicken door" for just this. On the other hand, my two-year old niece loved the Haunted Mansion and never had a problem.
Take Lots Of Pictures With Your Toddler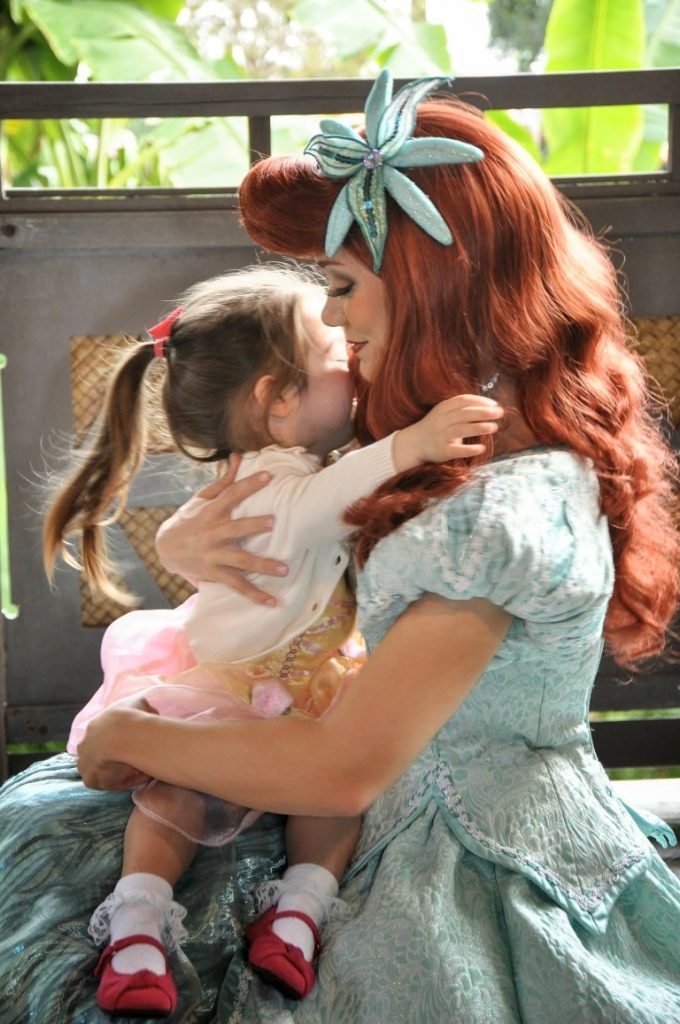 Pictures from my daughter's first few trips still bring me a lot of joy plus they help her remember the experience. I recommend taking photos yourself plus splurging on Memory Maker.
Memory Maker includes all the pictures taken on attractions, by PhotoPass Photographers, and at PhotoPass Studios like Sir Mickey's in Magic Kingdom or Disney Springs PhotoPass Studio.
There Are Fun Things To Do With Toddlers At The Other Disney World Parks, Too
Just because Magic Kingdom is the best Disney World park for toddlers doesn't mean the other parks aren't fun with little ones. There are special attractions and different character options for toddlers at Epcot, Hollywood Studios, and Animal Kingdom.
Hollywood Studios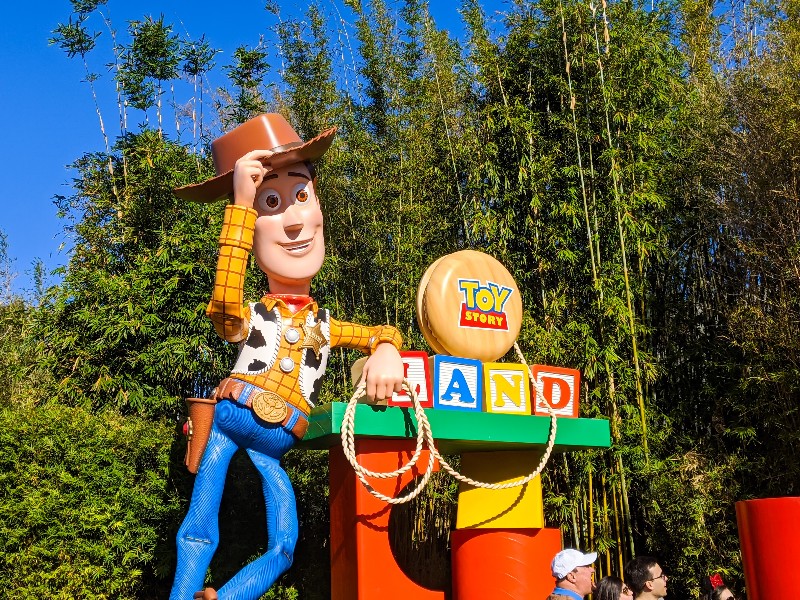 Do you have a fan of the Toy Story movies? If so, imagine the wonder in their eyes as they become toy size in Andy's backyard.
Walking around Hollywood Studios Toy Story Land can be a lot of fun even if kids aren't tall enough to ride the two new attractions. There are bright colors and fun details that are perfect for toddlers throughout Toy Story Land.
Although most rides have a height requirement at Hollywood Studios, Mickey and Minnie's Runaway Railway and Toy Story Mania! are perfect rides for toddlers.
Frozen fans will want to set aside time for The First Time in Forever: Frozen Sing-Along Celebration. This funny retelling of Frozen, makes little ones and parent giggle in delight. My niece still reenacts scenes from the show months after last seeing it.
Epcot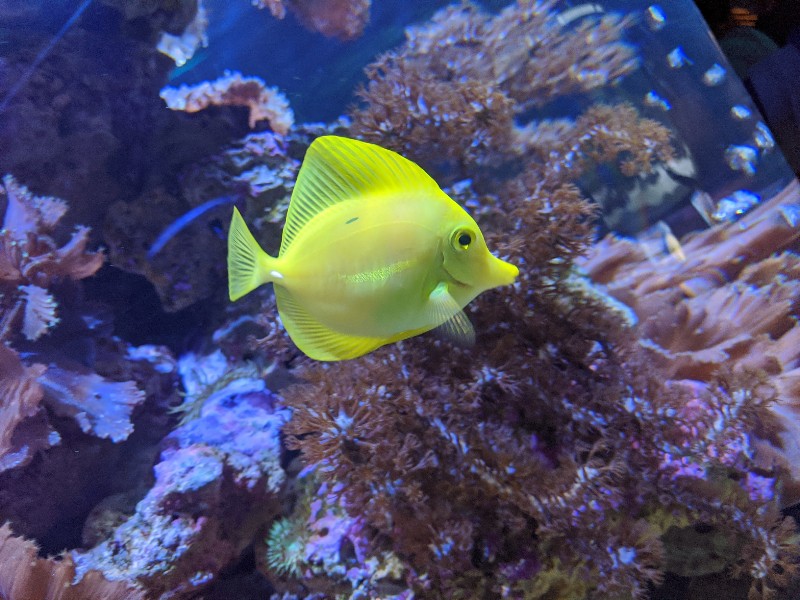 Although a lot of people say Epcot is too boring for young kids, I completely disagree. Elizabeth has loved this park since her very first trip. There are several rides without a height requirement, a large aquarium, and fun scavenger hunts during festivals.
Characters like Winnie the Pooh playing in a field or Anna and Elsa meeting guests at their Royal Sommerhus in World Showcase will also delight toddlers at Epcot.
Not everyone notices the model trains in Germany, but every toddler in our family is completely obsessed. To be honest we all are. As the trains wind along multiple tracks, look for little details. For example, the teeny tiny banners on light poles mimic the current Epcot festival banners.
Animal Kingdom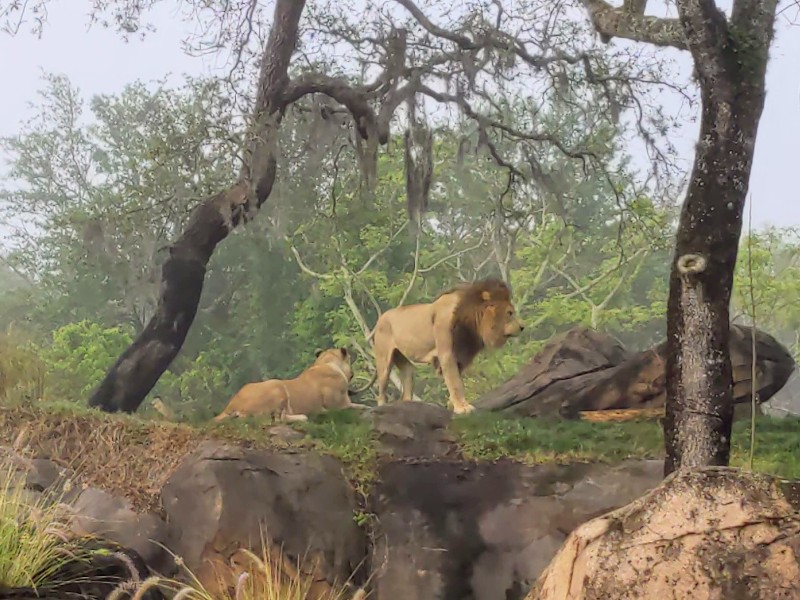 If you have a toddler that is obsessed with animals then spending time at Animal Kingdom is perfect for you. Kilimanjaro Safari will delight kids of all ages with an up close view of real lions, giraffes, hippos, elephants, and more. One of the best things about Kilimanjaro Safari is each time you ride it is a different experience.
Festival of the Lion King returned in summer 2021 to entertain guests at Animal Kingdom. This fast paced live show features the Lion King story with songs and acrobatic feats sure to fascinate little ones. A newly reimagined Finding Nemo musical, The Big Blue…and Beyond is set to open sometime in 2022.
Set Aside Time For Toddlers To Rest
It is tempting to try and spend every moment possible at the parks during Disney World vacations. However, touring Disney World is tiring for adults and kids. Tired families are prone to have epic meltdowns which we've witnessed in families every Disney vacation.
Building in quiet time for toddlers to rest at the parks or returning to the hotel for an afternoon nap makes for a happier experience for everyone. Taking a mid-day rest is especially important when visiting Disney World when it is hot.
Bring Or Rent A Stroller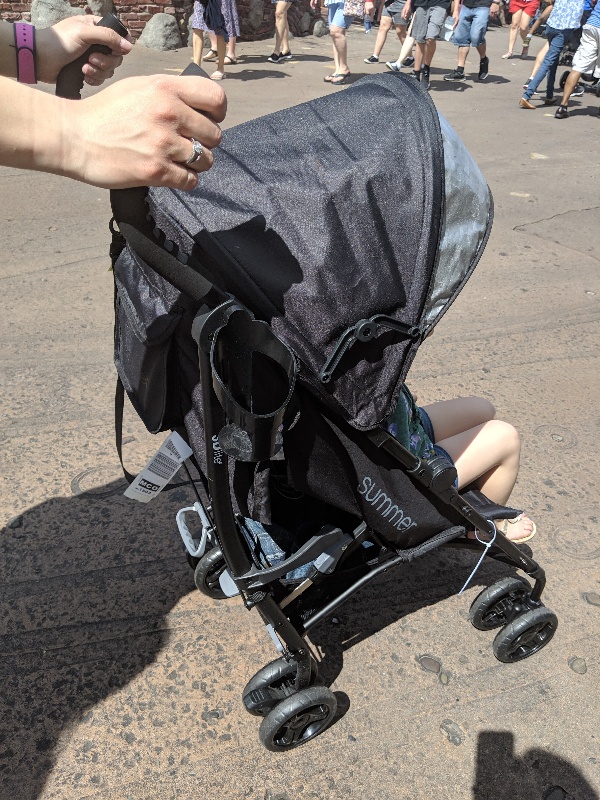 Disney World parks and resorts are large, sprawling places. Exploring Disney World racks up a shocking number of walking miles each day. For example, on an average Disney park day we walk 6 to 9 miles. My legs are tired at the end of the day so imagine how difficult walking would be for younger kids.
I get asked a lot, "Should I bring a stroller to Disney World for my toddler?" My answer is an emphatic "yes". In fact, it is not unusual for kids as old as 8 years old to need a stroller to keep pace with the adults during a trip. Here is the stroller I took again and again and my sister used on multiple trips.
Kids Under 3 Years Old Are Free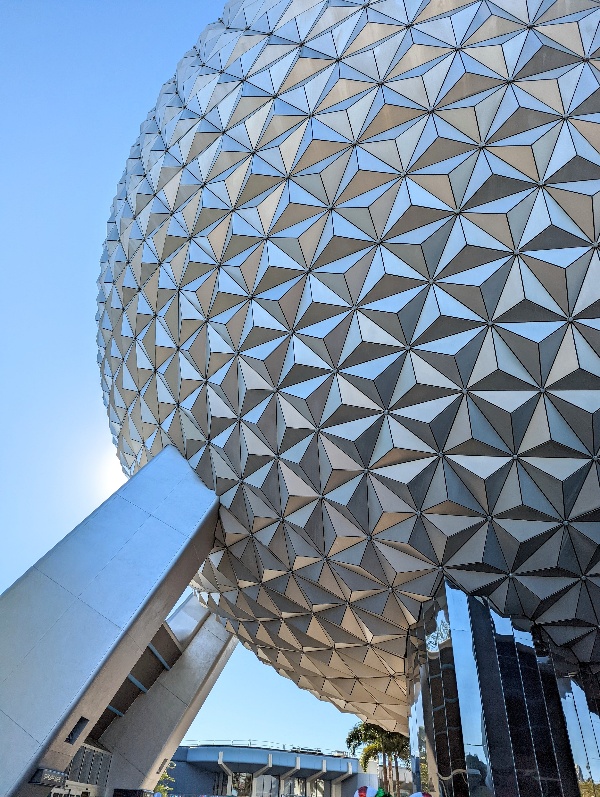 Toddlers under age 3 do not need Disney World park tickets. Not having to buy park tickets for toddlers is a considerable savings. For reference, as of May 2022 a 4-day park hopper ticket for a 3-9 year old runs over $572 when purchased directly from Disney World.
Toddlers can experience much of the joy of Disney World for free if they visit before turning 3 years old. That leaves hundreds of extra dollars for your resort or meals when visiting Disney World. You can also save money for the rest of the family by buying Disney World tickets through our preferred travel partner, Get Away Today.
Disney World Park Pass Reservations Aren't Needed For Toddlers
Kids under 3 years old do not need a ticket for Disney World parks which means they don't need Disney World park pass reservations either. Toddlers are allowed to enter a theme park if you have a valid theme park admission and reservation for that day. Find out more about the park reservation system here.
Toddlers Love Disney World Characters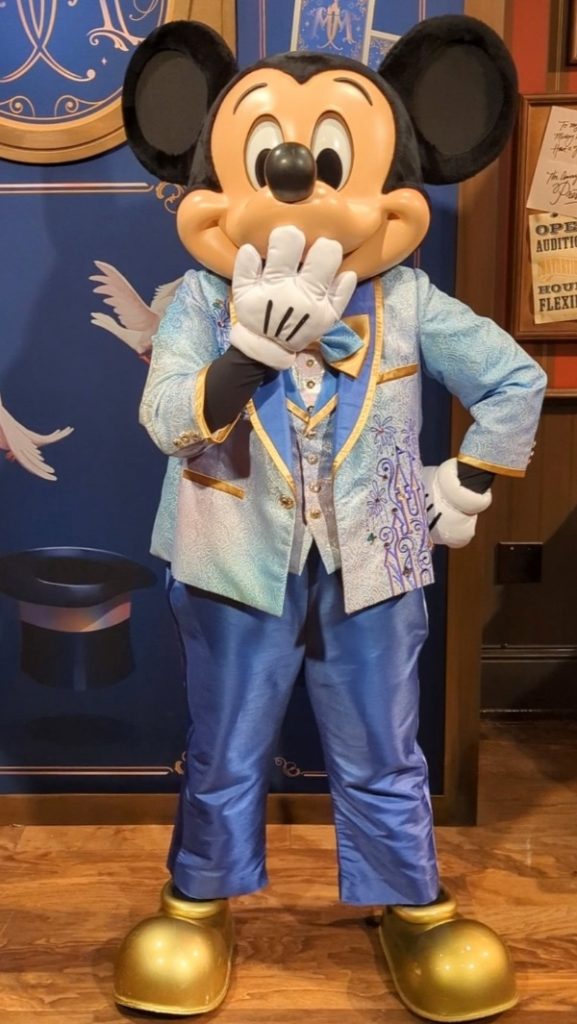 There are lots of ways to see Disney World characters, both up close or at a distance, depending on your toddler's comfort level. Character cavalcades and distanced sightings are easy ways to incorporate Disney friends into your park day.
Toddlers who really love Disney characters can have special interactions with individual character meet and greets or at character meals.
Children Under 3 Years Old Don't Pay For Food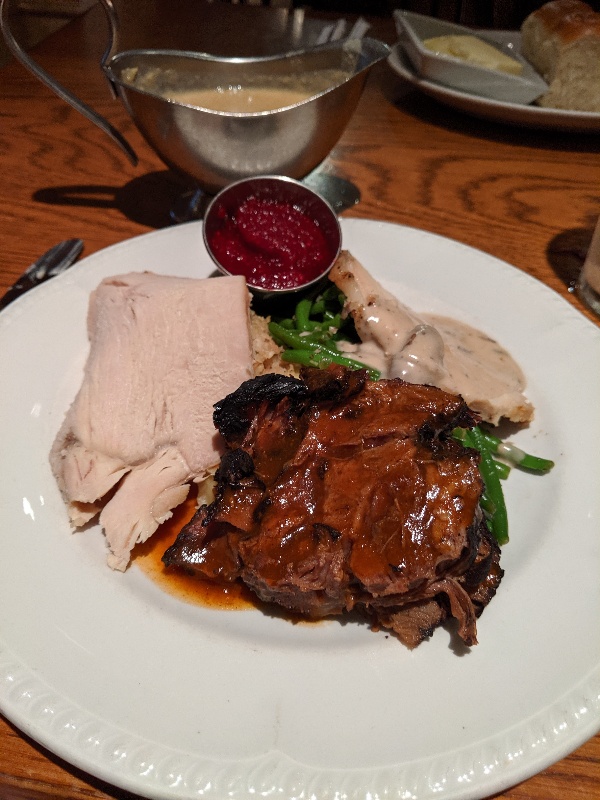 Children under age 3 are free to share a meal with others in your group at no charge or you may order and pay for a kids meal. Family style meals make it easy to feed your toddler without additional cost.
Include Toddlers In Dining Reservations
Although you may not have to pay for a toddler meal at Disney World you must include the child in the number of people for a dining reservation.
For example, on a larger family trip there were six adults, one 8-year-old, and one 2-year old in our group. This meant I needed to make my Advanced Dining Reservation for a total of 8 people.
I know this can be confusing since you don't count toddlers for Disney World park reservations, but it is crucial that everyone in your party is counted for dining reservations.
Make sure you know all about making advanced dining reservations by reading my 5 minute guide.
Have Fun With Toddlers At Disney World!!
View this post on Instagram
Disney World with a toddler should be fun! In fact, I love visiting Disney World with toddlers because seeing the parks through their eyes makes me feel the Disney magic even more. Be realistic about what your toddler can handle and make happy memories within those constraints.
Final Thoughts On Visiting Disney World With Toddlers
Disney World is an amazing, magical place for those of all ages, but I think Disney World with toddlers brings a special kind of magic to a trip. Are you still unsure of taking a toddler to Disney World? Read real life experiences of travel experts and the best and worst things about visiting Disney at different ages.
Is this your first trip to Disney World with kids? Make sure you see what I wish I had known before our first trip plus tips for getting toddlers to sleep in a Disney World resort. I also have other Disney World planning information to learn how to pack the perfect park bag, why we use Garden Grocer, resort reviews and more.
Do you need more help planning your Disney World trip? Check out other Disney World tips and tricks in my Disney World Guides.
Pin it for later: