Meeting Disney World characters is an exciting and magical part of Disney vacations with new options available plus the return of old favorites. Here's how to find Disney World characters and tips for individual Disney World character meet and greets.
Where Can I Find Disney World Characters?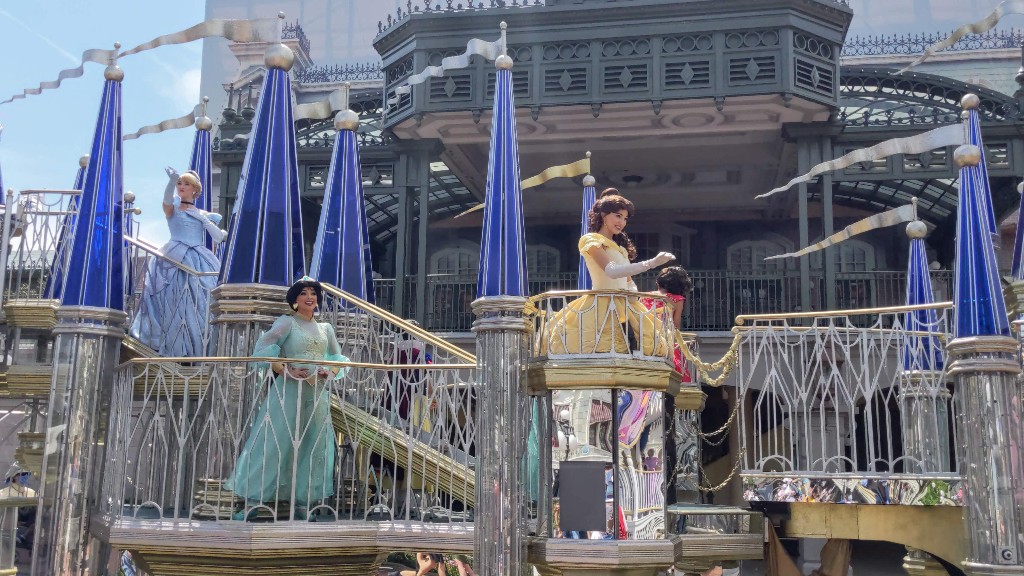 There are so many ways to see Disney World characters in 2022. Character cavalcades, regular parades, character meals, distanced sightings, and traditional character meet and greets are all amazing options to enjoy your favorite Disney friends.
Disney World Character Cavalcades, Floatillas, and Motorcades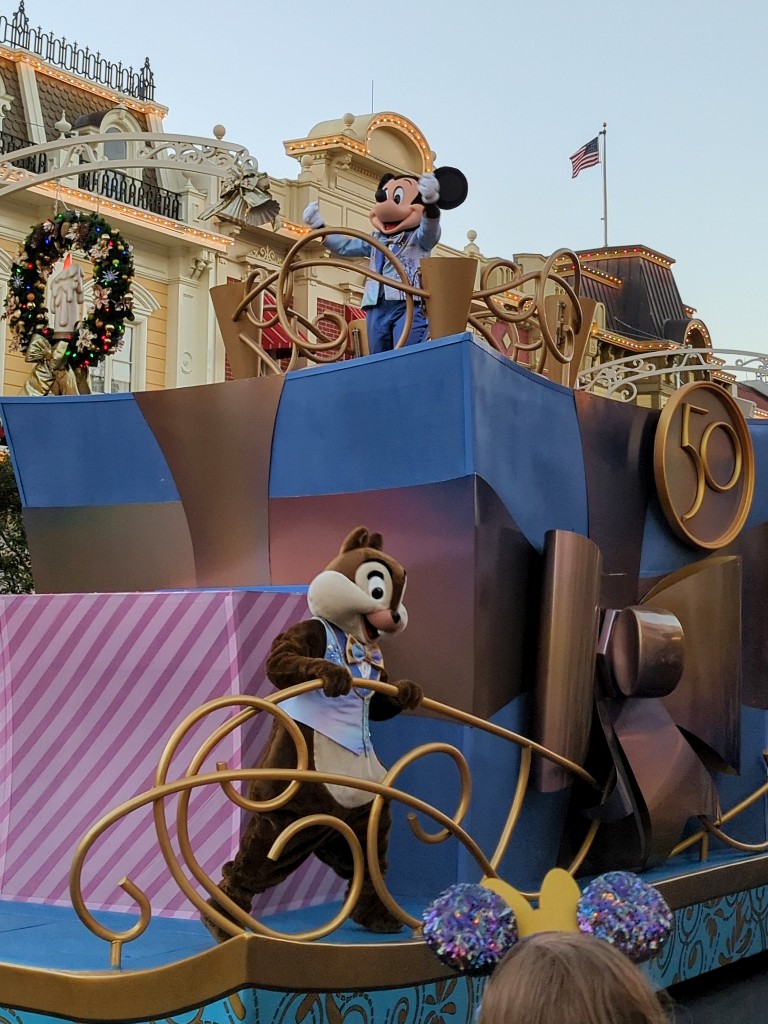 These Disney World mini parades showcase characters waving to guests along a set route at all four theme parks. Cavalcades are not identical with the style and characters varying by park.
Animal Kingdom has floatillas where beloved Disney characters float along rivers and wave up to guests on bridges above. Expect to find characters like Timon or safari-style Donald at Animal Kingdom.
Over at Hollywood Studios motorcades transport characters in style. Look for Mickey and friends or Pixar pals cruising down Hollywood Boulevard in convertible cars.
At Magic Kingdom find fan favorites like Mickey, Minnie, Daisy, Donald, Goofy, and Pluto during Mickey's Celebration Cavalcade. This cavalcade, and others, roll down Main Street several times each day.
Use the Disney World My Disney Experience app to find exact cavalcade, floatilla, or motorcade times. Cavalcade and motorcade details are under "Entertainment" and can be filtered by park to easily find them.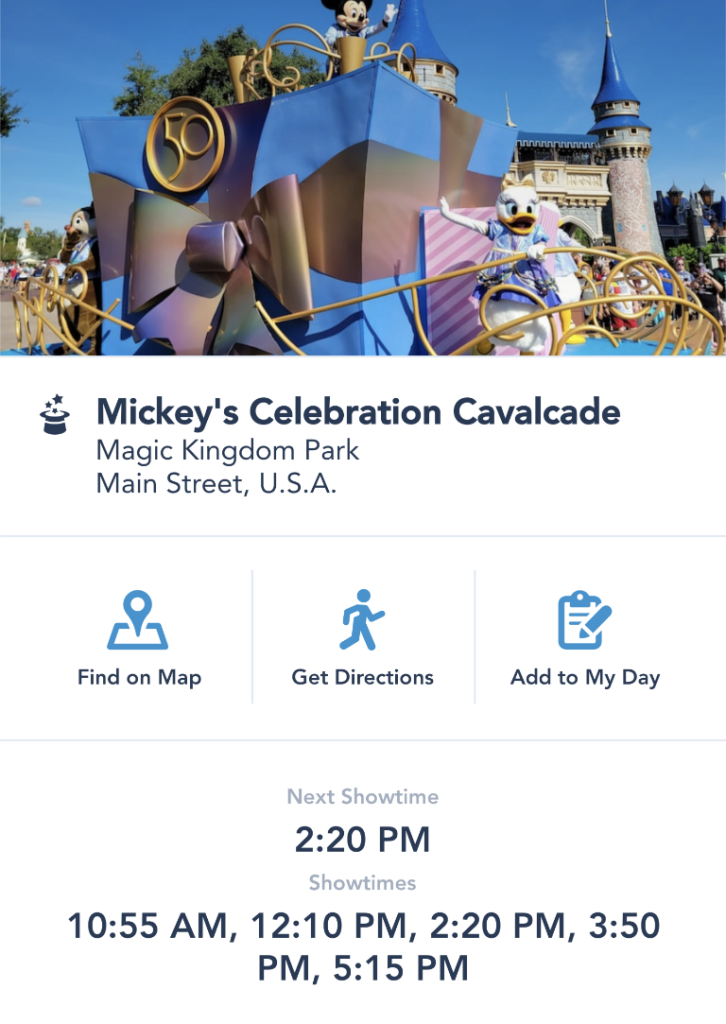 Although not my favorite way to see characters, Disney World cavalcades are super popular. People love seeing characters without waiting in line and the characters do a surprisingly good job interacting with the crowds. I think these popular character sightings will stick around long after 2022.
Pro Tip for Disney World Cavalcades: If you are at Disney World and hear the music abruptly change and get louder this is a great signal a cavalcade is coming.
Disney World Character Sightings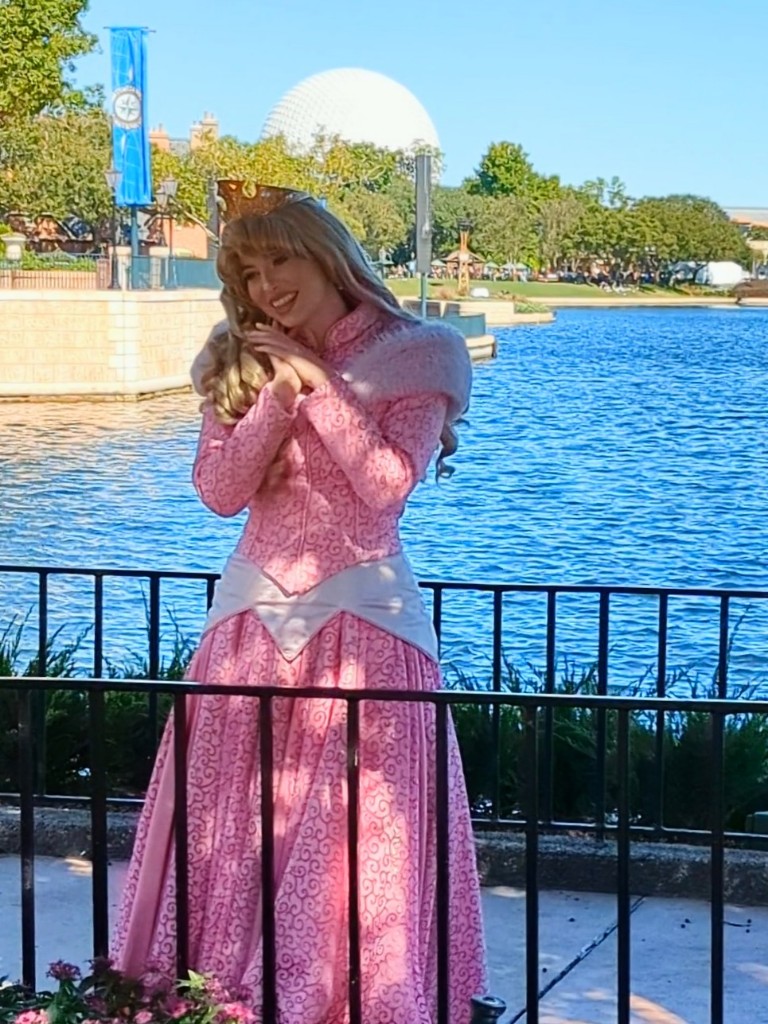 Character sightings differ from individual character meet and greets. These casual Disney character interactions are done at a distance, outdoors, and in select areas.
You don't need to wait in line to see characters for these sightings, but you won't necessarily have a specific Disney character interaction like a normal meet and greet.
Characters are set back from walkways to maintain distance, but some are close enough to talk. For example, Princess Aurora in Germany chatted with a young girl before taking a distanced picture.
There are a variety of characters for Disney World character sightings with some information on My Disney Experience app under "Characters". While this is a good starting point to find character sightings, many more are unlisted.
Magic Kingdom's Main Street train platform and Epcot's right side entrance portico often have characters greeting guests although these don't show up on the app. You never know where you'll find an impromptu Disney World character sighting so always keep an eye out.
Individual Disney World Character Meet and Greets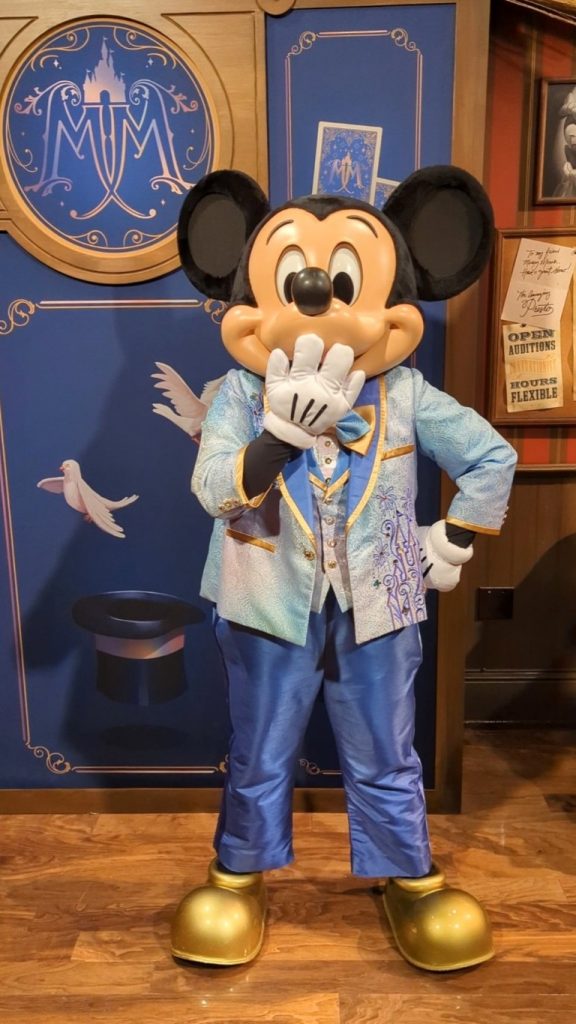 Traditional character meet and greets have returned to Disney World. Wait in a traditional standby queue before having a fun, personal interaction which can once again include hugs with favorite Disney characters.
The princesses have entertaining discussions with guests while Mickey and Minnie's over the top gestures communicate how excited they are to see you.
Magic Kingdom Character Meet and Greets
Currently, Magic Kingdom has the most Disney World character meet and greets. The first is just inside the park at Town Square Theater where Mickey Mouse is happy to see his pals.
At Fairytale Hall near Cinderella Castle, princess fans can rejoice at the opportunity to meet four Disney princesses. The queue is split in two and each line leads to two charming Disney princesses. You'll usually find Cinderella, Elena, Rapunzel, and Tiana here, but sometimes one or more will be a surprise princess.
Hollywood Studios Character Meet and Greets
Hollywood Studios has three meet and greet options. Visit Minnie and Mickey Mouse at Red Carpet Dreams in Hollywood Studios, Olaf at Celebrity Spotlight, or Sulley at Animation Courtyard.
Epcot Character Meet and Greets
At Epcot, say "hi" to Donald Duck in the Mexico Promenade before riding The Gran Fiesta Tour. Next door, between Mexico and Norway find the Royal Sommerhus. This is where Frozen fans can meet both Anna and Elsa.
Jasmine sweetly interacts with guests off the beaten path in Morocco while both Joy from Inside Out and Venellope von Schweetz of Wreck-it Ralph have now returned to ImageWorks.
Animal Kingdom Character Meet and Greets
Find Mickey and Minnie Mouse in adorable safari gear at Animal Kingdom. These two meet guests each day at Adventurers Outpost on Discovery Island and even have PhotoPass photographers there to catch the moment.
Disney Genie+ Lightning Lane Character Experiences
There are currently five Genie+ Lightning Lane character experiences. At Magic Kingdom use Lightning Lane for Mickey at Town Square Theater, Princess Tiana plus a visiting princess, or Cinderella plus a visiting princess.
Use Genie+ to skip the standby line for Olaf in Hollywood Studios, too. Skip the long line to meet safari Mickey and Minnie at Adventurers Outpost at Animal Kingdom now that this experience has returned with a Lightning Lane option.
Tips For Meeting Disney World Characters 2022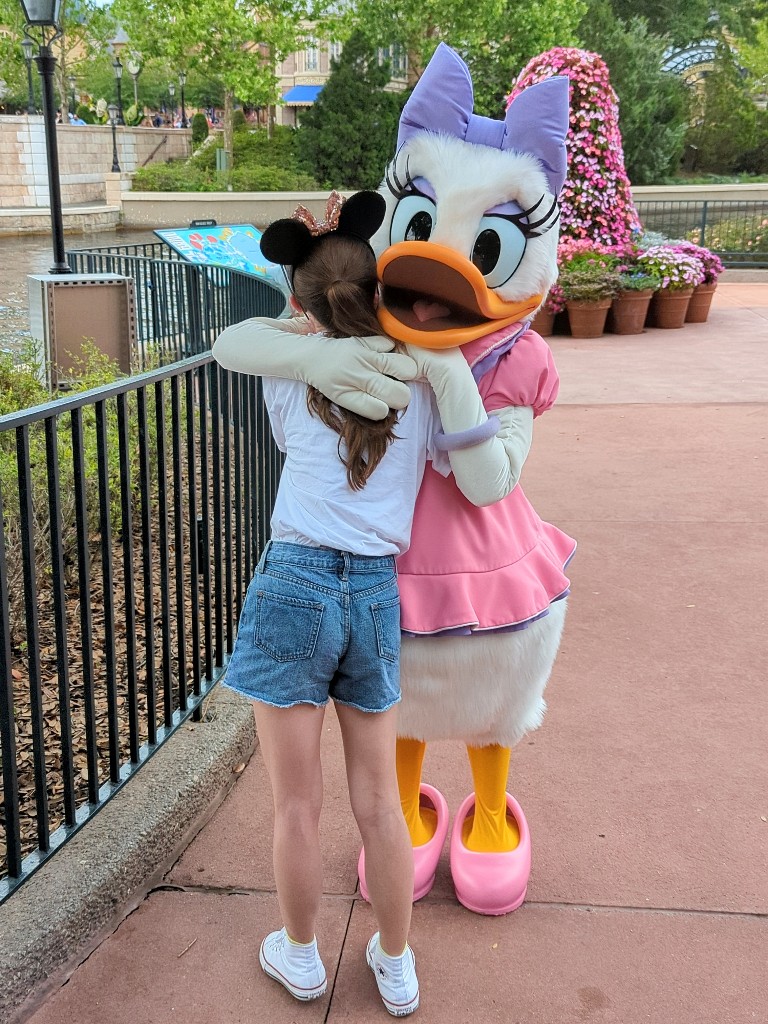 Get Ready To Hug Disney World Characters
Disney World character meet and greets are now back to normal. After almost two years of distanced interactions a traditional meet and greet complete with hugs is extremely exciting.
Practice Your Selfie Skills
Although excited to see my Disney character friends again, I am disappointed there are not always PhotoPass photographers. This means awkward character selfies or someone is left out of the pictures. Red Carpet Dreams at Hollywood Studios recently added photographers so hopefully more return soon.
Use the My Disney Experience App
Individual character meet and greets are not available from park open to close. Check My Disney Experience under the characters tab to find meet and greet hours.
Download the My Disney Experience app here for Apple users or here for Android.
Bring Your Autograph Book!
Characters are once again allowed to sign keepsake items for guests. Although autograph books are a popular favorite we personally love our autograph pillowcases and ornaments best.
Disney World Character Meals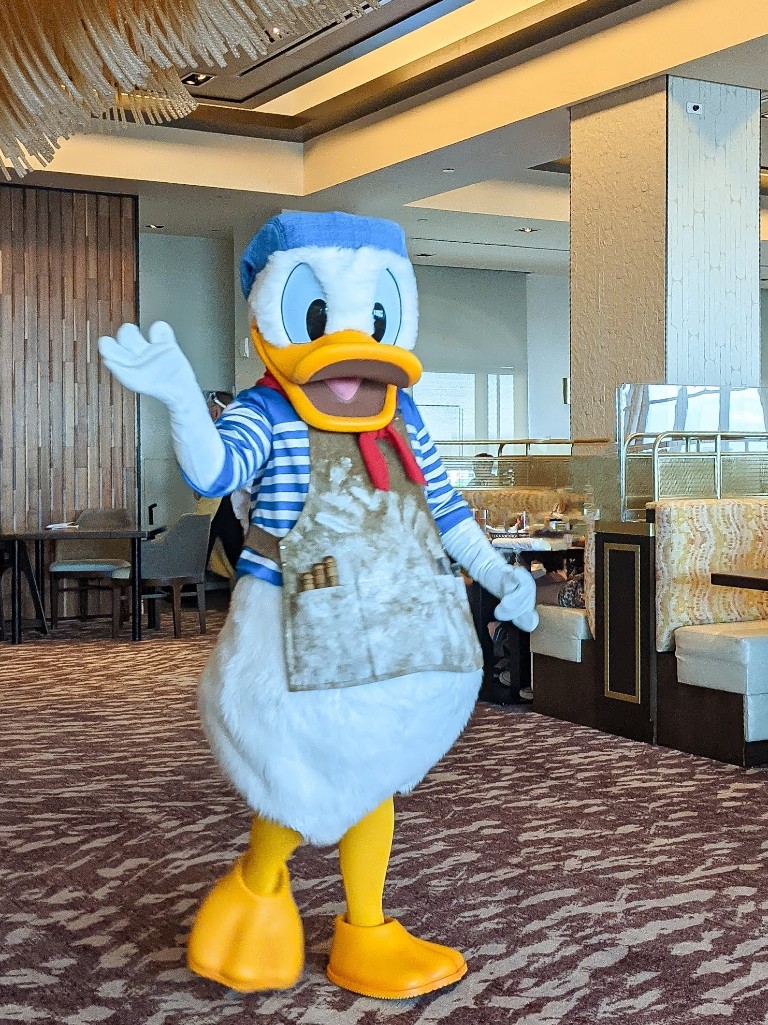 Over the years we've done tons of character meals and have always loved them despite the high price tag and mediocre food. Disney World character meal interactions are also back to normal with close interactions, pictures, and hugs making them a better value than when it was distanced interactions.
Disney World character meals are either individually plated meals or family style with buffets currently on hold. This change has been a great improvement in experience and food quality versus previous character meals.
Located in Disney's Contemporary Resort within walking distance of Magic Kingdom, Chef Mickey's is a popular character meal. Mickey Mouse, Minnie Mouse, Donald Duck, Goofy, and Pluto all roam through the vast restaurant while you enjoy a family style breakfast or dinner.
The new menu is a big improvement, the location is great, but the actual ambiance of Chef Mickey's is mediocre with some seating areas amazing and others terrible.
Inside The Land Pavilion at Epcot, Garden Grill features Mickey, Pluto, and the mischievous Chip and Dale. The restaurant actually rotates during the meal which is cool, but can be disconcerting or an issue for those with severe motion sickness.
Disney's Hollywood Studios has two different character meals at Hollywood and Vine. Have breakfast with favorite Disney Junior characters or visit Minnie and friends during lunch and dinner.
Minnie's Seasonal Dine rotates themes through the year with Minnie and friends dressed in different seasonal attire. The characters' seasonal outfits are always gorgeous and the location is conveniently located within Hollywood Studios. Food and ambiance are fair.
This is one of our favorite Disney World character meals. The food is incredible and you get to see hard to find characters like The Wicked Queen, Dopey, and Grumpy in addition to Snow White.
The characters, ambiance, and food are great at Story Book Dining, but getting to Wilderness Lodge can be a hassle.
The top of Riviera Resort houses Topolino's Terrace where Mickey, Minnie, Daisy, and Donald showcase their art skills during breakfast. The breakfast quality is good, the views are gorgeous, and the characters adorable.
We didn't have the best character interactions at Topolino's Terrace, but others rave about the experience. Disney's Riviera Resort is a Skyliner stop which makes it easier to access than some resort dining options.
Who can resist Donald in safari attire? Not me! Donald, Daisy, Goofy, and Mickey roam this large restaurant in outdoor themed outfits at Disney's Animal Kingdom.
The food variety is good with adventurous food items and also basics sure to please everyone. Tusker House's location in Animal Kingdom makes this an easy to access and popular Disney World character meal.
The Crystal Palace
Join Hundred Acre Wood friends like Winnie the Pooh at this Magic Kingdom staple on Main Street. The menu features carved prime rib, peel and eat shrimp, and more starting September 20, 2022.
Polynesian Resort
Lilo and Stitch make you feel like 'Ohana at Best Friends Breakfast. This popular character meal with Hawaiian flair returns September 27, 2022.
Beach Club Resort
Cape May Cafe Minnie's Beach Bash Breakfast is located in this New England inspired restaurant at Beach Club. Expect Minnie and some of her best friends to make the rounds at breakfast starting October 4, 2022.
Disney World Parades
Festival of Fantasy Parade returned to Disney World's Magic Kingdom March 9, 2022. This incredible 10 minute long parade features tons of Disney characters.
Expect to see princesses, princes, Peter Pan with his friends, Mickey, Minnie, and so many more during this daytime Magic Kingdom parade.
Crowds tend to be larger for parades than cavalcades since there are more characters and floats. This means securing a parade spot ahead of time versus showing up last minute for cavalcades.
Avoid using precious park time to secure a parade spot if you purchase Disney World Genie+. Festival of Fantasy Parade viewing is now one of the options for Magic Kingdom Genie+ Lightning Lanes.
Final Thoughts On Finding Disney World Characters
Parades, cavalcades, character meals, character sightings, and individual Disney World character meet and greets mean many opportunities for seeing characters. Find your favorites and keep your eyes peeled since you never know who you'll find during a day at Disney World.
Pin it for later: