Have you ever dreamed of that perfect portrait of you or your family in front of Cinderella's Castle, but the crowds on Main Street were more obvious than you hoped? Don't despair! The Disney PhotoPass Studio at Disney Springs can help you fulfill those and other Disney photo dreams.
What Is The Disney PhotoPass Studio?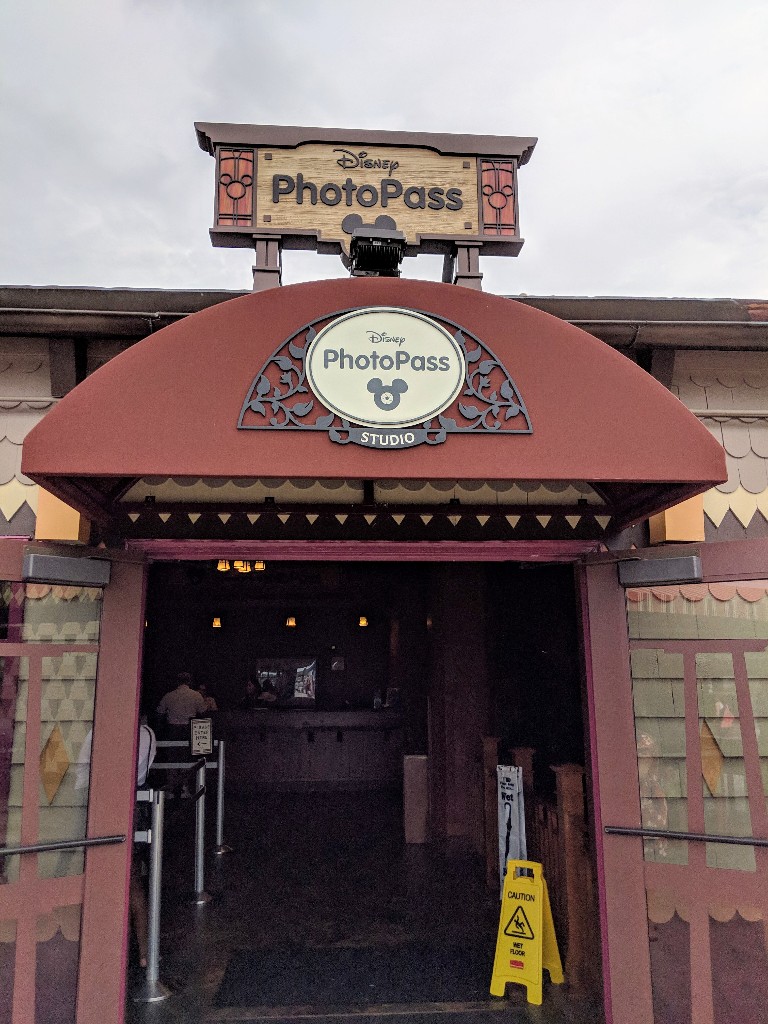 The Disney PhotoPass Service Studio is a small portrait studio located in the Marketplace area of Disney Springs. There are two different photo opportunities available at the studio, a green screen option and a traditional portrait option.
Green Screen Studio
The first photo area has a green screen background. This green screen area can help you realize all of your Disney photo dreams with a seemingly endless supply of magical backgrounds.
Want that perfect Halloween picture on Main Street U.S.A in front of Cinderella's Castle – here you go! Or maybe you love Belle and want to take a picture in front of her cottage. They can do that, too.
If you are dressed as a certain character the photographer may choose a background that complements your costume (or Disney Bounding outfit). You may also request specific backgrounds from your photographer.
Portrait Studio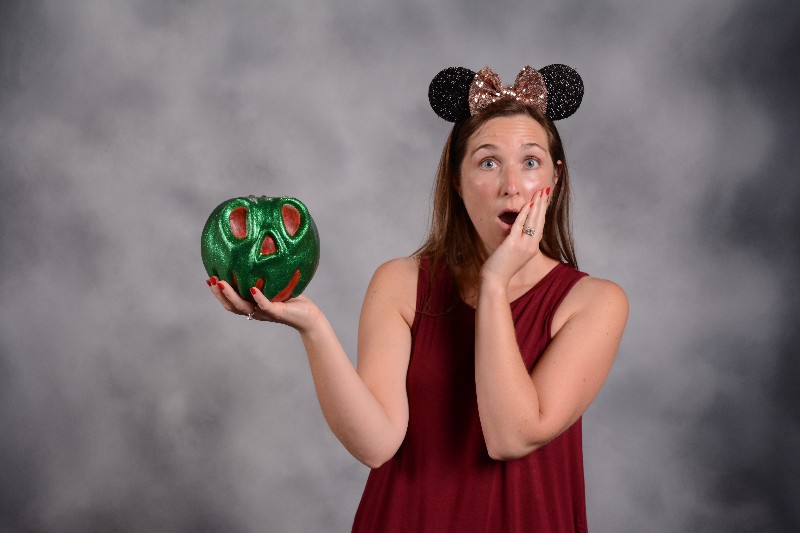 The second photoshoot area is a more traditional portrait studio. The photographer has a standard gray background, basic furniture, and some character inspired props. We started with traditional portrait poses and then the photographer told Elizabeth to do some silly poses.
For my turn we did regular portraits, but then the photographer asked my favorite princess. I told her Belle and she grabbed a rose.
However, as she grabbed the rose I saw the poison apple prop and asked for that one instead. The PhotoPass photographer was more than happy to oblige and had me do some fun poses with the apple.
Not to be left out, Elizabeth jumped in for a couple of poison apple photos, too.
What Is The Cost Of Disney PhotoPass Studio?
If you have purchased Memory Maker (or it is included with your Annual Pass) there is no additional charge for your pictures at Disney PhotoPass Studio.
The photographer will take your pictures, scan your MagicBand, and then photos will automatically show up on the My Disney Experience app or website. These pictures can then be downloaded either on the app while you are still at Disney World or in bulk when you get home.
Do I Need Reservations For Disney PhotoPass Studio?
There are no reservations needed for the Disney PhotoPass Studio at Disney Springs. Simply enter the studio and join the queue.
Wait times will vary, but we did not wait very long at all for our photo shoot. There were 3 groups in front of us when we arrived. It took us less than 30 minutes to wait in line and take our pictures at both photo areas. The photographers moved in a timely fashion without making you feel rushed.  
Tips For A Great Disney PhotoPass Studio Experience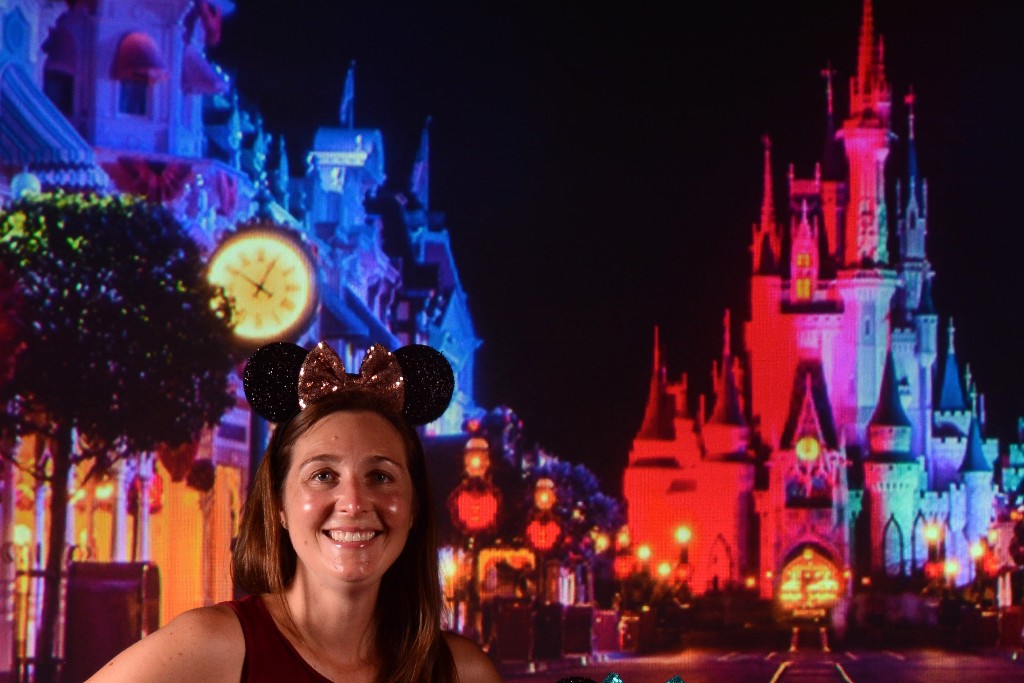 Plan Your Visit To Disney PhotoPass Studio
Lots of people plan ahead to visit the Disney PhotoPass Studio. In particular, Bibbidi Bobbidi Boutique Disney Springs is located just a few shops away from the Disney PhotoPass Studio. Having the photo studio so close makes it a perfect add-on to a Bibbidi Bobbidi Boutique makeover experience.
Our stop at the Disney PhotoPass Studio was more impulsive. We decided to skip the parks and visit Disney Springs as a rest day after a late night at Mickey's Not So Scary Halloween Party.
As we were taking the boat from Port Orleans Riverside we looked through the Disney Springs map. Seeing the Disney PhotoPass Studio on the map inspired us to try it that day.
It was hot, windy, and we had ridden a boat to Disney Springs so I wasn't exactly at my modeling peak. Despite that questionable start some lipgloss and a quick smoothing of the hair made me (mostly) presentable. However, it was a bummer that something about the lighting for the green screen and portrait areas really accented the shininess of my cheeks.
Dress The Part
It is easy to dress the part if you have just completed a makeover at Bibbidi Bobbidi Boutique, but everyone should think about what they will wear for photos. Use the same guidelines you would have for a photoshoot outside of Disney World. Complementary colors and flattering silhouettes are good for everyone.
Pro tip: Avoid wearing green if you intend to take pictures in front of the green screen. Some shades blend into the background.
Make sure you have touched up make-up or restyled hair before arriving at the Disney Springs Disney PhotoPass Studio. There is no area set aside to fix hair or makeup at the studio.
Have Fun
Having fun is the most important part of using the Disney Springs PhotoPass Studio. This is your time to be the star and take memorable pictures. The more you commit to your character the better the pictures will be. Remember to laugh, smile, and enjoy the special experience of your photoshoot.
Final Thoughts On The Disney PhotoPass Studio At Disney Springs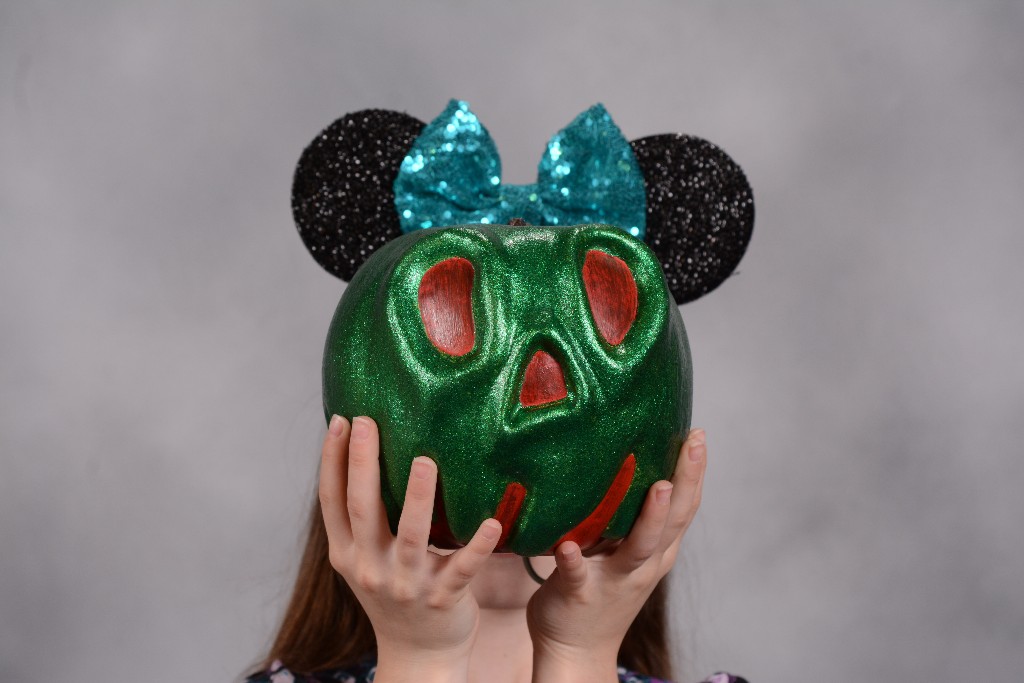 The Disney PhotoPass Studio is a great way to get some unique picture keepsakes from your next Disney World trip. Visiting the Disney PhotoPass Studio had been on my to-do list for a while, and I only wish I had prepared better for our photoshoot.
Even though it was a last minute decision to take pictures at Disney PhotoPass Studio we ended up with some great pictures to remember our Disney Vacation. I will definitely plan this photo experience better next time.
I highly recommend taking time to visit the Disney PhotoPass Studio to get your picture taken on your next Disney World trip. The photographers do a good job and there is no additional cost which is a nice perk. Just make sure to plan your trip to the Disney PhotoPass Studio. This way you can look your best for these unique photo opportunities.
If you can't make it to Disney Springs head to Sir Mickey's in Magic Kingdom instead. Sir Mickey's, just behind Cinderella Castle, recently reopened and is a great spot for quick photoshoots with a standard backdrop and props.
Do you need more help planning your Disney World trip? Check out other Disney World tips, tricks, and reviews in my Disney World Guides.
Pin it for later: