Character meals combine food and Disney characters, which are two of our favorite things at Disney World. Tusker House character meals take place at breakfast, lunch, and dinner daily in Disney's Animal Kingdom. Several famous Disney friends visit your table while you feast on a variety of foods during a Tusker House character meal.
Tusker House Character Meal Location
Disney's Tusker House is located in the Africa area of Animal Kingdom not far from the Festival of the Lion King theater.
Tusker House Character Meal Overview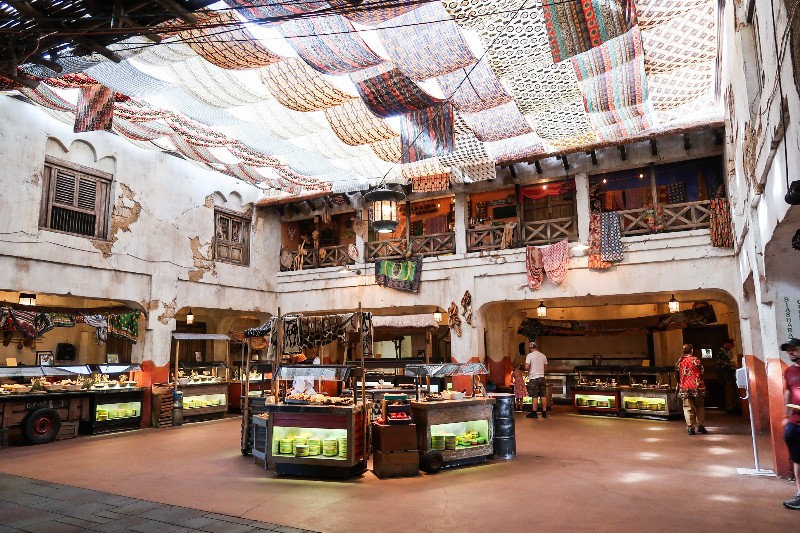 The check-in area for Tusker House character meals is tucked away in the back of Dawa Bar. Cast members check you in at a small podium and ask for your mobile number. Then Tusker House sends a text message when your table is ready. This gave us a few minutes to watch the incredible Harambe Village Acrobats while our table was prepared.
Entering into Tusker House you are transported to an African village market. Colorful cloth is draped overhead and each of the buffet stations looks like a food stand. There are several dining areas within Tusker House and the characters rotate through each dining room.
Tusker House Character Meal Food Options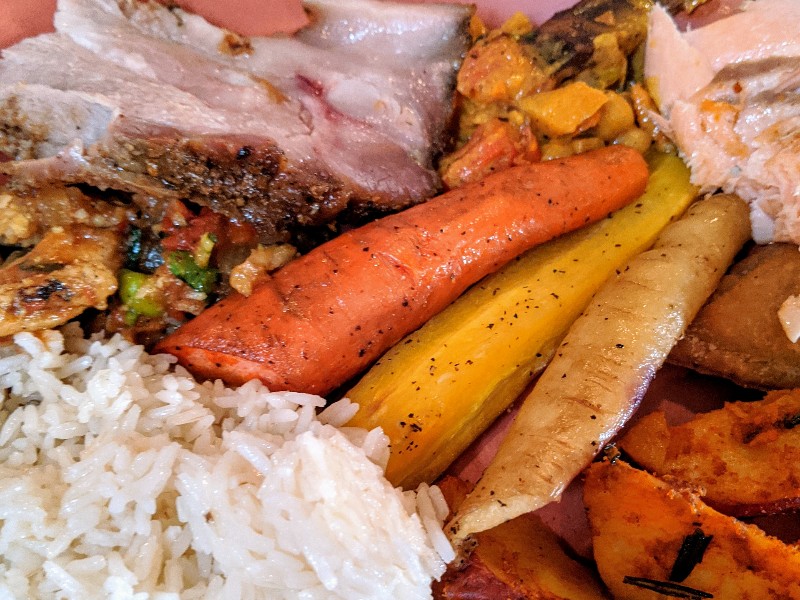 The Tusker House breakfast menu is a basic assortment of traditional breakfast items. However, there is a lot of variety on the Tusker House character lunch and dinner menu. Choose from simpler foods like spit-roasted chicken and roasted pork or try something different with some of the curries, mini samosas, or Peri Peri whole salmon.
The kids section has lots of American staples like mashed potatoes, mac and cheese, deli meat, cheeses, corn dogs, and chicken drumsticks. We saw lots of kids and adults enjoying these more traditional American foods, but we loved the variety of the ethnic inspired cuisine.
Tusker House Characters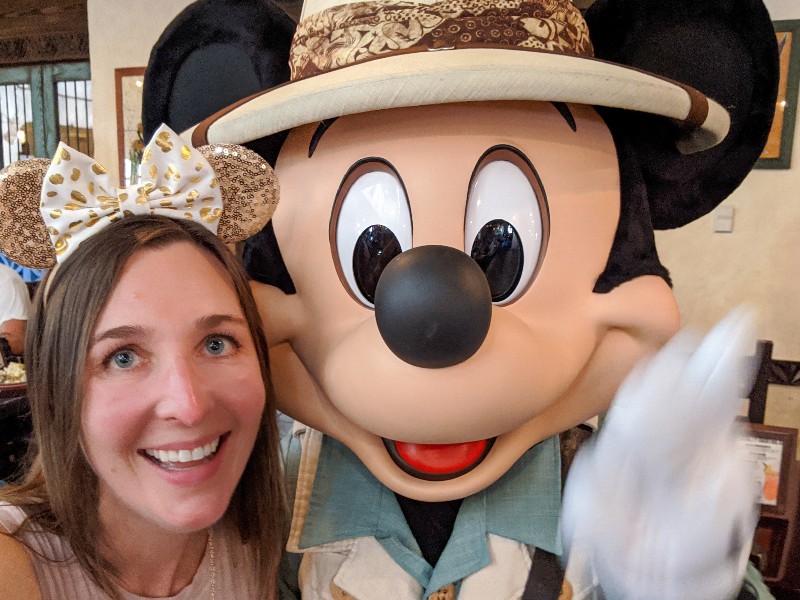 There are usually four characters at Tusker House character meals: Donald, Daisy, Goofy, and Mickey. Each character is dressed in cute safari inspired attire with special little details.
Please note that characters are subject to change without notice.
The four characters work through each of the dining rooms visiting each table along the way. During our meal we were pleasantly surprised that each of the characters stopped by more than once. The first time they stopped at the table we had them sign our Disney character autograph ornament and had a large interaction.
Any time a character came back through the Tusker House dining room after that, they would usually do a quick wave before moving to the next table. During a Tusker House character meal, the characters invite kids to parade around the restaurant shaking noise makers with them.
Our Tusker House Character Experiences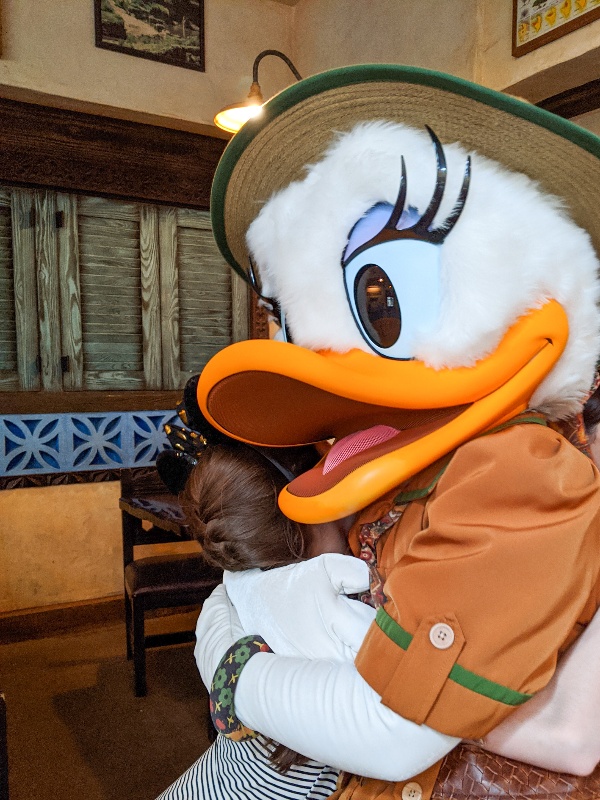 We opted for a late lunch Tusker House character meal reservation. This 3:15pm time slot worked out great since most of the lunch crowd had already left and early dinner guests had not arrived yet.
Daisy Duck
Daisy sashayed her way over to our table and happily showed us her safari chic accessories. A straw hat with a dangling bow, a scarf tied around her neck, and a cute bangle bracelet made Daisy's safari look adorable.
Daisy happily signed our Disney character autograph ornament before she moved on to the next group of adoring fans.
Donald Duck
Donald Duck is always a ham no matter when you see him. He kept covering up Elizabeth's face when we were taking pictures. One of the best things Donald did during our meal was his laser focus on Daisy. When Daisy was near Donald he would stop, spend a moment with her, and sometimes they would give each other a kiss. It was adorable.
Goofy
Unlike Donald, Goofy kept accidentally covering Elizabeth's face with his ear during pictures. After a moment he decided a quick dance would be a much better use of their time together.
Mickey Mouse
We told Mickey that we appreciated him signing our special ornament as a way for us to remember our time together. After signing, Mickey used his hands to draw a big heart for both Elizabeth and me to show he loves our time together, too.
Tusker House Character Meal Cost
As of March 2020, a Tusker House breakfast is $42 per adult for those age 10 years and older and $27 for kids age 3 to 9 years old. A Tusker House lunch or dinner is more expensive. Lunch and dinner runs $55 per adult which is anyone age 10 years or older and $36 for kids age 3 to 9 years.
Final Thoughts On Our Tusker House Character Meal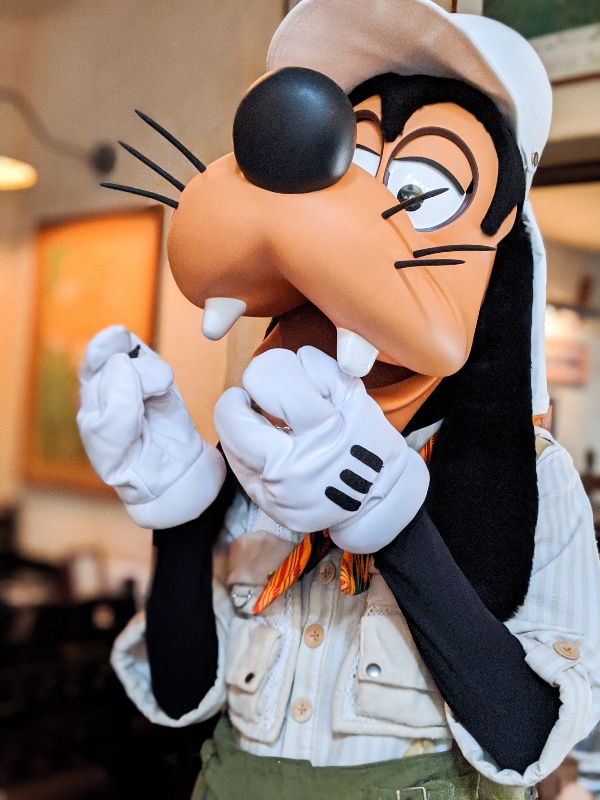 Our Tusker House character meal experience was great. The characters moved through the restaurant efficiently, but still gave each table plenty of time for a meaningful character interaction. The ethnic inspired food was better than many other character meal buffets we've attended, but there is also plenty of traditional American food for less adventurous eaters.
If you are looking for other character meal options at Disney World this article has a full list and quick review of every Disney World character meal.
Pin it for later: