Chef Mickey's is a Disney World character meal classic with almost everyone having a strong opinion about the experience. We've had mixed experiences over the years, but had a great time at Chef Mickey's on our last visit.
Chef Mickey's Location
Enter the main Disney's Contemporary Resort lobby and take the escalator or elevators upstairs to Chef Mickey's. Chef Mickey's location is great since it is just a short walk to and from Magic Kingdom for this popular character meal.
Chef Mickey's Overview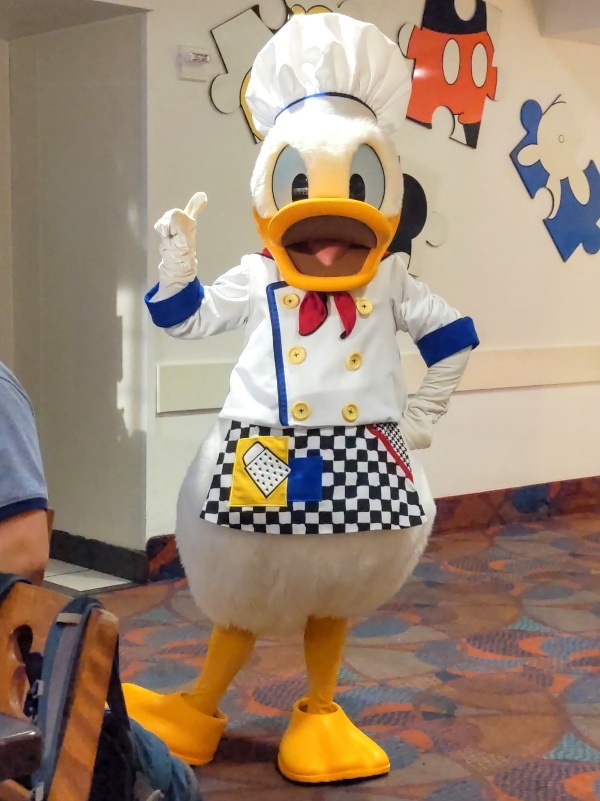 Food Options
Chef Mickey's is open for both breakfast and dinner daily. Based on our previous meals I wasn't expecting a delicious meal, but was there mostly for the character experience. However, the quality of food has improved over the years.
The breakfast menu has all the usual items like scrambled eggs, Mickey waffles, and fruit. However, they've elevated the menu with carved brisket and ham options.
Dinner has a large variety on the newly updated buffet menu. Expect a mix of salads, sides, carving station meats, and vegetarian options during a Chef Mickey's dinner.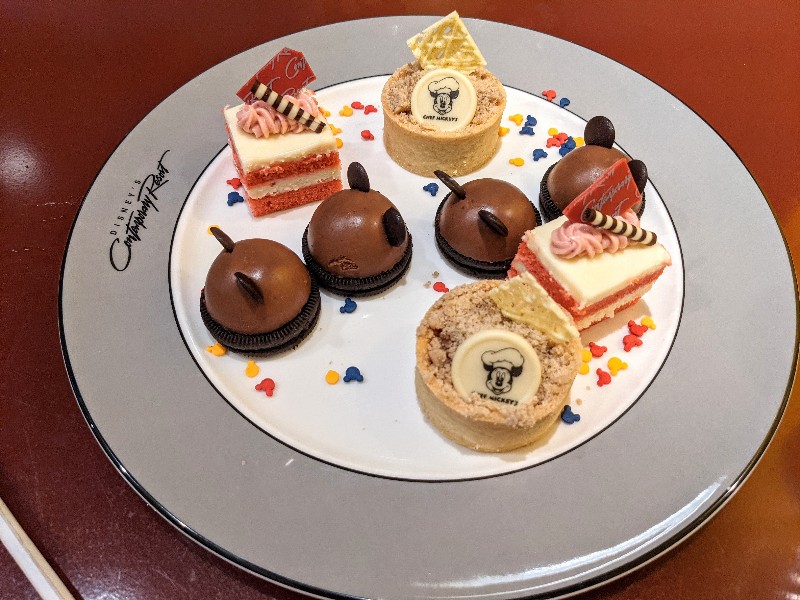 Despite a full belly I still found a way to gobble up some strawberry cream cake. The chocolate Mickey Mouse dome and chocolate raspberry tart were a hit with the rest of my family, but felt too heavy to me after such a filling meal.
The apple crumble tart was just okay and so we focused our attention on the other tastier dessert options.
Chef Mickey's Characters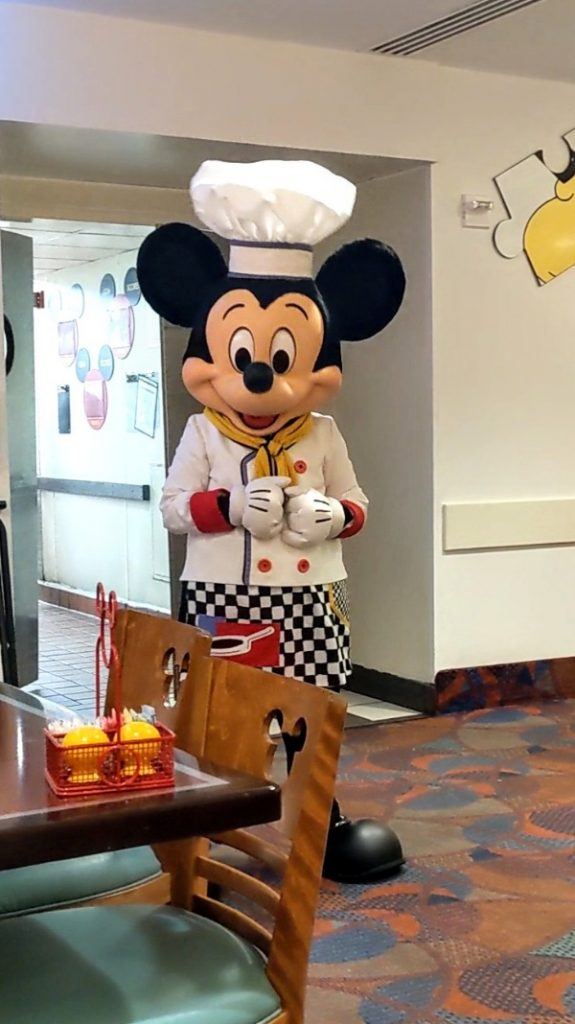 Find the traditional Fab 5 characters at Chef Mickey's. Mickey Mouse, Minnie Mouse, Donald Duck, Goofy, and Pluto all roam the restaurant during your meal in cute chef inspired outfits with each one unique to the character.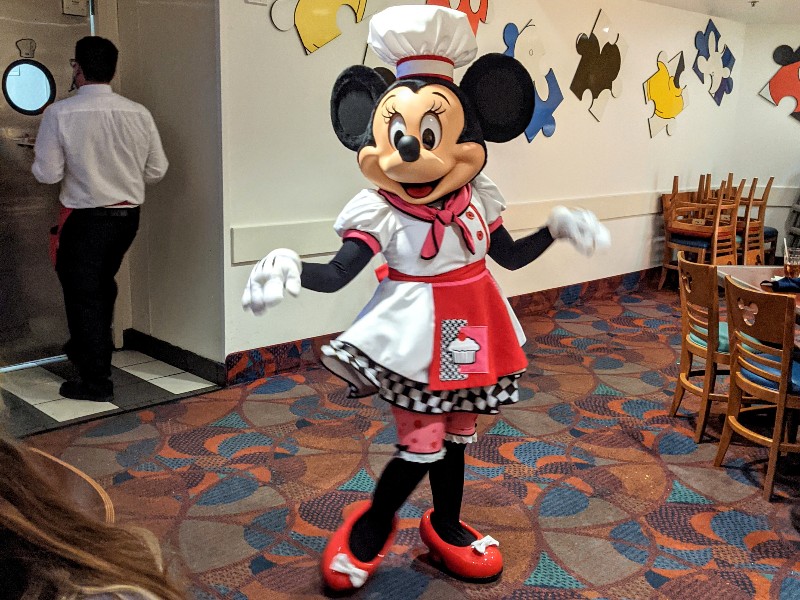 Normal Disney World character dining interactions returned April 18, 2022, but I was pleasantly surprised how much fun we had with Mickey, Minnie, Donald, Goofy, and Pluto even during distanced character meals. The return to regular character interactions has made Chef Mickey's an even better experience.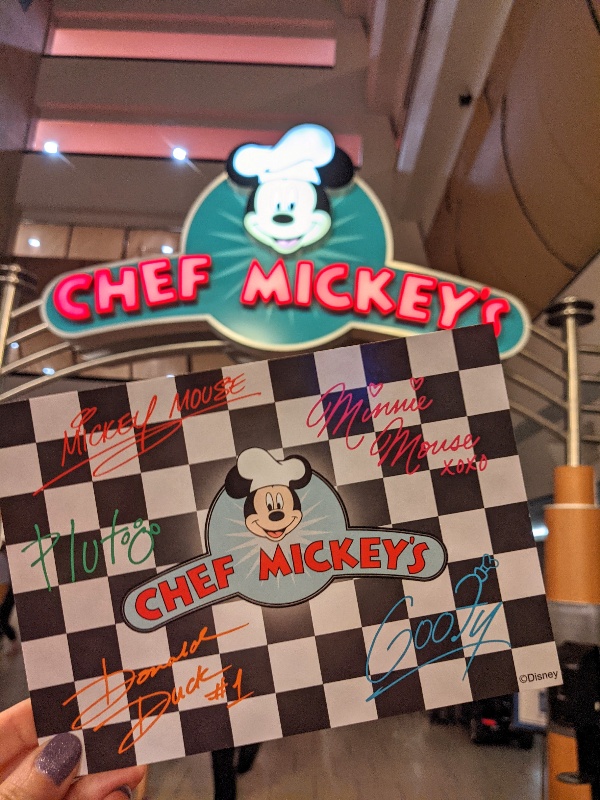 Each of the characters "stopped by" twice during our meal which took a little over 90 minutes. They waved, danced, and posed well for our pictures.
The characters did a great job of interacting with each table regardless of guest age which was a nice treat. At the end of the meal our server brought special autograph cards for a cute souvenir.
Chef Mickey's Cost
As of February 2023, breakfast is $51 per adult which is anyone 10 years and up, while kids 3 to 9 years old cost $33 per child. Dinner is more expensive with adults $62 per person and $39 for kids. 
Chef Mickey's vs Topolino's Terrace Character Meal Comparison
These two Disney World character meals are both extremely popular. Although these meals have similar characters, people often wonder if Chef Mickey or Topolino's Terrace is better. I'll do a quick comparison to help you choose which is the best Disney World character meal for you.
Ambiance
For ambiance the clear winner is Topolino's Terrace. Topolino's is located on the 10th floor of Disney's Riviera Resort with huge windows, tons of light, and sweeping views of the gorgeous property.
Chef Mickey's is darker with several different rooms of tables and uninspired decor. Some areas have views of the monorail coming through the Contemporary lobby, but most are tucked away with no views.
Characters
Topolino's Terrace has Mickey, Minnie, Daisy, and Donald each in an adorable art themed costume. Chef Mickey's has Mickey, Minnie, Donald, Goofy, and Pluto traditionally known as the "Fab 5".
Although Chef Mickey's has more characters, the costumes are much cuter at Topolino's. I'm going to call this a draw and let you decide which set of characters you'd rather see.
Food
Topolino's Terrace only serves a character breakfast while Chef Mickey's has breakfast and dinner. The breakfast at Topolino's was extremely good, much better than previous character meal breakfasts.
We had Chef Mickey's for dinner so it isn't an exact comparison, but dinner was decent. I think Topolino's breakfast is probably a little better quality than Chef Mickey's new menu, but Chef Mickey also has dinner which is convenient. Food is a draw as both character meals have vastly improved the quality of meals.
Location
Topolino's Terrace is at Disney's Riviera Resort which is located near Caribbean Beach Resort, but not close to anything else. Chef Mickey's is in Disney's Contemporary Resort which is walking distance to Magic Kingdom.
Unless you are staying at Riviera or Caribbean Beach getting to and from Topolino's Terrace is inconvenient. For this reason, Chef Mickey's has the superior location.
Character Interaction
Our character experience at Chef Mickey's was much better despite a worse table location than Topolino's Terrace. We felt the characters at Chef Mickey's did a great job of interacting with us and all the tables near us.
At Topolino's Terrace the characters interacted well with some tables while seeming to ignore other tables almost completely. For this reason Chef Mickey's gets our vote for better character interactions.
Final Thoughts on Chef Mickey's Character Meal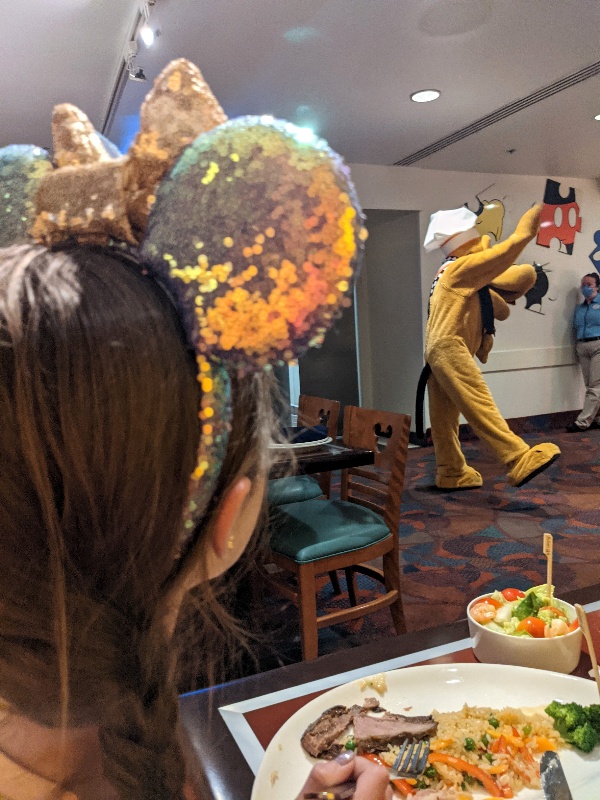 I have always loved character meals, and we were extremely happy with both the food and character interactions. Even my tween daughter had a great time and kept saying she was glad we did this character meal. The location, new menu, and return to up close character interactions means Chef Mickey's is a fun time for the whole family.
Pin it for later: