Sun Valley, Idaho is best known as a winter destination popular with skiers, but Sun Valley summer activities are an underrated getaway. In summer, sloping mountains provide incredible views plus excellent hiking and biking trails. Sun Valley is such a great summer destination it even hosts an event often dubbed "Summer Camp for Billionaires".
Sun Valley History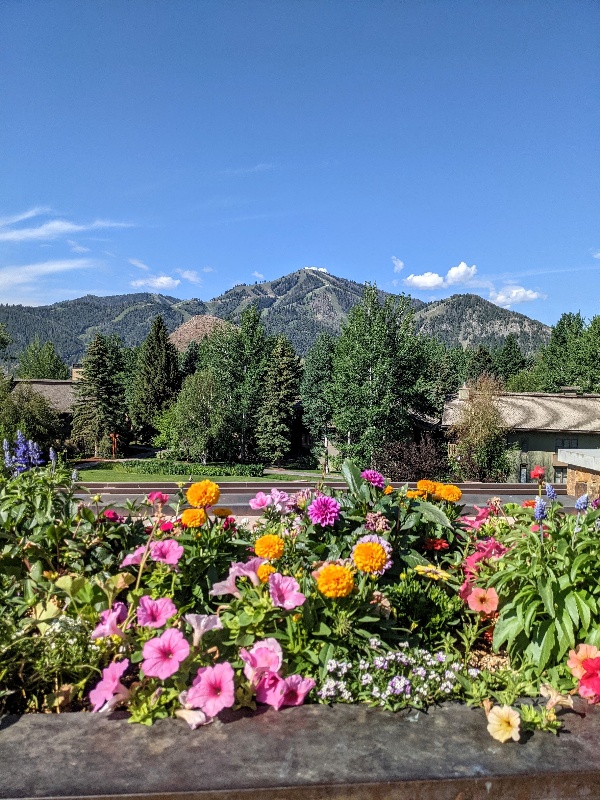 Union Pacific Railroad wanted to build the first destination ski resort in the United States modeled after popular European destinations. Count Felix Schaffgotsch, an Austrian ski instructor, was tasked with finding the ideal location.
After touring several areas around the United States, he found Ketchum, Idaho to be the perfect place with wonderful mountain ranges and scenic views. Sun Valley Lodge opened December 1936 and a slew of invited celebrities visited shortly after opening.
Several movies filmed in Sun Valley promoted the resort, too. Celebrity influence, world class ski instructors, and the first chairlift quickly cemented Sun Valley as a sought after ski destination.
What To Do In Sun Valley During Summer
Sun Valley Horseback Riding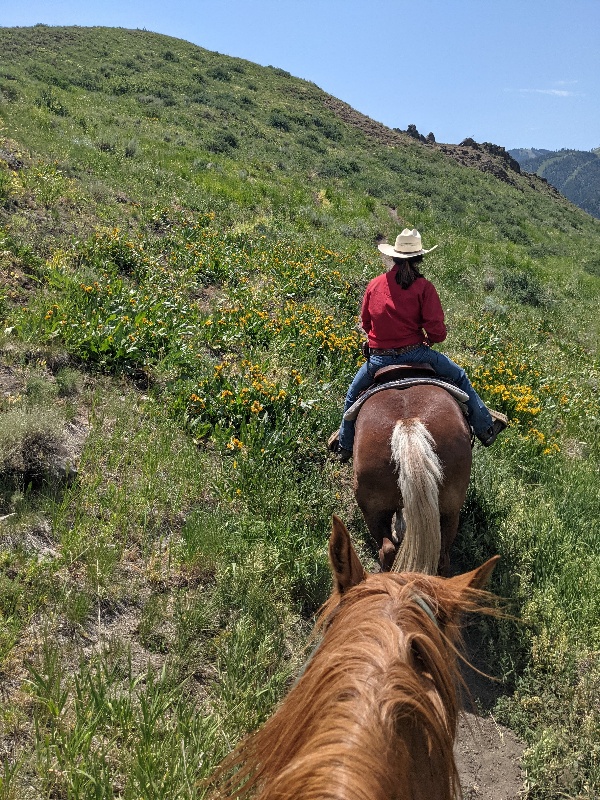 Pretty views from Dollar Mountain reward those who go horseback riding at Sun Valley. Horseback rides and lessons are available seasonally at Sun Valley Stables.
We took an hour-long ride from Sun Valley Stable up Dollar Mountain and back. The ride provided a good overview of the mountain and even gave us some insight into the ski slopes we would find during winter.
Although not the most exciting horseback ride we've taken, my horse obsessed daughter was happy for the chance to ride again.
Rides occur on uncovered trails so wear sunscreen and a hat to avoid sunburn. One section of the trail goes through a small stream which often splashes water or mud on your clothes.
Everyone on a Sun Valley horseback ride must wear pants and closed toed shoes. Helmets are required for kids, but optional for adults.
Riders must be at least 8 years old plus 52 inches tall, and accompanied by an adult. The upper weight limit for riders is 250 pounds.
Golf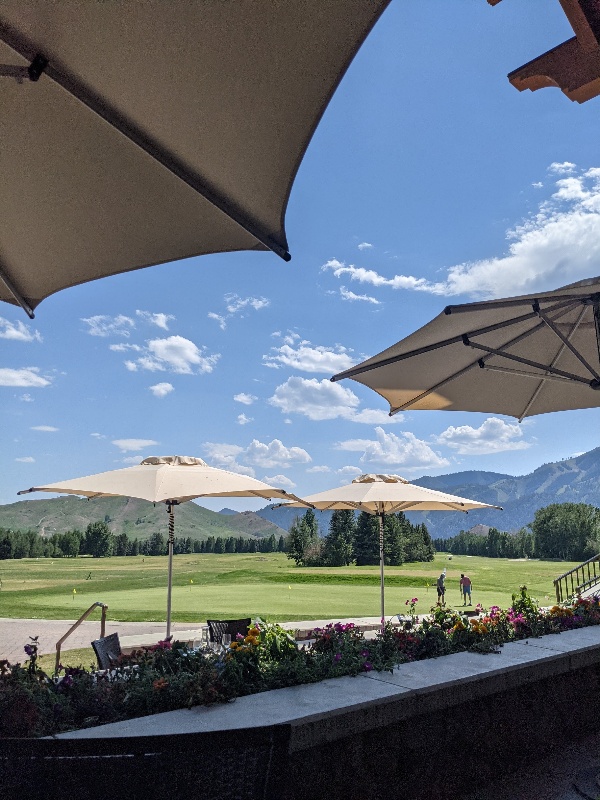 Sun Valley has three incredible golf courses with varying difficulty. Bring your own gear or rent clubs to play. We would have loved to golf while in Sun Valley, but unfortunately they do not rent kid sized clubs.
Instead we settled for watching other golfers play Trail Creek from Sun Valley Club's covered dining patio. This popular dining spot has beautiful views of Trail Creek and Bald Mountain plus a good lunch menu.
Sun Valley Gun Club
We tried sport shooting, which is a unique activity, during our Sun Valley summer vacation. It had been years since I last used a shotgun and it was new to Elizabeth.
Older kids can shoot at Sun Valley Gun Club if they reliably follow instructions and are strong enough to handle the shotgun. Please call ahead to confirm this information when planning your Sun Valley summer trip.
Our instructor, Wiz, was absolutely wonderful. He taught us gun safety procedures plus how to hold, aim, and follow targets with our shotguns. His expertise and encouraging style helped us have a great experience at Sun Valley Gun Club.
Sun Valley Gun Club sport shooting packages include ammo, shotgun use, targets, vests, and ear protection. We opted for a private lesson which provided us with on-hands instruction that really helped us have a better experience.
Elizabeth is petite for her age and struggled some with the heavy shotgun. Even my arms got tired by the end of our session so plan on a little rest afterwards.
Another thing I didn't consider was that my shoulder would be sore and bruised after our Sun Valley Gun Club session. While it quickly felt better, it didn't look so great with my tank top dresses.
Shop and Dine in Sun Valley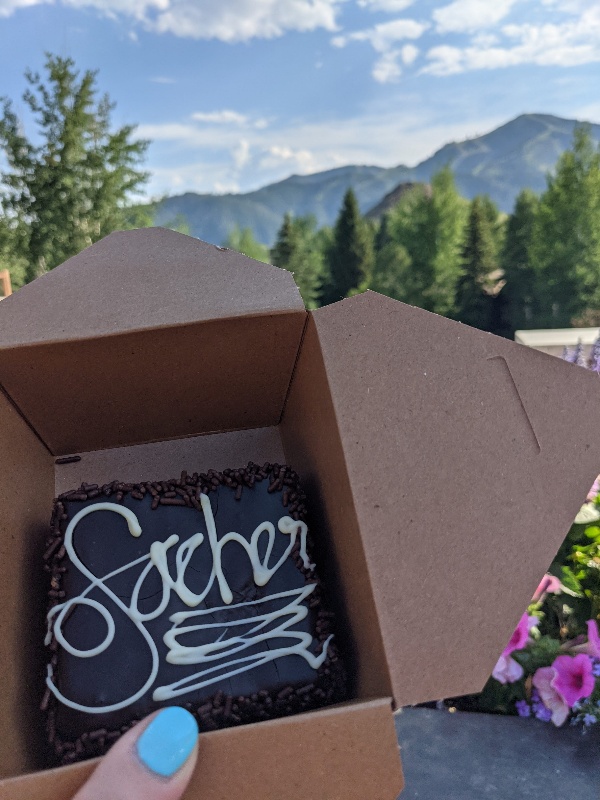 Sun Valley Resort has several restaurants and shops open seasonally. Overall the quality of food was very good and the atmosphere welcoming.
In particular, every morning we hurriedly walked over to Konditorei for an incredible breakfast in this cute Austrian-inspired restaurant. Elizabeth is still talking about their unusual, but tasty pancakes.
Before leaving Konditorei grab one of their delicious signature desserts for later in the day. You can thank me later.
A few minutes away from Sun Valley Lodge find The Grill at Knob Hill. Beautiful al fresco dining or cozy indoor dining make this a popular Sun Valley restaurant. We stopped at Hemmingway's grave next door before dining at this wonderful spot.
Visit Ernest Hemmingway's Grave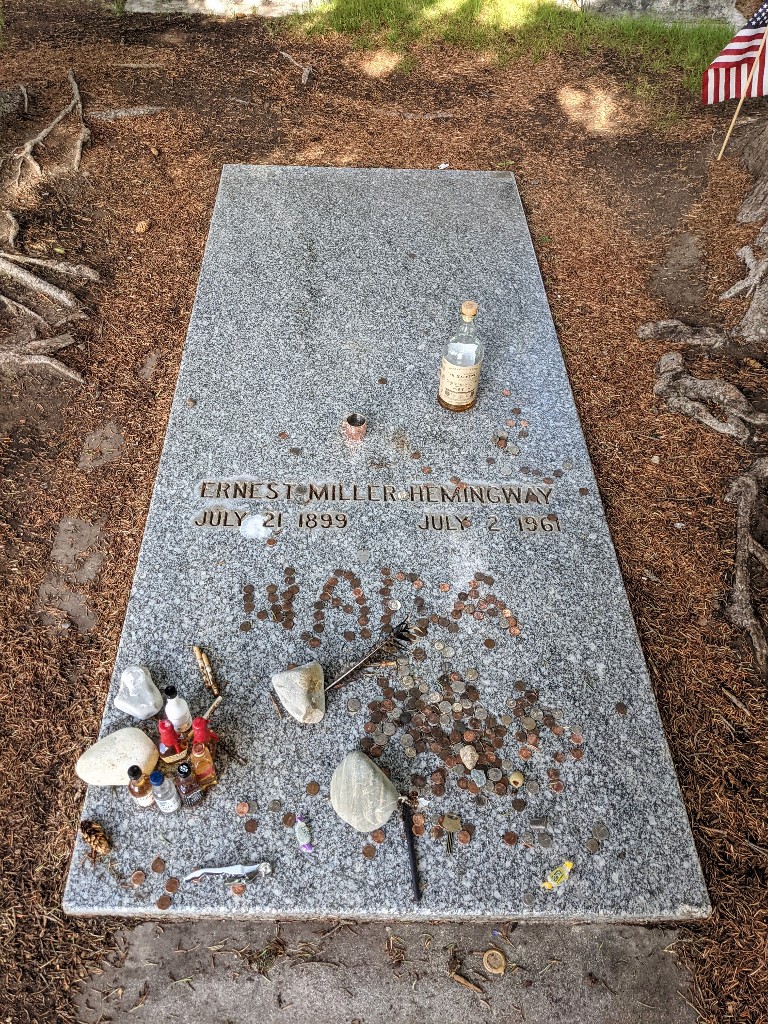 Ernest Hemmingway is one of the most famous celebrity residents of Sun Valley. Invited to visit Sun Valley Lodge in 1939, he fell in love with the area and purchased a home here. Although he had homes in other places, Hemmingway is buried in Ketchum Cemetery.
This small cemetery is next to Knob Hill Inn and easy to find. However, finding Ernest Hemmingway's grave is a little less obvious. His large headstone is flat and tucked between two spruce trees.
Park near the back of the cemetery and look for the two large spruce. These pines lead you to his headstone which is often covered in coins and small bottles of liquor.
Hiking and Biking in Sun Valley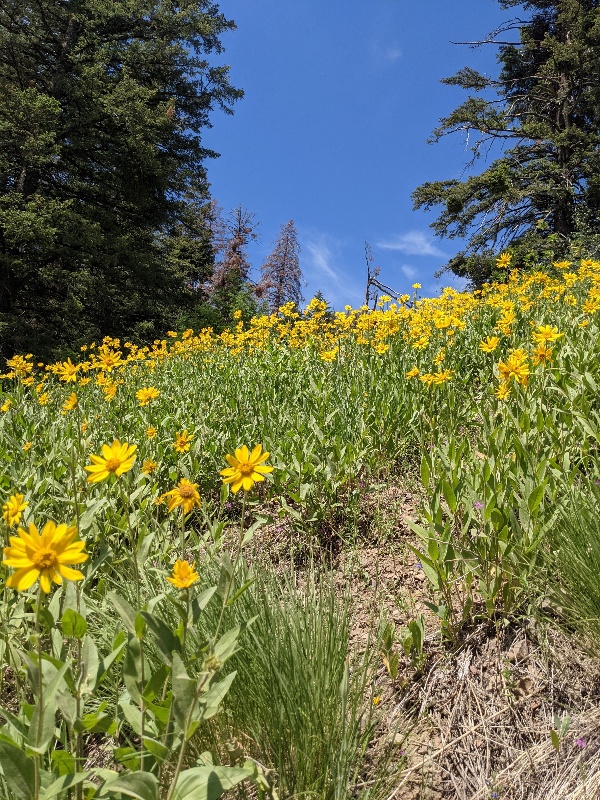 Countless hiking and biking trails cover Sun Valley with a wide variety of difficulty. Find the perfect trail for your Sun Valley hike from this article or AllTrails, which is a hiking app we love.
Hiking Scenic Overlook via Bald Mountain Trail, a mostly shaded, steep 3.5 mile out and back trail, was our first choice. It was challenging, especially since we hadn't acclimated to the elevation, but worth it when rewarded with beautiful views and a field full of yellow flowers.
Use the same trail parking area when grabbing the Roundhouse Express gondola to 7,700 feet for lunch at The Roundhouse. This popular scenic restaurant is open during peak ski and summer seasons.
Year Round Ice Skating
Sun Valley has one of the only year round outdoor rinks in the United States complete with gorgeous views of Bald Mountain. During the day guests can free skate while on select Saturday nights the rink showcases Sun Valley on Ice. This show features Olympic medalists and accomplished skaters in an exciting, ticketed show.
Take A Day Trip To Craters of the Moon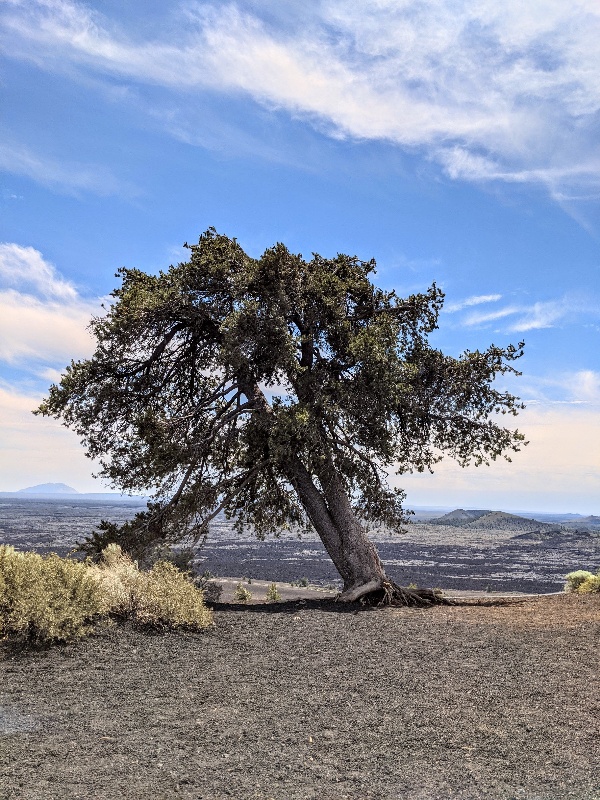 Just 90 minutes from Sun Valley, Craters of the Moon is one of the most unusual national parks we've visited. Craters of the Moon's signature landscape was formed from molten lava flowing through the area thousands of years ago.
Touring the uneven, black ground of Craters of the Moon makes you feel like you really are someplace otherworldly. The blooming plants show resilience as they grow in the harsh cinders.
One of the most incredible activities at Craters of the Moon National Park is hiking through lava tubes. The lava tubes are hollow caves formed when molten lava flowed through them.
Get a cave permit from the visitors center to hike into lava tubes and do not wear any shoes or clothing previously worn in other caves. This precaution is necessary to protect the fragile cave ecosystem.
Find out more about making the most of a quick visit to Craters of the Moon here.
How Do I Get To Sun Valley, Idaho?
Sun Valley, Idaho is a resort town 4.5 hours north of Salt Lake City, Utah or 3 hours east of Boise, Idaho.
The closest airport to Sun Valley is Friedman Memorial Airport in Hailey, Idaho about 30 minutes from the resort. However, unlike many who visit during Sun Valley summer, we don't have a private plane to whisk us here.
No private plane? Larger carriers like United, Alaska, and Delta have select routes from some cities to Sun Valley, Idaho.
Flying into either Boise, Idaho or Salt Lake City, Utah is usually the cheapest and easiest option to get to this beautiful, but secluded spot. We opted to fly in and out of Salt Lake City since we visited Park City, Craters of the Moon, and Sun Valley in one trip.
Where To Stay In Sun Valley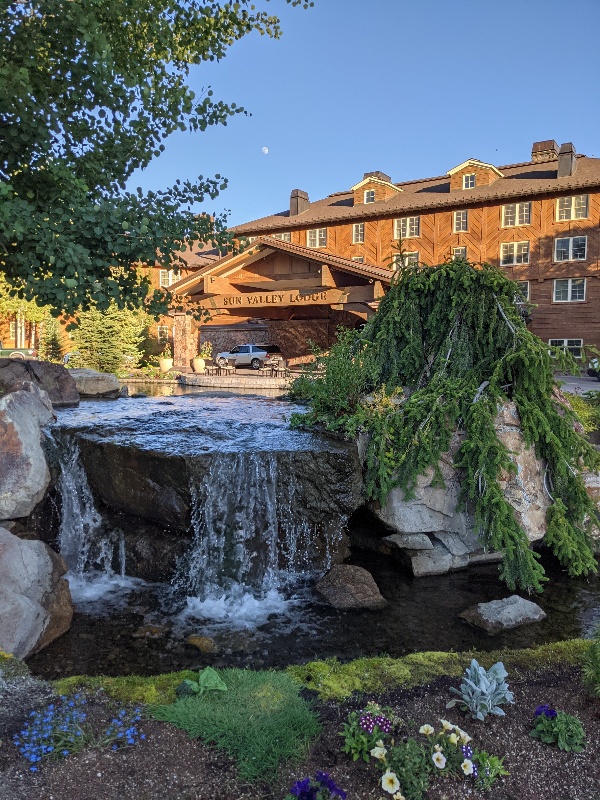 Sun Valley Resort has two traditional lodging options: Sun Valley Lodge and Sun Valley Inn. These are both conveniently located in the sprawling Sun Valley Village area.
There are also townhomes, condos, and cottages for rent if you want more space or home-like amenities.
Looking to save money on a Sun Valley summer vacation? Nearby Ketchum, Idaho has several hotel options, many of which are much less expensive than Sun Valley.
We stayed in the luxurious Sun Valley Lodge in a Lodge Terrace Suite. The suite was incredibly spacious and had breathtaking views of the mountains beyond. It was certainly a splurge, but the location, views, and customer service made our experience at Sun Valley Lodge a wonderful treat.
Altitude Sickness In Sun Valley
Sun Valley has an elevation around 5,900 feet with Bald Mountain closer to 9,000 feet above sea level. Although normally an issue above 8,000 feet, some people can get altitude sickness in Sun Valley.
Acute Mountain Sickness usually presents with dizziness, headache, shortness of breath, or nausea. Stay hydrated and keep an eye out for these symptoms. Although usually mild, altitude sickness can be serious for some people. WebMD has a good overview to help you understand more.
Final Thoughts on Sun Valley Summer Vacations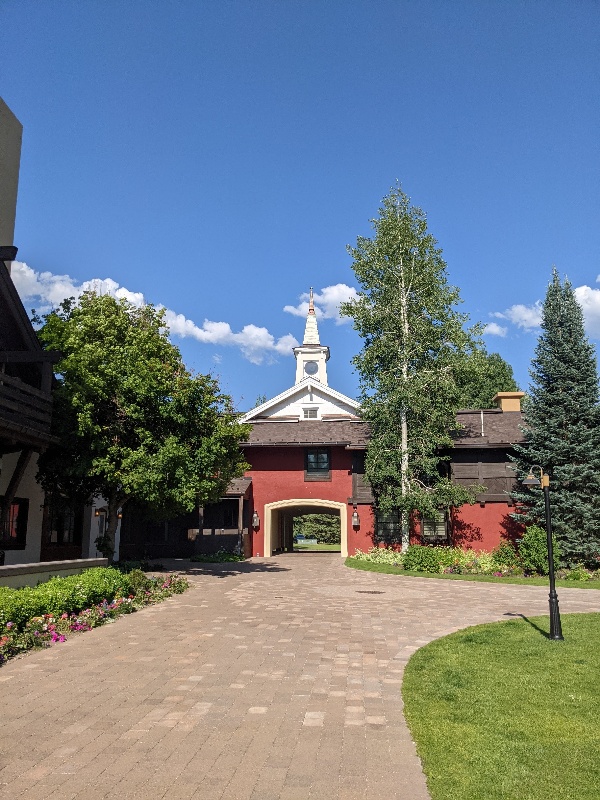 Although Sun Valley was designed as the first destination ski resort in the U.S., Sun Valley summers are an underappreciated vacation option. We loved our 3 days visiting Sun Valley in summer as part of our 50 State Challenge and hope to make it back to this stunning, interesting, and relaxing town again soon.
Pin it for later: