UPDATED January 2021: Disney World is known as "The Most Magical Place On Earth" and I believe this to be true. Disney World is a great family trip destination with even the smallest of Disney fans. In fact, I think toddlers can especially enjoy Disney magic. However, Disney World with toddlers does require you to know some special tips and tricks to keep the magic alive.
1. Magic Kingdom is the best park for toddlers.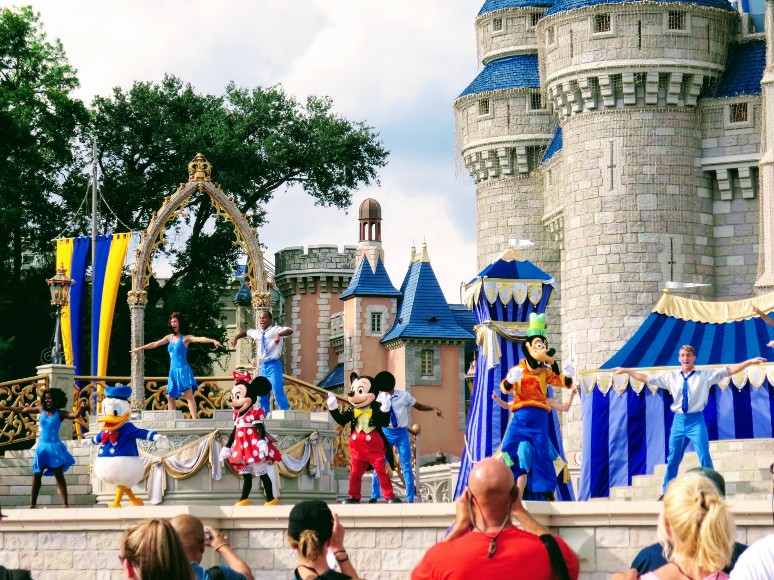 When people think of Disney World they usually picture Magic Kingdom with the iconic Cinderella's Castle at the end of Main Street. Magic Kingdom has the most ride options for toddlers with only 6 attractions having a height requirement.
This means there are 24 rides for toddlers at Magic Kingdom. You can also see characters like Mickey, Minnie, Donald, Daisy, Goofy, Tinker Bell and several princesses, too. It is easy to spend two really full days at Magic Kingdom with a toddler.
Our favorite Magic Kingdom toddler rides
Buzz Lightyear's Space Ranger Spin
Dumbo the Flying Elephant
It's A Small World
Mad Tea Party
The Many Adventures of Winnie The Pooh
Peter Pan's Flight
Pirates of the Caribbean
Prince Charming Regal Carousel
Under the Sea – Journey of the Little Mermaid
Although there is no height requirement for Pirates of the Caribbean or Haunted Mansion some younger kids might find them too scary.
For example, the first time we tried to do the Haunted Mansion Elizabeth only made it halfway through the outdoor queue. The next trip we made it through the stretching chamber (a dark, small room with a spooky voice). The stretching chamber freaked her out so we had to ask a cast member to exit. That day I learned there is a "chicken door" for just this. On the other hand, my two-year old niece loved the Haunted Mansion and never had a problem. 
2. There are fun things to do with toddlers at the other Disney World Parks, too.
Hollywood Studios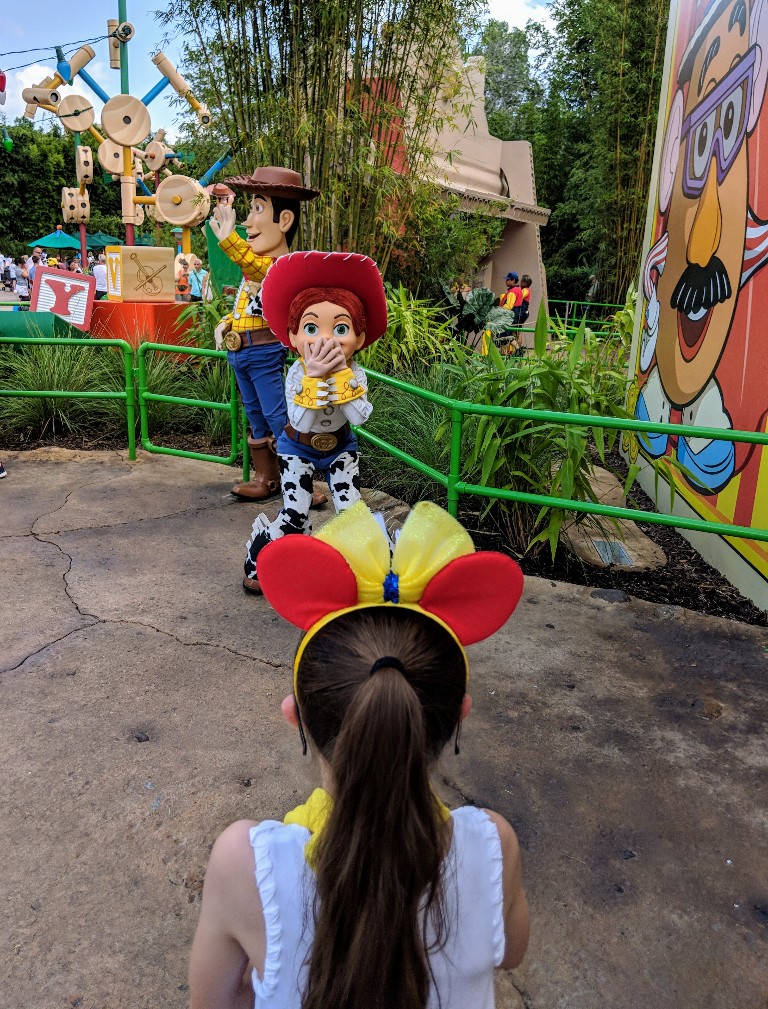 Walking around Hollywood Studios Toy Story Land can be a lot of fun even if kids aren't tall enough to ride the two new attractions. There are bright colors, fun details, and characters that are perfect for toddlers throughout Toy Story Land. Find out more about Toy Story Land including ride height requirements in my full article.
There are limited attractions at Hollywood Studios for toddlers since most rides have a height requirement. However there are normally a couple of fun rides, several live shows, and many character meet options for toddlers. Unfortunately, due to COVID-19 restrictions many of these show and character options are temporarily unavailable. 
Hollywood Studios attractions for toddlers
Mickey and Minnie's Runaway Railway 
Toy Story Mania! 
Beauty and the Beast Live On Stage

(temporarily unavailable)

Disney Junior Dance Party

(temporarily unavailable)

For the First Time in Forever: A Frozen Sing-Along Celebration 
Vacation Fun – An Original Animated Short with Mickey & Minnie 
Voyage of The Little Mermaid

(temporarily unavailable)
Hollywood Studios Characters (temporarily unavailable)
There are a variety of classic, cute, and cuddly Disney characters all over Hollywood Studios. Olaf from Frozen, Buzz, Jessie, and Woody from Toy Story, or Mickey and Minnie. If your toddler likes Disney Jr. shows take some time to meet Sofia, Vampirina, and Doc McStuffins.
For Star Wars fans visit Galaxy's Edge for more authentic experiences with Kylo Ren, Chewbacca, and Rey. If you prefer a classic character interaction go to Star Wars Launch bay to meet BB-8, Chewbacca, or Darth Vader. Use the My Disney Experience app or times guide to see who is available on the day you visit.
Epcot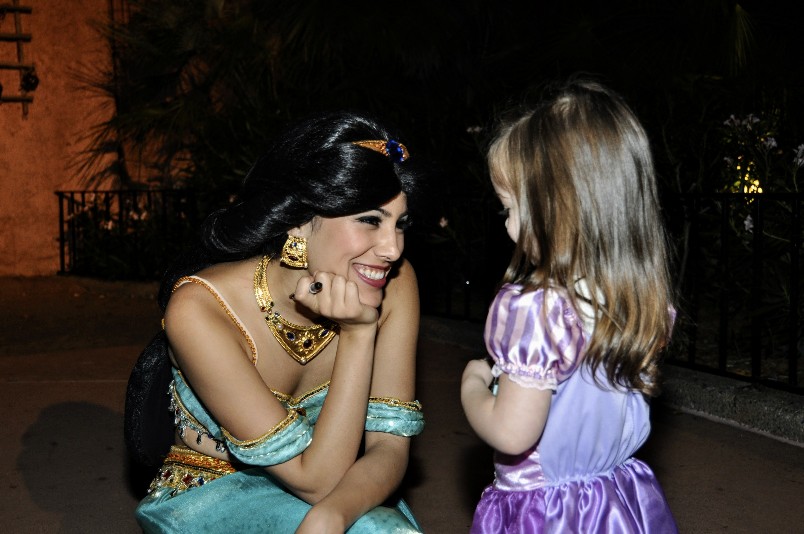 Although a lot of people say Epcot is too boring for young kids I disagree. Elizabeth has loved this park since her very first trip. There are several rides without a height requirement and the World Showcase usually has some great character meet-ups and food options.
Epcot attractions for toddlers
The Coral Reef Aquarium and Bruce's Shark World
Frozen Ever After
Gran Fiesta Tour Starring The Three Caballeros
Journey Into Imagination with Figment
The Seas With Nemo and Friends
Spaceship Earth
Epcot Characters
(temporarily unavailable)
People don't think of Epcot as a great place to meet characters, but it is one of the best kept secrets at Disney World. There are several classic characters like Mickey, Minnie, Goofy, and Daisy around the park. 
Epcot is also a great place find princesses and other unique characters like Mary Poppins, Alice in Wonderland, or Winnie the Pooh. Check the My Disney Experience app or the times guide to find out what characters are available each day during your vacation.
Animal Kingdom
If you have a toddler that is obsessed with animals then spending time at Animal Kingdom may be perfect for you.
Animal Kingdom rides for toddlers
Na'vi River Journey
Kilimanjaro Safaris
Animal Kingdom live shows 
(temporarily unavailable)
Festival of the Lion King 
Finding Nemo The Musical
Animal Kingdom Characters

(temporarily unavailable)
Classic characters such as Mickey, Minnie, Goofy, Pluto, Donald are in Animal Kingdom with everyone but Minnie at Tusker House character meals. Other fun Disney characters like Pocahontas, Baloo and King Louie from Jungle Book, Doc McStuffins from Disney Junior, Flik from A Bug's Life, Rafiki from The Lion King, and Russell from Up also roam Animal Kingdom. 
3. Set aside time for rest.
Touring Disney World is tiring for adults and kids. Make sure that you build in some quiet time for kids to rest or even return to the hotel for an afternoon nap. Taking a mid-day rest is especially important when visiting Disney World when it is hot.
4. Bring or rent a stroller.
Disney World parks and resorts are large, sprawling places. You will rack up several miles of walking each day. For example, we walk 6 to 9 miles on an average Disney World park day.
It is not unusual for kids as old as 8 years old to need a stroller to keep pace with the adults during a trip. Here is the stroller I took again and again and my sister used on multiple trips.
5. Kids under 3 years old don't pay for Disney World park tickets.
Not having to buy Disney World Park tickets for toddlers is a considerable savings. For reference, as of August 2020 a 4-day park ticket for a 3-9 year old runs over $400 when purchased directly from Disney World. However, you can save some money on Disney World tickets by purchasing through our preferred travel partner, Get Away Today.
6. You don't need Disney World park pass reservations for kids under 3 years old.
Since kids younger than 3 years old do not need a ticket for Disney World parks they don't need Disney World park pass reservations either. Toddlers are allowed to enter a theme park if you have a valid theme park admission and reservation for that day. Find out more about the park reservation system here.
7. Toddlers need a face mask at Disney World
Part of the Disney World COVID-19 reopening plan requires all guests age 2 years and older to wear a face mask. It is a good idea to have your toddler practice wearing a mask at home before your Disney World trip.
Kids and adults can remove masks under certain conditions at Disney World. Designated relaxation stations allow guests to remove masks or you can take off masks while stationary to eat and drink. Find out more about wearing masks at Disney World in our full guide.
8. Children under 3 years old can share meals from another person's plate (or you can pay to order them one).
Children under age 3 are free to share a meal with others in your group at no charge or you may order and pay for a kids meal.
Buffets make it easy to feed your toddler without additional cost. Find out some of our favorite Disney World Restaurants in this article.
9. Include toddlers in your dining reservation count.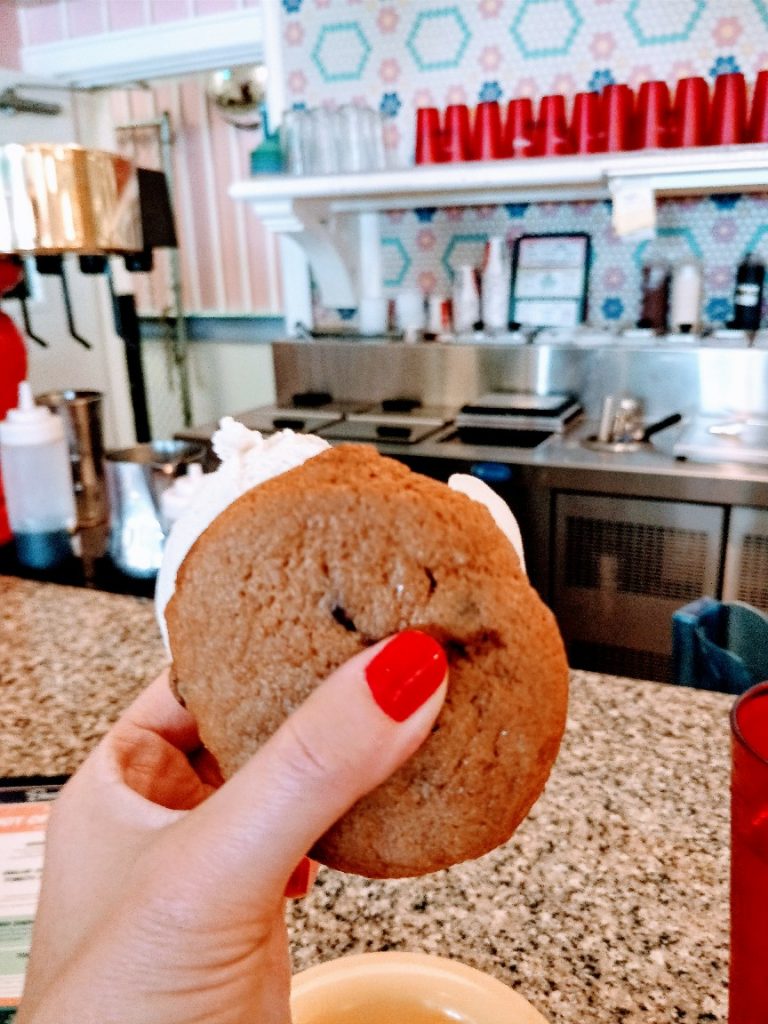 Although you may not have to pay for a toddler meal at Disney World you must include the child in the number of people for a dining reservation.
For example, on a larger family trip there were six adults, one 8-year-old, and one 2-year old in our group. This meant I needed to make my Advanced Dining Reservation for a total of 8 people.
I know this can be confusing since you don't count toddlers for Disney World park reservations, but it is crucial that everyone in your party is counted for dining reservations.
Make sure you know all about making advanced dining reservations by reading my 5 minute guide.
10. Toddlers do not need a car seat to ride Disney's Magical Express.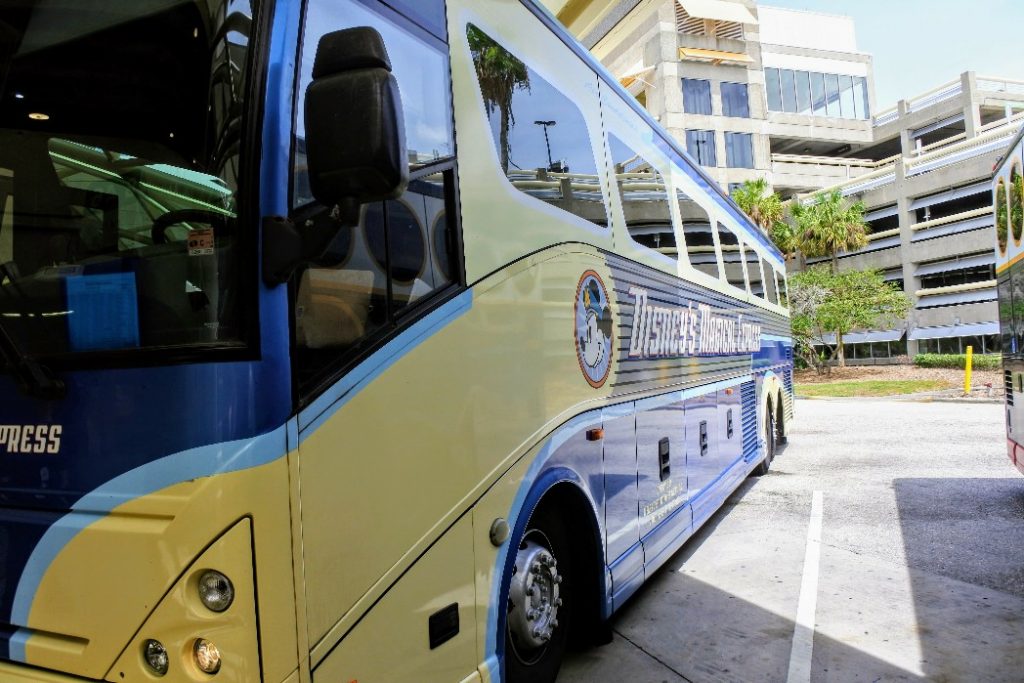 Disney's Magical Express is complimentary motorcoach transportation to your on-site Disney World resort hotel from Orlando International Airport. This perk of staying on-site at Disney World is available through the end of 2021. Starting January 1, 2022 guests will be responsible for their own transportation to Disney World.
12. Have Fun!!
View this post on Instagram
Disney World with a toddler should be fun! Be realistic about what your toddler can handle and make happy memories within those constraints.
Final Thoughts On Visiting Disney World With Toddlers
Disney World is an amazing, magical place for those of all ages, but I think Disney World with toddlers brings a special kind of magic to a trip. Are you still unsure of taking a toddler to Disney World? Read real life experiences of travel experts and the best and worst things about visiting Disney at different ages.
Is this your first trip to Disney World with kids? Make sure you see what I wish I had known before our first trip. I also have other Disney World planning information to learn how to pack the perfect park bag, why we use Garden Grocer, resort reviews and more.
Do you need more help planning your Disney World trip? Check out other Disney World tips and tricks in my Disney World Guides.
Pin it for later: