When buying an expensive Mickey's Very Merry Christmas Party ticket, having a plan is crucial to make MVMCP worth it. Our Mickey's Very Merry Christmas Party itinerary lets you experience a little of everything for a joyful Disney World Christmas event.
Curious what we did on our most recent party night using my 2023 Mickey's Very Merry Christmas Party Itinerary? We rode 8 attractions, ate a sit down meal, watched Frozen Holiday Surprise, saw Mickey's Most Merriest Celebration, watched the parade and fireworks, met 3 sets of rare characters, and even took a few special PhotoPass pictures between 4pm and midnight.
Mickey's Very Merry Christmas Party Itinerary
A Quick Overview of Mickey's Very Merry Christmas Party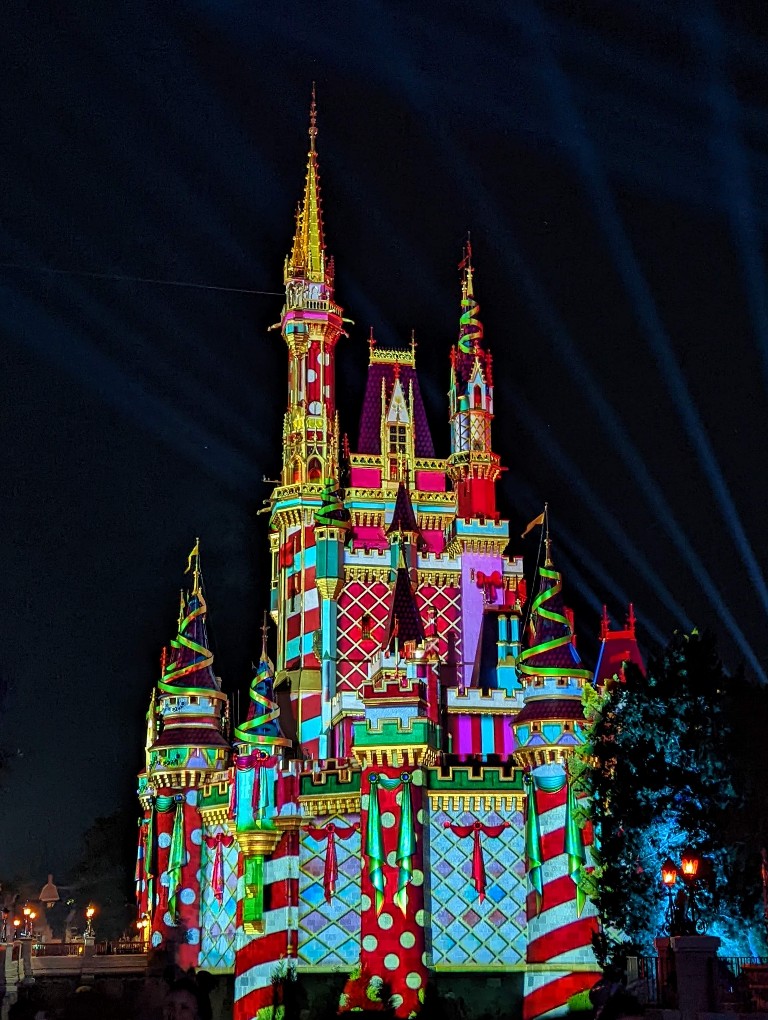 Mickey's Very Merry Christmas Party (MVMCP) is a specially ticketed Disney World holiday season event select nights at Magic Kingdom. Expect low attraction wait times, seasonal fireworks and parades, holiday treats, and characters in their finest holiday attire.
Find 2023 MVMCP details in our guide or keep reading for our suggested 2023 Mickey's Very Merry Christmas Party itinerary.
What Time Should I Arrive At Mickey's Very Merry Christmas Party?
To maximize MVMCP time, arrive at Magic Kingdom by 3:30 pm if you only have a party event ticket. Promptly at 4pm the tapstiles open and guests are ushered in and provided MVMCP wristbands. These wristbands are required to participate in the event and given out once your party ticket is confirmed.
Guests entering Magic Kingdom (MK) earlier in the day with a park reservation, or park hopping after 2pm, can get wristbands at an in-park location.
If you do this, be inside Magic Kingdom no later than 3:30 pm. Then line up right away at one of the in-park wristband distribution locations.
Mickey's Very Merry Christmas Party in-park wristband distribution locations:
Tomorrowland across from Monsters, Inc. Laugh Floor
Fantasy Faire near Mickey's PhilharMagic
Tortuga Tavern across from Pirates of the Caribbean
Mickey's Very Merry Christmas Party Itinerary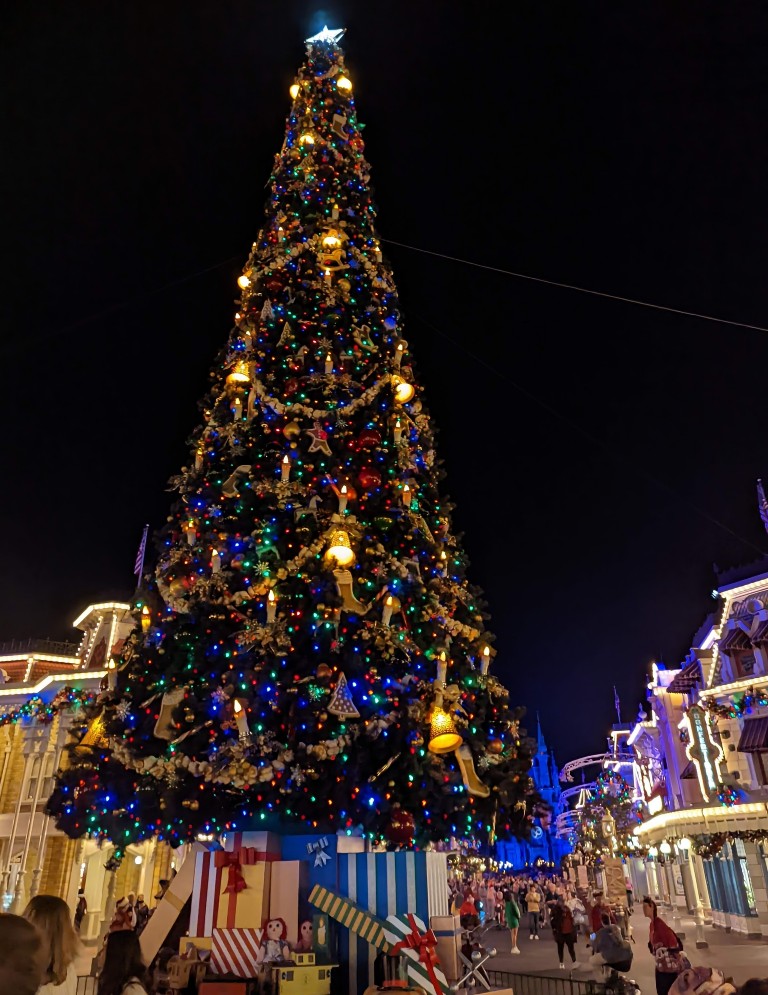 Before MVMCP
I used to recommend starting the day at another Disney World theme park before attending Mickey's Very Merry Christmas Party.
However, now that party tickets are more expensive I prefer a rest day. Arrive rested and ready to use our Mickey's Very Merry Christmas Party itinerary to maximize your party experience and stay until closing.
Several Disney World resorts have beautiful holiday displays. Stop by the Grand Floridian to admire the giant gingerbread house before grabbing a drink at Enchanted Rose or taking the monorail to see Contemporary Resort's gingerbread display.
Disney Springs has several fun holiday offerings, too. Take a leisurely walk along the Disney Springs Christmas Tree Stroll and grab a cocktail at Jock Lindsey's Holiday Bar or a delicious cookie from Gideon's before getting ready for the party.
Christmas Party and Daytime Guest Overlap: 4 pm to 7 pm
Get MVMCP Wristband
If already inside Magic Kingdom head to an in-park wristband distribution area by 3:45 pm. Guests with party tickets only should be outside Magic Kingdom and in line by 3:30 pm. These entrance lines are long, but usually move quickly.
After getting a wristband enjoy Magic Kingdom during the three hours of overlap until the party officially starts.
Meet Jack and Sally
If meeting Jack Skellington and Sally at Mickey's Very Merry Christmas Party is important to you, head to Town Square Theater immediately after getting a wristband and arrive as close to 4 pm as possible.
You can also hop in line for "Sandy Claws" Jack and Sally during fireworks and parades since wait times drop. However, I think the seasonal entertainment is way more fun than a short character interaction.
Eat Dinner Before The Official Start of Mickey's Very Merry Christmas Party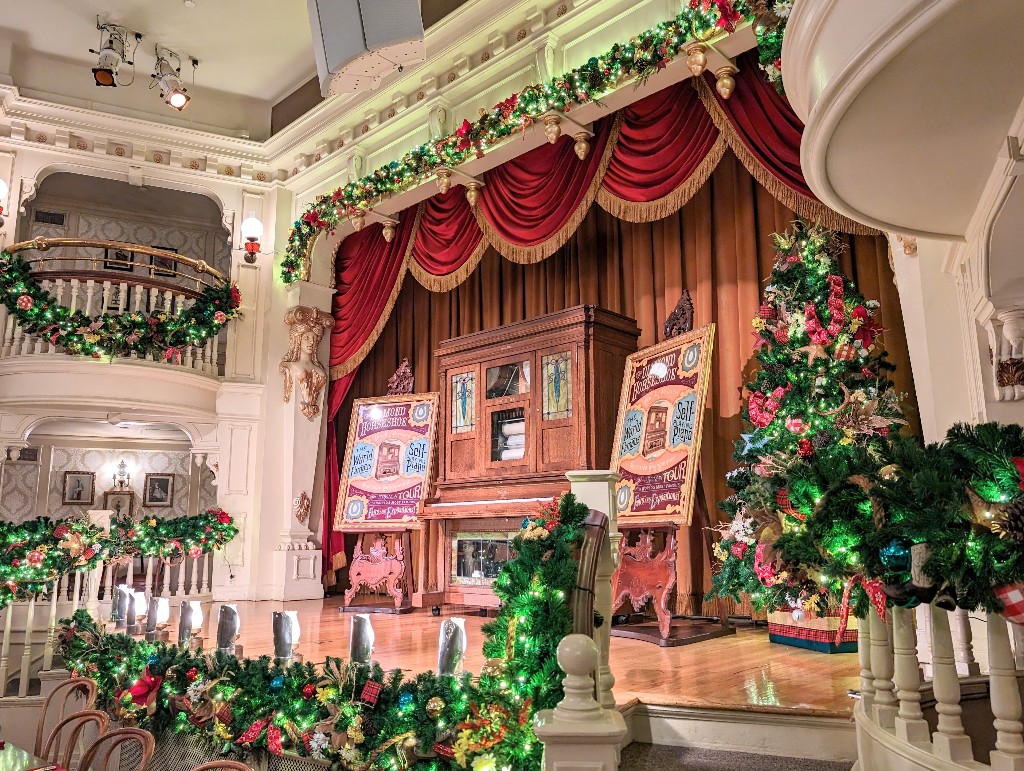 MVMCP entertainment, photo ops, and most special character meet and greets are only available after 7pm. This is why I recommend an early dinner reservation, usually 5:30pm, or eating quick service around 6 pm.
On our most recent party night we dined at Diamond Horseshoe. This often overlooked restaurant has the same delicious Thanksgiving-style feast as Liberty Tree Tavern, but gorgeous Christmas decorations that adorn every railing, post, and the player piano stage.
Join The Tron Virtual Queue at 6 pm
Mickey's Very Merry Christmas Party guests can join a 6 pm Tron Lightcycle Run virtual queue on event nights. Getting a spot in the virtual queue is the ONLY way to ride Tron during Mickey's Very Merry Christmas party.
Find out all about this new attraction here in our Guide to Tron and Using the Virtual Queue.
Ride Low Wait Attractions
Magic Kingdom closes to daytime guests at 6pm. Daytime guests in line by 6pm can stay and ride that attraction, but around this time cast members start checking for wristbands and escorting non-MVMCP guests out of the park.
Now is a good time to ride low wait time attractions like Under the Sea – Journey of the Little Mermaid, Barnstormer, or anything with a wait of 20 minutes or less.
Another good option is to ride Jingle Cruise if this is your only Magic Kingdom day. This holiday version of Jungle Cruise is decked out all day and I like the holiday overlay better when there is still some light. If you have another park day at Magic Kingdom skip Jingle Cruise and ride it during your other MK day.
Each party has a slightly different set of low wait attractions available through the night. I find flexibility, and using the Disney World app to check wait times, is key to getting as many rides done during MVMCP while still seeing premium entertainment.
Watch Frozen Holiday Surprise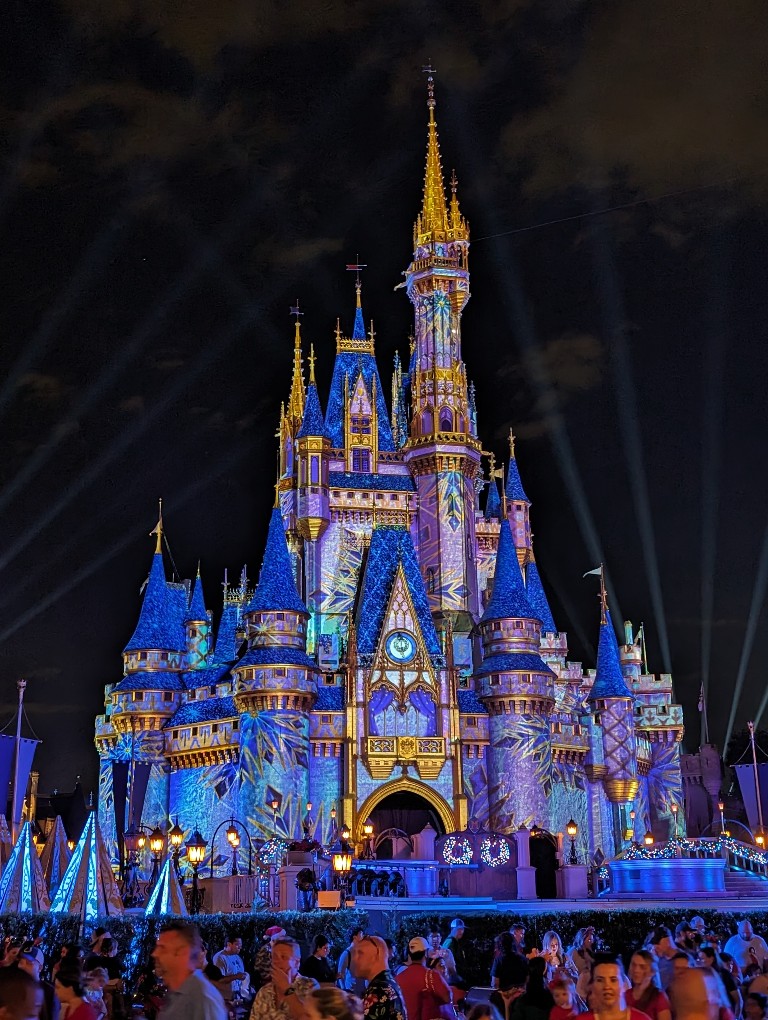 This new Magic Kingdom holiday Cinderella Castle stage show and castle lighting occurs twice per night on MVMCP nights.
Although the 6:15 pm Frozen Holiday Surprise will be more crowded with remaining daytime guests, I like to do it before the official party starts if possible.
If you are still eating dinner or riding low wait attractions at 6:15 pm, try to catch the 8:15 pm party guest only performance and then stay for the first parade.
Official Start of MVMCP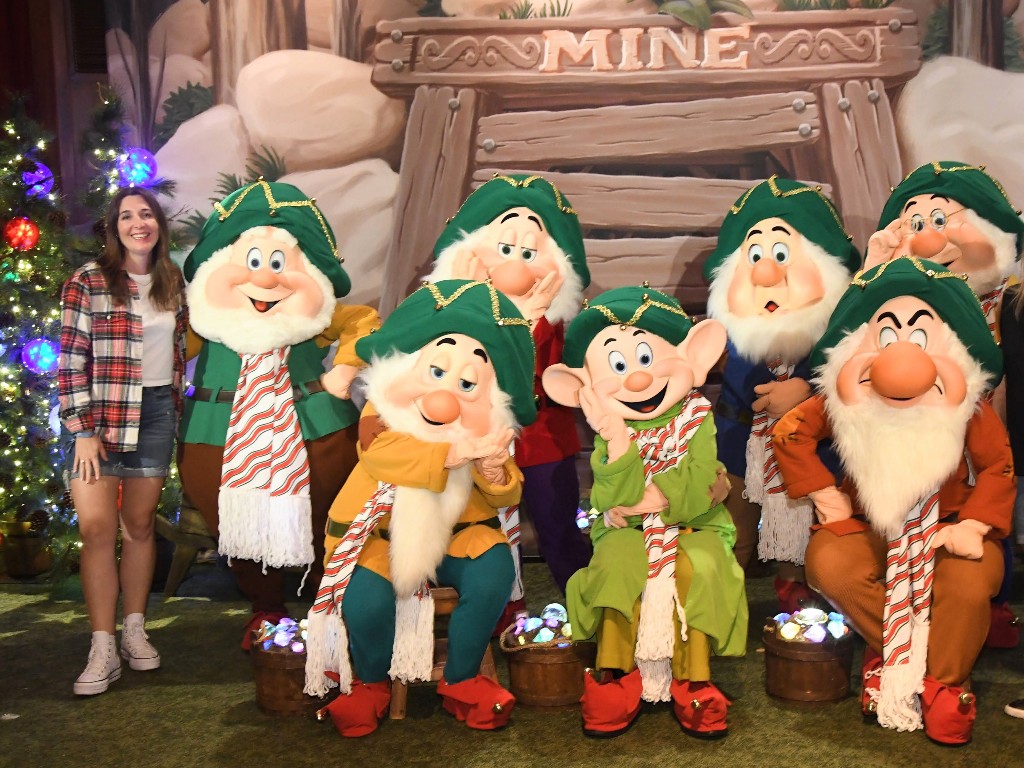 Meet Special Characters
MVMCP generally has sweeter characters, and less rare ones, than Mickey's Not So Scary Halloween Party.
Mickey's Very Merry Christmas Party is a rare chance to meet princesses with their princes. For example, Tiana and Naveen, Rapunzel and Flynn Rider, Cinderella and Prince Charming, and more usually meet MVMCP guests together during the event
Scrooge McDuck, and Minnie, Santa Goofy, Daisy, and Donald in seasonal attire meet in Storybook Circus. Mickey is dressed and ready to greet guests in Town Square Theater.
Winnie the Pooh, Tigger, Piglet, and Eeyore wear cozy scarves in a cute photo spot next to The Many Adventures of Winnie the Pooh and across from Mad Tea Party. Expect long lines and wait times of around an hour for this rare chance to see Hundred Acre Woods friends.
One of our other favorite MVMCP "characters" is Santa Claus. Find him tucked in a beautifully decorated gazebo in Liberty Square.
Take PhotoPass Magic Shots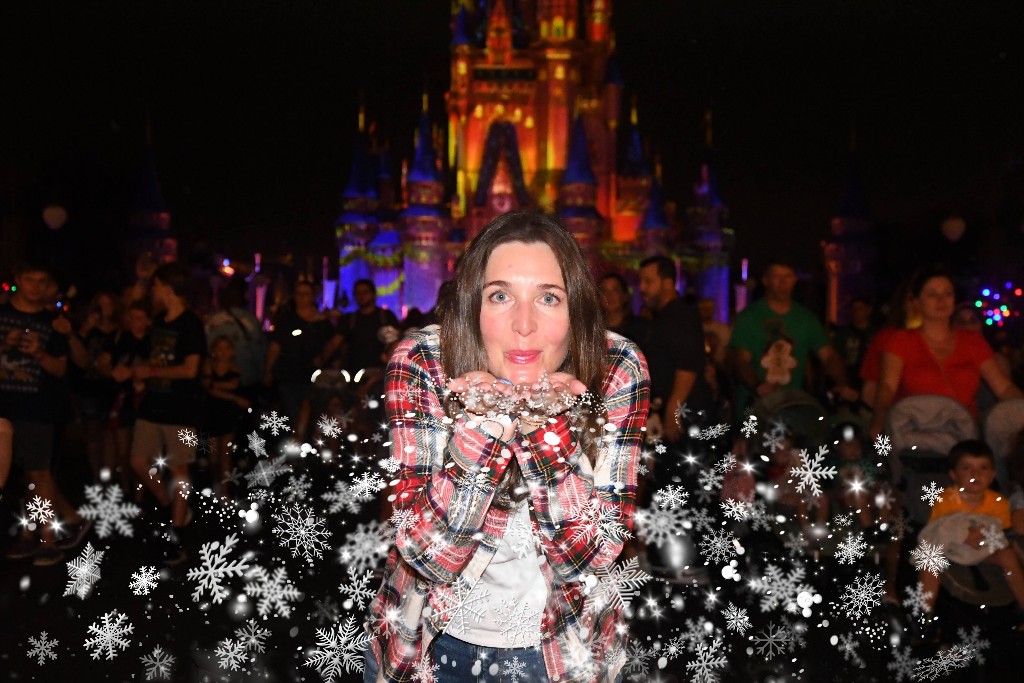 Specialty Mickey's Very Merry Christmas Party PhotoPass pictures are some of our favorite party souvenirs. We've found taking some pictures early in the night, but after the park is dark is ideal.
You can also wait and take pictures later in the evening after parades and fireworks, but sometimes they get forgotten in the frenzy to do one more thing before MVMCP ends.
Keep Riding Low Wait Attractions or Watch Mickey's Most Merriest Celebration
Mickey's Most Merriest Celebration is a cute holiday stage show in front of Cinderella Castle. Although I don't think the show is nearly as good as MNSSHP's Villain Spelltacular it is still an entertaining show available several times per night.
If you aren't taking photos or meeting rare characters, keep riding attractions with low wait times.
Super popular attractions like Peter Pan's Flight and Seven Dwarfs Mine Train will still have higher wait times before fireworks and parades. If you plan on staying until the end of the party, wait to see if lines improve.
Mickey's Very Merry Christmas Party Parade and Fireworks: 8:30 pm to 10:30 pm
Minnie's Wonderful Christmastime Fireworks and Mickey's Once Upon A Christmastime Parade are always on our MVMCP must-do list. These two activities take up a lot of party time, but I think they are worth it.
Mickey's Once Upon A Christmastime Parade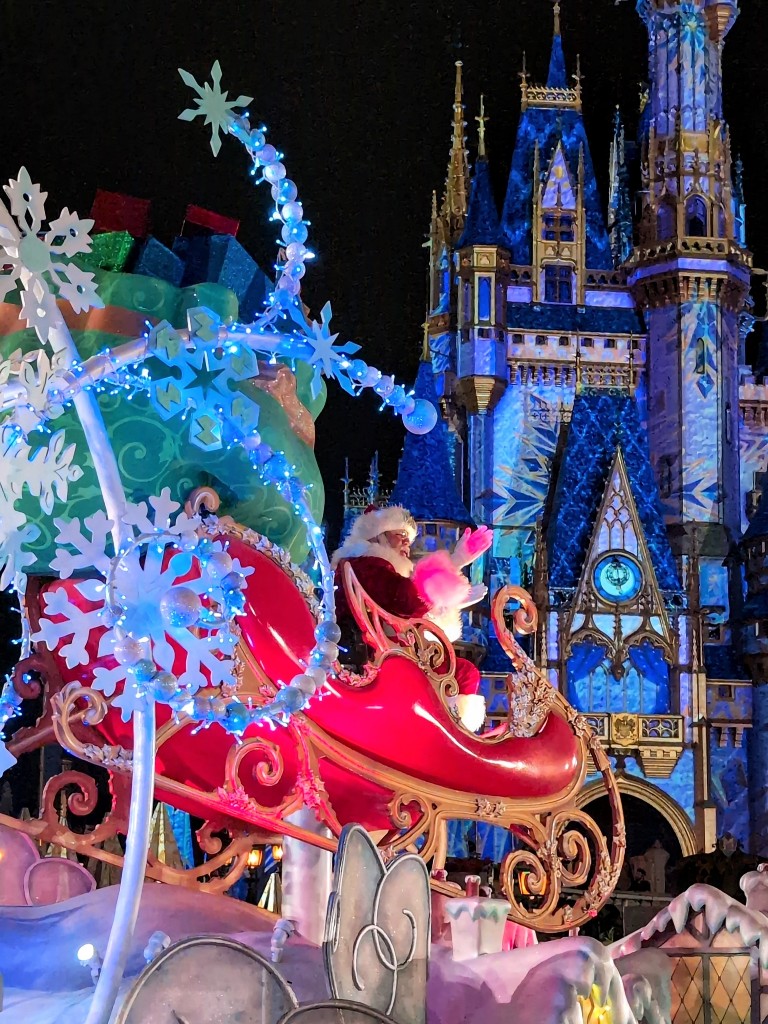 There are two parade times per night, 8:30 pm and 11 pm. The parade route starts near Tiana's Bayou Adventure and winds its way through Liberty Square before going down Main Street USA.
While waiting for the second parade used to mean lower crowds, we don't see a stark difference between the first and second parade crowds these days. Choose whichever parade time works best for you.
For premium parade views arrive 60 minutes before the parade. If a first row parade spot isn't important to you then arrive 30 minutes before parade kickoff for second or third row spots.
Minnie's Wonderful Christmastime Fireworks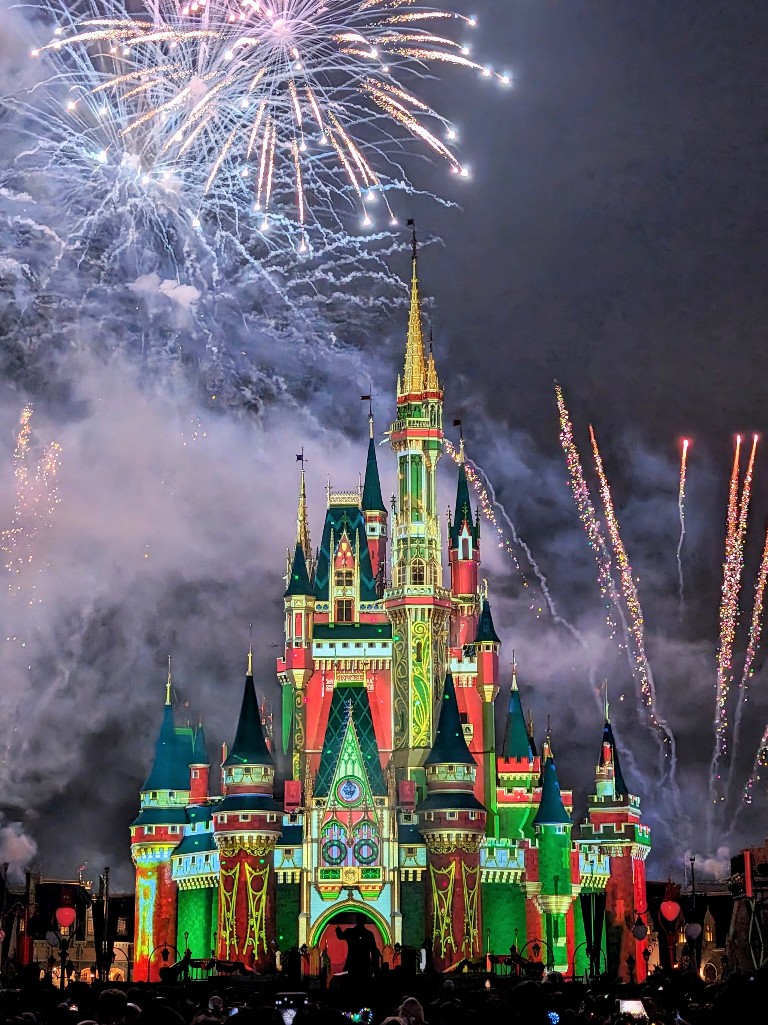 Fireworks only happen once per night at 10 pm which means if you miss them you are out of luck. The castle projections and fireworks views are best near the hub in front of Cinderella Castle, but require holding a spot for about an hour.
Instead, arrive on Main Street about 20 minutes before Minnie's Wonderful Christmastime Fireworks for good views without as much time wasted standing around.
End of Mickey's Very Merry Christmas Party: 10:30 pm to 12 am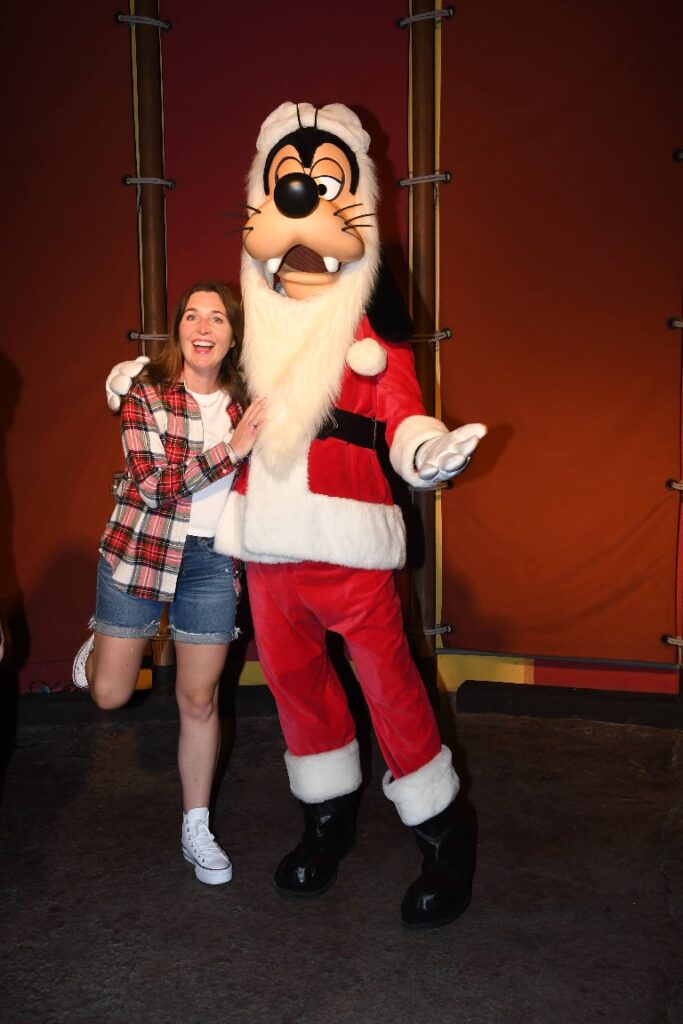 Catch The Late Parade
If you missed the 8:30 pm Mickey's Once Upon A Christmastime Parade, now's your chance to watch the 11 pm parade.
Get In Line For Popular Characters
Popular characters close their queues before the end of the party. Don't try for last minute Jack and Sally or Winnie the Pooh and friends meet and greets.
Instead be in these lines by 10:30 pm which is usually when these popular Disney character queues close.
Ride Signature Attractions
Get into attraction lines about 15 minutes before MVMCP closing time for one last ride. Some people leave after fireworks, although not as many as used to, and attraction wait times dip during the second parade.
Use this time for Seven Dwarfs Mine Train, Peter Pan's Flight, or Space Mountain which should have wait times under 30 minutes this late in the evening.
Take Last Minute Photos
PhotoPass photographers take pictures all the way until the end of Mickey's Very Merry Christmas Party. Sometimes the picture lines close after midnight, but to be safe get into line by 11:45 pm for any special pictures you didn't get yet.
Hitch A Ride Back To Your Disney World Resort
Disney World transportation is available to all resort guests of Mickey's Very Merry Christmas Party. Monorail and boats shuttle guests who drove back to the TTC parking area after the party.
However, those who dawdle along Main Street for empty Magic Kingdom photos may have a disappointing transportation experience.
One night when I exited Magic Kingdom around 12:30 am the bus transportation shifted from one bus per resort to shared routes. I ended up waiting longer for a ride and the ride took more time, but I made it back safely.
Final Thoughts On Our Mickey's Very Merry Christmas Party Itinerary
Using our tips and MVMCP itinerary provides the best mix of entertainment, attractions, and characters in one night. While no one can do everything at MVMCP, our Mickey's Very Merry Christmas Party itinerary should make you feel like the event was worth it and lots of fun.