One of our favorite, free Disney World Christmas activities is the Disney Springs Christmas Tree Stroll. This Christmas scavenger hunt showcases nineteen fabulous Christmas trees throughout Disney Springs shopping areas.
What Is The Disney Springs Christmas Tree Stroll?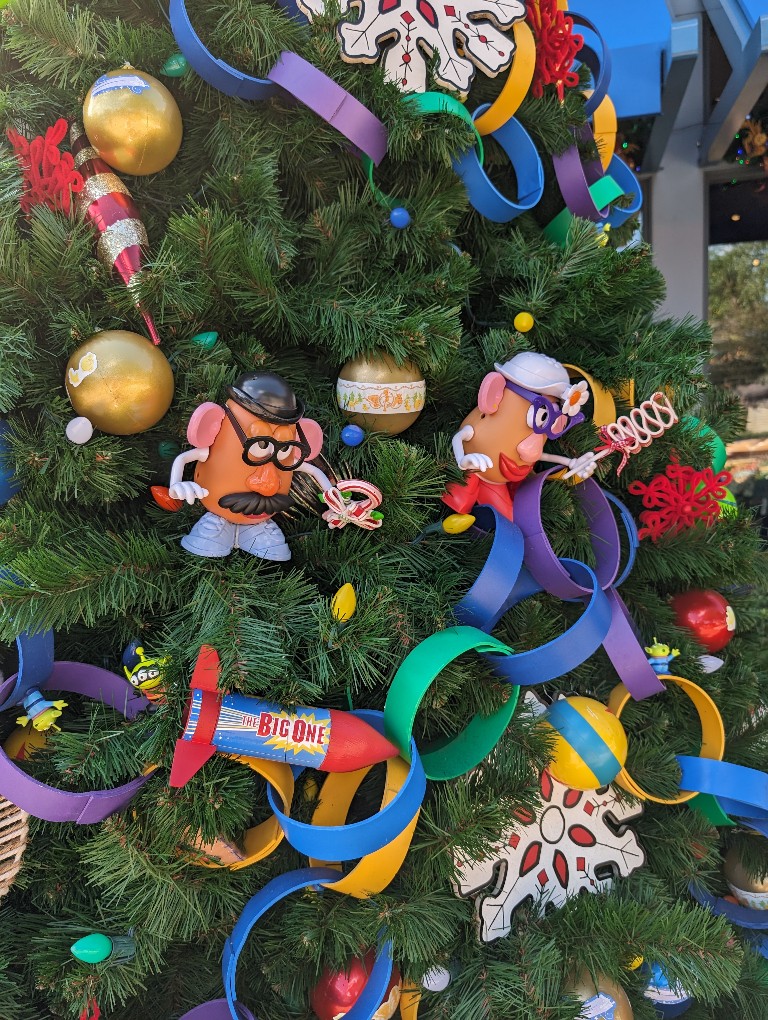 Previously known as the Disney Springs Christmas Tree Trail, this event used to have all the Christmas trees in one area.
Now the Disney Springs Christmas Tree Stroll sprinkles Disney themed trees throughout all of Disney Springs neighborhoods. This means everyone shopping can enjoy some Disney-themed trees even if they are not doing the scavenger hunt.
For the 2023 Christmas season find nineteen Disney inspired Christmas trees along the Christmas Tree Stroll. Several favorites have returned this year, but are joined by some cute new trees including some that interact with MagicBand+.
When Is Disney Spring's Christmas Tree Stroll?
The 2023 Disney Springs Christmas Tree Stroll begins November 10, 2023 and ends December 30, 2023. This is a few days shorter than what we saw last year.
Where Do I Get A Disney Springs Christmas Tree Stroll Map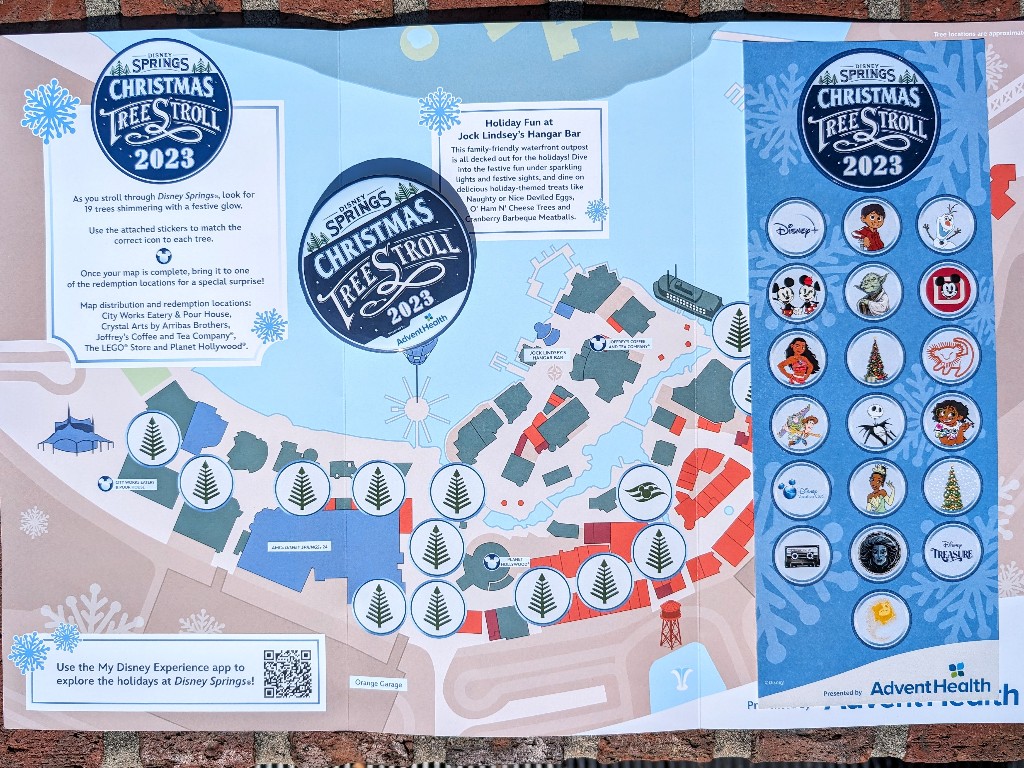 At Disney Springs go to one of five stores to get a complimentary Disney Springs Christmas Tree Stroll map. The map has stylized markings showing where each of the nineteen trees are and a set of stickers, one for each tree theme.
2023 Christmas Tree Stroll Maps are available at these five Disney Springs locations:
City Works Eatery & Pour House
Crystal Arts by Arribas Brothers
Joffrey's Coffee and Tea Company
The LEGO Store
Planet Hollywood
I grabbed a map at Crystal Arts by Arribas Brothers and began my stroll while I waited for my Santa virtual queue group.
What Is The Disney Springs Christmas Tree Stroll Prize?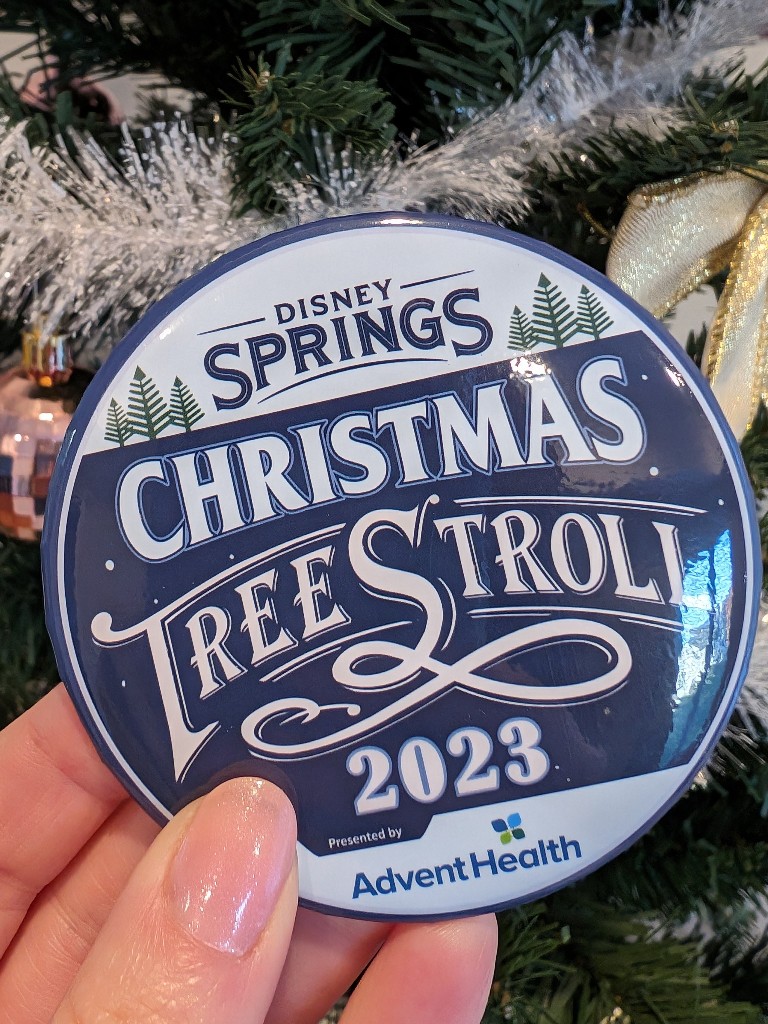 Document each of the Christmas Tree Stroll trees on the map with the corresponding sticker. Once done, stop back at any of the shops above which also act as redemption centers for your prize.
The 2023 Christmas Tree Stroll prize is a large metal button plus a set of discounts for several Disney Springs retailers. Check the map for a complete list of all twenty-seven discounts and special offers.
Disney Springs Christmas Tree Stroll Trees With Pictures
We always loved the Disney Springs Christmas Tree Trail with its elaborately decorated trees full of special details. This year we feel the Christmas Tree Stroll has some beautiful, detailed trees, but others lack the same embellishments we've come to expect.
There are six Disney Springs Christmas Stroll Trees that interact with MagicBand+ this year. To activate the experience make a small circular motion near the tree and watch your band for a colorful surprise.
This was a cute new detail, but did not have a huge "wow" factor. Try your MagicBand+ at The Nightmare Before Christmas, Encanto, Frozen, Mickey Mouse and Minnie Mouse, Town Center, and Wish trees.
This year the informational signs in front of the tree shows the theme and which sticker to use on the map. Some of the trees, like Town Center and Once Upon a Toy tree stickers, are easily confused for one another.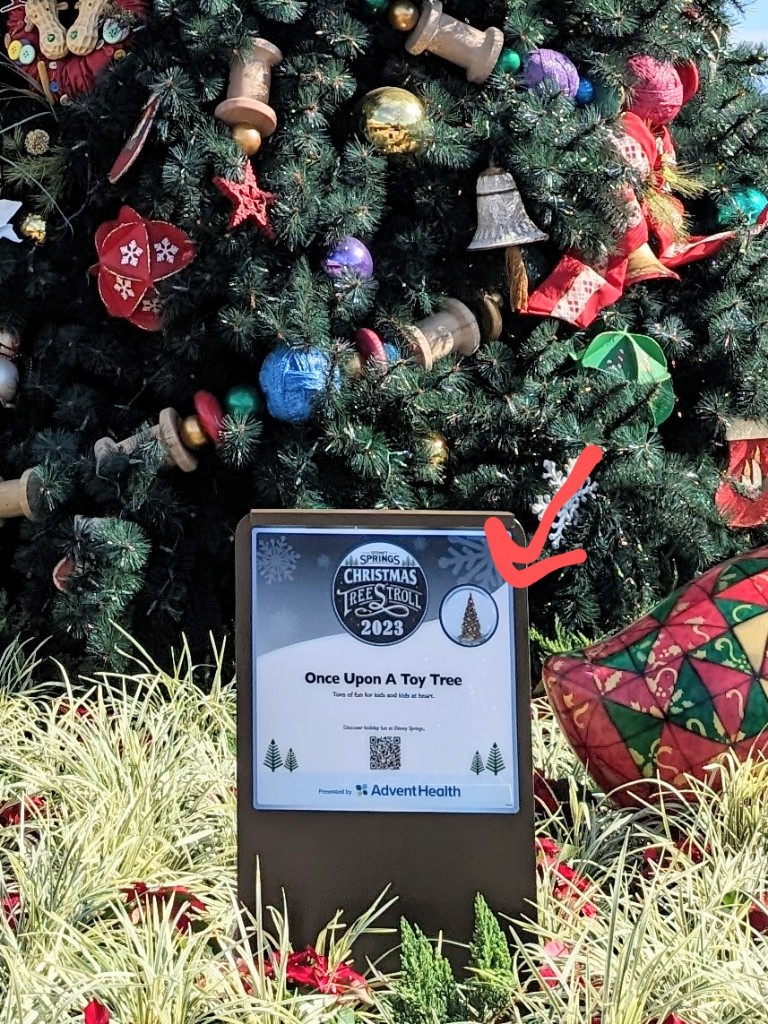 Once Upon a Toy Tree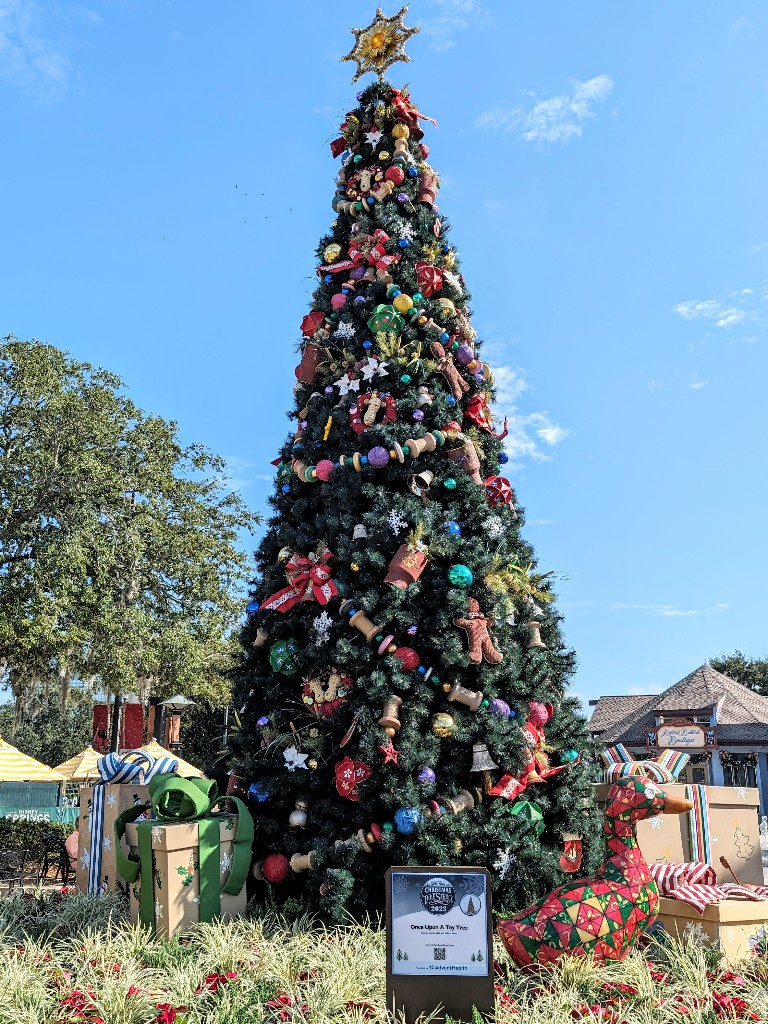 Across from Once Upon A Toy, this is one of two Disney Springs trees not tied to a specific Disney theme. Reindeer ornaments made of giant peanuts in the shell, stuffed gingerbread men, and shiny colorful ornaments are adorable.
Giant presents ring the base, while an oversized garland of bright beads, colorful buttons, and empty wooden spools winds around the tree.
The Nightmare Before Christmas (MagicBand+ Interactive Tree)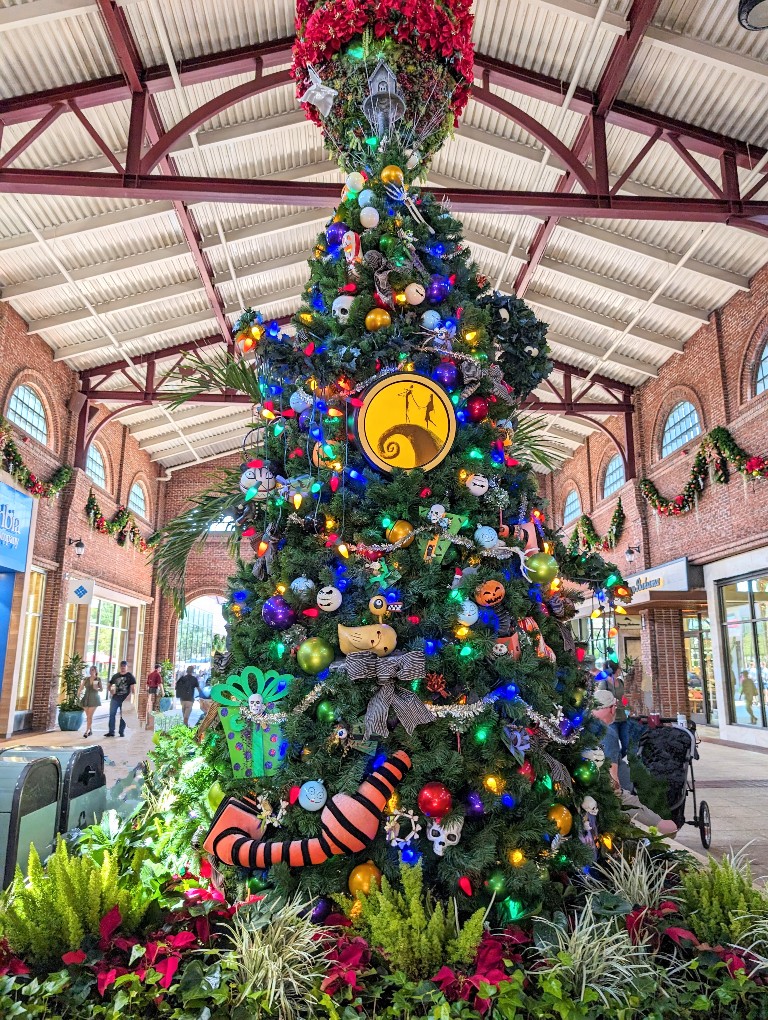 Lots of love and details make The Nightmare Before Christmas our favorite themed tree again this year. Zero floats around the top of the tree circling his doghouse while a silhouette of Jack and Sally is centered on the tree.
Look for fun decorations like the flying vampire toy that scared children and the giant black and orange snake who ate several presents. The Nightmare Before Christmas is also one of the new MagicBand+ interactive trees.
Coco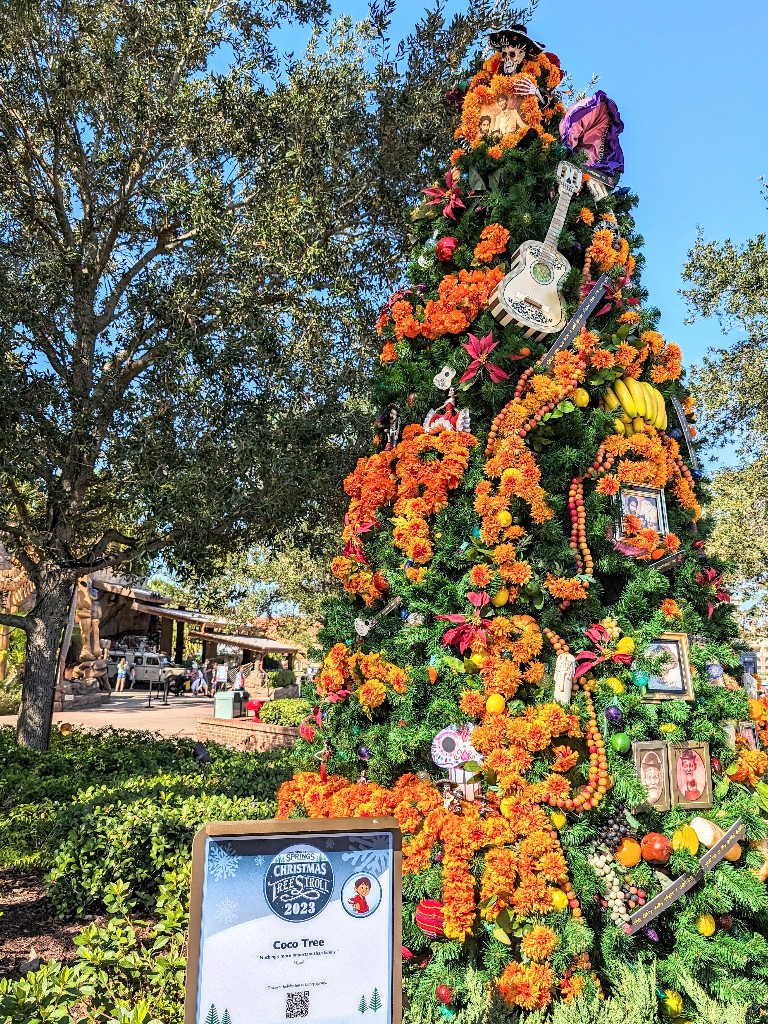 The Coco tree is still one of my favorites on the 2023 Disney Springs Christmas Tree Stroll. Covered in gorgeous orange marigolds, meant to represent the marigold bridge, the tree is immediately identifiable and striking even from a distance.
Guitars, calaveras, and an ofrenda with Miguel's family are all special details that make this tree stand out on the stroll.
Mickey and Minnie (MagicBand+ Interactive Tree)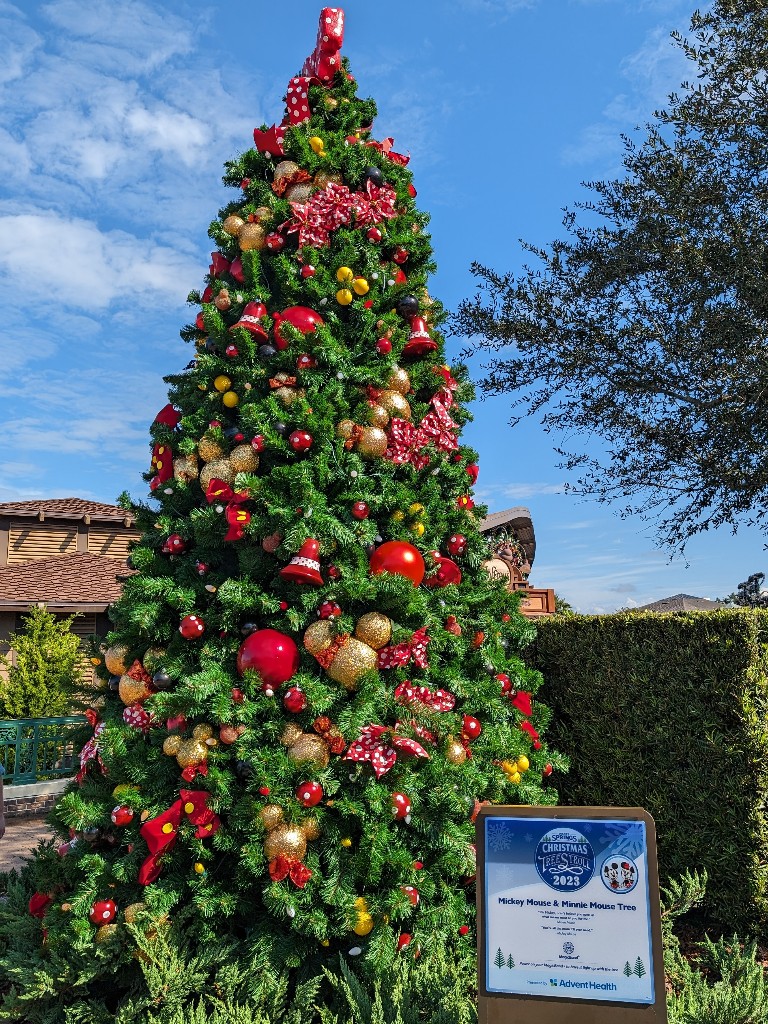 Find a giant red and white polka dot bow with long trailing ribbons topping this Mickey and Minnie inspired tree. Lots of gold Mickey shaped ornaments plus red bows with yellow buttons leave no doubt who inspired this adorable tree.
Frozen (MagicBand+ Interactive Tree)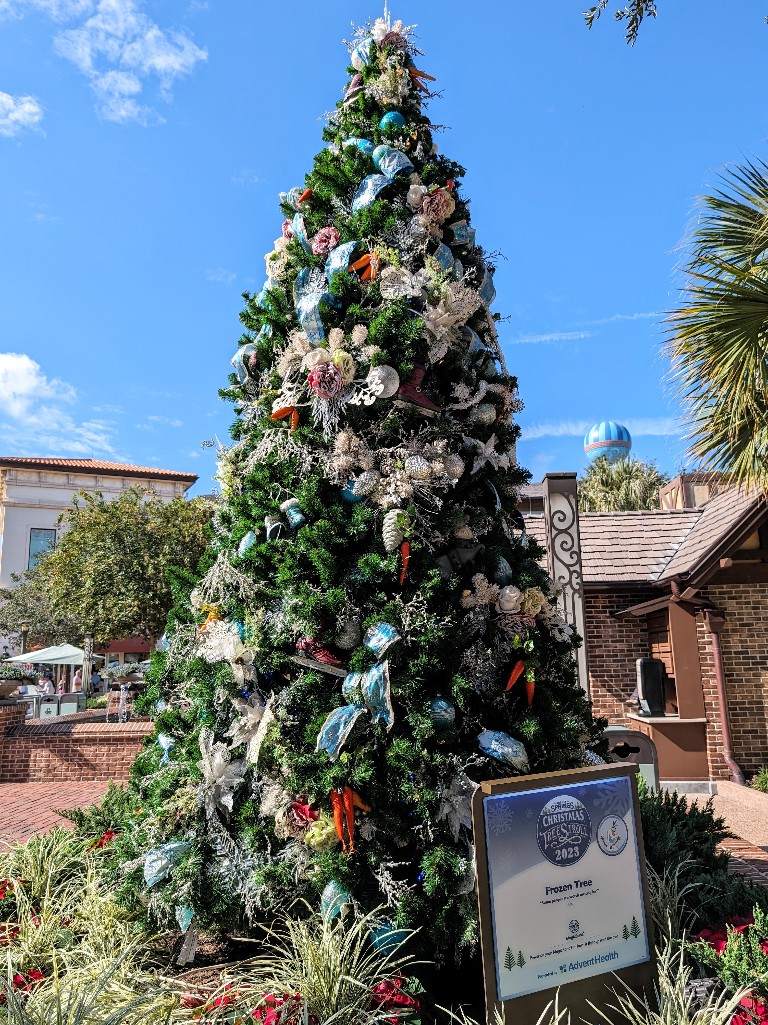 The Frozen-inspired tree feels uninspired to me. Lots of silver and blue accents, but very little that seems special to the movies.
Look for sparkling, icy snowflake ornaments, ribbons that mimic Elsa's dress, and ice skates representing the fateful night Elsa struck Anna with her powers.
Haunted Mansion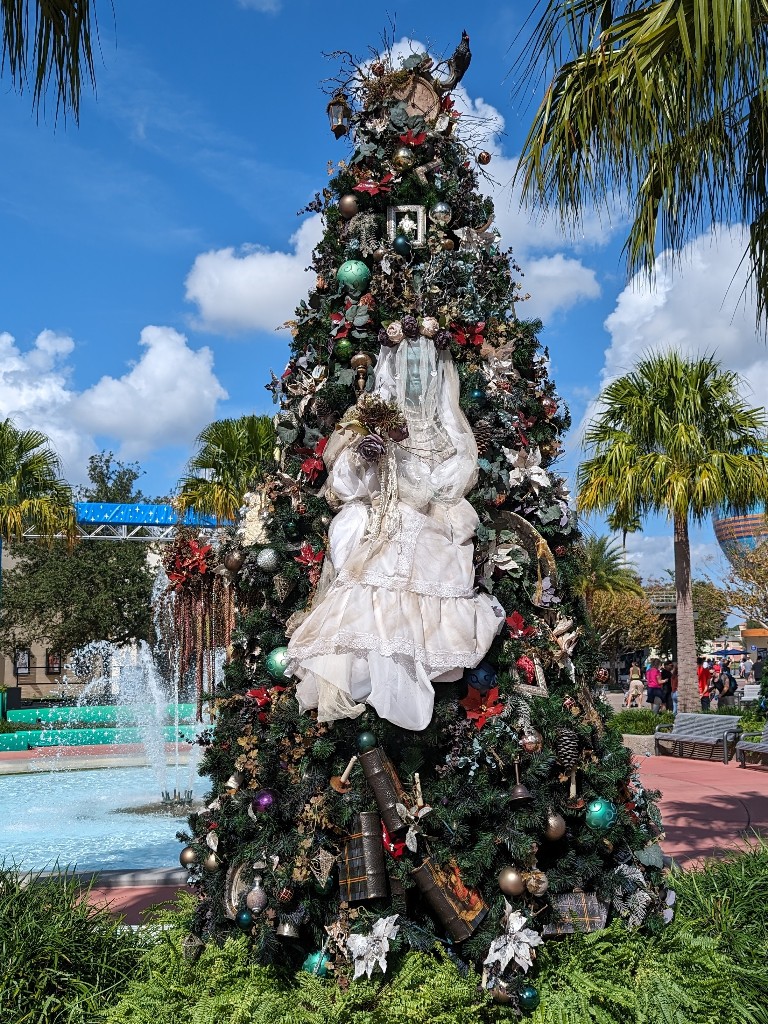 Constance Hatchaway is immediately recognizable when approaching the Haunted Mansion tree. Dark leather bound books, dried flowers, and muted, spooky colors make this tree frightfully divine during the holiday season.
Encanto (MagicBand+ Interactive Tree)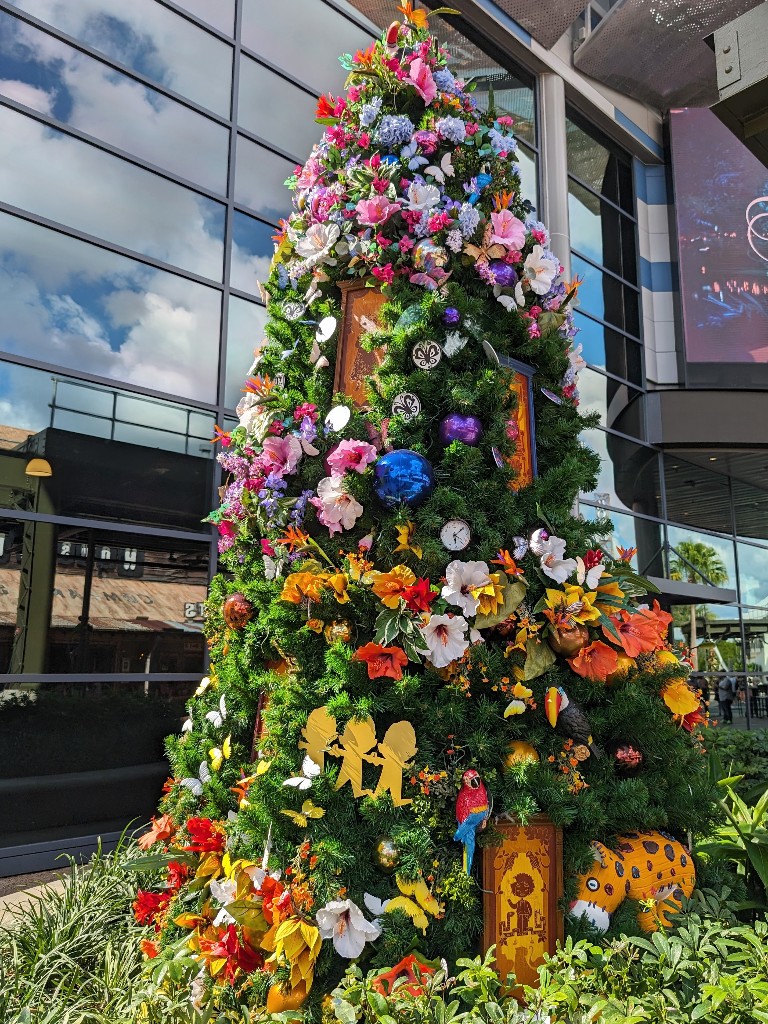 The whole family Madrigal is represented in this gorgeous Christmas tree. Look for details like magical doors, animals, flowers, butterflies and more.
This vibrant tree is extremely pretty and the decor represents Encanto well.
Disney+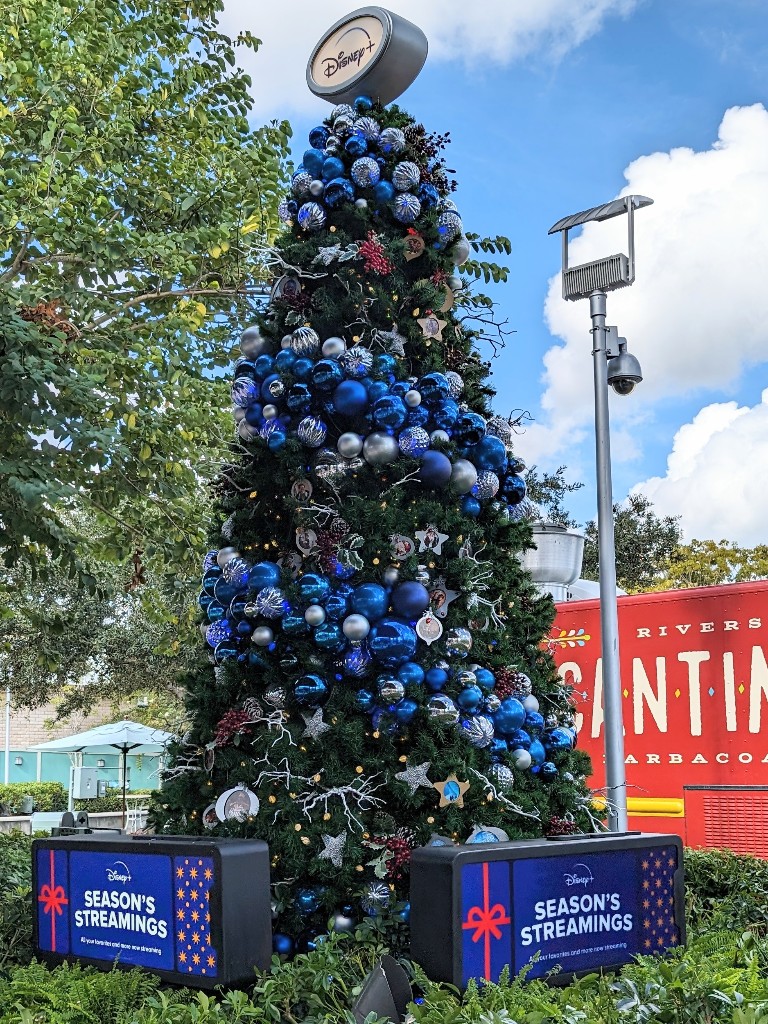 The Disney+ tree is wrapped in a garland of shiny, blue-hued baubles in the service's signature color. Small ornaments highlight images from holiday favorite movies currently streaming, like Home Alone, on Disney+.
Toy Story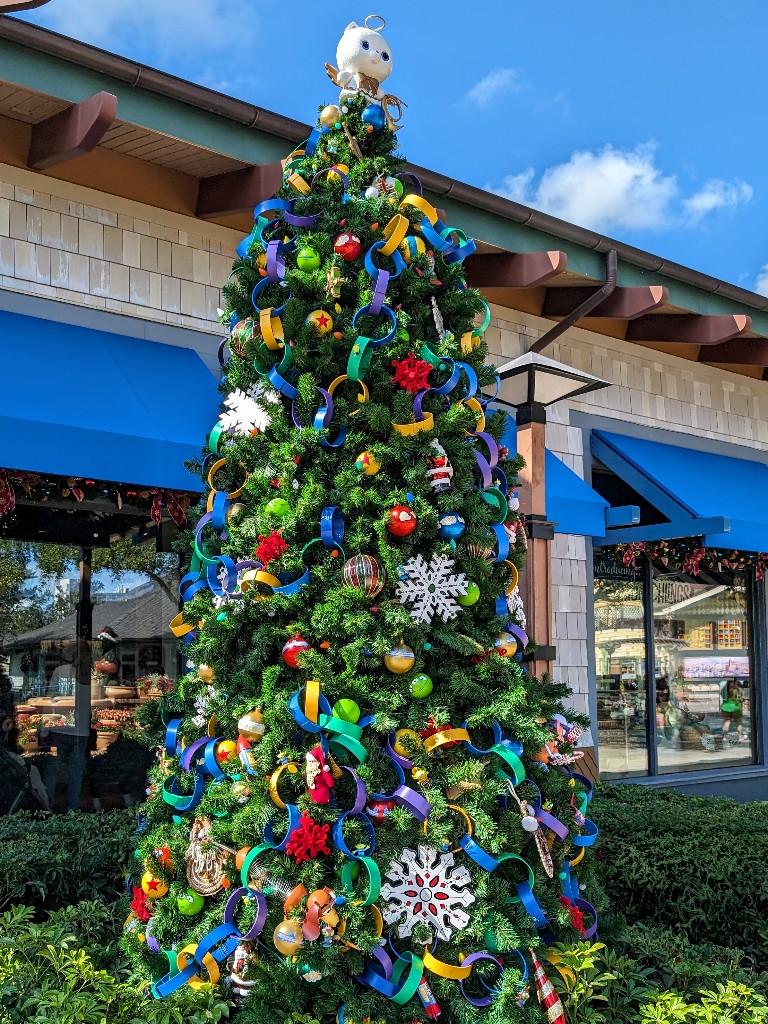 A brightly colored construction paper ring garland gives a playful feel to the Toy Story tree. Look for green alien ball ornaments and toys representing Toy Story characters on this joyfully decorated tree.
Moana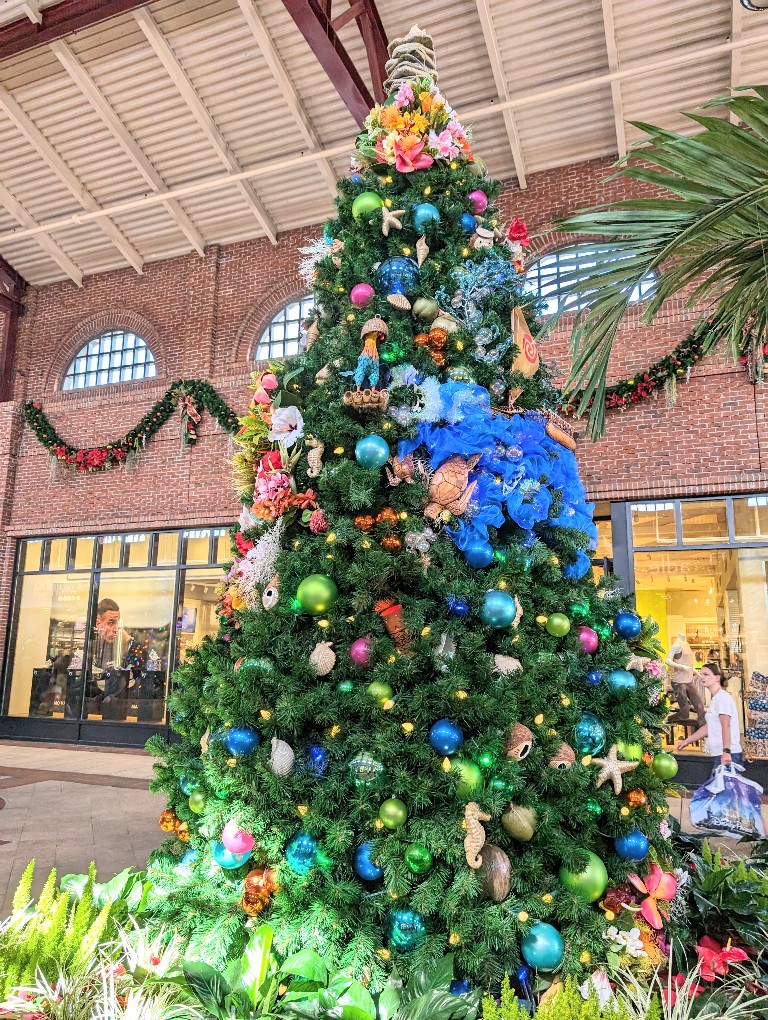 This Moana inspired tree is one of the best decorated trees on the Christmas Tree Stroll.
Bright blue tulle represents water with Moana's ship floating above. Tropical flowers trail down the tree and character ornaments complete the look.
Look closely to find Hei Hei strutting with a coconut on his head near the top of the tree to the left side of Moana's boat.
Disney Springs Town Center (MagicBand+ Interactive Tree)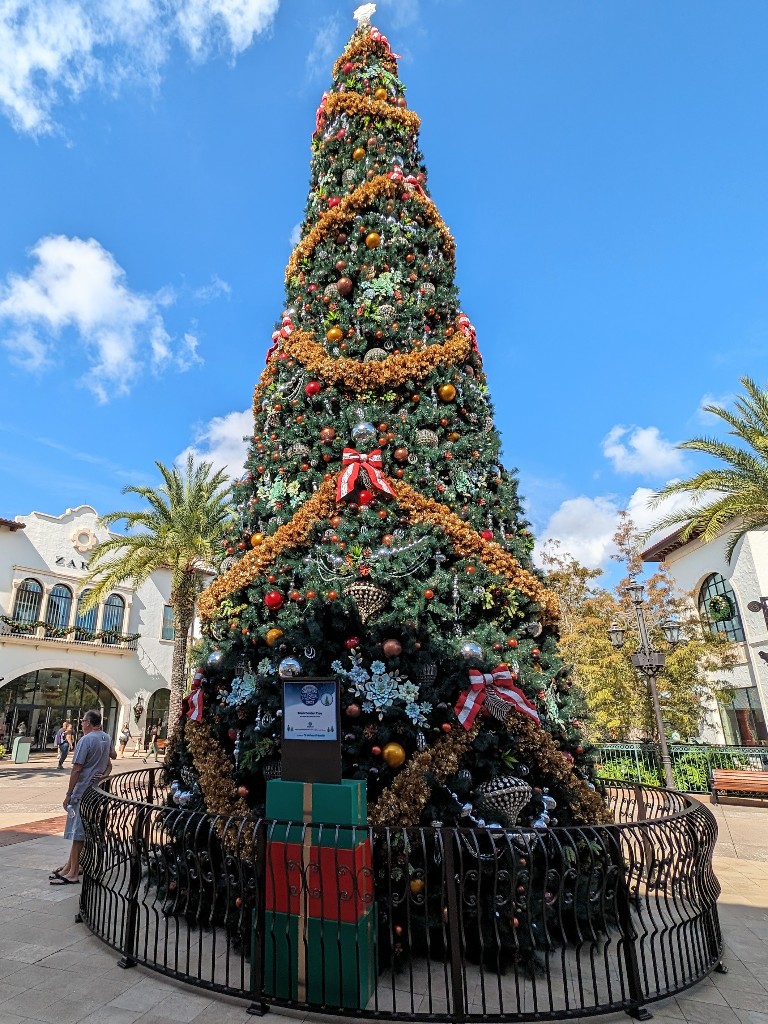 The Town Center tree is one of the most popular photo spots on the stroll. Guests arriving via Disney World bus transportation encounter this massive tree first and it's quite the welcome into Disney Springs.
This year's tree has more muted colors and less sparkly baubles than last year's design. However, we really enjoyed the unique hen and chick succulent inspired decor with rhinestones perfectly melding with some of the more natural elements on this year's tree.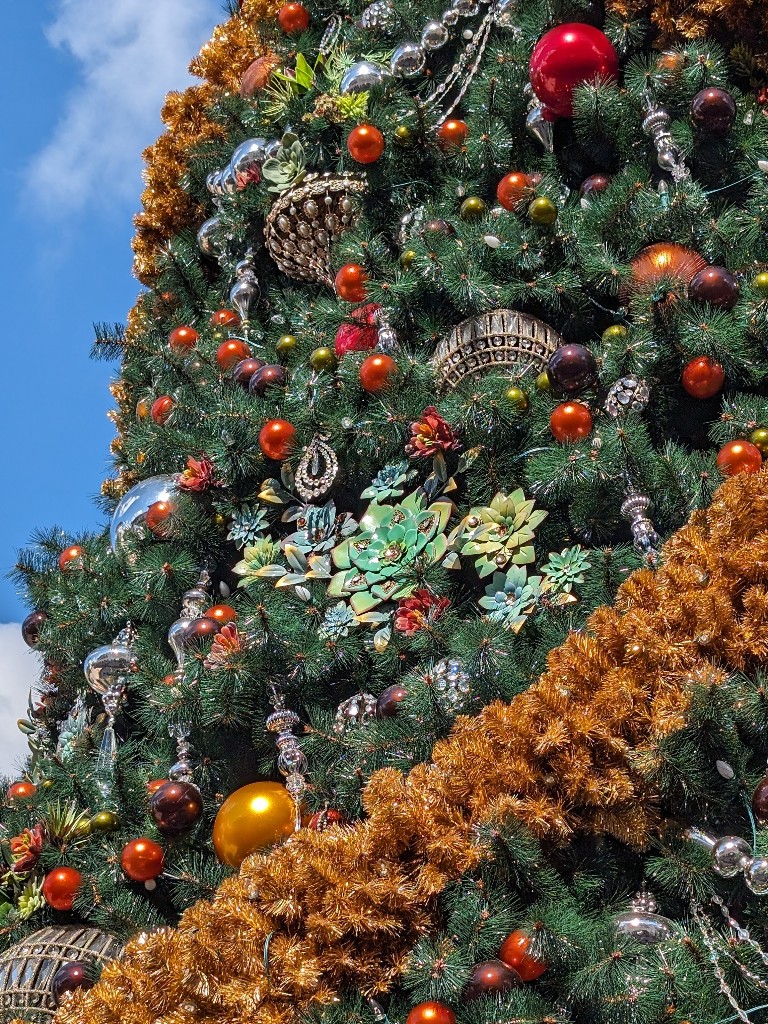 Disney Vacation Club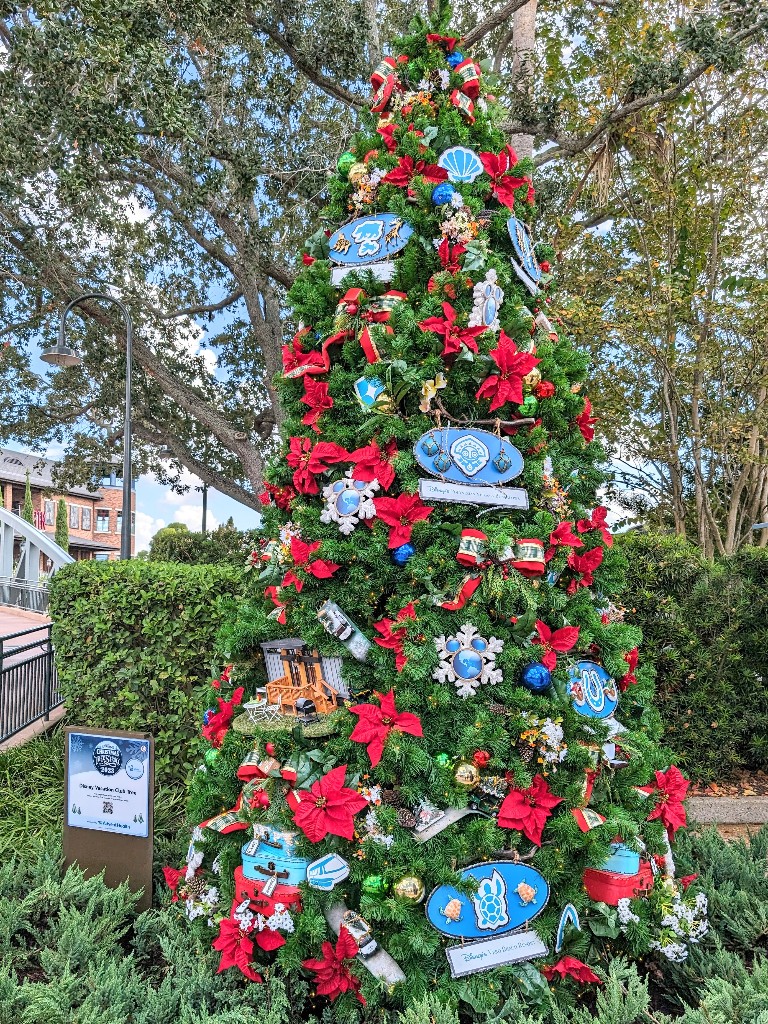 The overall design of the Disney Vacation Club tree features red poinsettias and large, aqua blue icons representing DVC locations. While visually pleasing it isn't a very interesting tree except for one easily missed feature.
A model of the newly announced Fort Wilderness cabins adorns the side of the tree. Look for the gray sided building, rich wood deck, and cute details like a grill and outdoor dining table.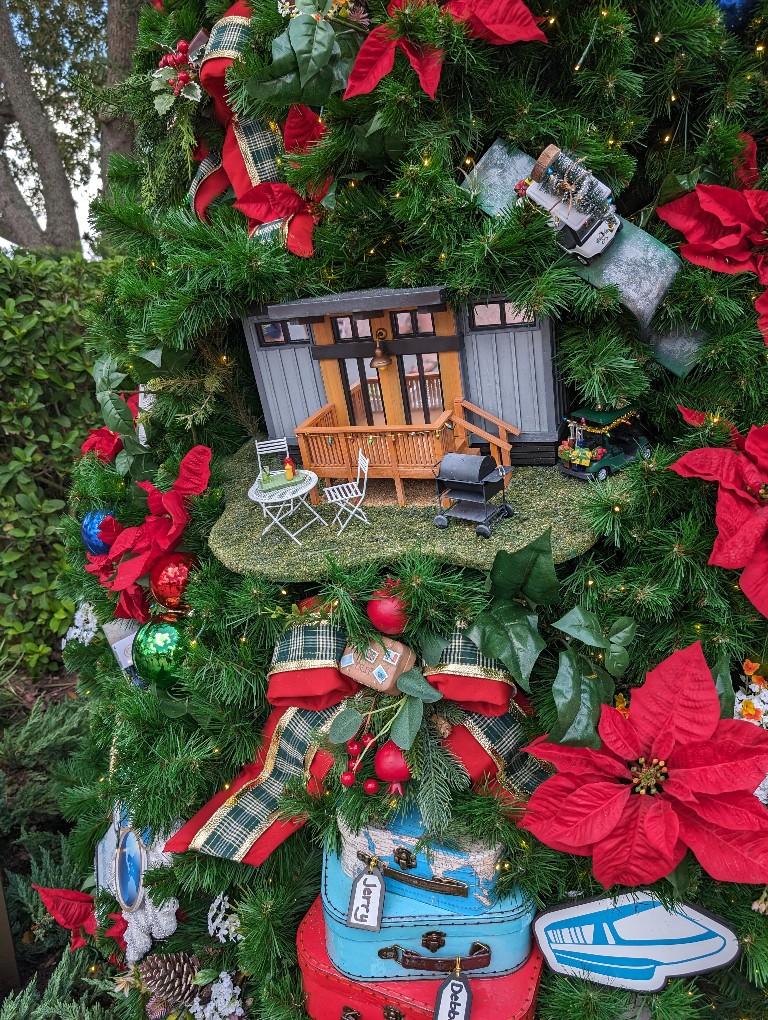 Guardians of the Galaxy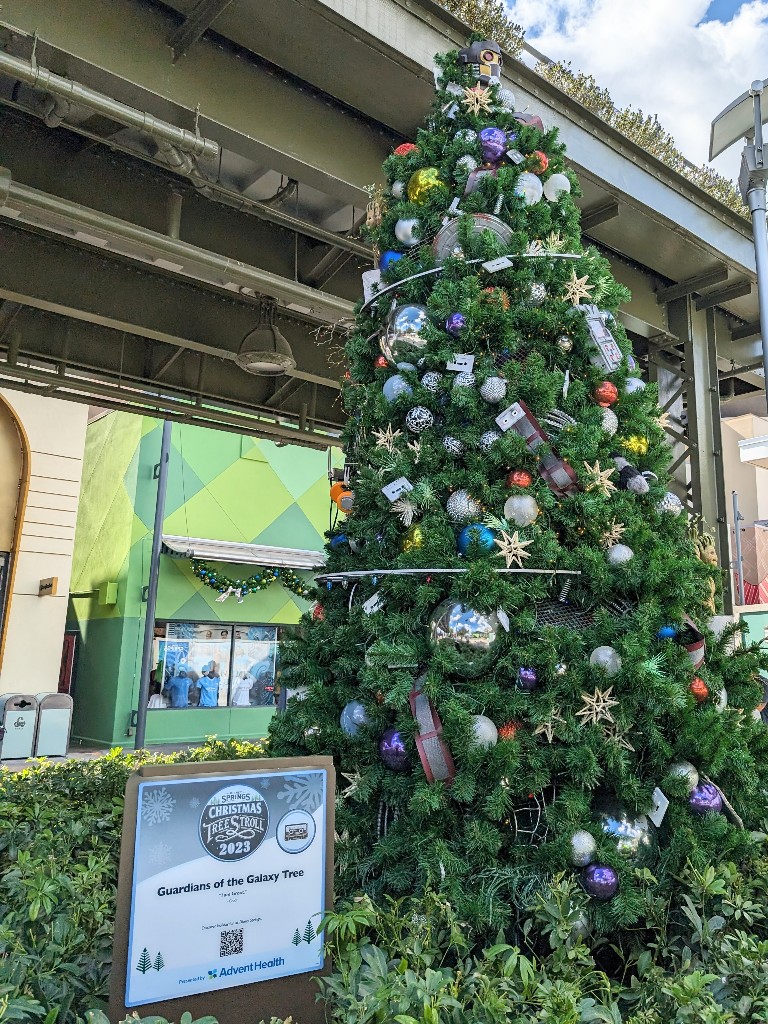 Star-Lord's helmet replaces a traditional star on The Guardians of the Galaxy Christmas tree. Cassette tapes are mixed in with other ornaments and alien technology, too.
An adorable detail on this tree is Baby Groot dancing in his sparkling white planter with fresh growth tendrils on his head. Look closely on the right side of the tree to find him.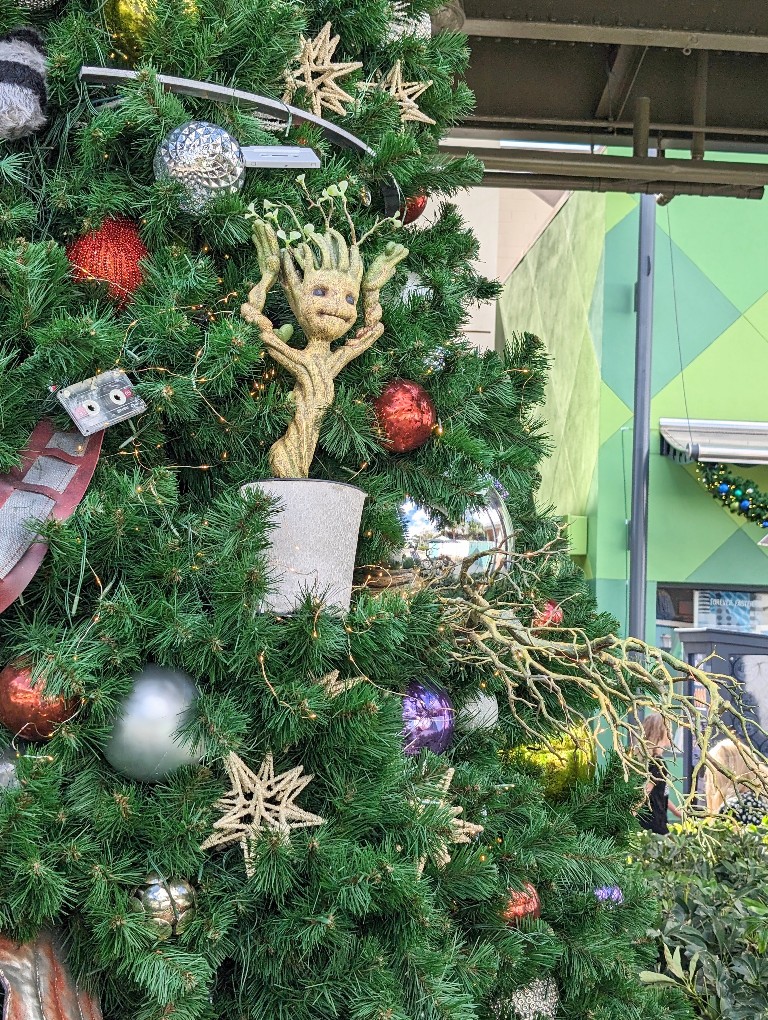 Wish (MagicBand+ Interactive Tree)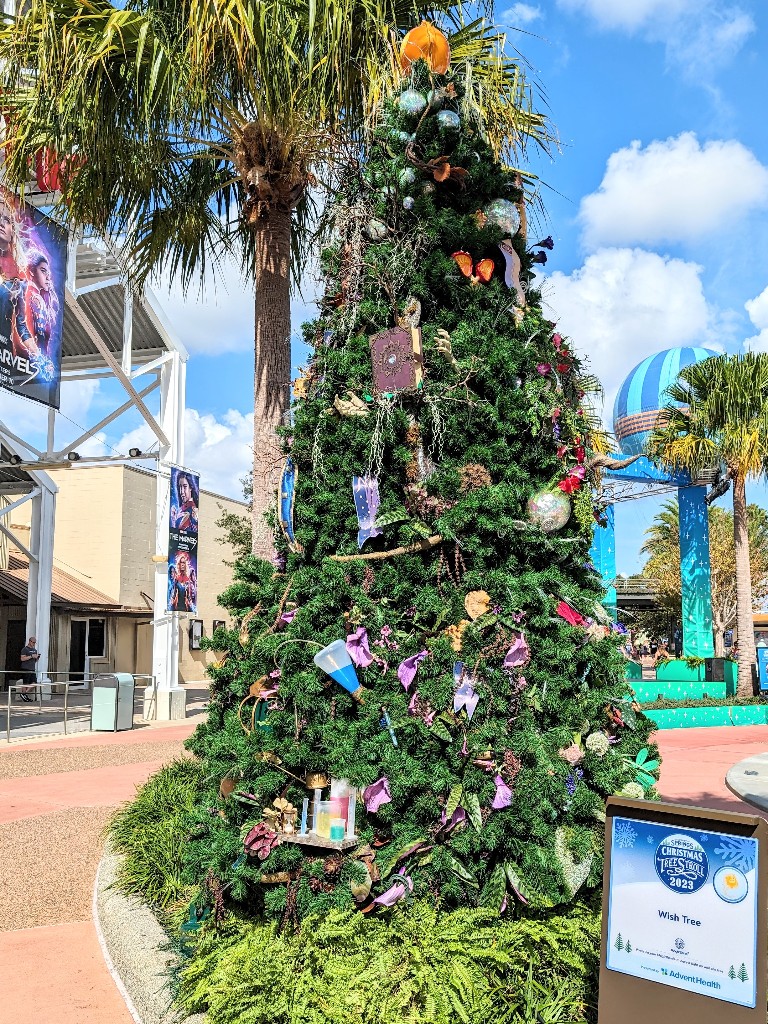 A tree based on the new Disney animated movie, Wish, joins the 2023 Disney Springs Christmas Tree Stroll.
Asha's star sits atop the tree and alchemy type equipment teased in the trailer is interwoven in the design. There are also several hints of lavender which mimic the color of Asha's dress.
Disney Annual Passholder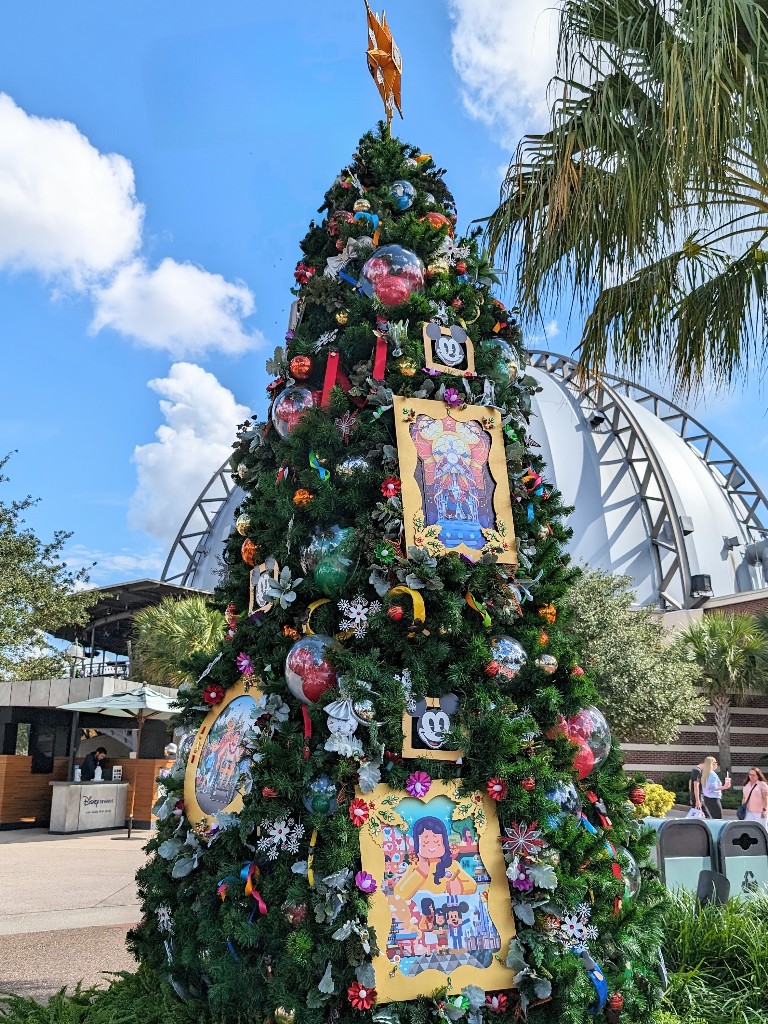 Anyone who has excitedly waited for their Disney World Passholder magnet will immediately recognize the theme of this tree. Iconic passholder magnet ornaments and stylized cartoon "photos" of Disney family vacations are an adorable design for the tree.
Star Wars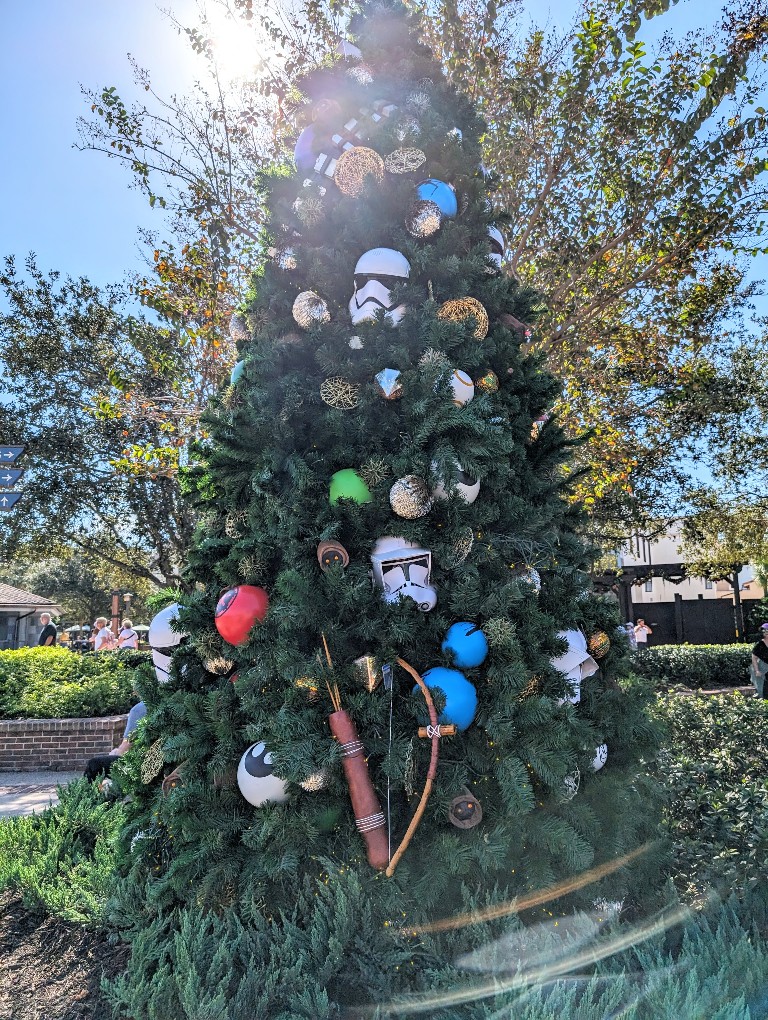 The Star Wars tree features Chewie's bandolier, several clone and first order helmets, and even an Ewok bow and quiver.
However, we think the best part of this tree are the Jawa inspired ornaments which peer out of the greenery with their signature red eyes.
Princess and the Frog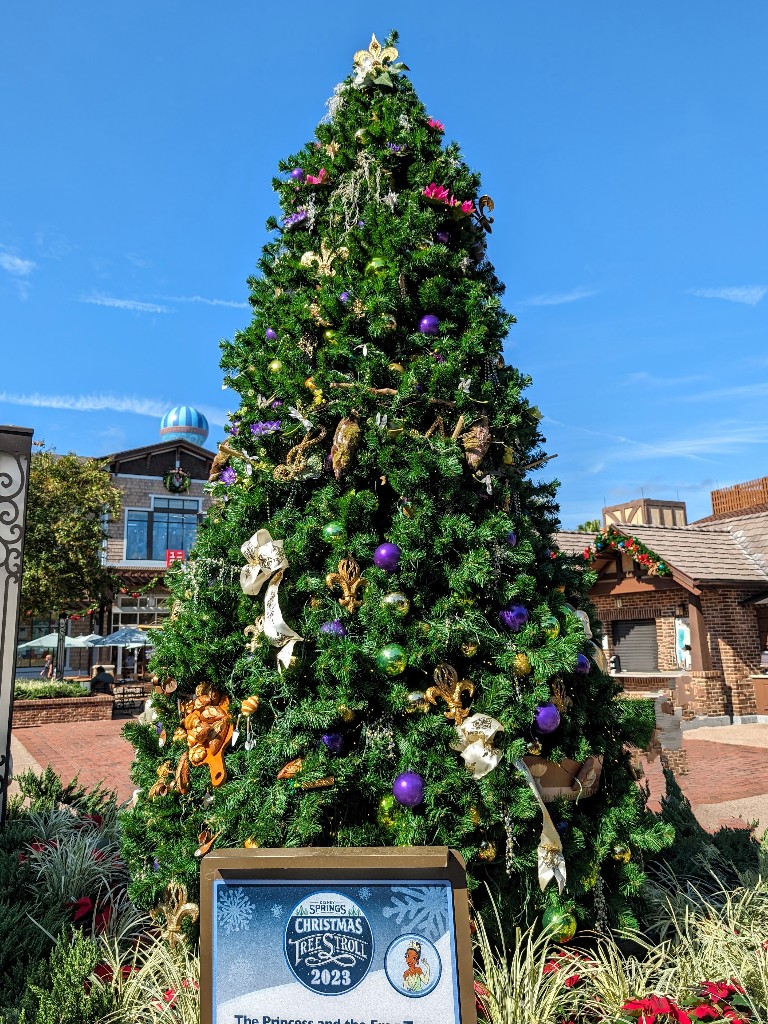 Mardi Gras colors, fleur-de-lis, trumpets, and beads immediately make you think of New Orleans and Tiana. Look closely to find some cute frogs with tiaras sitting on tulle lily pads, too.
Lion King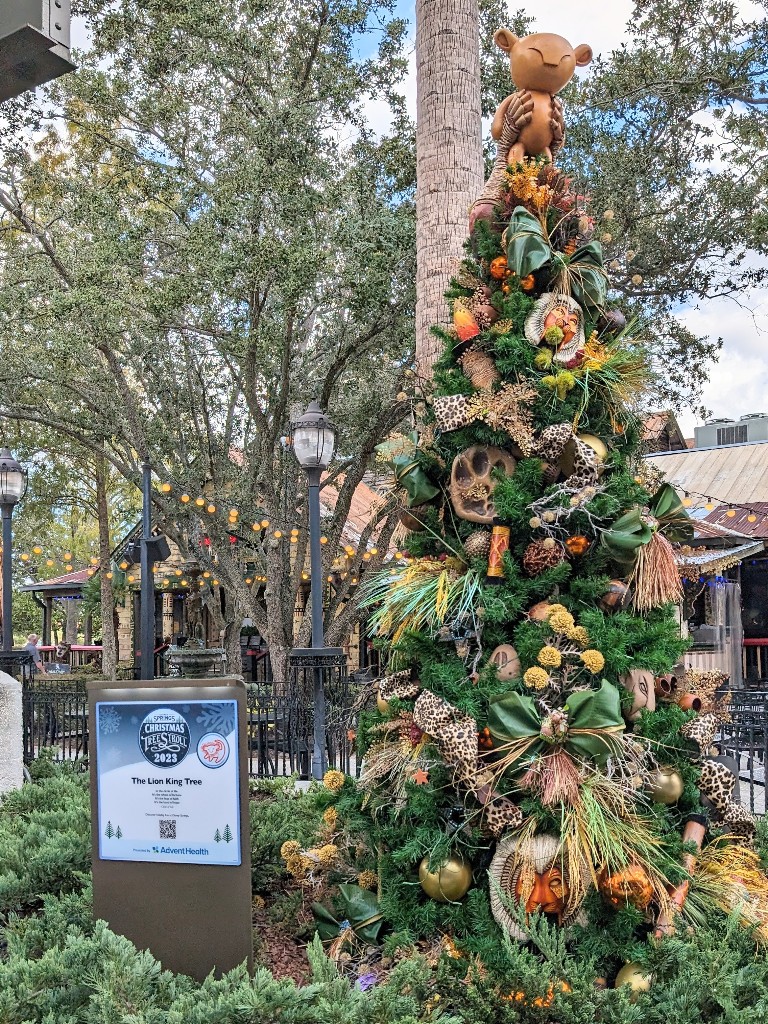 Natural elements like palm fronds and grasses bring an authentic beauty to the Lion King tree. Wooden ornaments, paw prints, and woven designs create one of the most stunning trees on this year's trail.
Disney Treasure
Somehow I didn't take a picture of this Disney Cruise Line topiary. It isn't a tree, but instead a large topiary which looks like a Disney Cruise Line ship with the Disney Treasure logo beneath.
Final Thoughts on the 2023 Disney Springs Christmas Tree Stroll
The Disney Springs Christmas Tree Stroll remains a fun, free Disney World holiday activity we enjoy doing each year. Disney Springs holiday activities are perfect for a rest day before Mickey's Very Merry Christmas Party or Jollywood Nights.
Use our Disney World Christmas activity guide for your Disney World holiday trip. It covers holiday information for all four theme parks, resorts, and Disney Springs to make planning easy.
Pin it from later: