Tron Lightcycle Run is a motorcycle style roller coaster making its debut at Magic Kingdom April 4, 2023 with a soft opening March 20 to April 2. After riding this highly anticipated Disney World attraction during previews, I am happy to report this new coaster is more fun and less scary than I expected. Use our tips to ride Tron Lightcycle Run and experience this exciting Disney World attraction.
Magic Kingdom Tron Lightcycle Run Ride Review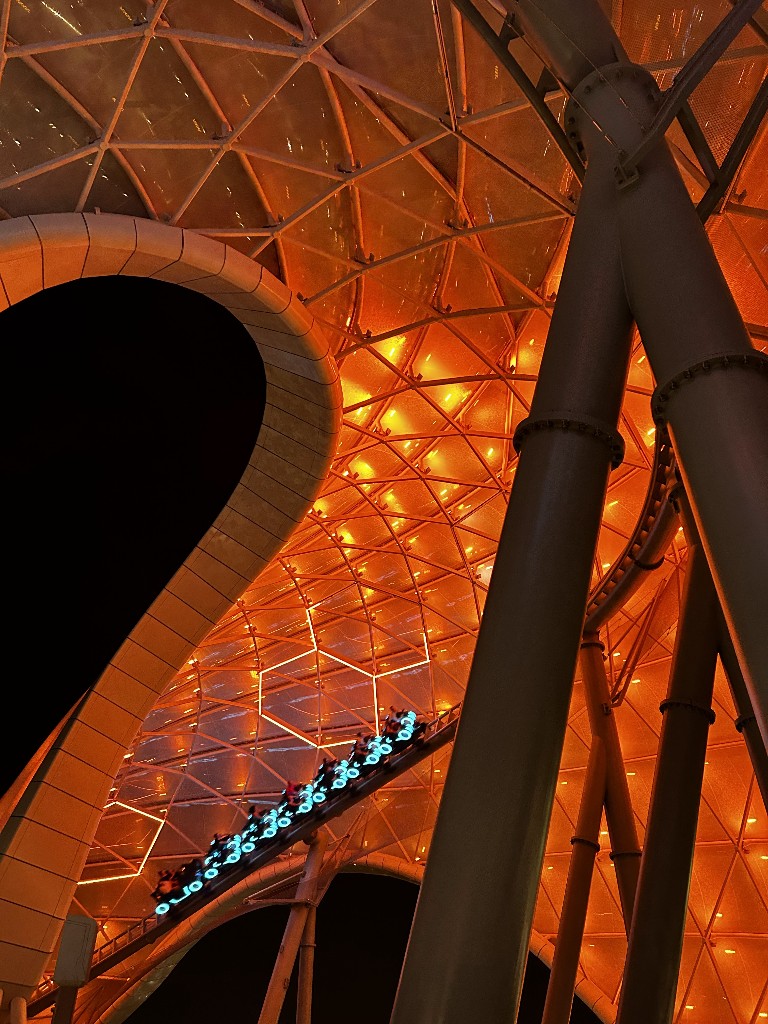 Tron Height Requirement
Guests must be at least 48in, or 122cm, tall to ride Magic Kingdom Tron Lightcycle Run.
Tron Lightcycle Run Queue
Most of the queue is outside and underneath an immense, curving canopy. Watch guests shoot past and soar overhead on the tracks while you wait. For some this will increase the excitement while nervous guests may find this experience nerve wracking.
During the day the white canopy is an impressive sight, but personally we love Tron Lightcycle Run even better at night.
As the sun sets the canopy explodes with gorgeous blue lights representing Team Blue. The lights then fluctuate from blue to orange which makes it a mesmerizing background while you wait.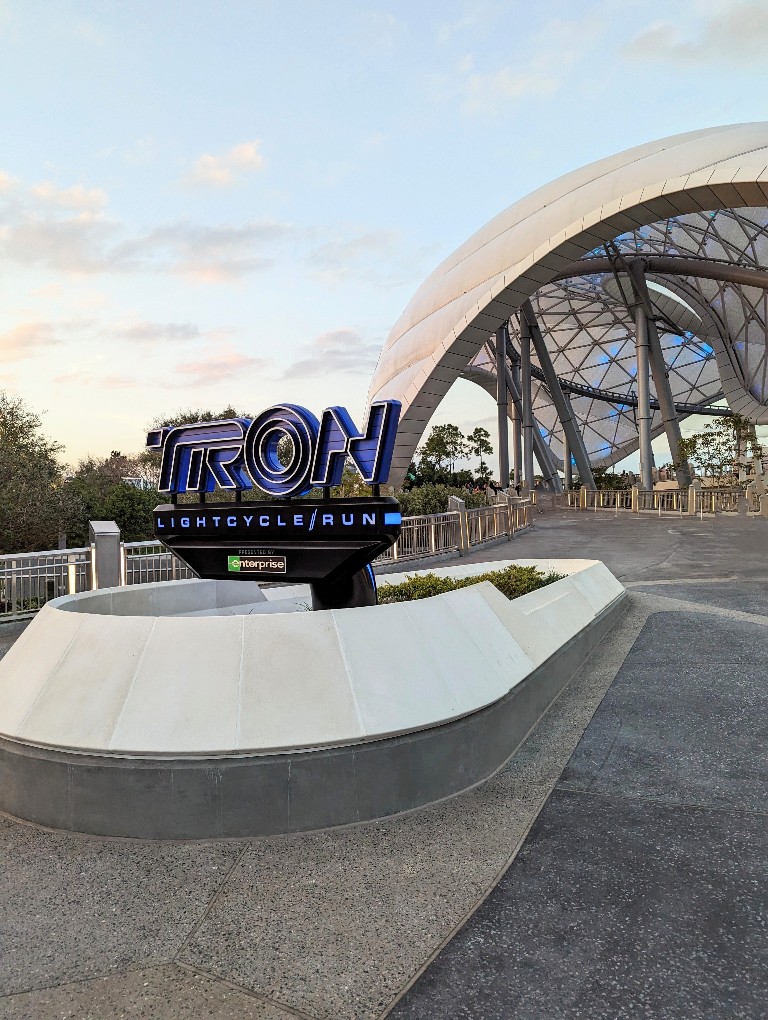 Once you make it to the inside portion of the queue expect retro futuristic styling perfectly inspired by the movies. Guests are transported into the Grid with a stunning reveal that I won't spoil, but it causes groups of first time riders to gasp.
From this point you feel like you are truly in the Grid. The only point where this illusion is broken is when using the Tron Lightcycle Run mandatory locker system.
Magic Kingdom Tron Lightcycle Run Ride Experience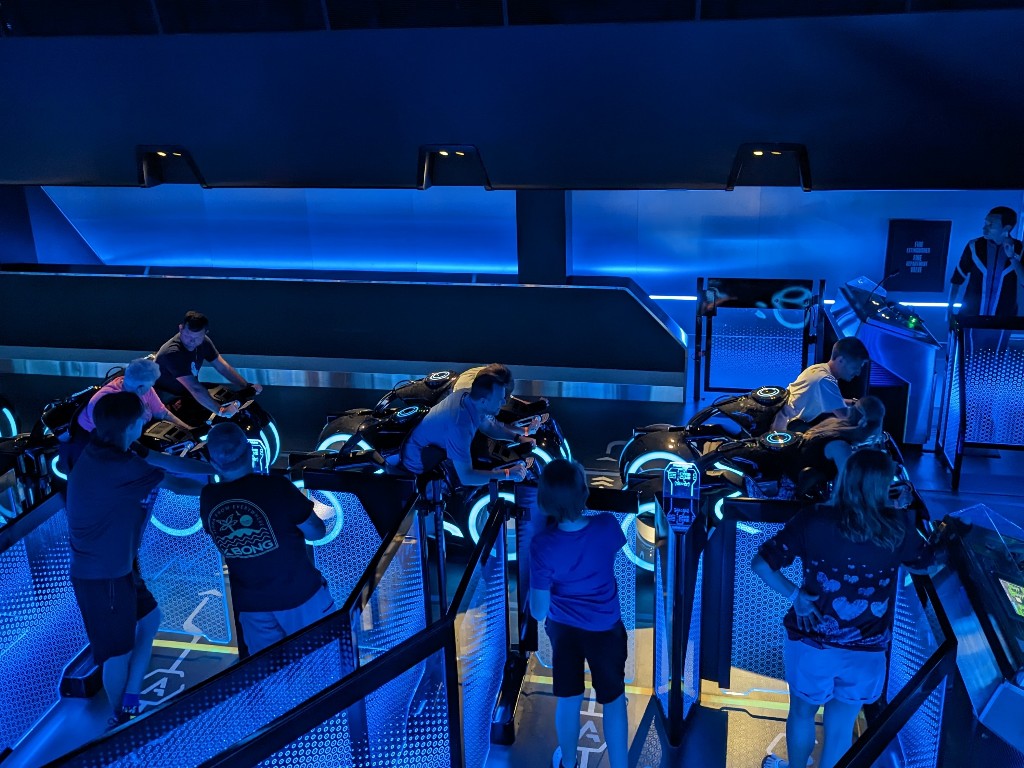 Board your Lightcycle and get safely secured with back and leg restraints. I expected these restraints to be uncomfortable like those used on Avatar Flight of Passage. However, I felt somehow secure, but comfortable riding Tron Lightcycle Run.
For guests concerned about the ride vehicles due to mobility, size, or other reasons there are some cars with lap bar restraints. Expect something similar to Disney World roller coasters like Expedition Everest or Barnstormer.
Secure any loose items not left in the locker, for example mobile phones or keys, in a compartment built into your Lightcycle.
Glasses wearers can confidently wear their glasses on Tron Lightcycle Run. There's no need to store glasses in lockers or the Lightcycle compartment.
After your restraints are checked and loose items stored, it's time to ride. Tron Lightcycle Run launches guests to a speed of almost 60 mph, or 97 km/h, before rushing out under the canopy covered outdoor tracks.
From this outside section the track heads back inside. This indoor portion is where you must beat the Orange Team to all eight energy gates to win the race. This section of track reminds me of Guardians of the Galaxy: Cosmic Rewind or Space Mountain, but shorter.
The rush of the initial launch, the joy of riding beneath the canopy, and brief inside portion combine to make Tron Lightcycle Run an attraction I can't wait to ride time and time again.
Tron Lightcycle Run Motion Sickness
I am prone to mild/moderate motion sickness and as with any new ride I was worried how Tron would make me feel. The launch and outdoor sections were perfectly fine for me, but I did feel some minor motion sickness inside. However, this part of the ride is short and didn't cause me a lasting issue.
Tron Lightcycle Run Mandatory Locker System
Most Disney World rides let you take your bag with you. However, the Lightcycle ride vehicle design makes bringing a bag unsafe.
Because of this, Tron Lightcycle Run has a mandatory locker system. Based on our experiences using bag lockers at Universal Orlando, I was dreading this aspect of the ride. Thankfully the Tron locker system design over-performed.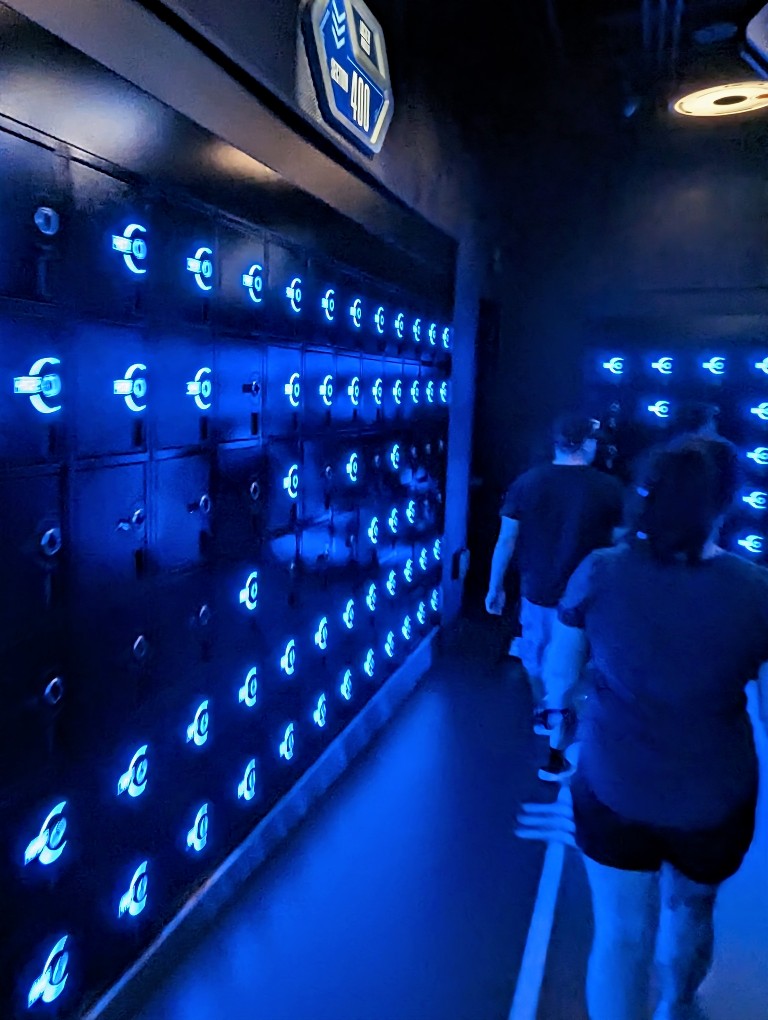 How To Use Tron's Locker System:
Enter the storage area and choose any available locker. Open lockers are indicated by a lighted circle and number.
Tap your MagicBand+ to unlock the locker door, stuff your bags and other large items inside, and then close the door for it to lock.
Enjoy your ride through the Grid.
As you exit, unlock your locker with the same MagicBand+ from the other side. This clever set up with dual sided lockers keeps the traffic flowing which makes the process fast and convenient.
Tron Mandatory Locker System Tips
The lockers look small, but held my park bag plus two smaller bags
Don't shove fragile items into the locker first. When you exit and open on the other side these items can sometimes fall out.
Having a MagicBand+ makes the process super easy.
Tron Lightcycle Run Ride Vehicle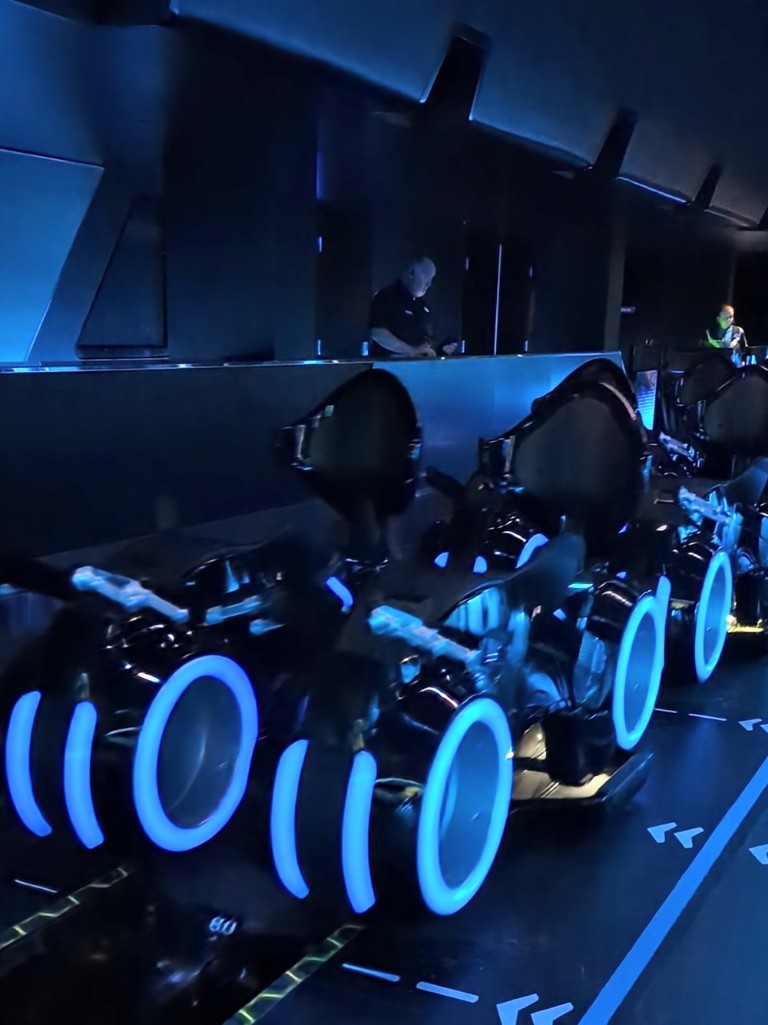 When the Lightcycle rolls up to the boarding platform their stunning design and lovingly recreated movie appearance takes your breath away. Identity disks on the back support further weave the movie storyline into the Lightcycle Run ride vehicle.
I am afraid of large roller coasters and was extremely concerned the Lightcycle ride vehicle would feel unsafe or uncomfortable. Getting on and off the ride vehicle is a little awkward, especially for those prone to post ride adrenaline shakes, but more comfortable than I expected.
During the ride I felt secure, but comfortable enough that I was engrossed in the experience and not distracted by the vehicle. I think hot, humid days will make for a more uncomfortable experience with sweaty legs sticking to the padding.
For reference our group heights range from 4'11" to 5'7" (150 cm to 170 cm) with everyone having an average build.
Concerned about how you'll feel on the Lightcycle? There are two test Tron Lightcycle Run vehicles near the queue entrance. Stop by, hop on, and see what you can expect when riding the attraction before entering the ride queue.
How Do I Ride Tron Lightcycle Run at Magic Kingdom?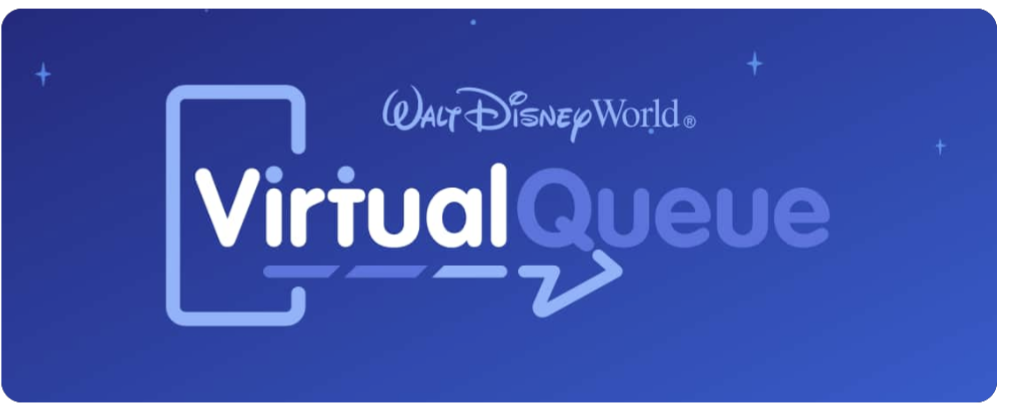 When Tron Lightcycle Run opens on April 4, 2023 there are only two ways to ride: join a free virtual queue or pay for an Individual Lightning Lane. Magic Kingdom's Lightcycle Run will not have a standby line.
Lightcycle Run will also use the 7am and 1pm virtual queue for its soft opening March 20 to April 2, 2023.
Tron Lightcycle Run Virtual Queue
A virtual queue is the only free way to ride this new attraction and we're giving you tips on snagging a Tron Lightcycle Run virtual queue.
What Are Disney World Virtual Queues?
Designed to keep new ride standby lines from turning into multi-hour ordeals, virtual queues are a hotly contested topic. Virtual queues allow guests to join a line via the Disney World app at designated times. Then when it's your time to ride, get a push notification to arrive and ride during a designated window.
Who Is Eligible For Tron Lightcycle Run Virtual Queues?
Guests must have a valid ticket PLUS Magic Kingdom park reservation to join the Tron Lightcycle Run virtual queue.
The Tron virtual queue is usually available twice daily, but there is a third virtual queue option on select dates. The first virtual queue window opens at 7 am and guests can join from outside Magic Kingdom.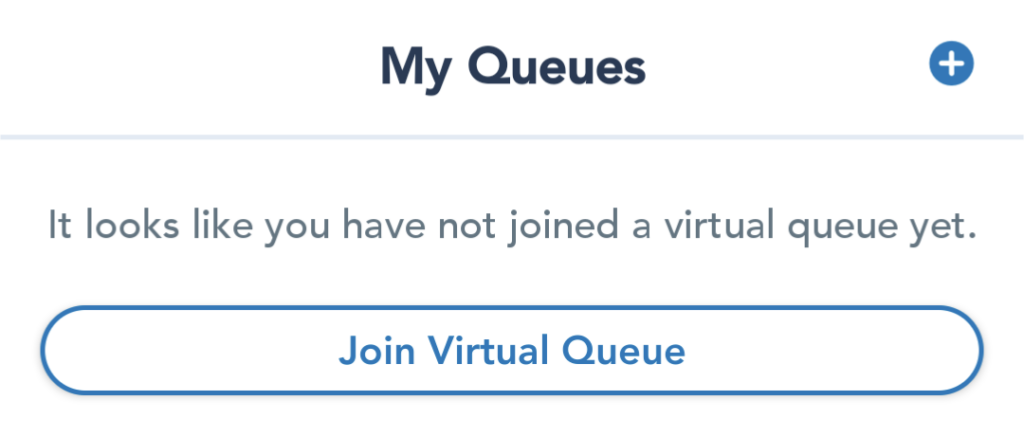 The 1 pm Tron virtual queue requires guests to be scanned into Magic Kingdom before joining the virtual queue. This second virtual queue is often easier to snag, but never guaranteed.
On select days, guests of deluxe and deluxe villa resorts have access to Disney World extended evening theme park hours. Just like Guardians of the Galaxy: Cosmic Rewind at Epcot, Tron has a third virtual queue at 6 pm on Magic Kingdom extended evening theme park hours days.
Pro tip for Tron virtual queues: Guests are only eligible to join one of the 7 am and 1 pm queues daily. If you get a spot in the 7am queue you are not allowed to try again at 1pm. However, guests eligible for extended evening hours can do both a daytime and 6pm virtual queue.
Tron Lightcycle Run Virtual Queue Tips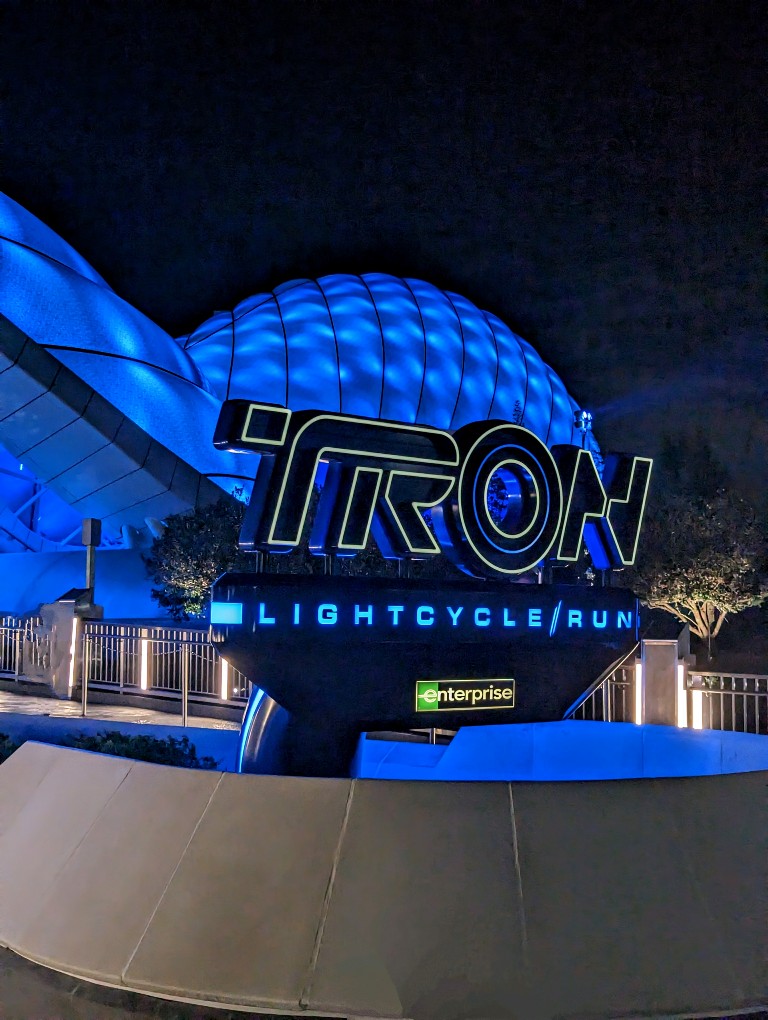 Download The Disney World App
Disney World virtual queues are only available via the Disney World app. Download and familiarize yourself with where to find virtual queues on the app before you want to join a virtual queue.
The Disney World App is available for both iPhone and Android devices.
Pre-select Your Group
Before 7 am, log onto the Disney World app and make sure everyone in your group is linked to your account, has a park ticket, and valid park reservation.
Confirm your group ahead of time to skip one step when trying to snag a Tron Lightcycle Run virtual queue spot.
Watch The Clock
Milliseconds matter when trying to get a Tron Lightcycle Run virtual queue. Instead of randomly refreshing the app as 7 am, 1 pm, or 6 pm approaches use a synchronized clock to increase your odds.
We use the US Naval Observatory website to make sure we refresh at the right time.
Virtual Queues Still Require A Wait
Virtual queues help manage waits at Disney World, but don't eliminate them. Expect to wait in a regular queue once your boarding group has been called.
For other virtual queue attractions we've routinely waited about an hour so I would expect something similar for Tron.
Purchase Individual Lightning Lane for Tron Lightcycle Run
Individual Lightning Lanes are a way to pay to ride popular attractions. Prices fluctuate based on crowd levels and generally run about $15 per person.
Although paying $15, or more, per person can add up, it increases the odds that guests can ride Tron even if they miss out on the free virtual queue.
Learn more about Individual Lightning Lanes in our complete Disney World Genie+ Guide.
Do I Need To Watch The Tron Movies To Enjoy The Ride?
We watched Tron: Legacy before our first ride on Lightcycle Run. I think it gave us a greater appreciation for the aesthetics of the attraction, but it isn't necessary to understand or enjoy the ride.
How Does Tron Lightcycle Run Compare To Guardians of the Galaxy: Cosmic Rewind?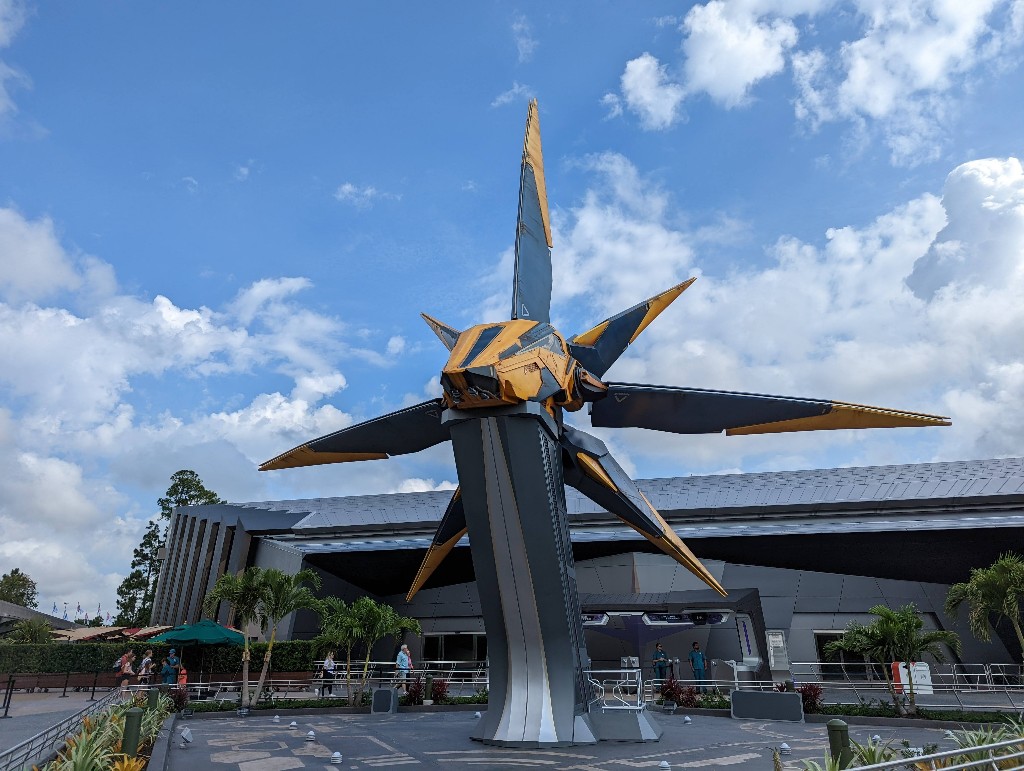 Tron and Guardians both use a virtual queue system or a paid Individual Lightning Lane option as the only two ways to ride.
Both attractions are a lot of fun, but Guardians of the Galaxy: Cosmic Rewind is a more intense ride experience than Tron despite slower speeds. Those prone to motion sickness also struggle more with Guardians compared to Tron.
The unique Tron ride vehicle is uncomfortable for some guests, whereas Guardians' traditional car with lap bar design accommodates a variety of guests.
Having ridden both, I enjoy each in their own way and recommend them to guests in good health looking for a thrill.
Final Thoughts On Our Tron Lightcycle Run Ride Experience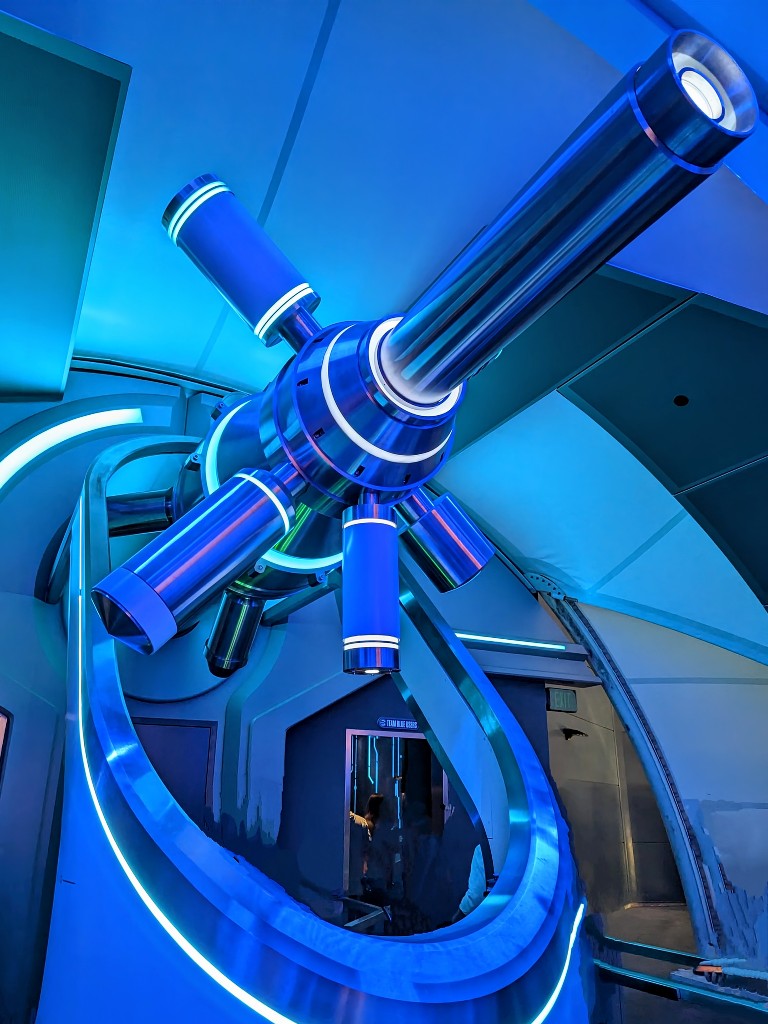 Tron's top speeds near 60 mph in a motorcycle style ride vehicle gave me pause before trying this new Magic Kingdom attraction. I'm so glad I overcame my fears because I felt completely secure in the ride vehicle and absolutely loved the ride.
My entire group had a great experience on Tron and we can not wait to add this to our Magic Kingdom ride rotation once it opens for regular guests.