Villas at Disneyland Hotel, a new Disney Vacation Club location, is a welcome addition to Disneyland Resort. Take a tour of our Disneyland Hotel studio villa, and the resort, to see if this upgraded room option is right for your next Disneyland vacation
Location
Disneyland Hotel is an on-site resort at Disneyland and is a short walk to Downtown Disney, Disneyland Park, and Disney's California Adventure. Villas at Disneyland Resort are in the newly built Discovery Tower across from the large pool complex and near Frontier Tower.
Villas at Disneyland Hotel Resort Overview
Guests staying at the Villas at Disneyland Hotel share a lobby and all amenities with Disneyland Hotel.
Bronze statues of Mickey and Minnie greet guests near palm trees and outdoor seating on the way into the bright, Fantasyland inspired lobby.
Walk past an immense Disneyland map and sit in one of the charming Mad Tea Party inspired tea cup chairs.
Check-in at the front desk is easy and once you get a Key To The World card it's time to leave Fantasy Tower and head to your villa in the Discovery Tower.
There are two paths to the Disney Vacation Club villas. The first is a shorter path, marked in red, past the Monorail Pool. This path is only available with a room key and during pool hours.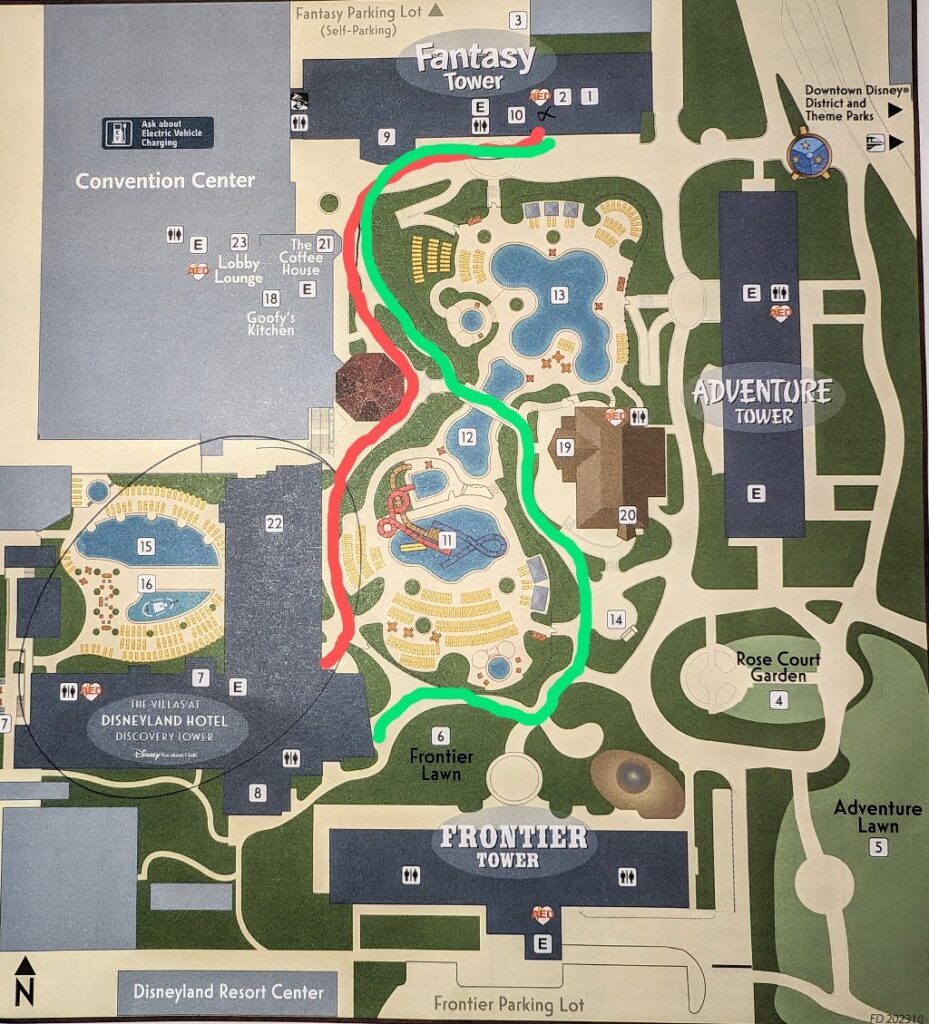 The second path, marked in green, takes guests past Goofy's Kitchen where a sidewalk leads to a walkway over Monorail Pool before winding past Tangaroa Terrace and eventually the Discovery Tower.
The Villas at Disneyland have several room types suited for different groups. Duo Studios sleep two and have a queen-size Murphy bed similar to a room at Disney World's Riviera Resort.
The other Villas at Disneyland room types are deluxe studios, one-, two-, and three-bedroom villas. This article mainly focuses on reviewing studio villas at Disneyland Hotel.
Disney Vacation Club members, those who own a Disney time share, can use points to book these rooms. However, regular guests can book any remaining Villas at Disneyland Hotel rooms for cash like a regular hotel.
Disneyland Hotel Pools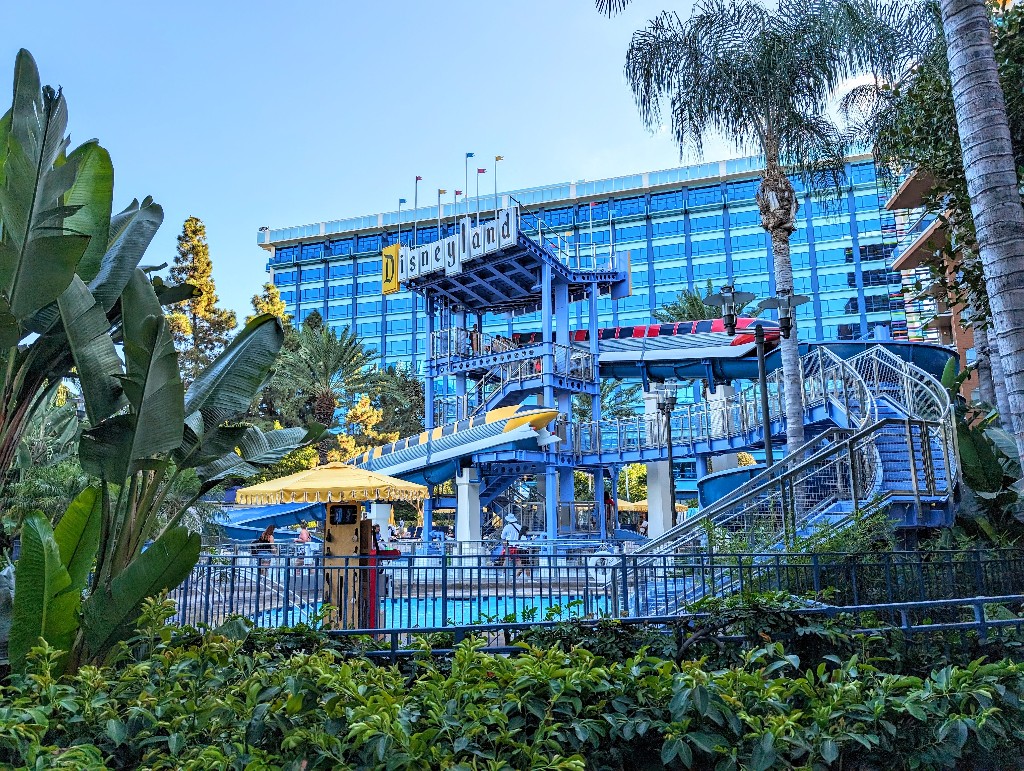 Disneyland Hotel has the most gorgeous and largest pool complex of any Disneyland resort. Monorail Pool has several water slides from adventurous to tame landing under the iconic Disneyland sign.
Choose the Red Monorail slide with a 25 foot high, 180 foot long ride or Yellow Monorail which is a 13 foot high, 80 foot long slide. Little ones can enjoy a smaller, 2 lane slide perfect for less adventurous kids.
D ticket pool is designed for laps while the 4,800 square foot E ticket pool is perfect for splashing and playing. Near the D pool enjoy a relaxing soak in the Mickey or Minnie Spa hot tubs.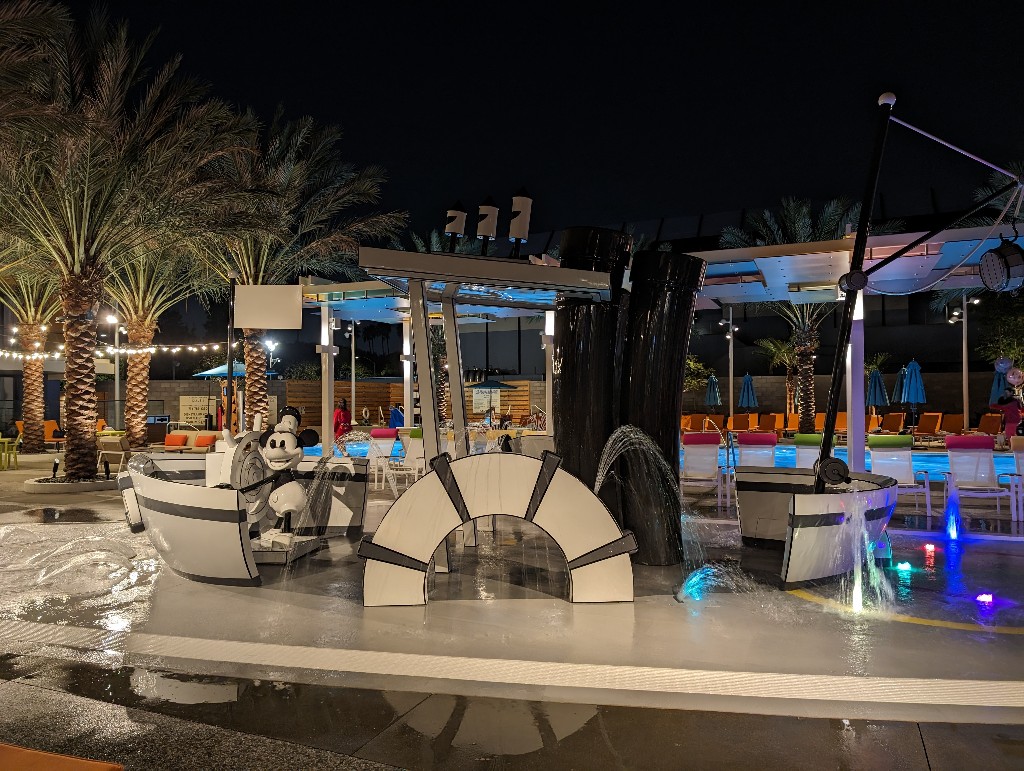 As if these three options weren't enough, a new pool area adjacent to the Disney Vacation Club villas opened with the new tower. Find a Steamboat Willie splash play area and small pool at Palette Pool to round out the aquatic offerings at Disneyland Hotel.
Disneyland Hotel Dining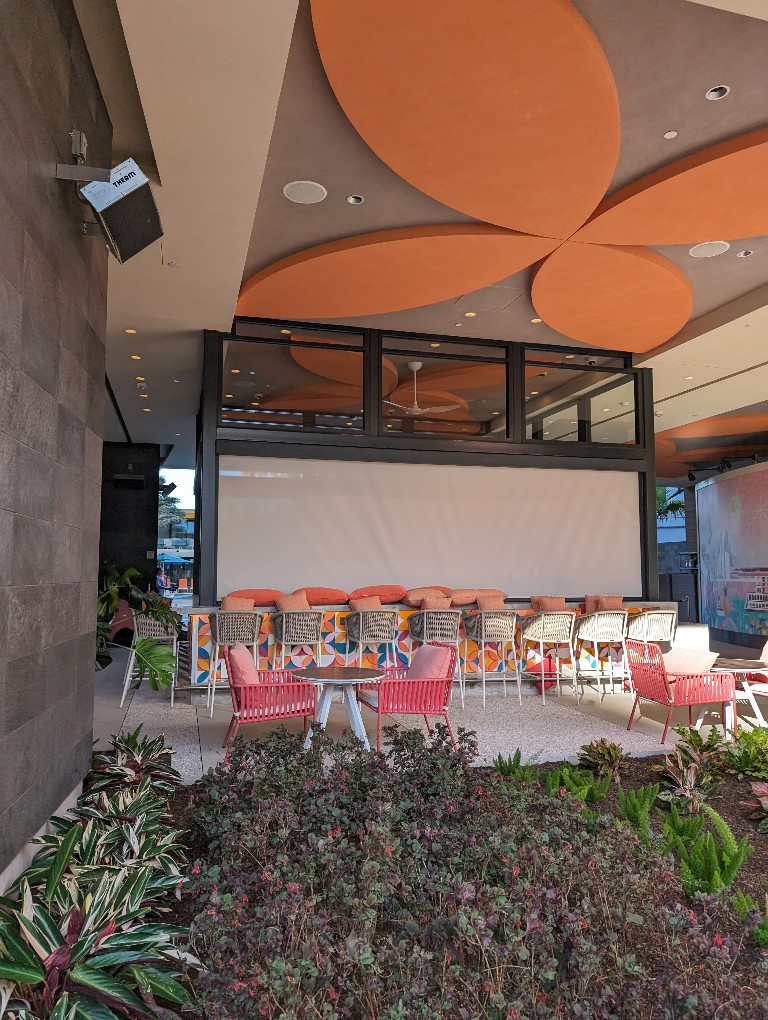 The most popular Disneyland Hotel dining options are Goofy's Kitchen, a character meal, and Tangaroa Terrace Tropical Bar and Grill/Trader Sam's Enchanted Tiki Bar.
Palm Breeze Bar, which recently opened, has an elevated menu not usually seen at a poolside Disney bar. Enjoy a sandwich, mocktail, salad, or shareable starter just steps from the Villas at Disneyland Hotel.
Dozens of other dining options are also just a short walk away in Downtown Disney including some of our favorites like Ralph Brennan's and Naples.
Villas at Disneyland Deluxe Studio Villa Review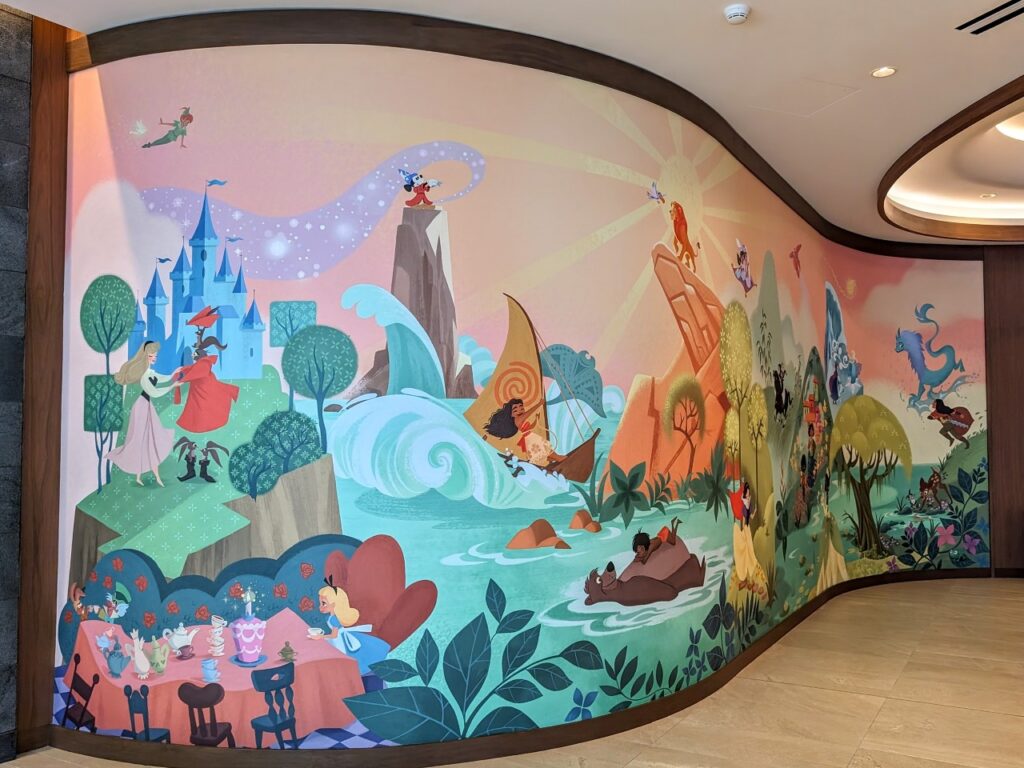 A whimsical, curved mural greets guests upon entering the Villas at Disneyland Hotel lobby. Look for favorite Disney characters like Aurora dancing with her woodland friends, Jasmine and Aladdin taking a magic carpet ride, or Mirabel and Antonio in front of Casa Madrigal among many others.
The Villas at Disneyland room decor is less uniform than other Disney resorts with several character options. Duo studio villas have a Jungle Book theme while deluxe studio villas are either The Princess and the Frog or Sleeping Beauty.
One- and two-bedroom villas are furnished in styles inspired by Fantasia or The Princess and the Frog.
At check-in our cast member asked if we wanted to know which theme we would have. I declined. Walking into our room I loved that we immediately knew our deluxe studio villa decor was inspired by Sleeping Beauty.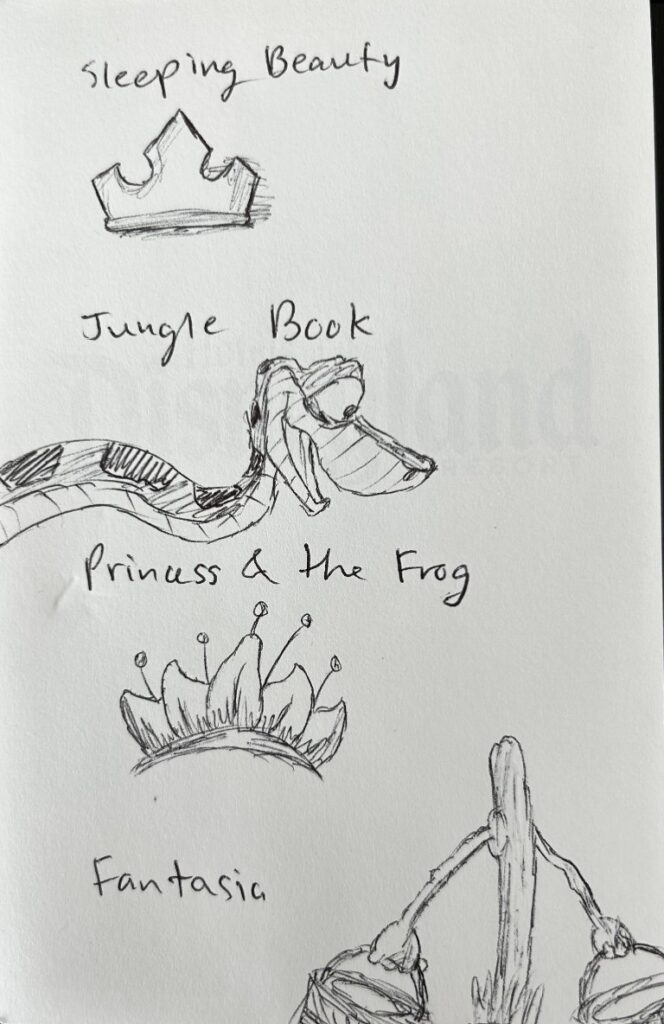 Deluxe Studio Villa at Disneyland Hotel Bedroom
Entering into the studio villa at Disneyland Hotel the room has a contemporary style with an airy feel and sleek lines. Overall the room themes are subtle, but there are some adorable design elements.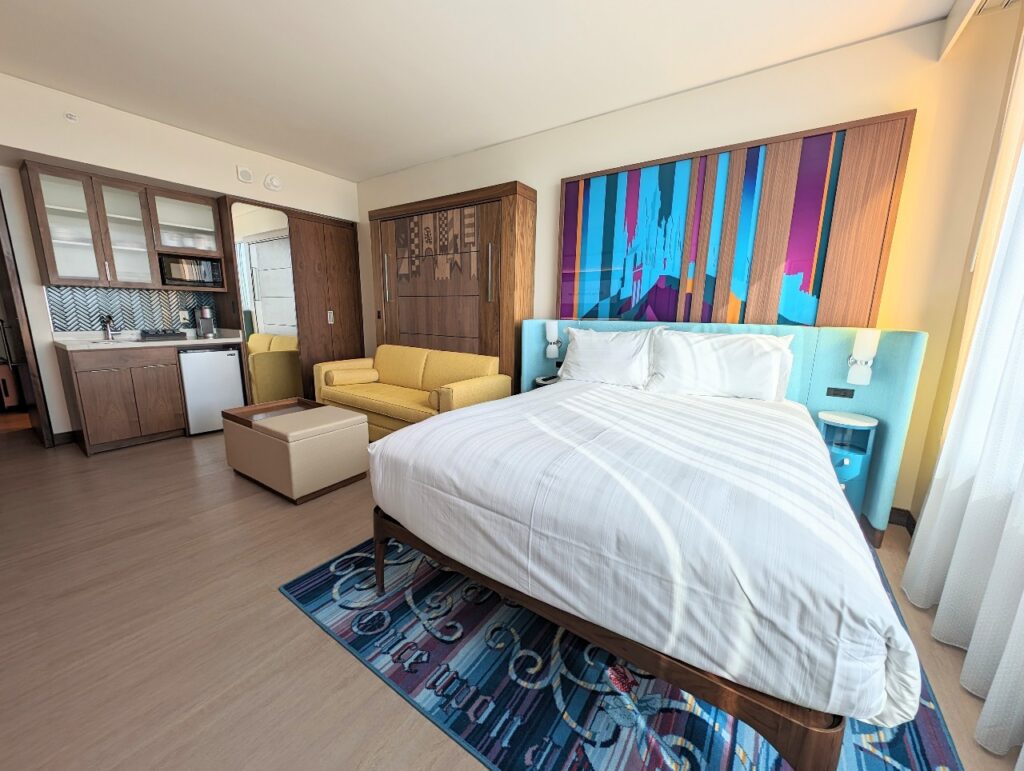 Some of our favorite Sleeping Beauty details are a colorful sketch of the good fairies Flora, Fauna and Merryweather on the wall, a painting inspired headboard on the fold down bed, and decorative tiles with Aurora's crown.
The Disneyland Hotel studio villa layout is efficient without wasted space. The queen-size bed has two small built-in nightstands complete with charging outlets.
For the second bed we love the transition from fold out couches to fold down beds in new rooms at Disney resorts. They are more comfortable and easier to store when not in use.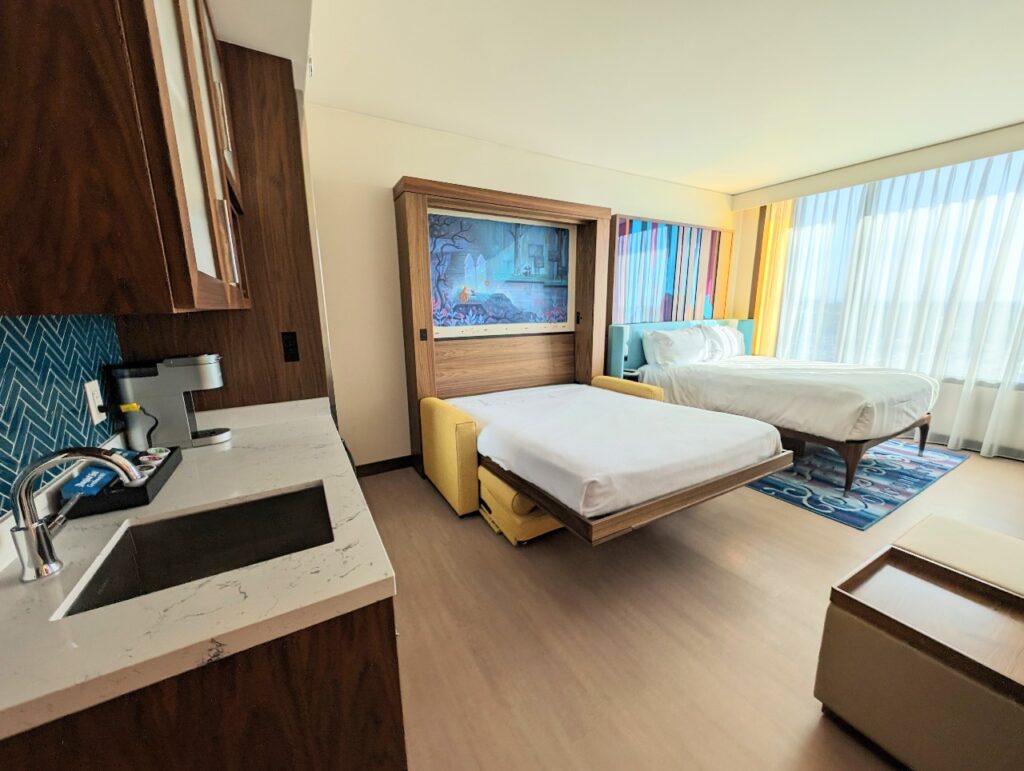 The bright yellow couch is comfortable during the day and easily transforms into the other queen-size bed at night. Find pillows and extra blankets in the closet to finish making the bed.
Several Walt Disney World deluxe villas with similar Murphy beds have built-in shelves and plugs along the inside edge of the Murphy bed frame. We were very disappointed that the deluxe studios in the Villa at Disneyland Hotel room doesn't have this useful feature.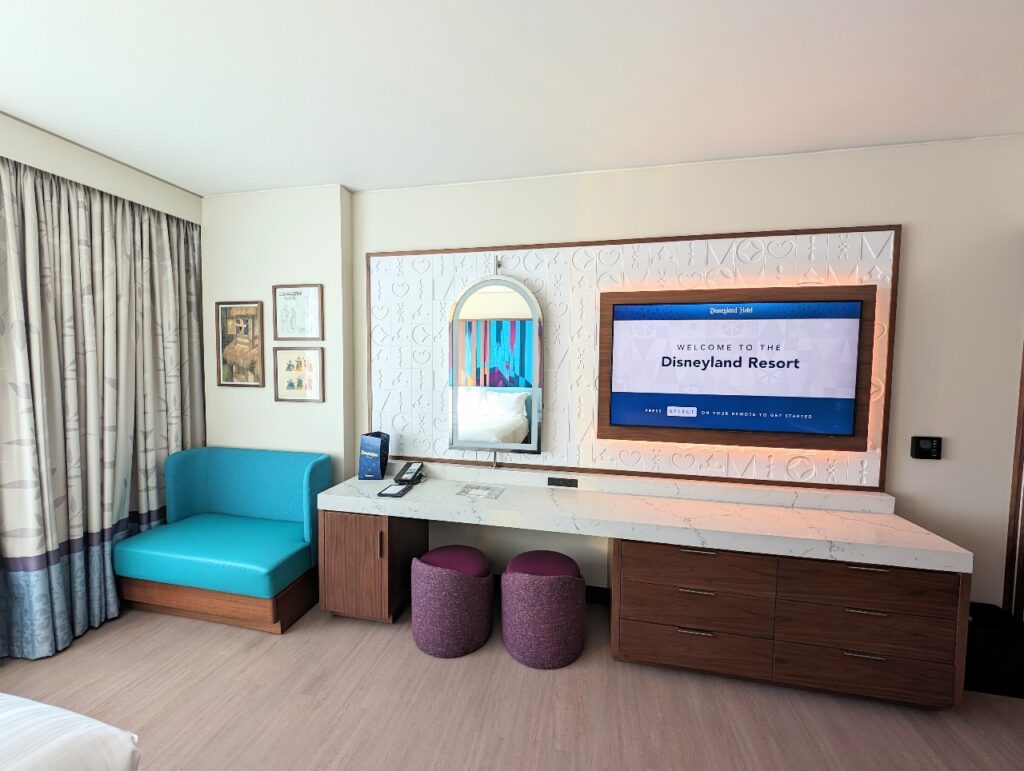 A long counter incorporates both the desk and the dresser. I like that there are two small seats at this desk replacement instead of the usual single chair. A large mirror above and several plugs make this area another place people can do hair or apply makeup.
The dresser has decent storage space, but our packing cubes were too tall when full to fit in the drawers. A wall mounted TV is in the perfect spot to watch from either bed.
Next to this large built-in desk/dresser combo is a small upholstered bench which seats two. The smart seating options in this Disneyland Hotel deluxe studio villa are a welcome relief after walking the parks all day.
Villas at Disneyland Hotel Studio Villa Bathroom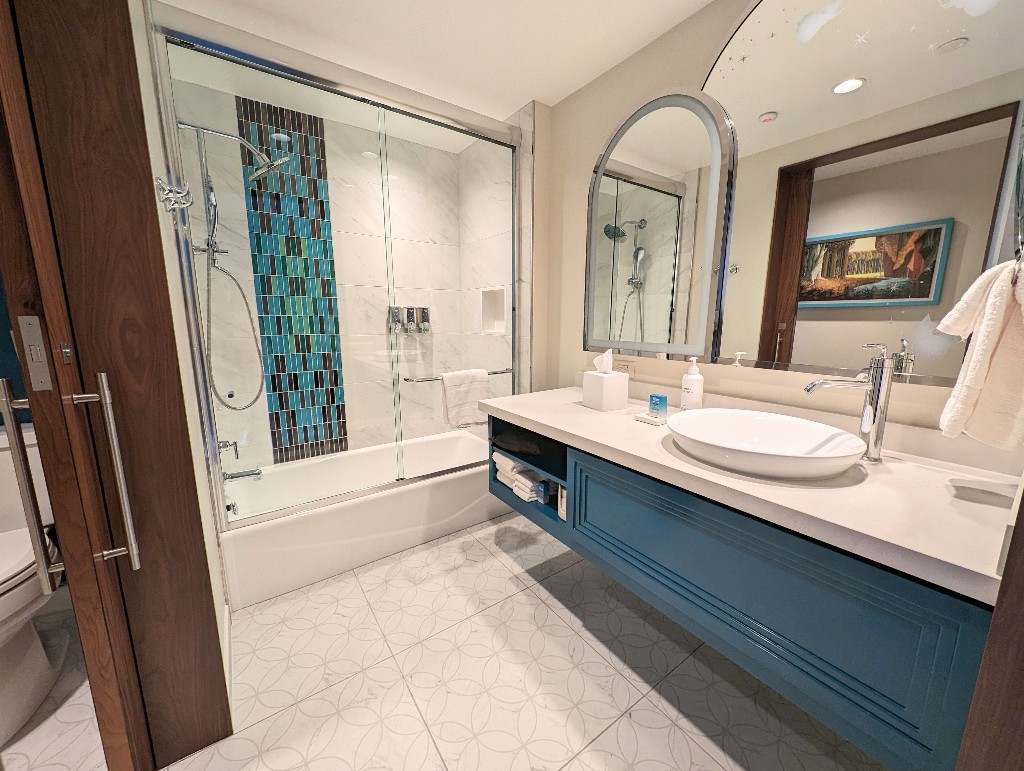 A sliding barn door closes off the bathroom from the rest of the room and a pocket door further divides the toilet from the sink and shower area. We love split bathrooms since these make sharing easier.
One immediate design mistake, in our opinion, is a single sink in the bathroom. At least the one sink fortunately meant more counter space.
Disneyland studio bathroom vanities only have two small, shallow shelves and most of that space is taken up by the hairdryer and extra linens.
While storage in the rest of the studio villa is ample for four people, the bathroom storage space is lackluster.
Luxurious white and gray tiles are accented with a pop of blue and green mosaic tile. The shower has both a regular and handheld shower head for greater flexibility.
Sliding glass doors close off the tub instead of a shower curtain. This is somewhat awkward when giving kids a bath, but better than just a shower.
Shared toiletries attached to the back wall and a small niche for shower essentials finishes the shower.
The mirror has silhouettes of the good fairies incorporating the theme into the bathroom. A mounted make-up mirror and built-in nightlight are two more nice features in the deluxe studio villa bathroom.
Studio Villa Kitchenette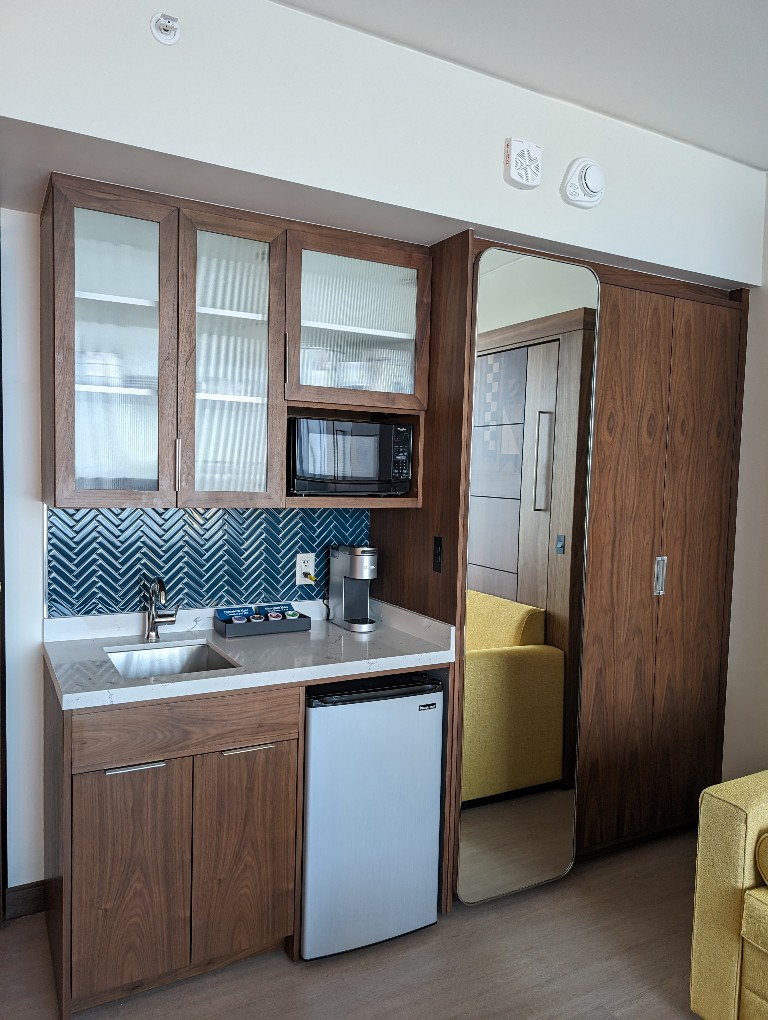 Disneyland studio villas have a small kitchenette which is a step up from a regular resort room. A standard mini fridge has plenty of space and ample cooling. These fridges are better than the beverage coolers which come standard in regular Disney rooms. 
A small kitchen sink with fresh dish soap and a sponge makes washing the provided dishes, utensils, and glasses easy. A microwave, Keurig coffee maker, and toaster make breakfast or snacks in the room convenient.
Next to the kitchenette is a split closet. A full length mirror slides open to reveal hanging storage for a handful of items. The closet tucked next to that opens wide for additional storage shelves, an in-room safe, iron and ironing board.
We feel like the Villas at Disneyland Hotel studio villa storage is ample for four people, except in the bathroom.
The Villas at Disneyland deluxe studio villa has the following great features:
Laminate floors
Several comfortable places to sit even when Murphy bed is down
Split bathroom
Good storage (except bathroom)
Black out curtains
Parking
Walt Disney World removed parking fees for hotel guests, but that is not the case at Disneyland. Disneyland Hotel charges $40 plus tax per car per night or $45 plus tax per oversized vehicle overnight.
Disneyland Hotel valet parking is a whopping $70 plus tax per night.
Overall Impression of Disneyland Hotel Deluxe Studio Villas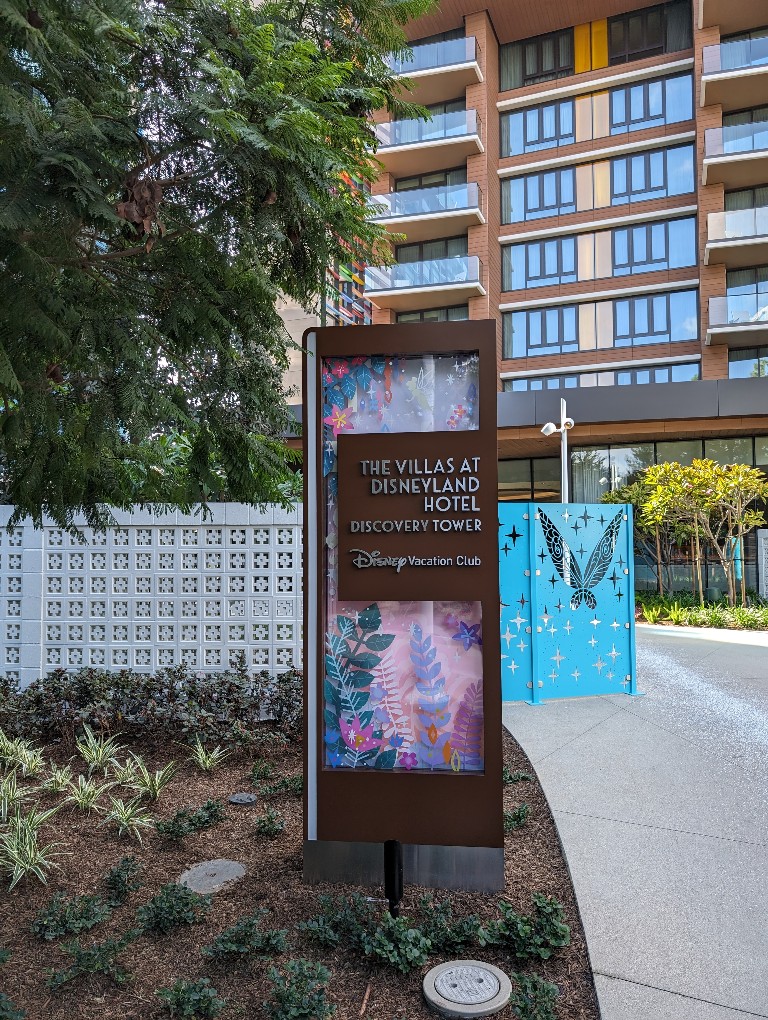 Disneyland Hotel's charming style and beautiful water recreation areas make it a wonderful on-site Disneyland resort option. The new Disney Vacation Club villas are a great addition to Disneyland. We especially like the styling and room design better than the older Grand Californian studio villas.
Having another villa location for Disney Vacation Club members should make booking an on-site stay with DVC points easier, too.
However, Disneyland Hotel is the furthest on-site resort from Disneyland Parks. This longer walk, and no dedicated entrance to Disney California Adventure, is a disadvantage compared to Pixar Pier and Disney's Grand Californian. 
Despite this location disadvantage, we like the room enough to have already booked another Disneyland Hotel studio villa stay.
For guests wanting a DVC member-like stay, the Villas at Disneyland have a great comfort to value ratio. This is especially true when compared to the pricey villas at Disney's Grand Californian Hotel and Spa.