Disney World at Christmas is a special experience, but did you know Disney Springs has several fun Christmas activities, too? Explore Disney Springs Christmas activities from meeting Santa Claus to holiday portraits to finding adorable themed trees on the Disney Springs Christmas Tree Stroll using our guide.
When Are 2023 Disney Springs Christmas Activities?
Disney Springs holiday options begin November 10, 2023 and end December 30, 2023.
Meet Santa Claus At Disney Springs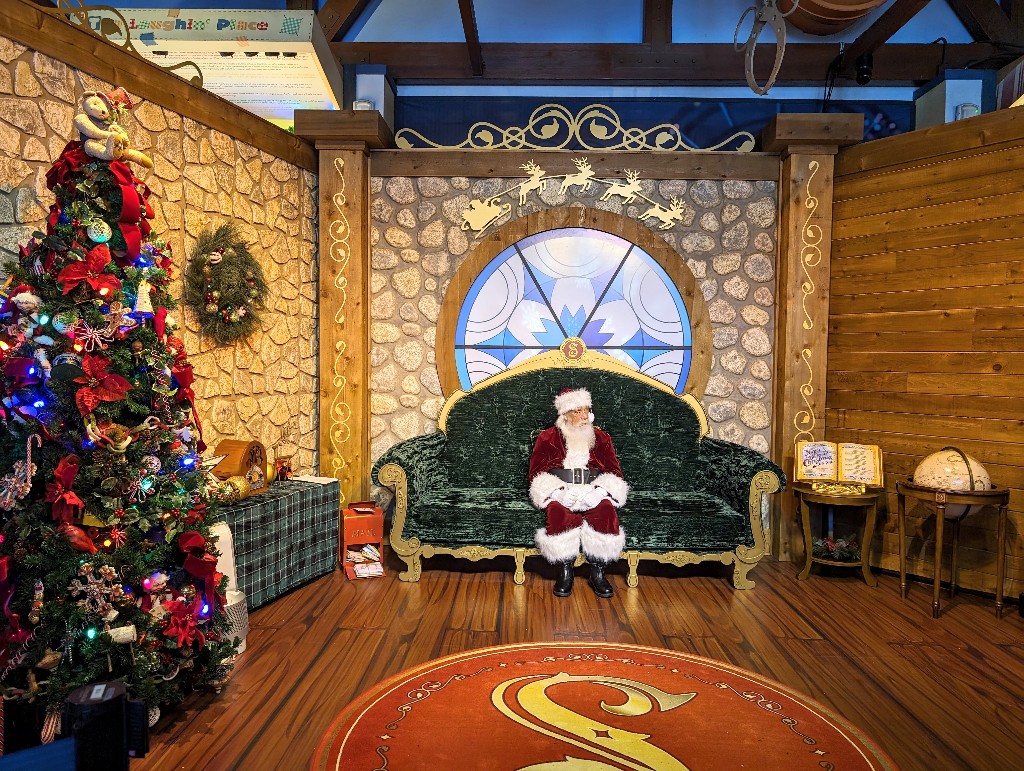 Did you know Santa Claus meets with good girls and boys at Disney Springs? Find Santa's remote workshop at Once Upon A Toy until Christmas Eve during the 2023 holiday season.
Santa only meets with guests who sign up using a virtual queue on the My Disney Experience App. Understanding the Disney Springs Santa virtual queue procedure avoids the disappointment of missing Santa.
The background setting for Disney Springs Santa is adorable with a large green velvet couch as the focal point and a Christmas tree covered in sparkling lights, red poinsettias, and colorful decorations next to it.
Disney Springs Santa Claus Virtual Queue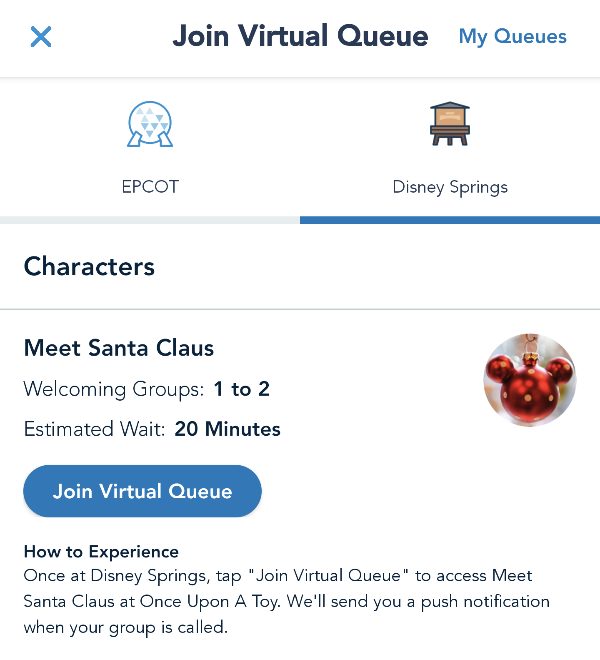 Joining Santa's virtual queue requires using the Disney World app. The Disney Springs Santa virtual queue opens at 9am, 1pm, and 5pm daily, but you must be in Disney Springs to access the queue.
Curious how strict the geographical limitations are for the virtual queue I tried joining while at my Disney World resort. That didn't work so I tried again in the Lyft once we were close to Disney Springs which also didn't work. I finally joined the virtual queue while walking from the Lyft drop off area near Disney Springs security.
After arriving at Disney Springs, find the Virtual Queue section of the Disney World app. Tap the Disney Springs icon and then the blue "Join Virtual Queue" button. It'll ask how many guests are meeting Santa and then assign you a group number.
The app keeps track of your Santa virtual queue group and which groups Santa is currently meeting. Your virtual queue will show an estimated time to return which helps manage your time at Disney Springs better.
When it's time to meet Santa your group is called via a push notification on the app. Head back to Once Upon a Toy to finally meet Santa.
Before entering Santa's remote workshop cast members will scan a QR code on your phone. After scanning in, it's time to enter the real queue. The in-person queue is usually short in the morning with about a 10 minute wait, but gets busier as the day goes on.
Disney Springs Christmas Tree Stroll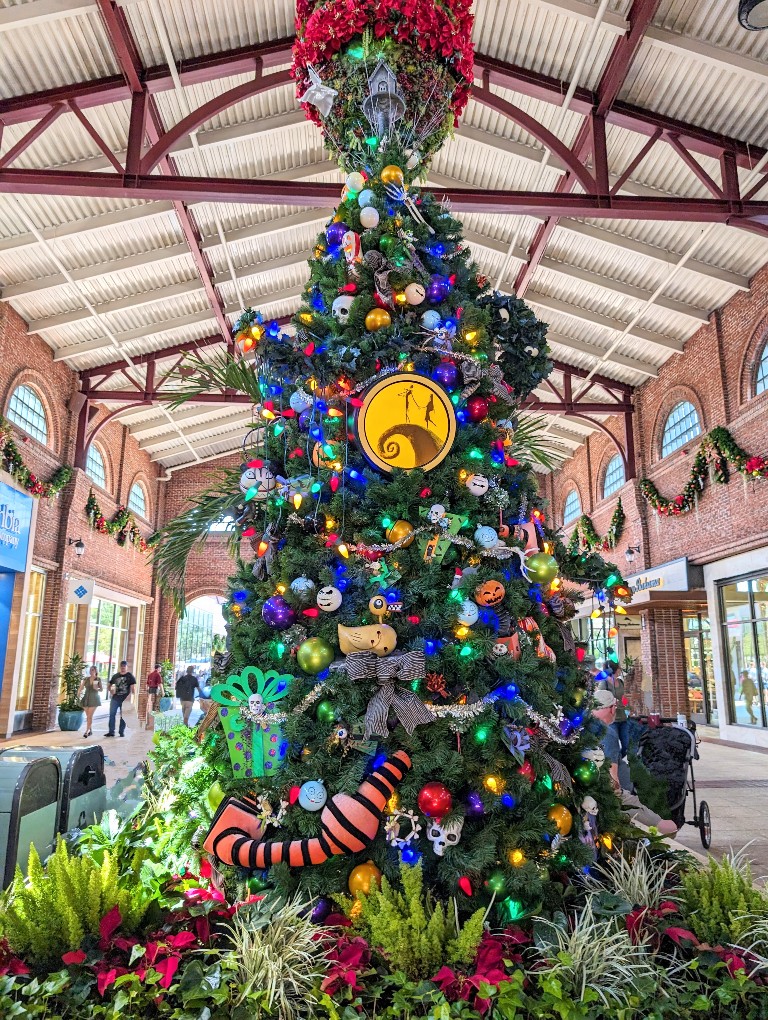 A great way to pass the time while waiting for Santa is by walking the Disney Springs Christmas Tree Stroll which was formerly the Disney Springs Christmas Tree Trail. Grab a free map for this holiday tree scavenger hunt at one of five Disney Springs locations.
Find 2023 Christmas Tree Stroll maps at City Works Eatery & Pour House, Crystal Arts by Arribas Brothers, Joffrey's Coffee and Tea Company, The LEGO Store, or Planet Hollywood.
Use the map to find all ninteen Christmas trees and mark their location with the included stickers. Once you've found all the trees, and completed your map, head back to one of the map locations to receive a prize.
The 2023 season prize is a large, round Disney Springs Christmas Tree Stroll pin similar to celebration pins at the Walt Disney World parks.
Take a virtual tour of the Disney Springs Christmas Tree Stroll with our full guide of this year's event.
Don't have time to do the whole Disney Springs Christmas Tree Stroll? Disney Springs Christmas trees are spread throughout the shopping center instead of one central location.
This means you're bound to find some Christmas trees while wandering through the neighborhoods of Disney Springs while shopping or dining.
Jock Lindsey's Hangar Bar Christmas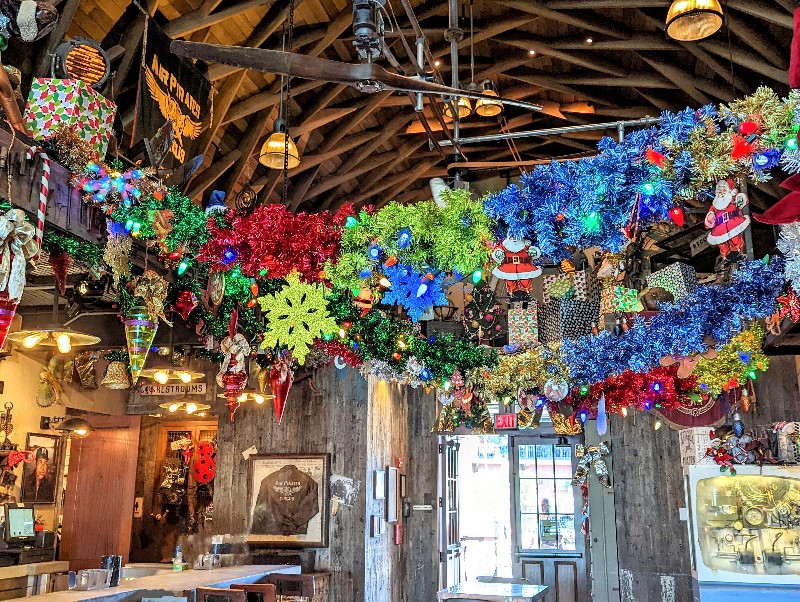 Inspired by Indiana Jones' pilot from "Raiders of the Lost Ark", Jock Lindsey's Hangar Bar has a deep backstory despite the character having less than a minute of screen time. Supposedly, Jock Lindsey flew over Florida looking for the fountain of youth. Instead he found an old float plane hangar he turned into a bar.
The normal aviation and travel adventure decor have so many amazing details from old plane parts to ancient artifacts to homages to a diverse group of early pilots like Bessie Coleman and the Tuskegee Airmen.
At Christmas Jock Lindsey's Hangar Bar is transformed into Jock Lindsey's Holiday Bar. The moment you walk up to Jock Lindsey's Holiday Bar you know you're in the right place for fun in a festive atmosphere.
Bold and colorful tinsel with glittery snowflakes sweep across the ceilings while elves seem to peek out from behind every area. The overall Christmas design aesthetic is chaotic, but welcoming.
It looks like Jock Lindsey found every retro Christmas decoration from his travels and scattered it throughout the bar. I loved that the longer I looked the more decorations seemed to appear.
Jock Lindsey's Holiday Bar has several seasonal drink and food items and is a great place to relax between Disney Springs Christmas activities.
Disney Springs PhotoPass Studio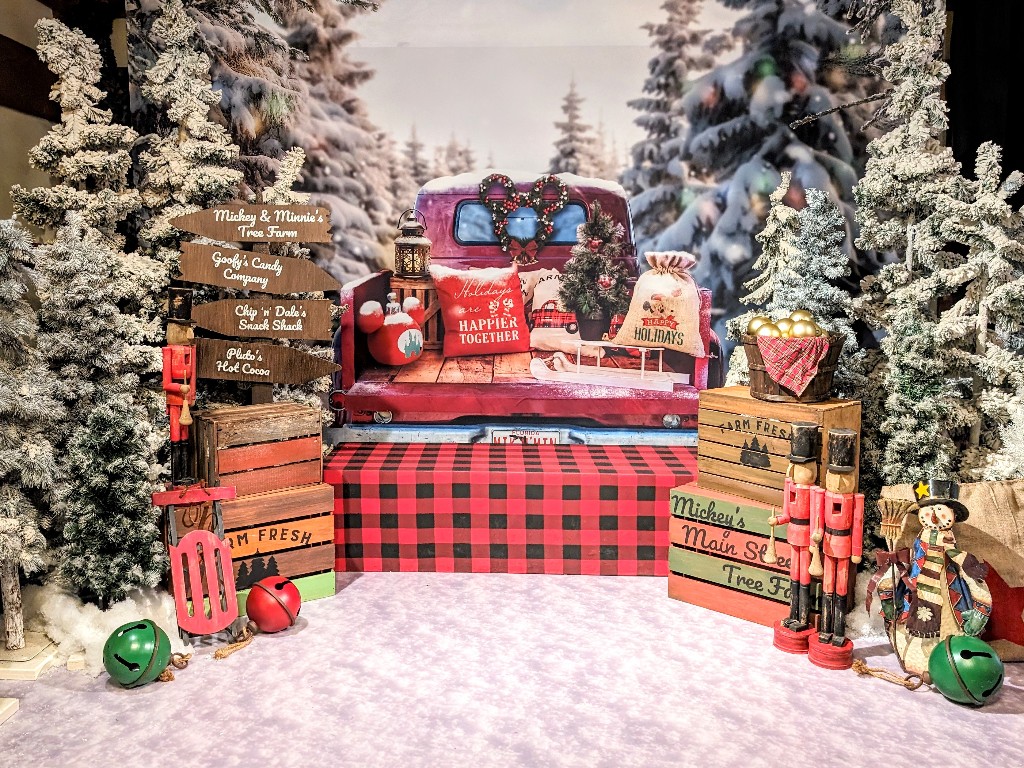 This hidden gem is another perfect Disney Springs Christmas activity and included in the price of Memory Maker. Get dressed in your best holiday outfits and drop in to the Disney Springs PhotoPass Studio where no appointment is needed.
During the 2023 holiday season there is an incredible winter scene for traditional photos with the look of an antique pick up truck, flocked pine trees, and rustic decor.
If that's not your style, choose from five holiday green screen options or 5 non-holiday green screen backdrops for a timeless family photo.
Holiday Treats
There are over a dozen Disney Springs locations with special holiday foods for the season. Find a complete list of destinations and treats sure to put you in a festive mood.
Other Disney Springs Christmas Activities
Stop by World of Disney or Disney's Days of Christmas to shop for the Classic Christmas Collection or the Star Wars Vintage Holiday Collection.
During the evening look for snow falling around Town Center. This is my favorite kind of snow, the kind that doesn't need the cold or to be shoveled.
Enjoy a Santa Sleigh DJ around Marketplace or look for snowflake skaters and stilt-walkers wandering Town Center at night.
Final Thoughts On 2023 Disney Springs Christmas Activities
Disney Springs has lots of fun holiday options perfect for a Disney World rest day. I generally use my Disney Springs Christmas time as a relaxing day before Mickey's Very Merry Christmas Party or Disney Jollywood Nights.
Meeting Santa is a treat and using the virtual queue is easier than the old system. Don't forget to pose for holiday portraits at Disney Springs PhotoPass Studio while you wait for Santa.
The Disney Springs Christmas Tree Stroll is another great way to get into the holiday spirit. Remember to fill out the map to get a free souvenir pin commemorating your holiday experience. Lastly, don't miss the riotous Christmas decor, incredible staff, yummy drinks and tasty food at Jock Lindsey's Holiday Bar while at Disney Springs.
Pin it for later: