Star Wars Galaxy's Edge at Disney World gives fans a chance to wander the planet Batuu and become part of an immersive experience. Galaxy's Edge at Disney World operates very differently from other parts of the Disney World theme parks. After several visits to Batuu, these are our best tips for riding Rise of the Resistance, custom building experiences at Droid Depot and Savi's Workshop, the best food in Galaxy's Edge, plus how character interactions work at Galaxy's Edge.
If you are heading to Galaxy's Edge at Disneyland go to this article instead.
Where Is Galaxy's Edge At Disney World?
Galaxy's Edge is located in Hollywood Studios at Disney World. There are two ways to access Galaxy's Edge, an entrance at the back of Toy Story Land and another near Muppet Vision 3D.
Galaxy's Edge At Disney World Rides
Rise Of The Resistance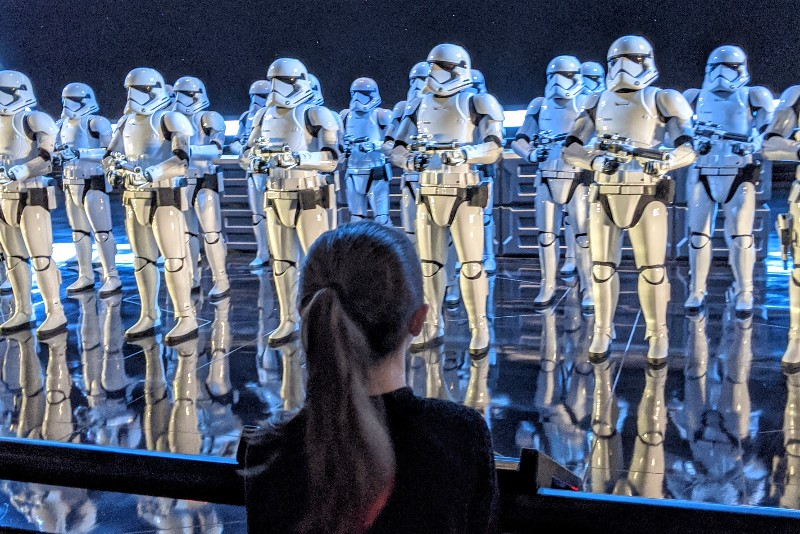 Rise of the Resistance Height Requirement: 40 inches (102 cm) tall
Galaxy's Edge Rise of the Resistance is unlike any other theme park ride we have ever experienced. It has a cohesive story line, two different parts to the attraction, and several wow moments that are too special to spoil.
Starting September 23, 2021 Disney World will pause the Rise of the Resistance virtual queue system and switch to a standby line. It'll be interesting to see if this new Rise of the Resistance standby queue means a pay Genie+ Lightning Lane option for this popular attraction.
Since the announcement says the virtual queue for Rise of the Resistance is paused, not gone, I'm leaving in the following tips below in case the virtual queue is reinstated in the future.
Tips For Riding Rise Of The Resistance When Virtual Queue Is Required
Set Up The My Disney Experience App Ahead Of Time
Download the My Disney Experience app (Google Android, Apple iOS) ahead of time and link everyone in your group to the account. Obtaining boarding passes for Rise of the Resistance is similar to making FastPass reservations on the app.
Be Ready To Reserve Your Boarding Group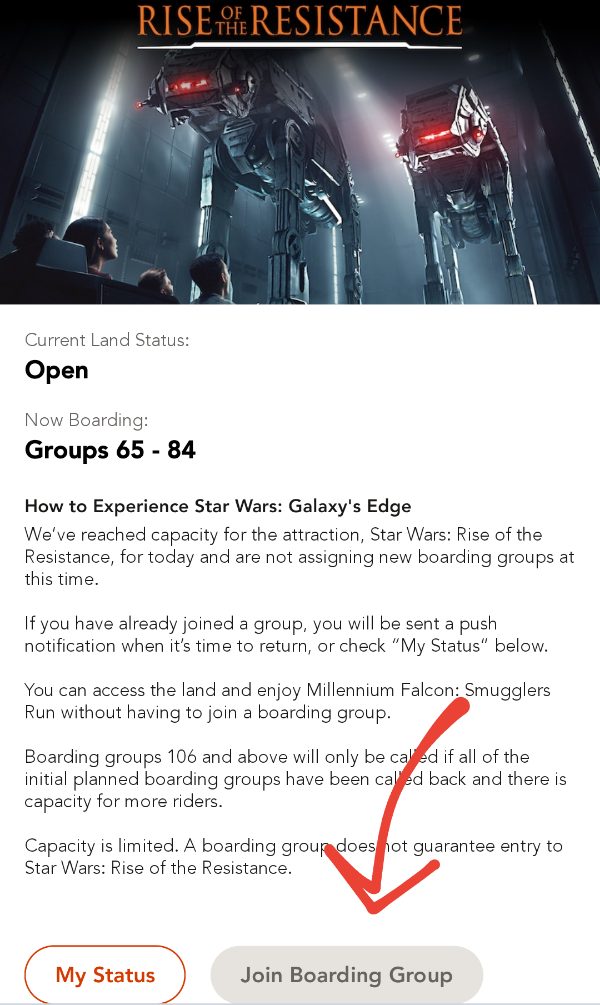 All guests with a Hollywood Studios park reservation plus ticket or annual pass can access the virtual queue system outside of the park. At 7 am on your park reservation day you can try joining the Rise of the Resistance virtual queue from your Disney resort or neighboring areas.
Allowing guests to access the Rise of the Resistance virtual queue from outside the park should help alleviate some park opening crowds. However, I still recommend arriving before park opening to reduce your wait times for other popular attractions.
If you do not get a boarding group during the 7 am distribution, another set of boarding groups go live at 1 pm. Keep refreshing the app starting a few minutes before each of the distribution times for the best chance to register when the window opens.
Keep An Eye On Boarding Group Distribution Patterns
Boarding groups run out at different rates depending on crowd levels. Keep an eye on the #riseoftheresistance hashtag on Twitter for an idea on how quickly groups run out in the days before your trip. In particular, Thrill Data seems to have the most consistent daily information.
Know When It Is Your Time To Board
Check boarding group status on the My Disney Experience App. This will give you a rough idea of when your group will be called. You also receive a push notification on your phone when it is your group's time to board.
Pay close attention to your boarding group notification. Depending on the time, attraction downtime, and other unknown variables the expiration time to enter the queue for your boarding group can vary.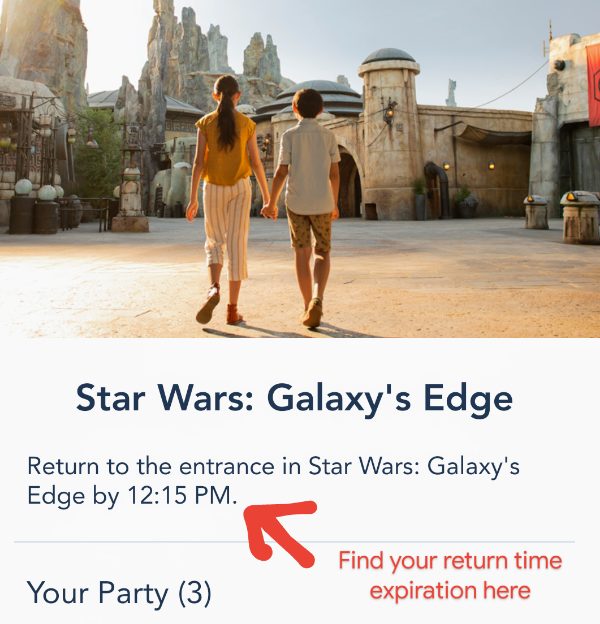 Always verify your boarding group return time on the alert. It would be terrible to do all this work and then miss out on riding Rise of the Resistance. You now have up to an hour to enter the Rise of the Resistance queue once your boarding group is called.
Pro Tip: I recommend heading back to Hollywood Studios when Rise of the Resistance is boarding groups a few ahead of your assigned group. This way you don't miss the opportunity to ride if Disney World transportation between parks is slow and you are assigned a one hour return window.
There Is Still A Line Even With A Boarding Pass
Go to the bathroom before entering the Rise of the Resistance queue. You will have additional wait time in the queue plus the ride time. This wait time seems to vary from 35 minutes to an hour or more.
Be Surprised
Do yourself a favor and avoid spoilers! We avoided specific ride videos and reviews ahead of time. Because of this there were several times we gasped out loud during our first experience.
Millennium Falcon: Smugglers Run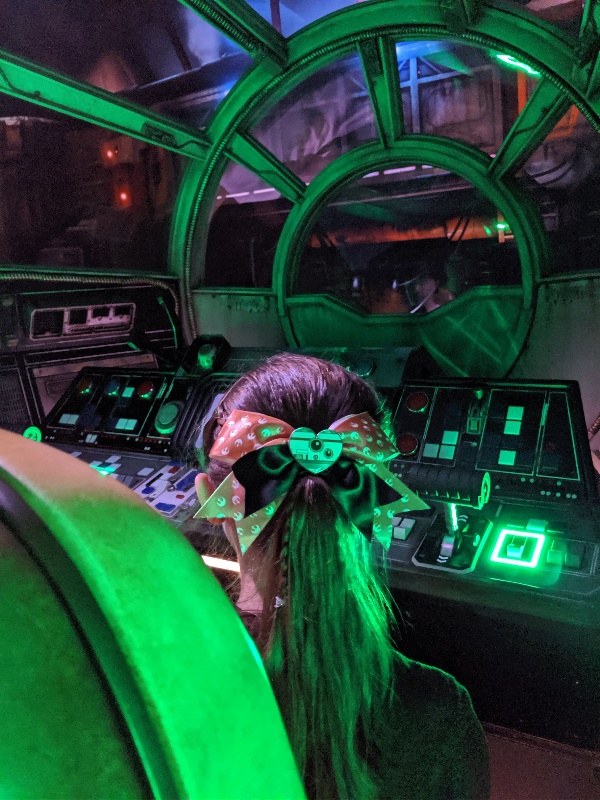 Millennium Falcon: Smugglers Run Height Requirement: 38 inches (97 cm) tall
This attraction makes you part of the Millennium Falcon crew running a job for Hondo Ohnaka, who you may recognize if you are a Clone Wars or Rebels cartoon fan.
Each crew has six members, and cast members assign two people to each of three jobs: pilot, gunner, or engineer. Pilot is the most involved position, engineer is next in activity, and gunner has the easiest job on board the Millennium Falcon.
The better the team works together, the higher your overall score. Your score determines how the Millennium Falcon "looks" when you land. If your crew does well the hallway looks normal. However, if you wreck the Falcon there will be visible signs of damage to embarrass you on the way out.
Galaxy's Edge Custom Building Experiences
There are two custom building experiences in Galaxy's Edge at Hollywood Studios. You can choose to build a custom lightsaber at Savi's Workshop or a custom droid at Droid Depot.
Droid Depot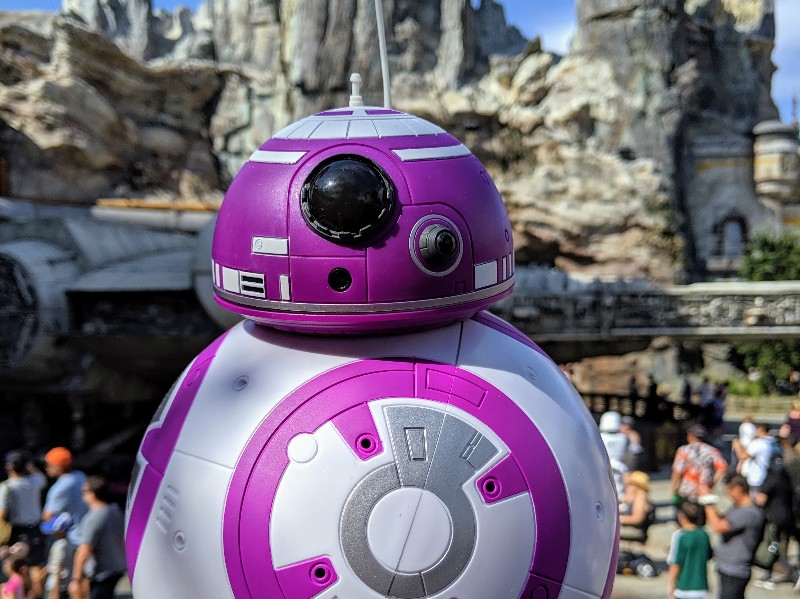 Have you ever dreamed of having your own special BB- or R-series droid? If so Droid Depot should be on your Galaxy's Edge to do list.
Appointments are highly recommended for this experience and can be made 60 days in advance here. If you don't make an appointment, or none are available, you can usually wait in a standby line. The line wait time will vary greatly depending on crowd levels for the day.
Decide which droid type you would like to build and then pay a cast member. Once you have paid you are directed to a conveyor belt full of BB- and R-unit droid parts in a variety of colors. Choose your parts and then head to a building station.
The building station has simple instructions on building your droid. If at any time you have trouble with the instructions, push a button to call a cast member for help. Once you've finished building your droid, a cast member will activate your droid and bring it to life.
The droids from Droid Depot enhance your experience at Galaxy's Edge by chirping, moving, and interacting in different areas of Batuu. We've built both astromech types at Droid Depot and have an in-depth review of the experience here.
Savi's Workshop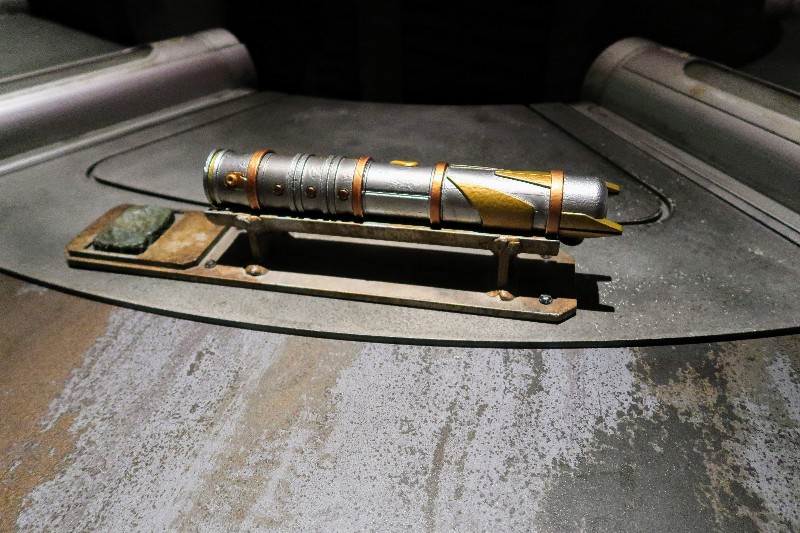 Hidden in plain sight from the First Order, Savi's Workshop operates a secret lightsaber building shop. Under the guise of being scrap metal collectors, the gatherers collect special items for making lightsabers.
The building experience is limited to a handful of builders at a time. Therefore reservations are recommended and can be booked here 60 days in advance. Sometimes same day or standby spots are available.
There are four different lightsaber hilt types and within each type several custom modification options. When you enter Savi's Workshop, the dim lights and decor transport you to another world. The main gatherer tells stories of their hidden existence, the power of lightsabers, and the lore of kyber crystals.
The storytelling, ambiance, lighting, and sounds make the Savi's Workshop experience an incredible way to experience Galaxy's Edge. Find a full review of the experience at Savi's Workshop here.
Star Wars Character Interactions At Hollywood Studios Galaxy's Edge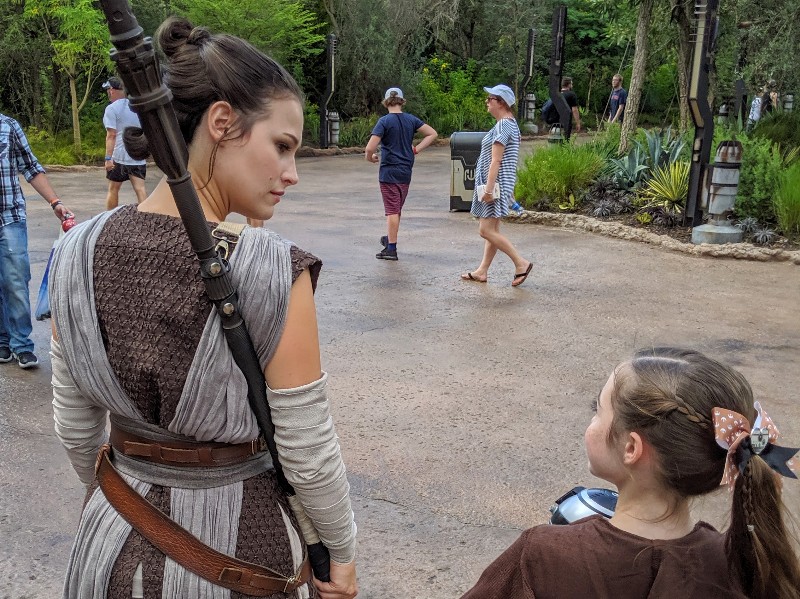 Please note after Disney World COVID re-opening Star Wars characters are socially distant and usually seen on top of set pieces in Galaxy's Edge. Hopefully interactions like the ones below return soon.
Don't look for a traditional meet and greet option with Star Wars characters at Galaxy's Edge. Part of what makes Batuu feel real is the characters seem to be just another person on Batuu. Stormtroopers and Kylo Ren patrol the streets, Rey sneaks around looking for allies, and Chewbacca might be walking around or fixing one of the Resistance A-Wings.
We've walked along paths and chatted with Rey and Chewie. Elizabeth has even been interrogated by Kylo Ren and held for questioning by Stormtroopers. These interactions seem more organic and less staged than a traditional character greeting which makes the experience special.
There are also traditional Star Wars character meet and greets in Hollywood Studios Star Wars Launch Bay. You can usually meet Chewbacca, Darth Vader, or BB-8 in separate areas of Star Wars Launch Bay.
Specialty Foods And Drinks In Galaxy's Edge
Docking Bay 7 Food and Cargo and Ronto Roasters
There are lots of special Galaxy's Edge drinks and food. Most food options are at Docking Bay 7 and Ronto Roasters which serve breakfast, lunch, and dinner daily. We really enjoy the Surabat Shrimp & Noodle Salad, a chilled Asian inspired noodle dish, and Endorian Fried Chicken Tip Yip, a fried chicken tender served with vegetable mashed potatoes or macaroni and cheese at Docking Bay 7.
The most popular option at Ronto Roasters is the breakfast Ronto Morning Wrap. This wrap has Scrambled Eggs, Grilled Pork Sausage, Shredded Cheddar, and Peppercorn Sauce wrapped in Pita Bread.
Milk Stand
Have you even been to Galaxy's Edge if you didn't get blue or green milk from the Milk Stand? Both the blue and green milk are served frozen and are the perfect pick me up on a hot day. The blue milk has a subtle tropical fruit flavor while green milk has stronger citrus undertones. The Milk Stand also serves alcoholic versions with Bacardi Rum added to blue milk or tequila blanco mixed into green milk.
Oga's Cantina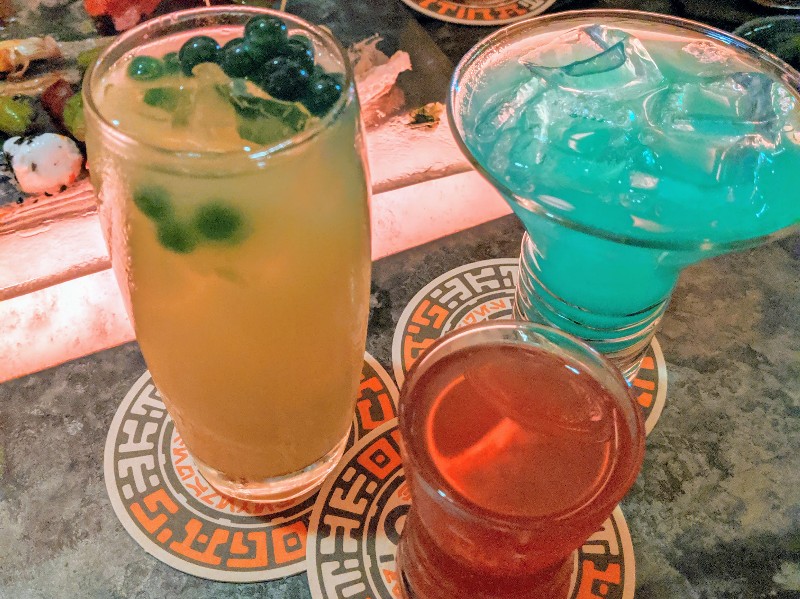 We've been fortunate to experience Oga's Cantina several times and took full advantage of our opportunity to order two drinks per person in our 45 minute time window. This dimly lit space bar has DJ-R3X spinning the hottest dance music while you enjoy your drinks.
Oga's Cantina Alcoholic Beverages
The most popular alcoholic beverage at Oga's Cantina is the Fuzzy Tauntaun which is peach vodka, peach Schnapps, orange juice, cane sugar, and "Buzz Button Tingling" foam.
Pro tip: When drinking a Fuzzy Tauntaun – do not, I repeat, do not taste the foam by itself. I made the mistake of doing so and my lips were instantly numb. When taken as part of the drink it provides a funny tingling sensation with the sweet beverage.
We've also tried Jedi Mind Trick, Jet Juice, and The Outer Rim. My husband loves the small but mighty Jet Juice which has bourbon and ancho chili liqueur.
The Outer Rim is a good, but not exactly traditional take on a margarita which was delicious. Jedi Mind Trick is Ketel One Botanical Grapefruit and Rose Vodka, John D. Taylor's Velvet Falernum, Bols Blue Curaçao, white grape juice, lime juice, and grapefruit bitters.
There are a couple of other cocktails on the menu, plus special draft beers and wines at Oga's during lunch and dinner. Breakfast has different themed cocktails and specialty coffees.
Non-Alcoholic Beverages At Oga's Cantina
There are also non-alcoholic beverages at Oga's Cantina. We've tried their version of blue milk which is garnished with a vanilla butter sugar cookie over the top of the glass. Know that Oga's Cantina blue milk is different than the one at the Milk Stand as it is served cold, but not frozen.
Jabba Juice is Simply Orange with Pineapple, Kiwi, Cantaloupe, and Blueberry Popping Pearls. This Oga's Cantina drink is Elizabeth's favorite Galaxy's Edge beverage.
We've yet to find a bad cocktail or non-alcoholic beverage at Oga's Cantina. Space is limited so reservations are highly recommended.
Play Disney Parks App Usage in Galaxy's Edge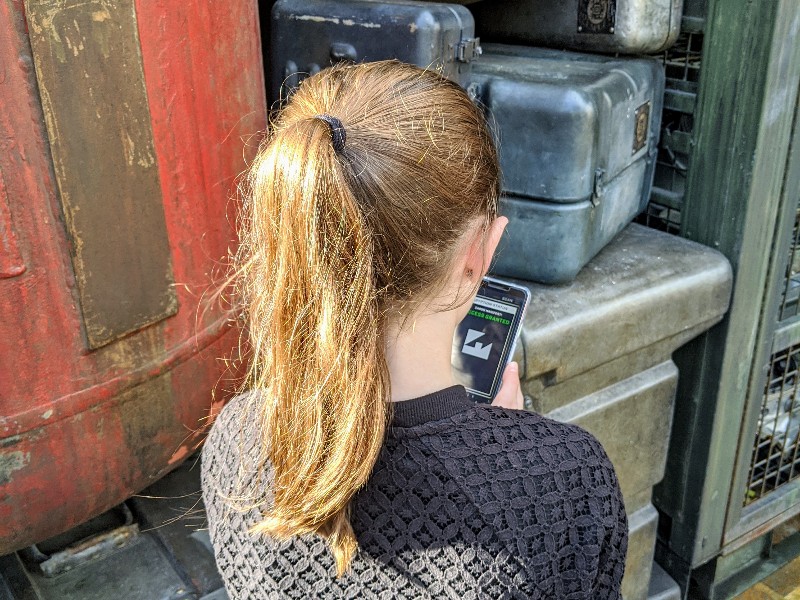 A great way to participate in the Galaxy's Edge story on Batuu, plus kill some time waiting for your Rise of the Resistance boarding group, is the Play Disney Parks App. With Data Pad you can hack droids and devices, scan items to see what containers hold, translate Star Wars languages, tune into communications sent around the outpost, and complete jobs to earn credits and make a name for yourself around the outpost.
Depending on the jobs you take your reputation improves with the Resistance, First Order, or Scoundrels. Scoundrels are rogues who are not affiliated with either the First Order or Resistance. Instead they focus on getting paid by whomever provides the best jobs.
There are lots of fun interactions on Data Pad in Galaxy's Edge. For example, we "overheard" a conversation between two Stormtroopers making fun of Kylo Ren and collected marauder armor from Solo: A Star Wars Story. Make sure you are logged into your Play Disney Parks App account to keep track of your progress. The more you play, the more involved the game gets.
Disney World Star Wars Experiences Outside Of Galaxy's Edge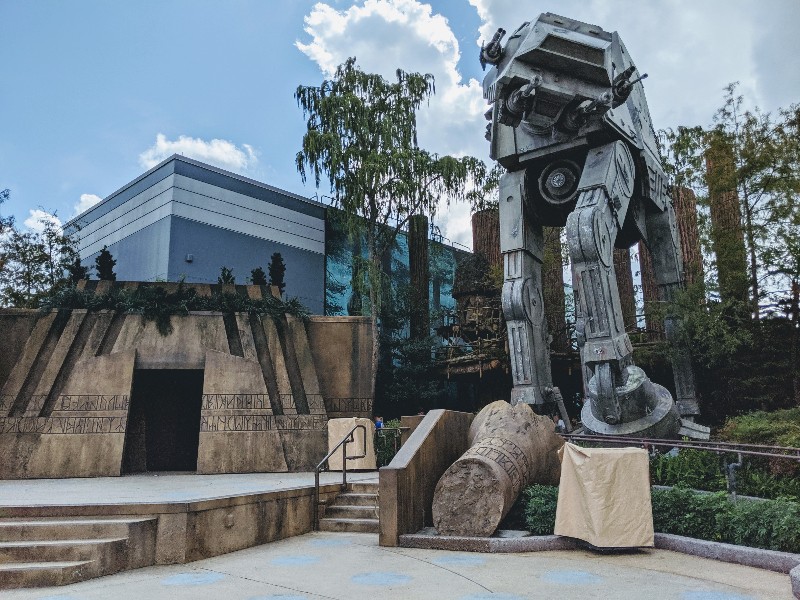 Hollywood Studios has Star Wars experiences outside of Galaxy's Edge, too. I've already mentioned Star Wars Launch Bay for character meet and greets, but here are several other Star Wars experiences at Hollywood Studios.
Star Tours
Star Tours – The Adventure Continues is the original Star Wars attraction at Disney World. This ride combines 3D video and a moving transport ship to take you on an adventure delivering a rebel spy to the Resistance.
The ride has several variations and destinations so you get different experience with most rides. There are classic planets like the moon of Endor, plus places from the newer movies like Crait. I love this classic ride, but those with a history of motion sickness may find themselves feeling green after riding Star Tours.
Jedi Training (temporarily unavailable)
Signing up for Jedi Training: Trials of the Temple is a way to let your padawan age 4 to 12 years old train like a Jedi. Jedi Training is a stage show near Star Tours that takes place several times per day.
Kids are provided robes and lightsabers before training with a Jedi master. After some initial training they are forced to face their fears and fight the dark side in the form of Kylo Ren or Darth Vader.
The Jedi Training experience is extremely popular and fun, but can be scary for some kids. This article gives tips for signing up for Jedi Training and what to expect when participating in the show.
Star Wars: A Galactic Spectacular (temporarily unavailable)
This nighttime Star Wars show at Hollywood Studios is the perfect way to end a Star Wars filled day. Large projections of Star Wars scenes, the rousing Star Wars music, and fireworks make this 14-minute show a fun experience for Star Wars fans.
Final Thoughts On Galaxy's Edge At Disney World
Galaxy's Edge at Disney World is a unique experience where you become immersed in the story. We love how cast members are fully in character around Batuu and that we can bump into Star Wars characters as we wander the outpost.
Rise of the Resistance is truly a game changing attraction and unlike anything you have ever experienced. It is the perfect addition to Millennium Falcon: Smugglers Run, the custom building experiences, and unique foods and beverages in Galaxy's Edge.
If it were up to my Star Wars obsessed daughter we would never leave Batuu and explore the rest of Hollywood Studios. She loves the realistic character interactions, rides, and how her droids interact around the outpost. I highly recommend that you spend some time wandering around the outpost and let your imagination take you to a galaxy far, far away.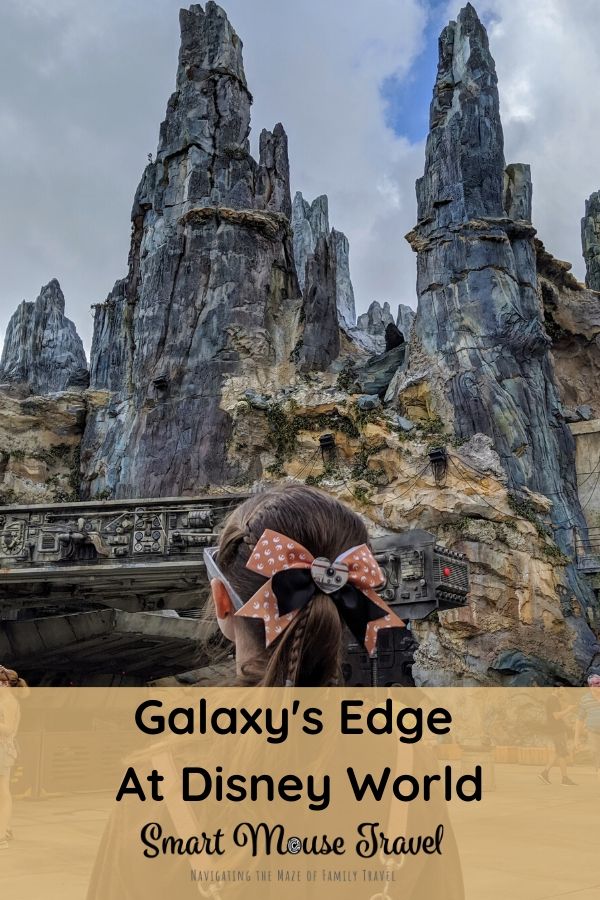 Pin it for later: