The opening of the immersive Star Wars land at Disneyland Galaxy's Edge is exciting for any fan of the series. However, with all the focus on Disneyland Galaxy's Edge I think people might miss out on some of the other fun Star Wars attractions elsewhere at Disneyland. This article will provide a review of everything Star Wars at Disneyland Galaxy's Edge and Tomorrowland.
Disneyland Galaxy's Edge
In the Disneyland Galaxy's Edge backstory, you are a wayward traveler visiting Black Spire Outpost on the planet Batuu, otherwise known as the back of Disneyland Park.
Galaxy's Edge is split into roughly three sections: a marketplace, a Resistance outpost, and a First Order stronghold. There are no defined barriers between these areas which lends itself to a more realistic experience.
Black Spire Outpost Marketplace
The Black Spire Outpost Marketplace is the largest section of Disneyland Galaxy's Edge. This is where you can build a custom droid at Droid Depot, a lightsaber at Savi's Workshop, be part of the Millennium Falcon crew, or wander the stalls for unique food and drinks.
Millennium Falcon: Smugglers Run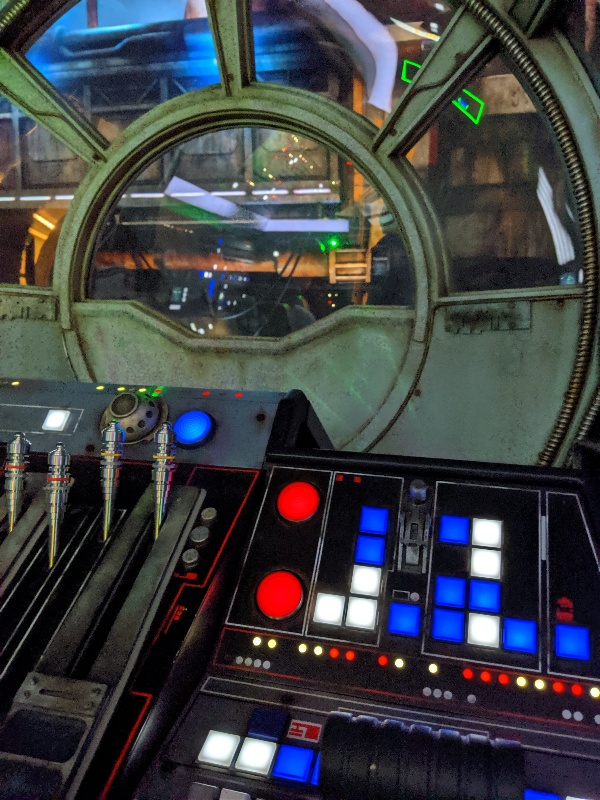 Millennium Falcon: Smuggler's Run is a unique and interactive attraction and was the first ride to open at Disneyland Galaxy's Edge. Guests divide into 6-person crews, and each person gets an assigned a role to play on the Millennium Falcon: pilot, gunner, or flight engineer.
After getting your crew color and role, you can briefly explore some of the Millennium Falcon. A few moments later, a cast member will call out your team color.
Assemble your team, and the cast member leads you to the cockpit of the Millennium Falcon. Pilots are in the front, gunners in the middle, and flight engineers at the back. My daughter and I always got the same job assignments, so we sat next to one another during the ride.
Millennium Falcon: Smuggler's Run Jobs
Pilot
Two pilots share the responsibility of guiding the ship. One person moves the ship up and down while the other pilot moves the ship right to left.
We both had the role of pilot on our first ride on Millennium Falcon. I was completely ill prepared for how interactive it would be to act as pilot. Needless to say we had a blast, but the ship was wrecked upon our return. The exit hall shows damage if your team scores poorly, so we had to walk through evidence of our incompetence.
Gunner
The gunners choose between automatic or manual targeting. Once a target is acquired the gunner hits a button to fire.
Flight Engineer
Flight engineers on Millennium Falcon: Smuggler's Run have the job of fixing everything that other crew members break. Basically you have to hit any flashing light as quickly as possible to repair the ship.
I thought being a flight engineer was a lot of fun. This is true even though I got super distracted watching out the front window of the Falcon and forgot to hit my flashing buttons for part of the ride.
Oga's Cantina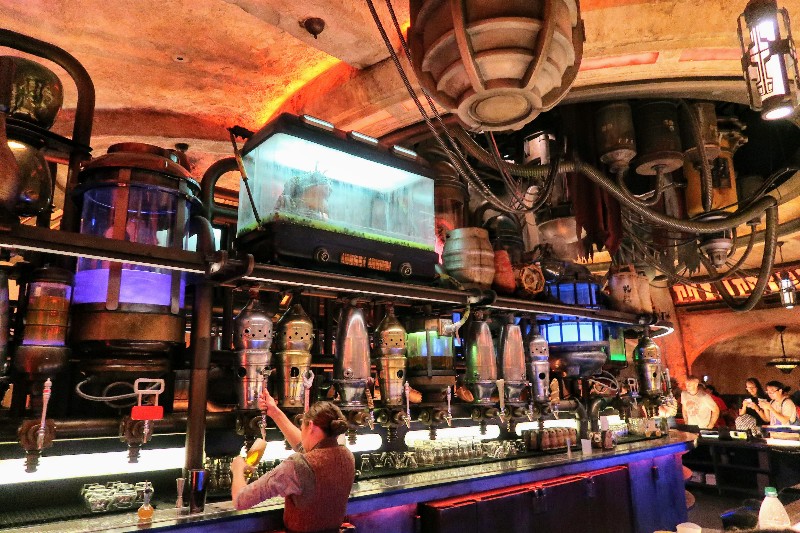 The hottest bar in Black Spire Outpost is Oga's Cantina. DJ R-3X spins Batuu's best dance music while you enjoy the ambiance and some specialty alcoholic or non-alcoholic cocktails. Oga's Cantina is a small venue with a mix of standing bar room, standing bar tables, and community tables with booth seats.
Reservations are required for Oga's Cantina and can be made online or using the Disneyland app. Because of the extreme popularity of Oga's Cantina each group is only allowed 45 minutes and at most two beverages per person.
We enjoyed the atmosphere of Oga's Cantina and DJ R-3X but struggled to find anything safe for Elizabeth to drink because of her food allergy.
Droid Depot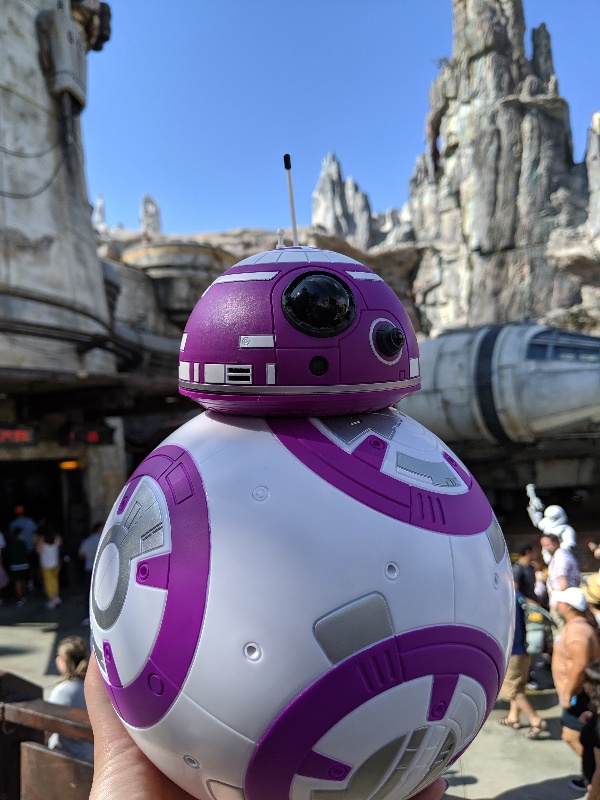 Have you dreamed of building your very own R or BB series droid? Droid Depot in Galaxy's Edge can make that a reality. Find out all about our Droid Depot experience in our full review, plus tips for using your droid in Galaxy's Edge.
Savi's Workshop
Under the guise of a scrap metal shop to avoid First Order detection, Savi's Workshop is a special place where you can build your very own lightsaber. Reservations are highly encouraged, as this is a popular activity at Galaxy's Edge.
Dok Ondar's Den of Antiquities
You can find a variety of Star Wars merchandise in Dok Ondar's Den of Antiquities. While you are there stop by the back of the store to see Dok working on his next project.
Docking Bay 7 Food And Cargo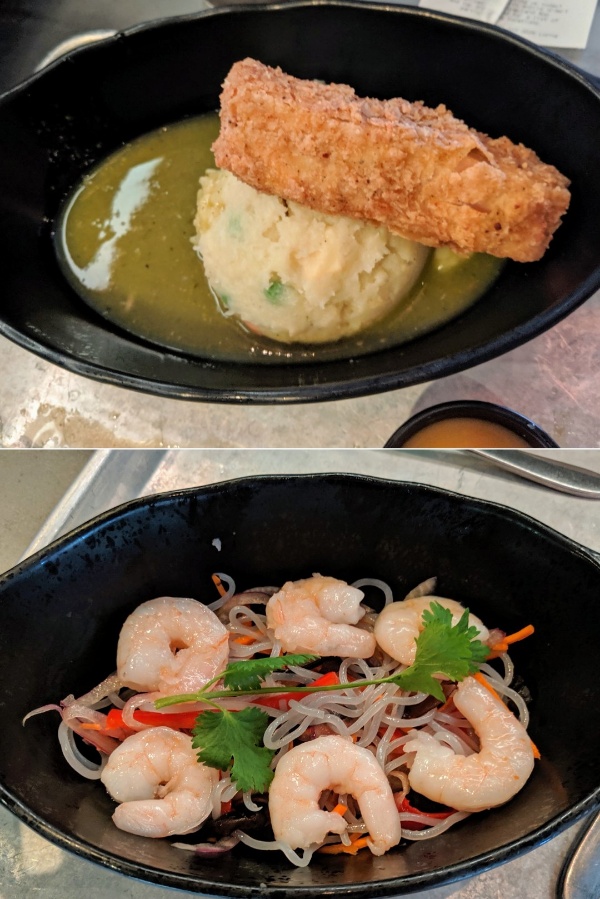 This quick service spot in Black Spire Outpost serves some unique food offerings. I thought my Fried Endorian Tip-yip, a crispy fried chicken log served over vegetable mashed potatoes, and Elizabeth's Yobshrimp Noodle Youngling Salad, chilled shrimp over a bed of noodles, were both tasty. My only disappointment in our lunch experience was that the portions were smaller than I expected.
Marketplace Stalls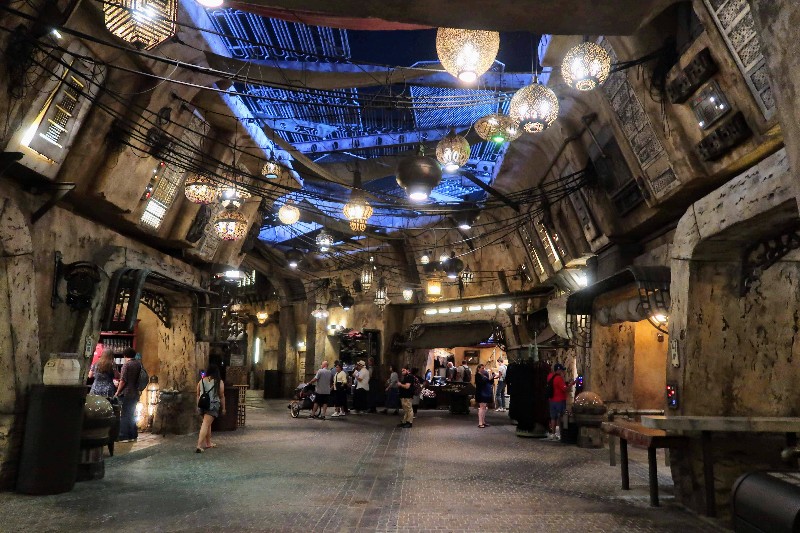 We had a lot of fun walking around the marketplace area near Ronto's Roasters, a quick service spot in Galaxy's Edge. Each stall seems individually "owned" and has different merchandise. The Creature Stall is one of our favorite spots as we could see fun space animals we have come to love from the Star Wars movies, cartoons, and comic books.
Resistance Outpost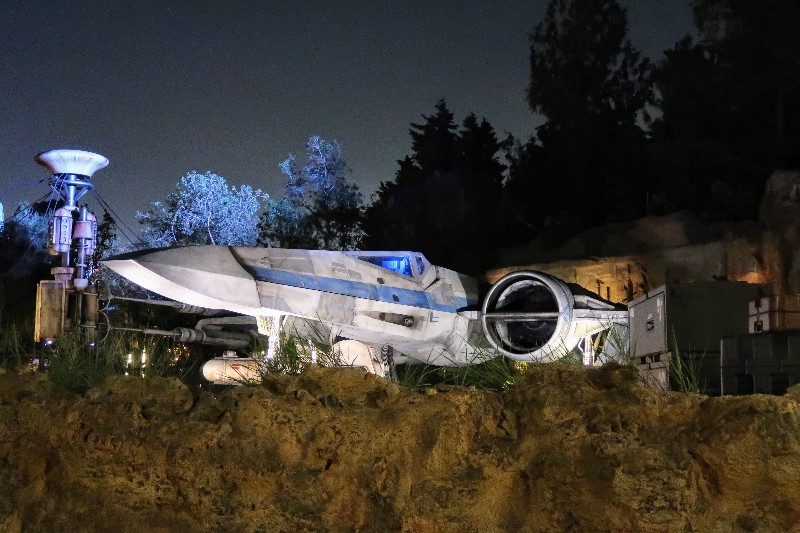 Currently the area near the Resistance outpost is pretty deserted, but well worth a look around. Right now there are a couple of booths to purchase Resistance based items. There are also two life size ships to admire in the Resistance Outpost: a X-Wing and an A-wing.
In January 2020, the second Disneyland Galaxy's Edge attraction, Rise of the Resistance, will open and likely bring a flood of activity to the area.
Disneyland Galaxy's Edge First Order Area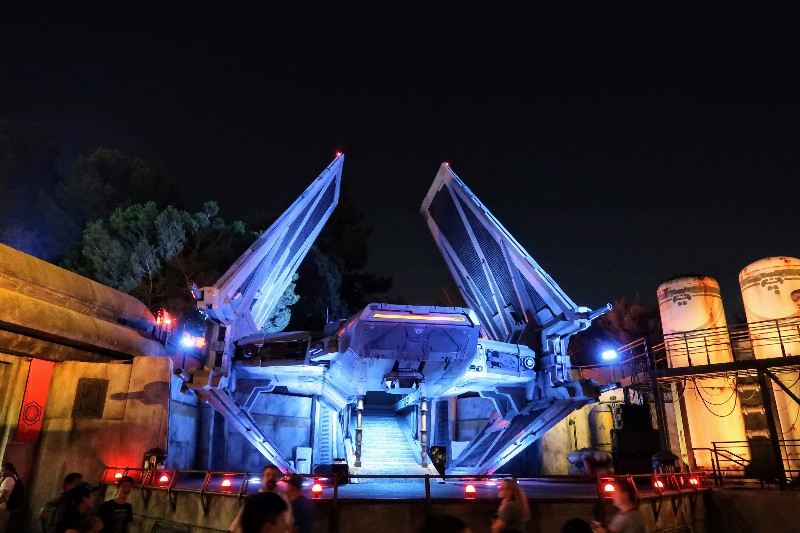 First Order Cargo carries any item your Dark Side heart might desire. Just outside First Order Cargo is a TIE Fighter Echelon, a ship specially crafted for Galaxy's Edge. Photopass photographers are often stationed near the ship as it makes a great photo background.
Disneyland Galaxy's Edge Fireworks Viewing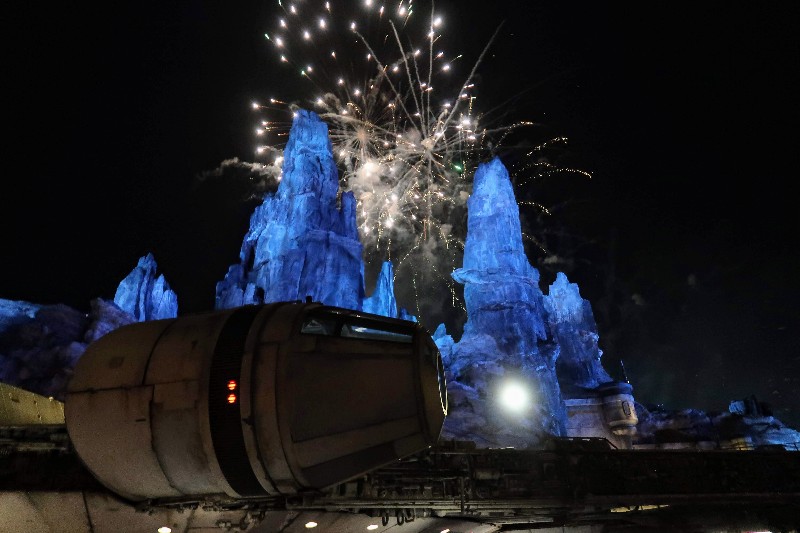 Not only does Disneyland Galaxy's Edge offer an immersive Star Wars experience, it provides an incredible viewing spot for Disneyland fireworks. Make sure to arrive early for premium firework viewing spots. We watched briefly and then used the distraction of fireworks to wait in a shorter line for Millennium Falcon: Smuggler's Run.
Star Wars Attractions In Tomorrowland

At the other corner of Disneyland from Galaxy's Edge is Tomorrowland. Tucked into this future themed area are two Star Wars rides and a traditional character meet and greet.
Star Tours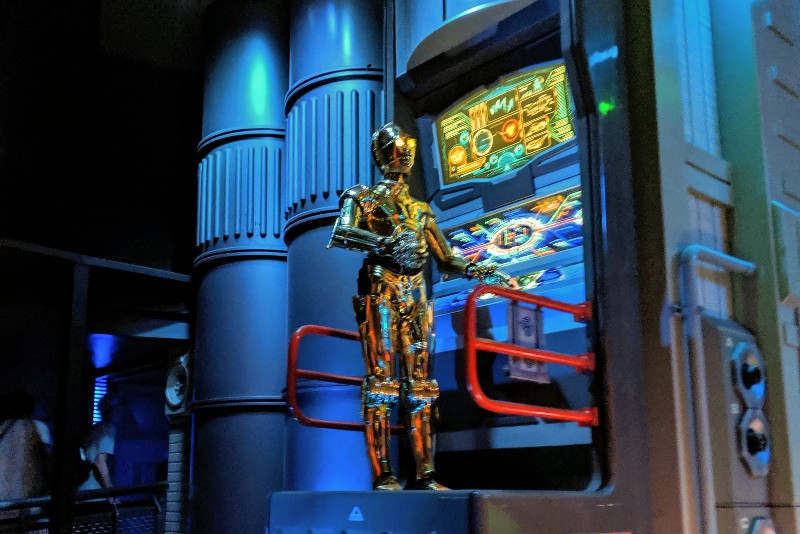 Star Tours is a classic Disney ride that places you on a transport ship with a rebel spy. To get the rebel spy safely to a rendezvous point you and your ship undergo firefights, crashes, and unusual space problems. This 3-D ride mixes visual elements with a moving platform to make you feel like part of the action.
Hyperspace Mountain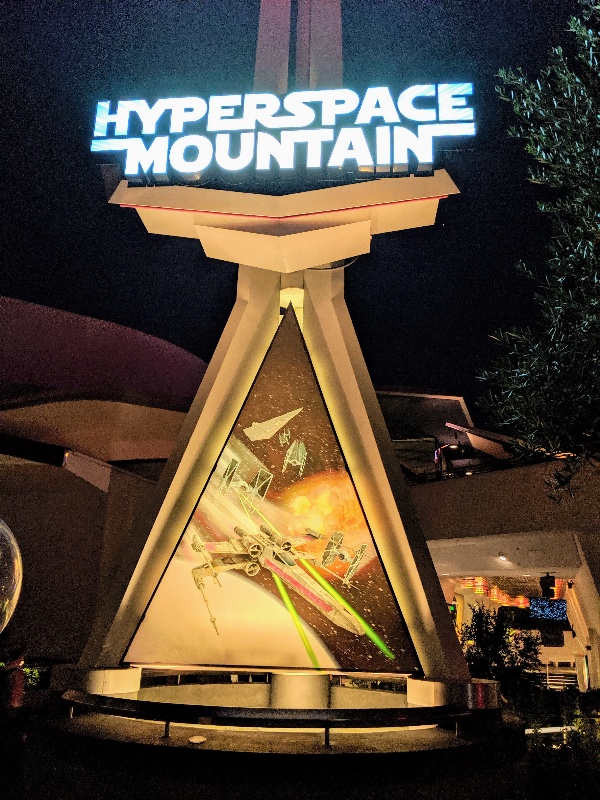 This special Star Wars overlay of Space Mountain is one of my favorite Disneyland Star Wars attractions. Space Mountain's normally dark ride is replaced with projections of Star Wars images, character dialogue, and an incredible Star Wars soundtrack.
Check the Disneyland website to make sure Hyperspace Mountain is still running for your trip dates.
Star Wars Launch Bay
Next door to Hyperspace Mountain is Star Wars Launch Bay. Launch Bay is the only place you can do a traditional character meet and greet with Star Wars characters at Disneyland. Usually Chewbacca greets guests in the Light Side line while Darth Vader tries to recruit guests for the Dark Side. If you are lucky, you might even find Boba Fett at the Cantina.
Star Wars characters like Chewbacca, Rey, Stormtroopers, and Kylo Ren regularly walk around Galaxy's Edge, but to keep the interaction more authentic they don't generally stop for lots of photos.
Find out more about Star Wars Launch Bay here.
Final Thoughts On Everything Star Wars At Disneyland
Fans of Star Wars can find lots of special experiences at Disneyland if they know where to look. To see everything Star Wars at Disneyland you'll need to spend time in both Galaxy's Edge and Tomorrowland.
Give yourself plenty of time to wander through Disneyland Galaxy's Edge. For us the best part of the Galaxy's Edge experience is feeling like you are a resident of Black Spire Outpost. However, being part of the Millennium Falcon's crew or rushing through Hyperspace Mountain are both a close second.
Find discounted ticket or book your entire Disneyland vacation now with Get Away Today, our preferred travel partner.
Pin it for later: