Chester is a company striving to make high quality luggage at a fair price. Their first release was the Chester Minima carry-on bag. I adore my Minima so much it is the only carry-on luggage I have used since I got it over a year ago. Now Chester has added two new luggage options. The Regula is a medium size checked bag, and Chester Maxima is an even larger checked suitcase. I was provided a test bag in exchange for an honest review of the Chester Regula luggage.
Unfortunately, Chester bags are no longer made and sadly the remaining bags are now out of stock. 
Are you looking for the Chester Minima carry-on bag review instead? Head over here to see why I, and my entire family, love our trio of Chester carry-on bags.
As an Amazon Associate I earn from qualifying purchases.
What Is The Chester Regula?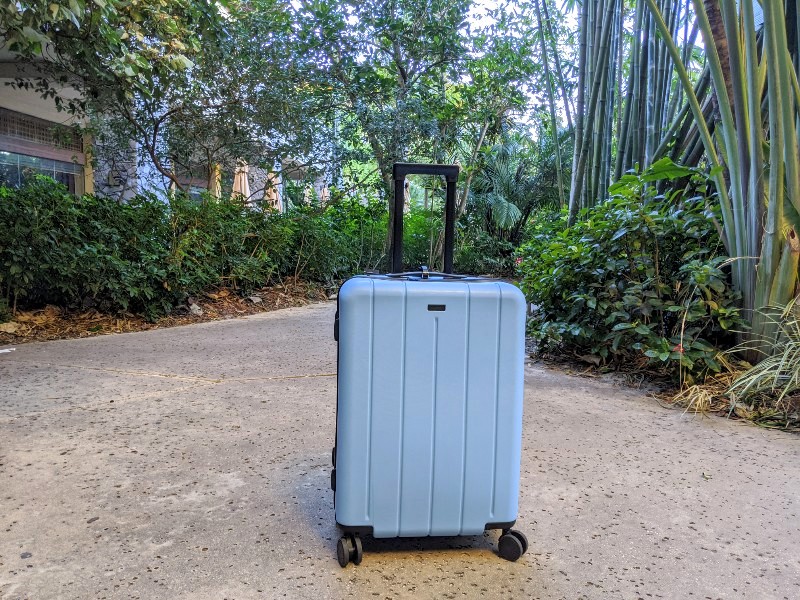 The Chester Regula is a mid-size checked bag for those times you can't get away with just a carry-on. Regula has a lightweight, but durable polycarbonate shell that comes in a variety of beautiful colors.
What Are The Dimensions Of The Chester Regula?
The Regula measurements are listed as 26.0" x 18.5" x 11.0" (66 cm x 47 cm x 28 cm). When I measured the bag I found the actual measurements of my Chester Regula luggage were even slightly less than those listed. This means the Regula truly meets both TSA and IATA checked baggage guidelines.
However, don't let these Regula measurements fool you. This bag holds a crazy amount of gear with a 69-liter capacity.
How Much Can I Really Fit In A Chester Regula?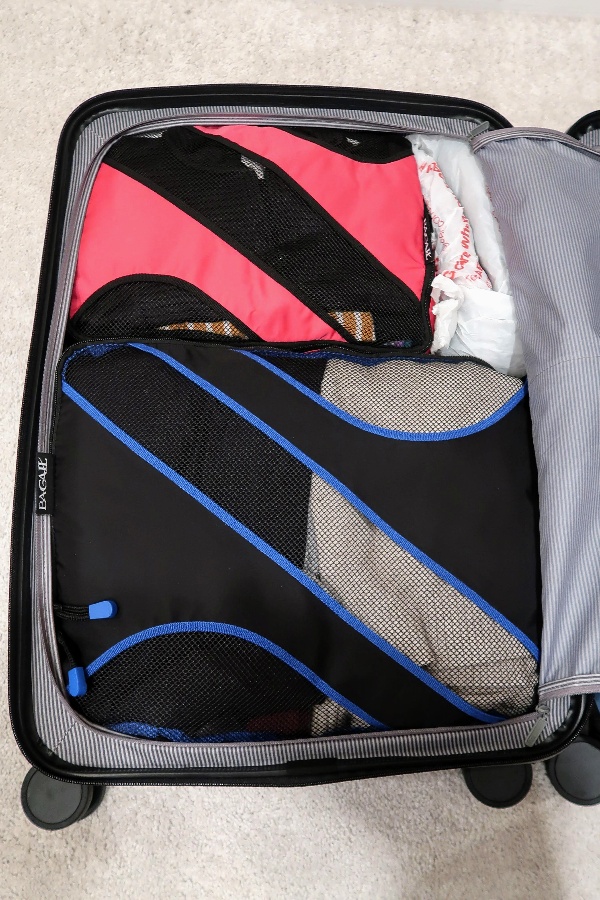 On our first run with the Chester Regula we packed enough clothes for a family of three for four nights with weather swings from 45°F to 85°F (5°C to 30°C).
I fit these items in my Chester Regula checked luggage:
7 pairs of jeans

3 pairs of shorts

4 heavy sweatshirts and 1 bulky sweater

1 tunic length cardigan sweater

11 long sleeve t-shirts

5 short sleeve t-shirts

Undershirts, socks, and undergarments for 6 days per person

2 pairs of shoes

2 gallon bags of allergy-safe food for my daughter
What I Love About The Chester Regula
The Regula Is Lightweight
Luggage that holds a lot, but is heavy when empty is a problem. Most US airlines have a maximum weight of 50 pounds (23 kg) per checked bag. Anything over that weight requires additional fees.
The Chester Regular weighs in empty at 9.5 pounds. Even after I stuffed the bag with all of the above items, it weighed in at 40 pounds when checking in at the Southwest Airlines counter.
Two Zippered Compartments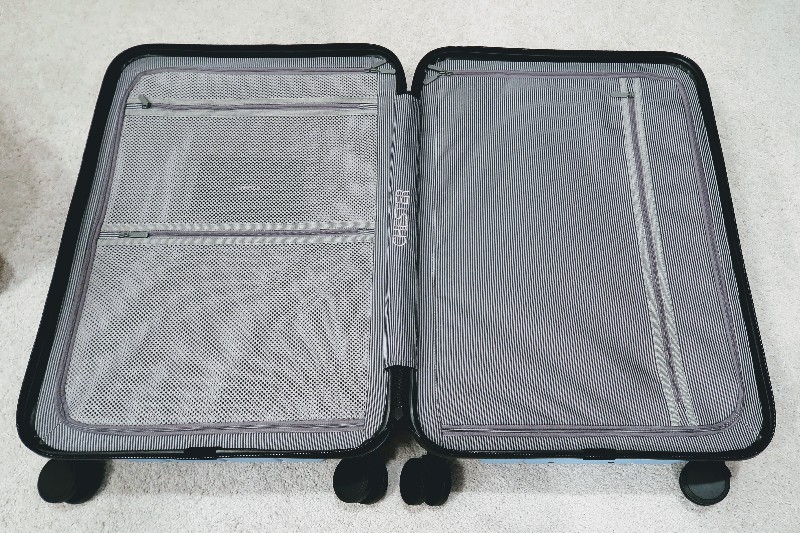 One of my favorite features of both the Chester Regula and Minima are the bags have two fully covered zippered compartments. This means when you open your luggage upon arrival the contents don't come awkwardly spilling out.
I also find that having these fully covered compartments helps me use every available inch of space when packing.
Built-in Pockets And Laundry Bag
The front of each zippered compartment has additional zipper pockets. These pockets are great for storing smaller items like my spare disinfectant wipes or costume jewelry satchels.
Inside the Regula is a side compartment with a large laundry bag. This is a great way to keep your clean and dirty clothes separate on your trip home.
Chester Minima Stores Inside Regula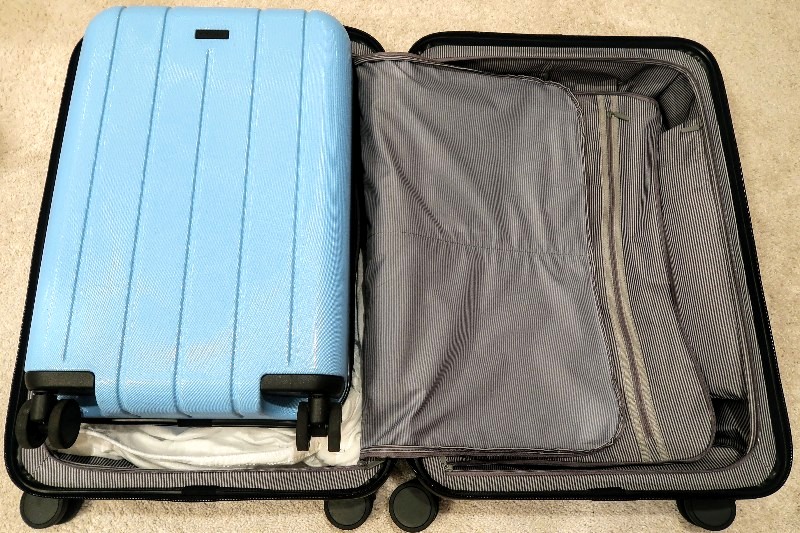 Storing luggage can be a challenge. One of the best things about the Chester Regula is it acts like a nesting doll with the Minima. Stash your Chester Minima inside the Regula and leave the zippered compartments open. Then zip the Regula closed and the Minima fits inside perfectly.
Beautiful Color And Cleans Easily
We own the Chester Minima in black, pink, and sky blue. I was originally afraid of how the colors would hold up as we travel, but our carry-ons still look beautiful after almost a dozen trips each.
This previous experience is why I took a chance on the Chester Regula in Surf, a beautiful blue color. However, I started to get nervous as soon as I saw the luggage handlers toss my beautiful new bag on the belt. When we arrived I was pleasantly surprised that there were only a few dirt marks which easily wiped off with a dry tissue.
On our way home, the baggage handlers were much less careful with the luggage on our flight. Several bags on the carousel showed distress, and our beautiful new luggage was extremely dirty and scuffed with black marks.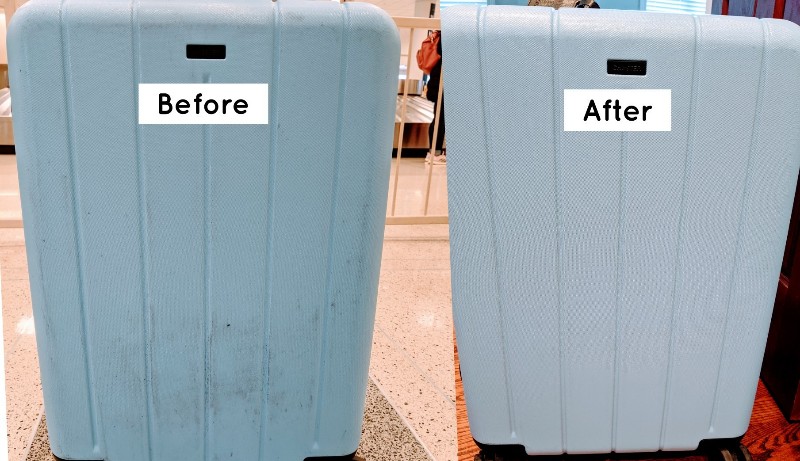 As soon as we got home I took a damp microfiber cloth to clean my poor Chester Regula. I shouldn't have been surprised after our experience with our Minimas, but I was shocked when the bag wiped clean with minimal effort. 
Chester Regula Holds A Shocking Amount
I was concerned that we would have to supplement our Regula packing with multiple carry-on bags because of the variety of clothes we needed for the trip. However, we fit two large packing cubes, two medium packing cubes, two pairs of shoes, and two stuffed gallon bags of food inside the Regula.
Here are the packing cubes we always use (affiliate link: Buy on Amazon) so you can see the exact dimensions.
Easy To Roll
The Chester Regula rolls easily across multiple surfaces. I was even able to put the Regula and Minima back to back and easily roll the two bags together over tile, wood, and around the airport.
TSA approved lock
The Regula has an easy to set TSA approved lock. This means you can keep your belongings safe without taking the chance security will need to damage your bag to inspect the contents.
Final Thoughts On Our Chester Regula Review
Our Chester Regula luggage lived up to the high standards set by the Minima. I especially loved that I could stuff our Regula bag and not worry about going over our airline's weight limit.
Although I prefer carry-on-only trips, the Regula is a perfect step up in size for when carry-on-only trips aren't possible. Get a 10% discount on your own Chester Regula (affiliate link: Buy it on Chester) plus 2-day shipping with my special code SMT10. You can also shop for the Regula on Amazon (affiliate link: Buy on Amazon).
Pin it for later: