Galaxy's Edge is full of unique shops and immersive experiences. There are two custom building experiences at Galaxy's Edge: The Droid Depot and Savi's Workshop. On our first trip to Galaxy's Edge we decided building a custom droid at the Droid Depot was our first priority.
Droid Depot Location
Like much of Galaxy's Edge, the signage is subtle or non-existent. Using a map or the My Disney Experience app is a great way to find your way around Galaxy's Edge. The Droid Depot is located near Savi's Workshop. An easy way to spot Droid Depot is by entering the door near four droids outside a building.
Do I Need A Reservation For Droid Depot?
Reservations are not required, but a Droid Depot reservation can save you from waiting in a long stand-by line. Click here for Disneyland Droid Depot reservations or here for Galaxy's Edge at Disney World.
Galaxy's Edge Droid Depot Building Experience
The Droid Building experience is broken into four parts: purchasing the droid, picking out parts, building your custom droid, and finally activating your droid.
Step 1: Buy The Droid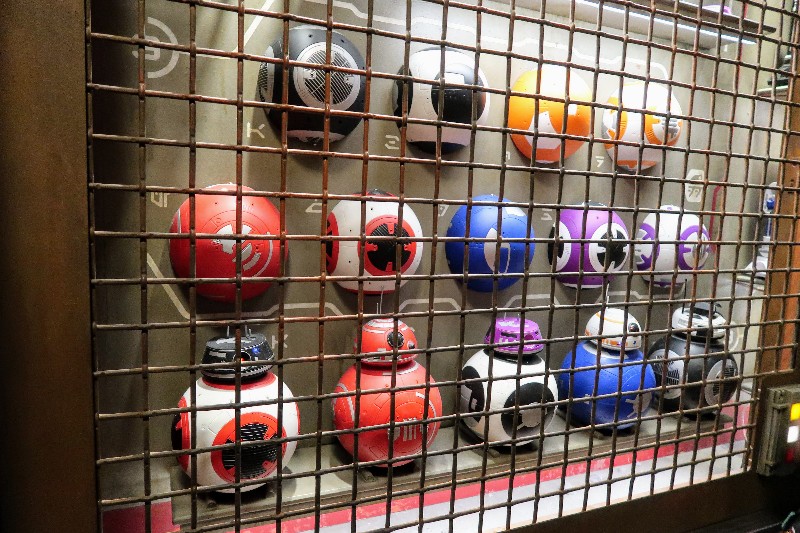 It seems a little counter-intuitive, but the first thing you do is purchase your droid. There are custom BB and R units in a multitude of colors and some varying styles. Sample pieces for both R and BB units are inside a cage along the queue for the register. We also found a personality chip for our droid and brought that with us to avoid having to wait in line twice.
Elizabeth knew she wanted a BB unit and was hoping for one in purple. There have been some part shortages, so before paying for our BB unit we surveyed the parts conveyor belt. We saw plenty of purple BB parts gliding by and completed our purchase.
After paying for your droid a cast member provides you a parts basket. This basket has an insert indicating what parts are needed for your specific droid type.
Step 2: Pick Out Your Droid Parts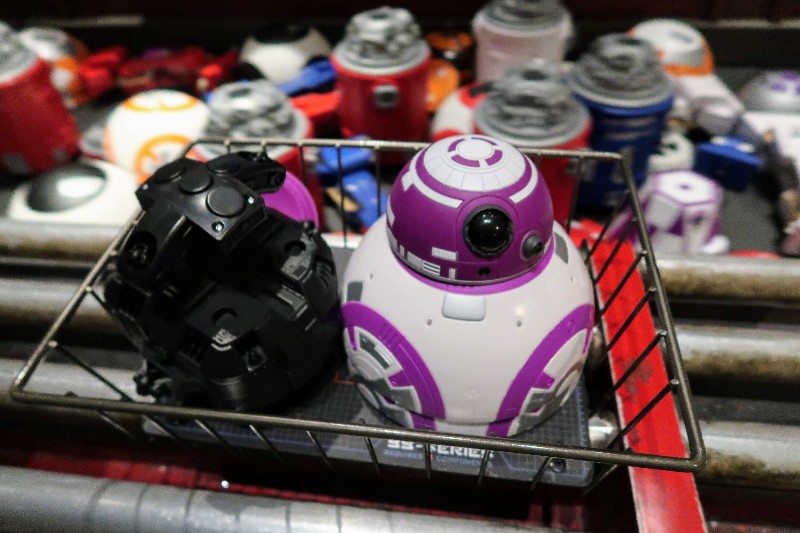 Take your droid parts basket to the conveyor belt. The conveyor belt slides past with everything you need to make your custom droid. Some paired items are taped together, for example the two half spheres for a BB unit, so you only need to grab one.
Although the Droid Depot was incredibly busy I did not feel that cast members rushed us through the droid part choosing process. We grabbed each of the parts we needed off of the conveyor belt and placed them in the basket. We watched the belt for a full rotation before moving on to the building process to make sure we had the parts we liked best.
Step 3: Build Your Custom Droid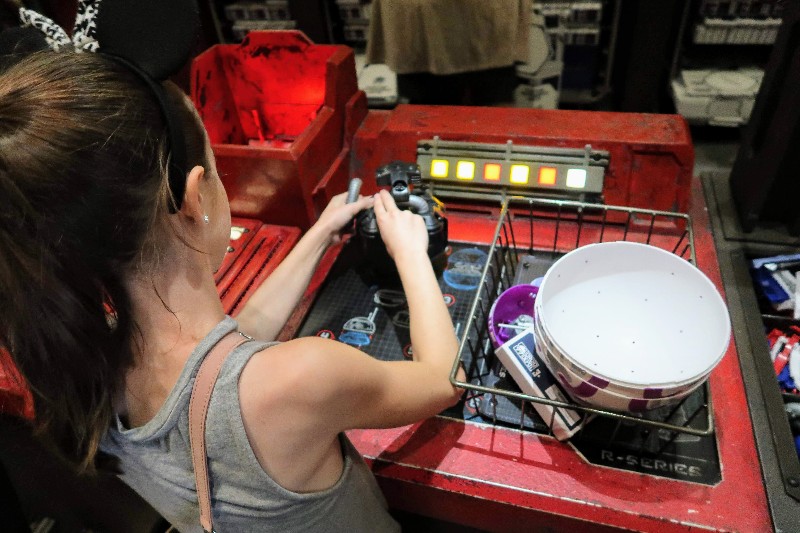 After you have collected all of your droid parts in the basket, a cast member will direct you to a building station. The building station has Ikea-type step-by-step instructions for putting your droid together. At first the instructions seemed daunting, but as we started the process we discovered it was pretty easy.
If you get stuck in the building process you can push a button to alert a technician who can help you. We were able to put our BB unit together with very little assistance from the technician. Most pieces either click together or twist closed, but a handful of pieces must be screwed together using an electric screwdriver located at each droid building station.
Pro tip: If you have purchased a personality chip for your droid it is best to install it while the droid is not fully assembled.
Step 4: Activate Your Custom Droid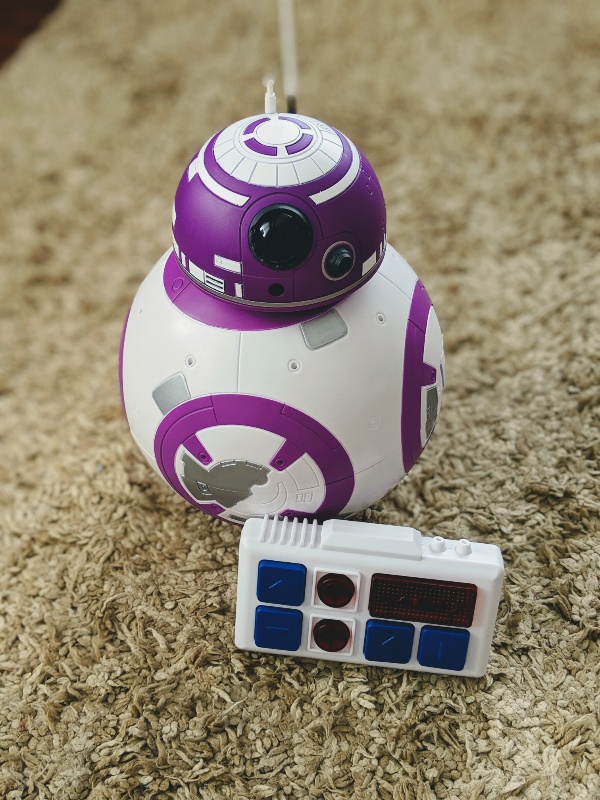 Now that your droid is fully built it is time to activate it. A technician has to assist in this process. The tech will place your droid in an activation pod where a basic controller is paired to your droid. You push a button to activate the droid and indicator lights on the board light up to show the activation process.
After a few seconds your custom built droid seems to come to life, and it is time to box it up. The Galaxy's Edge Droid Depot provides a cardboard carrying box as part of your purchase price. The cardboard box has openings where you can see your droid interact all around Galaxy's Edge.
Droid Depot Custom Built Droid Cost
At time of publishing BB and R units are the same price and currently sell for $99.99 each. Additional accessories vary in price.
Galaxy's Edge Droid Depot Personality Chips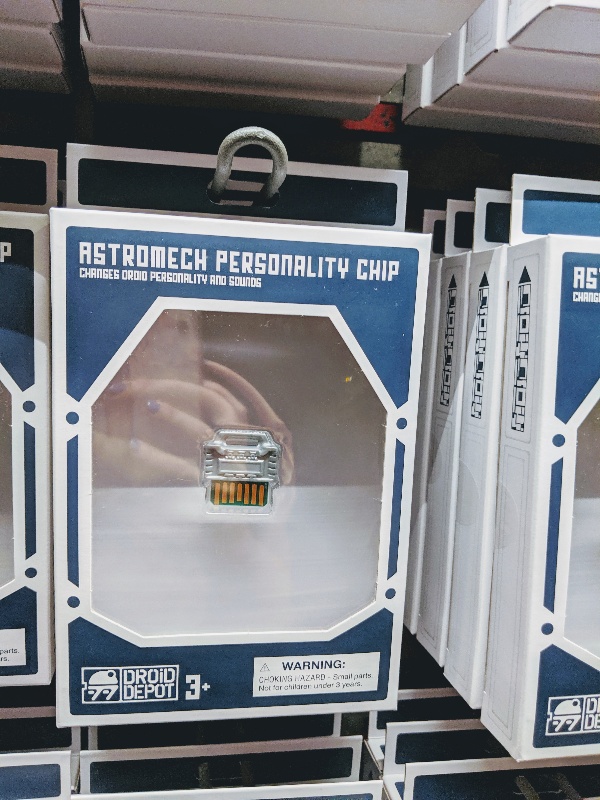 I heard lots of talk about Droid Depot personality chips but could not find any specific information until I actually went to Galaxy's Edge to research the Droid Depot. Personality chips come in a variety of colors, but the colors are not the defining characteristic.
There are three types of droid personality chips: First Order, Resistance, or Scoundrel. You can identify which kind of chip it is by looking at a symbol on the back of the personality chip box. First Order personality chips have a First Order symbol, make your droid speak in lower tones, and your droid is more likely to interact with other First Order droids or areas.
The Resistance personality chips have a Resistance symbol on the back of the box. Droids with this kind of chip are more likely to avoid anything to do with First Order and interact in areas that seem friendlier to the Resistance.
Elizabeth opted for a Scoundrel personality chip, which has a unique symbol on the back of the box. Scoundrels look out for their own interests, showing no particular allegiance to either the First Order or the Resistance. Our scoundrel droid got incredibly nervous in the First Order areas. She even made a kind of whimpering beep when we visited First Order Cargo. Our scoundrel droid seemed most comfortable and chatty in the main marketplace, but was not a huge fan of the Resistance base either.
Droid Depot personality chips cost $12.99 for each chip purchased. Custom built droids come with a basic personality even without the purchase of an additional chip, but the chip was an added layer of fun for us.
Using Your Custom Droid In Galaxy's Edge
Keep Your Droid Contained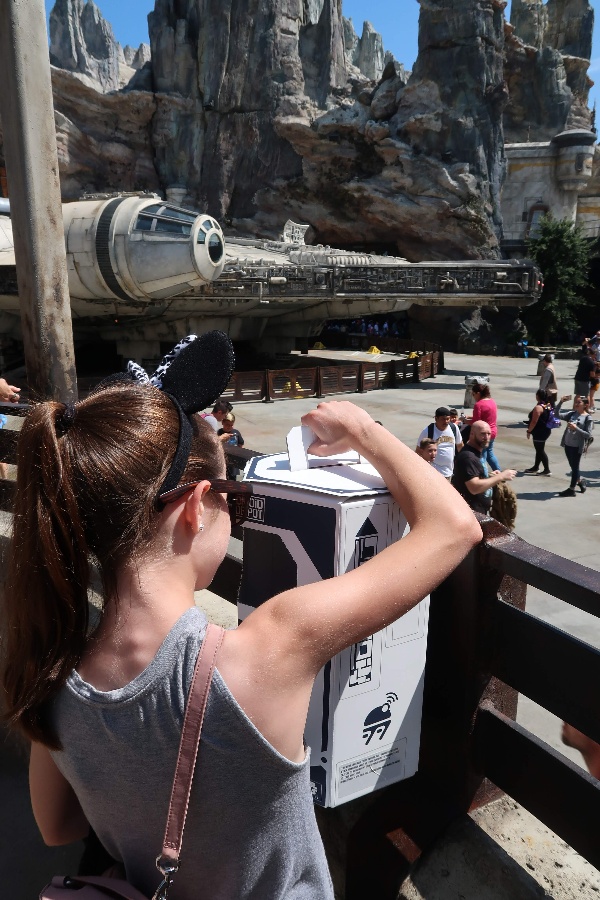 Droid Depot custom droids cannot roll through Galaxy's Edge. Droids must be inside the carrying box provided, the special Droid Depot backpack available for purchase, or otherwise secured.
The Droid Depot carrying box was an okay way to transport our BB unit, since the specialty backpacks were sold out. The openings made it easy to see when our droid was talking or moving in response to something in Galaxy's Edge.
The handle of the cardboard box is uncomfortable. The cardboard feels sharp after carrying it for a while. Part way into our day at Galaxy's Edge I found a low tech way to make the handle more comfortable by wrapping a couple of napkins around the handle to cushion the rough edge. Although kind of ugly, it worked really well.
We also tried using a traditional backpack to walk BB through Galaxy's Edge, but this was decidedly worse than using the provided carrying box from Droid Depot. The BB unit head kept getting knocked off inside the Jansport backpack, and you could not tell when it was interacting with prompts inside Galaxy's Edge.
The Droid Interactions Are Random
We really enjoyed how our droid seemed to chirp and move as we explored Galaxy's Edge. At first we thought we knew when and where our droid would interact, but the longer we spent in Galaxy's Edge the more we discovered the interactions were not reproducible.
Sometimes we would bring her to a place where she would become very animated, but the next time we walked past nothing happened. At first I was a little disappointed by this lack of consistency, but then I began to appreciate that this randomness made the experience feel more authentic.
Droid Depot Custom Droid Size And Weight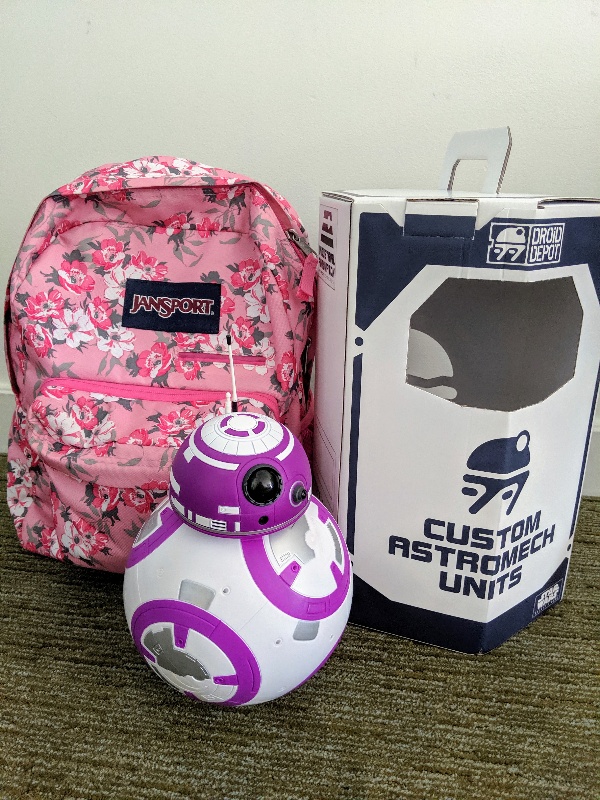 We were doing a carry-on-only trip thanks to my amazing Chester carry-on luggage. This meant it was important to know how much space I needed to bring our droid home. Unfortunately, I could not find any measurements for the custom droids before our trip to Galaxy's Edge Droid Depot.
BB Unit Astromech Measurements
Our Droid Depot BB unit has the following rough measurements: 10 inches tall (12 inches tall with antenna) by 7 inches wide by 7 inches deep, or about 25 by 18 by 18 cm. She easily fit inside a standard size backpack with room to spare. Our BB unit weighs about 3.5 pounds (1.6 kg).
R Unit Astromech Measurements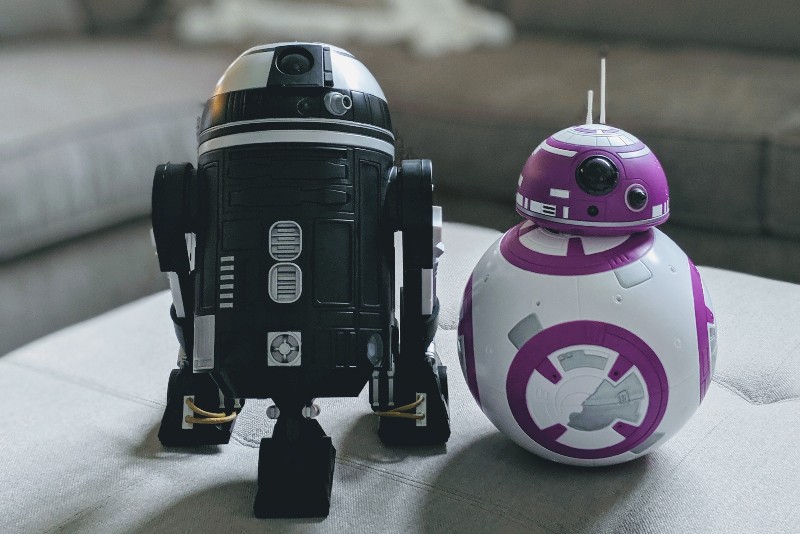 Elizabeth also built a R unit astromech on a different trip. The Droid Depot R unit has different measurements which vary depending on whether the legs are folded together or folded out.
The R astromech dimensions when unfolded are 12 inches tall by 8.5 inches wide by 8 inches deep, or about 30 by 20 by 22 cm. When the legs are folded together the dimensions change to 12.5 inches tall by 8.5 inches wide by 6.5 inches deep, or about 32 by 20 by 17 cm. Our R series droid weighs in around 3.2 pounds (1.4 kg).
Droid Depot Box Measurements
Included in the price of the droid is a basic cardboard carrying box. This box is a tall hexagon shape. Rough measurements for the Droid Depot box are 10.75 inches wide by 10.75 inches deep by 18 inches tall including handle or 27 by 27 by 46 cm.
Galaxy's Edge Droid Depot Final Thoughts
Going into our first Galaxy's Edge experience I was a little skeptical about building a custom droid at Droid Depot. However, having our own special droid made our Galaxy's Edge visit more fun. Our scoundrel droid made us feel like real residents of the Black Spire Outpost.
The process to build a custom droid was simple and exciting. Elizabeth loves both of her unique Droid Depot astromechs. This will make it difficult to decide which droid to bring back to Galaxy's Edge in the future. For now our custom droids roll around our house, keep us company, and chat with each other.
Here's a YouTube video of our Droid Depot experience:
Are you ready to book your trip to Galaxy's Edge? Get discounted Disneyland tickets through Get Away Today, our preferred travel partner.
Pin it for later: