Disney World is pictured as a hot and humid year round destination, but surprisingly Disney World gets cold. Many times we've seen desperate guests hitting gift shops frantically buying sweatshirts because they were caught by surprise. Are you planning a Disney World winter trip? Here are our best tips for managing Disney World cold weather days.
Is Disney World Cold In Winter?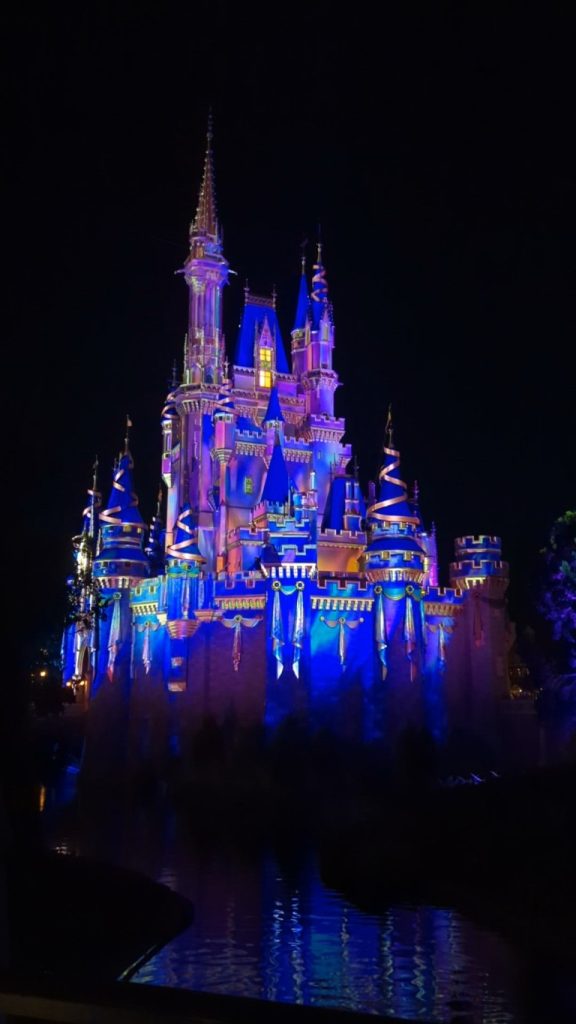 Average temperatures for Disney World in winter are generally mild and vary by month. November is the warmest winter month with average highs of 78°F and lows around 60°F while January is on average the coldest month with 71°F average highs and lows of 52°F.
These average Disney World temperatures give a good overview of what to expect, but don't tell the whole story. We've personally experienced many Disney World cold days and they can wreck your trip if you aren't prepared.
One year in early January we woke up to the coldest Disney World day we've ever experienced. As we walked to breakfast the temperature was in the low 30's. Over the course of the day the temperature slowly crept into the low 50's, but with the dampness and wind felt much colder.
Since we had flown in from Chicago we had a light pair of gloves and a thin down jacket which was helpful, but still no warm clothing layers. The unseasonably cold January temperatures made for an uncomfortable day.
Although cold days at Disney World occur anytime over the winter, the biggest risk is in January. However, this doesn't mean you should pack snow gear for Disney World winter vacations. Instead I recommend you closely watch weather reports and have some warm back up items packed to be safe.
What Should I Wear When Disney World Is Cold?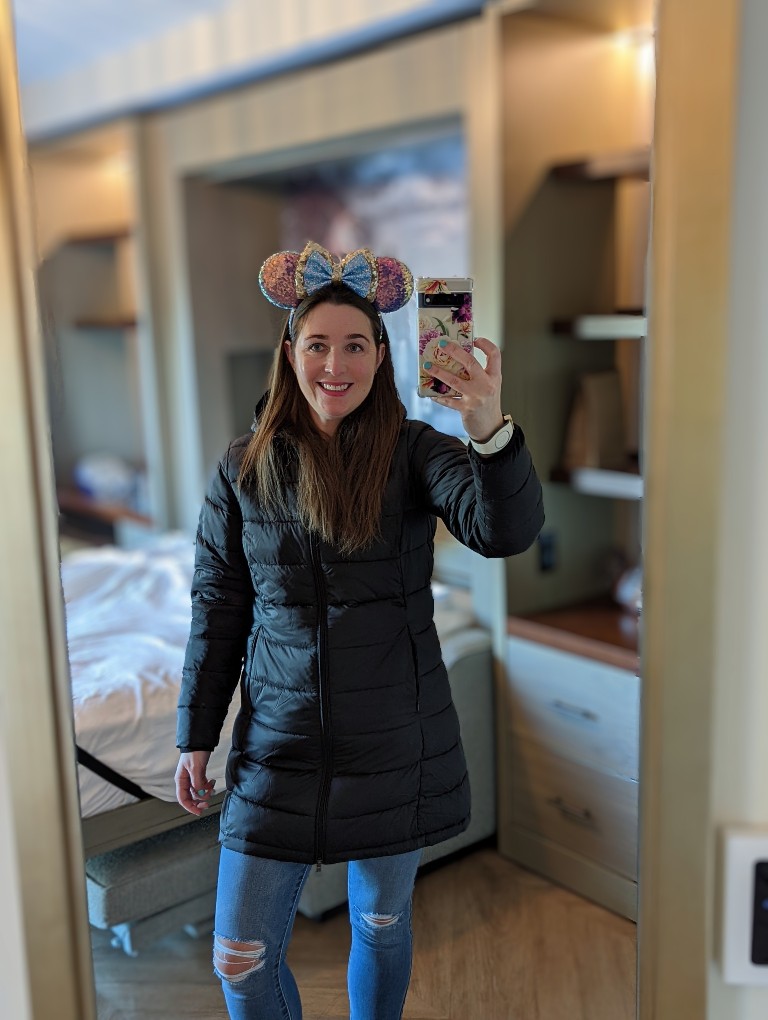 Morning and night are the coldest, but temperatures climb during the day. Add in some sun and you can go from a chilly morning to a perfect day for the parks.
These Disney World temperature swings are why flexibility is key. Often we'll pick our outfit based on the expected high. Then layer it with either a comfy sweatshirt or a packable down jacket.
Sweatshirts and Layering Pieces
If weather looks cold for your winter Disney World vacation pack a sweatshirt, or two, plus some layering pieces like long sleeve t-shirts. They don't take up much space and can make a cool start or end of the day more comfortable.
Have A Packable Down Jacket For Really Cold Disney World Days
A packable down jacket for Disney World may feel extreme, but if you are unfortunate enough to have a 50°F Disney day you'll be very glad to have it while everyone else shivers and buys overpriced sweatshirts.
Normally only needed at the start or end of a park day, our packable jackets keep us comfortable and then roll up into a small bag when we no longer need them. Once stored they easily fit in our Disney park bag.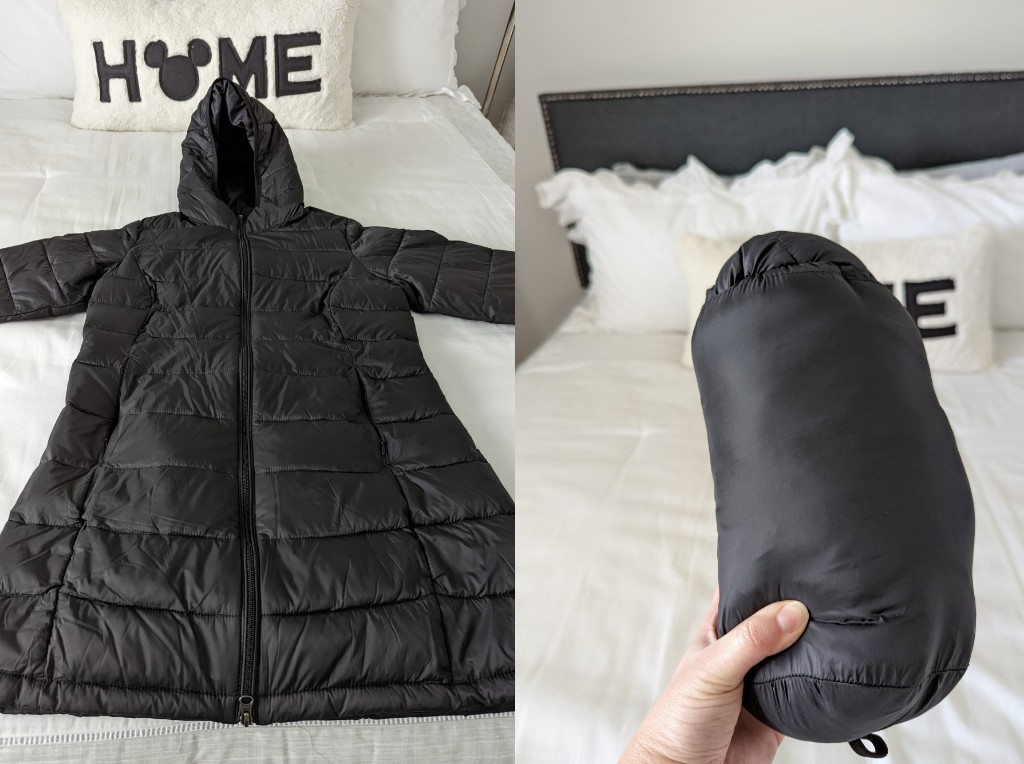 We've had several packable down jackets over the years. My husband and I both like Amazon Essential packable down jackets which wear well, fold small, and provide a nice layer for chilly days. Find the men's version here (Affiliate link: buy on Amazon) or the women's version here (Affiliate link: buy on Amazon).
My teenage daughter has also had several Amazon Essentials packable down jackets and we've even passed them down to family members as she grows out of them. These jackets are comfortable, cute, and pack up small, but the kids' colors can be juvenile.
As a petite teenager, Elizabeth now prefers a muted color and a cropped jacket. To accommodate her evolving style we found this trendier Starter brand packable down jacket which is similar weight and has a convenient built-in storage bag. Purchase the Amazon Essentials packable down jacket here (Affiliate link: buy on Amazon) or the more stylish Starter one here (Affiliate link: buy on Amazon).
Disney World Cold Weather Accessories
A cheap pair of stretchy gloves are easy to pack and a great option for cold Disney World days. I always make sure I've got a set packed if I'm bringing my packable jacket. 
If the forecast is especially cold I add also pack a beanie for each of us which does a great job keeping us warm.
Disney World Winter Packing List
Most of the time packing for a Disney World winter vacation will be exactly like any other time of year. Use our full Disney World packing article with free printable plus general packing tips to help with the basics.
For cold Disney World days add layering shirts, sweatshirts, gloves, and a packable down jacket to your Disney World winter packing list. You'll be glad to be over prepared if you get one of those abnormal cold Disney World days we've experienced.
Disney World Winter Activities
Christmas Season at Disney World
The most popular Disney World winter activity is celebrating the Christmas season. With holiday decorations and activities throughout the parks, Disney Springs, and resorts it's a wonderful time to visit. Use our Disney World Christmas Guide to plan your holiday vacation.
runDisney Marathon Weekend
Disney World marathon weekend is a popular event with large crowds to match. Race options range from a 5K to a full marathon with some Disney runners opting to complete the Dopey challenge.
Don't let the silly name fool you. The Dopey challenge is when a runner completes a 5K, 10K, half and full marathon on four consecutive days. Run enthusiasts train hard to accomplish this feat only available during Disney World marathon weekend.
Epcot Festival of the Arts
There are four Epcot festivals throughout the year, but Festival of the Arts is our favorite. Epcot Festival of the Arts showcases a mix of visual, performing, and culinary arts.
Indulge in tasty food and drinks, watch artists create, or participate in interactive activities like a paint by number mural. Just don't wait to plan your Festival of the Arts trip. This amazing festival only lasts a few weeks from mid-January until mid-to-late February each year.
Final Thoughts On Cold Days at Disney World
Disney World winter vacations are usually a warm, comfortable break from the cold in much of the United States. However, sometimes Disney World is gripped by surprisingly frigid weather.
Unfortunately, we've experienced these Disney World cold snaps on more than one occasion. Being prepared keeps a cold Disney World day easy to manage instead of turning it into a disappointment.
Pin it for later: