Epcot Festival of the Arts is the perfect blend of live performances, unique art inspired experiences, and celebration of culinary arts. We are so excited that Epcot Festival of the Arts 2023 returns with all of our favorite activities plus some brand new food booths.
When Is Epcot Festival of the Arts 2023?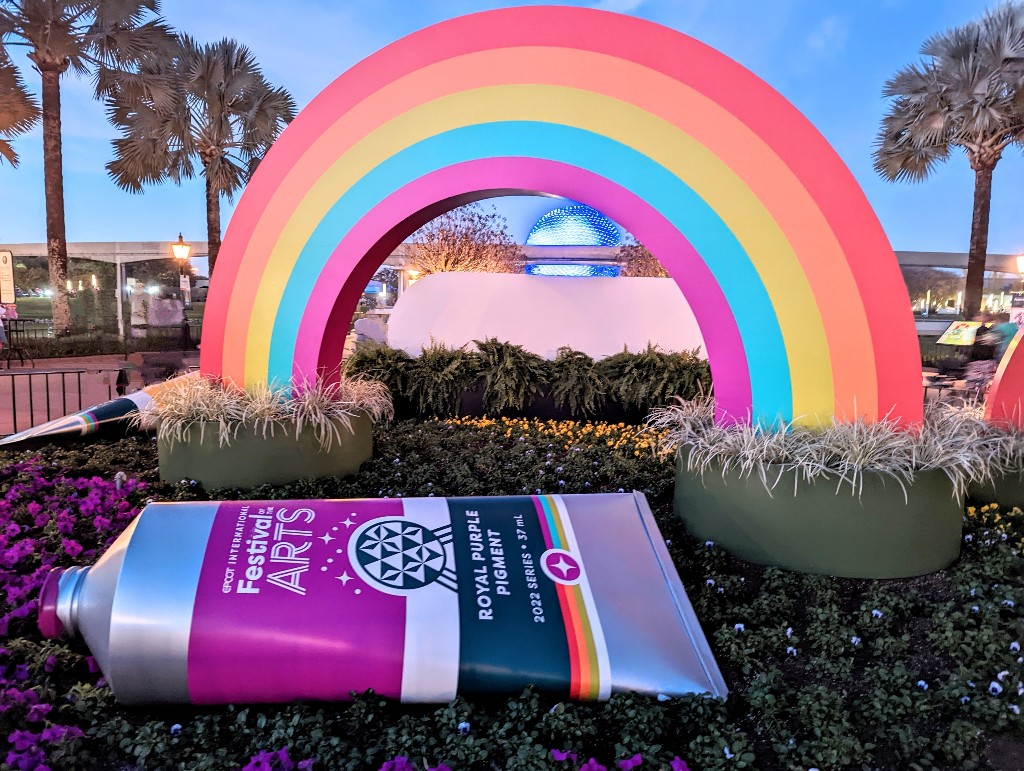 Epcot International Festival of the Arts began January 13, 2023 and continues through February 20, 2023.
We enjoy the added features other Epcot festivals bring to our park experience through the year, but they aren't the main focus of our day. However, Epcot Festival of the Arts is so special it often replaces our normal rides and activities during a visit.
What Makes Epcot International Festival of the Arts Special?
Epcot Festival of the Arts is a celebration of visual, performing, and culinary arts. Eat some tasty and beautifully plated foods to celebrate culinary arts. Hop into a classic portrait to appreciate visual arts, and set aside time to watch Broadway stars to appreciate the performing arts.
Epcot Festival of the Arts: Artful Photo Ops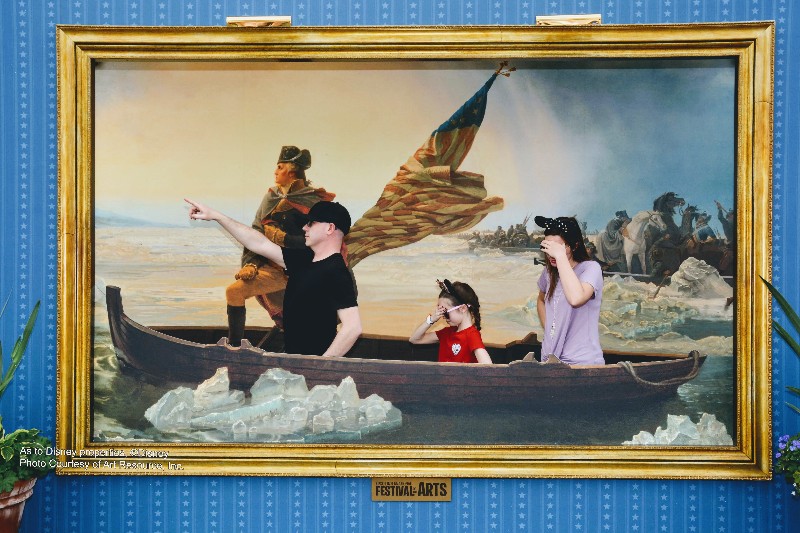 Have you dreamed about stepping into a classic work of art and being the star? At Epcot Festival of the Arts this dream comes true. Uniquely designed photo ops with space between the background and foreground of the painting let you step right into the art.
Many of these life-sized paintings include frames and gallery lights which enhance the illusion of being part of the art. Expect PhotoPass photographers at some of the photo ops so everyone in your group can get into the picture.
Informational signs educate guests about the original art and provide a picture if you want to pose the classic way. PhotoPass photographers also suggest poses if you are unsure, but we often like posing in our own goofy ways.
The 2023 Epcot Festival of the Arts Photo Ops haven't been announced yet, but here's a list of last year's offerings which I'm hopeful return in 2023.
2022 Epcot Artful Photo Ops Locations
Bridge to World Showcase
Cafe Terrace at Night and Sunflowers by Van Gogh
Peter Pan Storybook
International Gateway
Luncheon of the Boating Party by Renoir
The American Adventure
Washington Crossing the Delaware
Italy
Birth of Venus by Botticelli
Between Germany and Italy
Mona Lisa by Leonardo da Vinci
The Scream by Edvard Munch
Mexico
Expression Section: A Paint-by-Number Mural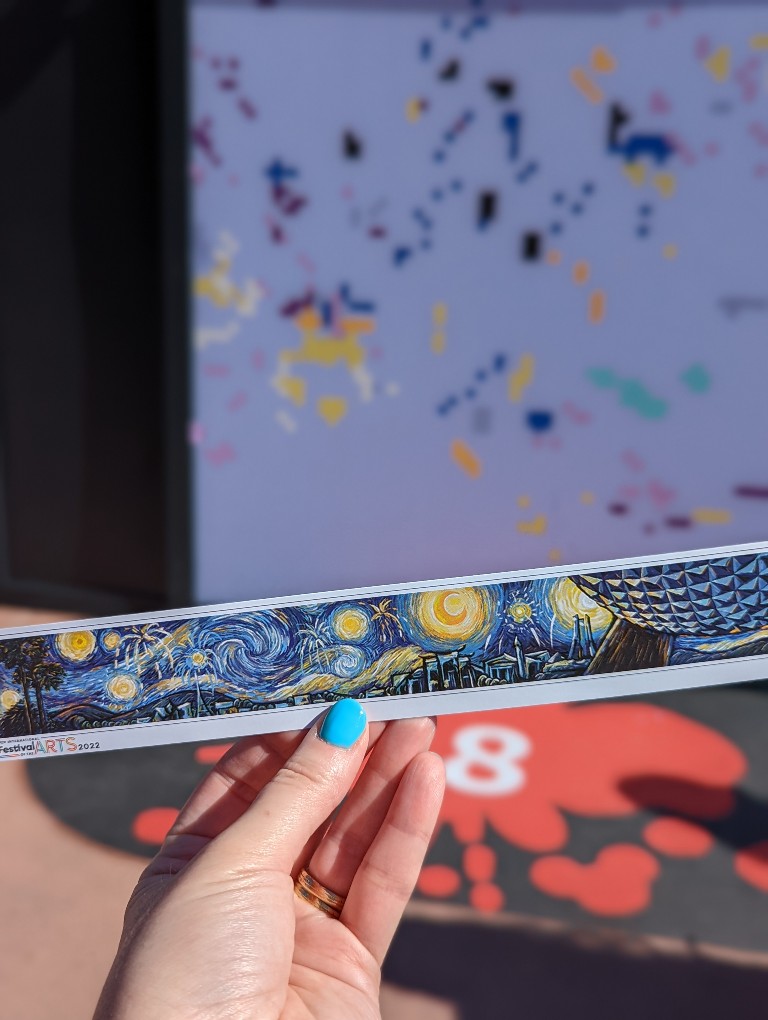 An impressive sight during Festival of the Arts is Expression Section: A Paint-by-Number Mural. This giant mural encourages guests to become artists for just a moment. Thankfully this activity requires no formal training for art-challenged people like me.
Expression Section is only open from 11am until 5pm daily so make sure you plan a stop during these times. First go to the Paint-by-Number Mural area across from The Land Pavilion.
Here cast members hand out foam paint brushes plus paint in a small cup. The cup has a number sticker for your assigned paint-by-number squares along the wall.
During the 2022 Epcot Festival of the Arts Expression Section cast members assigned a section to your group. This kept parties out of one another's way for a more comfortable experience. This system worked well and I wouldn't be surprised if it continues during Festival of the Arts 2023.
Cast members tell you how many squares to paint and how to dispose of the supplies after completing your portion of the mural. As you leave, get a paper with the final mural design.
Expression Section: A Paint-by-Number Mural is one of our first stops of the day. This way we can check back throughout the day to see "our" mural's progress. Seeing the mural come together with the help of other guests provides a great sense of community.
Disney On Broadway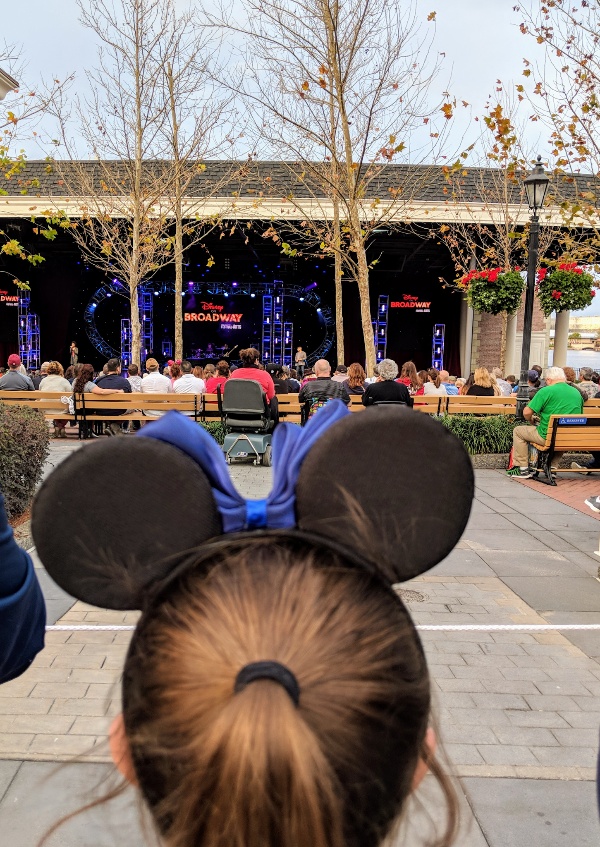 Incredible Broadway performers grace the America Gardens Theatre in Epcot's American Adventure Pavilion. This large open air theater has rows of bench seating, but can get quite full for popular events like Epcot Candlelight Processional and some Disney On Broadway performances.
Epcot Festival of the Arts Disney on Broadway Concert Series shows take place three times per night. Choose from 5:30pm, 6:45pm, 8:00pm or swing by more than once if you like.
Broadway legends enchant guests with a wide variety of Disney Broadway musical songs while sharing experiences between songs. Disney On Broadway is a joy to watch and a big part of our daily plan.
It isn't unusual for us to stop by more than once per day for Disney On Broadway. Don't have time for the whole performance? It's easy to stand behind the seating area along the walkway to watch part of this amazing show.
Chalk Art Galleries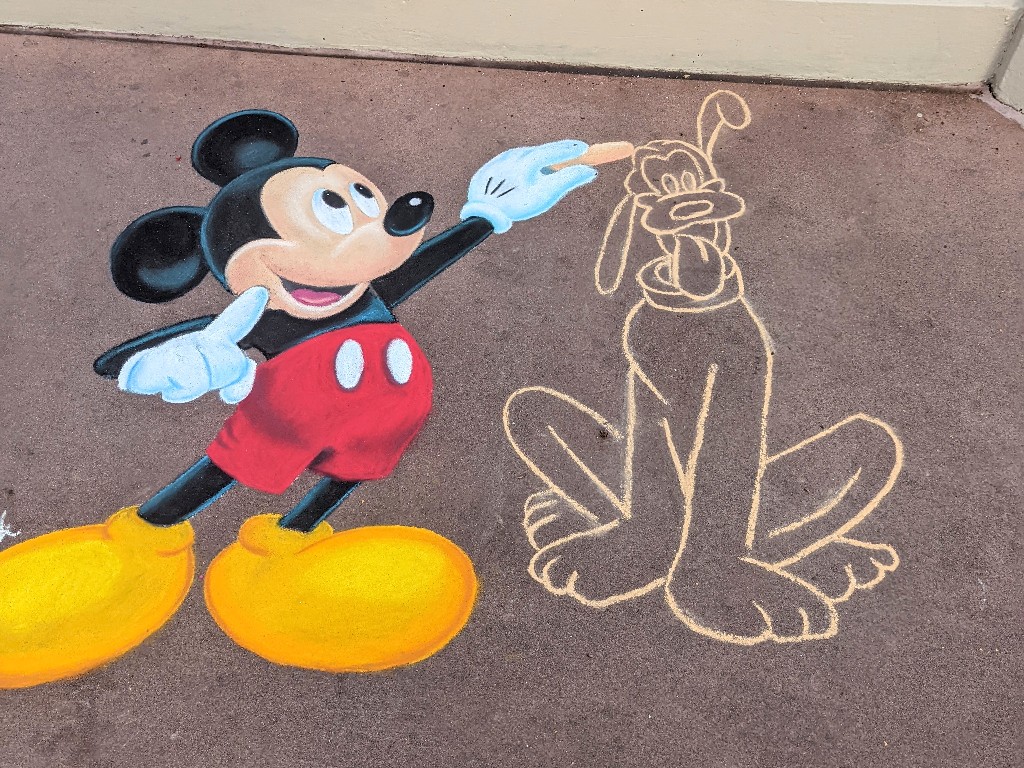 Unbelievable depth, color, and life-like chalk art is an amazing part of Epcot International Festival of the Arts. The bridge to World Showcase transforms from a plain walkway to a dazzling art gallery. All the chalk art is gorgeous, but it's surprising how lifelike this medium can be.
See newly reimagined versions of favorite Disney characters in the Chalk Art Gallery. If you are lucky to see a chalk artist at work, take a moment to watch them. It is truly impressive to see the images come to life.
Live Entertainment at World Showcase Plaza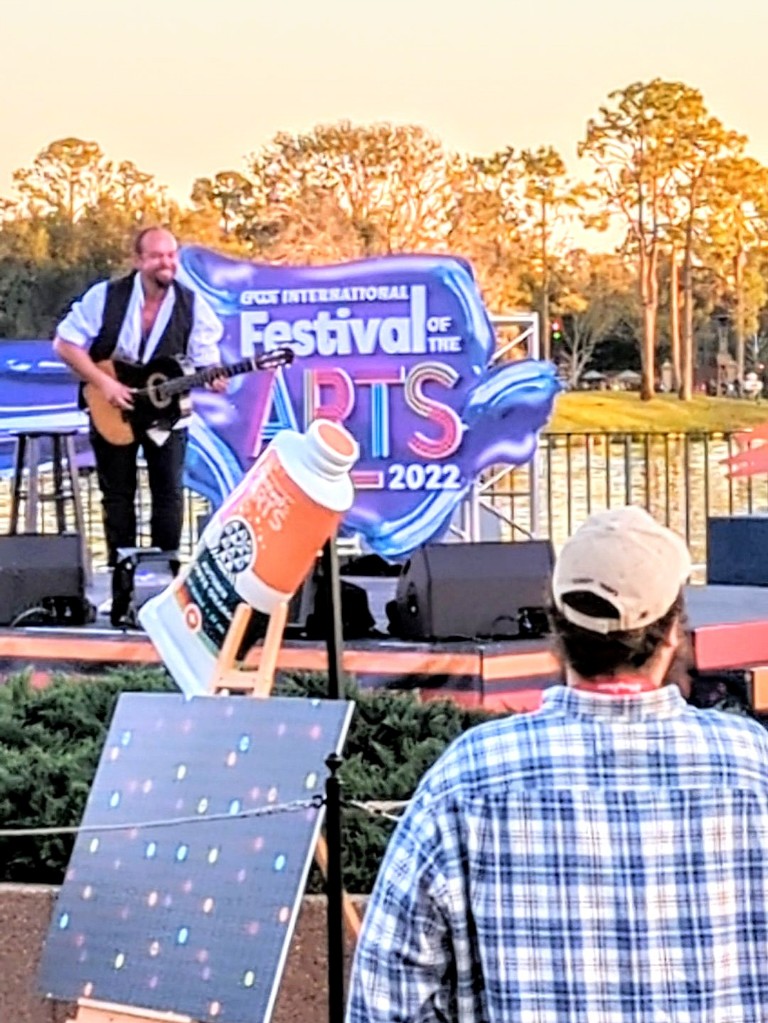 A variety of high energy and engaging artists entertain Epcot guests on World Showcase Plaza stage. Art Defying Gravity is an incredible act that performs jaw-dropping strength and balancing acts.
Visual Art in Performance showcases talented artists as they paint a masterpiece right before your eyes. Exciting music sets the mood while an artist on stage effortlessly completes a work of art in mere minutes. This demonstration varies by artist, but is worth stopping to watch.
Lastly, musicians also grace the World Showcase Plaza stage during Epcot Festival of the Arts. We saw an unbelievable guitarist who played complex solos while holding his guitar above his head and backwards. It was unlike anything I'd seen before.
Epcot Festival of the Arts Food Booths
The culinary arts are a large part of Epcot International Festival of the Arts. Booths are incorporated into many areas of Epcot providing delicious and visually pleasing experiences.
With almost twenty Epcot Festival of the Arts Food Studios you could spend days trying the diverse foods and beverages. I suggest previewing the menus online and making a list of top choices for your Epcot day.
Epcot Festival of the Arts 2023 welcomes two new food studios: Moderne and Figment's Inspiration Station. More details will be released soon and I can't wait to see how Figment is incorporated.
The Wonderful Walk of Colorful Cuisine
Guests are sent on a culinary scavenger hunt to find five specific savory and sweet dishes. Purchase these special foods and get a stamp at each booth to prove you've completed the challenge.
Complete your Wonderful Walk of Colorful Cuisine and show cast members at a special location to get your tasty, complimentary treat.
Figment's Brush With The Masters Scavenger Hunt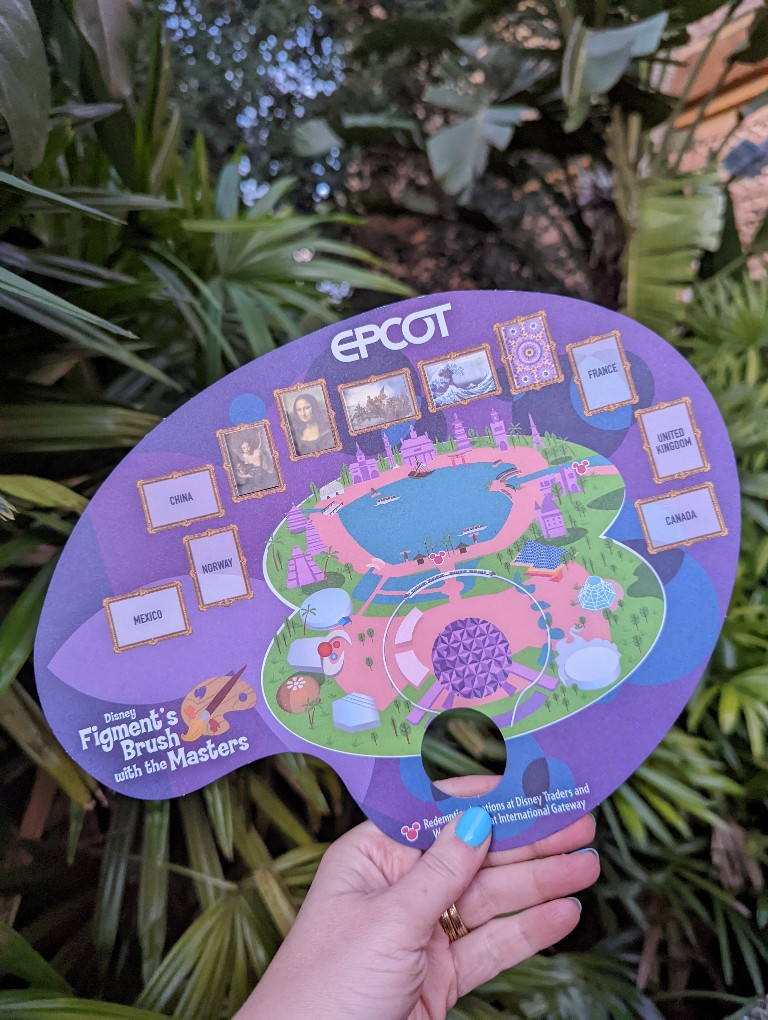 Looking to savor your time at Epcot Festival of the Arts? I recommend buying a Figment's Brush with the Masters Scavenger Hunt map for the kids.
Search for Figment throughout World Showcase and use the provided stickers to show his masterful hiding spots on the map. When you are done, turn in the completed scavenger hunt map for a fun prize.
Epcot scavenger hunt maps usually cost $9.99 plus tax and are worth every penny. Over the years a variety of Epcot scavenger hunts have kept my daughter entertained for hours plus she's gotten some cute prizes.
Chalk Full of Character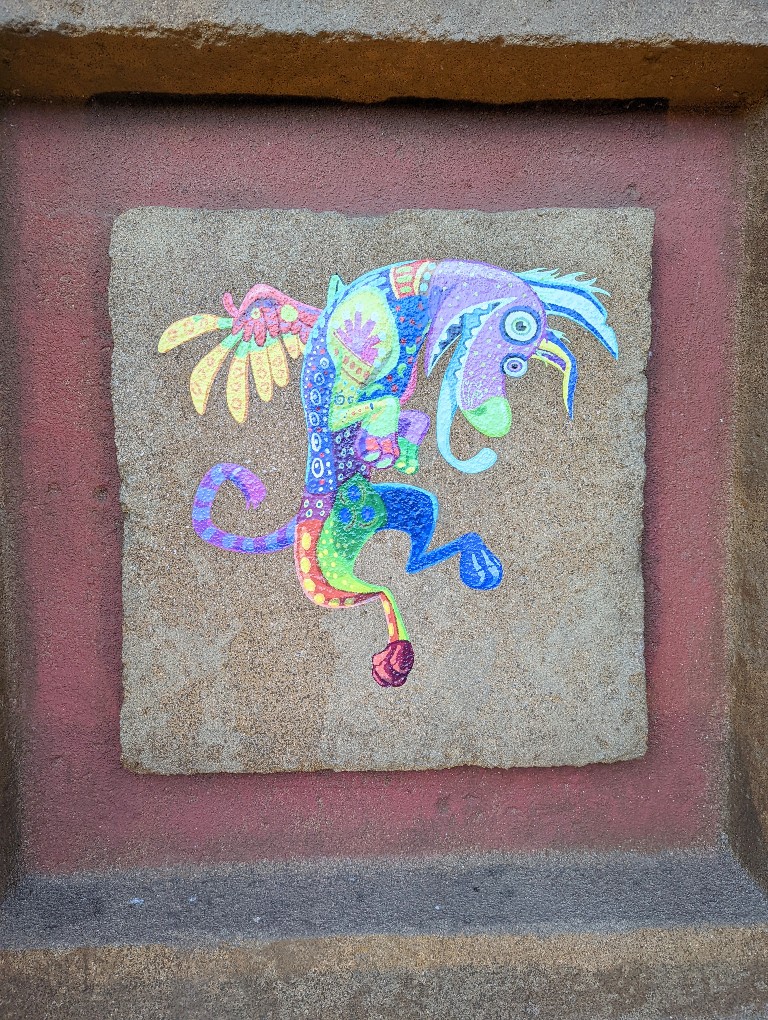 Chalk Full of Character was new in 2022 and I hope it returns to Epcot Festival of the Arts in 2023. Adorable character chalk drawings are integrated into World Showcase. Some are easy to spot, like Dante from Coco, while others like Abu in Morocco require more exploration.
When Should I Go To Epcot Festival of the Arts?
The best time to visit Epcot Festival of the Arts is during the week. In general, Friday and Saturday nights at Epcot are extremely crowded which is further exacerbated by festivals.
How Long Do I Need For Epcot Festival of the Arts?
This answer varies greatly on what you want to do at Epcot during the festival. In one day you can experience a good mix of rides, food booths, and activities, but will only be able to do a small sampling of each.
If you want to do everything Festival of the Arts offers plus all the major attractions you'll need two days at Epcot. This provides enough time to ride attractions like Remy's Ratatouille Adventure, Test Track and more plus immerse yourself in the interactive and entertaining aspects of the festival.
Where Should I Stay For Epcot Festival of the Arts?
While almost any place is fine to stay, the most convenient Disney World resorts are ones located near Epcot's International Gateway. Disney's Boardwalk Resort plus Yacht and Beach Club are all within easy walking distance to Epcot.
Of these three, Yacht Club is our favorite deluxe resort with spacious rooms, laminate floors, and an incredible pool. However, Boardwalk Inn and Villas or Disney's Beach Club Resort are excellent options, too.
Final Thoughts on Epcot International Festival of the Arts
Epcot Festival of the Arts is the most immersive festival each year. The Paint-by-Number Mural, clever photo ops, and Figment's Brush with the Masters Scavenger Hunt make us feel part of the fun instead of just an observer.
The food booths are delicious and seeing real Broadway performers sing Disney On Broadway songs as part of a park day is magical. I hope you are inspired to celebrate Epcot Festival of the Arts 2023 on your next Disney World trip.
Pin it for later: