Disney's Riviera Resort is a gorgeous Disney World deluxe villa hotel located along the popular Skyliner route. This stunning property has several room types, but one is unlike any other Disney World room. Take a tour of our compact, but functional, Disney's Riviera Resort Tower Studio perfect for two when visiting Disney World theme parks.
Disney's Riviera Resort Location
Riviera Resort is an Epcot area hotel and within walking distance of Disney's Caribbean Beach Resort.
Riviera Resort Overview
Warm golds and yellows greet you while rich cream and blue furniture invites you to relax in the beautifully appointed Riviera lobby. On clear, sunny days windows provide a stunning view of water and the impeccably maintained green space behind the resort.
The afternoon I arrived for my Riviera Resort Tower Studio stay, an exciting surprise was waiting for me. Pluto and Goofy were enthusiastically greeting guests in the lobby.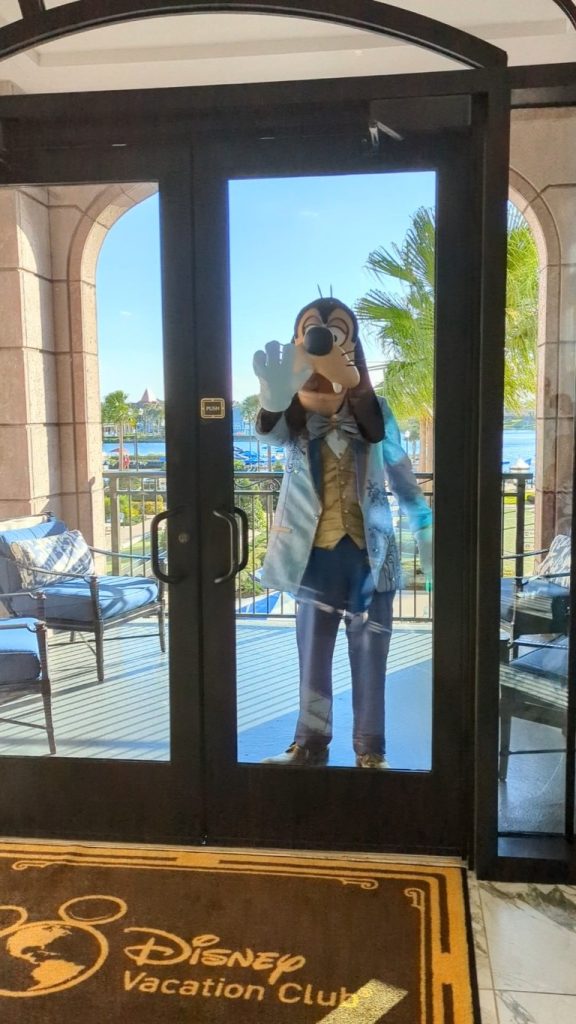 Disney's Riviera Resort enhances the overall ambiance with subtle European-inspired touches. For example, European versions of popular Disney movie posters line the walls. The first poster that caught my attention was Ralph Breaks the Internet, but as the Italian version, Ralph Spacca Internet .
Another subtle ambiance builder is the background music at Riviera Resort. Primarily jazz instrumentals, listen closely for special musical surprises. Hear classic Disney songs interwoven in the playlist like "Almost There" and "Bibbidi-Bobbidi-Boo" sung in French while "You've Got a Friend in Me" serenades guests in Italian over these familiar instrumentals.
Disney's Riviera Resort Pools
Choose from two pools at Riviera Resort. The larger, family friendly Riviera pool has an interactive kids' play area plus a swirling waterslide wrapped around a large tower.
If you prefer a quieter pool option, stop by Beau Soleil pool. Beau Soleil is a simple pool ringed with chairs which provides a relaxing oasis on a hot day.
Riviera Resort Dining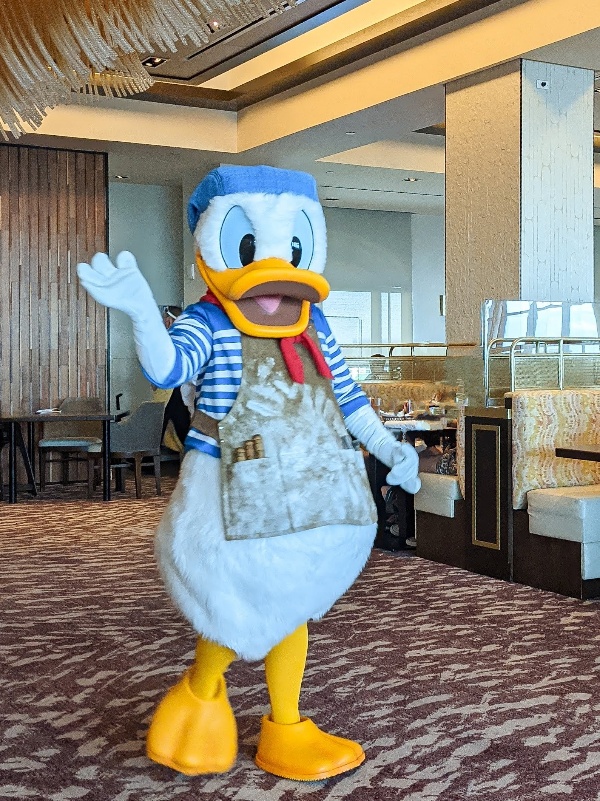 One of the most popular dining options at all of Disney World, Topolino's Terrace, is located on the top floor of Riviera Resort. Dine with Mickey, Minnie, Donald and Daisy at breakfast or enjoy a fine dining experience at dinner.
Primo Piatto offers quick service breakfast, lunch, and dinner with a limited, but well executed menu. Mobile order a meal to enjoy in your room or dine at one of the benches just outside the restaurant.
Bar Riva has a small food menu, but a large cocktail selection located steps from Riviera Pool. Le Petit Café, located in the lobby, has a mix of coffee drinks and cocktails with charcuterie, cupcakes, and other light bites on the menu.
Review Of Disney's Riviera Resort Tower Studio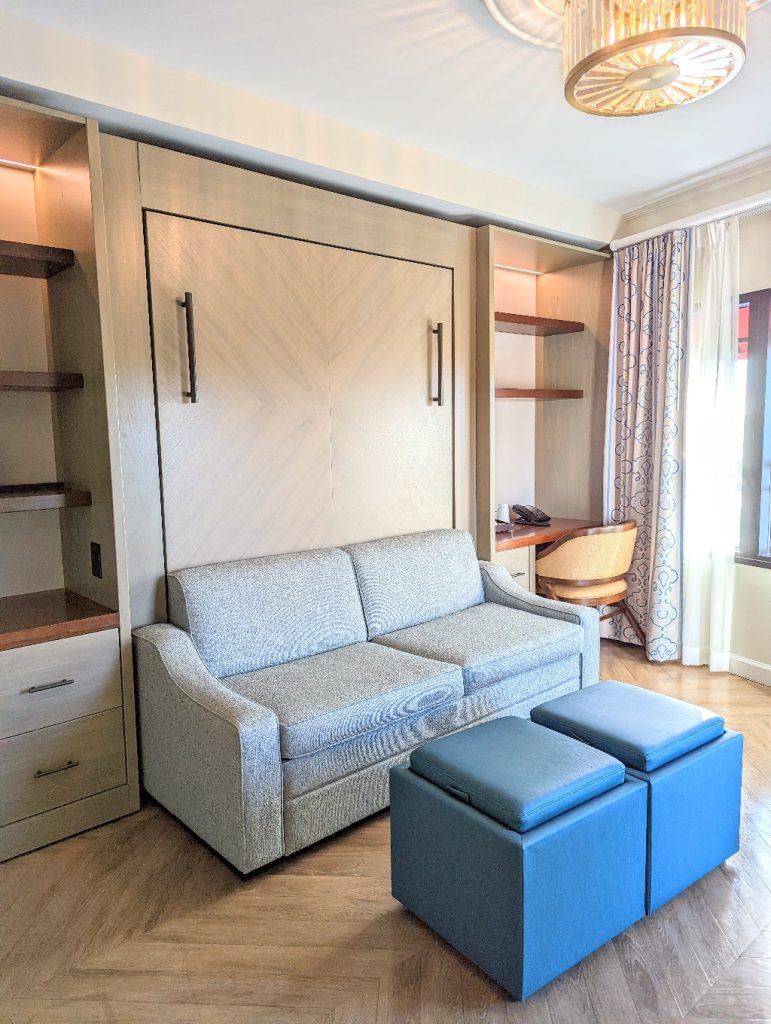 Opening the door of my Disney's Riviera Resort Tower Studio I knew the room would have clean lines, warm wood tones, and a balcony, but one conspicuously missing item. At first glance it seems like there is no bed in a Riviera Resort Tower Studio, but I promise you actually have someplace to sleep.
Disney's Riviera Resort Tower Studio Bedroom
A couch with moveable storage ottomans is the focal point of the Riviera Tower Studio. Behind the couch is an entire wall of multi-functional built-in cabinets.
Between the couch and window, a desk with two side drawers and shelves above provide ample storage. A Keurig coffee maker perched on the desk makes a decent cup of coffee, but encroaches on the workspace. Despite this limitation, the desk is a good place to get some work or homework done.
Now let's address the elephant in the room. Where exactly is the Riviera Resort Tower Studio bed?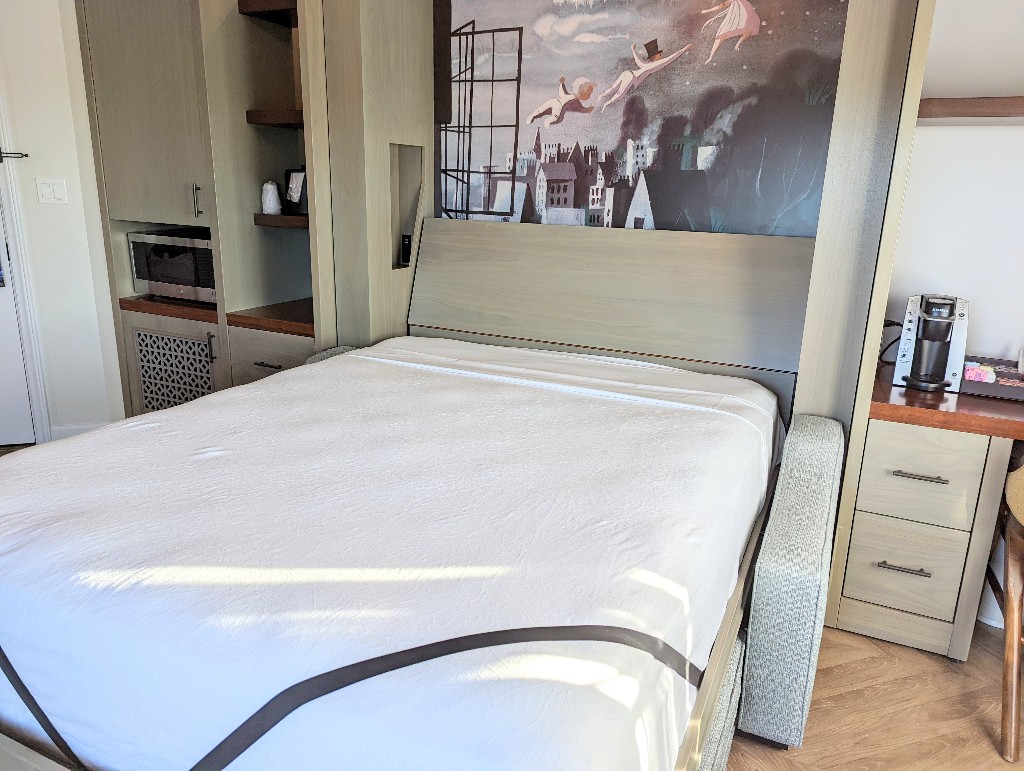 Look above the couch and there are two handles framing the area above the seating. Grab these handles, pull, and just like magic a bed appears.
These pull down beds, sometimes known as Murphy beds, are super popular at Disney World. Many Disney World remodeled rooms have replaced deluxe villa fold out couches or second beds at value resorts with these space saving pull down beds.
Prior to my stay I was concerned that a mattress secured to a platform wouldn't be as comfortable as a traditional bed. However, after staying I found the difference barely noticeable.
While the pull down bed provides more space when not in use, it's inconvenient to refold after sleeping. Due to the nature of the pull down bed there's no place for night stands. To address this issue, small shelves with charging options are tucked into the wall on each side of the bed.
Need room for more than two? Check out the spacious Riviera Resort 1 bedroom villa that sleeps five and has a full kitchen.
Riviera Resort Tower Studio Kitchen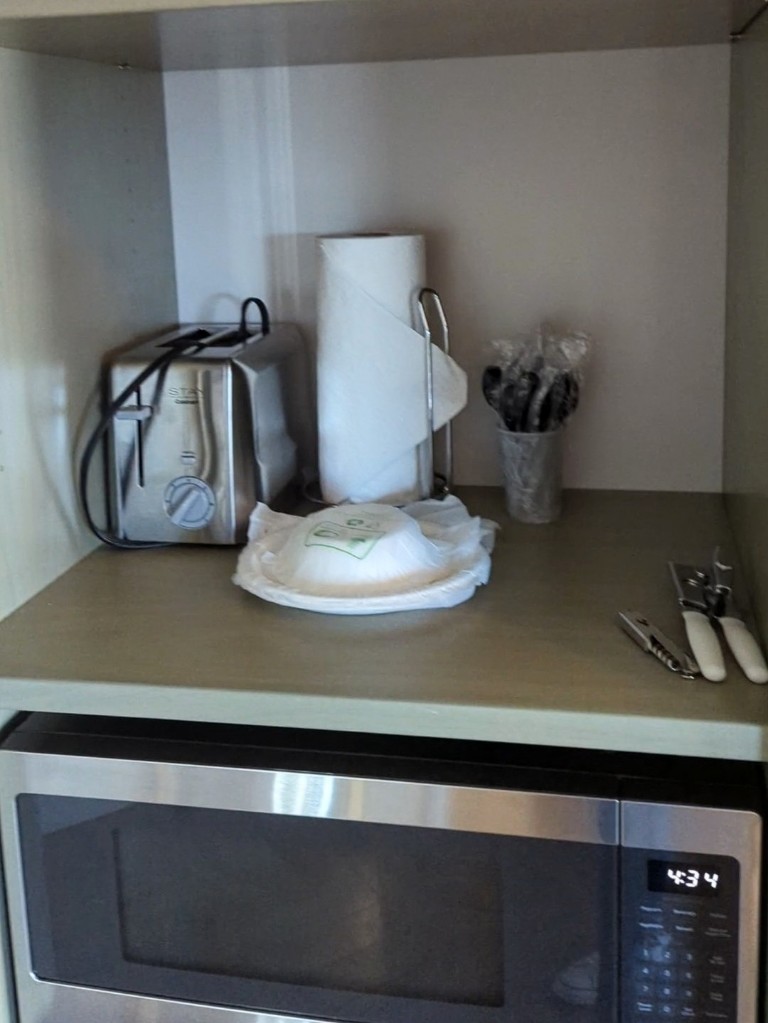 Despite being a tiny room there are some of the amenities you'd expect from a deluxe villa studio kitchenette. On one side of the couch, a built-in cabinet holds a microwave, several storage shelves, and a hidden beverage cooler. Unfortunately, the small bar sink usually found in a studio kitchenette is missing.
Inside the cabinet above the microwave find items you'd normally expect in a studio villa. Our room was stocked with paper towels, disposable plates/bowls/utensils, a corkscrew, and toaster.
Riviera Resort Tower Studio Bathroom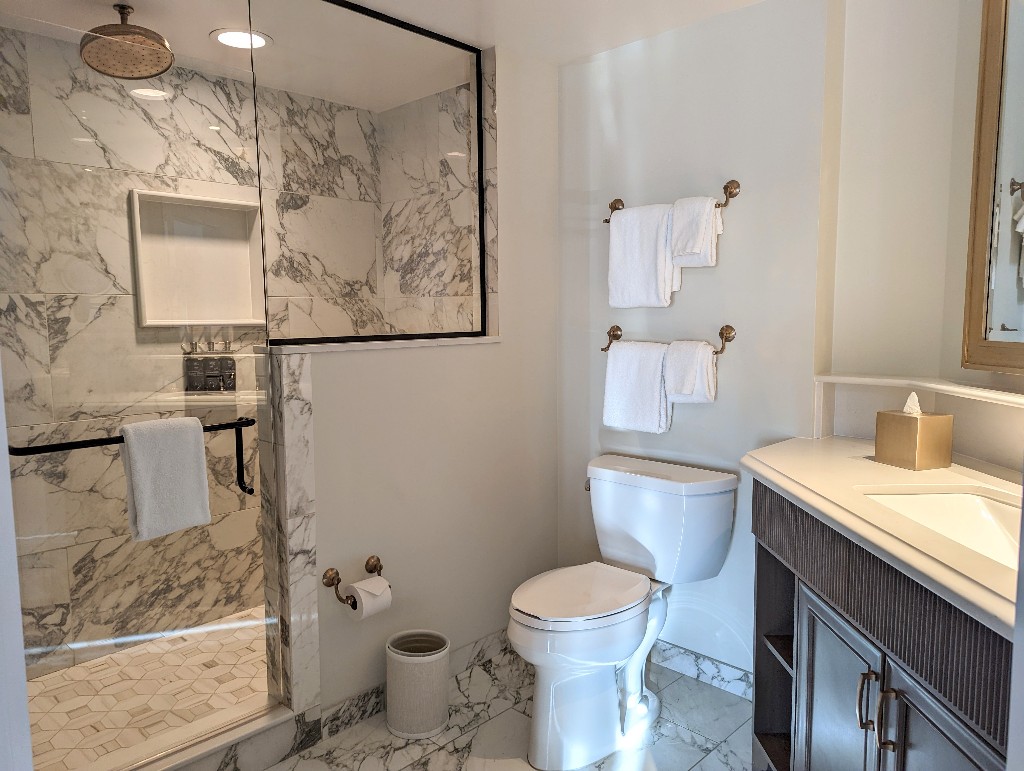 Surprisingly spacious, the Riviera Tower Studio bathroom has a large shower and wonderful closet. Unfortunately, the bathroom shape is a bit unusual which means no split bathroom set-up. Since this room is only designed for two guests, this isn't a huge issue, but still worth mentioning.
The walk-in shower has a bench seat plus a rain head and handheld showerhead option. As is typical with new, or newly remodeled Disney World bathrooms, shared toiletries in bulk packages are mounted on the shower wall.
Shampoo, conditioner, and body wash are filled before your stay and topped up if needed. Guests are also encouraged to be eco-friendly by reusing towels during their stay. However, although the bathroom was large, the places to hang towels to dry were awkward and limited.
There's a single sink in Riviera Resort Tower Studios with plenty of counter space on either side and a thin shelf above. Small storage cubbies underneath and a full closet mean there is plenty of storage in the Tower Studio bathroom.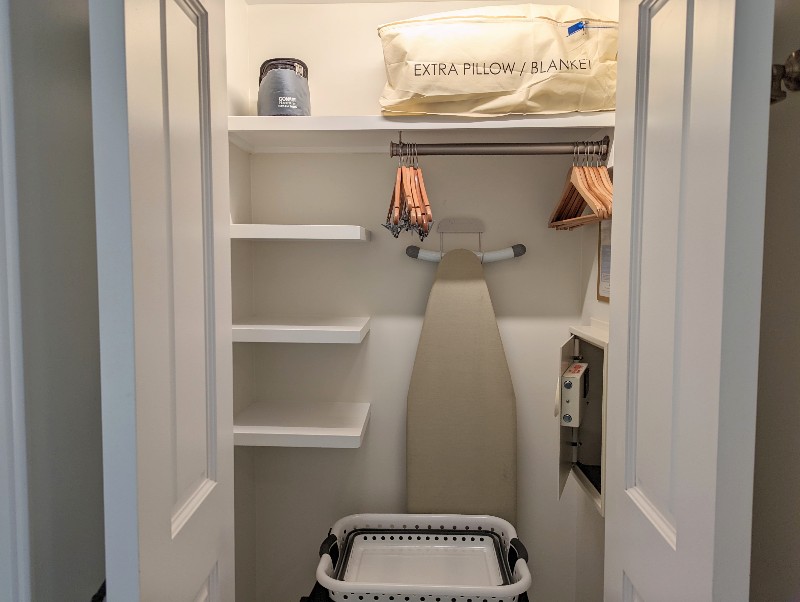 The bathroom closet houses an in-room safe and a full hanging bar plus several shelves. This closet plus the cabinets and shelves in the bedroom add up to a shocking amount of storage space for a room designed for two.
Disney's Riviera Resort Tower Studio Balcony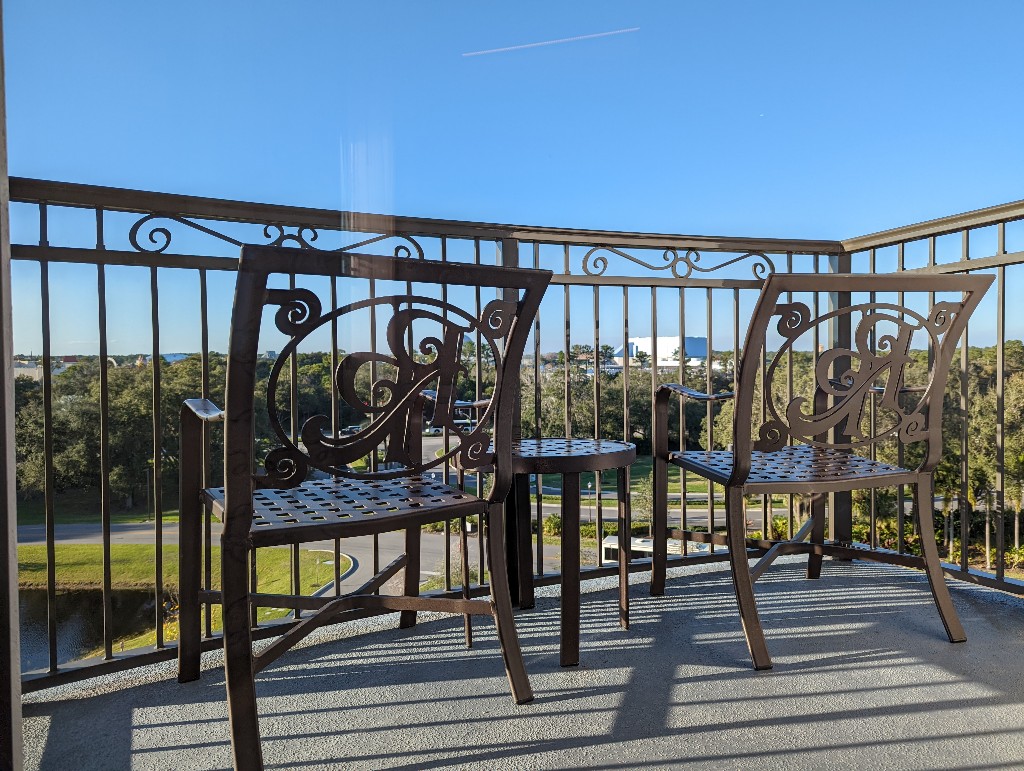 More diminutive than most Disney studio villa balconies, there's still space for two chairs and a small table. This outdoor spot provides extra livable space perfect for a mid-day break or evening cocktail during your stay in this compact room.
Views vary by tower location, but luckily our balcony overlooked Epcot. At night I was able to watch Harmonious from the balcony and it was the perfect end to a busy park day.
Do Disney's Riviera Resort Tower Studio Rooms Feel Cramped?
Measuring in at 220 sq ft or 20.4 m², Riviera Resort Tower Studios are small, but only about 40 sq ft smaller than Disney World value resort rooms. However, the Tower Studio feels significantly smaller than a Pop Century room for a couple reasons.
First, value resort rooms are a basic rectangle shape whereas the Riviera Tower Studio has an unusual shape. This awkward design means corners and unusable space versus a room with flat walls.
Another reason the Riviera Tower Studio seems smaller is the bathroom is larger and more luxurious than one at a value resort. Lastly, the Riviera Tower Studio rooms have tons of storage space and a built-in wall unit unlike Pop Century.
Despite Disney's Riviera Tower Studio rooms feeling smaller than a value resort, the gorgeous styling, high quality on-site dining, and balcony make the Tower Studio a pleasant splurge.
Our Disney's Riviera Resort Tower Studio room had the following great features:
Laminate floors
Large bathroom
Tons of storage space
Plenty of charging stations/outlets
Disney's Riviera Resort In Room WiFi
In-room WiFi is included in your Disney World resort stay. I had good reception so I was able to work and make some video calls.
Riviera Resort Parking
Parking is complimentary for resort guests while valet parking costs $33 per night at Disney's Coronado Springs Resort.
Getting From Riviera Resort to Disney World Theme Parks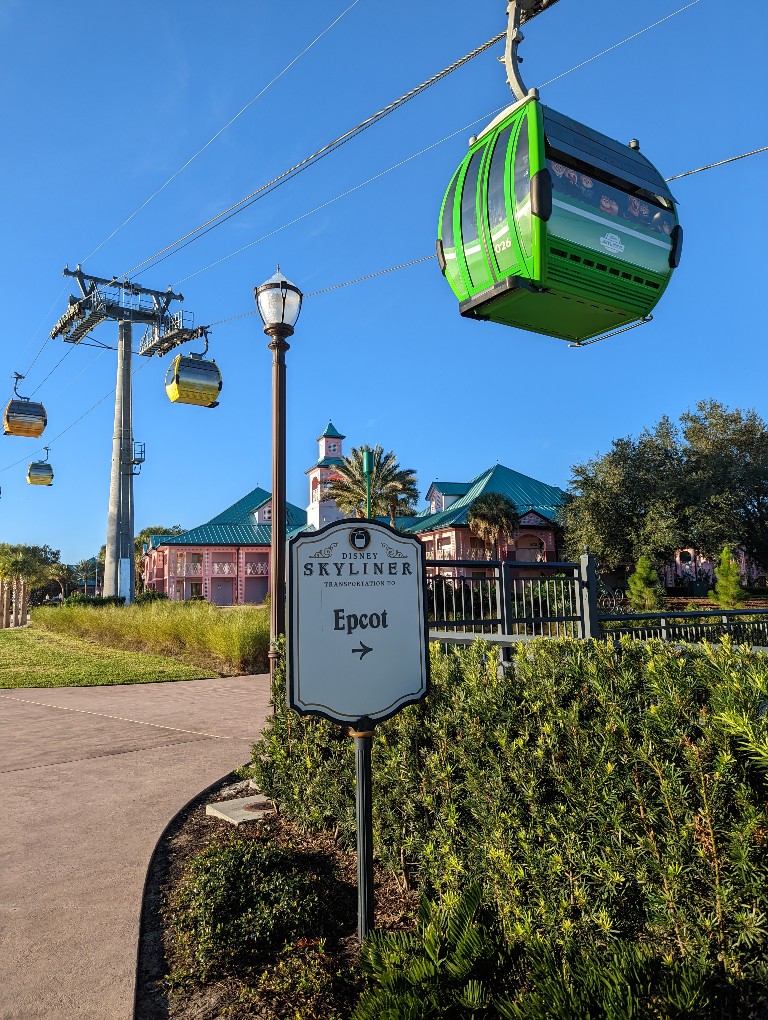 Riviera Resort to Epcot
Hop aboard the Disney Skyliner and quickly soar to Epcot from Riviera Resort. This closed aerial gondola uses cables suspended from towers to whisk guests directly to Epcot.
Disney's Riviera Resort to Hollywood Studios
The Skyliner has another route connecting Riviera Resort to Hollywood Studios. To get to Hollywood Studios grab the Skyliner towards Disney's Caribbean Beach and then transfer to the Hollywood Studios line.
Riviera Resort to Magic Kingdom, Animal Kingdom, and Disney Springs
To get from Riviera Resort to Magic Kingdom, Animal Kingdom, and Disney Springs grab a bus from the station which is steps away from the hotel lobby.
Overall Impression of Our Disney's Riviera Resort Tower Studio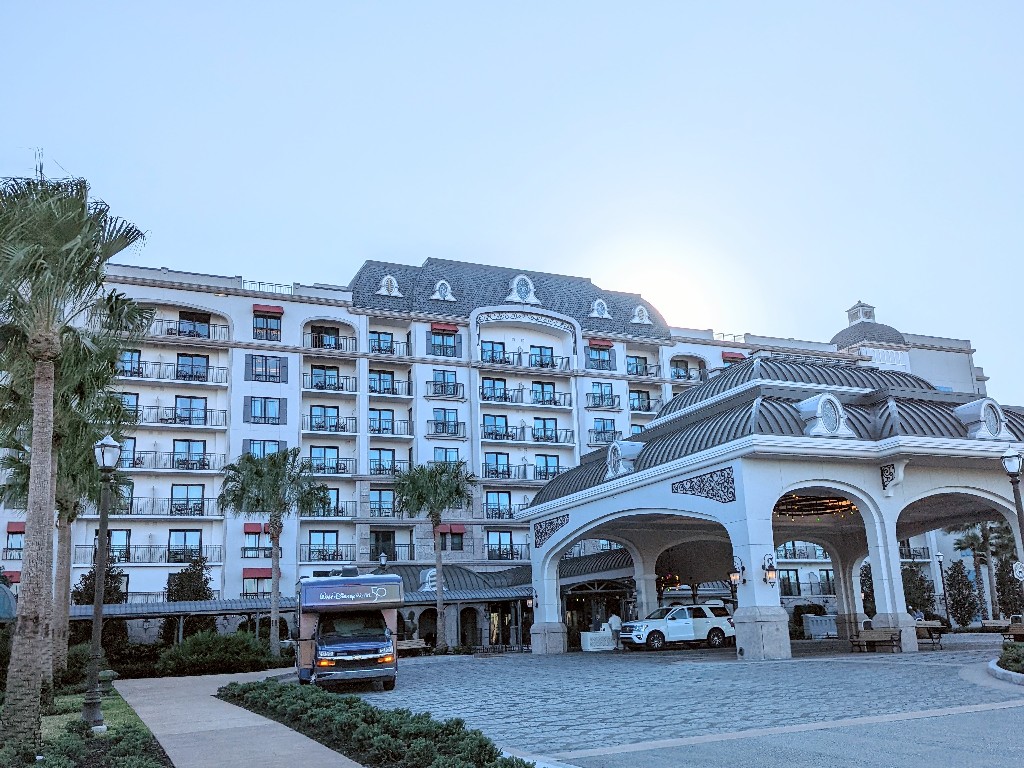 Enchanting ambiance and easy access to the Disney Skyliner make Disney's Riviera Resort a charming place to stay at Disney World. The Riviera Resort Tower Studio makes a deluxe villa stay possible for the cost of most moderate Disney resorts which is appealing to some.
However, unless you really enjoy spending time with your travel companion or are doing a solo trip, staying in a Disney's Riviera Resort Tower Studio can feel cramped. If your budget allows, I recommend staying in the gorgeous Riviera Resort 1 bedroom villa or spend a similar amount to stay at a moderate with deluxe resort feel like Disney's Coronado Gran Destino Tower.
Pin it for later: