If you add up every option from all four theme parks plus Disney World resorts, there are almost a dozen Disney World character meals. Choose the right Disney World character dining experience for your group using our review of every Disney World character meal available in 2023 and 2024.
Disney World Character Dining At Theme Parks:
Disney World Character Dining At Resorts:
Animal Kingdom Character Dining
Tusker House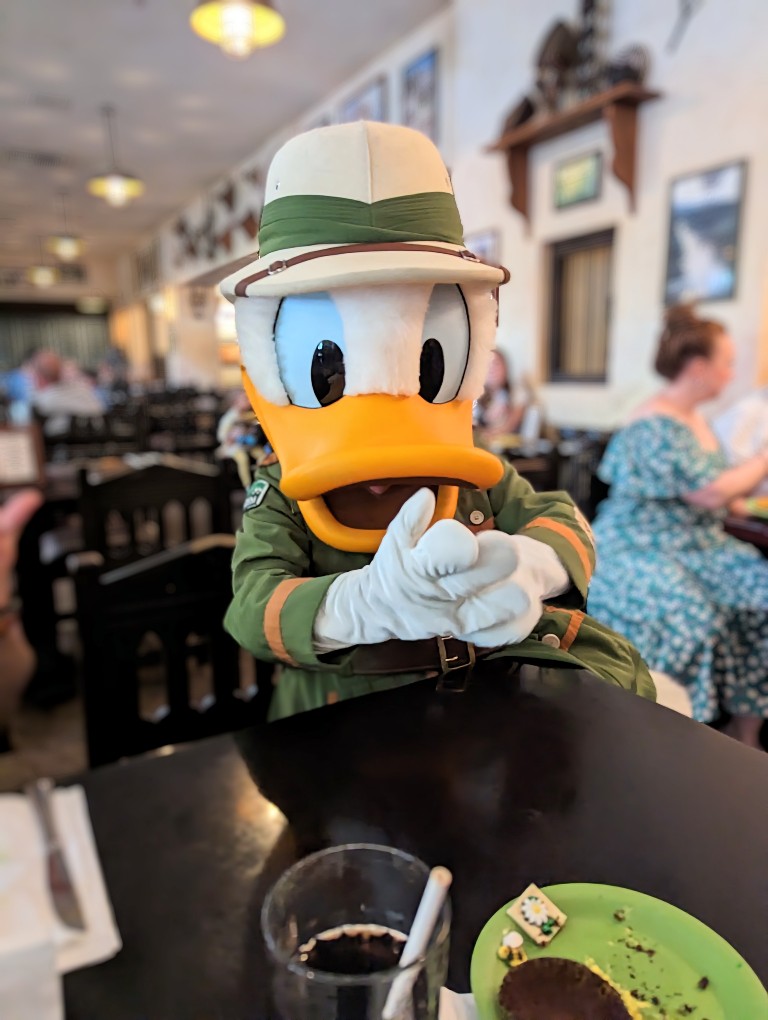 Hidden behind Dawa Bar in the Africa area of Disney's Animal Kingdom is Tusker House. Tusker House hosts fan favorite characters Donald, Daisy, Goofy, and Mickey in a large marketplace themed restaurant.
The breakfast buffet features traditional breakfast staples like scrambled eggs, bacon, breakfast potatoes and a twist with Simba and Nala waffles instead of the usual Mickey waffles.
Lunch and dinner at Tusker House has lots of ethnic inspired foods like curries and samosas plus items like spit roasted chicken, mashed potatoes, and corn dogs for less adventurous eaters.
The characters do a great job of moving through the Tusker House dining rooms and interacting with guests. Although the tables are closer than I like at a character meal, each of the characters are consistently fun and silly with us.
We adore the styling and detail of the safari themed outfits for Donald, Daisy, Goofy, and Mickey plus the large variety of foods at Tusker House. Tusker House is an underrated character meal with several popular classic characters, and we always enjoy our experience here.
Find a full review of the Tusker House character meal here.
Epcot Character Dining
Akershus Royal Banquet Hall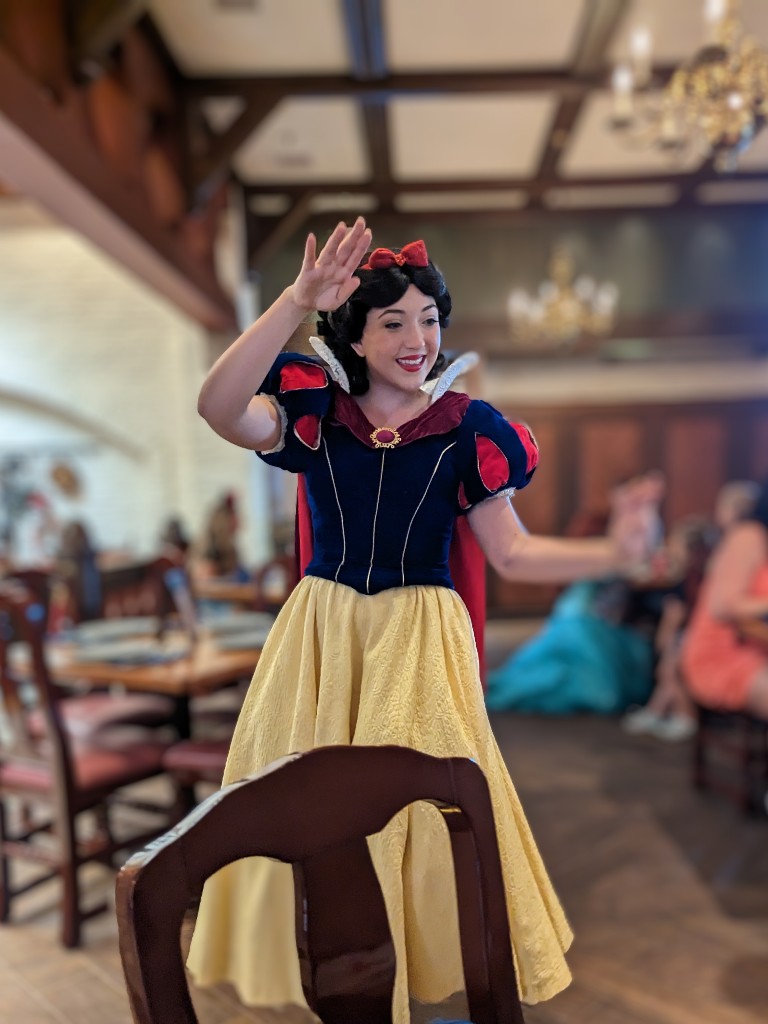 Do you have a princess fan in your group? Then Akershus should be on your character meal bucket list.
Akershus Royal Banquet Hall usually has Belle, Aurora, Snow White, Tiana, and Ariel rotating through the large restaurant. However, characters are always subject to change and other princesses sometimes sub in during the day.
Enjoy a three course family style meal at Akershus with a variety of traditional Norwegian options. Although the menu may not look family friendly many of the dishes are simple enough to appeal to different tastes.
Akershus Royal Banquet Hall is a great choice for meeting several princesses during a single character meal. The lighting is a bit dim for photos, but the character interactions are really sweet.
Find a full review of Akershus Royal Banquet Hall here.
Garden Grill
Garden Grill hosts Chip 'N' Dale's Harvest Feast meal. This character meal occurs at breakfast, lunch and dinner daily. Garden Grill is located in the Land Pavilion at Epcot and overlooks the Living With The Land attraction.
At Chip 'N' Dale's Harvest Feast you generally see Chip, Dale, Mickey Mouse, and Pluto. Please note that characters are always subject to change. We thought that our interaction with each of the characters was very good. In fact, Mickey was the most animated we have ever seen at a character meal.
Garden Grill meals are served family style with large platters of food. For those with food allergies (other than those on the standard Disney World allergy menu) the ability to accommodate a food allergy is limited compared to our experiences at other character meals. The staff was very helpful, and we were able to find some items that were safe for Elizabeth, but it was more challenging than usual.
Garden Grill's Chip 'N' Dale's Harvest Feast is a fun character meal option for those who are big Chip and Dale fans or those who want a chance to meet Mickey and Pluto, but aren't able to get a reservation at Chef Mickey's, Tusker House, or Topolino's Terrace.
Find a full review of Chip 'N' Dale's Harvest Feast here.
Hollywood Studios Character Dining
Disney Junior Play 'n' Dine (Breakfast)
Hollywood and Vine features two different character dining experiences, Disney Junior Play 'n' Dine (breakfast) and Minnie's Seasonal Dining (lunch and dinner). The all-you-can-eat buffet has a wide variety of foods and is great for picky eaters, both young and old.
If you have a child who loves Disney Junior, this character meal is perfect. Meeting these characters is relatively rare outside of this option and only available at Hollywood Studios by waiting in several lines.
Find a full review of the Hollywood and Vine meal here.
Minnie's Seasonal Dining (Lunch and Dinner)
Minnie's Seasonal Dining is a rotating seasonal themed character meal in Hollywood Studios. Each season brings a whole new adorable wardrobe to classic Disney friends. We first visited Minnie's Holiday Dine as part of a Disney World Christmas season trip.
Minnie, Mickey, Daisy, and Donald rotate through the restaurant stopping to visit each table. Santa Goofy meets guests near a special backdrop with a PhotoPass photographer. Each of our character interactions were very good and silly or sweet depending on the character.
The two regular buffet lines offer lots of fruit, salads, breads, meats, pastas, and sides for your meal, but overall the food is unremarkable. The kids buffet line has the usual corn dogs, mac and cheese, and steamed vegetables.
The characters at Minnie's Seasonal Dining made for an incredible experience despite the mediocre food. If you care about meeting characters in fun themed outfits, like Goofy in a Santa suit, and don't mind mediocre food then I recommend making reservations for Minnie's Seasonal Dining.
Find a full review of the Hollywood and Vine Minnie's Seasonal Dining meal here.
Magic Kingdom Character Dining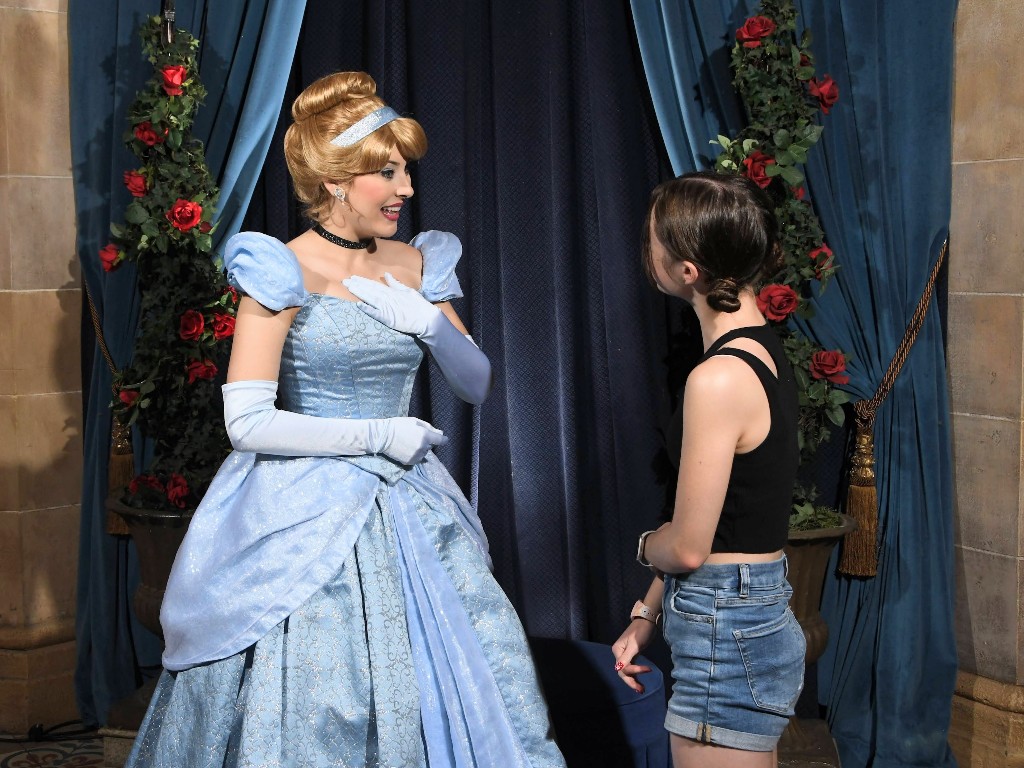 Cinderella's Royal Table is usually tied with Chef Mickey's or Topolino's Terrace as the most sought after Disney World character dining experience. The combination of eating inside Cinderella's castle and meeting several Disney princesses makes people clamor for this reservation.
When entering the castle there is a small line to meet Cinderella. She has a lovely backdrop for photos and a PhotoPass photographer available to take your picture.
After meeting Cinderella, climb a spiral staircase lined with stained glass windows to reach the restaurant. There is also a small elevator for those with mobility concerns.
Children, and adults, receive two small gifts when you are seated: a wishing star and either a wand for girls or a sword for boys. These gifts are used during a wishing ceremony.
Breakfast is two courses, a pastry basket and entree. Lunch and dinner are three-course meals with a choice of appetizer, main course, and dessert.
Throughout your meal, royal announcements introduce each visiting princess before she makes her way around the dining room. We have generally seen Cinderella, Ariel, Snow White, Jasmine, and Sleeping Beauty at Cinderella's Royal Table although exact characters are subject to change.
Cinderella's Royal Table has always been a favorite meal of ours, because we love the ambiance of the dining room of Cinderella's castle. We have also had quality princess interactions at this meal, too.
The main drawback of Cinderella's Royal Table is the price. It is expensive and requires pre-payment in full at the time of booking.
Find a full review of Cinderella's Royal Table here.
The Crystal Palace
Visit with Hundred Acre Woods friends during a meal at The Crystal Palace. This popular, large, and buffet only restaurant is often a time commitment, but for Winnie the Pooh fans provides a fun experience.
Disney's Beach Club Resort Character Dining
Cape May Cafe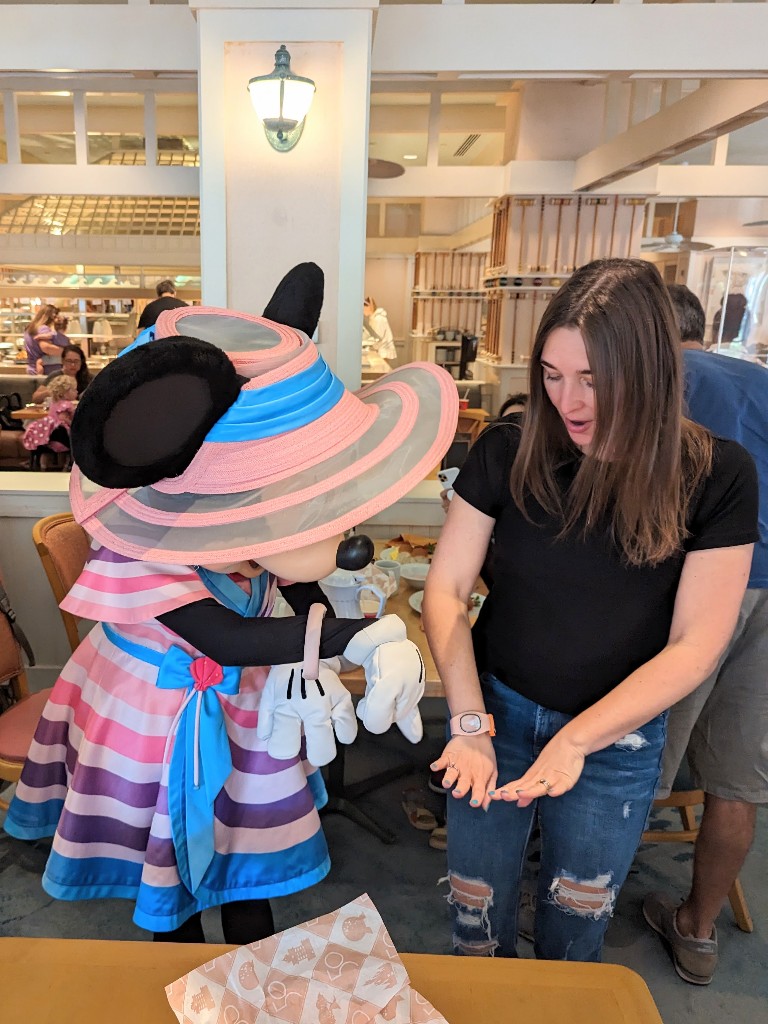 Disney's Beach Club Resort hosts Minnie's Beach Bash Breakfast each morning. Meet Minnie Mouse, Goofy, Daisy, and Donald Duck in cute beach attire while you dine during a Cape May Cafe breakfast.
The breakfast buffet is large and offers a lot of choices from breakfast meats, eggs, various toasts and pastries, to the iconic Mickey waffle. The chef at Cape May Cafe did an excellent job accommodating Elizabeth's food allergy, and she ate a ridiculous amount of breakfast.
We think Cape May Cafe breakfast with Minnie and friends is a great Disney World character breakfast option. If you are staying at the Beach Club, Yacht Club, or Boardwalk Hotel this breakfast is within walking distance and a fun way to start your day.
If you are staying elsewhere it can still be a good choice for your Epcot park day. Cape May Cafe is only a few minutes walk from Epcot's International Gateway entrance.
Find a full review of the Cape May Cafe breakfast here.
Disney's Contemporary Resort Character Dining
We love the character meal at Chef Mickey's restaurant. I mean what could be more iconic than eating a meal with the Fab 5 – Mickey Mouse, Minnie Mouse, Pluto, Donald Duck, and Goofy!
Chef Mickey's is a buffet restaurant with breakfast served from 7:30 am to 12:30 pm and dinner from 5 pm until 9:30 pm.
Once seated, help yourself to the extensive buffet, which includes the famous Mickey waffles (breakfast), macaroni and cheese and chicken nuggets for the little ones (dinner) and more grown up fare like salads, a carving station and peel and eat shrimp (dinner).
A Chef Mickey's meal ends with a trip to the dessert station. Donuts and pastries for breakfast, while cakes and make your own sundaes are perfect after dinner. I also like that at each meal there is fresh fruit available. You can check out more of the menus here.
Meet Minnie outside the restaurant before your meal. Then as you dine, the other characters make their way around to each table.
By the end of the meal, you will have had a chance to meet all five characters and take pictures. Periodically, the characters will come out to the dining room and do a little dance, getting the crowd up and dancing.
Find a full review of Chef Mickey's here.
Disney's Polynesian Resort Character Dining
'Ohana
'Ohana is a character breakfast located at the Polynesian Resort at Walt Disney World. When you arrive, you are greeted with an Aloha and 'Ohana. The 'Ohana character breakfast is inspired by the Disney animated movie Lilo and Stitch. During the movie they always go back to 'Ohana because 'Ohana means family, and family means no one gets left behind or forgotten. This family message is one of the things I love about the 'Ohana breakfast.
One of the great things about this breakfast is that it is served family style and is unlimited. This means they bring everything to your table and as you need more they will refill. The breakfast included eggs, sausage, fruit, Mickey and Stitch waffles, fried potatoes, pastries, and Stitch juice. The juice is unique to 'Ohana and was a favorite by all of us!
During the meal Lilo, Stitch, Mickey, and Pluto visit your table for autographs and photos. Be prepared for mischief when Stitch comes to your table. He is playful and silly, the kids and all the adults with us had a fun time with him. They also have a character parade your family can participate in that goes around the dining area.
Find a full review of the 'Ohana breakfast here.
Disney's Riviera Resort Character Dining
Breakfast à la Art with Mickey & Friends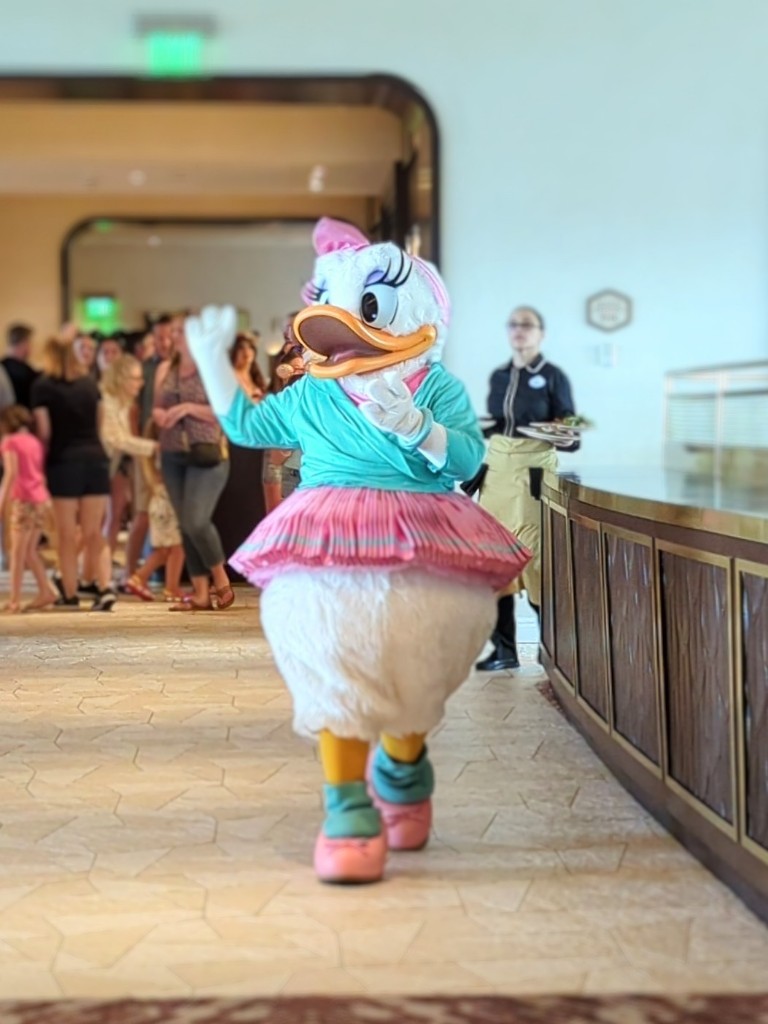 Mickey Mouse, Minnie Mouse, Donald Duck and Daisy Duck dressed in adorable art inspired clothes mingle with guests at Topolino's Terrace. Stunning views from the floor to ceiling windows provide character meal ambiance unlike anywhere else in Disney World, except Cinderella's Royal Table.
A delicious pastry basket followed by a gorgeously plated breakfast makes Breakfast à la Art with Mickey & Friends an elevated character meal. The atmosphere, views, costumes, and food are wonderful, but our character interactions here haven't been as over the top as places like Tusker House.
Find out more about Breakfast à la Art with Mickey & Friends here.
Disney's Wilderness Lodge Character Dining
Storybook Dining at Artist Point with Snow White
Be whisked away to the Enchanted Forest when you enter Artist Point at Disney's Wilderness Lodge. A fun assortment of characters and an excellent meal await you in this special forest.
Storybook Dining at Artist Point is a 3 course character meal. There are three shared appetizers, an individual main course, and then four shared dessert options. The appetizers and entrees are some of the best character meal food we have ever eaten. Dessert is fine, but disappointing after the amazing cocktails, appetizers, and entrees.
Meet four characters at Storybook Dining at Artist Point With Snow White. Dopey, Grumpy, and Snow White come to each table during the meal.
Unsurprisingly, The Queen requires you to come to her. She has a separate meeting spot in the center of the restaurant and you're given a special card when it's your turn to approach her.
Here's everything you need to know about Storybook Dining with Snow White at Artists Point.
Four Seasons Resort Character Dining
Good Morning Breakfast with Goofy and His Pals
Many people don't know that there is a Four Seasons Resort in the Golden Oaks area of Disney World, which is a high-end subdivision with gorgeous homes.
The resort hosts a breakfast on select mornings featuring Goofy and friends. Sometimes you can even see Mickey and Minnie Mouse at this breakfast, although this information is not publicized.
Find out more more about Good Morning Breakfast with Goofy and His Pals.
Final Thoughts On 2023 and 2024 Disney World Character Dining Options
There is a great diversity of Disney World character dining options with a variety of characters and meals designed to suit almost everyone.
Over the years we've been lucky enough to experience dozens of Disney World character meals, make some wonderful memories and also souvenirs. Our DIY Disney autograph ornaments and autograph pillowcases have become treasured souvenirs.
I hope that this comprehensive review of 2023 and 2024 Disney World character meals helps you to find the best character dining for your family vacation. Remember to make advanced dining reservations 60 days before your Disney World vacation for the best chance of scoring these popular dining reservations.
Pin it for later: