Have you wanted to do a runDisney event and get one of those sweet medals, but traveling to a Disney property for a run is not possible? If so, the runDisney Virtual 5K Series is perfect for you. The runDisney Virtual 5K series is a set of Disney 5Ks you complete at home.
What Are runDisney Virtual 5Ks?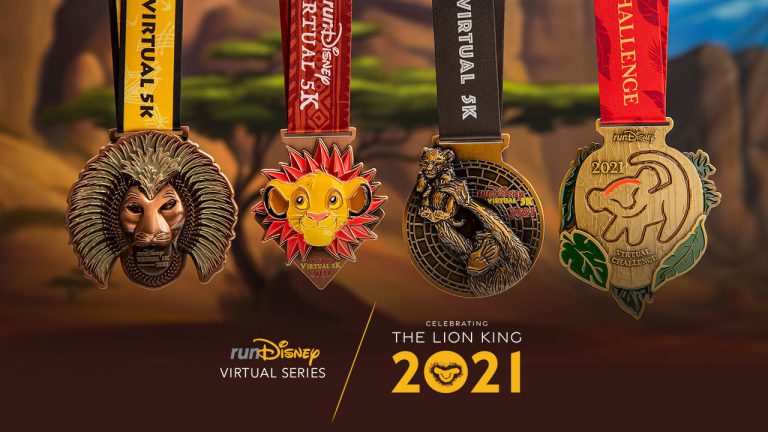 Register online for this unique runDisney event where you complete one or more at home 5K. In 2021 there are three available runDisney Virtual 5K races all based on The Lion King.
Like previous years there are four different medal designs in 2021. A medal inspired by the timeless classic movie, one inspired by the Broadway musical, or a medal inspired by the live action The Lion King remake. If you choose to do all 3 The Lion King races, you'll get an adorable Virtual Series Challenge bonus medal which looks like a Simba drawing surrounded by leaves.
Register for individual races or the runDisney Virtual Series, which is all three at home 5Ks. Participants who register for the runDisney Virtual Series receive all three 5K medals plus a bonus challenge medal for completing all three races.
How Do I Register For A runDisney Virtual 5K?
Go to the runDisney Virtual Series page.
Click on "Register today" for your preferred race. Individual events are usually $40 each or $145 for the runDisney Virtual Series.
Log in and finish your registration. Parents can register minor children. Participants must be age 5 or older to participate for a medal.
Completing Your runDisney Virtual 5K
The beauty of runDisney Virtual races is that they can be done at your convenience. The first year we participated we chose a free day with favorable weather for four of us to complete a multi-generational 5K together.
For our first runDisney Virtual race we decided to make it a leisurely stroll and just enjoy doing the at home 5K together. Our runDisney virtual 5K route took us through a couple of neighborhoods while we chatted and laughed.
This year I have challenged my daughter to train with me and see if we can improve our time each race. Are you a real runner? Then by all means feel free to run your 5K.
How Do I Get My runDisney Virtual 5K Medals?
Once you register for the event, runDisney will assume that you complete the event(s) and send you your medal(s) without any additional action from you. Medals are shipped to your registration address on file at the completion of the runDisney Virtual Series timeframe.
If you want a finisher's certificate print the template at home. Go to the individual 5K Virtual Race tab. Here you access and print out a downloadable race bib and a finisher's certificate. Then just write your name and time on this printed certificate.
Final Thoughts On runDisney Virtual 5Ks
We are fans of finding Disney magic at home when we aren't able to make it to the parks. The opportunity to get runDisney medals on my own time, with my family, and without the expense of a trip to Disney makes runDisney Virtual 5Ks a fun family activity.
Do you need help planning your Disney World trip? Check out other Disney World tips and tricks in my Disney World Guides.
Pin it for later: