On May 4th, also known as Star Wars Day, Disney Parks announced the Droid Depot app. This new app is designed to make your custom built Galaxy's Edge droid even more fun at home.
What Is The Droid Depot App?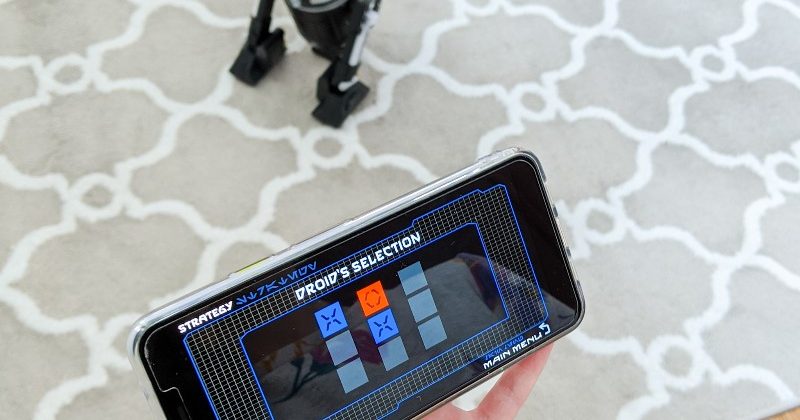 The Droid Depot app pairs with your Galaxy's Edge droid and has four options: Maneuvering, Strategy, Piloting, and Droid Builder. We tested each of these modes and some were definitely better than others.
Maneuvering is probably the most entertaining option on the Droid Depot app. Choose one of three songs from DJ R3X's music set at Oga's Cantina. Then drag and drop icons to make your droid a dance sequence. We had a lot of fun making both our BB and R-Unit droids dance throughout the house.
Strategy is a virtual tic-tac-toe game for you and your astromech. The app randomly assigns who plays the first move, you or the droid. From there you continue the game until one of you wins or it is a tie. Your astromech beeps and chirps as it makes its moves on your screen which makes it feel like it is actually playing the game with you.
Piloting acts as a remote for your custom droid. I hoped it would make steering the droid easier than the basic remote from Droid Depot. Unfortunately, it seems like the capabilities are basically the same whether using the physical remote or the Droid Depot app.
Droid Builder allows you to build a virtual droid, but there isn't much else to do with it. We thought this last option was not very interesting.
Another thing you can do on the app is adjust your droid's volume in the settings. Having volume control is a nice feature since the droids can be rather noisy at times.
Last, edit your droid's profile to update its name and even make the sketch look like your custom astromech. This step is optional but makes the experience feel more genuine.
How Do I Pair The Droid Depot App To My Droid?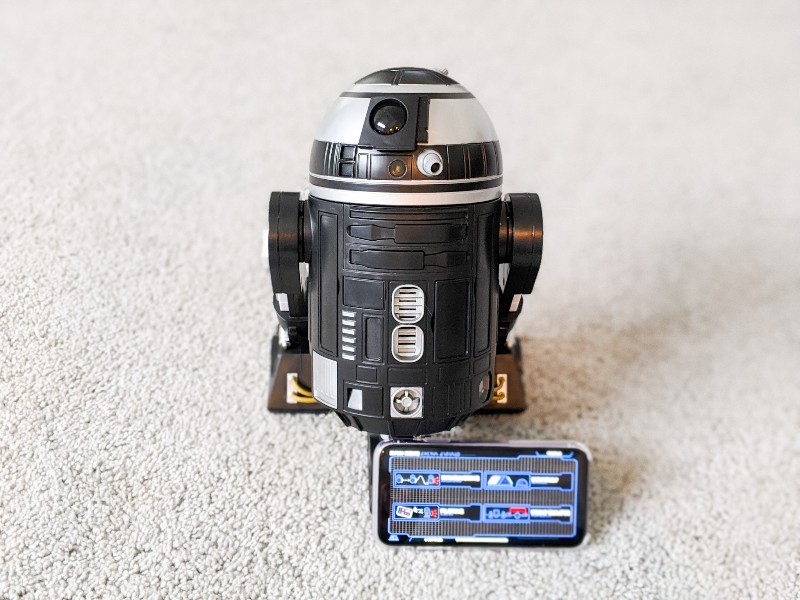 Pairing your astromech to the Droid Depot app is challenging at first, since the instructions are limited. After some trial and error we figured out the most reliable way to pair the Droid Depot app to your Galaxy's Edge astromech.
First, turn on your droid but do not turn on the paired controller that came with it at Droid Depot. If the original control is on it seems to interfere with the pairing process.
Next open the Droid Depot app. Choose "I have a droid!" and watch as the app finds your droid.
Once the app has found your droid, it will ask if you want to synchronize communication with the unknown droid. Choose yes, then follow the prompts to turn off and then back on to complete pairing. Your droid will happily chirp and beep when it is successfully synchronized.
If your astromech is on the next time you open the Droid Depot app, the app will identify and connect to it. Then you can use any of the four available modes without re-pairing your droid to the app.
Can I Pair The Droid Depot App With More Than One Astromech?
If you have more than one droid, the Droid Depot app can pair with and remember multiple droids. However, you can only control one at a time. If both droids are on when you start the app it will choose only one for you to control. Make sure your preferred astromech is on when starting the app.
Final Thoughts On The Droid Depot App
There is nothing more fun than bringing your Droid Depot astromech around Galaxy's Edge to see how it interacts with the world around you. However, since you spend most of your time at home, the Droid Depot app brings some of the Galaxy's Edge experience home to you. Download the Droid Depot App now on Google Play or the App Store.
Pin it for later: