Disneyland character meals combine fun character interactions with dining in an efficient use of precious park time. Plaza Inn breakfast with Minnie and Friends is the best Disneyland character meal and the one we book time and time again. Meet several classic and unique Disneyland characters, plus enjoy a tasty buffet at Breakfast with Minnie and Friends at Plaza Inn.
Plaza Inn Breakfast with Minnie and Friends Overview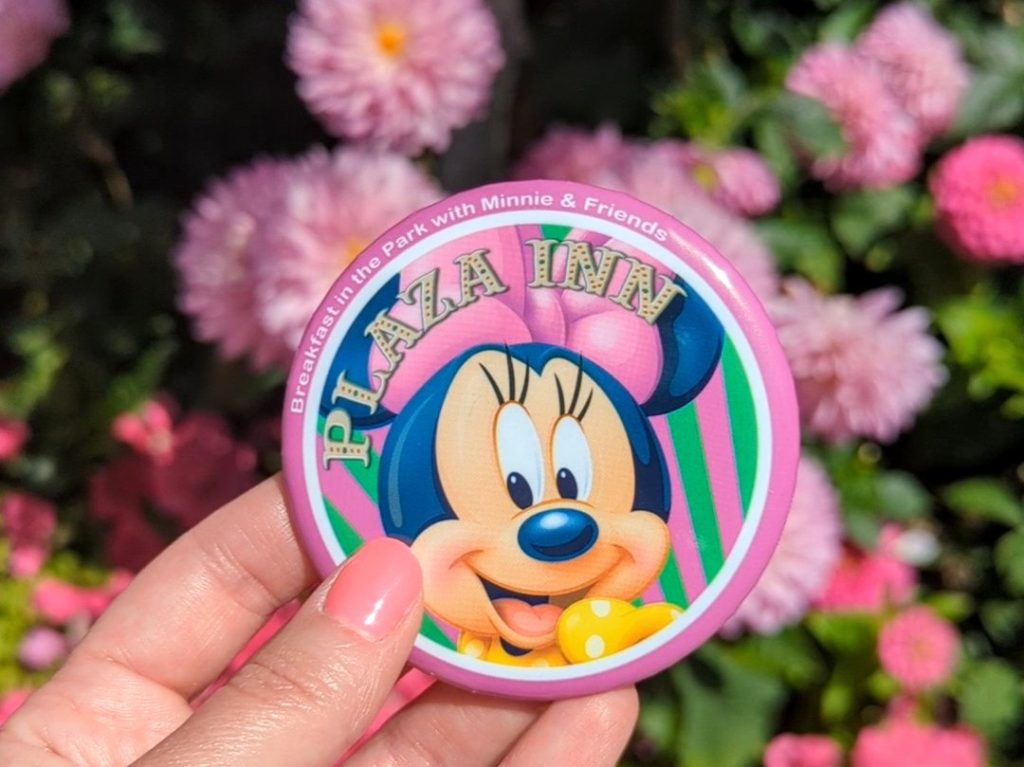 Breakfast with Minnie and Friends takes place at Plaza Inn on Main Street inside Disneyland Park. This means you need a Disneyland theme park ticket plus theme park reservation to have breakfast at Plaza Inn.
Plaza Inn Breakfast with Minnie and Friends is an extremely popular character meal. Make your dining reservations 60 days ahead of your visit for the best chance at scoring a reservation. If you miss out, keep checking. Sometimes last minute Plaza Inn reservations show up in the Disneyland app.
There is both indoor and outdoor seating at Plaza Inn for breakfast with Minnie and Friends. The indoor area has easy access to the buffet and seems to have a couple more character interactions on average, but tables are more tightly packed.
The charming outdoor area at Plaza Inn is pretty and mostly shaded from the bright California sun. Grabbing food is a little inconvenient and sometimes we miss a character, but usually we get better pictures.
Minnie and Friends at Plaza Inn Breakfast Menu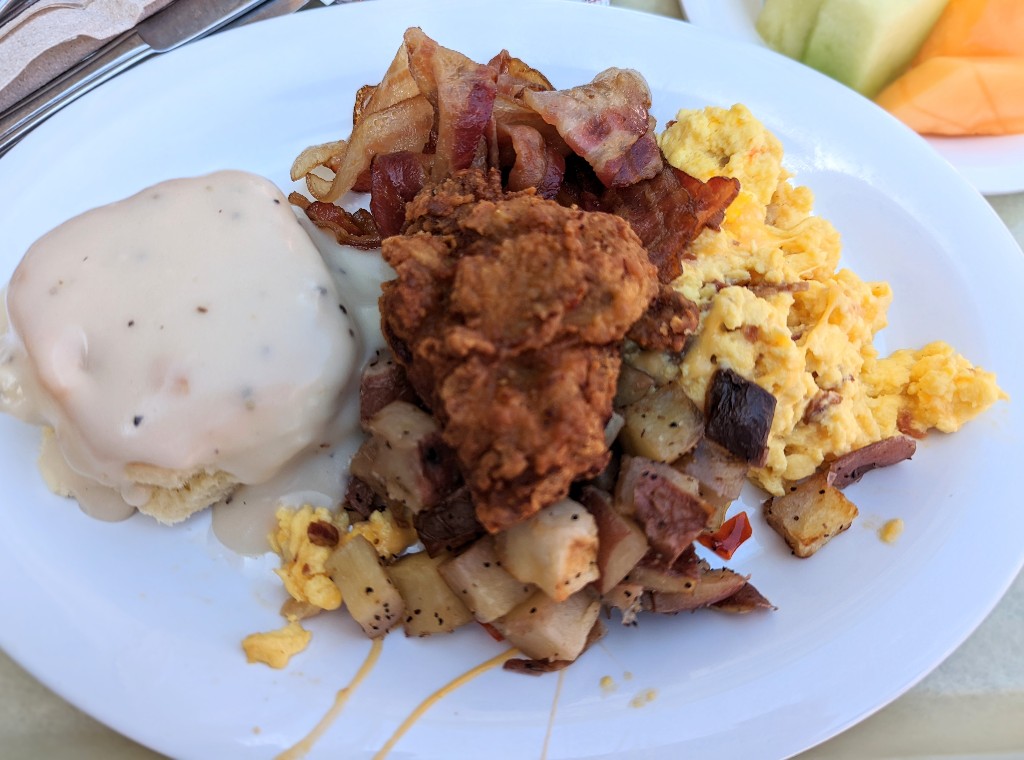 The Minnie and Friends Plaza Inn breakfast menu is a typical breakfast buffet. Expect scrambled eggs, omelets made to order, breakfast potatoes, bacon, sausage, cereal, and Mickey waffles, too.
Plaza Inn is known for fried chicken at lunch and dinner, but during breakfast also serves fried chicken with biscuits and gravy. This is a tasty breakfast option you won't find just anywhere.
Finish out your meal with fresh fruit and pastries plus an assortment of coffee, juice, milk, and soft drinks.
Managing Food Allergies at Breakfast in the Park with Minnie and Friends
Like other Disneyland table service restaurants, make a note of the food allergy when booking your reservation and confirm again once you arrive at Plaza Inn. We always request a chef consultation and are able to figure out several safe items for Elizabeth.
To avoid cross contamination, the chef prepares Elizabeth's food in the back and brings it out separately. The portions are generous, but you can request more if you are still hungry.
Plaza Inn Breakfast with Minnie and Friends Characters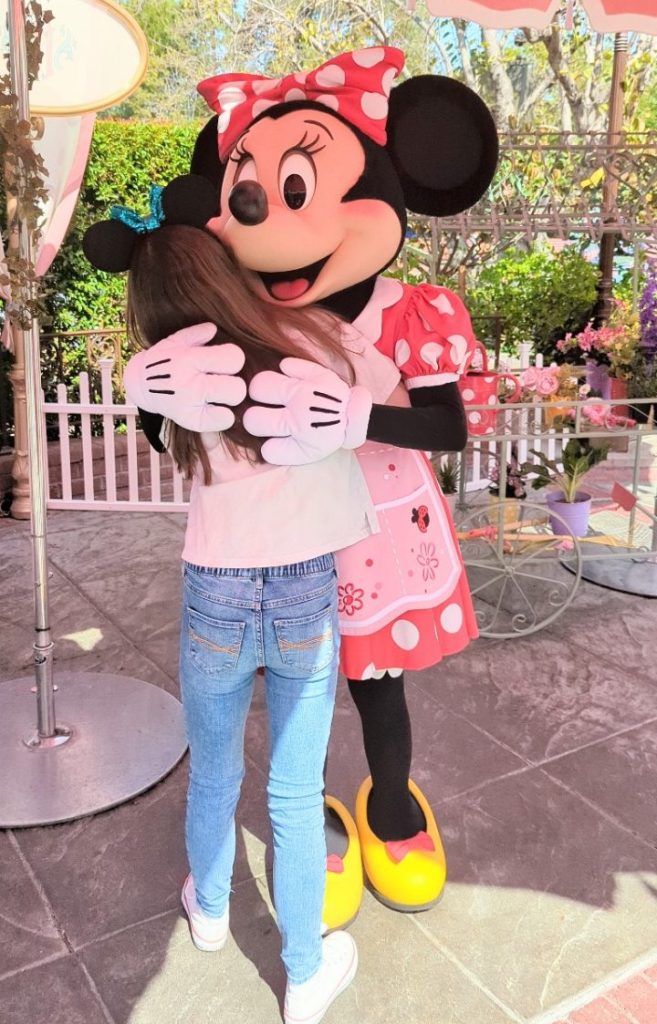 Minnie is a charming host at Plaza Inn and always warmly greets you before you're seated. Her shaded spot is surrounded by a white picket fence and has a gardening bench full of potted plants nearby.
A PhotoPass photographer snaps pictures of the interaction with Minnie as you begin your Plaza Inn breakfast. These pictures used to be printed and cost extra, but are now digital and included in the price of your Minnie and Friends Plaza breakfast.
Expect to meet Minnie Mouse at Plaza Inn breakfast, but other than that it is a random assortment of Disney characters. Minnie and Friends breakfast only guarantees three characters during a meal, but we usually see many more.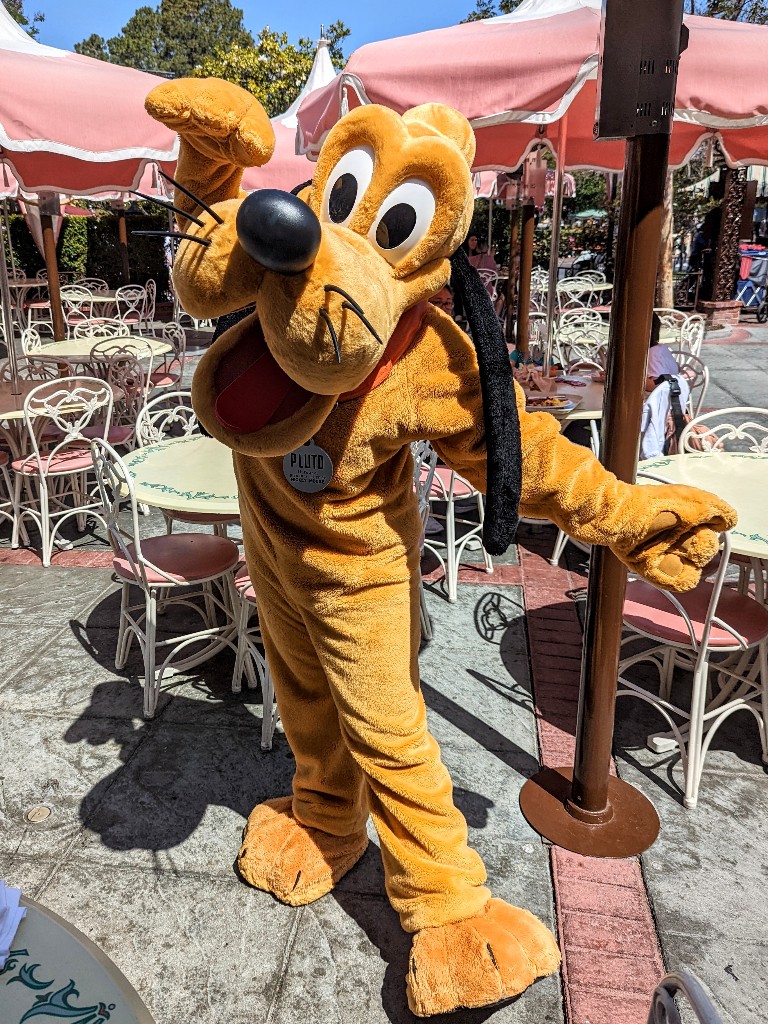 On our most recent trip we scheduled a later breakfast for 9:50am. We met seven characters, but some we saw while arriving left without stopping by.
While several characters roam Plaza Inn early in the morning, it seems near the end of Minnie and Friends breakfast some leave Plaza Inn for their usual meet and greets throughout Disneyland. As we were leaving there were only a few characters left for guests just sitting down to breakfast.
During our Plaza Inn breakfasts we usually see Pluto, Tigger, Winnie the Pooh, Chip and Dale in addition to Minnie, the meal namesake. Although this is a common set of characters no particular characters are guaranteed during the meal other than Minnie.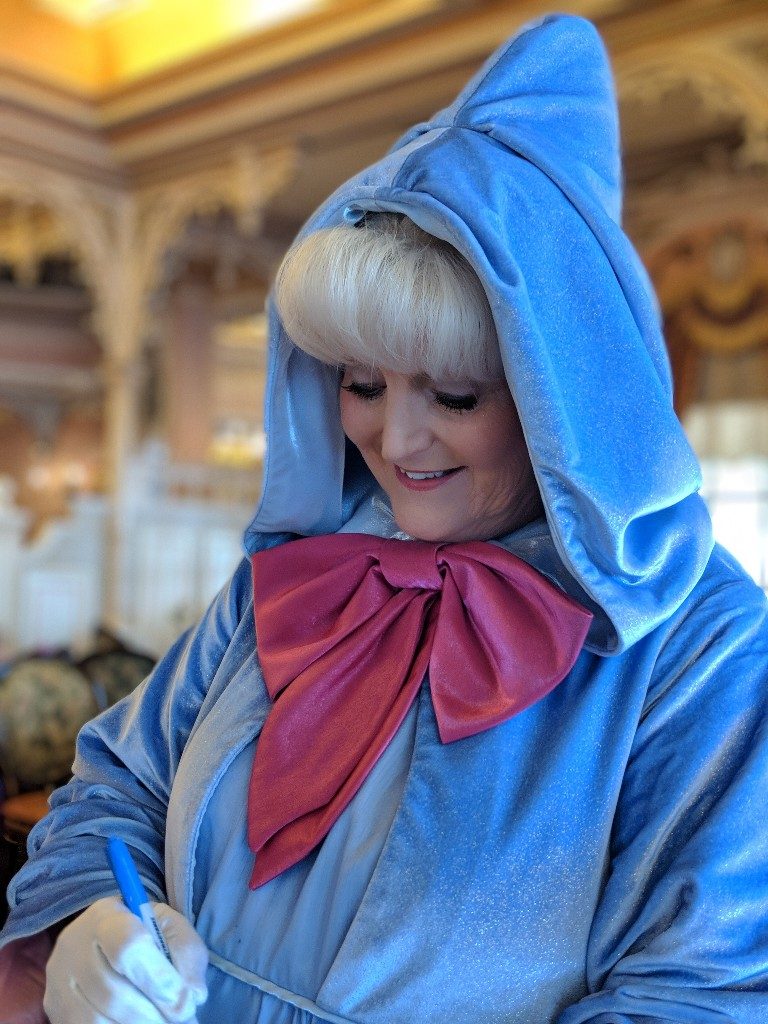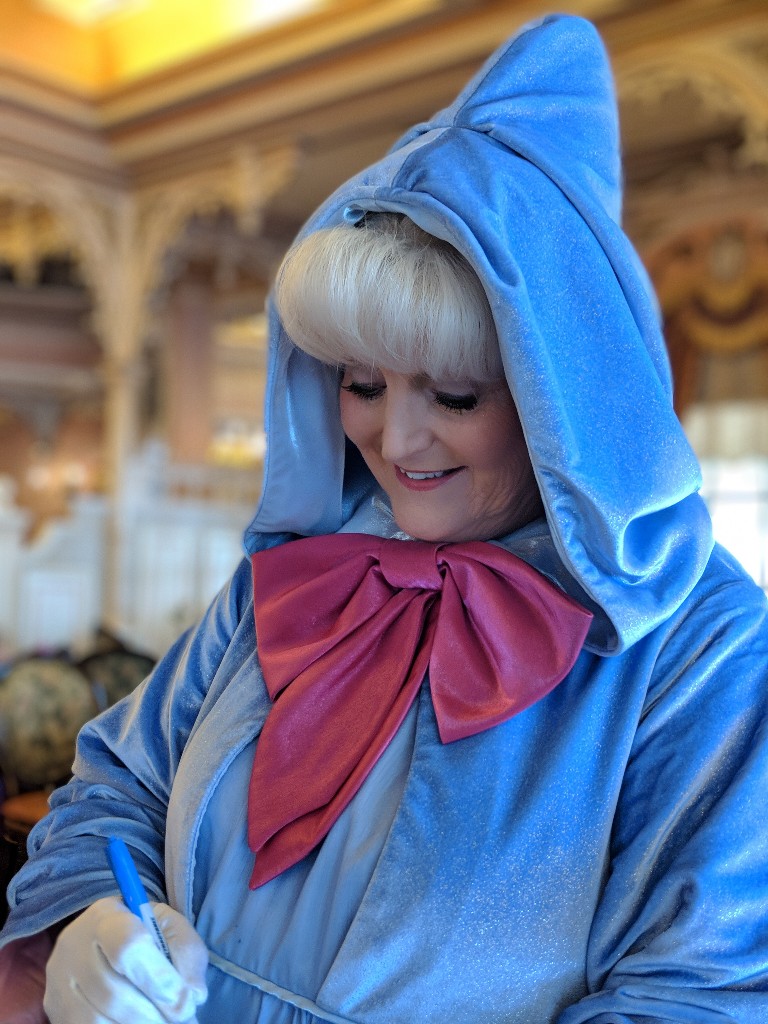 Over the years we've met several rare characters at Plaza Inn. For example, Suzy and Perla, Cinderella's mice friends, Captain Hook, Rafiki, Fairy Godmother, and Pinocchio, too.
Breakfast in the Park with Minnie and Friend Character Interactions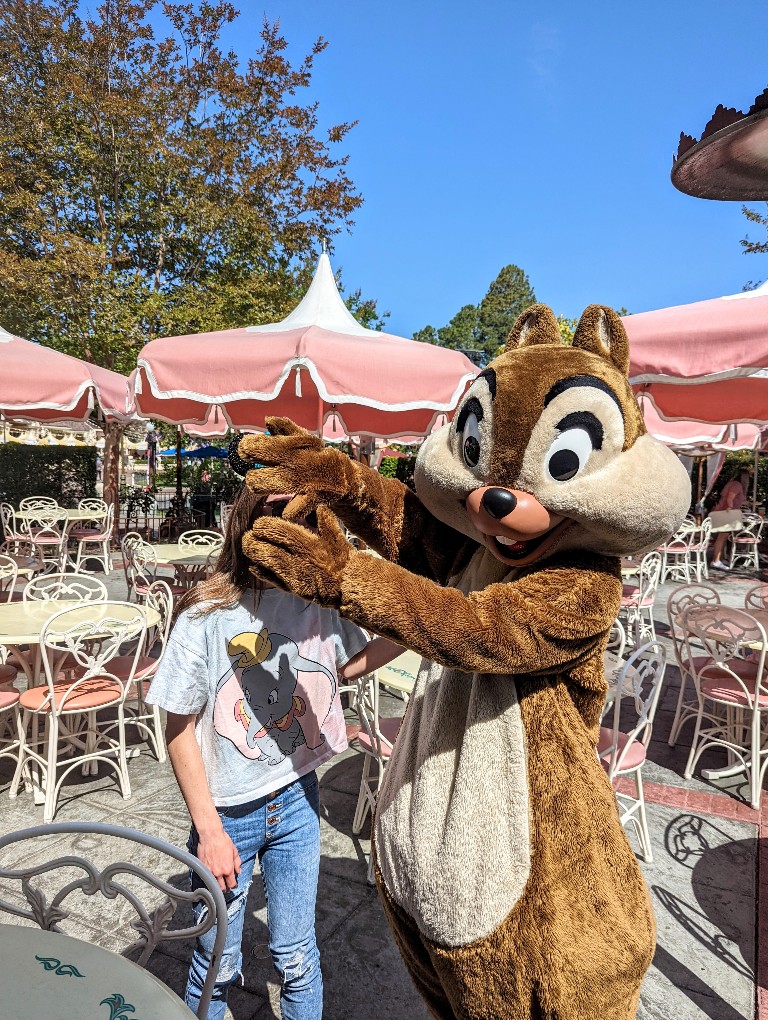 The characters do a great job of rotating through both the indoor and outdoor dining areas during breakfast. Some of our favorite Disneyland memories have taken place at Plaza Inn.
One time Captain Hook admired my new Luxo Ball ears and then quickly grabbed them right off my head. He refused to return the ears unless we traded for Elizabeth's autograph book. She pretended to trade and then deftly stole my ears back. Hook was so impressed by her deviousness that he offered her a spot on the Jolly Roger.
Another time Fairy Godmother sweetly held Elizabeth's face in her hands and told her how much she loved Elizabeth's freckles. Fairy Godmother told Elizabeth freckles are fairy kisses and that having so many means she is a special girl.
Even as Elizabeth has transformed into a teeneager the characters still do an excellent job goofing around and having fun with her.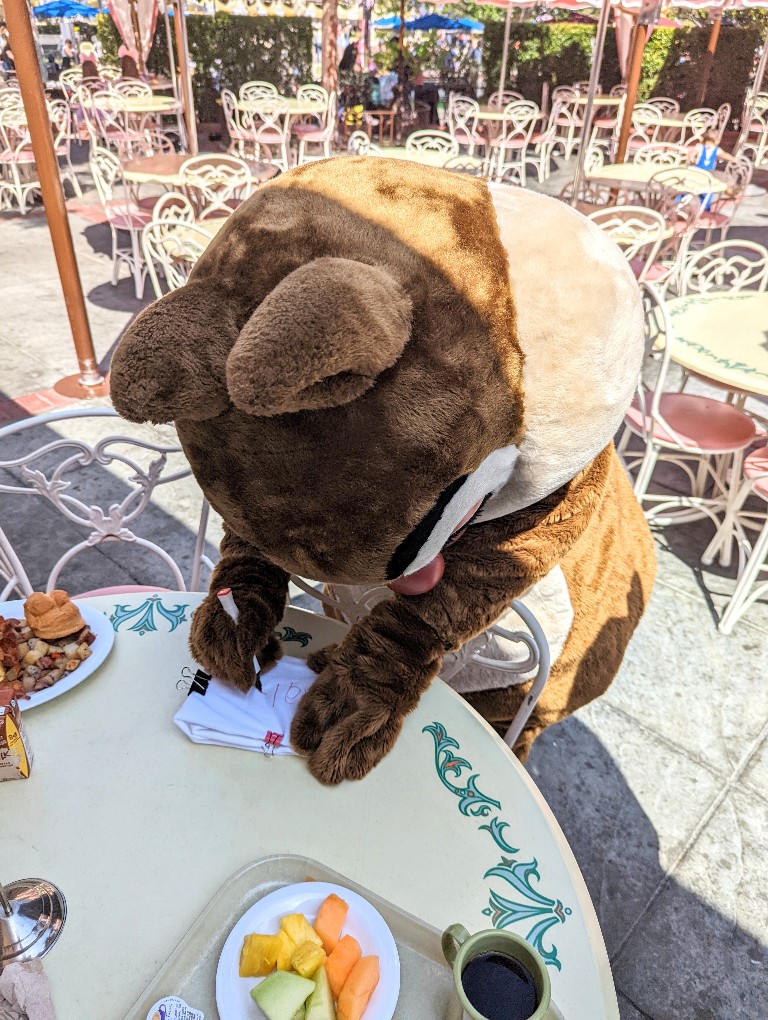 We always have great interactions with Plaza Inn characters and especially love getting keepsakes signed. Two of our favorite character autograph keepsakes are our autograph pillowcases or DIY autograph ornaments.
Tips For Good Pictures At Breakfast in the Park with Minnie and Friends
As with any Disneyland character meal, getting a perfect picture can be a challenge at Plaza Inn Breakfast with Minnie and Friends.
However, choosing the right seat for the character fans goes a long way in improving your photos. I find it best to position Elizabeth, or whoever is most excited to meet characters, across the table from me with open space around their chair.
If your phone has a portrait mode, use it. Portrait mode softens the unintentional background images and keeps your character interaction the focus of the picture.
How Much Is Breakfast in the Park with Minnie and Friends?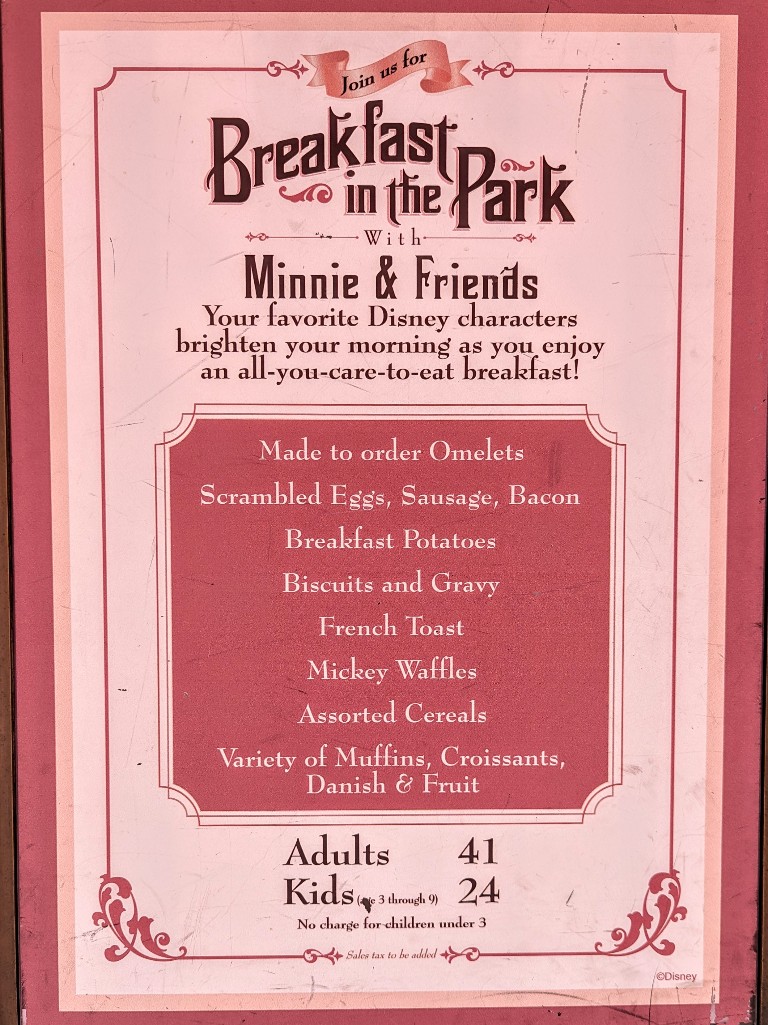 Breakfast in the Park with Minnie and Friends costs $41 per adult, age 10 years and up, or $24 per child, age 3 to 9 years old. Kids under 3 years old are no charge at Plaza Inn Minnie and Friends breakfast.
Final Thoughts on Plaza Inn Breakfast with Minnie and Friends
Plaza Inn breakfast with Minnie and Friends is the best Disneyland character meal. The variety and number of characters plus wonderful interactions at a breakfast cost make this a must do for Disney character meal fans.
Remember to pack your autograph pillowcase or ornament supplies for Breakfast in the Park with Minnie and Friends in your Disney park bag. This way you'll have special keepsakes to always remember this fun character meal.
Pin it for later: