Meeting Disney characters is some of the most fun we have at Disneyland, but finding Disneyland characters takes some planning plus a pinch of pixie dust. Find Disneyland characters at traditional meet and greets, during parades or cavalcades, and in entertaining shows at Disneyland and Disney California Adventure. Use these general tips plus step-by-step instructions on how to find Disneyland meet and greets using the Disneyland app.
Finding Disneyland Character Meet and Greets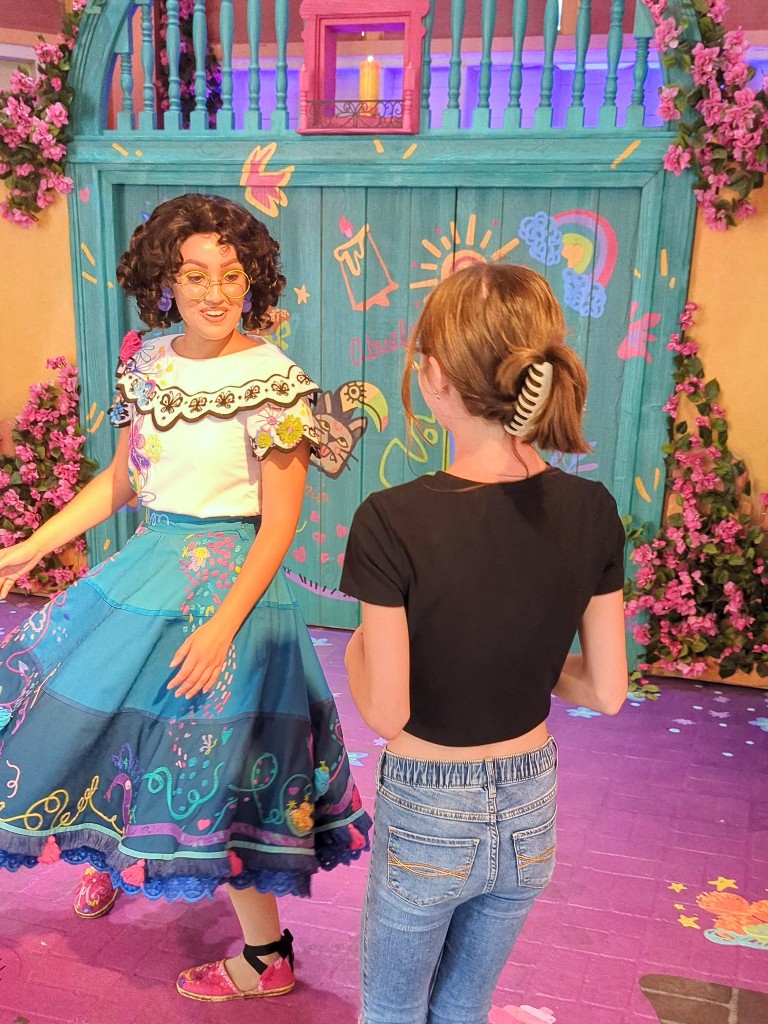 The most popular option, Disneyland character meet and greets, are back with hugs and autographs. Fortunately, finding Disneyland character meet and greets is easy now that the "characters" category is back on the Disneyland app.
Open the app, tap the location icon at the bottom (#1), and then choose the "characters" category (#2). Then tap "show list" in the top right corner and scroll through a detailed list of Disneyland characters.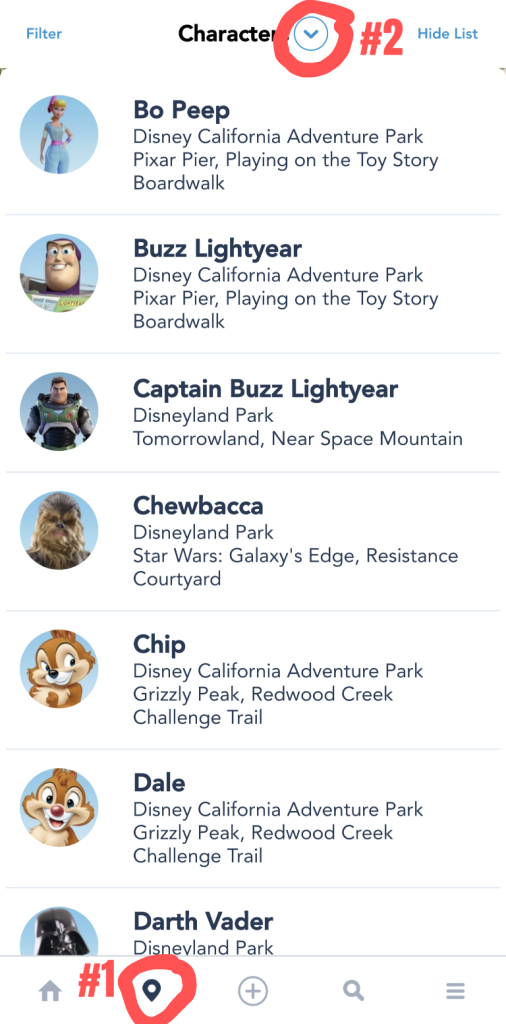 Scan the list to find your favorite Disneyland characters. Once you've found a character you'd like to meet, tap on that character in the Disneyland app to find available times and exact locations.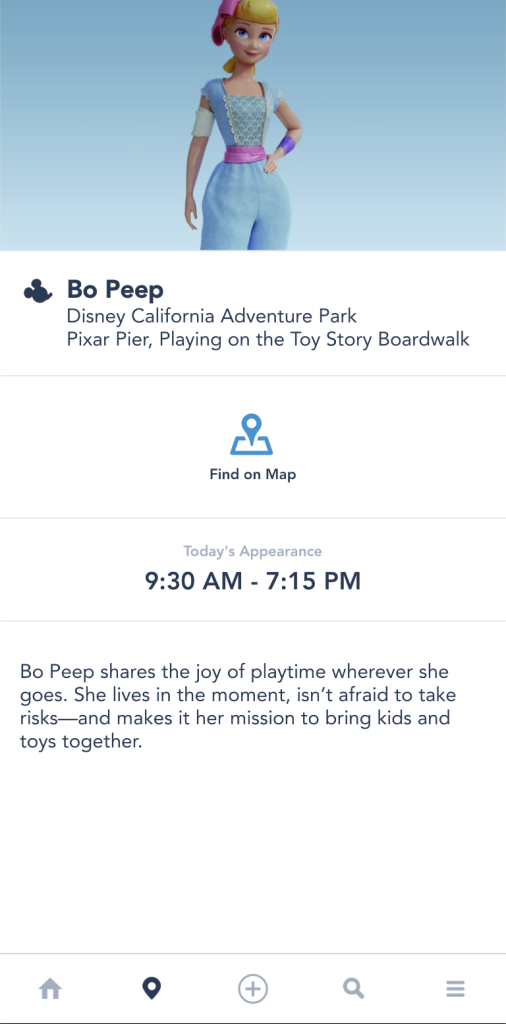 Disneyland Star Wars Galaxy's Edge and Avengers Campus Meet and Greets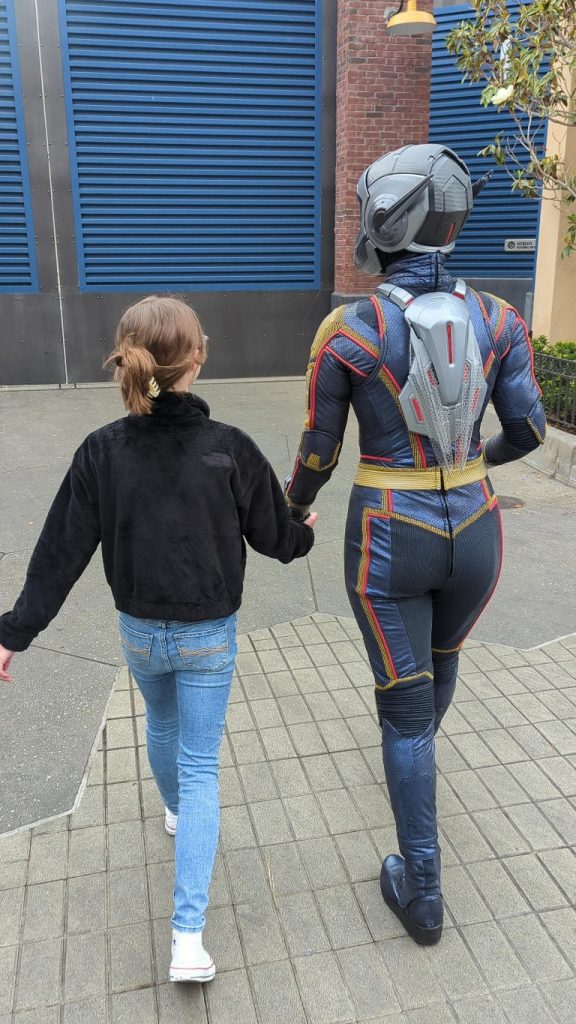 Meet and greets look different at Galaxy's Edge and Avengers Campus. Here Kylo Ren, Rey, Boba Fett, and stormtroopers roam Batuu while Ant-Man, Loki, and other super heroes patrol Avengers Campus.
Don't expect a traditional meet and greet with these Disneyland characters. Instead casually approach them as they walk around. The Star Wars characters don't sign, but several Avengers characters did autograph my daughter's pillowcase.
Popular characters get swarmed and getting their attention can be difficult. If you are having trouble standing out from the crowd, try walking with them as they make the rounds. Often the crowds dissipate and then you can get a picture.
Finding Disneyland Character Meals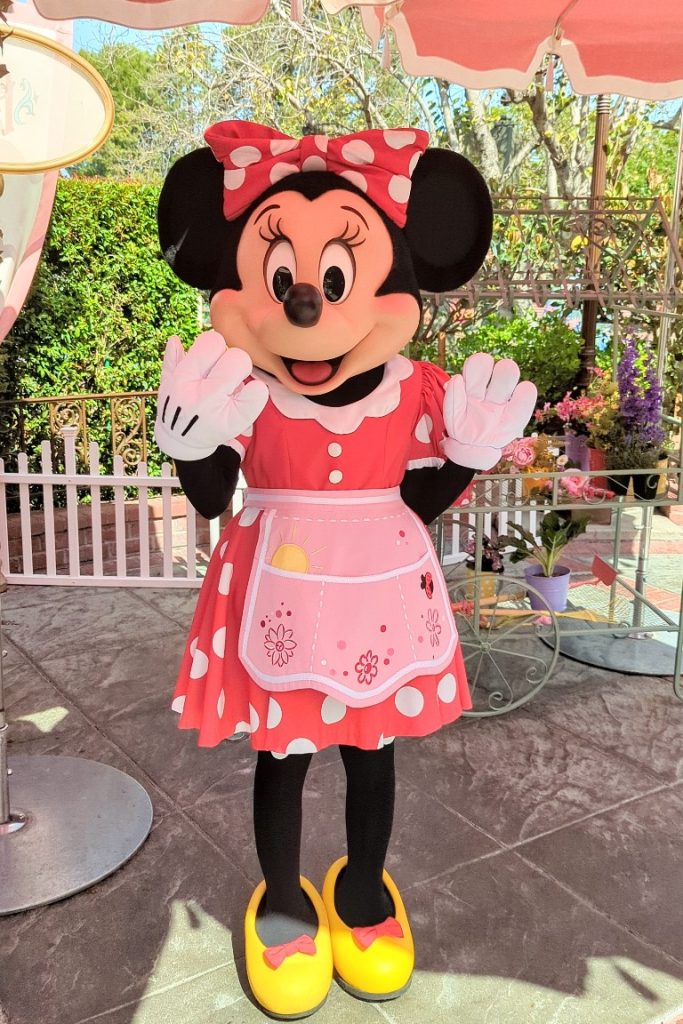 Plaza Inn
Minnie & Friends Breakfast in the Park is the best Disneyland character meal. A tasty breakfast buffet plus many classic and unique characters make Plaza Inn the character meal we book over and over again.
Storytellers Cafe
Find Mickey's Tales of Adventure breakfast at Storytellers Cafe in Grand Californian. Enjoy breakfast or brunch with Mickey and pals on select days and this Craftsman styled restaurant.
Napa Rose
The only place to dine with princesses, Disney Princess Breakfast Adventures at Napa Rose in Grand Californian is an event. Expect a three course breakfast, visits with Disney princesses, and an activity during your meal.
Goofy's Kitchen
Find classic characters at Goofy's Kitchen in Disneyland Hotel. The food is mediocre at best, but we had good character interactions in the past. Some people don't like the size and awkward layout of the restaurant which makes meeting the characters difficult depending on your table location.
Disneyland Character Shows
Avengers Campus
There are several incredible shows in Avengers Campus each day. We've got a full overview of Avengers Campus character meet and greets plus shows, but here's a quick overview.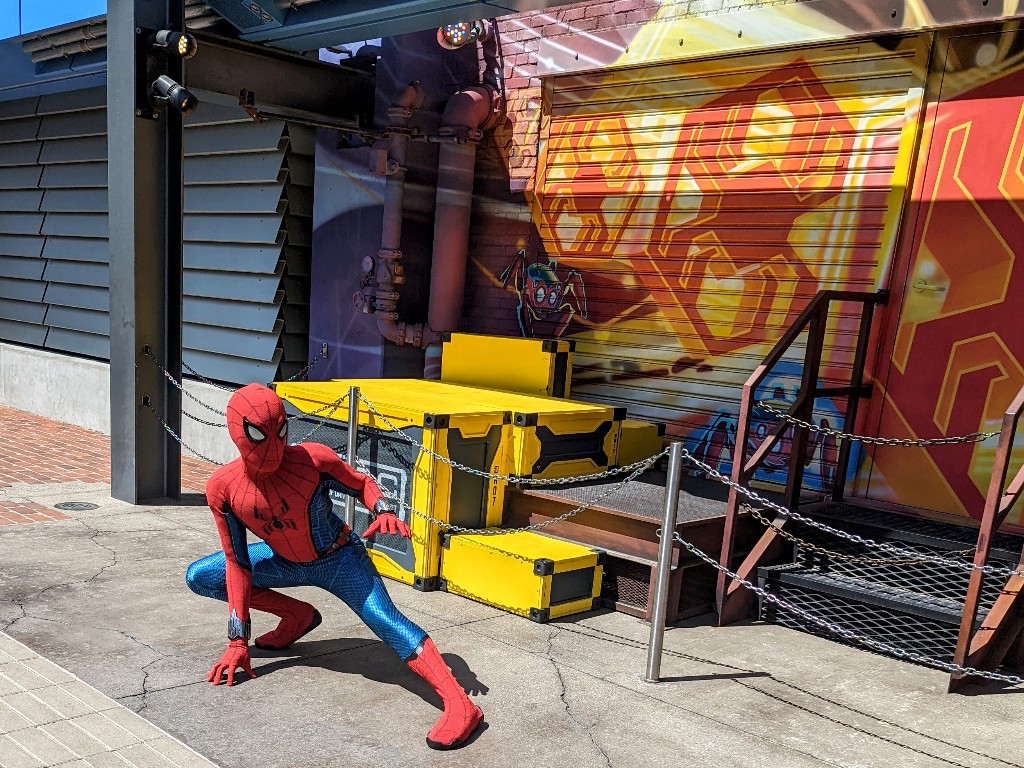 The Amazing Spider-Man! features Spider-Man testing a new suit with amazing acrobatic capabilities. At the end of the show he climbs down the wall and waves to guests before heading back into the Web Engineering Building.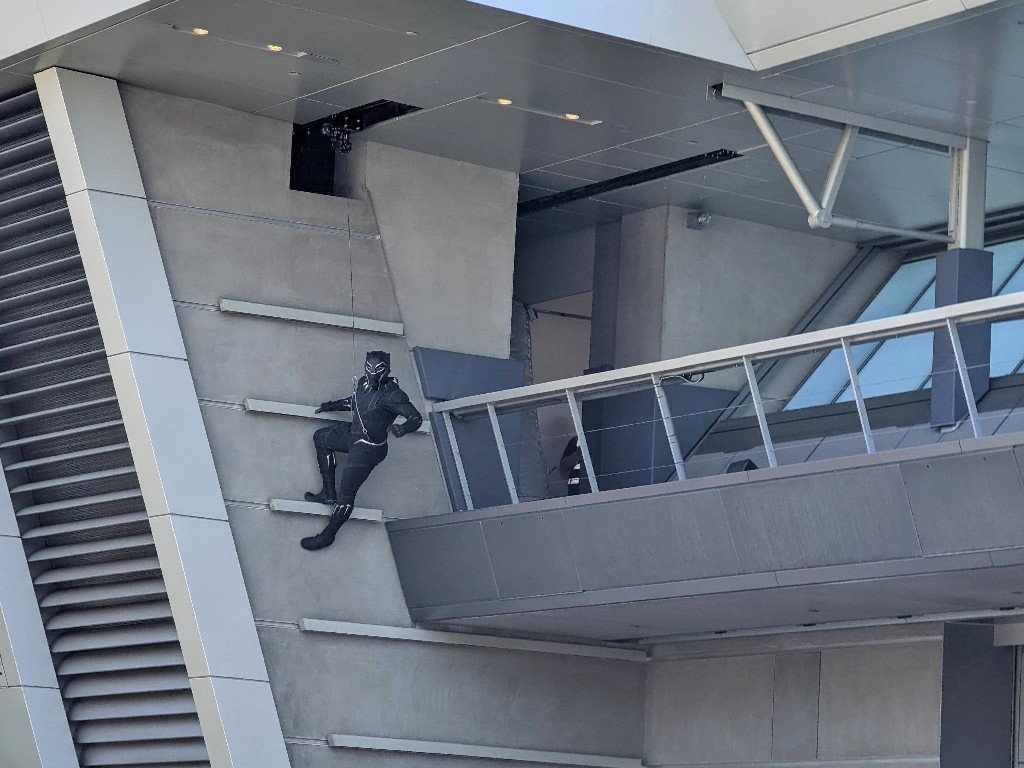 Avengers Assemble! takes place several times a day and features Black Widow and a rotating friend. This duo fights villains who break into Avengers Campus to steal important equipment. The show is extremely engaging and it is usually easy to find a last minute spot to watch.
Dr. Strange: Mysteries or the Mystic Arts takes more planning and waiting, but is worth the effort. Dr. Strange arrives via a portal and then you help him cast a spell to protect Avengers Campus.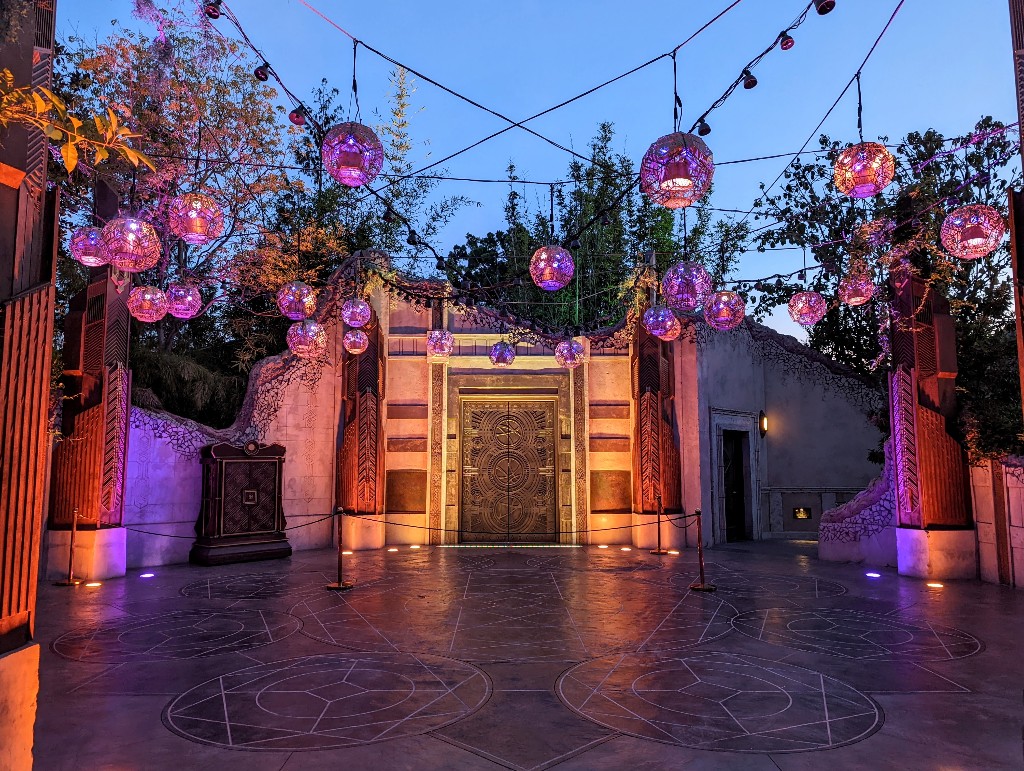 Guardians of the Galaxy: Awesome Dance Off! is fun if you catch it near Guardians of the Galaxy: Mission Breakout, but not worth making plans around. Star-Lord and Gamora are being tracked and need your help to trick the sensors so they can escape.
Warriors of Wakanda: The Disciplines of the Dora Milaje showcases these fierce warriors who invite guests to learn the principles of the Dora Milaje.
Disney Junior Dance Party!
Disney Junior songs set the mood for this dance party featuring Vampirina and Doc McStuffins. Find this show several times per day in Hollywood Land.
Fantasmic!
This Disneyland nighttime spectacular tells the story of Mickey's dream turning to a nightmare with villains overtaking the scenes. Fireworks, projections, and many Disney characters help Mickey save the day in this entertaining nighttime show around Rivers of America at Disneyland Park.
Disneyland Characters In Parades
Main Street Electrical Parade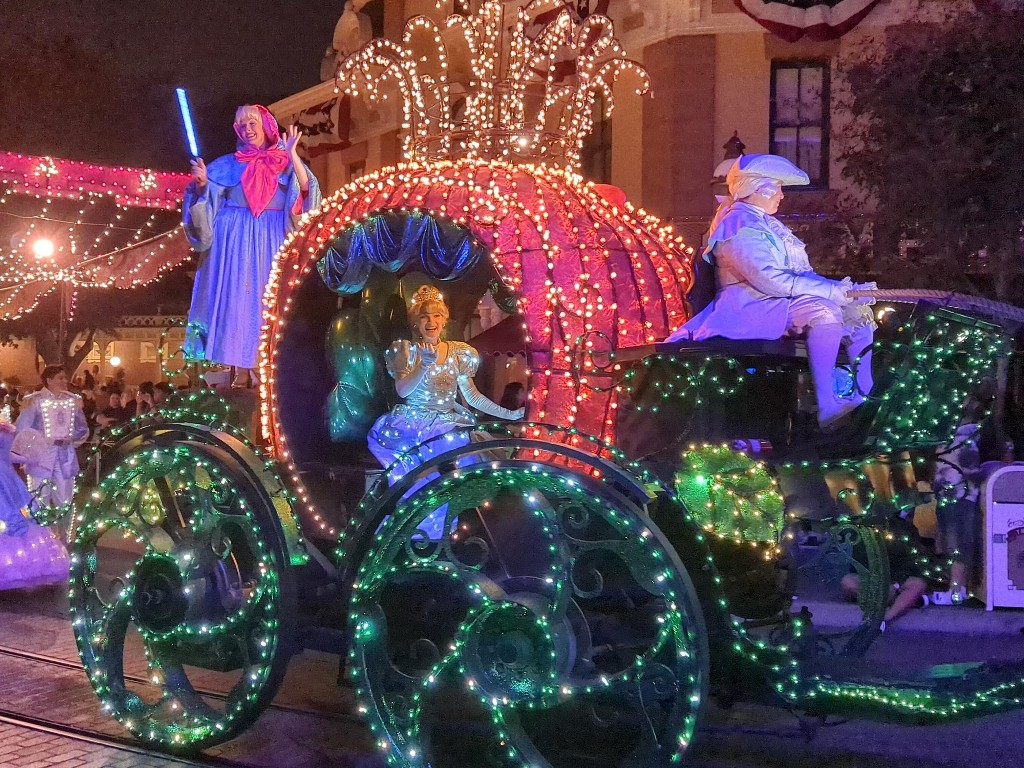 A fan favorite for 50 years, the Main Street Electrical parade showcases Disneyland characters in a whole new light. Watch for classic favorites like Mickey, Minnie, Goofy, Alice, Hook, Peter Pan, and more.
Princess fans will swoon when Cinderella arrives in a sparkling dress and a special light-covered pumpkin carriage with Fairy Godmother. Snow White dances along the parade route with her dwarf friends, too.
This unique way to see Disneyland characters ends September 1, 2022 so don't delay!
Disneyland Character Cavalcades
Disney World has several character cavalcades, but Disneyland has limited cavalcade options. Cavalcades are like a mini parade with a float or two featuring characters.
Scheduled several times per day, Disneyland cavalcades are a great way to see some characters without a huge time commitment. Right now only Mickey and Friends Cavalcade has Disneyland showtimes.
Frozen Friends Cavalcade is still listed in the Disneyland app, but has no posted showtimes. Check under the location icon, filter by entertainment, and then scroll to find cavalcade showtimes for the day.
General Tips For Finding Disneyland Characters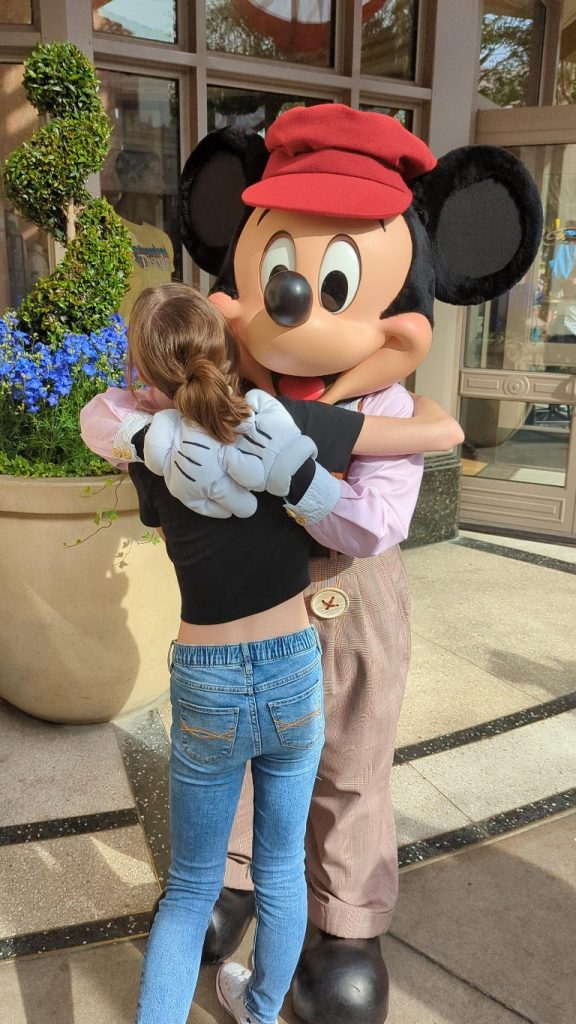 If a character is meeting at a random spot inside the park, for example along Buena Vista Street, arrive a few minutes before the character is scheduled to start. A small line that looks out of place is usually a great tip off that a character is arriving soon.
The Disneyland character meet and greet lines get long very quickly once a character arrives on location. If there is a cast member at the end of the line that means no more people can enter the meet and greet queue.
Usually these character cast members can give suggestions on where to find other characters or when to return to see the same character later in the day.
Disneyland characters often roam around the parks. They generally interact or take pictures, but not sign books while walking. For example, we recently saw Mary Poppins and Burt on a stroll in Fantasyland.
Have your autograph items ready when you approach the character. This helps the line move more smoothly.
Some characters have a PhotoPass photographer available, but not all. Make sure that you have a camera ready and always plan to take your own pictures. In fact, Mary Poppins (for some legal reason I don't understand) never has a photographer there for her character interaction.
Final Thoughts On Finding Disneyland Characters
Finding Disneyland characters is a fun part of our Disneyland vacations. There are so many ways to find Disneyland characters that you're sure to see some favorites during your visit.
Choose from traditional Disneyland character meet and greets, strolls with Avengers or Star Wars characters, character meals, impromptu sightings, parades, or shows. Just remember to keep your eyes open, have fun, and keep a special autograph souvenir on hand for character autographs like our ornaments or pillowcases.
Pin it for later: