Guardians of the Galaxy: Cosmic Rewind opened May 27, 2022 at Epcot is an exciting and popular indoor roller coaster. After riding it several times I can say the ride really lives up to, and even surpassed, our expectations. Use these tips to hitch a ride with the Guardians and avoid motion sickness, too.
Cosmic Rewind Overview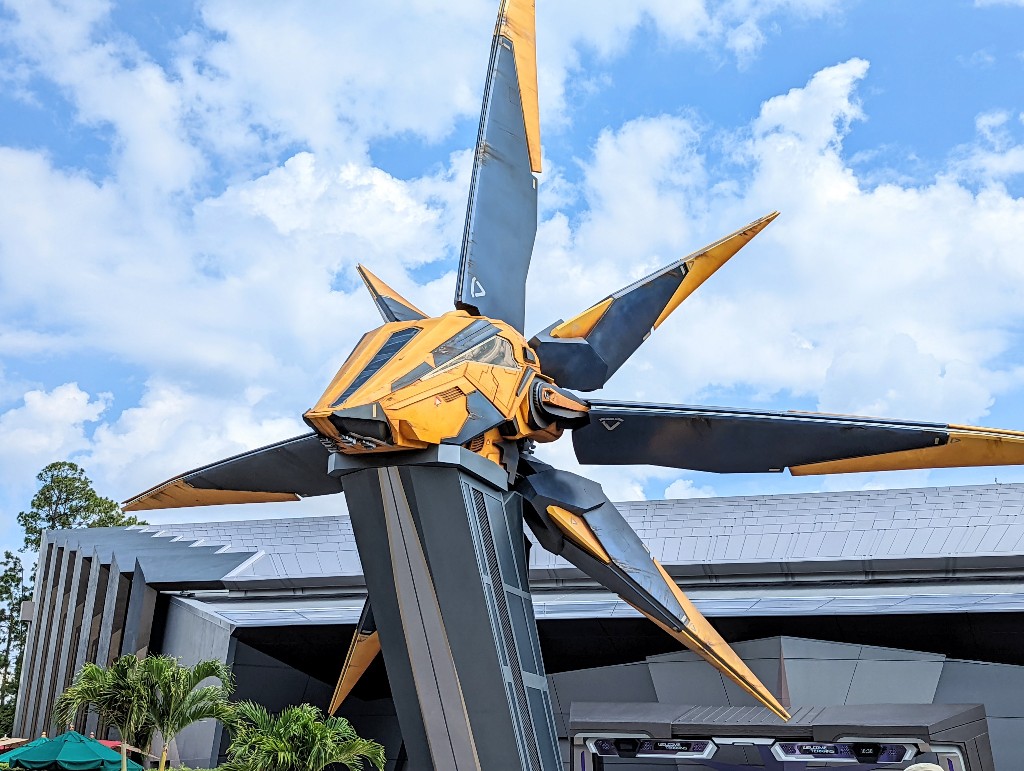 Cosmic Rewind Queue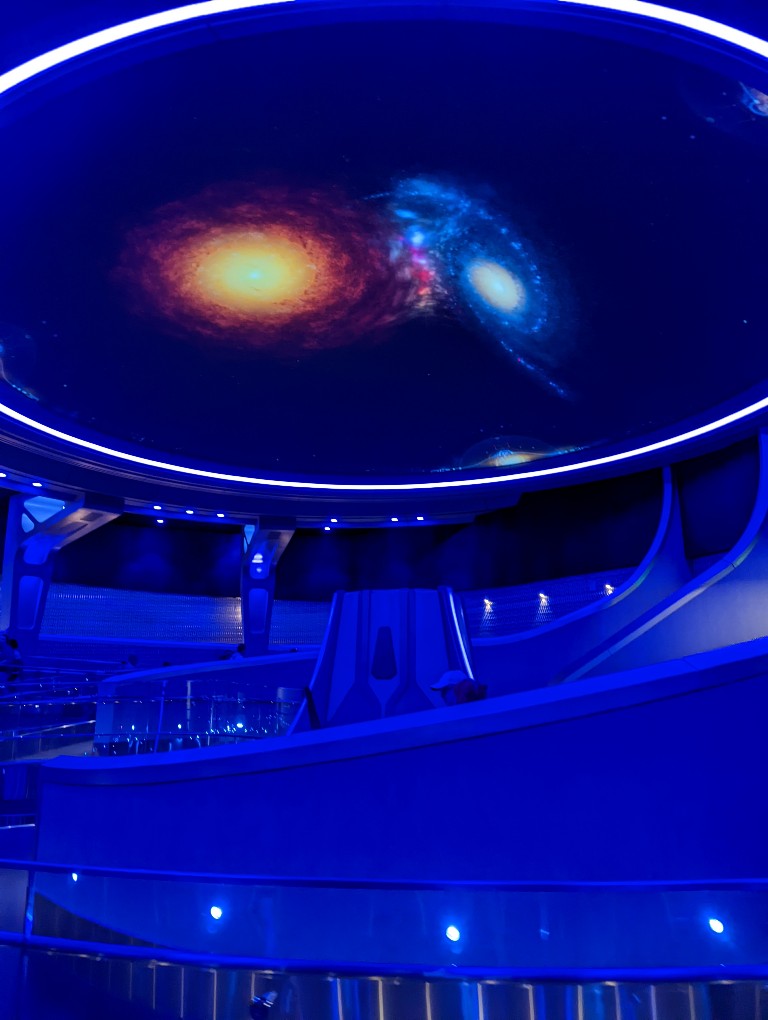 Begin your journey in the Galaxarium, a large planetarium style venue. Learn about the similarities and differences between Xandar and Earth with an entrancing screen in the ceiling.
From there move further into the queue admiring Xandar technologies along the way. We loved the exhibits showcasing Xandarian tech interwoven with Terran, people of Earth, history and technology. Interviews with some of the Guardians inside the queue are entertaining while waiting, too.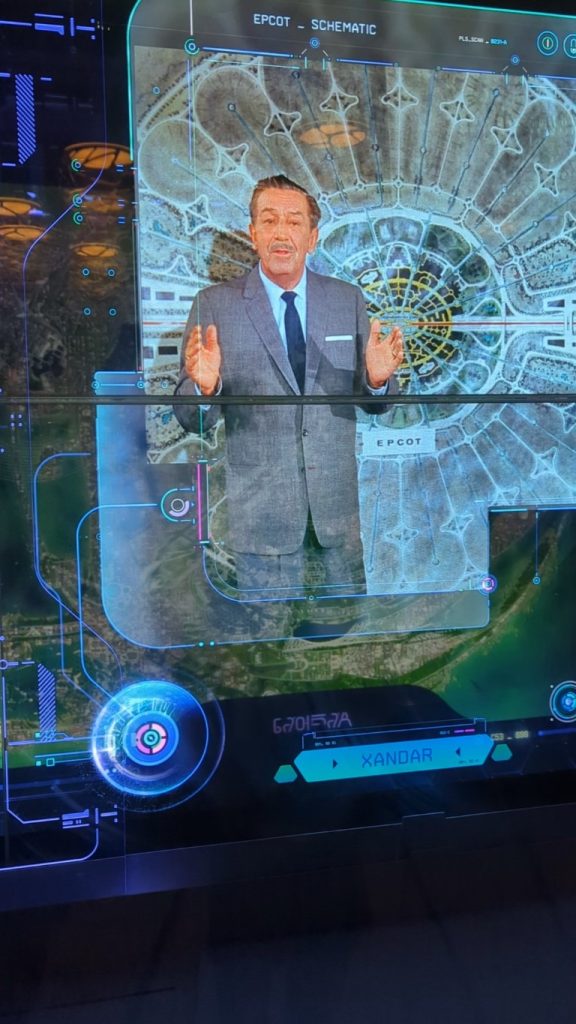 Everyone using the virtual queue will still wait in a standby queue that winds through the Galaxarium. Guests who purchased an Individual Lightning Lane have a shorter wait to board Cosmic Rewind.
Cosmic Rewind Pre-Show
On your tour teleport to a Xandarian ship above Earth to experience travel via the cosmic generator. This advanced technology uses jump points making space travel possible across vast distances.
At the end of the queue join others in a wide room. Here you'll learn all about the cosmic generator and the trip ahead.
Next move into the teleportation room, which uses strobe lights, transporting you to the ship above. After arriving on the Xandarian ship, a cosmic emergency requires helping Groot, Rocket, Gamora, and Star-Lord complete an urgent mission.
Guardians of the Galaxy: Cosmic Rewind Ride Experience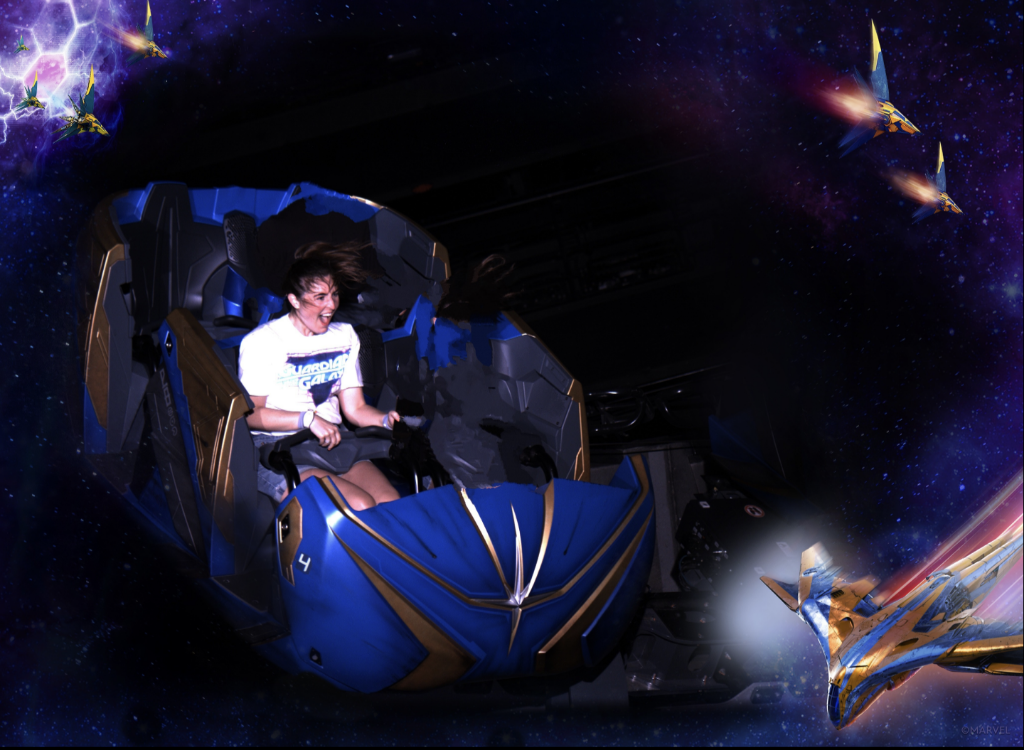 I'm not going to spoil the pure joy of experiencing Cosmic Rewind first hand, but will share a few helpful details. Although there's a lot of talk about the screens and ride vehicle movement this is primarily a roller coaster, not a simulator.
Much larger and faster feeling than Space Mountain, Cosmic Rewind is a fabulous evolution of the dark coaster. The ride vehicle is surprisingly comfortable with two side by side seats, two rows per vehicle, and several vehicles per train.
Equipped with several speakers, the ride vehicles immerse you in the fun and exciting music.
Just like Guardians of the Galaxy: Mission Breakout at Disneyland, Cosmic Rewind has a soundtrack fit for a mixtape. While the ride is the same regardless of song, the variety of music makes re-riding this attraction entertaining.
Here's a link to my YT Music Cosmic Rewind playlist.
Guardians of the Galaxy: Cosmic Rewind Songs
September by Earth, Wind, & Fire
Conga by Gloria Estefan
Disco Inferno by The Trammps
One Way or Another by Blondie
I Ran (So Far Away) by A Flock of Seagulls
Everybody Wants to Rule the World by Tears for Fears
How Can I Ride Guardians of the Galaxy: Cosmic Rewind?
There are two ways to ride Guardians of the Galaxy: Cosmic Rewind. Either use the virtual queue system or pay for an Individual Lightning Lane.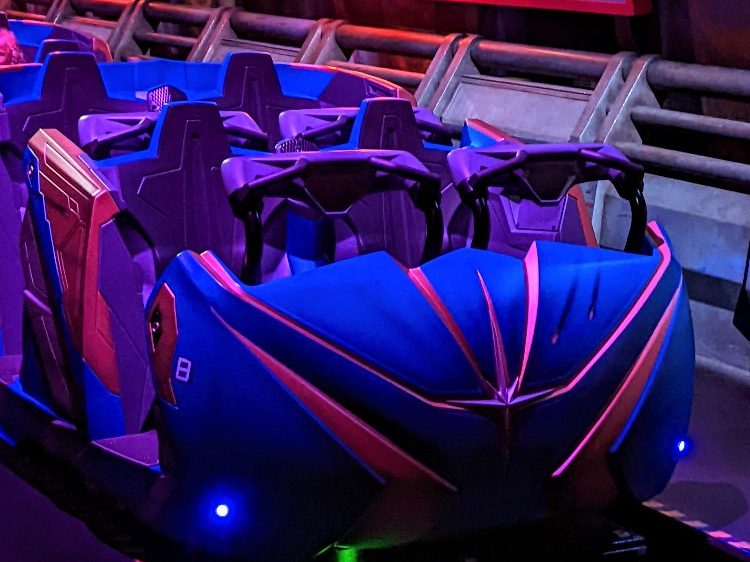 Guardians of the Galaxy: Cosmic Rewind Virtual Queue
Virtual queues are hotly contested. Some people love them while others despise the system. A virtual queue allows guests to "enter" a line electronically and then return at a designated time to wait in the actual queue.
Since demand for virtual queue spots is larger than ride capacity, not everyone will get a spot in the Guardians of the Galaxy: Cosmic Rewind virtual queue each day.
The Cosmic Rewind virtual queue works like the ones previously used for Rise of the Resistance and Remy's Ratatouille Adventure. If you've used this system before you should be comfortable with flow, but for those new to virtual queues let's talk more about the process.
Who Is Eligible For Guardians of the Galaxy: Cosmic Rewind Virtual Queue?
Guests with a valid theme park ticket PLUS Epcot park reservation are eligible for Guardians of the Galaxy: Cosmic Rewind virtual queue. The queue opens at 7am and 1pm for most guests with a bonus queue at 6pm for some guests on select nights.
Join the 7am virtual queue from the comfort of your resort room. However, to join the 1pm queue you must be inside Epcot to access the Cosmic Rewind virtual queue.
Guests staying at Deluxe resorts who are eligible for extended evening hours can try joining the virtual queue at 6pm on select dates. These guests can join at 6pm whether they are in, or outside, of Epcot.
Access Guardians of the Galaxy: Cosmic Rewind virtual queues in the Disney World app. Scroll down on the home screen to find "virtual queues" or tap the menu bar and select "virtual queues".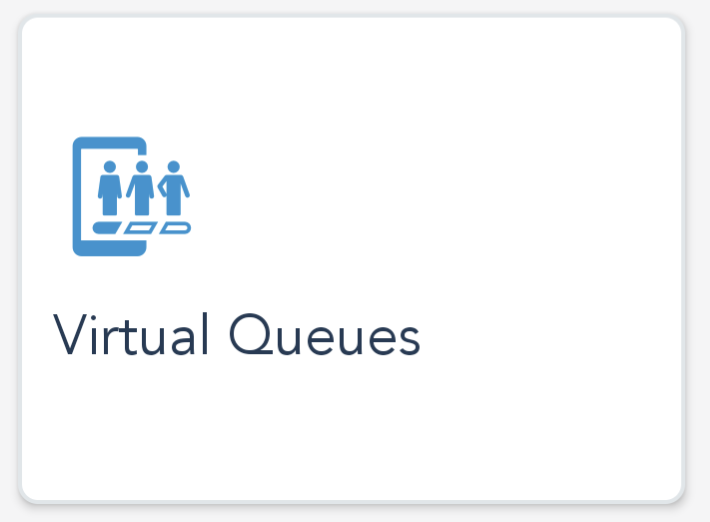 Under the Epcot tab find the Guardians of the Galaxy: Cosmic Rewind virtual queue. Tap "Join", choose your party if they aren't already pre-selected, and confirm.
After what seems like forever you'll either get notification of your virtual queue group number and estimated return time or an error message that no more spots are available.
If you miss the first virtual queue be ready, and in the park, at 1pm for the second distribution. Follow the same procedures and hopefully grab a spot for Cosmic Rewind later in the day.
Snagging a virtual queue spot is awesome and usually means riding the attraction. However, if the attraction has extended downtime during the day, your group may not be called before the park closes.
Tips for Guardians of the Galaxy: Cosmic Rewind Virtual Queue
Download The Disney World App Ahead Of Time
Since you can only access Guardians of the Galaxy: Cosmic Rewind virtual queue in the Disney World app it's important to download and become familiar with it before the big day.
The Disney World App is available for both iPhone and Android devices.
Link Everyone In The App
Having everyone in your group properly linked on the Disney World app is crucial. Virtual queues are only available for yourself and linked guests.
The app should pre-select all eligible guests linked to your account when joining the virtual queue. You can deselect anyone not interested in riding Cosmic Rewind before confirming your group and joining the queue.
Cosmic Rewind Individual Lightning Lane
Individual Lightning Lanes are a pay service. Disney World on-site guests have a distinct advantage over off-site when purchasing Individual Lightning Lanes.
On-site guests can buy Individual Lightning Lane access for Guardians of the Galaxy: Cosmic Rewind at 7am while off-site guests must wait until Epcot opens. All guests purchasing Cosmic Rewind Individual Lightning Lane access must have a valid ticket and theme park reservation.
I expect Guardians of the Galaxy: Cosmic Rewind will be an expensive and hard to find Individual Lightning Lane for on-site guests while almost impossible to snag if staying off-site.
Most Individual Lightning Lane slots are sold first thing in the morning, but if you miss out keep checking. Sometimes a small number of spots are added during the day.
Learn more about Genie+, Lightning Lanes, and Individual Lightning Lanes in our complete guide.
How Many Times Can I Ride Guardians of the Galaxy: Cosmic Rewind?
Most days the maximum number of rides per guest is two: once via virtual queue and once by purchasing an Individual Lightning Lane. However, if you are staying at a Deluxe Disney World resort on select nights you're eligible to join a 6pm virtual queue.
I was able to successfully ride three times in one day using the daytime virtual queue, Individual Lightning Lane, and then the extended evening hours virtual queue.
Does Guardians of the Galaxy: Cosmic Rewind Cause Motion Sickness?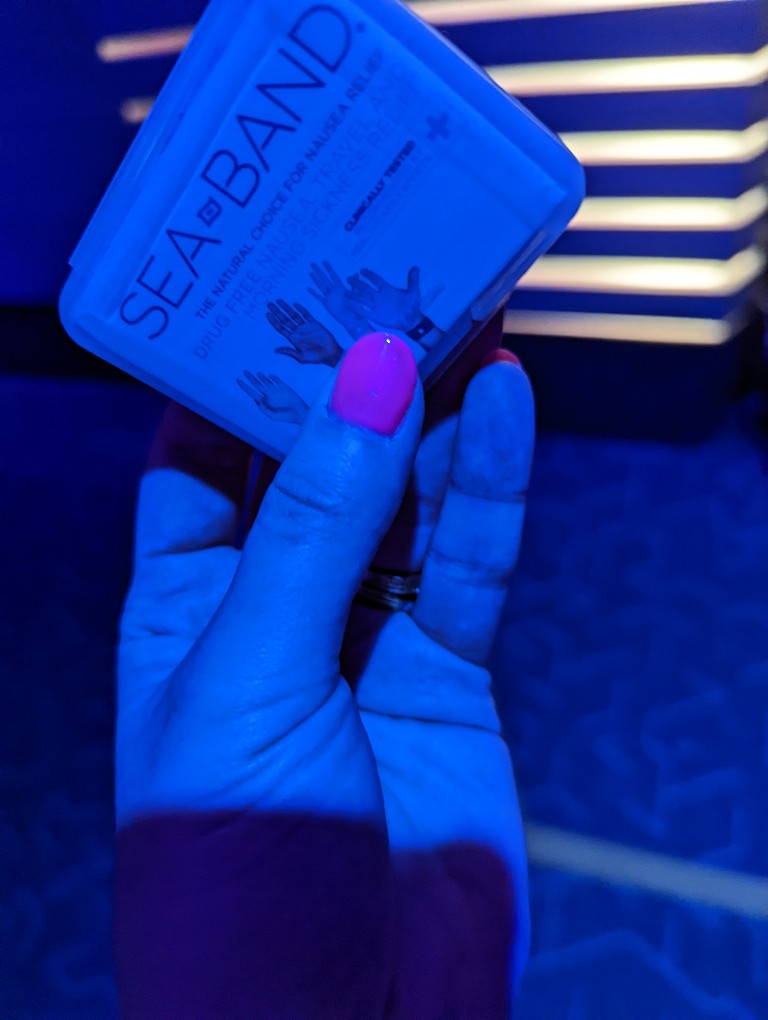 Cosmic Rewind boasts a ride vehicle capable of rotating 360 degrees. For those of us prone to motion sickness the idea of a spinning roller coaster is terrifying.
Motion sickness occurs at different levels for different people, so it's hard to give a single answer. I was extremely nervous before riding since I feel queasy after attractions like Remy's Ratatouille Adventure, Star Tours, and Forbidden Journey at Universal Studios. Despite issues with those rides I feel fine on coasters like Space Mountain and Big Thunder Mountain Railroad.
Unfortunately, people with severe motion sickness should probably pass on riding. However, my mild to moderate motion sickness was only slightly triggered. For me a little dizziness was worth it to experience this incredible ride, and it passed within a few minutes.
Watching the track and avoiding focus on the screens kept me comfortable even though the ride vehicle rotated without warning on several occasions. I also felt better when riding in the front versus the back and wearing my Sea Bands helped a lot, too.
Riding in the back without my Sea Bands (Affiliate Link: Buy on Amazon) left me dizzy for several minutes.
Those with more motion sickness issues who really want to ride may want to use both Sea Bands and pre-dose with an over-the-counter medicine like Dramamine. It's also wise to schedule a small break after riding while the motion sickness resolves.
Cosmic Rewind PhotoPass Options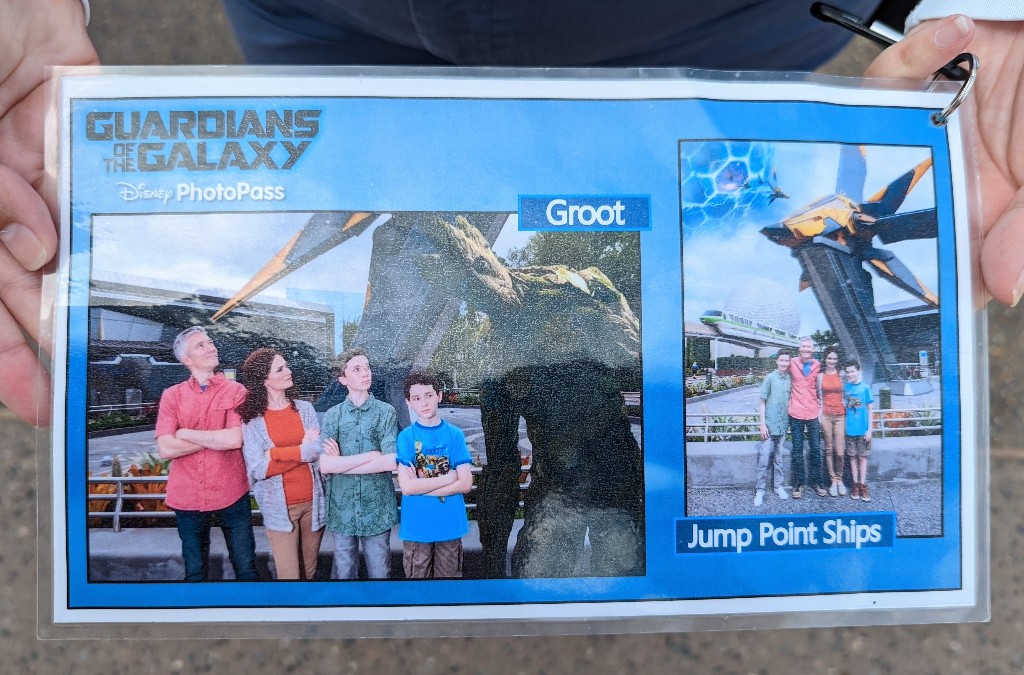 Photos are an important part of any Disney World vacation and thankfully Cosmic Rewind has several options. The first option is an on-ride photo. Disney has already touted the reverse launch as part of the coaster experience so I don't feel bad telling you the picture occurs during this portion of the ride.
The others take place outside in front of the Nova Corp Starblaster. Here find PhotoPass photographers offering the perfect shot of this iconic set piece and a Groot Magic shot, too.
Is There A Height Requirement For Guardians of the Galaxy: Cosmic Rewind?
Yes. Guests must be 42 inches (107 cm) or taller to ride Cosmic Rewind.
Guardians of the Galaxy: Cosmic Rewind Final Thoughts
This inventive coaster brings an exciting new option to Epcot and we couldn't be happier about this addition. A nostalgic soundtrack, unique ride experience, and fun reveals make this our favorite Epcot ride that I can't wait to ride again and again.
Pin it for later: