The 50th anniversary of Magic Kingdom is October 1, 2021 and Disney World is celebrating this milestone with several new, limited time offerings. The World's Most Magical Celebration starts in October 2021 and continues for a surprisingly long 18 months. This extended timeline gives guests many months to experience everything Disney World's 50th anniversary celebration offers.
When Is The Disney World 50th Anniversary Celebration?
The World's Most Magical Celebration begins October 1, 2021 and runs for an incredible 18 months. Celebrate Disney World's 50th anniversary any time from October of 2021 through spring of 2023.
What Is New For The World's Most Magical Celebration?
New Nighttime Spectaculars
Disney World has announced two new nighttime firework shows for Disney World's 50th anniversary celebration. Both Magic Kingdom and Epcot will debut brand new nighttime spectaculars in celebration of this momentous anniversary.
Magic Kingdom Disney Enchantment
Disney World's use of vibrant projections on Cinderella's castle has elevated Magic Kingdom's fireworks experience over the years.
Magic Kingdom Disney Enchantment further improves the immersive experience by spreading incredible projections all the way down Main Street U.S.A. Magic Kingdom's new fireworks show will incorporate a brand new soundtrack, projections, and fireworks show for an event that's not to be missed.
Epcot Harmonious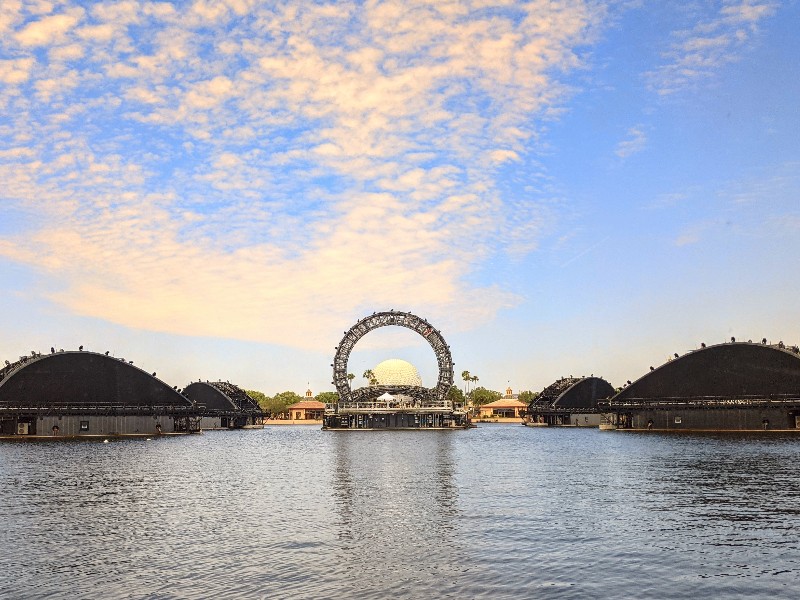 Anyone who has been to Epcot lately has seen the unsightly barges on World Showcase Lagoon. Although not the most beautiful when sitting out on the lagoon, these specially created rafts are part of one of the biggest Disney nighttime spectaculars ever designed.
Epcot Harmonious debuts as part of the Disney World 50th Anniversary with fireworks, fountains, multimedia projections, and special lighting. We can't wait to see this epic new nighttime show at Epcot.
Early Theme Park Access and Extra Evening Hours For Disney World 50th Anniversary
Extra park hours for Disney World resort guests are returning! Bonus hours are one of the best perks of staying on-site at Disney World. Their return for Disney World's 50th anniversary is a great start to the celebration.
Early Theme Park Access
Starting October 1, 2021 Early Theme Park Access begins for on-site Disney World guests. Disney World resort guests have early access to every theme park every day. This means on-site guests can ride popular attractions ahead of those staying off-site for their trip.
Important tip: Guests need a valid park ticket and theme park reservation to access early theme park hours.
Extended Evening Hours
New Extended Evening Hours are the first time Disney World has implemented different bonus theme park hours based on resort category. Only guests of Disney World Deluxe and Deluxe Villas are eligible for Extended Evening Hours.
Extended Evening Hours are available at select theme parks on select nights. These extra hours start in early October so expect an announcement soon for specific bonus hours and parks for Disney World Deluxe and Deluxe Villa guests.
Remy's Ratatouille Adventure
New rides are always exciting, and Remy's Ratatouille Adventure is no exception. This new Epcot attraction lets you scurry along the dangerous terrain in Gusteau's kitchen all seen from Remy's perspective.
Cinderella's Castle Glam 50th Anniversary Makeover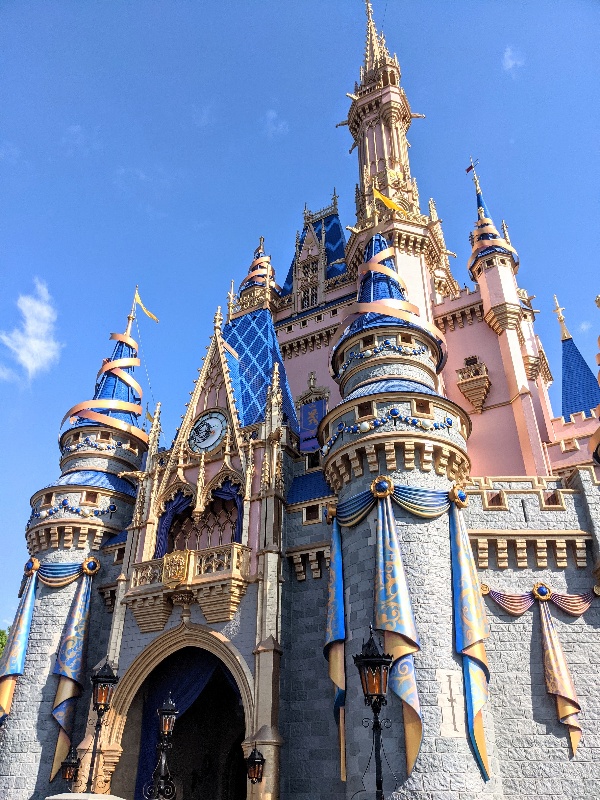 A 50th anniversary celebration means Cinderella's castle gets a stunning upgrade. First, new blush pink walls and brighter blue roofs dramatically changed the look of Magic Kingdom's iconic castle.
Next, the castle got bedazzled with golden ribbons and jewels. Then with the final touch of gold and blue filigree bunting, the Disney World 50th Anniversary Cinderella's castle makeover is complete and a stunning sight.
Beacons of Magic
Although Cinderella's Castle has undergone the biggest transformation for Disney World's 50th anniversary, all four park icons get a new nighttime look.
Cinderella Castle transforms at night with a special glow and pixie dust lighting up the beautiful castle. At Epcot, Spaceship Earth's new lighting complete with a twinkle of stardust will transform this iconic structure.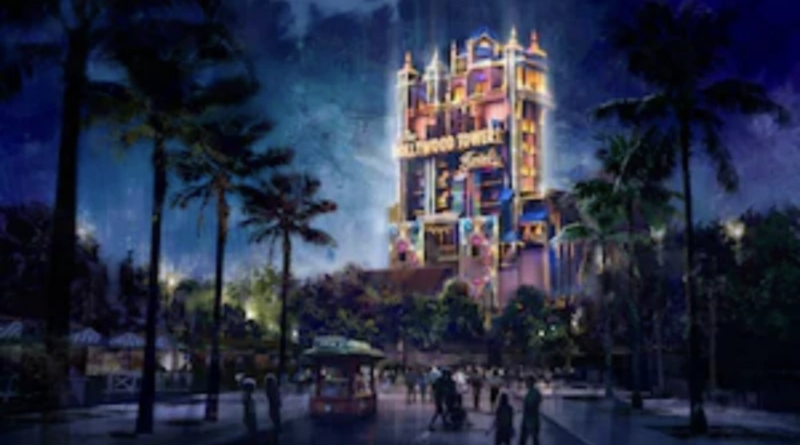 Not to be left out, Tower of Terror gets an EARidescent nighttime look with hints of gold. This special lighting design is perfect for celebrating the golden age of Hollywood.
Always stunning, Animal Kingdom's Tree of Life makeover is a new subtle glow enhanced with a twinkle of fireflies. These lighting designs are a beautiful addition to the Disney World 50th anniversary celebration.
Disney Fab 50 Character Collection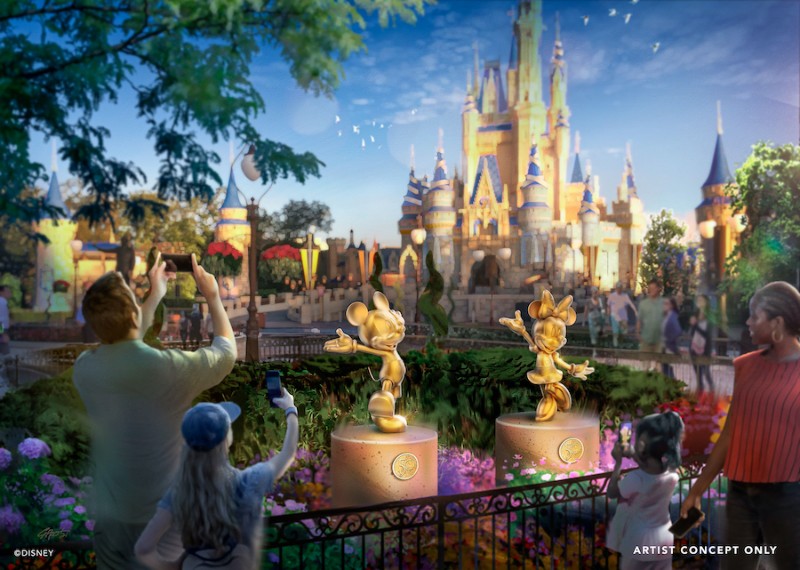 Search for 50 golden, glittering Disney character statues to celebrate Disney World's 50th anniversary. So far, Disney has announced only a handful of classic character statues, but I cannot wait to see what fun and unique character statues show up.
Disney KiteTails
Disney's Animal Kingdom Discovery River Amphitheater gets new life with a colorful kite show. Three-dimensional kites of favorite characters like Zazu, Baloo, Simba, and King Louie soar across the sky in this exciting performance.
New EARidescent Costumes for Favorite Characters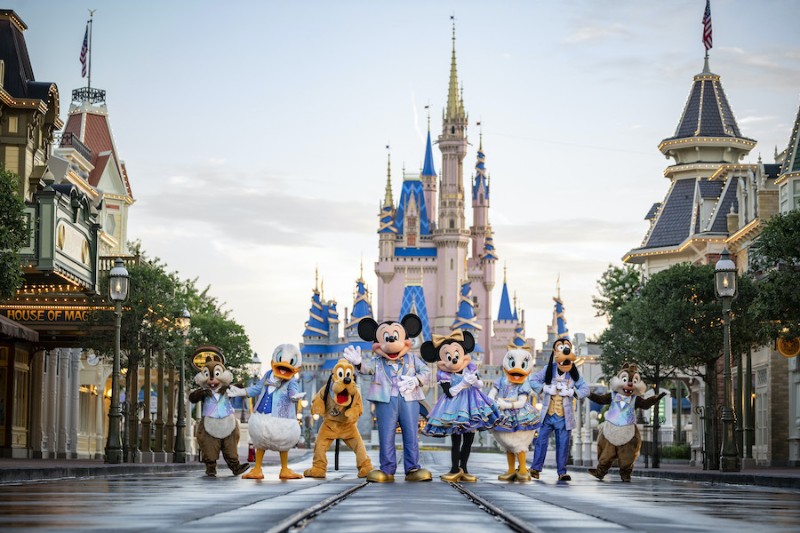 Who doesn't love a new outfit for a big celebration? Disney announced Mickey, Minnie, Donald, Daisy, Goofy, Pluto, Chip, and Dale all get new EARidescent duds for Disney World's 50th anniversary celebration.
Mickey's Celebration Cavalcade
A new Magic Kingdom character cavalcade, Mickey's Celebration Cavalcade, debuts for the 50th anniversary. Catch Mickey, Minnie, and friends in their new EARidescent outfits on a special float during a visit to Magic Kingdom.
Disney World 50th Anniversary Review
Like many other Disney fans, I am extremely excited to celebrate Disney World's 50th anniversary. In particular, the new nighttime spectaculars, new Epcot attraction, and the return of extra park hours for resort guests are all an exciting way to begin the 50th anniversary celebration.
Save this article for later as you plan your Disney World 50th anniversary vacation. We will continue to update it as more announcements are made and then again after we kick off the celebration October 1, 2021. If you're ready to book, check out our travel partner, Get Away Today.
Pin it for later: