We were there for the official 50th anniversary of Magic Kingdom on October 1, 2021 and are ready to share more about several new, limited time Disney World offerings. Although The World's Most Magical Celebration started in October 2021, it continues for a surprisingly long 18 months. This extended timeline gives guests many months to experience everything Disney World's 50th anniversary celebration offers.
Looking for an easy way to keep track of these 50th anniversary options? Check out our printable Disney World 50th bingo.
When Is The Disney World 50th Anniversary Celebration?
The World's Most Magical Celebration began October 1, 2021 and runs for an additional 18 months. Celebrate Disney World's 50th anniversary any time from October of 2021 through March 31, 2023. 
What Is New For The World's Most Magical Celebration?
Two New Nighttime Spectaculars For Disney World 50th Anniversary
Disney World has announced two new nighttime firework shows for Disney World's 50th anniversary celebration. Both Magic Kingdom and Epcot debuted brand new nighttime spectaculars in celebration of this momentous anniversary.
Magic Kingdom Disney Enchantment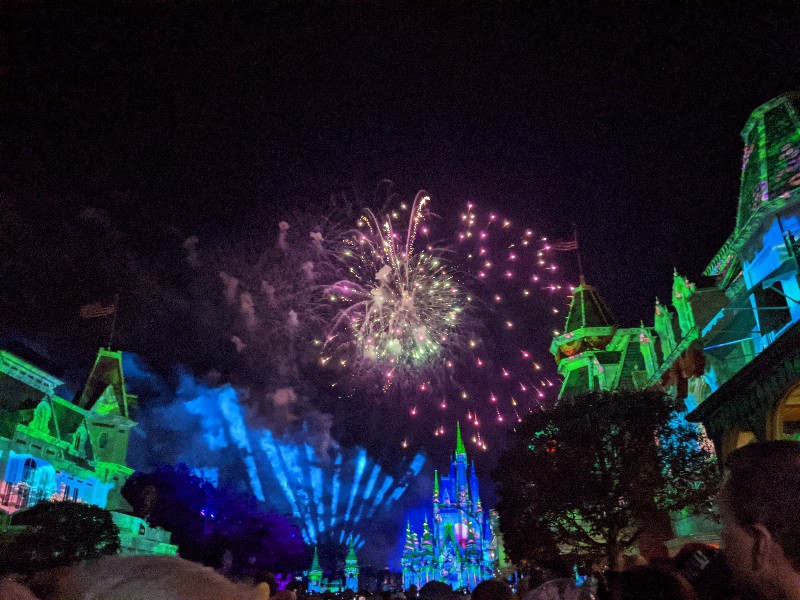 Disney World's use of vibrant projections on Cinderella Castle has elevated Magic Kingdom's fireworks experience over the years. Magic Kingdom Disney Enchantment further improves the immersive experience by spreading colorful projections all the way down Main Street U.S.A.
Main Street projections start part way through Disney Enchantment fireworks, and hearing the crowd gasp as the color spread along the shops was awesome. The new song for Disney Enchantment is good, but we didn't feel the rest of the soundtrack had the same emotional impact as other Disney World fireworks.
There are several new dessert party options where you pay an extra fee for reserved Disney Enchantment fireworks viewing areas. Three desert parties take place within the Magic Kingdom, one on a boat just outside, and the final option is a party at California Grill at Disney's Contemporary Resort.
If you want to avoid paying for a spot, plan on securing firework viewing about an hour ahead. The exact time will vary depending on crowds the day you are there.
Epcot Harmonious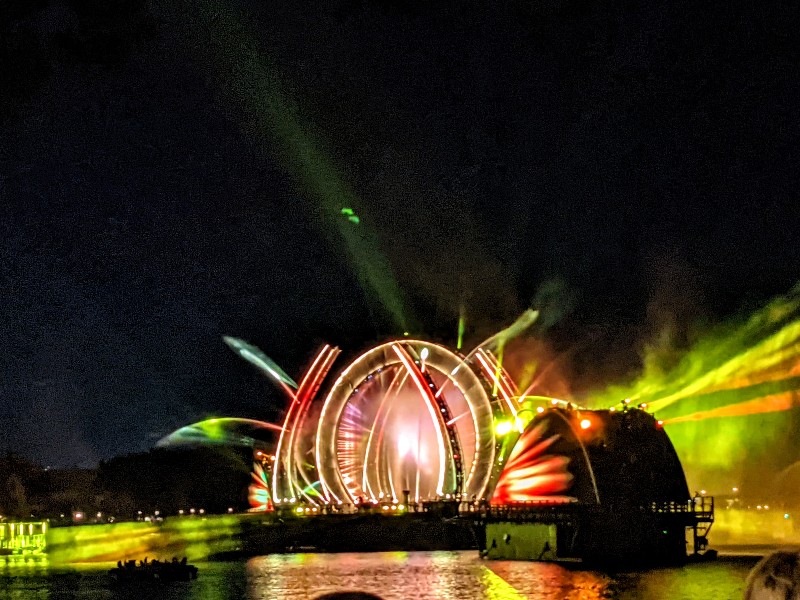 Large barges on Epcot's World Showcase Lagoon transform at night using sheets of water as a canvas for color and projections. The new Harmonious fireworks soundtrack incorporates lots of Disney classics, but uses different languages and instruments from around the world.
Harmonious is an improvement over Epcot Forever, and my daughter really enjoyed the show. However, unlike IllumiNations the show uses more projections and less fireworks.
This means you need to be inside Epcot to really experience Harmonious. Make sure you have a clear view of the ring center for premium viewing. I would suggest somewhere between Japan and America or Canada and Mexico for the best viewing experience.
Not to be outdone by Magic Kingdom, Epcot has announced two new fireworks dining packages. Rose and Crown offers a 3 course meal while Spice Road Table has two small plates plus a dessert platter option.
Return Of Extra Park Hours For Disney World Resort Guests
To celebrate Disney World's 50th anniversary, extra park hours for Disney World resort guests have returned! These bonus park hours are one of the best perks of staying on-site at Disney World.
Early Theme Park Access
Starting October 1, 2021 Early Theme Park Access began for on-site Disney World guests. Disney World resort guests have 30 minutes of early access to every theme park every day. This means on-site guests can ride popular attractions ahead of those staying off-site for their trip.
Important tip: Guests need a valid park ticket and theme park reservation to access early theme park hours.
Extended Evening Hours
New Extended Evening Hours are the first time Disney World has implemented different bonus theme park hours based on resort category. Only guests of Disney World Deluxe and Deluxe Villas are eligible for Extended Evening Hours.
Extended Evenings started October 4, 2021 with limited dates available. So far Extended Evening hours are generally at Magic Kingdom on Wednesdays and Epcot on Mondays. Find the most up to date information on Extended Evening Hours attractions, dates, parks, and hours here.
Remy's Ratatouille Adventure
New rides are always exciting, and Remy's Ratatouille Adventure is no exception. We were able to ride Remy's Ratatouille Adventure and get a "squeak peek" of this new Epcot attraction.
This new 4D ride lets you scurry along dangerous terrain in Gusteau's kitchen all seen from Remy's perspective. Avoiding Skinner, the broiler, and more as you rush from the dining room into the walls of Gusteau's is an exciting ride.
Please note: Those who are prone to motion sickness may have difficulty with Remy's Ratatouille Adventure. The ride relies on 3D glasses and screens for a good portion of the ride while also incorporating actual movement.
The new France pavilion area is stunning with a eye catching fountain and so many cute details from the movie. I can't wait to try some of the savory and sweet crepes at La Crêperie de Paris near Remy's.
Beginning January 10, 2022, Remy's Ratatouille Adventure moves to a traditional standby queue. Guests can wait in a regular line for this new attraction or purchase an Individual Lightning Lane reservation.
Until January 10th, Remy's Ratatouille Adventure has a virtual queue similar to the one previously used for Rise of the Resistance at Hollywood Studios. Guests with Epcot park reservations can try for a virtual queue spot at 7am via the Disney World app. If you miss out on a 7am Remy virtual queue slot, try again at 1pm if you are inside Epcot.
Tips for getting Remy's Ratatouille Adventure virtual queue spots:
Have the most updated version of the Disney World app
Link everyone in your group on the Disney World app
Confirm everyone in your group has a valid park ticket and theme park reservation
A few minutes before 7 am open the app and find Remy's virtual queue
Confirm your group for Remy's Ratatouille Adventure
Keep refreshing the queue page until the "join" button appears
If you miss this 7 am window, try again at 1 pm from inside the park using these same steps
Cinderella Castle Glam Disney World 50th Anniversary Makeover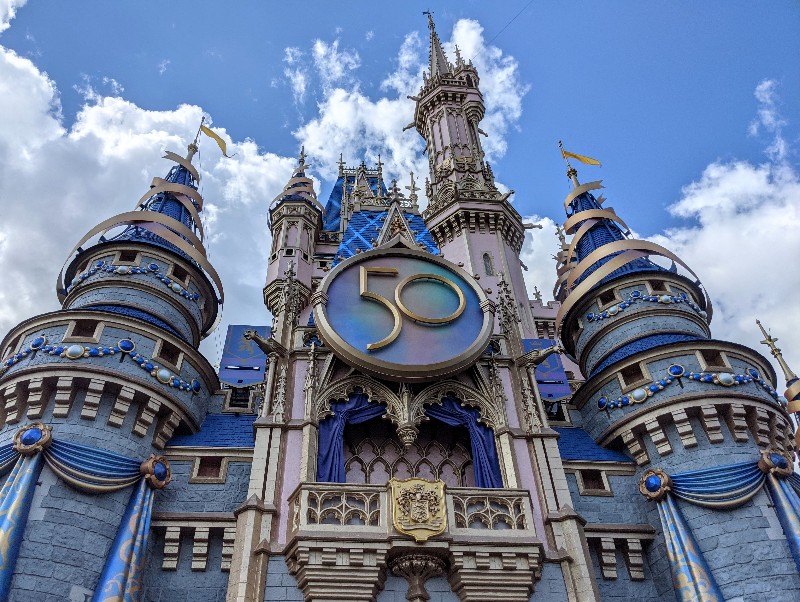 Cinderella castle received a stunning upgrade for the 50th anniversary celebration. New blush pink walls and brighter blue roofs dramatically changed the look of Magic Kingdom's iconic castle.
A giant 50th medallion, golden ribbons and jewels plus gold and blue filigree bunting complete the Disney World 50th Anniversary Cinderella Castle makeover.
Beacons of Magic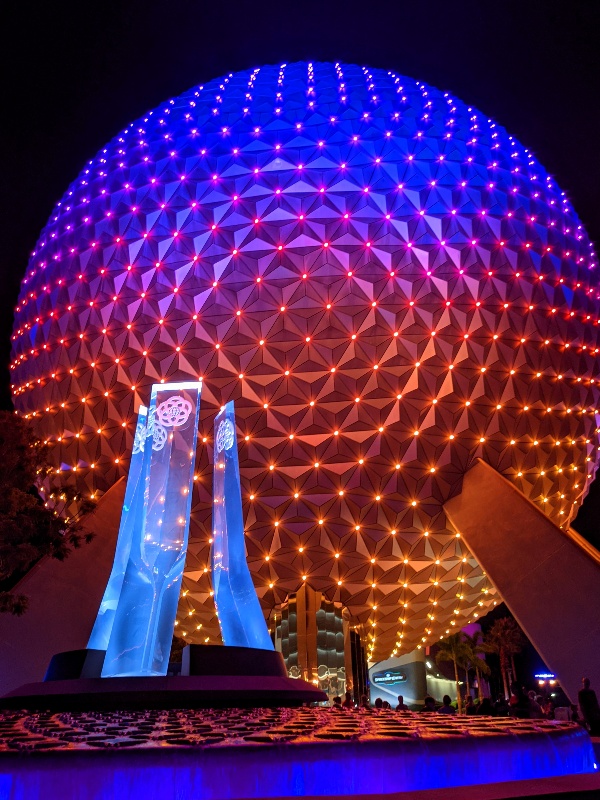 Cinderella Castle has undergone the biggest transformation for Disney World's 50th anniversary, but all four park icons get a new nighttime look.
Cinderella Castle's has a special glow and pixie dust at night while Epcot's Spaceship Earth's has incredible all new signature lighting.
Not to be left out, Tower of Terror's EARidescent nighttime look has hints of gold which is perfect for celebrating the golden age of Hollywood.
Always stunning, Animal Kingdom's Tree of Life makeover is a new subtle glow enhanced with a twinkle of fireflies. Each of these lighting designs are a beautiful addition to nighttime views during the Disney World 50th anniversary celebration.
Disney Fab 50 Character Collection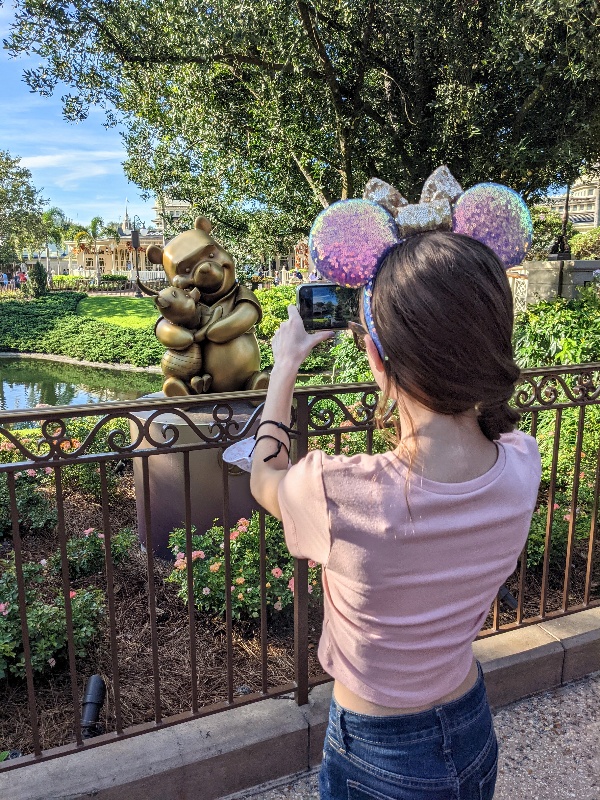 The Disney Fab 50 Collection has officially arrived at Disney World. Search for 50 golden, glittering, and undeniably adorable Disney character statues celebrating Disney World's 50th anniversary through all four theme parks.
Magic Kingdom has several Fab 50 statues near Cinderella Castle hub and more scattered in Fantasyland. Chip and Dale, Dumbo, and this Winnie the Pooh hugging Piglet statue are some of our favorites at Magic Kingdom.
We found several Fab 50 statues at Epcot including Figment, one of my favorite Disney characters. Another large cluster of statues are near the entrance into World Showcase. Look for Miguel and Dante, Olaf, Rocket Raccoon with Baby Groot, Hei Hei and Pua all within a few feet of eachother.
Disney KiteTails
Disney's Animal Kingdom Discovery River Theater gets new life with a colorful kite show. Water craft zoom by tugging three-dimensional kites and kite trains across the theater. Favorite Disney characters like Zazu, Baloo, Simba, and King Louie soar across the sky in this exciting performance taking place several times each day.
The kites aren't just high in the sky, but also near guests with several props bringing colorful fun close to the seats.
New EARidescent Costumes for Favorite Characters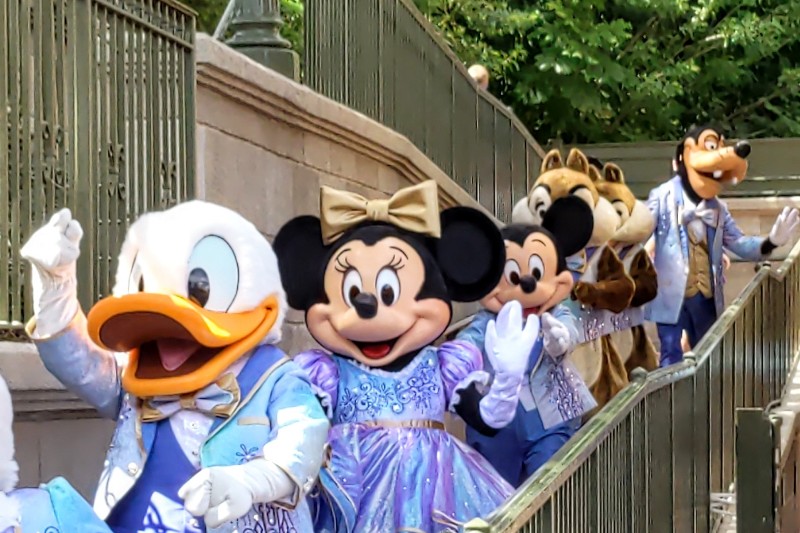 Who doesn't love a new outfit for a big celebration? New purple, blue, and pink outfits studded with rhinestones, gold accents and special embroidery are stunning in person. Mickey, Minnie, Donald, Daisy, Goofy, Pluto, Chip, and Dale all got an EARidescent glow up for Disney World's 50th anniversary celebration.
Mickey's Celebration Cavalcade
A new Magic Kingdom character cavalcade, Mickey's Celebration Cavalcade, debuted for the 50th anniversary. Catch Mickey, Minnie, and friends in their new EARidescent outfits on a special float during a visit to Magic Kingdom.
Special Disney World Photo Ops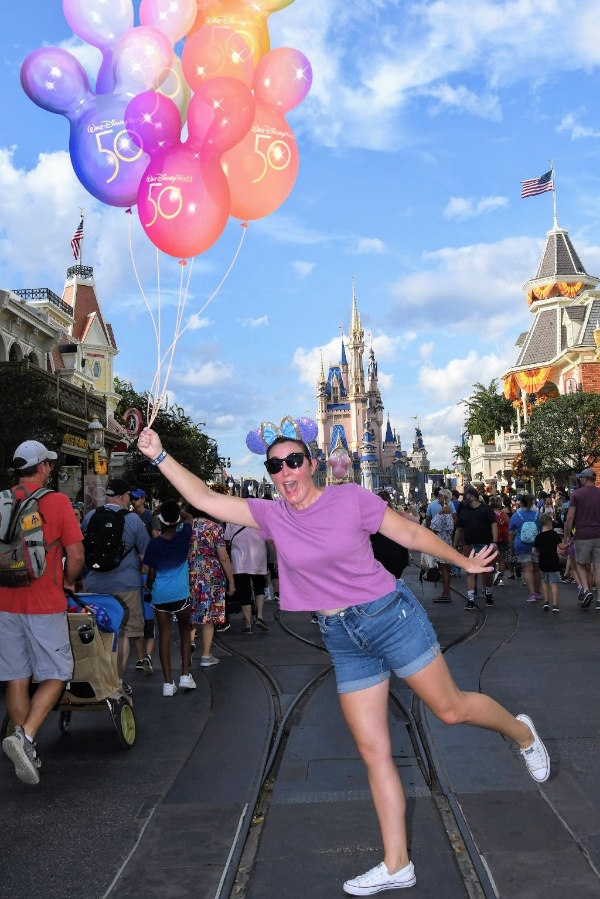 Pictures are always a great way to commemorate a Disney vacation and these special photo opportunities are tons of fun. So far we've taken two special Disney PhotoPass Magic Shots for the Disney World 50th anniversary: blowing confetti and flying away with balloons.
The confetti photo has you pretend to blow glitter from your hands and a cool confetti swirl effect is added later. In the balloon photo, pretend to fly away as you hold onto a bunch of colorful Mickey 50th anniversary balloons.
Both of these photo ops are available on Main Street, U.S.A. at Magic Kingdom so request one or both on your next trip. Check here for a full list of Disney World 50th anniversary magic shots.
Disney World 50th Anniversary Treats, Drinks, and Foods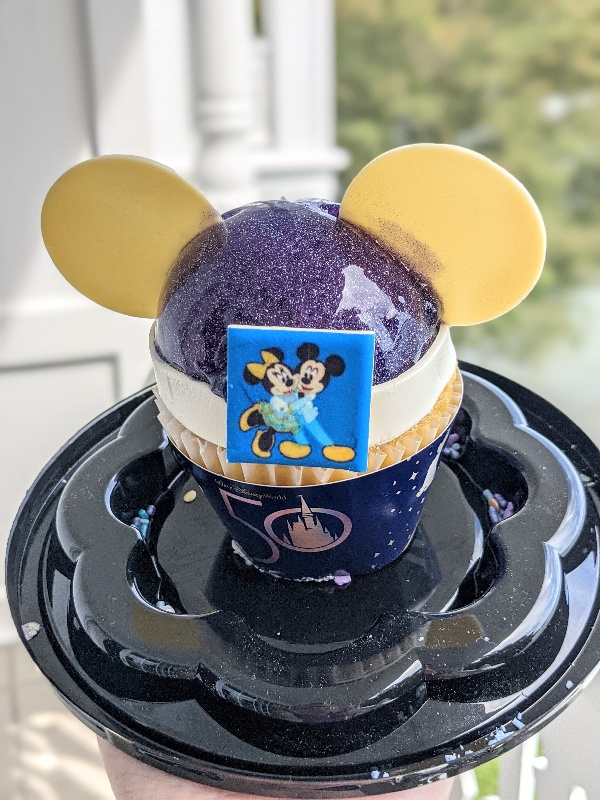 It seems everywhere you turn there is some special food for the 50th anniversary. Each of the four theme parks, Disney Springs, and many of the resorts have limited edition foods.
Our first 50th anniversary treat was a surprisingly delicious EARidescent Cupcake. This vanilla cupcake is filled with lemon curd and topped with a sparkling dome over blueberry mousse. The EARidescent Cupcake at Gasparilla Grill at Disney's Grand Floridian Resort was a tasty way to kick off the celebration.
Check here for a complete list of the shocking number of 50th anniversary specialty food and drink items.
Return Of Live Entertainment and Individual Character Meet and Greets
Although not directly tied to the Disney World 50th anniversary celebration, these announcements are great news. Some live musicians in the parks returned on October 1st while others will come back over the next few weeks.
The news I've been anxiously awaiting for is finally announced: Disney World character meet and greets return in November. Guests won't be able to hug characters or have them sign items, but you'll have some individual time with them for distanced interactions. Princess fans can rejoice because even some Disney princesses are part of these individual character experiences.
Disney World 50th Anniversary Review
Like many other Disney fans, I am extremely excited to celebrate Disney World's 50th anniversary. In particular, the new nighttime spectaculars, Remy's Ratatouille Adventure, and the return of extra park hours for resort guests are all an exciting way to begin the 50th anniversary celebration.
Save this article for later as you plan your Disney World 50th anniversary vacation. We're continuing to update as more announcements are made and we continue researching these new options. If you're ready to book, check out our travel partner, Get Away Today.
Pin it for later: