Summertime in Utah evokes thoughts of hiking and bike rides, not hitting the ski slopes. However, Utah Olympic Park hosts summer ski jump training for Olympic athletes and Olympic hopefuls. This unbelievable aerial ski talent is showcased during the Flying Ace All Stars Show at Utah Olympic Park and a highlight of our Park City, Utah summer vacation.
What Is The Flying Ace All Stars Show?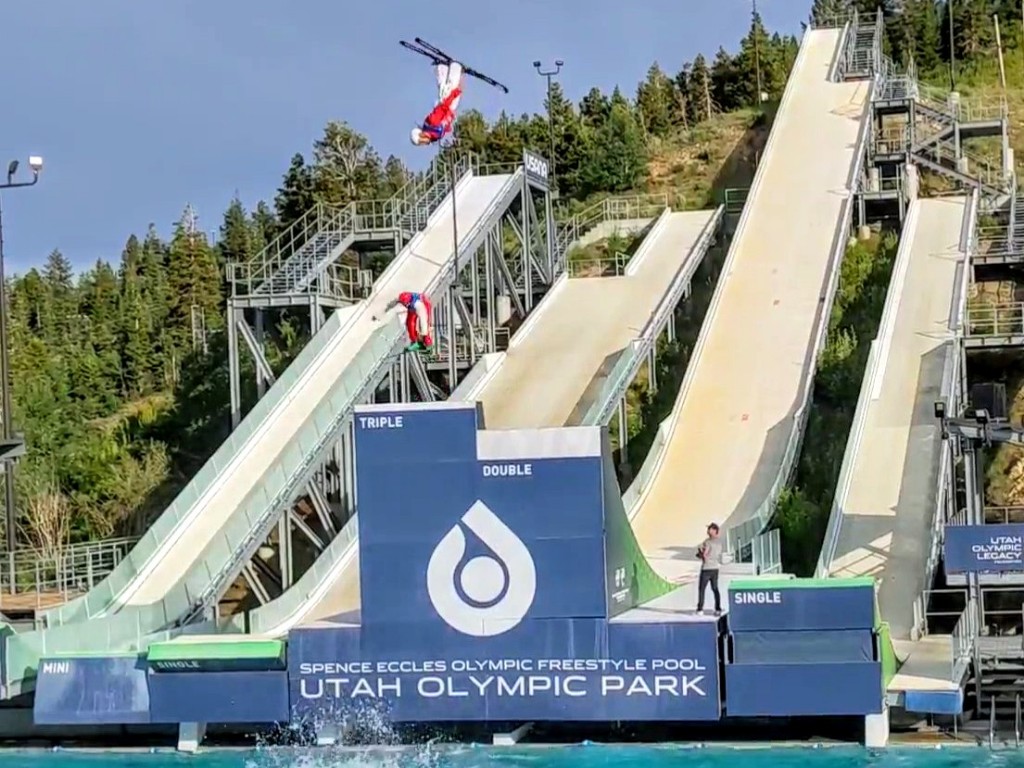 On select summer nights, Flying Ace All Stars take over the immense ski jumps at Utah Olympic Park. Although there is no snow for these Olympic caliber athletes, the ramps are primed with water and a state of the art pool with air jets softens their landings. This setup provides an experience surprisingly similar to snow conditions.
An engaging host sets the stage by explaining how athletes train on this equipment to improve their skills even when snow is unavailable. Next you'll learn about the variety of ramps and how skiers transition from smaller to the shockingly intense ramps over time.
Skiers demonstrate the types of skills learned on each ramp and then the real fun begins. Loud and exciting music sets the stage for these incredible freestyle skiers to jump, twist, and flip to enthrall the audience.
The Flying Aces finale is breathtaking with several aerialists hurtling down the ramps almost simultaneously interweaving tricks and landings. The roughly half-hour show went so fast that we were disappointed when it ended.
In fact, we enjoyed the Flying Aces show so much that we immediately purchased tickets for the following night before leaving Utah Olympic Park.
Where Is The Flying Ace All Stars Show?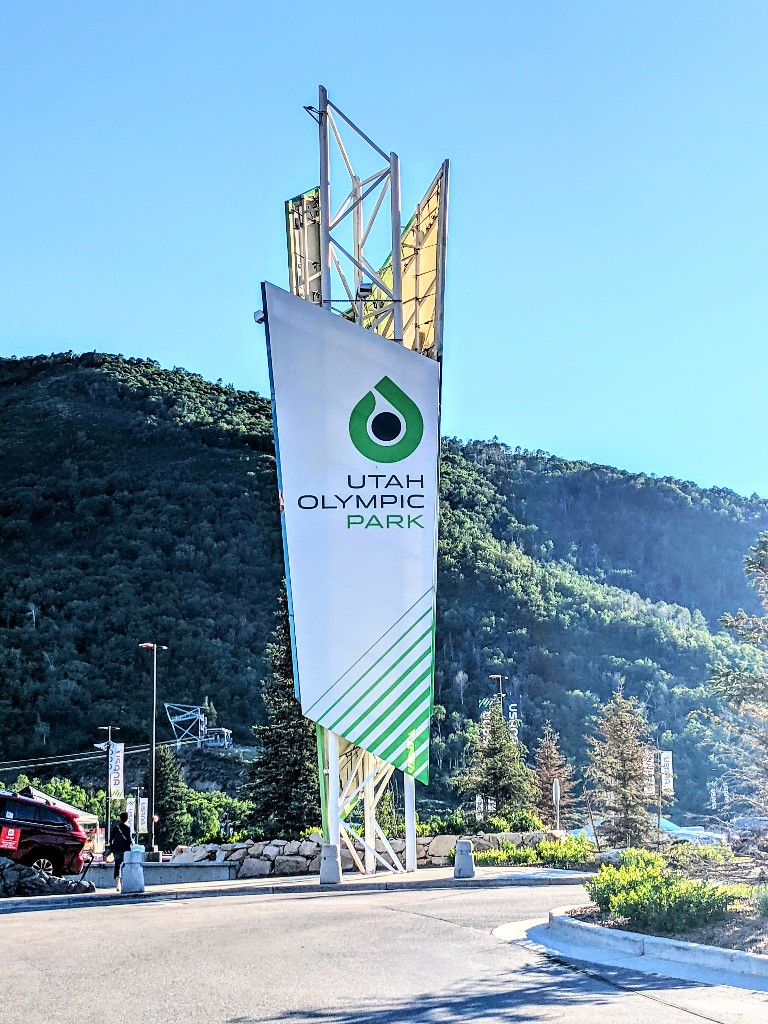 The Flying Aces show takes place at Utah Olympic Park in Park City, Utah. Built for the 2002 Olympics, Utah Olympic Park is a mix of athletic training facility, Olympic museum, and summer activity center for visitors.
Looking for more excitement in Park City? Check here for the surprisingly fun Olympic Park Summer Gold Pass activities that made our visit something we still talk about.
When Is The Flying Aces Show?
Flying Ace All Star Shows take place on select summer nights. The shows generally start in late June and run through Labor Day.
Tips For Flying Ace All Stars at Utah Olympic Park
Buy Tickets Ahead Of Time
Flying Aces is a popular event, and tickets sometimes sell out in advance. Book your ticket early and avoid missing this spectacular display.
Buy tickets online through Utah Olympic Park. Either print your tickets before arriving or save them to your phone for scanning when entering the ski jump area.
Arrive Early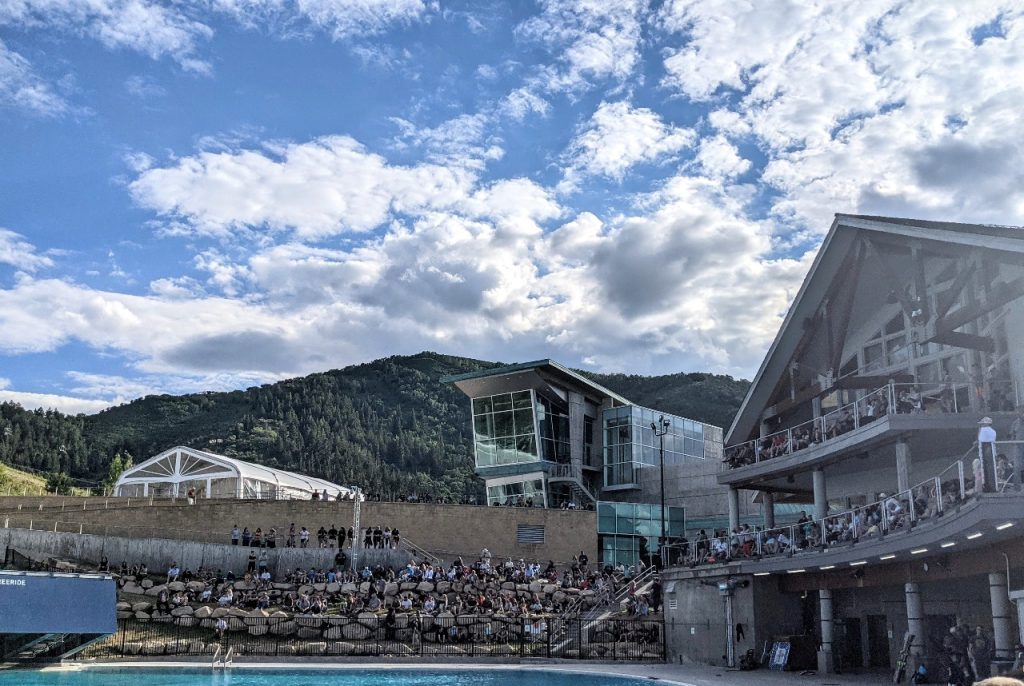 The seating area is broken into several sections for Flying Aces. Find bleachers and some grass seating on one side of the pool, more grass seating on the other side of the pool, and a two-floor balcony in between.
The balcony is the best spot with great views of the ramps, but unfortunately has limited chairs. Most people stand along the rail for clear views of the show.
This balcony area fills up quickly, so arrive at least 30 minutes before the Flying Ace All Stars Show for a spot here. If you arrive later, find decent views in one of the areas on either side of the balcony.
Remember Your Flying Aces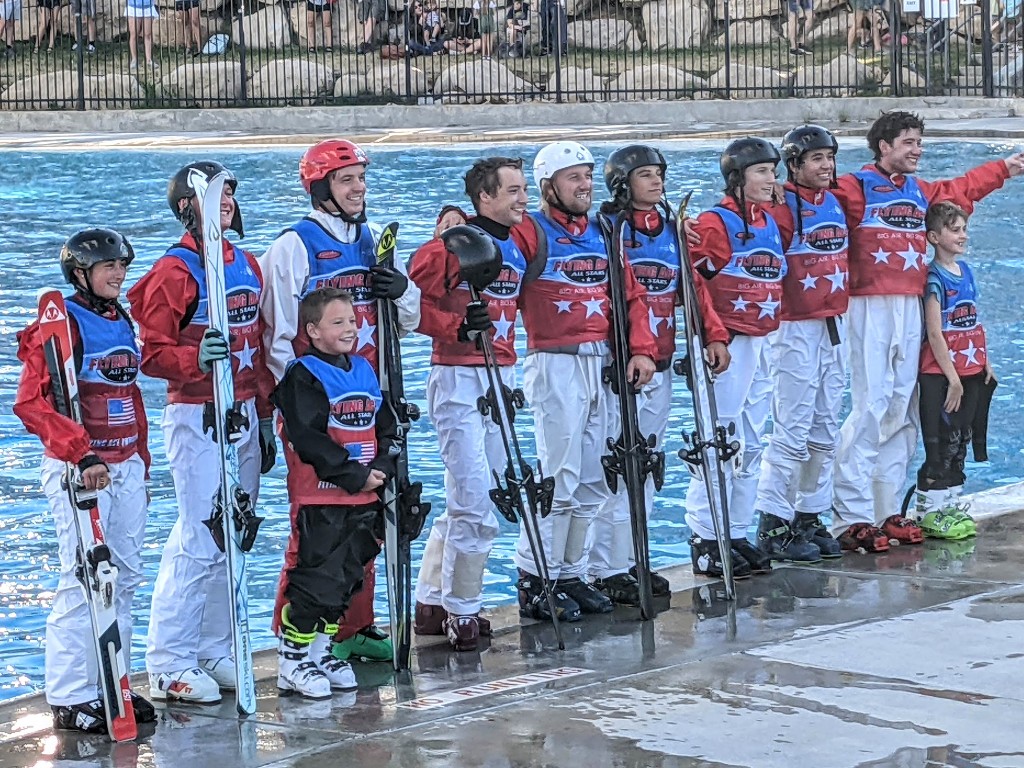 Not surprisingly, I took notes with the names of each of the performers at our Flying Aces show. Watching the 2022 Winter Olympics became even more exciting because two of the performers, Chris Lillis and Justin Schoenefeld, went on to earn gold for the US Olympic Ski Team.
Parking Is Free For Flying Aces
There is a large parking lot at Utah Olympic Park and parking is free for visitors. However, early evening has a mix of people finishing Utah Olympic Summer Gold Pass activities and others showing up for Flying Aces.
This means finding parking for Flying Aces is sometimes challenging. Arrive early and be prepared to scout people leaving to grab parking in the close lot.
Final Thoughts On Flying Ace All Stars at Utah Olympic Park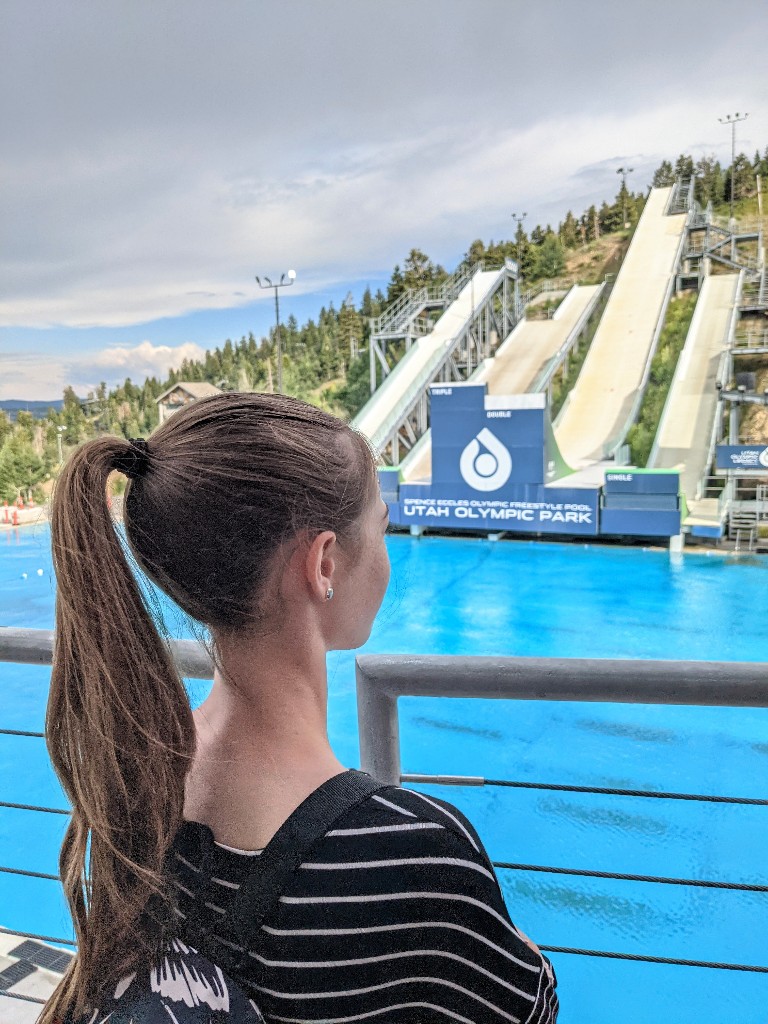 Flying Aces is a captivating show that's fun for all ages. I highly recommend seeing this summertime show when visiting Park City. It was such a great experience we went to performances on both nights they were available despite originally only planning for one show.
While you are in Park City challenge yourself with the Utah Olympic Park Summer Gold Pass. I'm not particularly athletic but had a surprisingly fun time climbing, tubing, and zip-lining with my daughter.
Pin it for later: