Disney's Contemporary Garden Wing rooms have undergone an "Incredible" makeover to match the main tower. Take a tour of our Contemporary Garden Wing room and see how it compares to staying in Contemporary's main tower.
Disney's Contemporary Resort Location
Contemporary Resort's prime location is within walking distance of Magic Kingdom and also on the monorail line.
Disney's Contemporary Resort Overview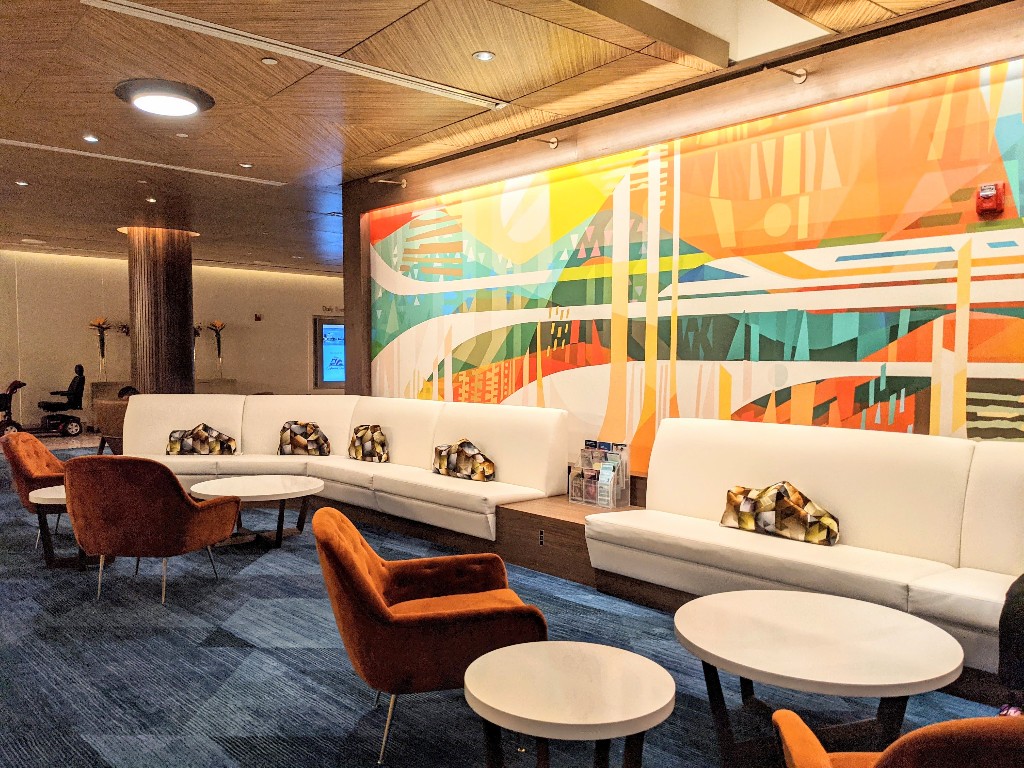 The lobby was recently renovated, updating the original design to a fresh mid-century modern aesthetic. Furniture with clean lines and bright Mary Blair inspired murals transport you back to when Disney World first opened, but with a clean, modern twist.
Just off the lobby is one of our favorite Disney World restaurants, Steakhouse 71. This steakhouse makes delicious dinners, cocktails, and an incredible brunch, too. We love booking dinner here on our non-park arrival days which lets us enjoy Contemporary immediately upon arrival.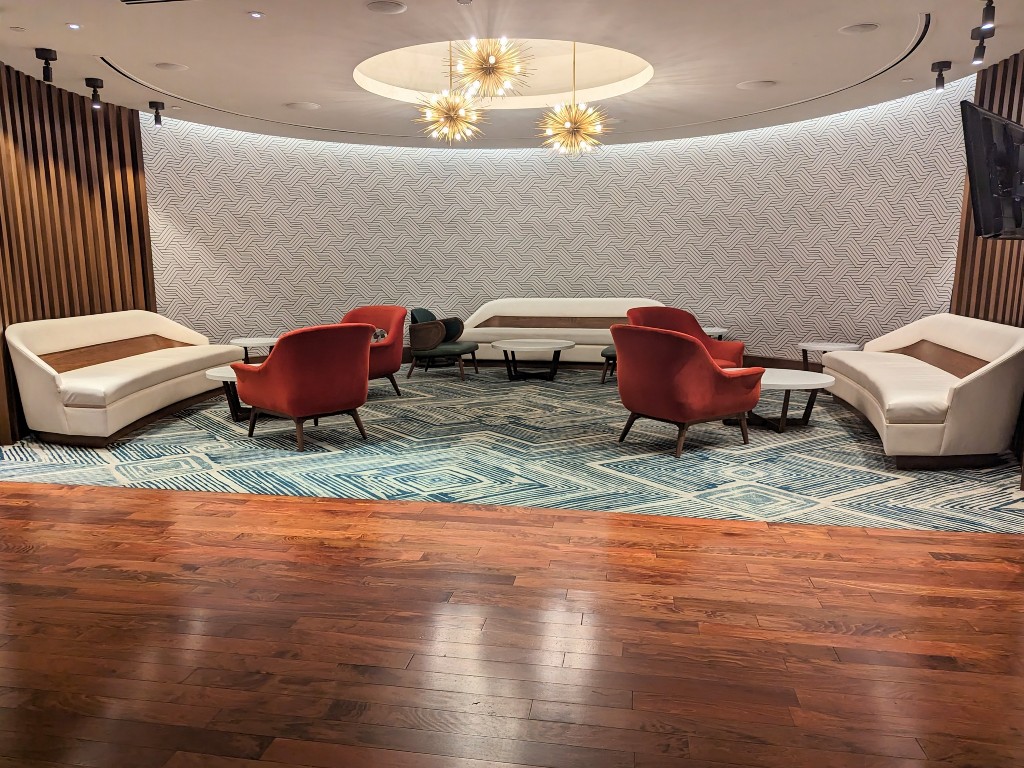 Disney's Contemporary Resort is broken into two sections: the Main Tower and the Garden Wing. These two sections are separate, but linked by a covered, outdoor walkway. Contemporary is also connected to Disney's Bay Lake Resort, a Disney Vacation Club property, via an elevated walkway.
Most dining, shopping, and access to the monorail is on Contemporary's fourth floor. Take elevators or a series of escalators to reach this hub from the main lobby.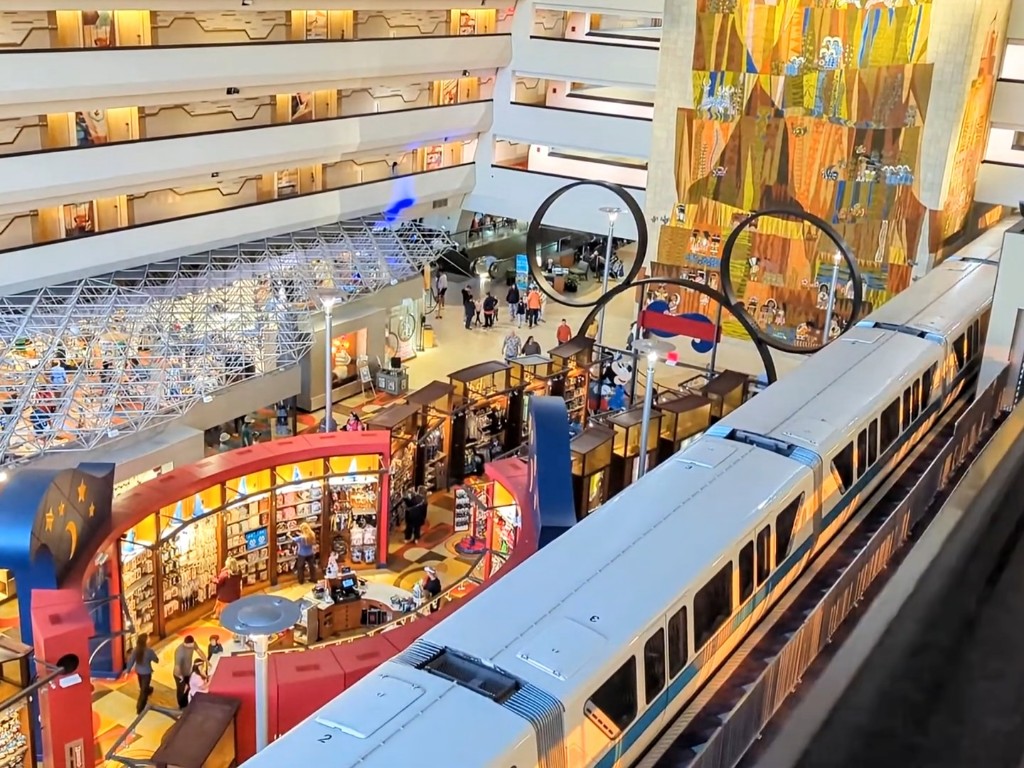 An often forgotten about perk of staying in Disney's Contemporary Resort Garden Wing is Magic Kingdom fireworks are easily seen from the viewing platform connecting Contemporary to Bay Lake.
Disney's Contemporary Pools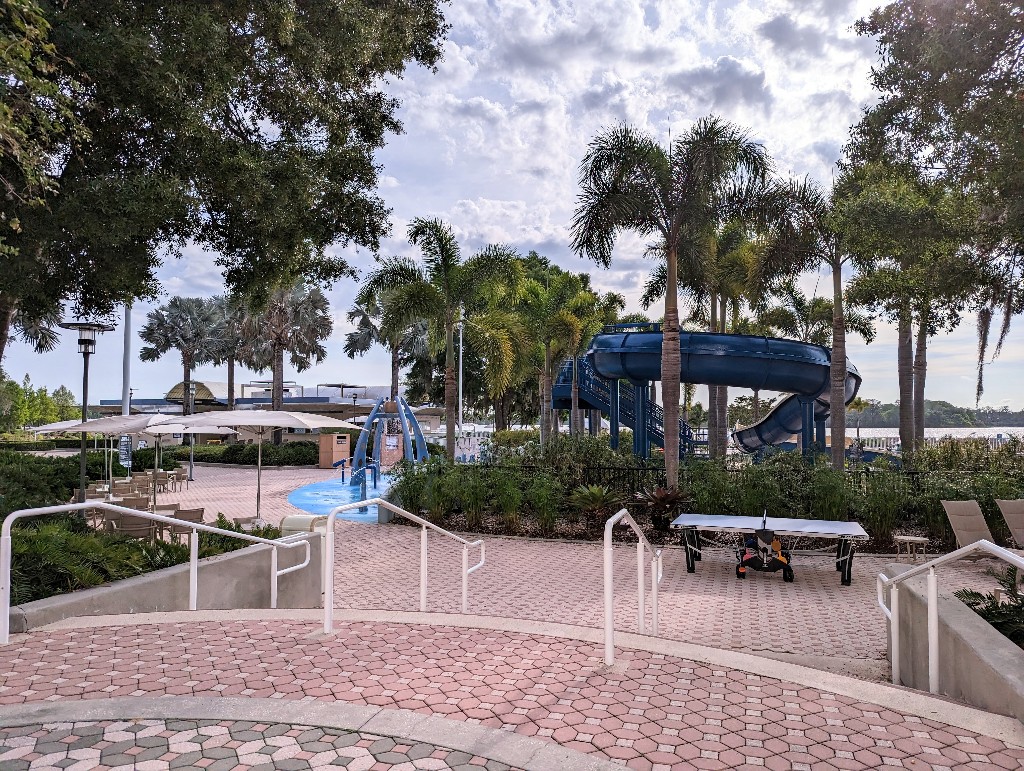 Contemporary's Feature Pool is the main event with a splash pad and water slide perfect for families. Find the leisure pool just steps away from the Feature Pool overlooking gorgeous Bay Lake for a quieter pool experience.
Contemporary Resort Dining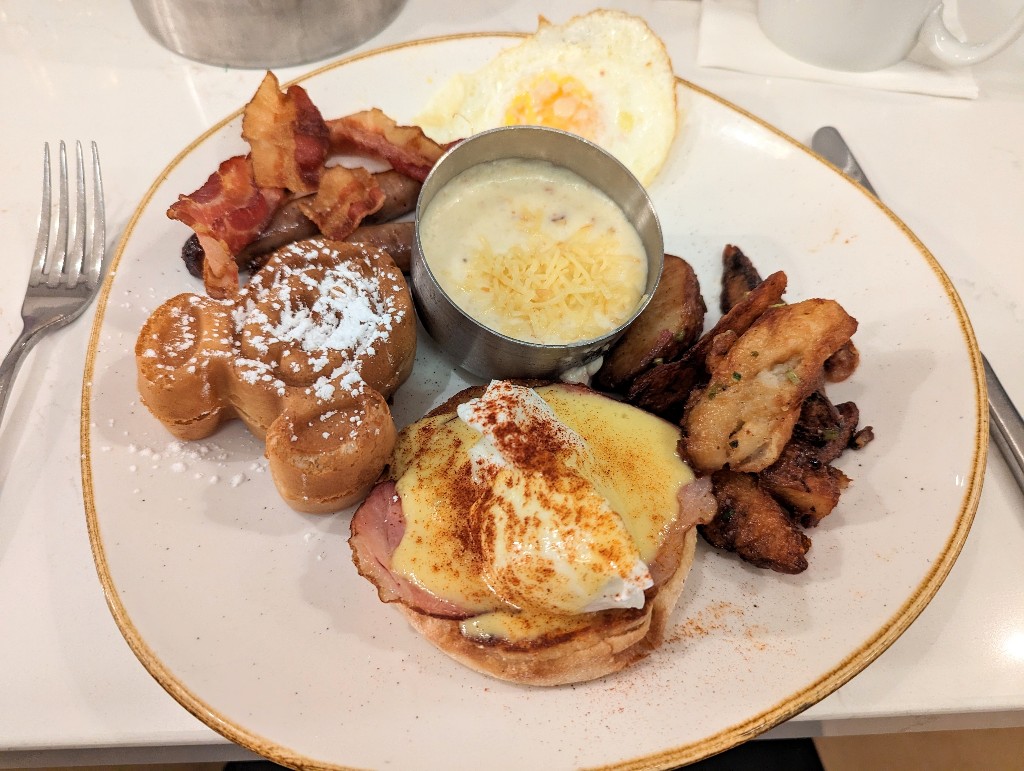 Steakhouse 71 is a wonderful dining option at Disney's Contemporary Resort, but is far from the only place to eat. Have dinner with Mickey and Friends at Chef Mickey's, enjoy fine dining at California Grill, or grab some quick service at Contempo Cafe.
Getting dinner at Magic Kingdom restaurants is also easy since they are just a short walk from Disney's Contemporary Resort.
Grabbing meals, drinks, or dining reservations at one of the other monorail resorts like Polynesian or Grand Floridian provides additional tasty and easily accessible dining options. 
Disney's Contemporary Garden Wing Room Review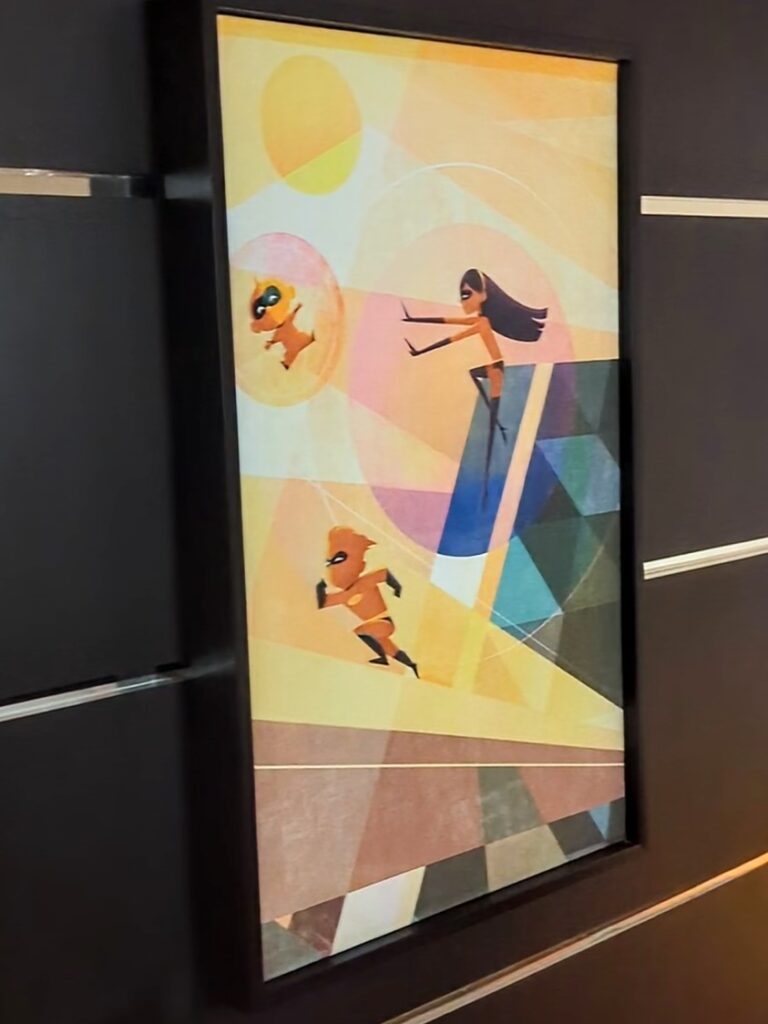 Incredibles' themed artwork along the halls gives a hint of what to expect from the newly remodeled Disney's Contemporary Resort Garden Wing rooms. Upon entering the room, a sleek, bright orange couch in the bedroom area immediately greets guests.
On one side of the entrance hallway is the bathroom while the other side holds a large, multi-section closet and storage area.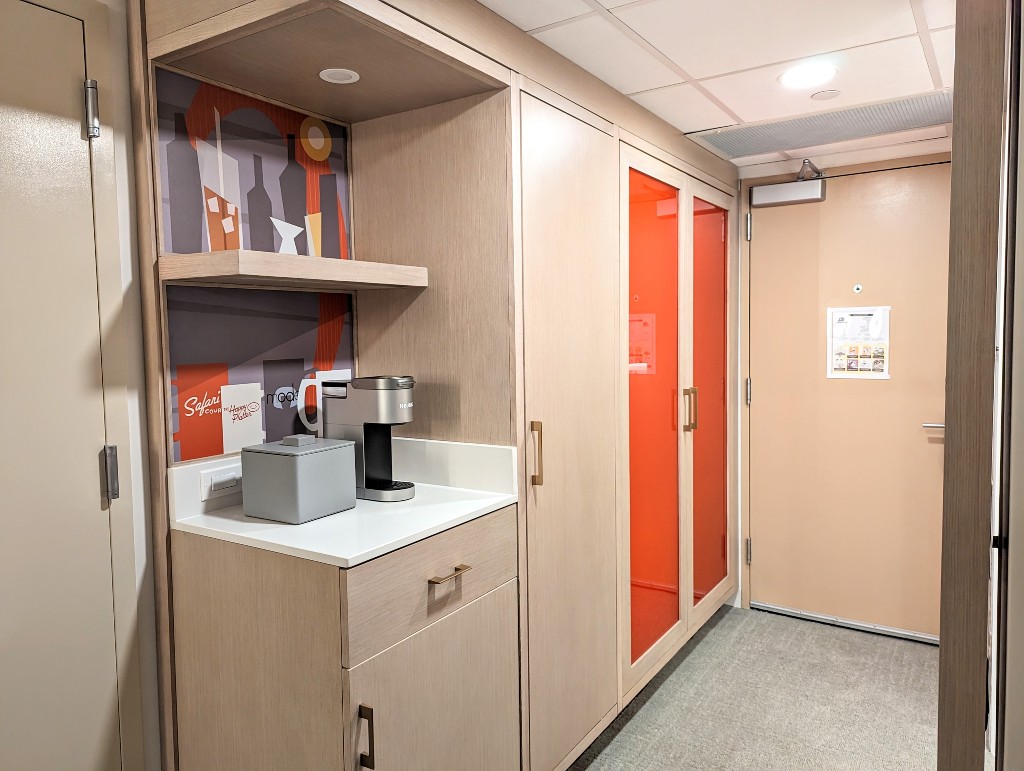 Open the closet doors with frosted orange insets to find the Incredible family supersuits hanging up ready for their next mission. The hanging bar is split between some full and half-length areas where a set of drawers sit underneath.
The other closet section is a mix of shelves, drawers, and the in-room safe. This extra storage space is especially important since Contemporary Resort Garden Wing rooms can sleep up to 5 guests.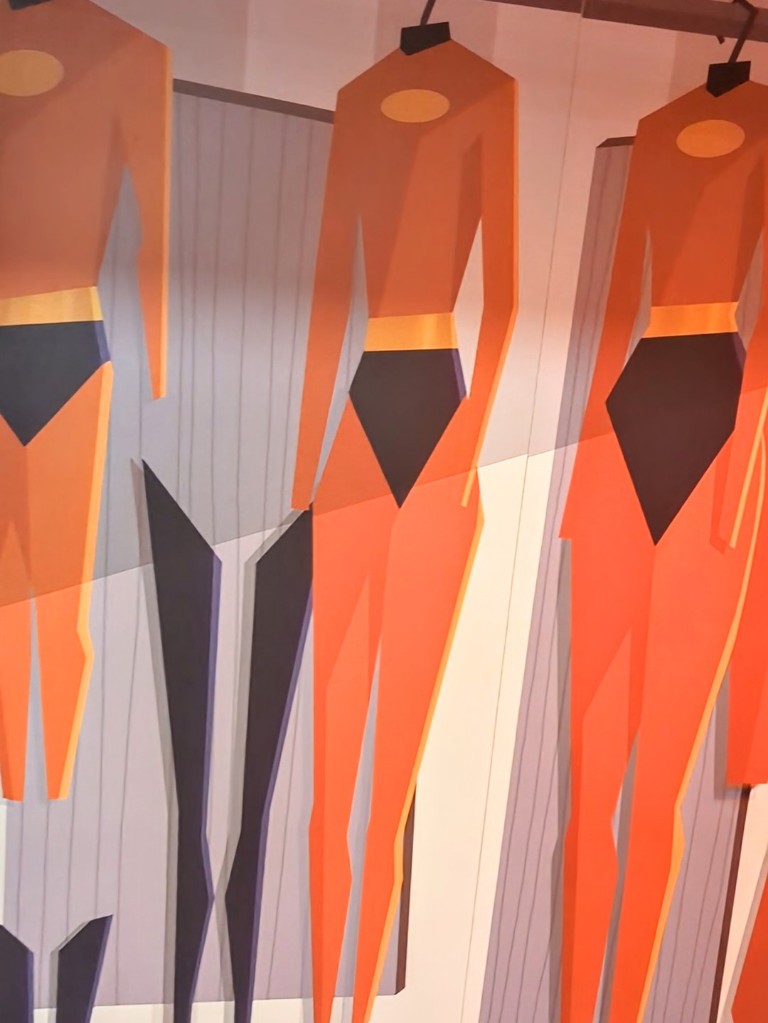 Lastly, find a countertop with a Keurig coffee maker, drawer with coffee supplies, and a camouflaged beverage cooler below. The beverage cooler keeps drinks cool, but not cold since it is different than a mini-fridge.
Look for cute details on the wall behind the coffee maker. Several coffee cups from locations in The Incredibles like Mode, The Happy Platter, and Safari Court look like they are stored there.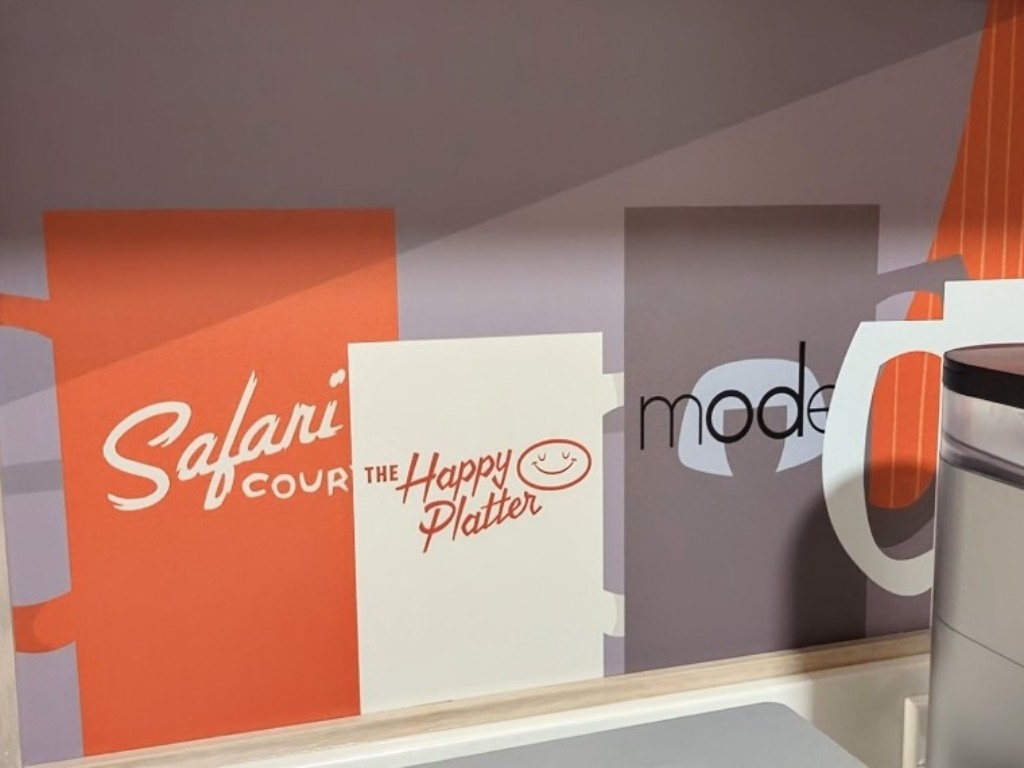 Disney's Contemporary Garden Wing Bathroom
A heavy sliding barn door separates the bathroom from the hallway. Stepping inside the bathroom there are two sinks with some shelving below.
With three of us the counter space was a little tight so I ended up moving the trash can from below the sinks, cleaning the shelf, and using it for extra bathroom storage.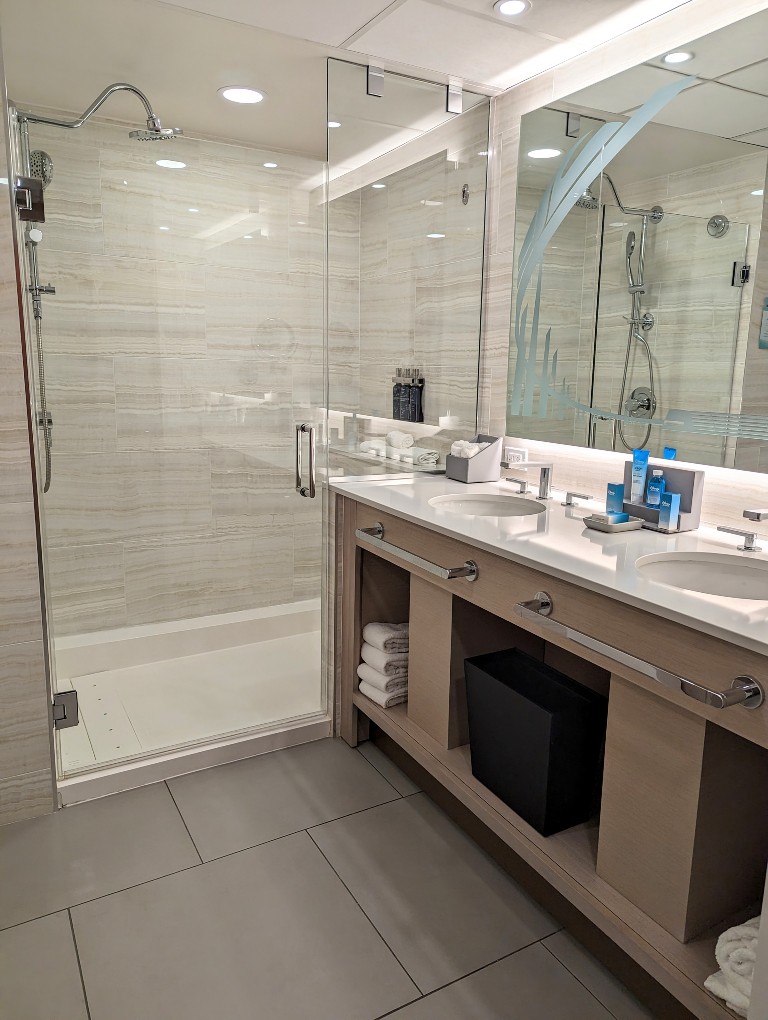 Large scale tiles in muted grays and tans line the shower walls. Shared toiletries are attached to the back wall of the shower and a narrow ledge holds personal toiletries.
A pocket door closes the toilet off from the rest of the bathroom which allows some privacy if people need to use the bathroom simultaneously.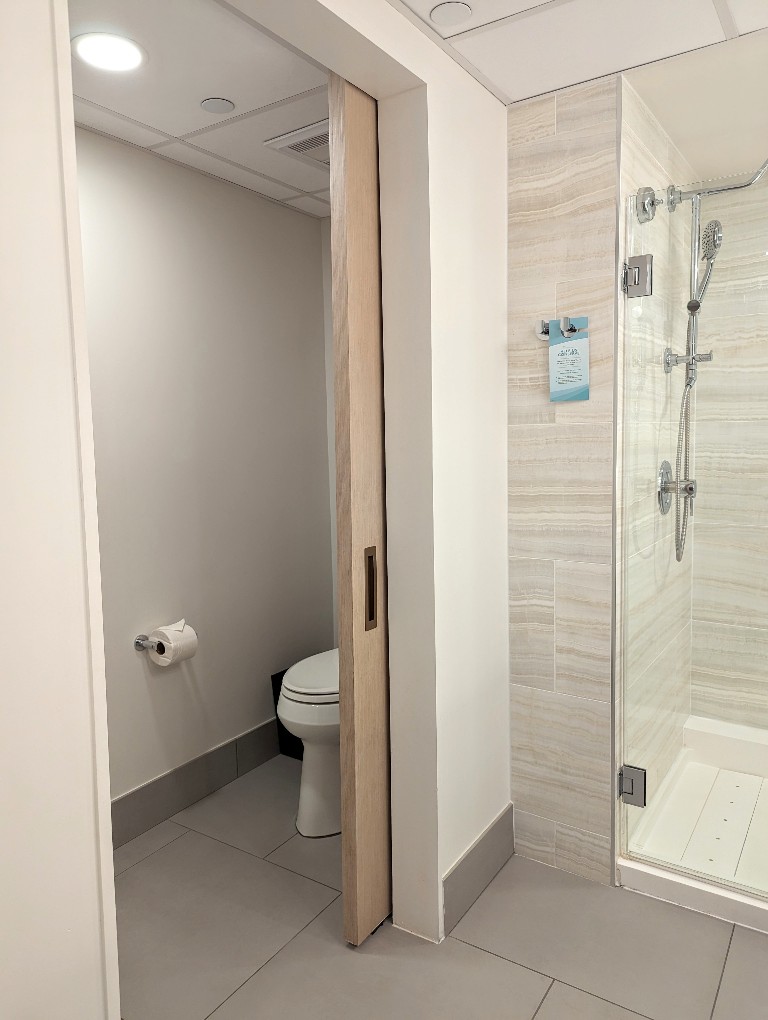 Although we love all split bathrooms, other Disney World resorts like Port Orleans Riverside and Yacht Club have a set up that we prefer. These split bathrooms have the shower and toilet together while the sinks are in a separate area.
Disney's Contemporary Resort Garden Wing Bedroom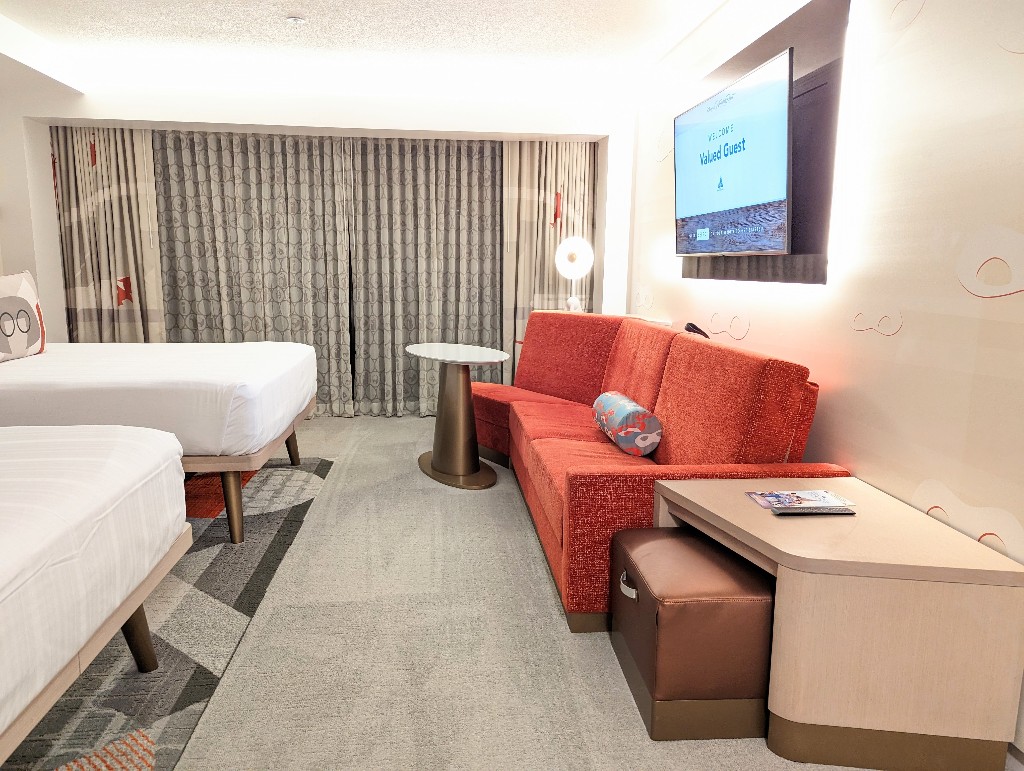 Our Contemporary Resort Garden Wing room is the most common arrangement known as a 5th sleeper. This option has two queen beds plus a fold down single bed allowing it to sleep five guests.
Some Contemporary Garden Wing King rooms only accommodate three guests with a king bed plus a fold down single bed.
We love 5th sleeper rooms because they provide a lot of sleeping flexibility. Fifth sleeper rooms work well for larger families, multi-generational groups, or those who want to avoid sharing beds.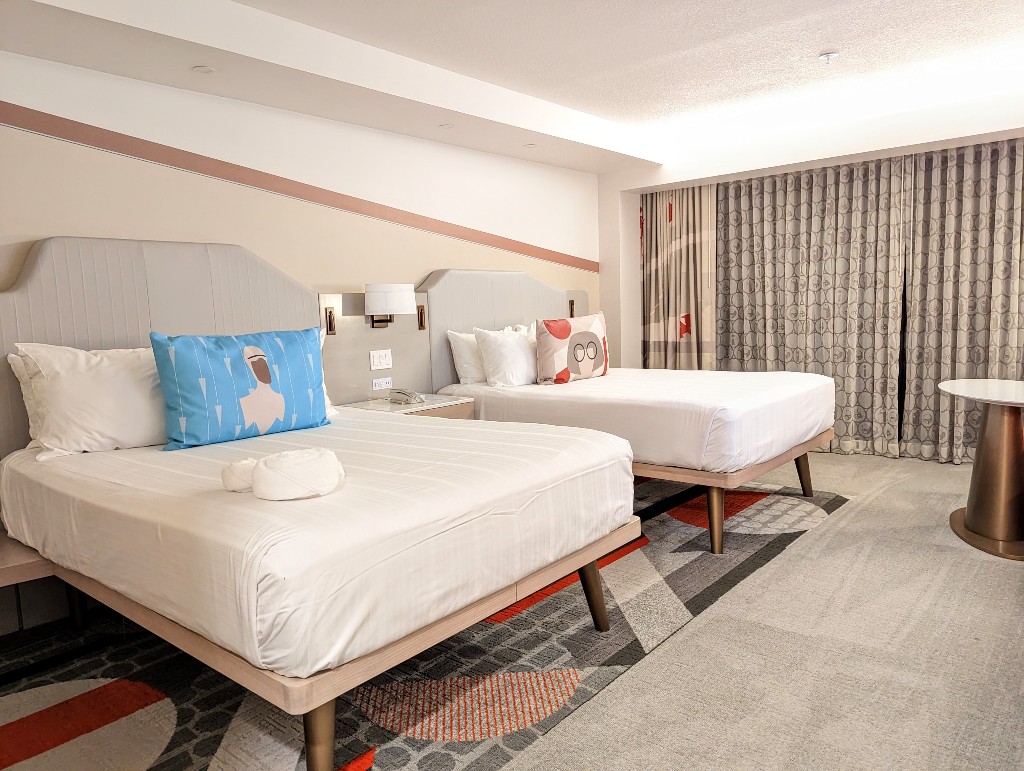 Low pile gray carpet has an inset under the platform beds that looks like a geometric area rug. These elevated beds make it easy to store large suitcases underneath.
A nightstand with a mounted lamp and charging station below sits between the two beds.
One of our favorite features is that each side of the bed has a small built-in shelf with plugs. This means no matter which side of the bed you sleep on there's a place for your phone.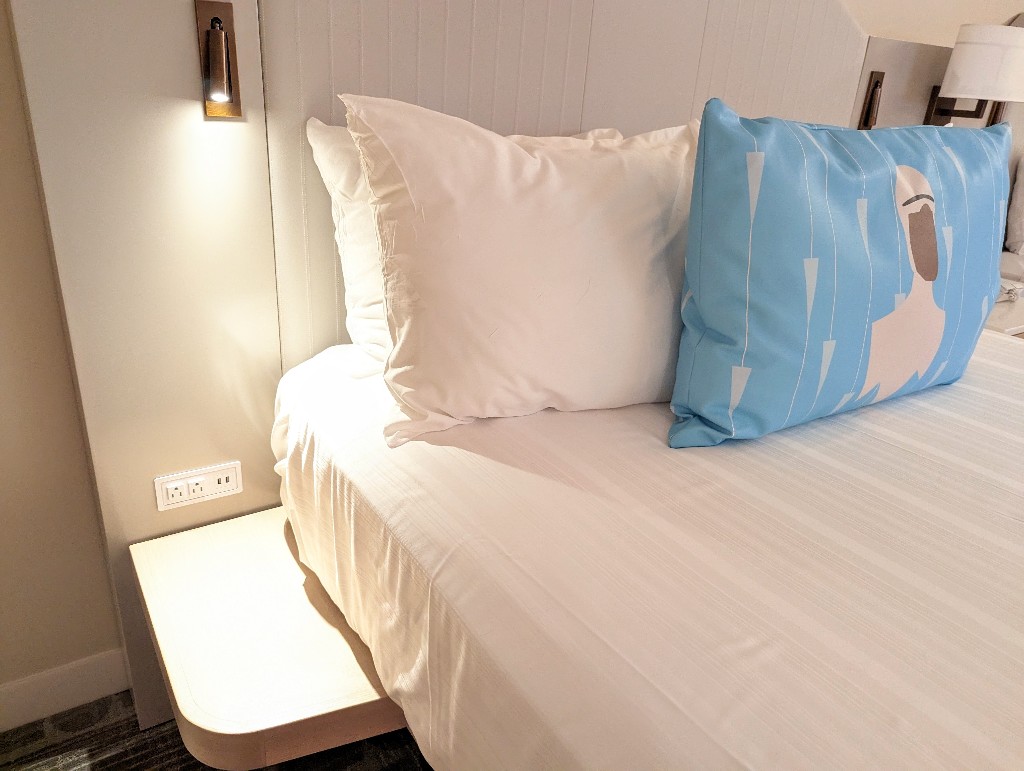 The large orange couch has plenty of seating when the bed is stored, but still one section to relax on when the bed is opened.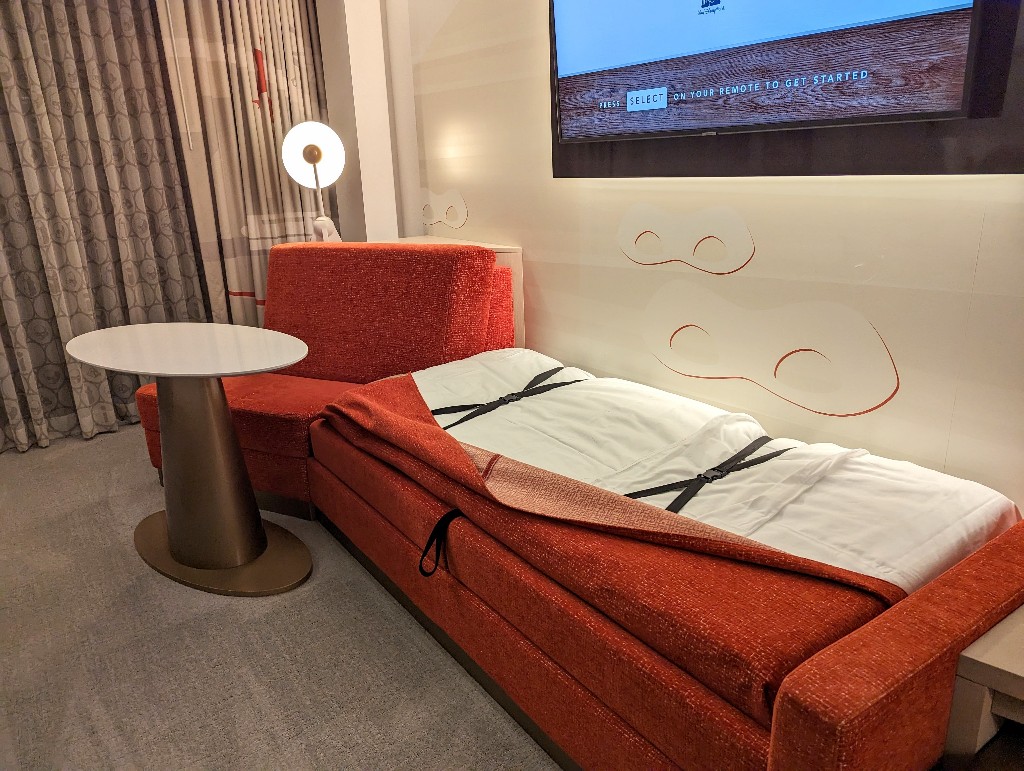 An oval table at the end of the couch makes a great place to work, or eat, since there's no desk and office chair in Contemporary Resort Garden Wing rooms anymore.
Disney's Contemporary Garden Wing Balcony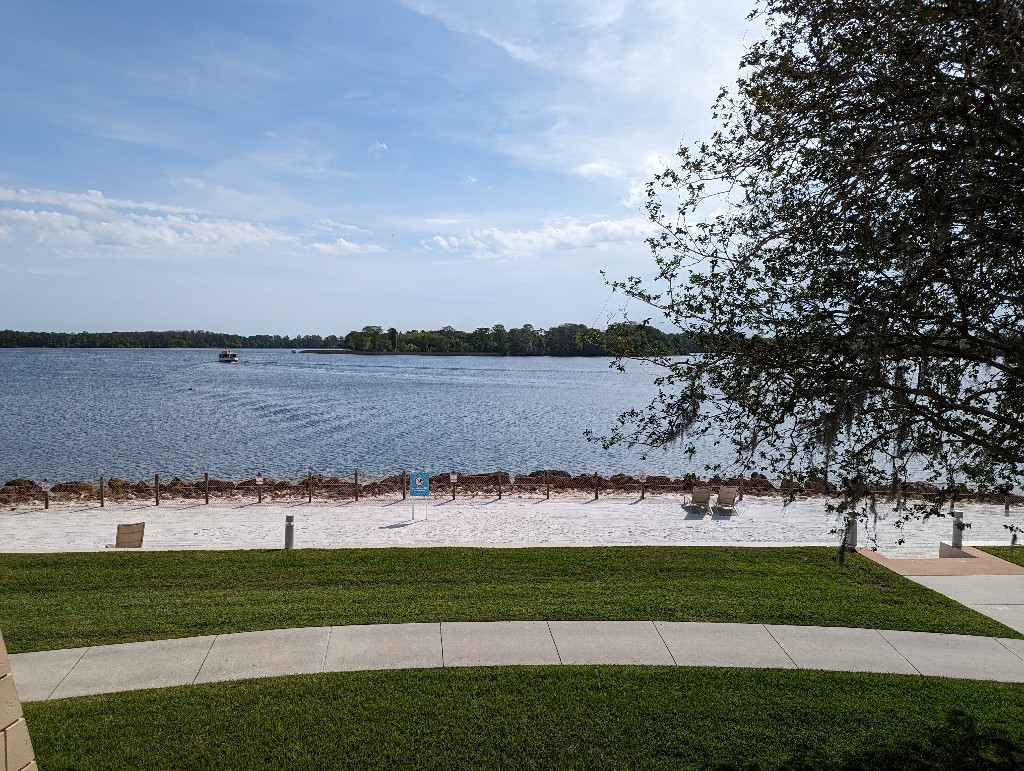 One downside of Disney's Contemporary Resort Garden Wing rooms is they do not have a walk-out balcony. While the sliding door opens wide for a breeze or to enjoy the view, there's no balcony to sit or stand. Instead find a safety rail to help avoid falls on the second and third floors.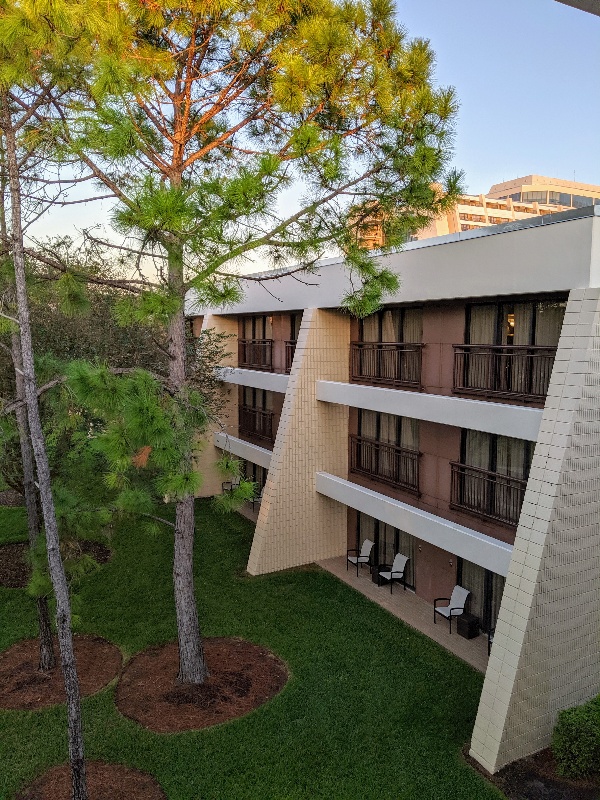 Guests on the Contemporary Garden Wing first floor have a small patio with chairs similar to other Disney World deluxe resorts.
Our Contemporary Resort Garden Wing room had the following great features:
Lots of closet space
Adorable new Incredibles themed look
A split bathroom with door separating bedroom and bathroom
Plenty of charging options
Standard room sleeps five people comfortably
Blackout curtains
In Room WiFi
Disney's Contemporary Resort has free WiFi for guests.
Disney's Contemporary Resort Parking
Contemporary Resort has complimentary self-parking for hotel guests. There's a main lot in front of the tower, but also a smaller parking lot in the back which is closer to the Contemporary Resort Garden Wing rooms.
Transportation To Disney World Theme Parks
Disney's Contemporary Resort to Magic Kingdom
There's no transportation required for Contemporary Resort guests going to Magic Kingdom. Use the walkway, usually with a shorter security line, that connects Contemporary and Magic Kingdom.
It takes about 10 minutes to walk to Magic Kingdom from Contemporary's main lobby plus an extra 6 to 10 minutes depending on your Contemporary Resort Garden Wing room location.
Want to avoid walking? Take the monorail loop on the fourth floor that connects Contemporary, TTC, Polynesian, and Grand Floridian to Magic Kingdom.
Contemporary Resort to Epcot
Take the Contemporary monorail to the first stop, the Transportation and Ticket Center (TTC).
Exit the resort monorail line and follow the signs to the Epcot monorail. Board this train and after making a picturesque loop around Epcot disembark for a day of fun.
Contemporary Resort to Animal Kingdom, Hollywood Studios, Disney Springs, and Water Parks
Between the main lobby and Bay Lake Tower find the resorts' shared bus stop. Disney's Contemporary Resort buses shuttle guests to and from Hollywood Studios, Animal Kingdom, and Disney Springs.
Guests heading to Disney World water parks like Typhoon Lagoon or Blizzard Beach will take a bus to Disney Springs and then transfer to the water park bus.
Disney's Contemporary Garden Wing Versus Main Tower Rooms: Which Are Better?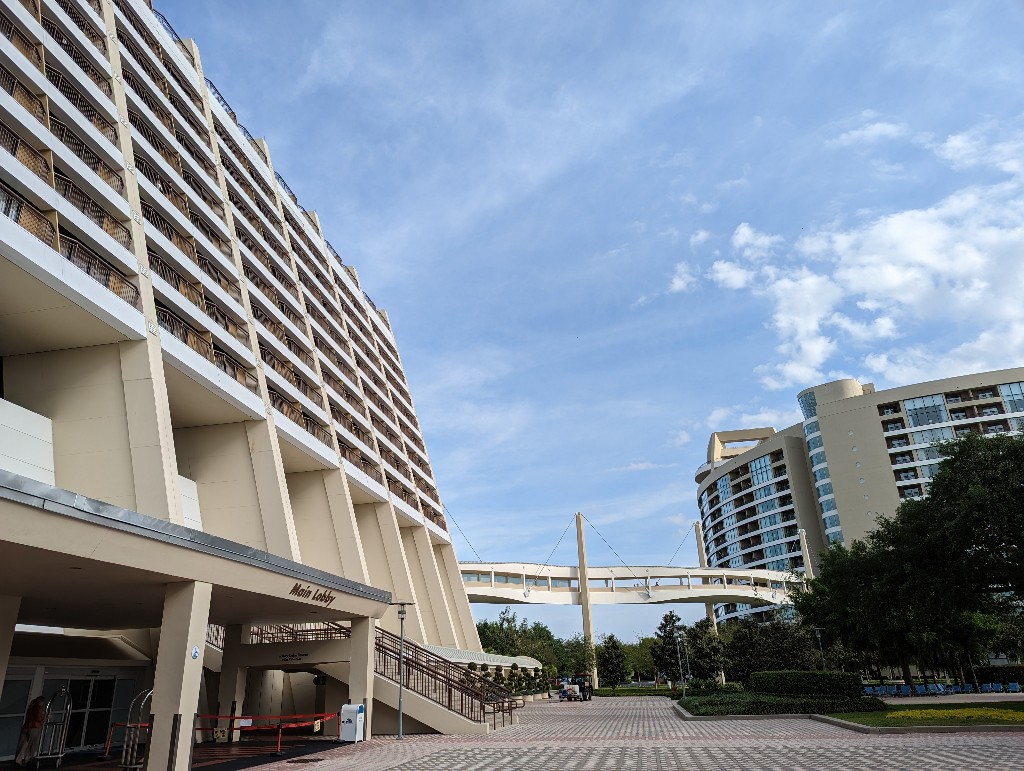 Disney's Contemporary Resort Main Tower is what people usually think of when considering a stay here. The main tower has some wonderful perks like a shorter walk to Magic Kingdom, upgraded rooms with views of Magic Kingdom, and easier access to the monorail, buses, and dining.
However, we prefer Disney's Contemporary Resort Garden Wing rooms to the main tower. The rooms feel more spacious, and we avoid the overtaxed main tower elevators.
Main tower rooms are only accessible via under-provisioned elevators. And since all visitors heading to Chef Mickey's with a stroller need to use the elevators, wait times to get to and from main tower rooms can get long.
The shorter walk to Magic Kingdom from the main tower is nice, but on all but the most exhausting days we don't mind the extra steps. The Contemporary Resort Garden Wing rooms are generally quieter than some of the main tower rooms where sounds echo through the open-air resort.
There's nothing quite like watching fireworks from a Contemporary Resort theme park view room, but many Contemporary's Garden Wing rooms have views to Bay Lake and the Electrical Water Pageant.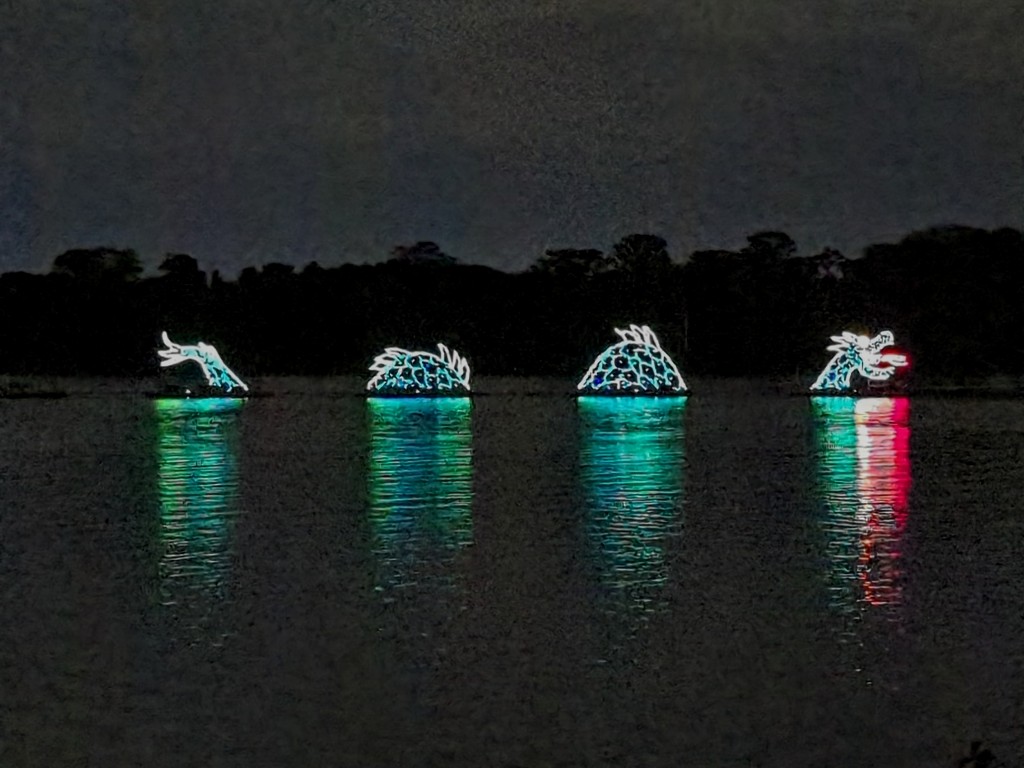 Finally, Disney's Contemporary Resort Garden Wing rooms have most of the perks of staying at Contemporary, but at a much lower rate than main tower rooms.
Staying in a Contemporary Garden Wing garden view room instead of a Main Tower theme park view room often saves hundreds of dollars per night. Use this money for character meals, Mickey's Not So Scary Halloween Party or other special Disney experiences.