Story Book Dining at Artist Point with Snow White is a chance to dine with unique Disney characters in the Enchanted Forest. This expensive Disney World character meal is a lot of fun, but is it worth it?
Where Is Story Book Dining at Artist Point?
Disney's Wilderness Resort hosts Story Book Dining at Artist Point with Snow White. No theme park ticket needed makes this Disney World character meal a good rest day option.
Story Book Dining at Artist Point with Snow White Overview
Enter Wilderness Resort's gorgeous lobby and head towards a wooden bridge with a babbling brook below. To the left side is a small desk for check-in if you haven't already done it via the Disney World app.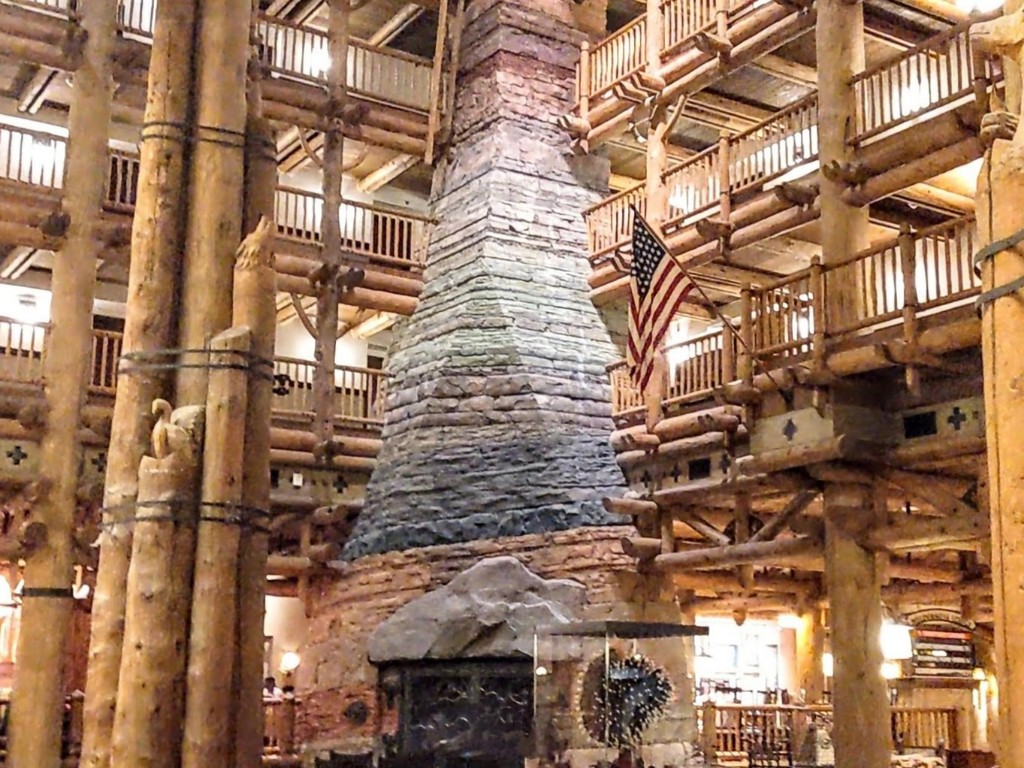 Once your table is ready head back to the desk. Then walk up a ramp to the seemingly hidden entrance of Story Book Dining at Artist Point.
From here cast members guide guests into the Enchanted Forest. Tree trunks sprout from the floor and their branches tangle above transforming Artist Point into a gorgeous forest.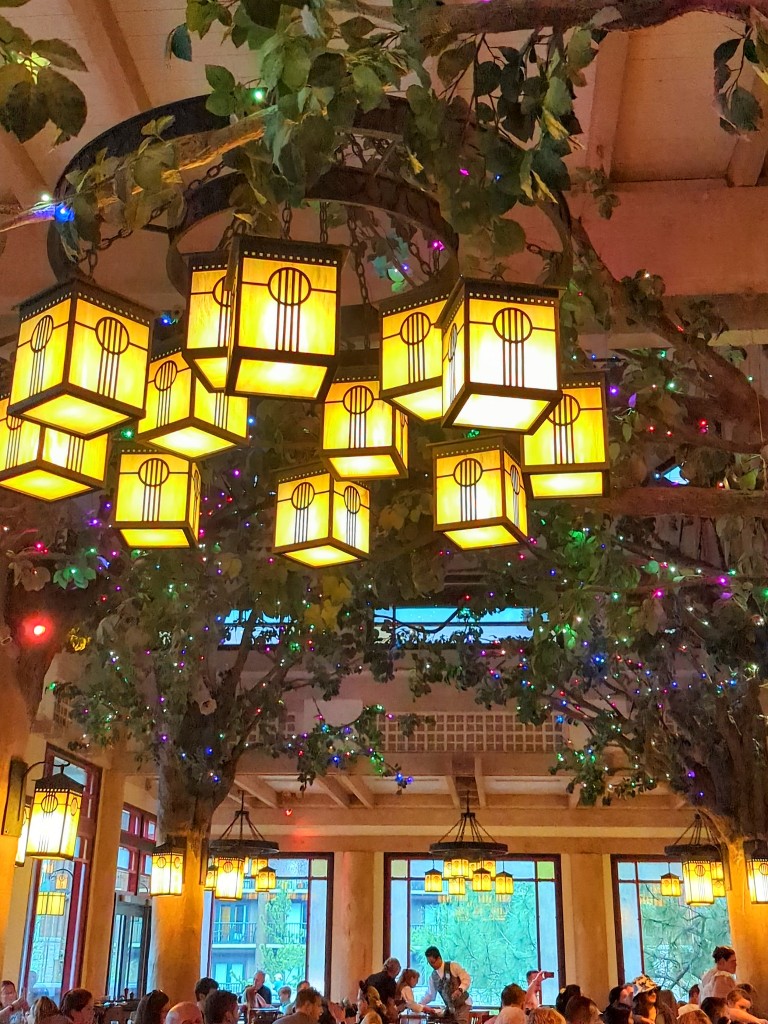 Leafy branches draped in softly glowing lanterns and fairy lights make for a lovely atmosphere. These fairy light colors change throughout the meal enhancing the restaurant's ambiance.
Story Book Dining at Artist Point Meal Review
This three course character meal has a mix of shared appetizers, an individual entree, and shared desserts.
Story Book Dining Appetizers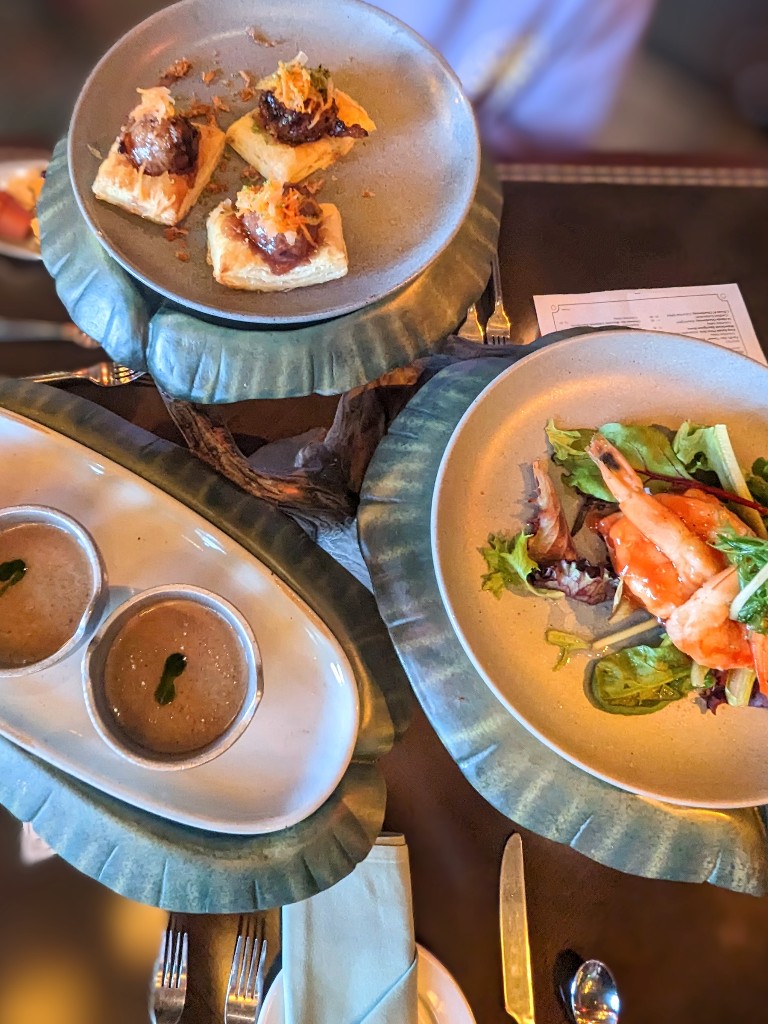 A three tiered, tree shaped plate stand is the centerpiece at the table. Meals start with 3 appetizers: wicked shrimp cocktail, wild mushroom bisque, and Hunter's Pie. Kids get a small appetizer plate with a roll, veggies, ranch, and cheese.
The appetizer course is okay, but our least favorite course at Story Book Dining. The cold shrimp tasted like tomato juice, but nothing else which left us unimpressed.
Tiny cauldrons of mushroom bisque are adorable and the rich soup is incredible, if you like mushrooms. The bisque was a miss for most of the group, but that left extra for me to enjoy. 
Lastly, the Hunter's Pie is a turkey and chicken meatball topped with cranberry preserve and crispy sauerkraut on a small puff pastry. The pastry was dense, but the slightly sweet meatball was okay.
Story Book Dining at Artist Point Entrees
We ordered three different entrees, and unlike the appetizers, enjoyed all of them. Our favorite dish was the Magic Mirror's Slow-braised Pork Shank.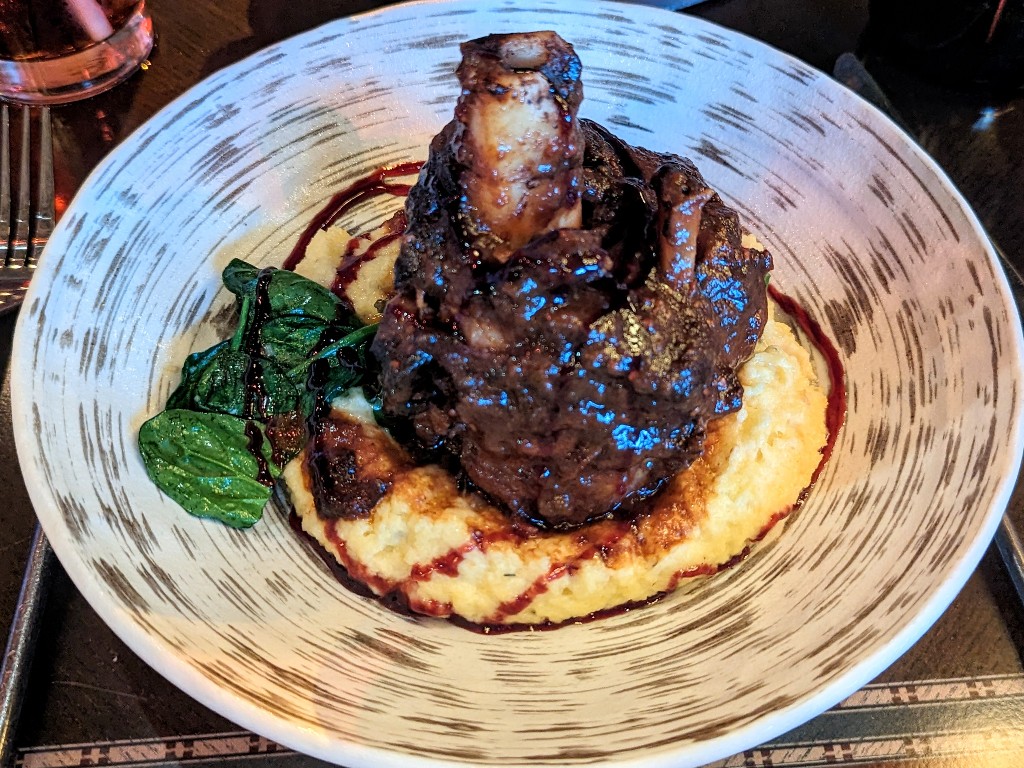 The presentation of the shank on top of a bed of polenta and gastrique was beautiful. The meat fell off the bone and had a rich flavor. The portion was large and even though we each ate some of the pork shank there was some left.
I ordered the Cottage Beef Stroganoff, a mix of beef, spätzle, mushrooms, and aged Cow's milk cheese topped with preserved vegetables. At first I didn't like the stroganoff, but then realized the preserved vegetables were too tart and imbalanced with the spätzle for my taste.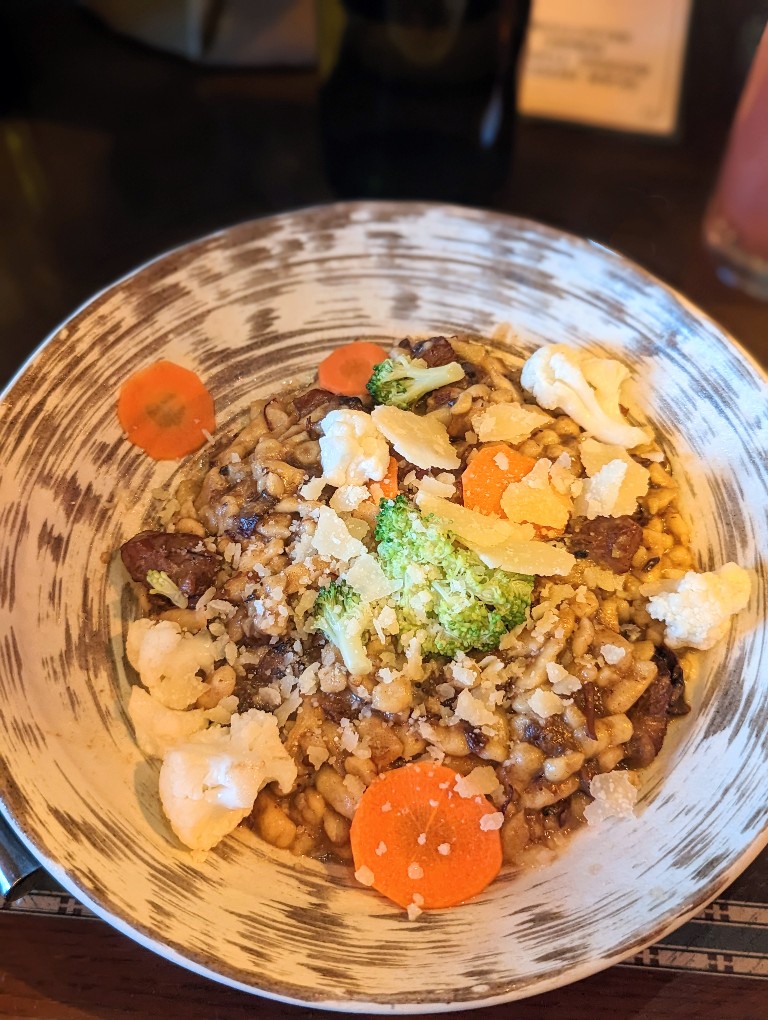 Once I removed the preserved vegetables from the beef stroganoff, I loved the elevated comfort food and ate more than I should have.
Last entree of the night was the Royal Prime Rib Roast. Normally served with horseradish mashed potatoes, the server was happy to substitute one of several other potato options. A giant popover was a nice surprise when the dish arrived.
The prime rib was tender and tasty, but there was a lot of waste on our portion. Despite the waste Elizabeth had plenty to eat, but someone with a larger appetite could have been disappointed.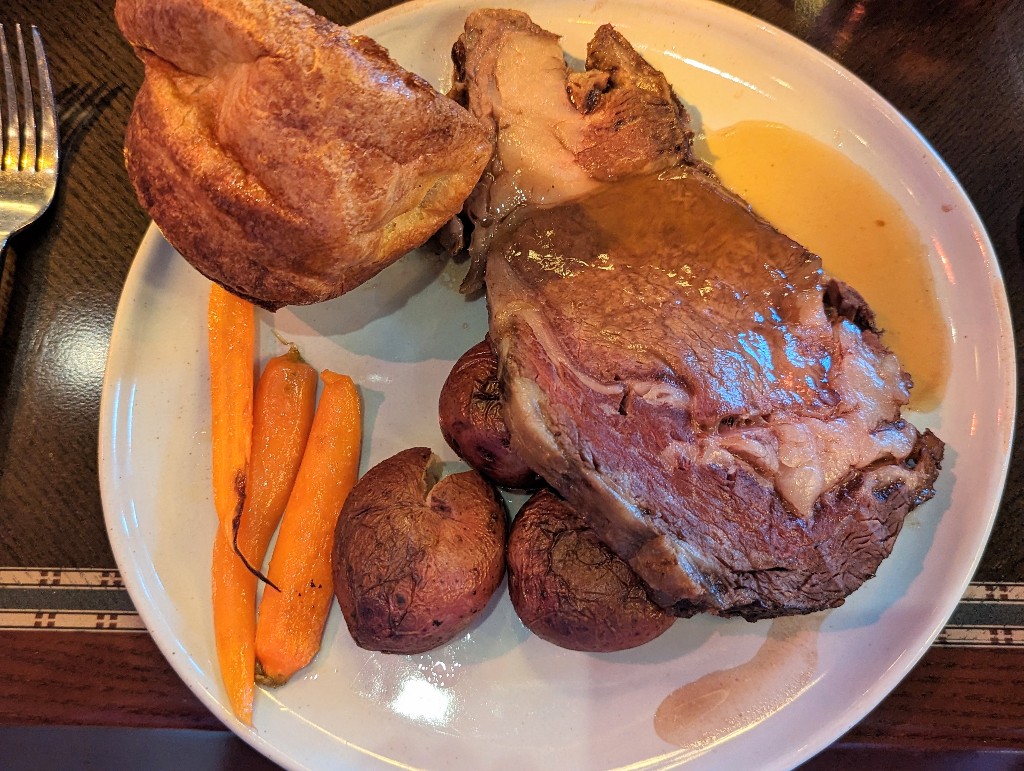 Story Book Dining Desserts
Try all three desserts included with your meal: Miner's Treasures, Fairy Tale Gooseberry Tart, and a "Poison" Apple to see which you like best.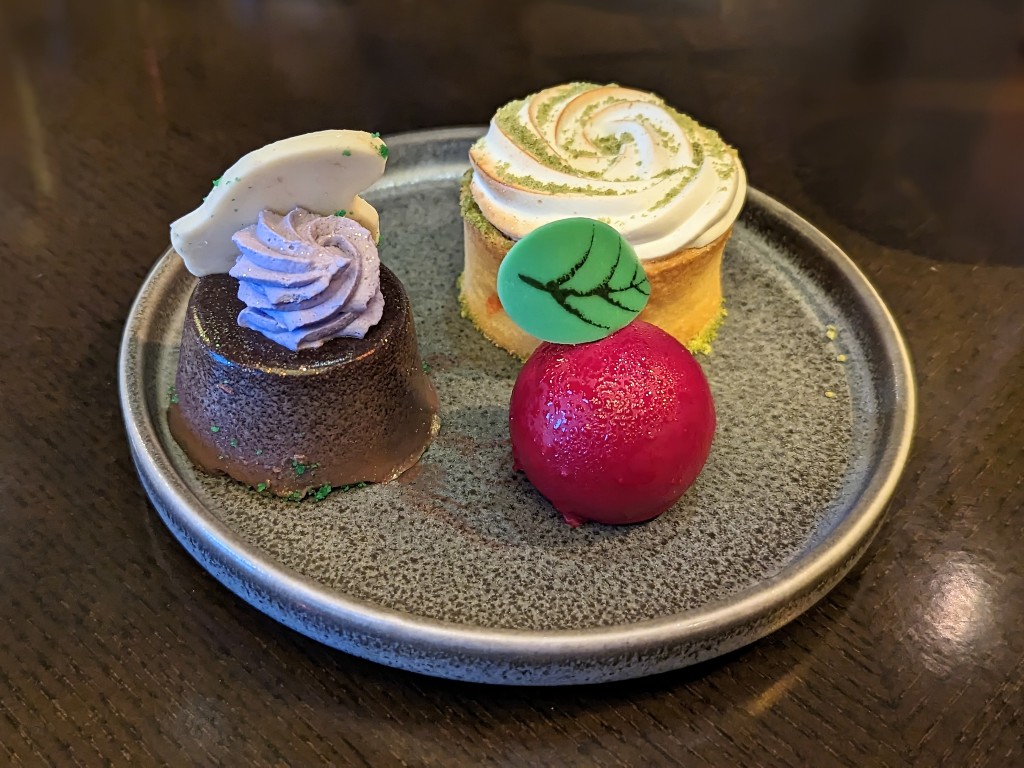 The Fairy Tale Gooseberry Tart has a gooseberry center surrounded by a flaky crust and topped with meringue. The tart reminded us of a mildly flavored apple pie.
Miner's Treasures is cookies and cream panna cotta topped with whipped cream, edible glitter, and a white chocolate Dopey hat.
The third dessert is the "Poison" apple. A red, hard chocolate shell encases a dark chocolate apple mousse with a sour center.
Lastly, at the end of the meal your server arrives with a wooden box. When the box is opened, smoke pours out revealing chocolate hearts as a final treat.
We think the Story Book desserts are better than the appetizers, but still unremarkable. However, we feel the Story Book entrees are very good.
Can Picky Eaters Find Something To Eat At Story Book Dining at Artist Point with Snow White?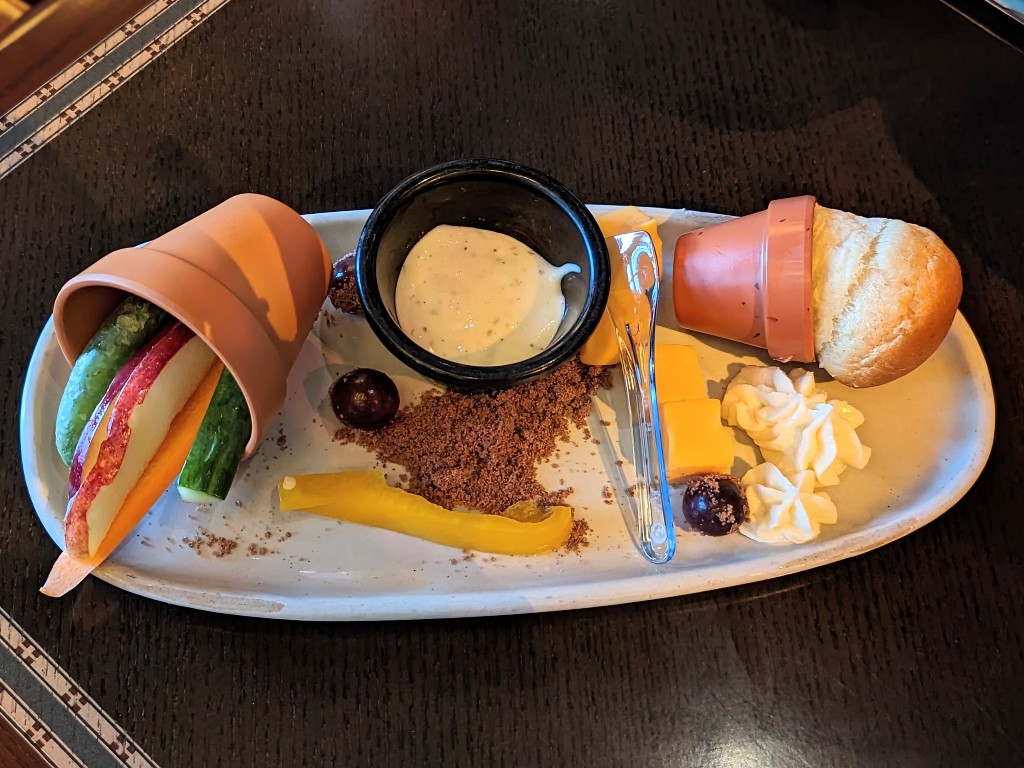 The main menu at Story Book Dining at Artist Point with Snow White, like the one at Akershus, can be overwhelming for picky eaters. Since kids over 10 years old count as Disney adults it can be nerve wracking wondering what they'll eat.
Although my daughter is generally an adventurous eater, there was no way she would eat horseradish mashed potatoes with her prime rib. Before my daughter even asked, our server offered several other potato options.
Servers at Story Book Dining at Artist Point are comfortable making modifications to please different palates. Don't let the adult menu dissuade you from making a reservation.
Kids age 3 to 9 years old have a different menu with a choice of grilled chicken, grilled fish of the day, or prime rib roast. Pair it with simple side dishes like roasted potatoes, carrots, broccolini, mashed potatoes or macaroni & cheese and most kids should find something they like at Story Book dining.
Story Book Dining at Artist Point Characters
Snow White, Dopey, Grumpy, and The Evil Queen usually inhabit the Enchanted Forest at Artist Point. This mix of rare characters makes Story Book Dining at Artist Point a popular Disney World character meal.
Although guests are given an autograph card, characters still sign items. We opted for an autograph pillowcase most recently, but also like autograph ornaments.
Snow White, Grumpy, and Dopey rotate through the restaurant while The Evil Queen makes you come to her. During a meal these three friendly characters also take a break and dance around entertaining guests.
Snow White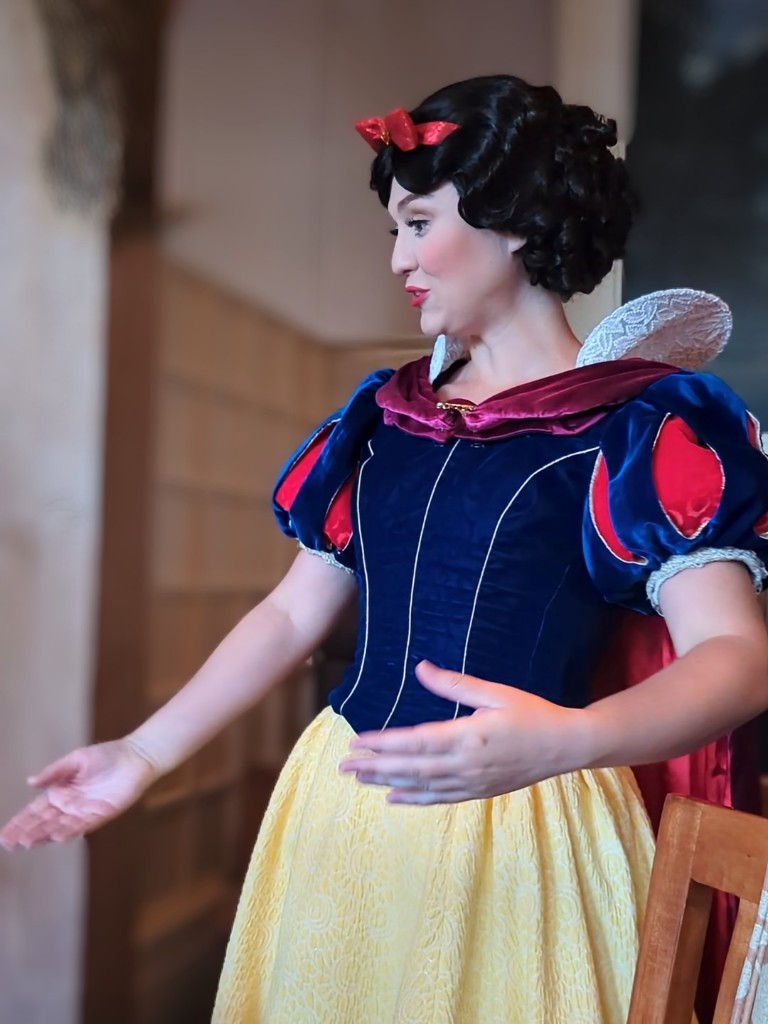 As sweet as gooseberry pie, Snow White travels the forest visiting guests at each table. She is soft-spoken and friendly when interacting with guests of all ages.
Dopey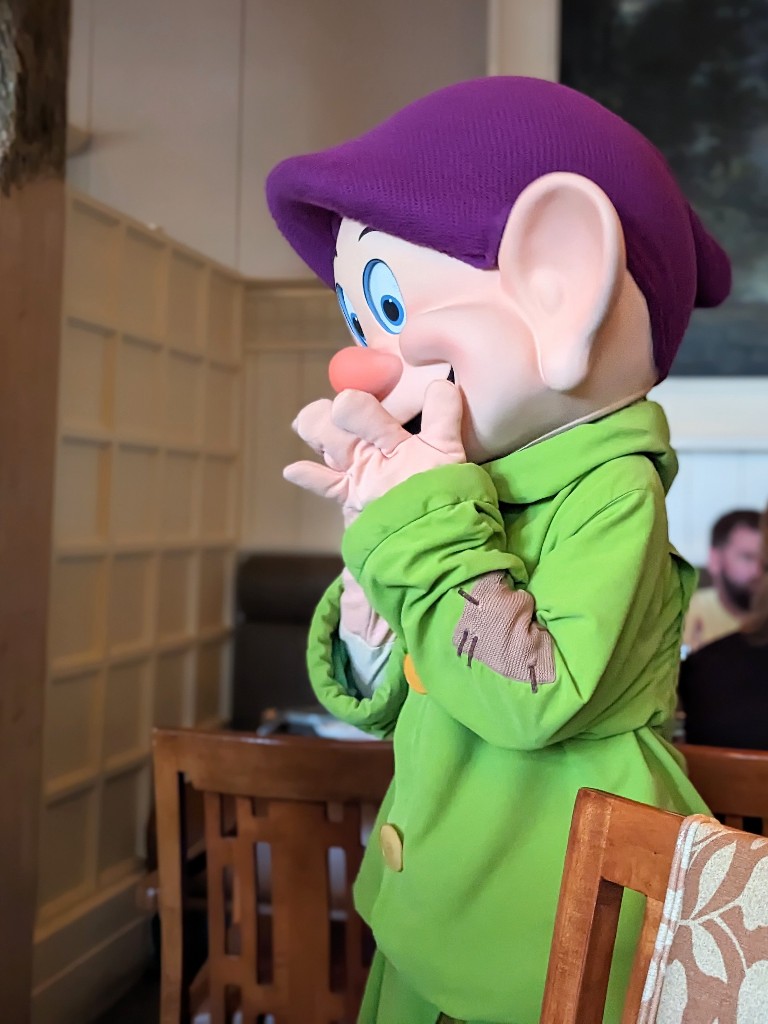 Need a good hug? Dopey's world famous hugs are just one reason to love this adorable dwarf.
Grumpy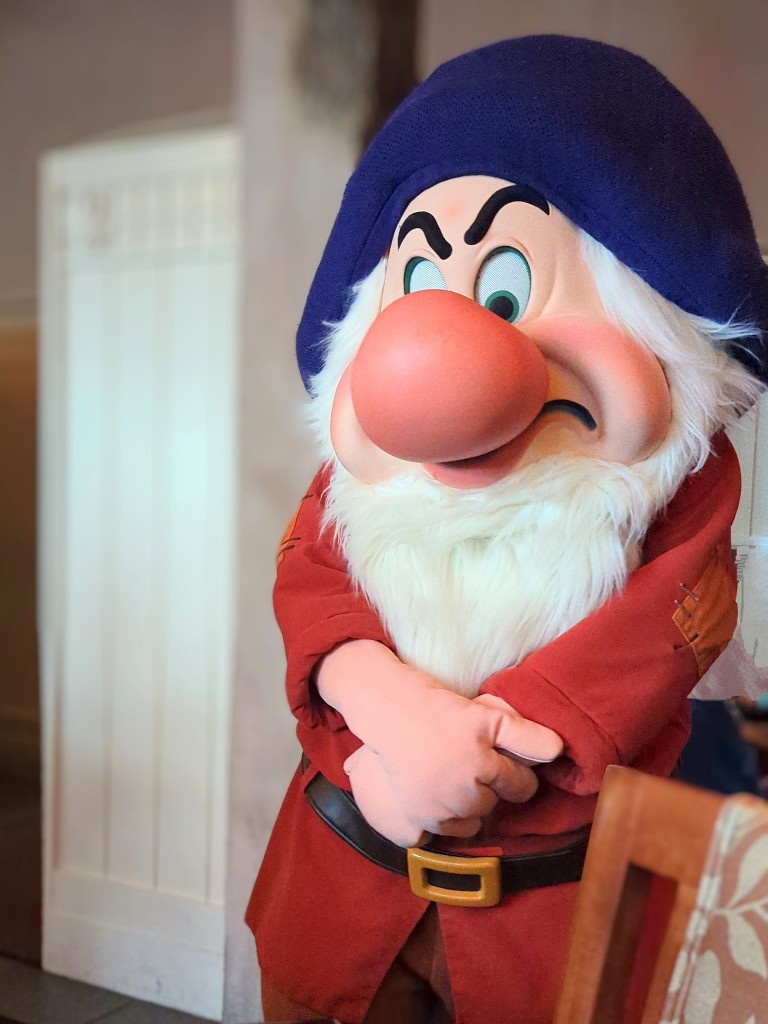 His name is Grumpy for a reason and his interactions are somehow both sweet and sour. Grumpy can be a lot of fun, but also a little intimidating for some kids.
When asked to sign our autograph pillow case he huffed, crossed his arms, and pouted before relenting.
The Evil Queen
Receive a special invitation to meet The Evil Queen during your meal. Your server will time your audience with the Queen to avoid missing any of your meal.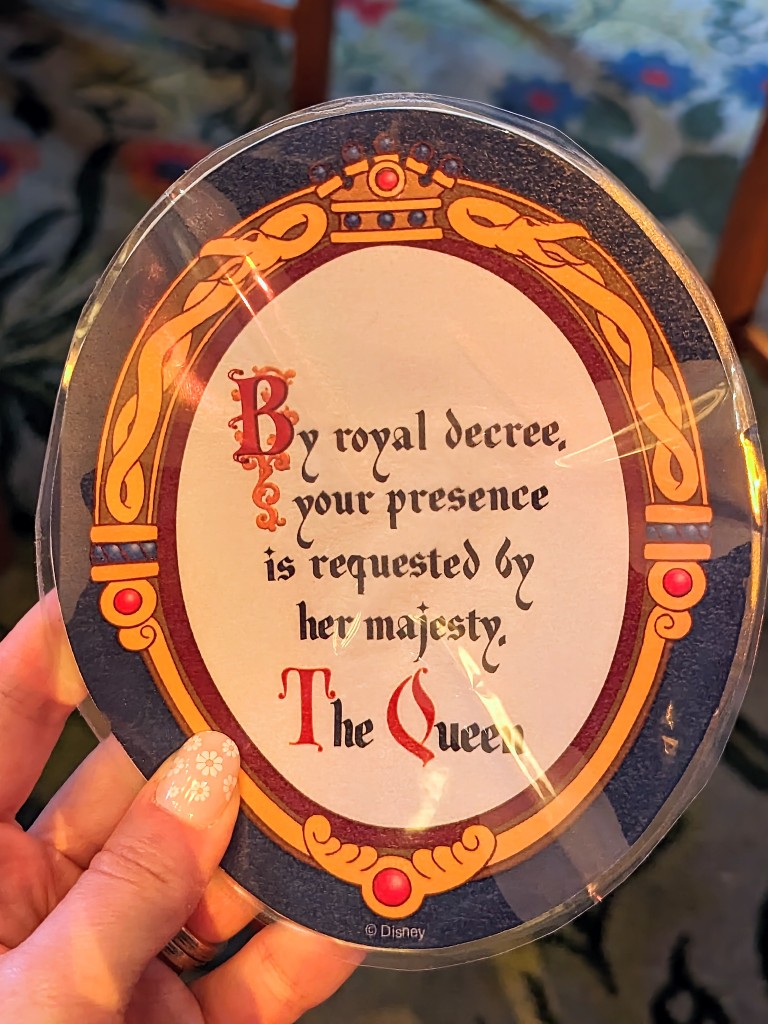 Take the invitation, and your resolve, to the center of Story Book dining where the Queen awaits in front of a storybook backdrop.
Expect The Evil Queen to stay in character during interactions. Elizabeth curtsied before talking to her and the Queen merely chastised her for a "meager attempt".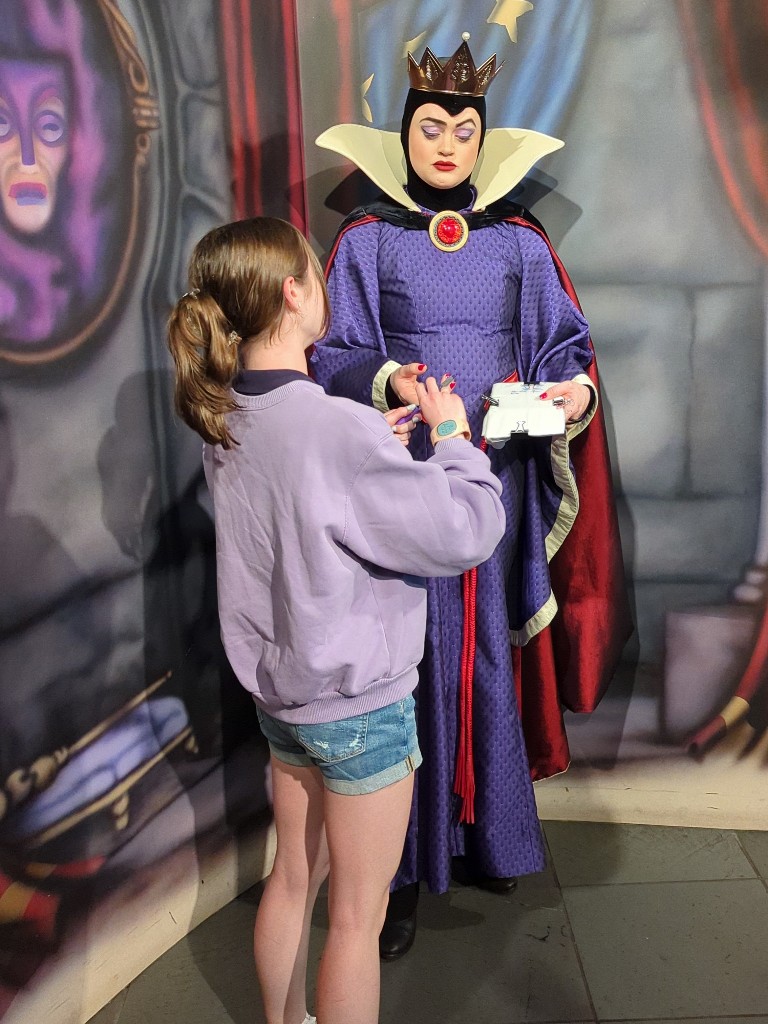 I asked the Queen how to keep people from talking to me. She stared into my soul and simply replied, "Be unapproachable". It was funny, but could be scary for little ones if they don't expect it.
How Much Does Story Book Dining at Artist Point with Snow White Cost?
An adult dinner, anyone aged 10 years and older, costs $65 per person. Kids age 3 to 9 years old cost $39 per person. Budget a little extra since tax, tip, and specialty drinks aren't included in the base price.
Is Story Book Dining at Artist Point with Snow White Worth It?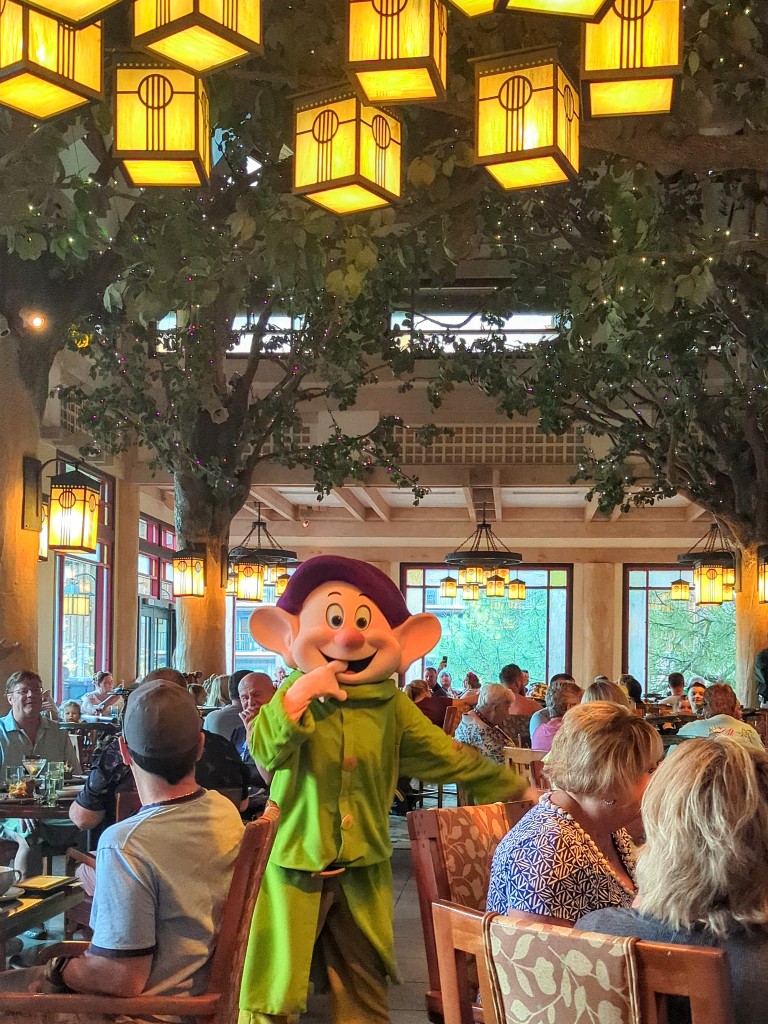 Fans of Snow White and the Seven Dwarfs will love the opportunity to meet The Evil Queen, Dopey, and Grumpy who are all extremely rare characters. We also think the food at Artist Point is quite good for a character meal.
Story Book Dining at Artist Point is also the only character meal with a princess outside a theme park. This makes it a good option for a rest day, or fun dinner for those staying at Wilderness Resort.
However, if you are looking for a more traditional Disney World princess meal I recommend Akershus Royal Banquet Hall in Epcot instead of Story Book Dining. The menu there is more eclectic, but guests generally meet five princesses over the course of a meal.