Tusker House character meals are a great way to meet several Disney friends in a short time at Animal Kingdom. A wide variety of buffet items plus wonderful character interactions make Tusker House one of our favorite Disney World character meals.
Tusker House Overview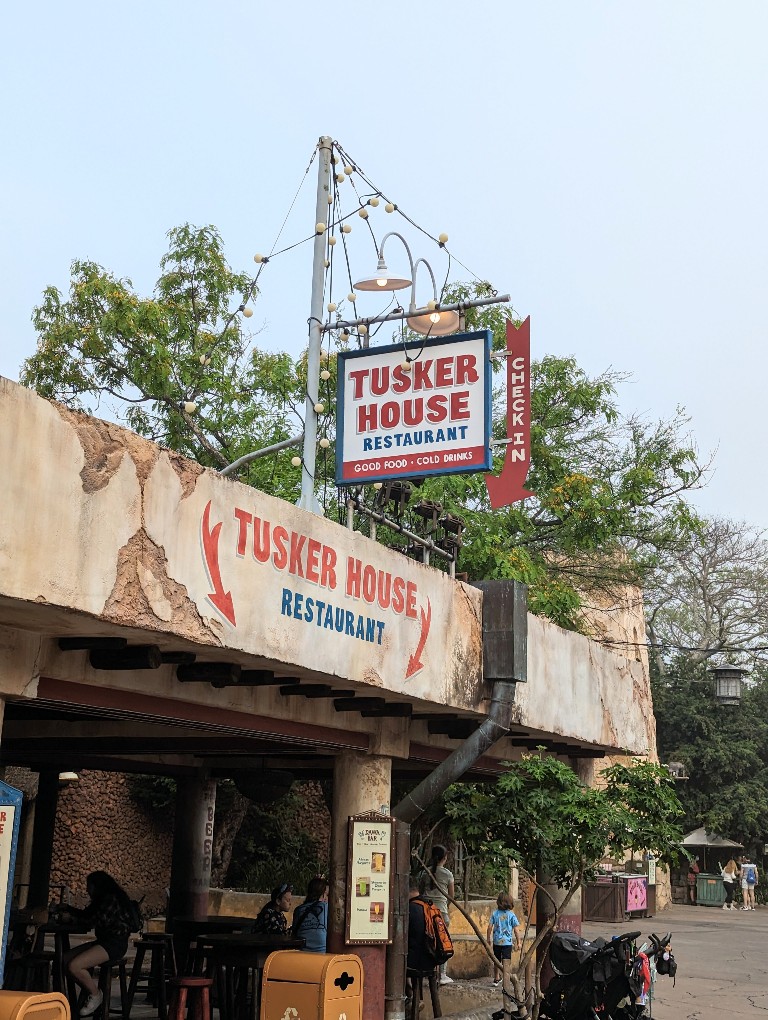 In Animal Kingdom, not far from Lion King's Harambe Theater, Tusker House is hidden behind Dawa Bar. This humble entrance disguises the restaurant's immense size and unique styling.
Check in for reservations via the Disney World app or at a small desk next to Dawa Bar. Get a text message, or app push notification, when your table is ready. Then it's time to take a secret-like path to the restaurant.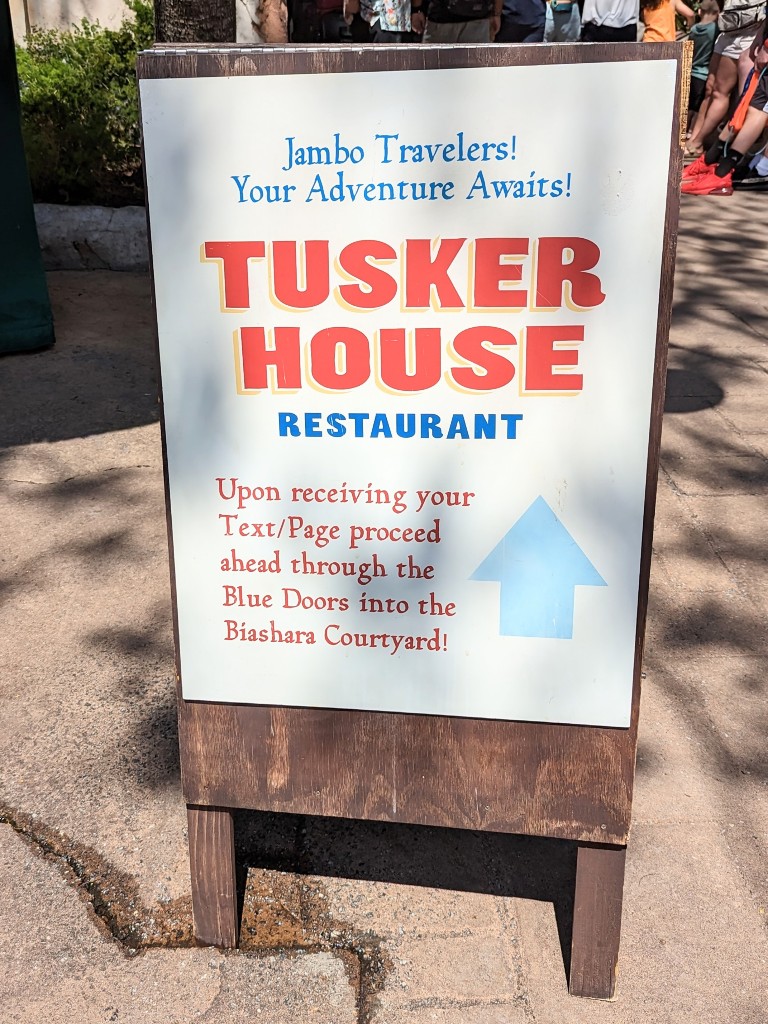 Upon entering Tusker House, an exciting marketplace atmosphere immediately greets guests.
The faux open air market is shaded by bright textiles and surrounded by an authentic looking two story building which hosts the buffet area. Each dining room has a different style, but maintains the overall aesthetic.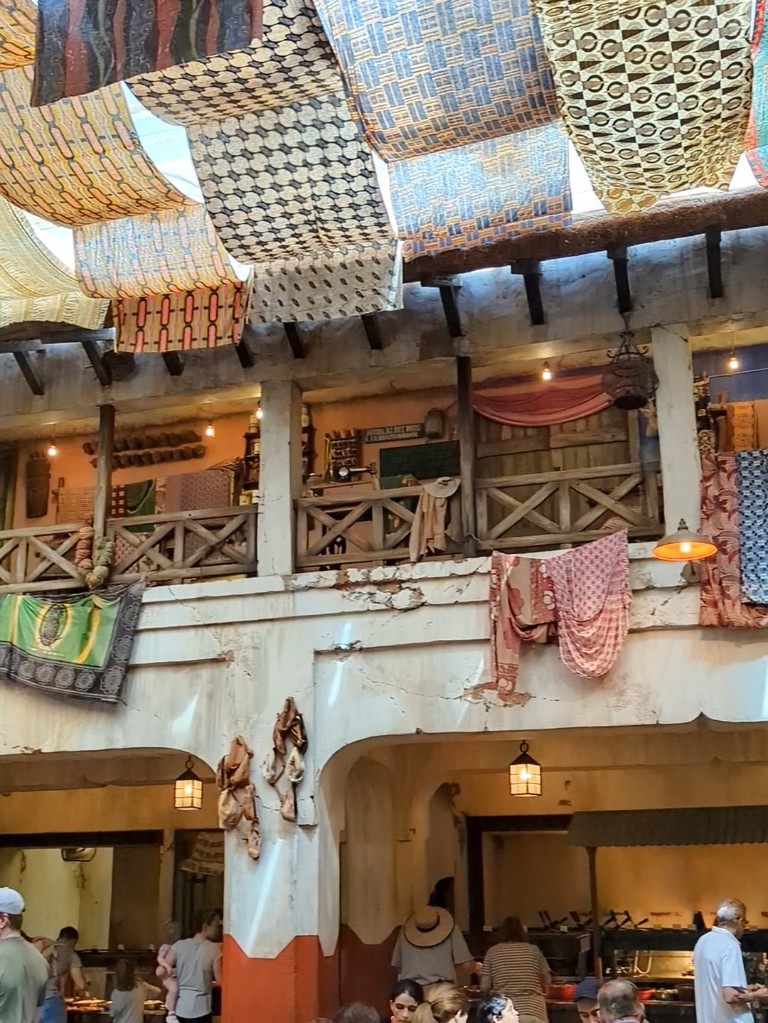 Cast members lead you to your table and let you know which characters to expect during your meal. Donald Duck is the host of Tusker House meals, but he's usually joined by Mickey, Daisy, and Goofy.
Once seated, enjoy the all you care to eat buffet while waiting for the characters to make their rounds. 
Tusker House Meal Review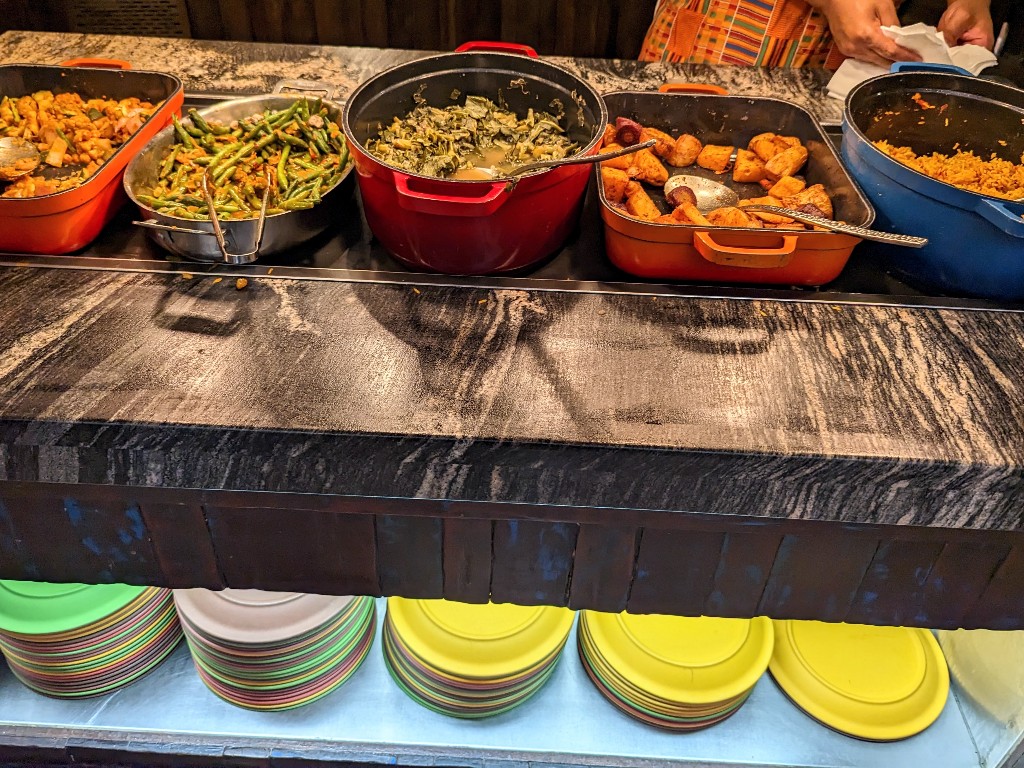 African-inspired cuisine is evident in each of the menus. This inspiration is most obvious during lunch and dinner, but breakfast also has an egg curry on the menu. 
Even if some of your group are picky eaters, don't let the menu stop you from doing a Tusker House character meal. There are several simple food options available for breakfast, lunch, and dinner that work for all but the pickiest palates.
Animal Kingdom Tusker House Breakfast
For extremely picky eaters the large breakfast buffet is usually the safest option.
Find an assortment of Mickey and Simba waffles, overnight oats, eggs, yogurt, fruit, bacon, sausage, breakfast pastries, and more. 
Tusker House Lunch and Dinner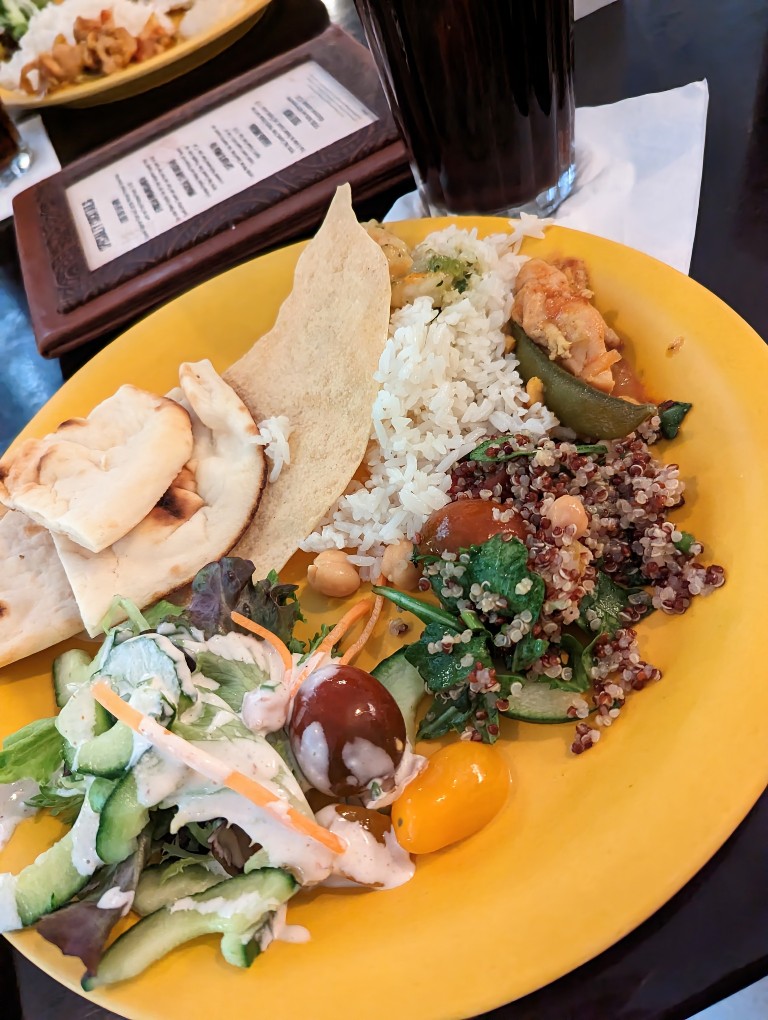 Adventurous eaters can try special buffet items like green curry shrimp, Za'tar braised beef, red chicken curry, quinoa salads, and marinated pork. Although many of these specialty dishes are tasty, they are not as true to the inspiration as foods we've tasted elsewhere.
In addition, there's fan favorites like regular salad, mashed potatoes, roasted chicken drumsticks, mac and cheese, green beans, and corn dog nuggets. These are good options for those who are hesitant to try the African-inspired cuisine.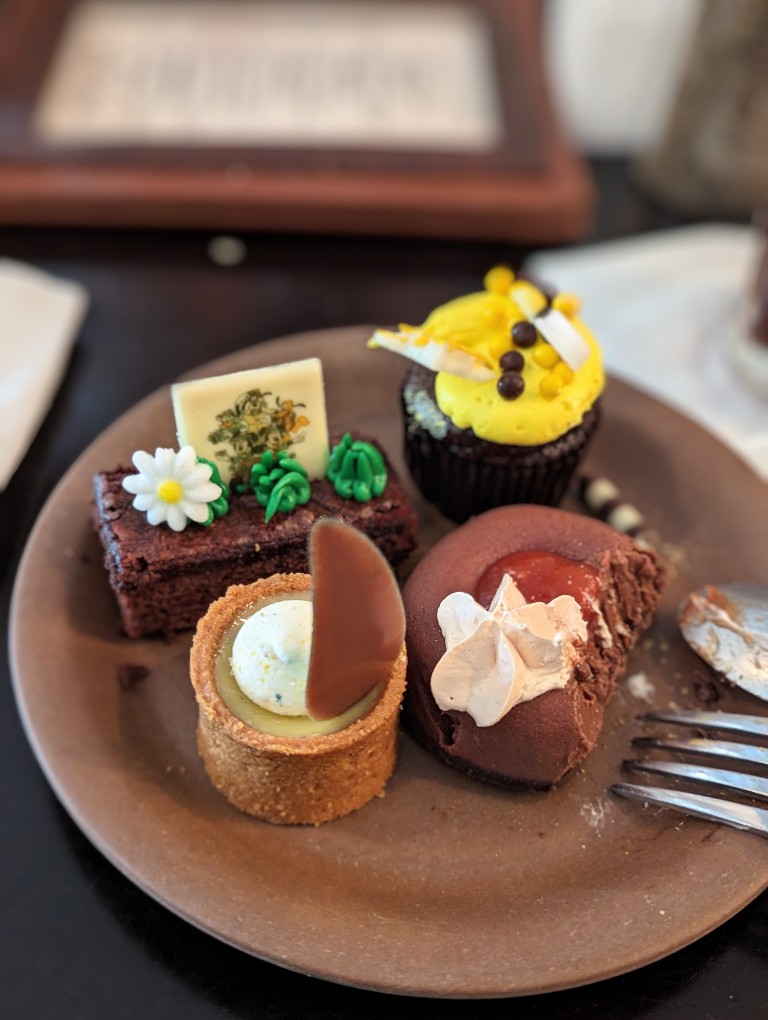 After you've had your fill for lunch and dinner stop back at the buffet for dessert. There are several good options, but the surprising stand out is the vegan chocolate mousse. The mousse, served on a thick bed of hardened chocolate, is so rich and creamy we each ended up going back to get our own.
Tusker House Characters
Expect Donald, Daisy, Goofy, and Mickey during your meal. However, on our most recent visit Daisy was not a guarantee. She ended up arriving during our meal, but it is important to remember that the characters at meals are always subject to last minute changes.
The characters rotate through each of the Tusker House dining rooms. Ask your server their usual route to strategically plan when to go get food at the buffet.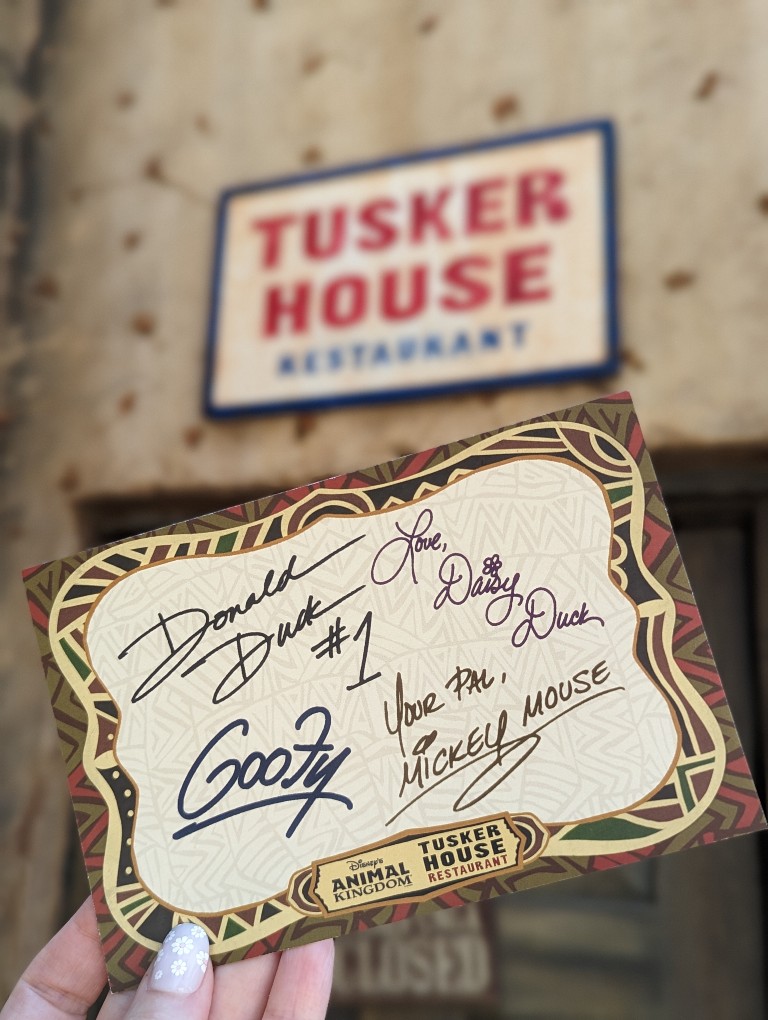 At the start of the meal you're given a laminated card with all the character's autographs. This is a cool keepsake, but characters also sign individual items at your table.
Periodically, the characters do a dance through the restaurant. We loved how Goofy danced with one of the servers during this part of the meal.
Donald Duck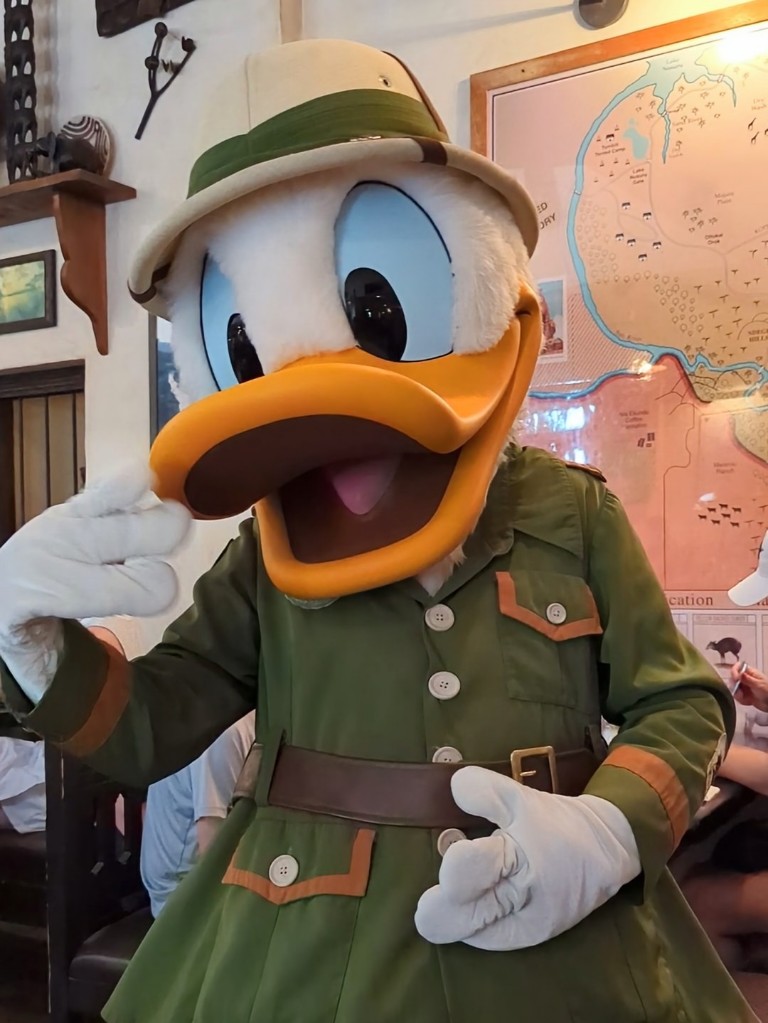 At Tusker House Donald Duck really is #1 since he is your enthusiastic host. His over-the-top interactions are fun for all ages.
On our most recent visit, Donald plopped down in our empty chair and "told" us he was tired from working so hard. It was such a funny interaction that I wish I'd been prepared to take video of the experience.
Daisy Duck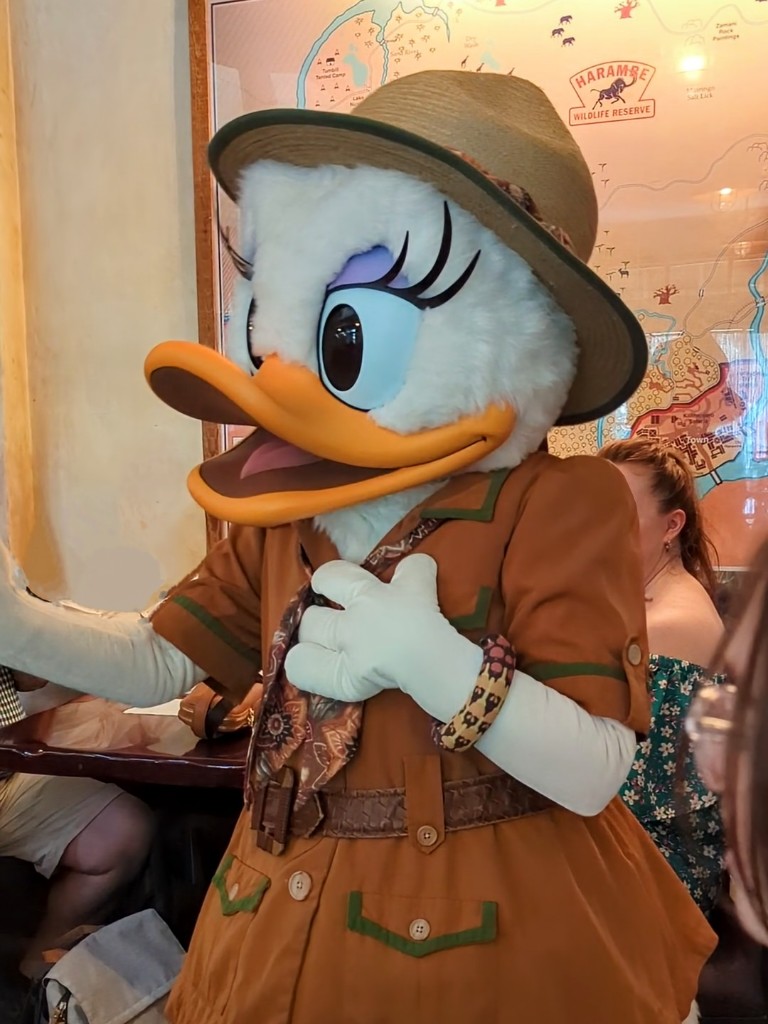 Daisy sauntered over to our table where she joyfully signed our Disney character autograph pillowcase. Then she took a moment to strike a pose with Elizabeth, give a sweet hug, and then moved on to her next set of adoring fans.
If Donald and Daisy cross paths they always interact with each other in adorable ways. Sometimes it is a quick kiss, big hug, or a little dance.
Mickey Mouse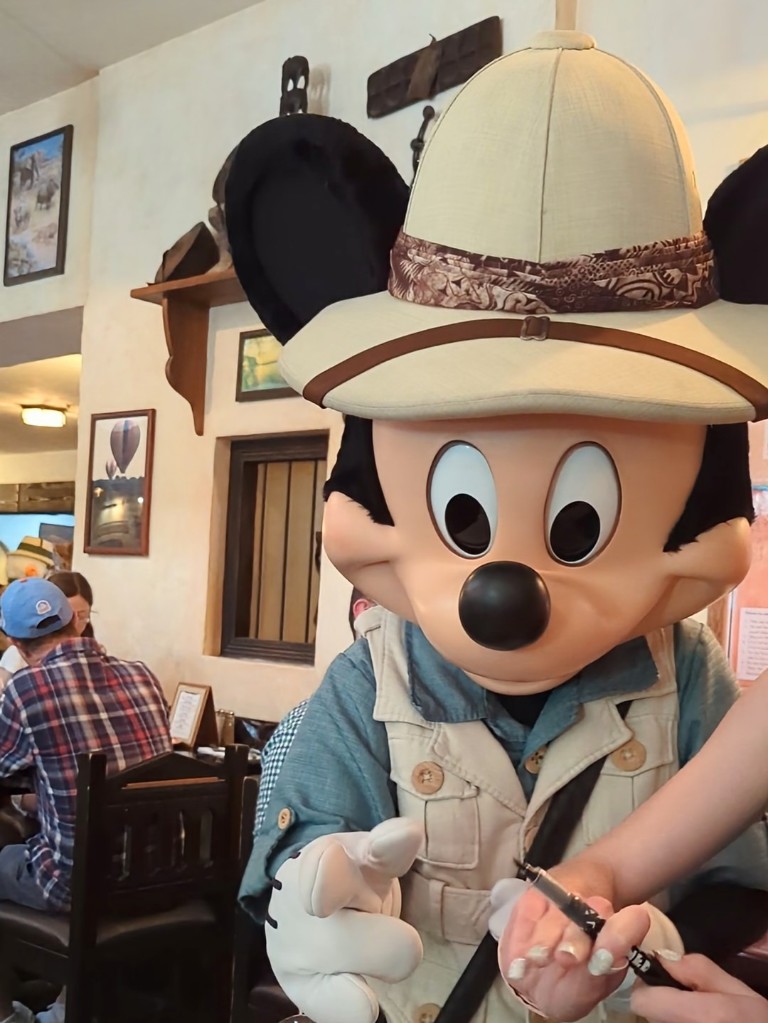 When Mickey came to our table he immediately hugged Elizabeth. Then he happily signed her pillowcase before posing for some photos.
Goofy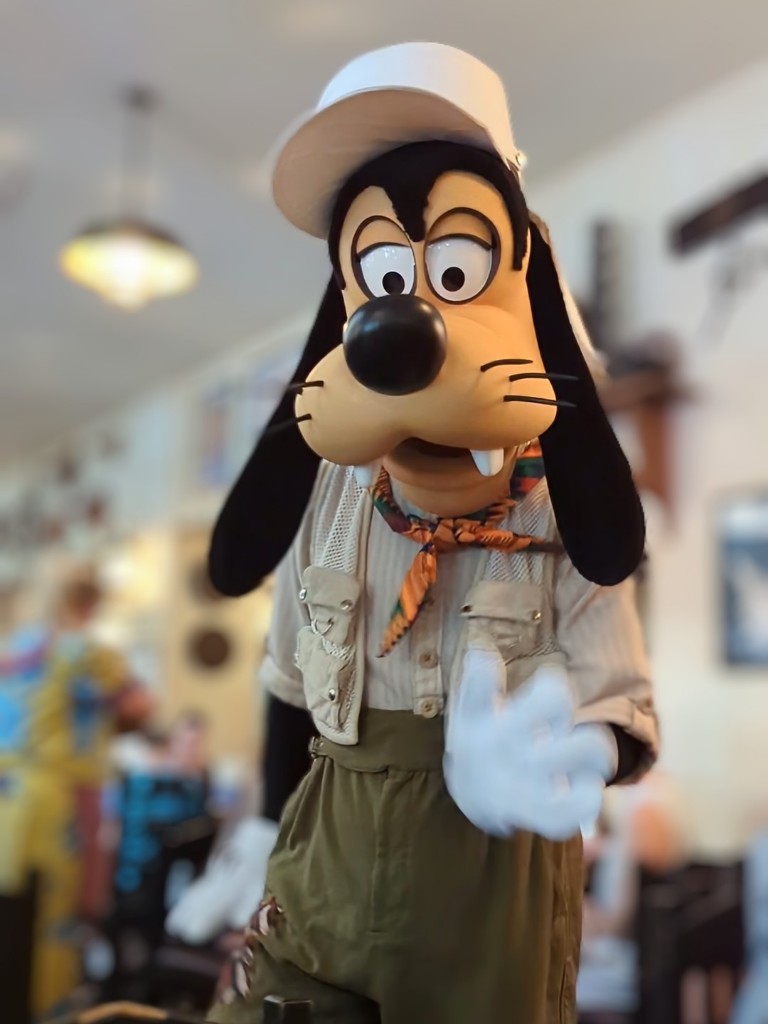 Not only did Goofy dance with our server he offered to twirl Elizabeth, too. We found that Goofy consistently has animated interactions and a fun energy when interacting with guests. The biggest worry when meeting Goofy is he might accidentally bump you with his large nose.
How Much Are Tusker House Character Meals?
Breakfast is $45 per person for anyone aged 10 years and older while kids aged 3 to 9 years pay $29 per person.
Tusker House lunch and dinner is $59 per person for those 10 years or older, but kids aged 3 to 9 years pay $38 per person.
Tusker House Character Meal Reservations
The best way to experience Tusker House is booking a dining reservation 60 days before the start of your Disney World vacation. If staying on-site, book up to 10 days of reservations starting 60 days prior to your first day.
Off-site guests are at a slight disadvantage since reservations must be made exactly 60 days before your Animal Kingdom day. 
If Tusker House reservations are not available when your booking window opens there are a few options available. Keep checking the Disney World app for last minute reservations, pay a reservation finding service, or try joining the "Walk-Up List" once inside Animal Kingdom.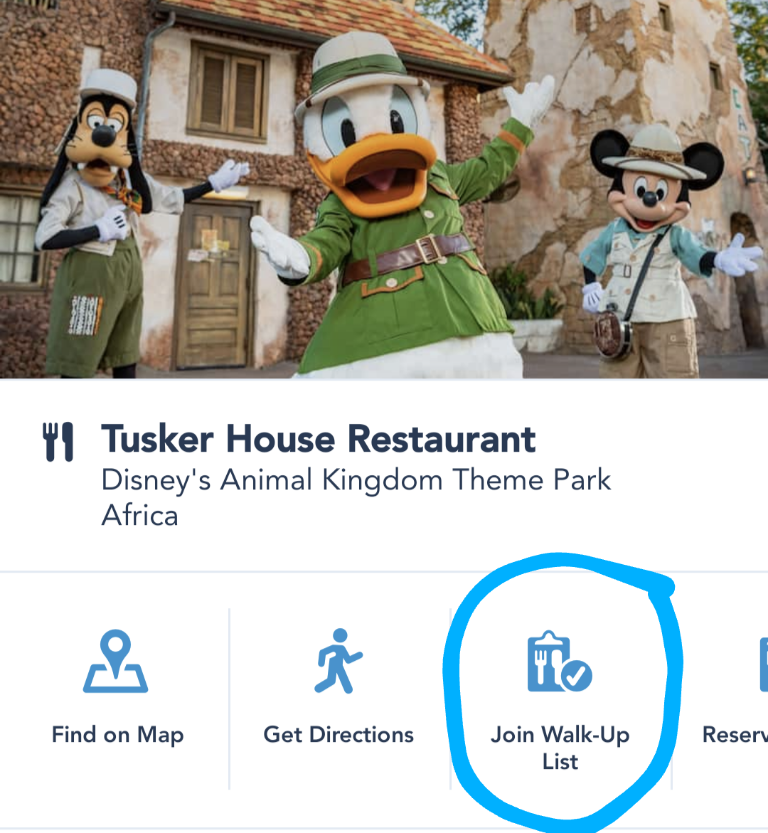 Search for Tusker House in the Disney World app and find the walk up list. If walk up spots are available, click on the icon, provide the necessary information, and then enjoy your meal.
Final Thoughts on Tusker House Character Meals
Tusker House character meals combine fun character meet and greets, a cool atmosphere, and a meal for a great overall experience. We think the Tusker House character experience makes up for the okay, but not outstanding meal.
Tusker House is a great option for fans of Mickey, Daisy, Donald, or Goofy who can't score a dining reservation for other popular character meals or those who want efficient character interactions at Animal Kingdom.
We always have a good time and can't wait for our next character meal here.