Disneyland Hotel is the original on-site hotel for Disneyland in California and first opened in 1955. The hotel is touted as classically charming and full of fun details, but would staying at Disneyland Hotel live up to our expectations? Find out everything we loved, and didn't love, in our full Disneyland Hotel review.
Disneyland Hotel Location
The Disneyland Hotel is located across the street from Downtown Disney. The hotel is within easy walking distance to both Disneyland Park and Disney California Adventure through Downtown Disney.
Disneyland Hotel Overview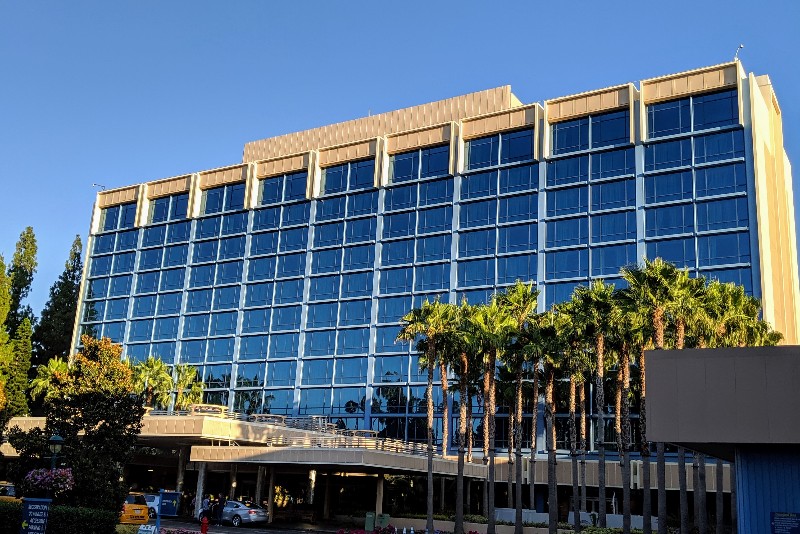 Walking into Disneyland Hotel the mid-century modern style is immediately evident. The beautiful outdoor furniture in front of the hotel exudes an upscale, retro vibe and this continues inside the hotel with the wall-sized vintage Disneyland Hotel map .
The welcoming Disneyland Hotel lobby is large and airy with an adorable waiting area. The chairs and tables look like two halves of a tea cup from Mad Tea Party and the table resembles the wheel to spin the tea cup.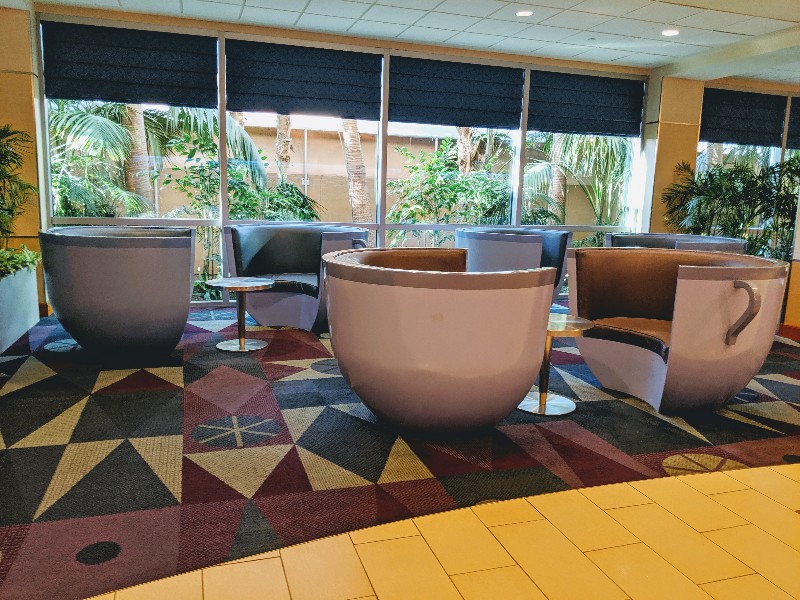 The elevator lobby continues the luxurious, but retro feel with framed pictures of celebrities visiting Disneyland Park when it first opened. Just past the elevator lobby are the two gift shops and entrance to the Disneyland Pool area.
Disneyland Hotel has rooms in three towers and each one is named for an area of Disneyland Park. Fantasy Tower is connected to the lobby while Frontier and Adventure towers are located in adjacent buildings.
Disneyland Hotel Pools And Waterslides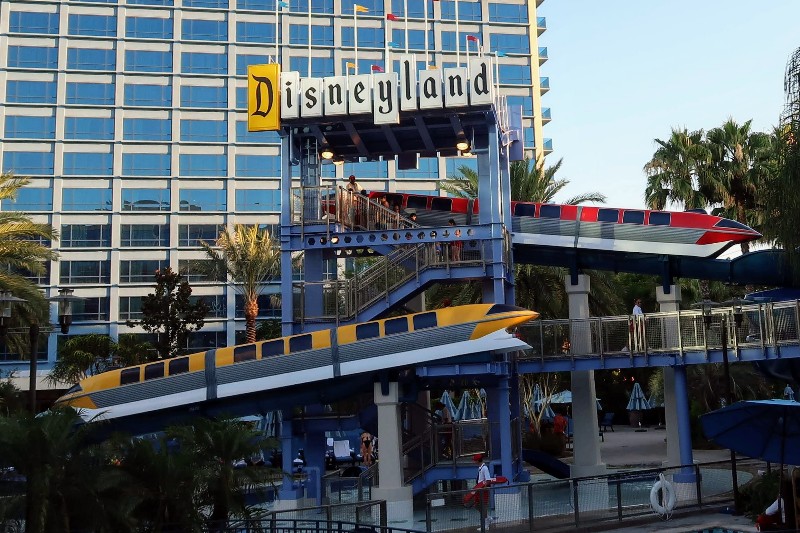 The Disneyland Hotel has two pools centrally located to the 3 hotel towers. Perched under the iconic Disneyland sign are two waterslides modeled after the first Disneyland monorails.
Dining
There are several dining options at Disneyland Hotel. There is fine dining at Steakhouse 55, casual bites and drinks near the pool, and even character meals at Goofy's Kitchen. Here's a link to all of the current Disneyland Hotel dining options.
Disneyland Hotel Room Review
Disneyland Hotel Bedroom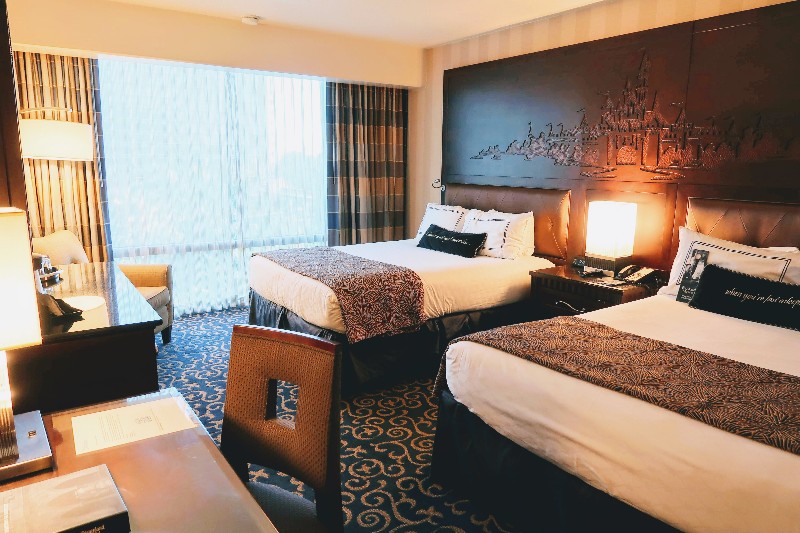 There are 3 different room configurations in a traditional Disneyland Hotel room. There are 2 queen beds plus 1 Day Bed capable of sleeping 5 people or 2 queen beds or 1 king bed options. Our Disneyland Hotel room had the 2 queen bed layout.
Entering your Disneyland Hotel room there is a closet on one side of the hallway and a bathroom on the other. If you have a connecting room, the door is just past this hall area. Non-connecting room have a long shelf with a coffee station instead. Connecting rooms have the coffee station on the dresser.
Our room had a desk with a chair, a dresser with storage and mini-fridge, an upholstered chair, and two queen beds with a bedside table between the beds. The mini-fridge was pretty small, but still easily fit a half gallon of milk, several bottled waters, and a bowl of cut fruit.
Hands down the coolest part of a Disneyland Hotel room is the light-up firework headboard over the two beds. With the push of a button a music-box version of "A Dream Is A Wish Your Heart Makes" plays while "fireworks" light up the headboard.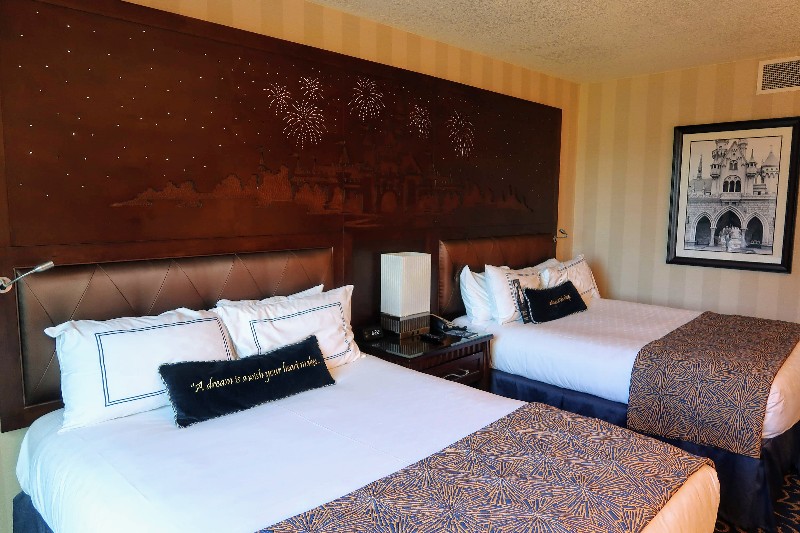 The beds are covered in crisp white bedding with a subtle Mickey head pattern. Elizabeth loved that the accent pillows were each part of a lyric from "A Dream Is A Wish Your Heart Makes".
There are plenty of plugs on the desk and bedside table ensuring everyone's devices get charged while in the room. We also used the desk as a breakfast station before heading to the parks each morning.
Disneyland Hotel Bathroom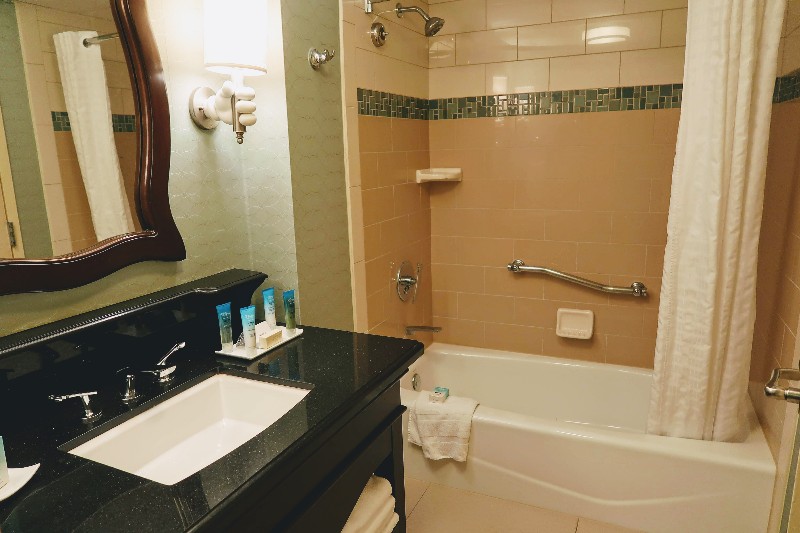 The Disneyland Hotel bathroom is split into two areas: sink/shower and toilet closet. You enter the sink and shower area off of the main hallway. The toilet is in a separate room which is always a nice feature. I love a split bathroom as it helps multiple people get ready simultaneously. Unfortunately, the Disneyland Hotel split bathroom set-up is not as good as the studio villa bathroom at Disney's Grand Californian.
Disneyland Hotel bathrooms have some fun details like Mickey gloved hands holding the sconces. Even the bathroom sink and tub fixtures have Mickey head levers.
One thing I love about the Disneyland Hotel bathroom is the regular door to close it off from the rest of the room. Having a real door to close between the bathroom and bedroom makes it easier to get ready in the morning without waking the rest of my family.
Disneyland Hotel Room View Options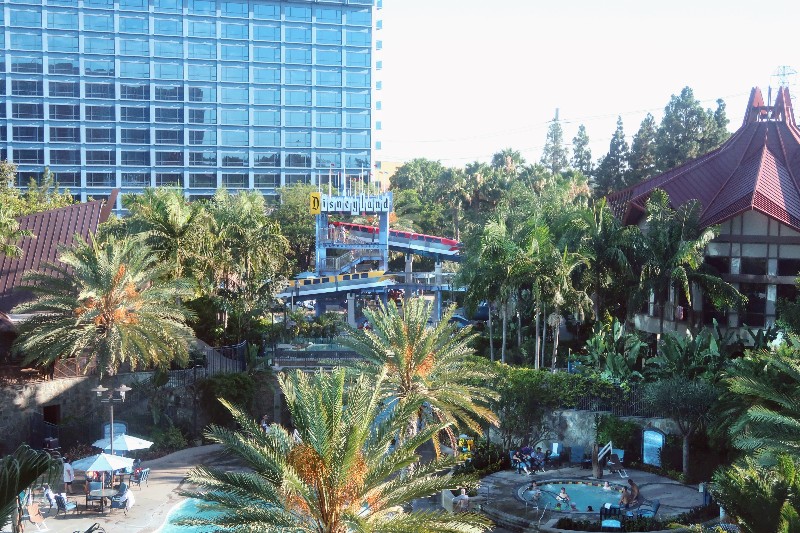 Standard rooms at Disneyland Hotel generally overlook trees or parking lots. Despite booking a standard view room we were lucky to have a view that overlooked the picturesque Disneyland Hotel pool. This pool view normally requires reserving a preferred or deluxe view room at the Disneyland Hotel. The fourth view option at Disneyland Hotel is the Premium Downtown Disney View option.
We were extremely happy with the pool view from our room. I would certainly book a preferred or deluxe view room next time to ensure we get a similar view.
Our Disneyland Hotel room had the following great features:
Great pool view
Spacious room
Adorable Disney details throughout the room
Mini fridge
Black out curtains
Easy walk to Downtown Disney, Disneyland Park, and Disney California Adventure
Take a virtual tour of Disneyland Hotel and our room in this video:
Disneyland Hotel In Room WiFi
There is complimentary in-room WiFi for all Disneyland Hotel guests.
Disneyland Hotel Parking
Hotel parking costs $25 per night for self-park or $35 per night for valet. When checking in there is a small parking lot where you can leave your car briefly to easily unload.
Disneyland Hotel Transportation To Parks
Disneyland Hotel is a short walk to Downtown Disney, Disneyland Park, and Disney California Adventure. The walk from Disneyland Hotel to either park entrance took us about 10 minutes. You can also grab a monorail ride from Downtown Disney into Disneyland Park to save some walking.
Final Thoughts On Our Disneyland Hotel Review
There are three on-site Disneyland resort options: Disney's Grand California, Paradise Pier, and Disneyland Hotel. After staying in all three resorts we think that Disneyland Hotel strikes a perfect balance of comfort, price, and Disney theme.
Easy access to Downtown Disney, a short walk to Disneyland and California Adventure, and overall style of the hotel makes Disneyland Hotel a great on-site Disneyland resort choice.
Are you ready to book a Disneyland trip? Head over to our preferred travel partner Get Away Today to reserve your vacation now.
Pin it for later: