Disneyland has three on-site resorts: Paradise Pier Hotel, Disneyland Hotel, and Disney's Grand Californian Hotel and Spa. Each of these on-site Disneyland hotels come with a different price point. We have previously stayed off-site at a HoJo and a Courtyard Marriott on Harbor Boulevard, but wanted to finally stay on-property at Disneyland. This is our honest Paradise Pier Hotel review.
Location
Disney's Paradise Pier Hotel is the furthest on-site Disneyland hotel from the parks but provides easy access to Downtown Disney.
Overview
Paradise Pier Hotel at Disneyland has relaxed, beachy decor throughout the hotel and rooms. This hotel is the least expensive on-site resort of the three options. Originally built and opened by another hotel group, Disney re-branded the resort as Paradise Pier in 2000.

There are definitely Disney touches found throughout the hotel, but I will say that it does not have the same Disney feel as other resorts at Disneyland or Disney World we have visited.
The main entrance of Paradise Pier Hotel has the front desk and a small lobby. The lobby has a gift shop, the Surfside Lounge for quick food options, and Disney's PCH Grill for a character breakfast or a non-character buffet dinner.
Although a bit random, I want to tell you about the elevators. The elevators are a little unusual at Paradise Pier Hotel. Instead of pressing an up or down elevator call button you actually choose the desired floor of the hotel before boarding. The call screen will then direct you to the correct elevator bay. Once you enter the elevator it takes you to the correct set of floors based on the occupants.

Paradise Pier Hotel Pool Area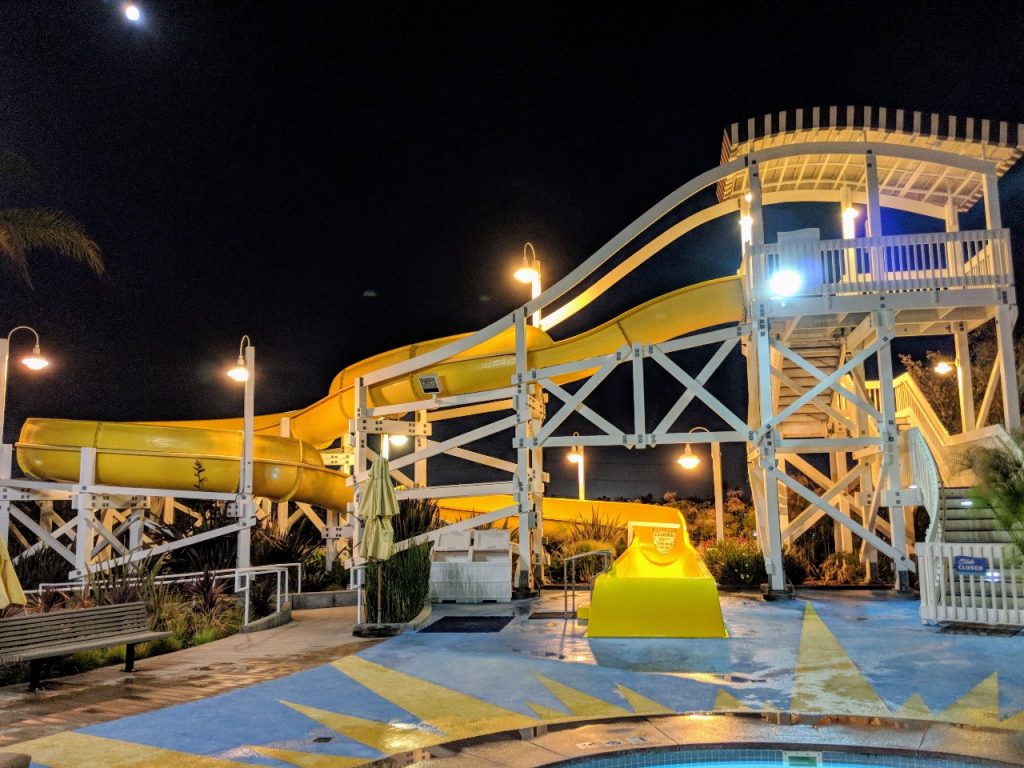 The Paradise Pool is located on the third floor of Paradise Pier Hotel. It has a large main pool, a mini pool for younger kids, a large water slide, and a small hot tub. The Sand Bar is located steps from the main pool and serves cocktails, sandwiches, and snacks throughout the day.
At night come back up to the Paradise Pier Hotel pool deck to watch the Disneyland Park fireworks. There is a dedicated viewing area near The Sand Bar.  Staff suggest you should claim a fireworks viewing spot on the pool deck about 30 minutes prior the the start of the show. 
Dining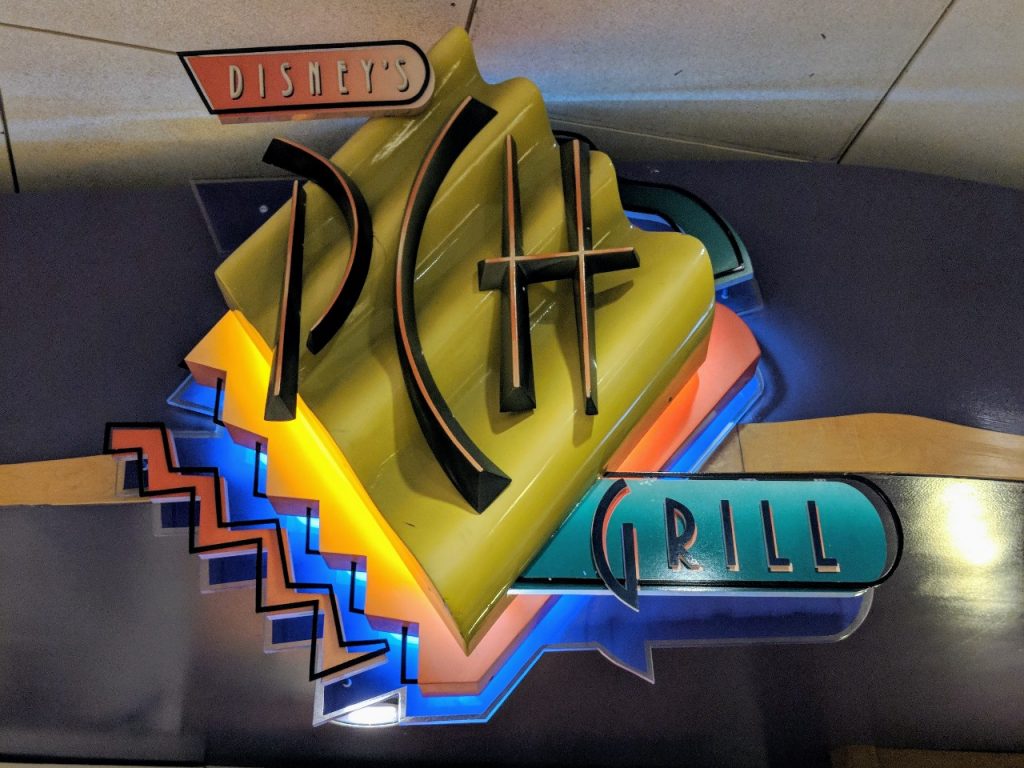 Disney's PCH Grill
PCH Grill is open daily for breakfast and dinner.  In the morning, Donald Duck's Seaside Breakfast lets you meet some of your favorite characters while you fill up on a large breakfast buffet. Dinner is an Italian themed buffet that does not have any characters.
Use this link to make advanced dining reservations for Donald Duck's Seaside Breakfast.
Pro Tip: Character breakfasts are a great way to finish out a trip when you can not get park time in on your departure day.
Surfside Lounge
Located in the lobby of Paradise Pier Hotel, Surfside Lounge is a quick service spot that serves breakfast, lunch, dinner, and drinks.
The Sand Bar
The Sand Bar serves sandwiches, snacks, and drinks and is located near the pool.

Paradise Pier Hotel Standard Room Review
We chose a Paradise Pier Hotel standard view room. Our room had two queen beds and a daybed which was perfect for my mom, daughter, and me.
Please note: The standard room can have either of the following configurations: 2 Queen Beds and 1 Day Bed or 1 King Bed and 1 Queen-Size Sleeper Sofa.
Our standard view room at Paradise Pier Hotel had a mini-fridge (no freezer), plenty of drawer space, and ample room for us. Normally the accent pillows on the beds are beach balls to keep with the theme, but we visited during Pixar Fest and the opening week of Pixar Pier. Instead of the beach ball pillows ours were Luxo balls which were so cute!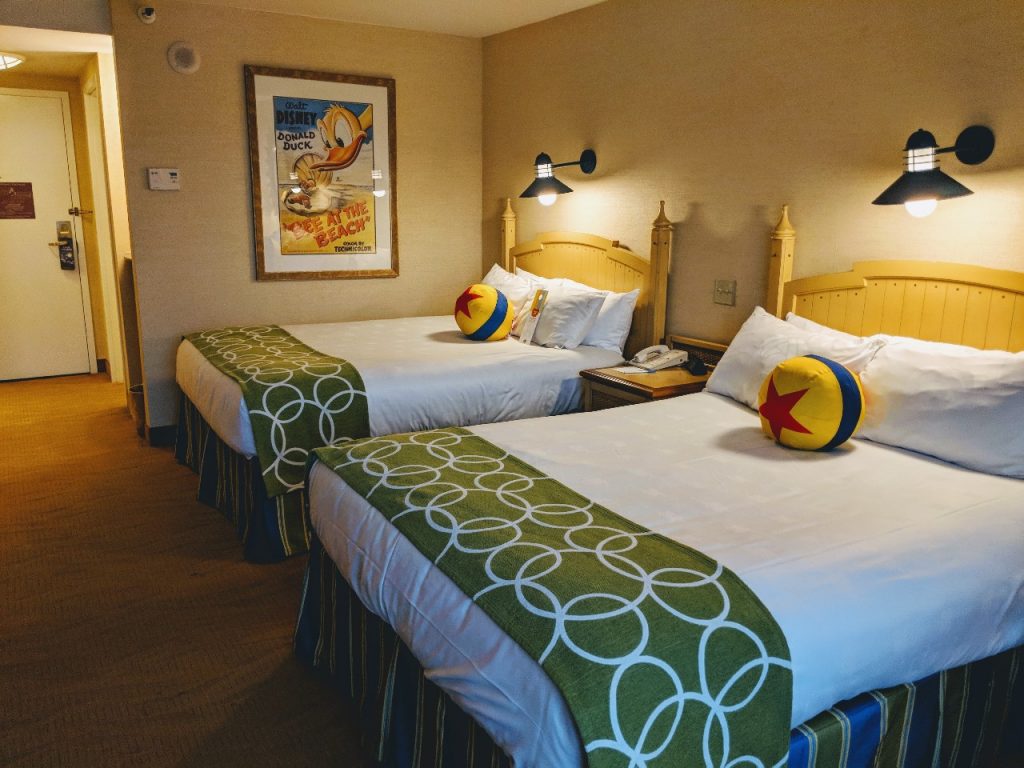 The bathroom was basic, but did have a nice long counter so all three of us girls could spread out as we got ready in the mornings. The beach theme continued in the bathroom with a surfboard shower curtain and lounge chair wallpaper.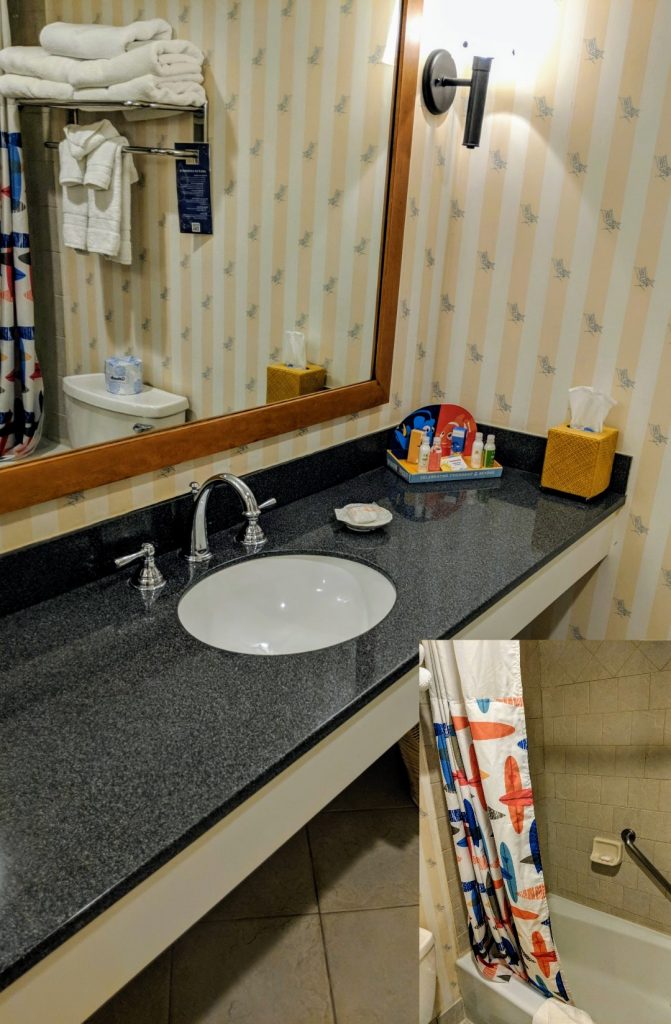 In between the bathroom and the bedroom area there is a small counter with a coffee maker and supplies. We used this counter to hold the handful of food items we kept in the room.
The armoire had drawers for clothes, the TV, and the refrigerator hidden inside a cabinet. The mini-fridge was able to hold several bottles of water plus a half-gallon of milk.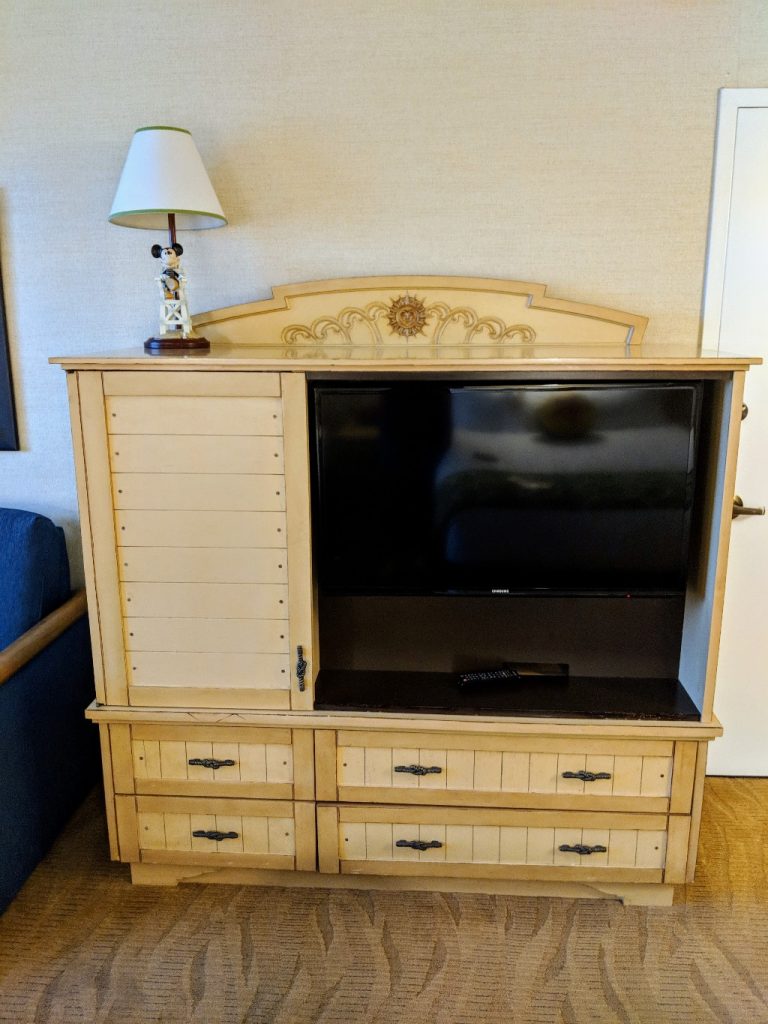 The bedroom arrangement of 2 queen beds plus the daybed meant we each had our own bed. This sleeping configuration made everyone extra comfortable! Our room also had a pack-and-play in the closet for those with babies or toddlers.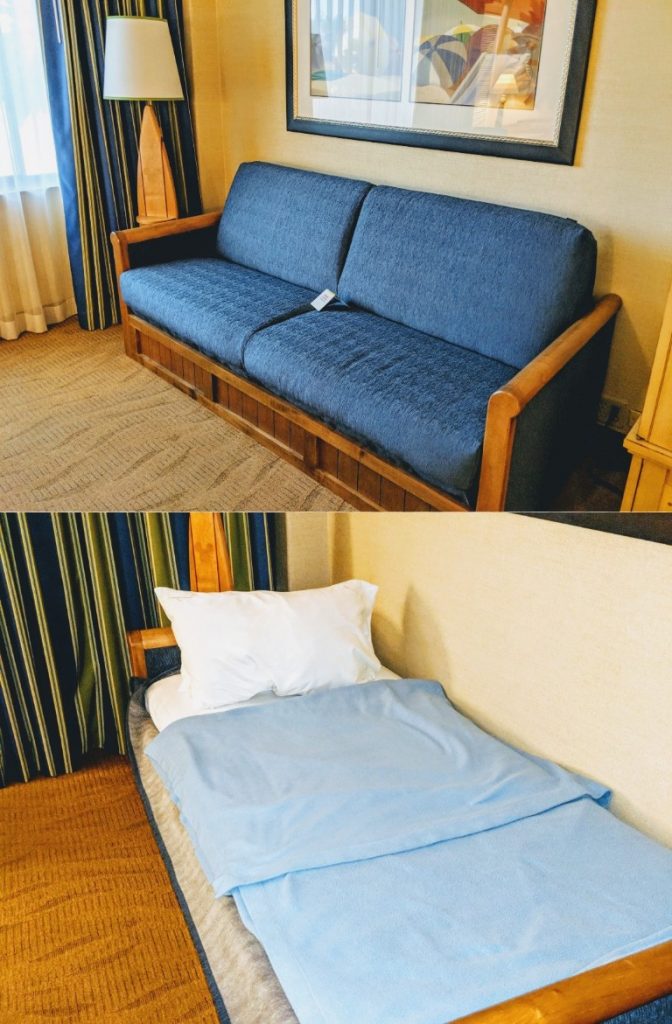 The desk has one of my favorite features of Disney resorts. Underneath the traditional large desk is a smaller rolling desk. Elizabeth noticed this a few trips ago and it is a great feature!
We rolled this little desk out and over to the daybed. Two of us sat on the daybed and one on the desk chair to eat our  breakfast each morning in the room.
WiFi
Paradise Pier Hotel provides free in-room and poolside WiFi for hotel guests. This WiFi works for simple tasks like email or social media, but is not capable of streaming videos through services like Netflix.
Parking
Self-parking for hotel guests is $20/night. Valet parking is available for hotel guests at a cost of $30/night. Guests with dining reservations at the hotel may park at no charge for up to three hours with restaurant validation.
Transportation to Parks
Walk
Disneyland's Paradise Pier Hotel is located within walking distance to Disneyland Park and Disney California Adventure. The walk took us about 15 minutes each morning from hotel room to entrance of the park.
Monorail
There is a monorail line that runs from the west side of Downtown Disney into Tomorrowland in Disneyland Park. We loved this option on the days we were going to Disneyland since we saved steps and could start making our MaxPass reservations before actually reaching the parks.
Paradise Pier Hotel Review Final Thoughts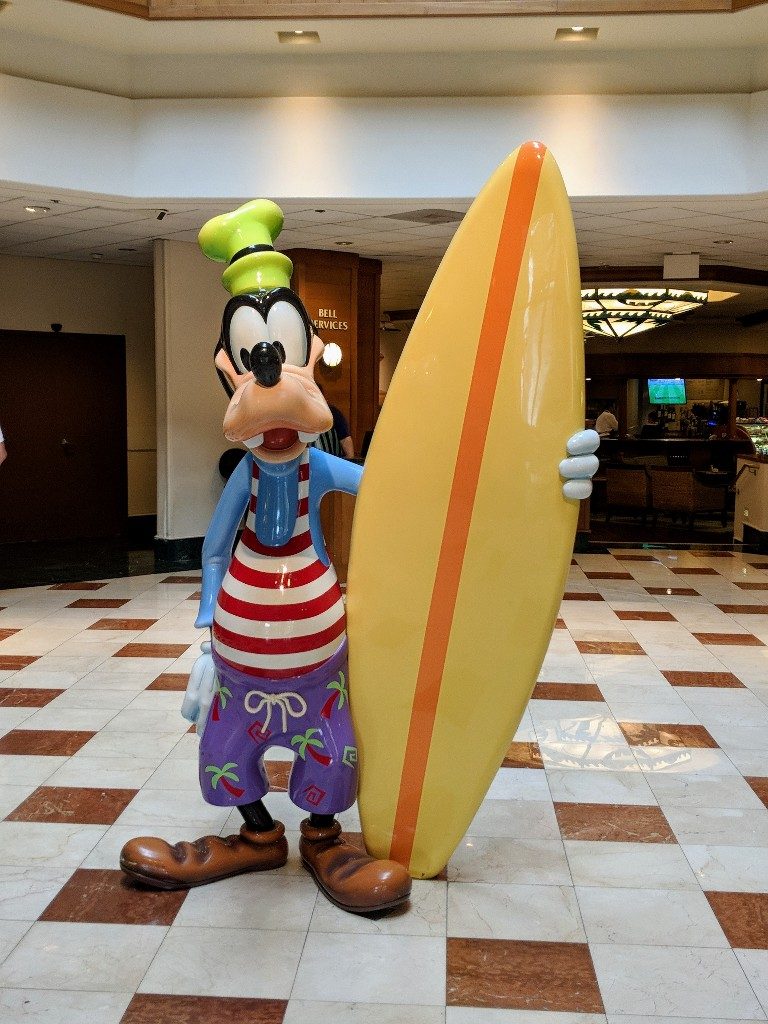 We chose Paradise Pier Hotel at Disneyland as our first on-site resort because it was the most economical choice for our visit the first week Pixar Pier opened. The room was simple but comfortable for our stay.
Paradise Pier Hotel is a little further walk to the gates of Disneyland Park and Disney California Adventure than Courtyard by Marriott Anaheim Theme Park Entrance, but it had much shorter security lines. Having these shorter lines for security more than made up for the longer walking time.
We also loved that on our Disneyland Park days we could scan in and hop the monorail to skip the extra walking. Walking back to Paradise Pier Hotel through Downtown Disney allowed us to check out the shops or even grab a treat for later.
In this Paradise Pier Hotel review I must say I was a bit disappointed in the hotel. The theme at Paradise Pier is minimal, and overall the hotel feels like just another hotel. This is especially true when compared with the ambiance of Disney's Grand Californian or Disneyland Hotel. However, the character breakfast option certainly helped Paradise Pier have a bit of Disney magic.
We really liked the ease of the security lines, access to the monorail, and close proximity to Downtown Disney for shopping and food options. However, my final thought in this Paradise Pier Hotel review is that I found our experience at Paradise Pier Hotel unremarkable. It simply wasn't to the level of service and theme I expect from Disney. I expected Paradise Pier Hotel to be on par with some of the Disney World value resorts like Art of Animation or Pop Century, but it fell short.
Pin it for later: