Star Wars land at Disneyland Galaxy's Edge is an exciting experience for any Star Wars fan. However, with all of the focus on Disneyland Galaxy's Edge I think people might miss out on some of the other fun Star Wars attractions elsewhere at Disneyland. This article provides a review of the best of Star Wars at Disneyland Galaxy's Edge plus Tomorrowland to help you have the best Star Wars Disneyland experience possible.
If you are going to Disney World use this Galaxy's Edge article instead.
Disneyland Galaxy's Edge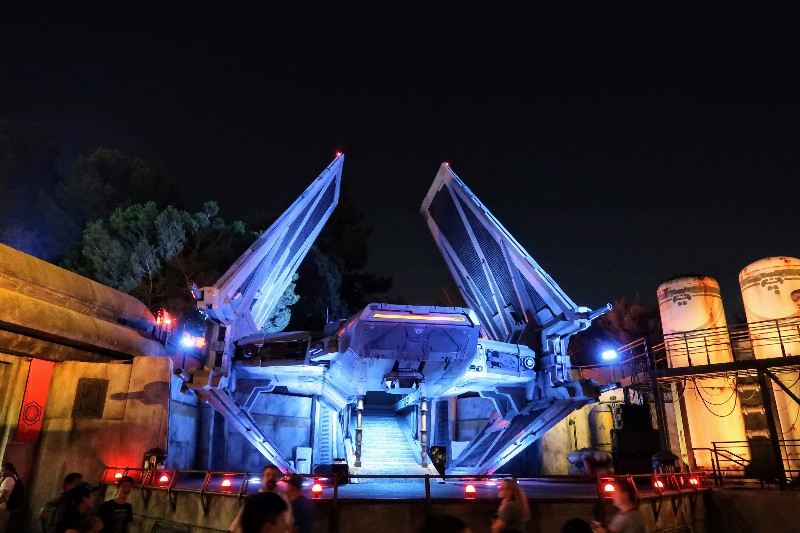 In the Galaxy's Edge backstory, you are a wayward traveler visiting Black Spire Outpost on the planet Batuu. Galaxy's Edge is split into roughly three sections: a marketplace, a Resistance outpost, and a First Order stronghold. There are no defined barriers between these areas which lends itself to a more realistic experience.
The Disneyland Galaxy's Edge experiences can be broken into roughly four categories: rides, custom building experiences, food and drink, and character interactions.
Where is Disneyland Galaxy's Edge?
Galaxy's Edge is located in Disneyland Park. There are three entrances into Disneyland Galaxy's Edge. One entrance is on the path from Frontierland past Big Thunder Mountain Railroad toward the back of the park. Another entrance is located a short walk from Fantasyland near Red Rose Taverne. The third path is through Critter Country past The Many Adventures of Winnie the Pooh.
Disneyland Galaxy's Edge Rides
Rise of the Resistance
Rise of the Resistance Height Requirement: 40 inches (102 cm) tall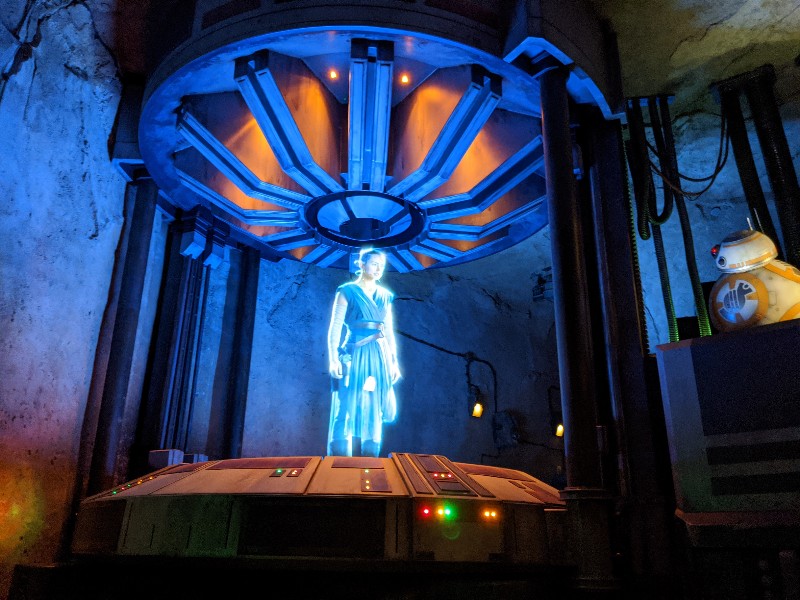 The epic Rise of the Resistance attraction is an incredible ride unlike anything we've ever experienced. Rise of the Resistance has a full plot, two segments to the ride experience, and several shocking moments. I highly suggest you avoid watching ride videos and instead experience the intense wow moments in person.
Beginning November 22, 2021 Rise of the Resistance is testing a hybrid standby and virtual queue system. Some days Rise of the Resistance is a traditional standby queue while other days it will return to a virtual queue.
Check the Disneyland app during your trip to see which queue type is in place for your park day and understand the virtual queue system before you go.
Join Rise of the Resistance Virtual Queue With My Disney Experience App
Make sure you have the most up to date My Disney Experience app for Disneyland. Have everyone linked to your account on the app like you would for making MaxPass FastPasses. You, and everyone who wants to ride, must have valid theme park tickets plus a park reservation to get a Rise of the Resistance boarding pass.
If starting your day at Disneyland, Rise of the Resistance boarding passes open at 7am while you are still at home or hotel and again at noon each day. Guests who start at Disney California Adventure, but have park hopper tickets can try for the noon boarding group. Then when park hopping opens at 1pm, head over to Disneyland to ride Rise of the Resisitance.
Keep checking the Star Wars: Rise of the Resistance – Status and Access screen. When boarding groups open tap "Join a boarding group". Then choose everyone in your party and confirm. After confirming you will get a boarding pass group number.
Keep checking the My Disney Experience app through the day to see which boarding groups are allowed to enter the Rise of the Resistance queue. The app also does push notifications, if you give permission, so you get an alert when your group is called. 
Important notes about Rise of the Resistance
Unfortunately, high demand means being in the park and on the app at opening time does not guarantee a boarding group or backup boarding group assignment.
Once your group is called you usually have one hour to enter the queue, but this can vary. Make sure you check your boarding group notification to find the correct boarding expiration time for your group.
Before heading into the queue take a quick bathroom break. Even with the virtual queue and boarding groups there is still a wait before riding the attraction.
Millennium Falcon: Smugglers Run
Millennium Falcon: Smugglers Run Height Requirement: 38 inches (97 cm) tall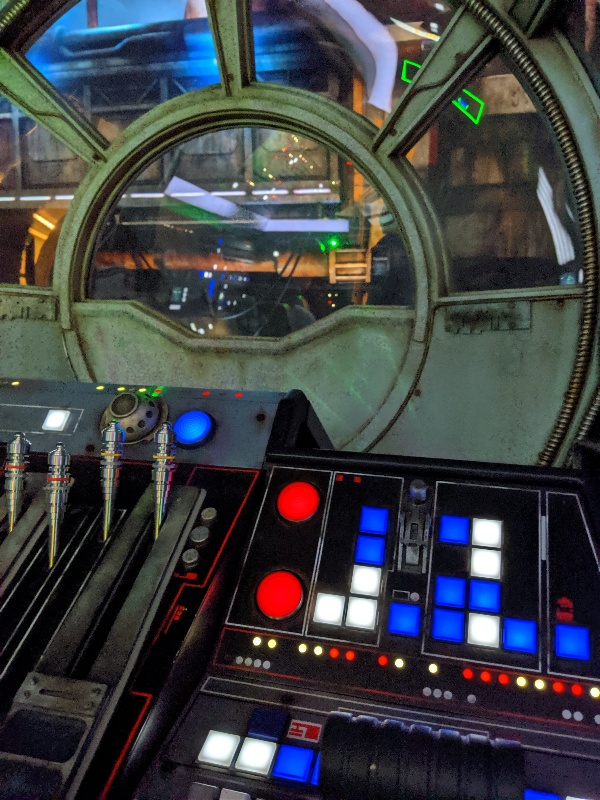 Smuggler's Run is a unique and interactive attraction that was the first ride to open at Disneyland Galaxy's Edge. Guests divide into 6-person crews, and each person gets an assigned a role to play on the Millennium Falcon: pilot, gunner, or flight engineer.
After getting your crew color and role, you can briefly explore some of the Millennium Falcon. A few moments later, a cast member will call out your team color.
Assemble your team, and the cast member leads you to the cockpit of the Millennium Falcon. Pilots are in the front, gunners in the middle, and flight engineers at the back.  My daughter and I always got the same job assignments so we could sit next to one another during the ride.
Millennium Falcon: Smuggler's Run Jobs
Pilot
Two pilots share the responsibility of guiding the ship. One person moves the ship up and down while the other pilot moves the ship right to left.
We both had the role of pilot on our first ride on Millennium Falcon. I was completely ill prepared for how interactive it would be to act as pilot. Needless to say we had a blast, but the ship was wrecked upon our return. The exit hall shows damage if your team scores poorly, so we had to walk through evidence of our incompetence.
Gunner
The gunners choose between automatic or manual targeting. Once a target is acquired the gunner hits a button to fire.
Flight Engineer
Flight engineers on Millennium Falcon: Smuggler's Run have the job of fixing everything that other crew members break. Basically you have to hit any flashing light as quickly as possible to repair the ship.
I thought being a flight engineer was a lot of fun. This is true even though I got super distracted watching out the front window of the Falcon and forgot to hit my flashing buttons for part of the ride.
Disneyland Galaxy's Edge Custom Building Experiences
Droid Depot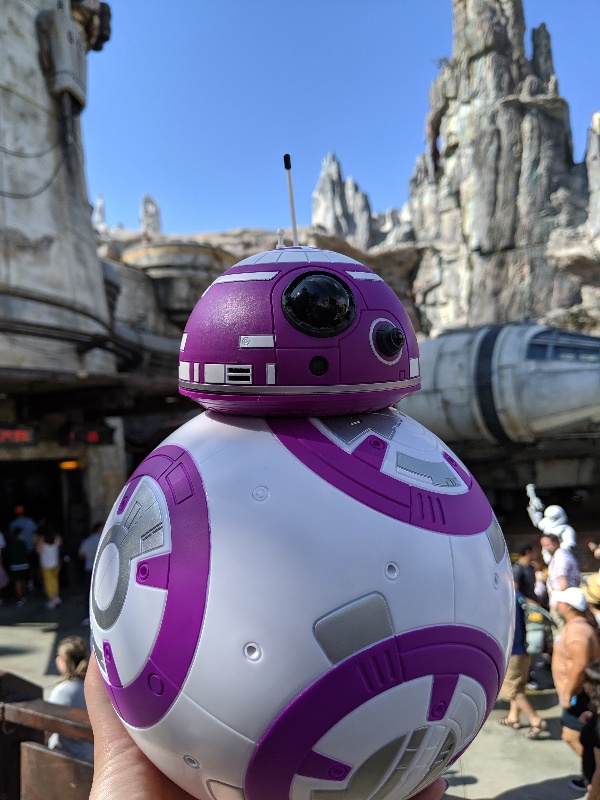 Have you dreamed of building your very own R or BB series droid? Droid Depot in Galaxy's Edge can make that a reality. Droids built at Droid Depot can interact with each other and certain areas of Disneyland Galaxy's Edge for a unique experience. Find out all about building a droid at Droid Depot in our full review, plus tips for using your droid in Galaxy's Edge.
Savi's Workshop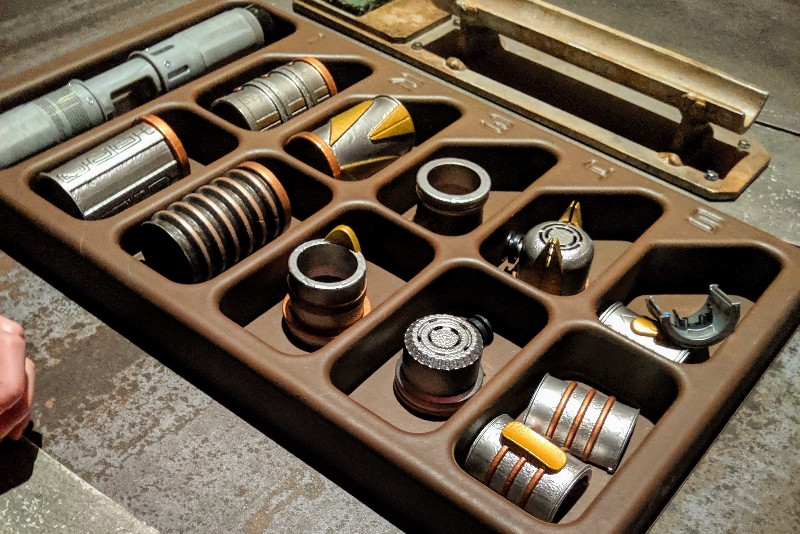 Under the guise of a scrap metal shop to avoid First Order detection, Savi's Workshop is a special place where you can build your very own custom lightsaber. The dim lights, storytelling, and sound effects at Savi's Workshop make for an extremely entertaining experience. 
Your time at Savi's Workshop culminates in making your own well-built lightsaber. These expensive custom lightsabers are an impressive looking collector item which is very different than the flimsy toy versions. Find out more about building your own Savi's Workshop lightsaber here.
Disneyland Galaxy's Edge Food And Drinks
Oga's Cantina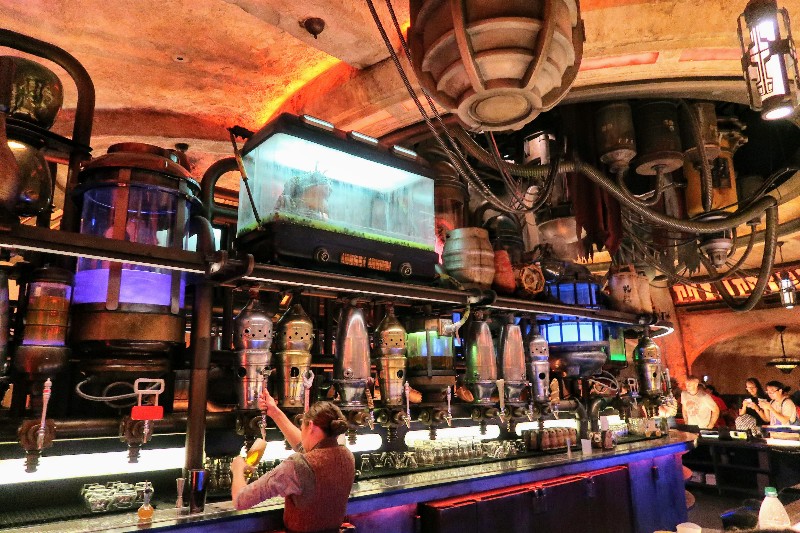 The hottest bar in Black Spire Outpost is Oga's Cantina. DJ R-3X spins Batuu's best dance music while you enjoy the ambiance and some specialty alcoholic or non-alcoholic cocktails. Oga's Cantina is a small venue with a mix of standing bar room, standing bar tables, and community tables with booth seats.
Reservations are required for Oga's Cantina and can be made online or using the Disneyland app. Because of the extreme popularity of Oga's Cantina each group is only allowed 45 minutes and at most two beverages per person.
We enjoy the atmosphere, drinks, and the music provided by DJ R-3X at Oga's Cantina in Galaxy's Edge at Disney World and Disneyland. 
Docking Bay 7 Food And Cargo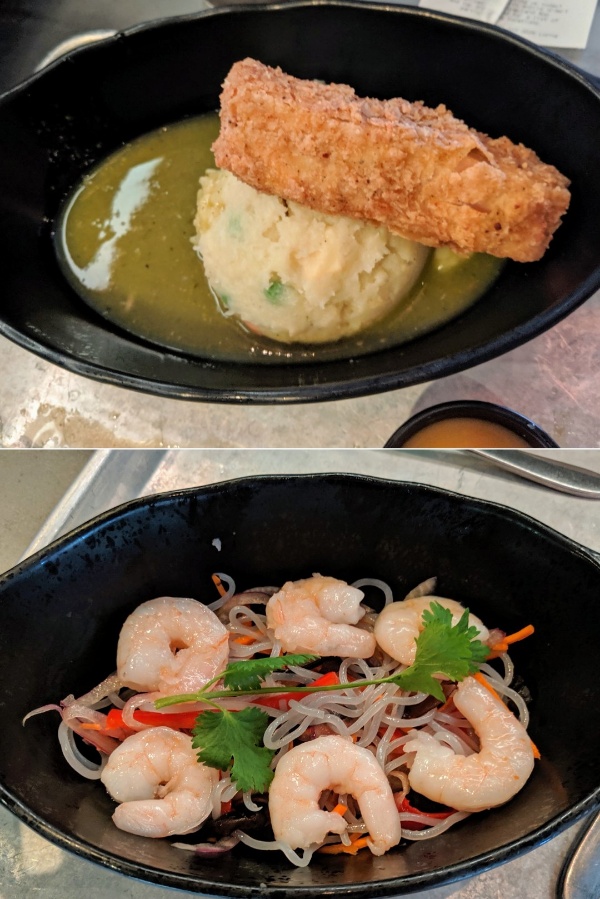 This quick service spot in Black Spire Outpost serves some unique food offerings. I thought my Fried Endorian Tip-yip, a crispy fried chicken log served over vegetable mashed potatoes, and Elizabeth's Yobshrimp Noodle Youngling Salad, chilled shrimp over a bed of noodles, were both tasty. My only disappointment in our lunch experience was the portions being a little smaller than I expected.
Milk Stand
Two of the most popular drinks at Disneyland Galaxy's Edge are blue milk and green milk. Both drinks are served frozen which makes them a refreshing treat. Blue milk has a subtle tropical flavor profile while green milk is a more obvious citrus blend.
Disneyland Galaxy's Edge Character Interactions
Galaxy's Edge character interactions feel more authentic than in some other parts of the park. Characters like Rey, Kylo Ren, stormtroopers, Chewbacca, and now even R2-D2 could be just around the next corner. 
These Star Wars characters don't do traditional meet and greets in Disneyland Galaxy's Edge. Although you might find Chewbacca repairing an A-wing or Kylo Ren interrogating guests while you are in Black Spire Outpost, they move around Batuu without stopping long for pictures or interactions . For a traditional Star Wars meet and greet head to Tomorrowland and Star Wars Launch Bay.
Disneyland Galaxy's Edge Fireworks Viewing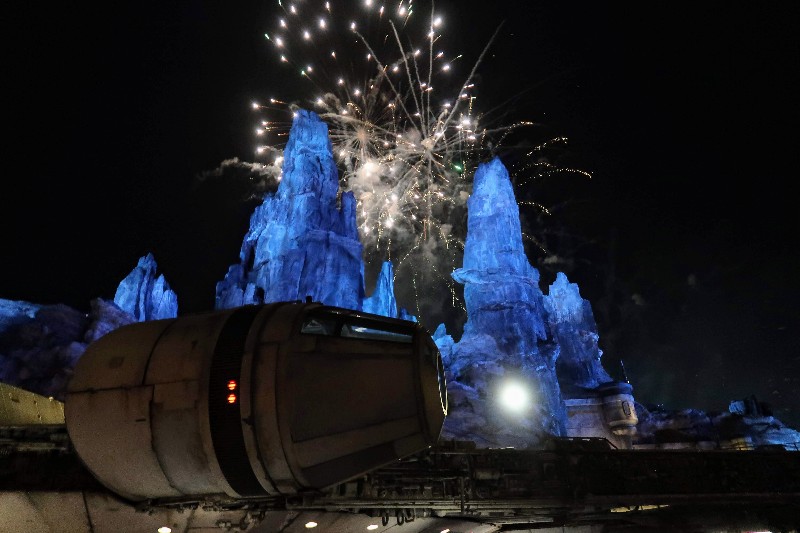 Not only does Disneyland Galaxy's Edge offer an immersive Star Wars experience, it provides an incredible viewing spot for Disneyland fireworks. Make sure to arrive early for premium firework viewing spots. We watched briefly and then used the distraction of fireworks to wait in a shorter line for Millennium Falcon: Smuggler's Run.
Star Wars Attractions In Tomorrowland
At the other corner of Disneyland from Galaxy's Edge is Tomorrowland. Tucked into this future themed area is a Star Wars ride and traditional character meet and greets.
Star Tours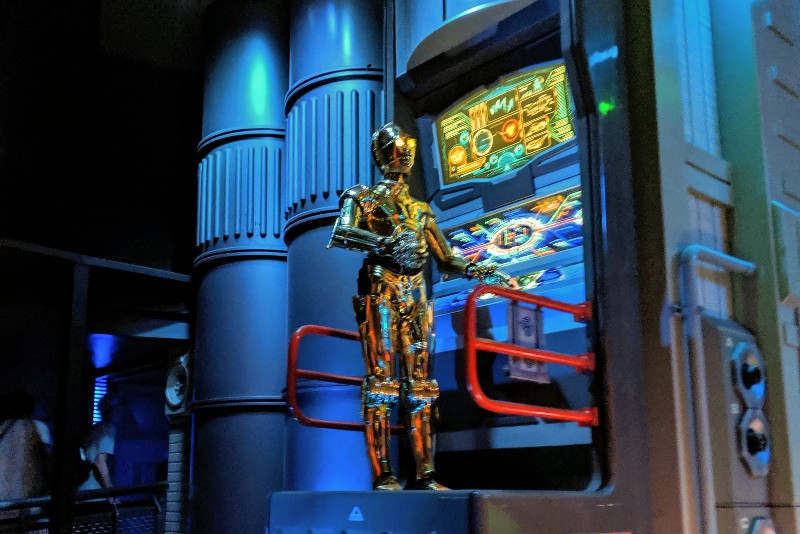 Star Tours is a classic Disney ride that places you on a transport ship with a rebel spy. To get the rebel spy safely to a rendezvous point you and your ship undergo firefights, crashes, and unusual space problems. This 3-D ride mixes visual elements with a moving platform to make you feel like part of the action.
Star Wars Launch Bay
Next door to Space Mountain is Star Wars Launch Bay. Launch Bay is the only place you can do a traditional character meet and greet with Star Wars characters at Disneyland. Usually Chewbacca greets guests in the Light Side line while Darth Vader tries to recruit guests for the Dark Side. If you are lucky, you might even find Boba Fett at the Cantina.
Find out more about Star Wars Launch Bay here.
Final Thoughts On Everything Star Wars At Disneyland
Fans of Star Wars can find lots of special experiences at Disneyland if they know where to look. To see everything Star Wars at Disneyland you'll need to spend time in both Galaxy's Edge and Tomorrowland.
Give yourself plenty of time to wander through Disneyland Galaxy's Edge. For us the best part of the Galaxy's Edge experience is being part of the Millennium Falcon's crew or part of the Resistance on Rise of the Resistance. A surprisingly close second is feeling like a resident of Black Spire Outpost by interacting with characters, having unique dining experiences, plus seeing our droid chirp and move as we explore Galaxy's Edge.
Find discounted ticket or book your entire Disneyland vacation now with Get Away Today, our preferred travel partner.
Pin it for later: