Disney Genie+ is a helpful, but often confusing option for guests wanting to skip waiting in line. Maximize this pay service using our Disneyland Genie+ guide and find out if Disneyland Genie Plus is worth it for your next vacation.
Are you planning a Florida Disney World vacation and looking for Disney World Genie+ information? Here's our guide to the same service in Florida.
Is Disneyland Genie Plus Worth It?
After repeatedly testing Disneyland's Genie Plus system we think Genie+ is worth it, but only if you understand how to effectively use the system. We routinely run out of park time, but rarely run out of Disneyland Genie+ Lightning Lane options during a full park day.
Disneyland Genie+ also includes PhotoPass downloads for each day you add the service. Having PhotoPass pictures included in Disneyland Genie+ makes the $30+ per ticket per day even more worthwhile.
However, we don't think Disneyland Genie Plus is worth pre-purchasing if you don't have full park days planned for each day. The Genie+ ticket add-on requires paying for the service every day of the ticket, but is definitely less valuable on partial days.
Recently we had a 3 day park hopper with a Genie Plus add-on. A flight delay and bad traffic from the airport meant we got to the parks late in the day.
By the time we finally arrived at the parks Lightning Lane availability was limited. If purchasing day by day I would have skipped buying Genie+ and saved $60 for the two of us.
Keep reading to learn the best ways to use Disneyland Genie Plus and get the most out of this add-on service.
Disneyland Genie Plus Vocabulary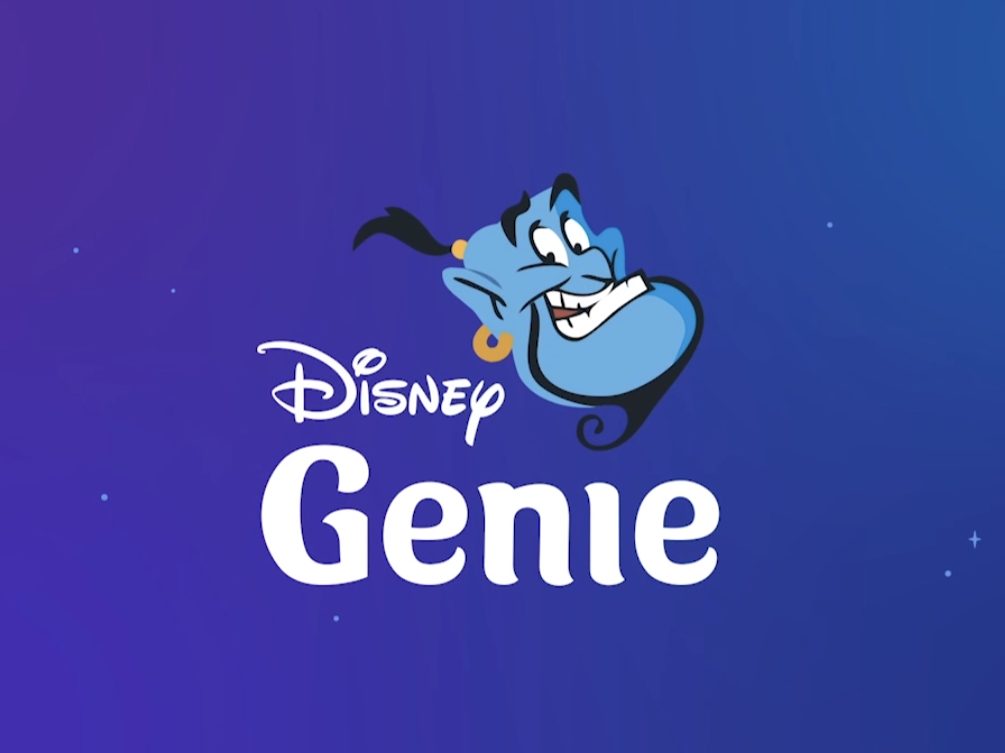 There are four main terms for Disneyland Genie+ and understanding these is crucial in using the system.
Genie is a free service available on the Disneyland app. We find the free Disneyland Genie isn't much help during a Disneyland day.
Disneyland Genie+ is a pay service that lets guests book Lightning Lane reservations and includes PhotoPass downloads for the day.
Lightning Lane is similar to the old FastPass system. Buy Genie+ and then book Lightning Lane reservations. Arrive at the attraction during a one hour return time and use the Lightning Lane queue to skip the regular standby line.
Individual Lightning Lane reservations are not connected to Genie+. Buy Individual Lightning Lane spots for popular attractions for $15 to $26 per person.
How Much Does Disneyland Genie+ Cost?
Disneyland Genie Plus prices vary, but the service starts at $30 per ticket per day. Although prices start at $30 they routinely reach $35 or higher per person per day. Purchase Disneyland Genie+ as an add on to Disneyland tickets ahead of time or buy it daily once at Disneyland.
Disneyland Genie Plus Individual Lightning Lane Rides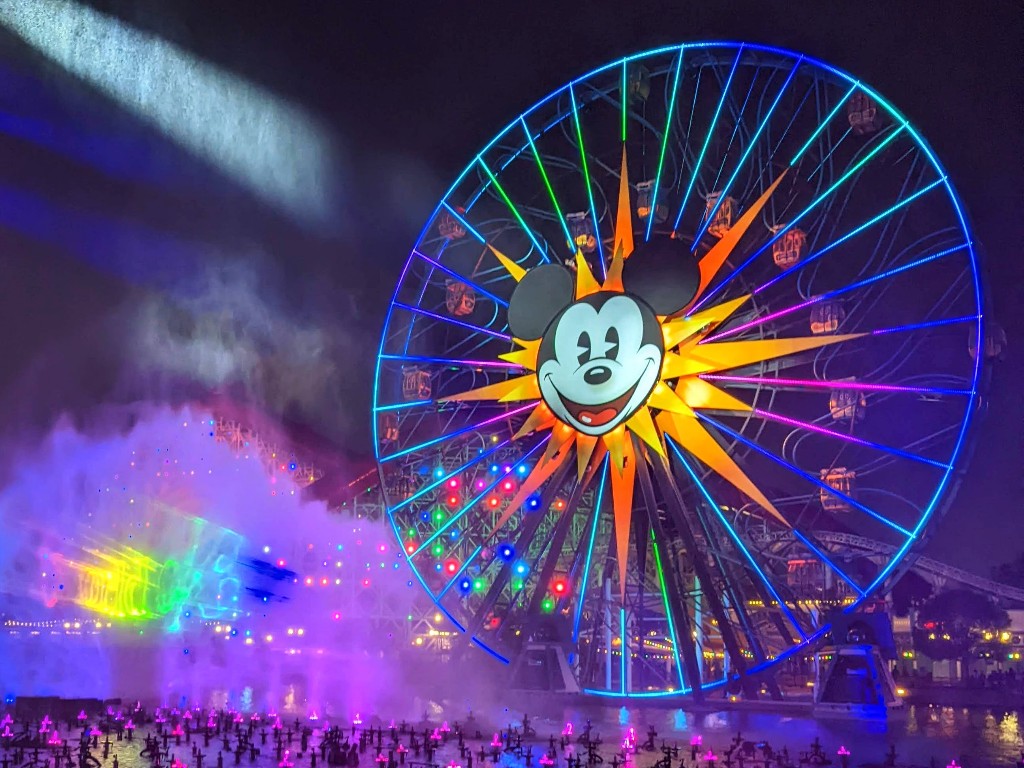 Individual Lightning Lane attractions are purchased a la carte for $15 to $26 per person per ride. Guests can, but DO NOT need to buy Genie+ to purchase Individual Lightning Lanes (ILL).
Check prices and buy Disneyland Individual Lightning Lanes once you've scanned into California Adventure or Disneyland.
Disneyland limits guests to two Individual Lightning Lanes per day. Now that there is only one Individual Lightning Lane attraction per park, guests willing to pay can get both ILL.
Disneyland Park Genie+ Individual Lightning Lane Rides
Star Wars: Rise of the Resistance
Disney California Adventure Genie+ Individual Lightning Lane Rides
Disneyland Genie Plus Lightning Lane Rides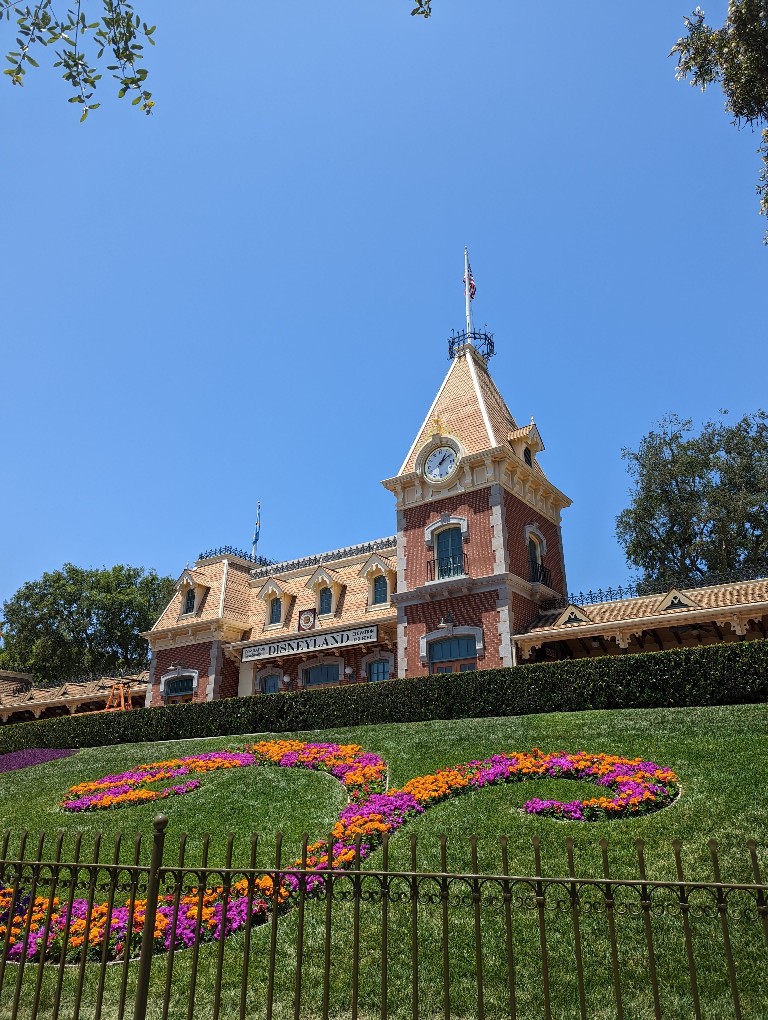 For a varied daily price, usually $30 to $35 per ticket per day, buy Disneyland Genie+ which includes access to nineteen Lightning Lane rides across the two theme parks. Scan into either Disneyland or California Adventure to start booking Genie+ Lightning Lane rides.
Unlike Individual Lightning Lanes where you can reserve from a variety of times, regular Lightning Lane reservations are only offered as the next available window. This means working around dining reservations or rest times can get challenging.
Book Disneyland Genie+ Lightning Lane reservations immediately after entering either Disneyland or California Adventure. Then book the next LL every two hours or as soon as you tap into the ride if it's been less than two hours since booking.
Disneyland Park Genie+ Lightning Lane Rides:
Autopia
Big Thunder Mountain Railroad
Buzz Lightyear Astro Blasters
Haunted Mansion (or Haunted Mansion Holiday for a limited time)
Indiana Jones Adventure
"it's a small world"
Mickey & Minnie's Runaway Railway
Matterhorn Bobsleds
Millennium Falcon: Smugglers Run
Roger Rabbit's Car Toon Spin
Space Mountain
Star Tours – The Adventures Continue
Disney California Adventure Genie+ Lightning Lane Rides:
Goofy's Sky School
Grizzly River Run
Guardians of the Galaxy – Mission: BREAKOUT!
Incredicoaster
Monsters, Inc. Mike & Sulley to the Rescue!
Soarin' Around the World (or Soarin' Over California for a limited time)
Toy Story Midway Mania!
WEB SLINGERS: A Spider-Man Adventure
I'm Still Confused. Can You Give Me Some Disneyland Genie Plus Lightning Lane Booking Examples?
Of course! As a quick refresher remember that Disneyland Genie Plus Lightning Lane (LL) attractions are booked:
every two hours
OR after the LL has been used if the time between booking and use is less than two hours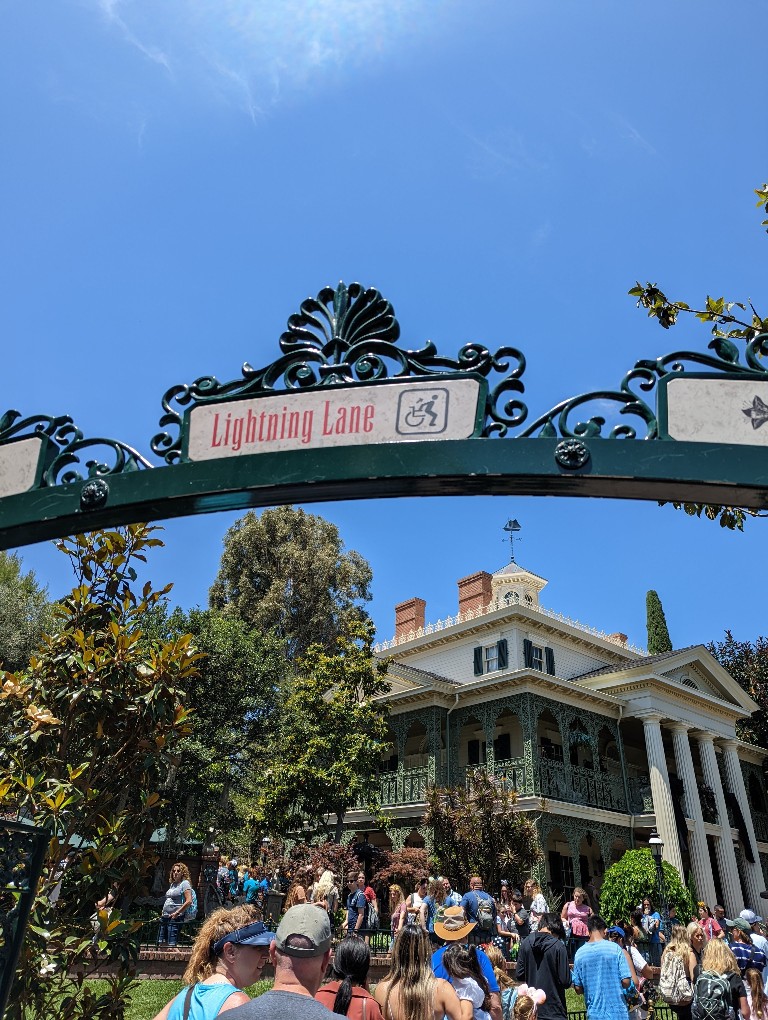 Let's look at how this works in two different examples. For our first example let's say you really want to ride Guardians of the Galaxy: Mission Breakout and you know these LL run out quickly on busy days. You enter Disney California Adventure and book a Mission Breakout LL at 9am for a 2pm slot.
Waiting to book your next Lightning Lane until your 2pm Mission Breakout LL window would make Disney Genie Plus a waste of money. In this scenario you'd book your next Disneyland Genie+ Lightning Lane at 11am and another at 1pm. This lets you skip the regular standby line for three rides instead of just one by 2pm.
In another example say you'd rather use LL as accrued instead of stacking them for later. In this case you scan into the theme park and choose a ride with a quick Lightning Lane return time.
Let's say at 10am Star Tours has a 10:15am return window. Book the 10:15am LL and scan into the Lightning Lane queue. Once you've tapped in it's time to book your next LL ride. Continue doing this until you run out of rides or LL reservations are all gone.
Disneyland Genie+ Tips
Book Right After Entering Disneyland or Disney California Adventure
Once you've scanned into the park, step off to the side and grab your first Disneyland Genie+ Lightning Lane or buy an Individual Lightning Lane. Selecting your first reservation right away gives the best chance of snagging more LL during the day.
Set An Alarm
When booking popular Genie+ Lightning Lanes it's common to have return times more than two hours ahead. Book the LL and then set your phone alarm to alert you two hours later. Booking every two hours, or once you've scanned into the LL, lets you skip the most standby lines.
Have A Portable Battery
Disney Genie Plus, in addition to normal phone usage, drains phone batteries fast. This is why I always have a portable charger on hand when at Disneyland. We've tried Fuel Rods and several Anker chargers over the years.
Fuel Rods are convenient because you can swap dead ones for a freshly charged one at several locations around Disneyland. However, the weak charging capacity and expensive initial cost makes our Anker chargers a better value.
As an Amazon Associate I earn from qualifying purchases.
There are Anker chargers with tons of different capacities, but I find mid-range ones like this lipstick charger (Buy on Amazon: affiliate link) to be the best balance of charge capacity and weight.
Remember Park Hopper Rules When Booking Lightning Lanes
Disneyland allows park hopping, with a park hopper ticket, after 11am each day. Once scanned in for the day you can make Disney Genie Plus selections for either park.
Remember to only book the other park attraction Lightning Lanes after 11am or you'll be unable to ride.
Book Disneyland Lightning Lanes While Waiting For The Monorail
Staying at Disneyland Resort or Paradise Pier and worried about Lightning Lanes disappearing by the time you walk into Disneyland?
Tap into the monorail and make your first Genie Plus Lightning Lane selection of the day while waiting for the monorail to whisk you into Tomorrowland.
Select Experiences Lightning Lanes Have Limits
Sometimes a Disneyland attraction will break during your Lightning Lane return window. When this happens, the attraction Lightning Lane turns into a Select Experiences LL.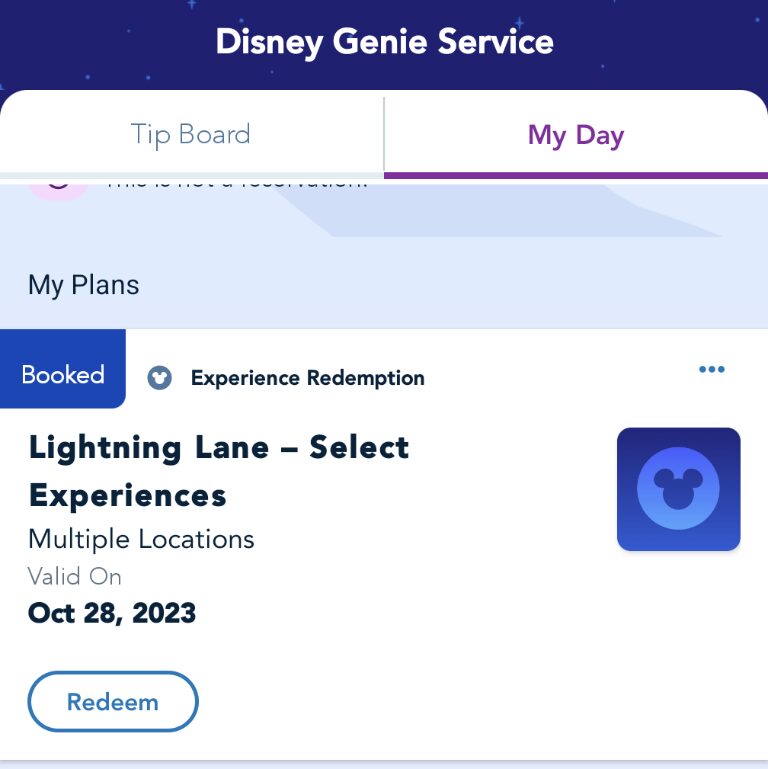 Select Experience Lightning Lanes are only available at the same park where your original LL was booked, and can only be used at limited Lightning Lane attractions.
Tap on the "Select Experiences" Lightning Lane and then scroll through the available options before redeeming this LL anytime during the rest of the day.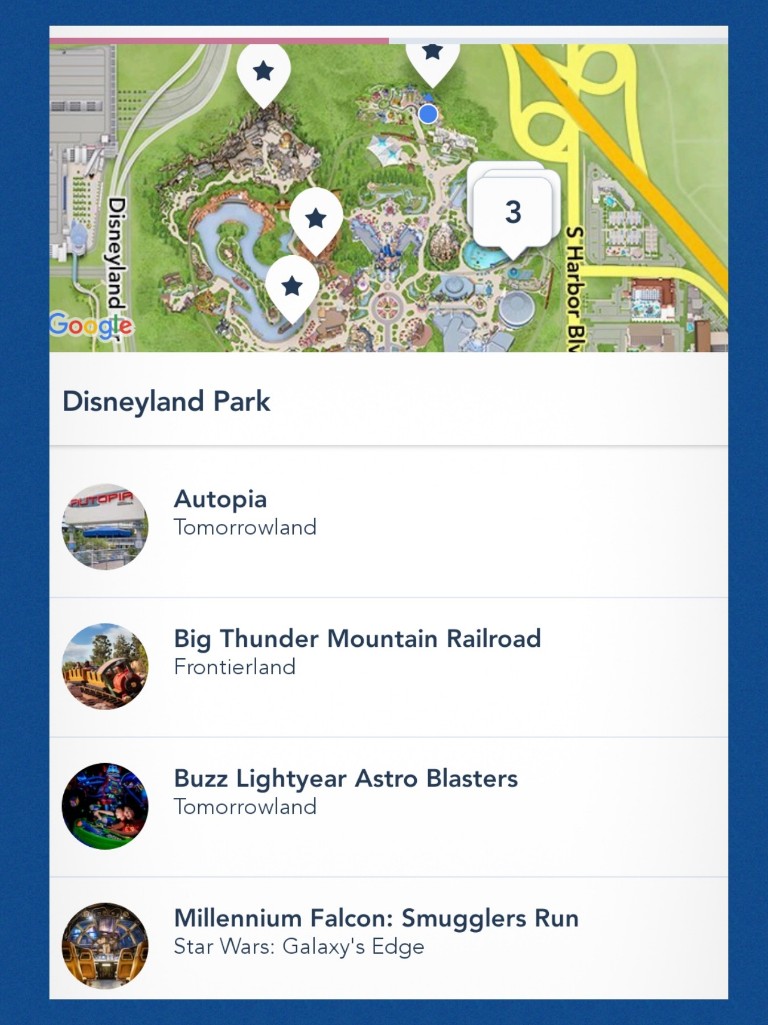 Adjust Expectations On High Crowd Days
Although Genie+ is still beneficial on crowded park days, there's definitely less Lightning Lane availability. Arriving early gives guests the best chance of getting at least four or five Lightning Lanes.
Arriving late, for example after 10 am on busy days like Thanksgiving weekend, means you'll only get two or three Lightning Lanes before availability becomes scarce.
How Does Disneyland Genie Plus compare to Disney World Genie Plus?
There are a couple of huge differences between using Genie+ at Disneyland and Disney World.
Disneyland doesn't allow guests to book Individual or regular Lightning Lanes until physically inside the parks. This means even if you arrive later in the morning there are still plenty of Disneyland Genie+ Lightning Lane windows remaining.
At Disney World all visitors can book Disney Genie+ Lightning Lane attractions beginning at 7am. The ability to stack LL before entering the parks means Disney World Genie+ Lightning Lane attractions run out faster and are much more competitive than at Disneyland.
Disney World allows on-site guests to purchase Individual Lightning Lanes at 7am while off-site guests must wait until park opening. This means Disney World off-site guests often miss out on popular Individual Lightning Lanes.
If you have experience using Disney World Genie+, using Disneyland Genie+ is easier.
Whether this is because LL can't be booked outside the park, the two parks are a short walk from each other, or because Disneyland is more chill I can't say. However, I found Disneyland Genie+ more valuable than Disney World Genie+.
Final Thoughts On Disneyland Genie+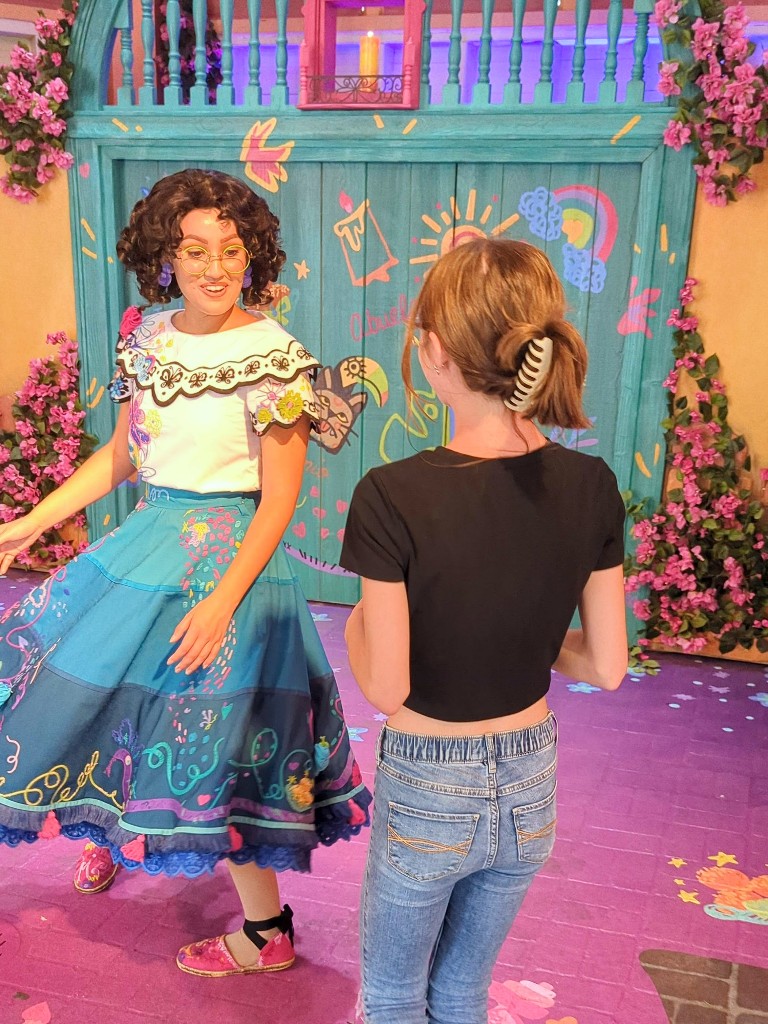 Disneyland Genie+ is a great add-on and worth the extra money when visiting Disneyland and Disney California Adventure.
Use Genie+ to skip regular standby lines and have more time to meet characters, watch shows, and enjoy everything Disneyland has to offer.
Ready to plan your own Disneyland vacation? Use our step by step planning guide or contact our friends at Get Away Today for help with your vacation plans.
Pin it for later: